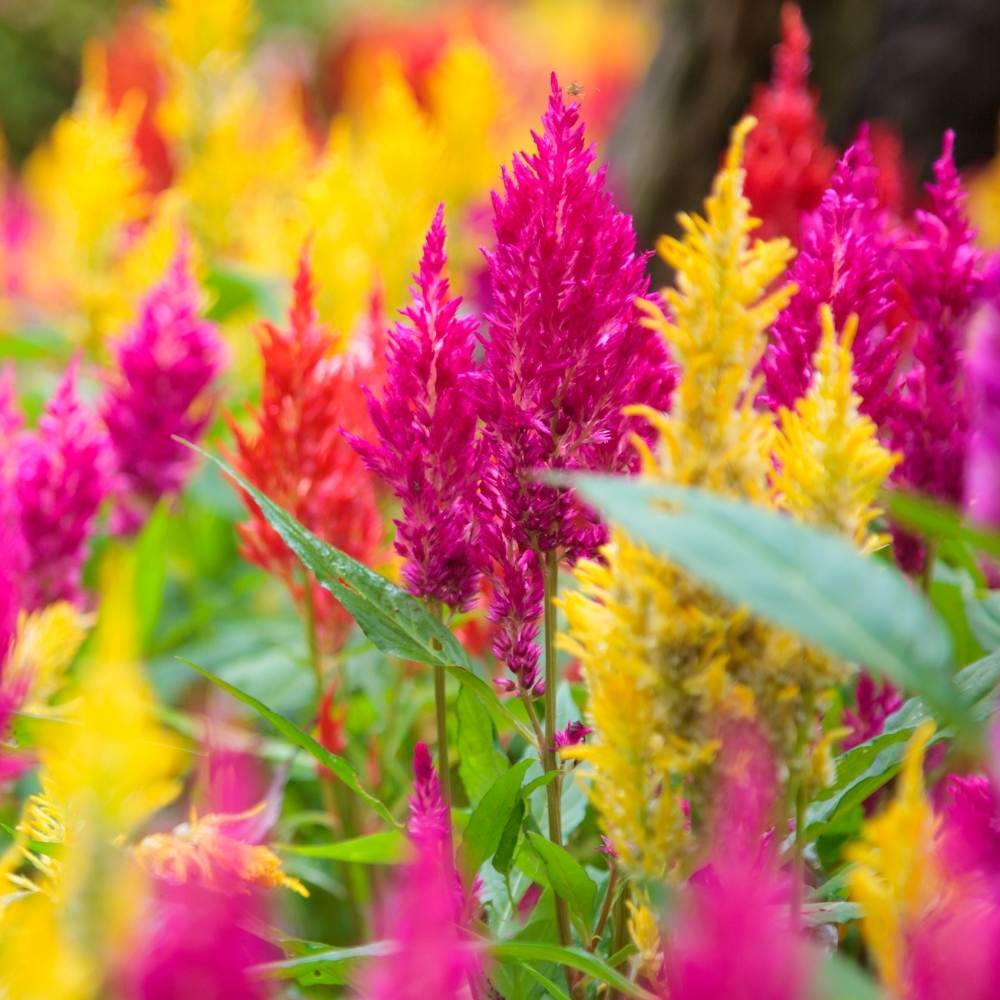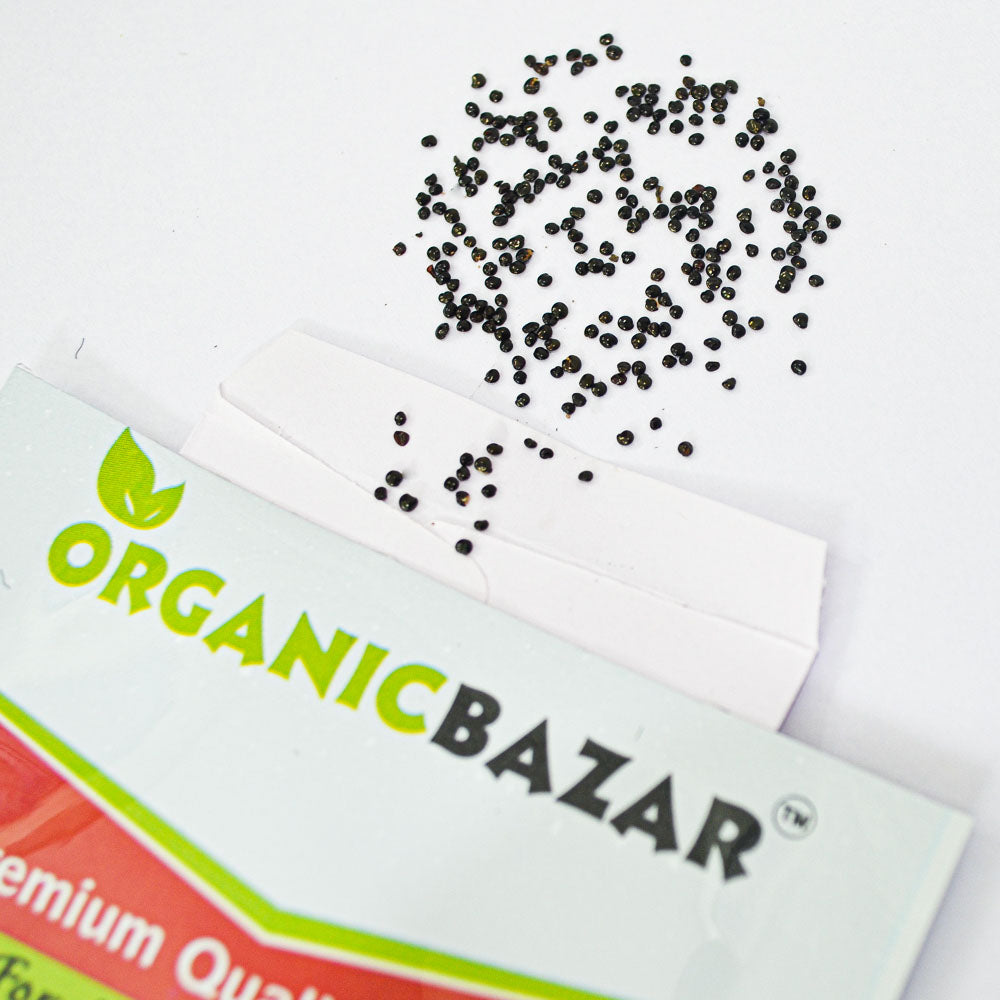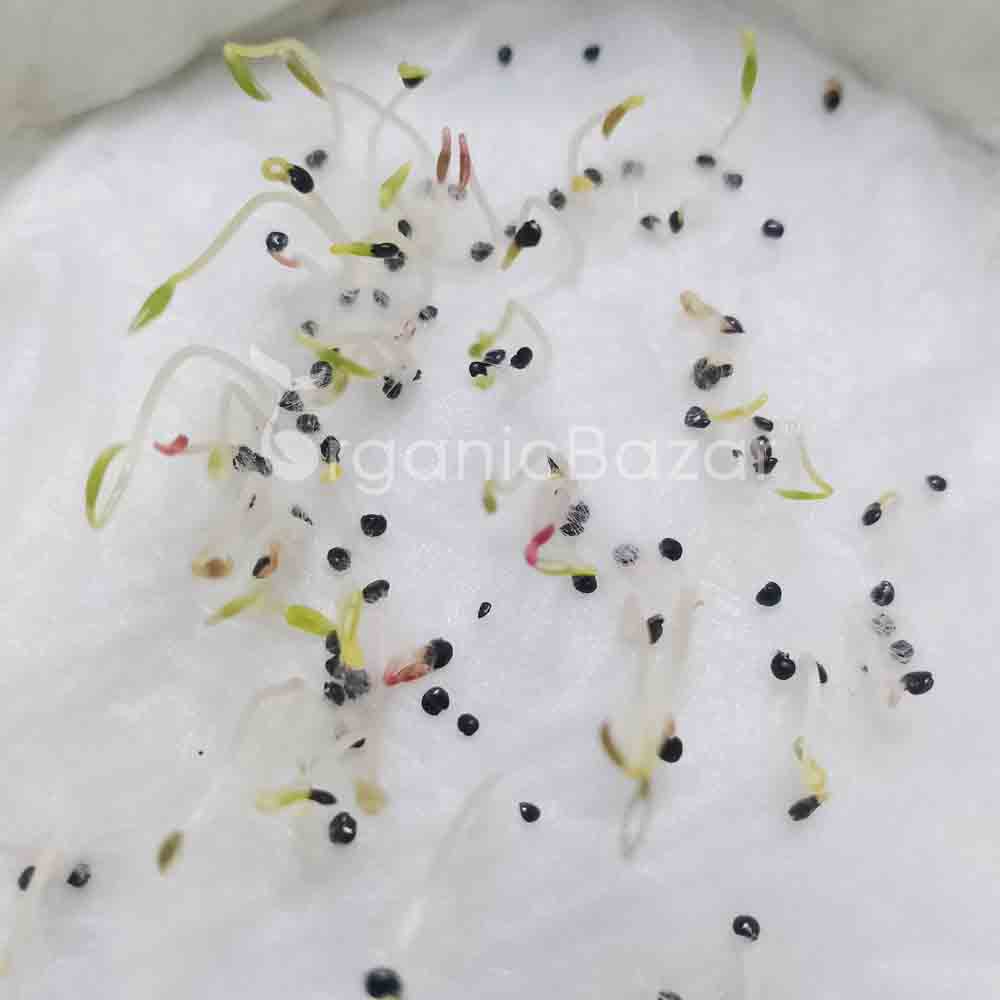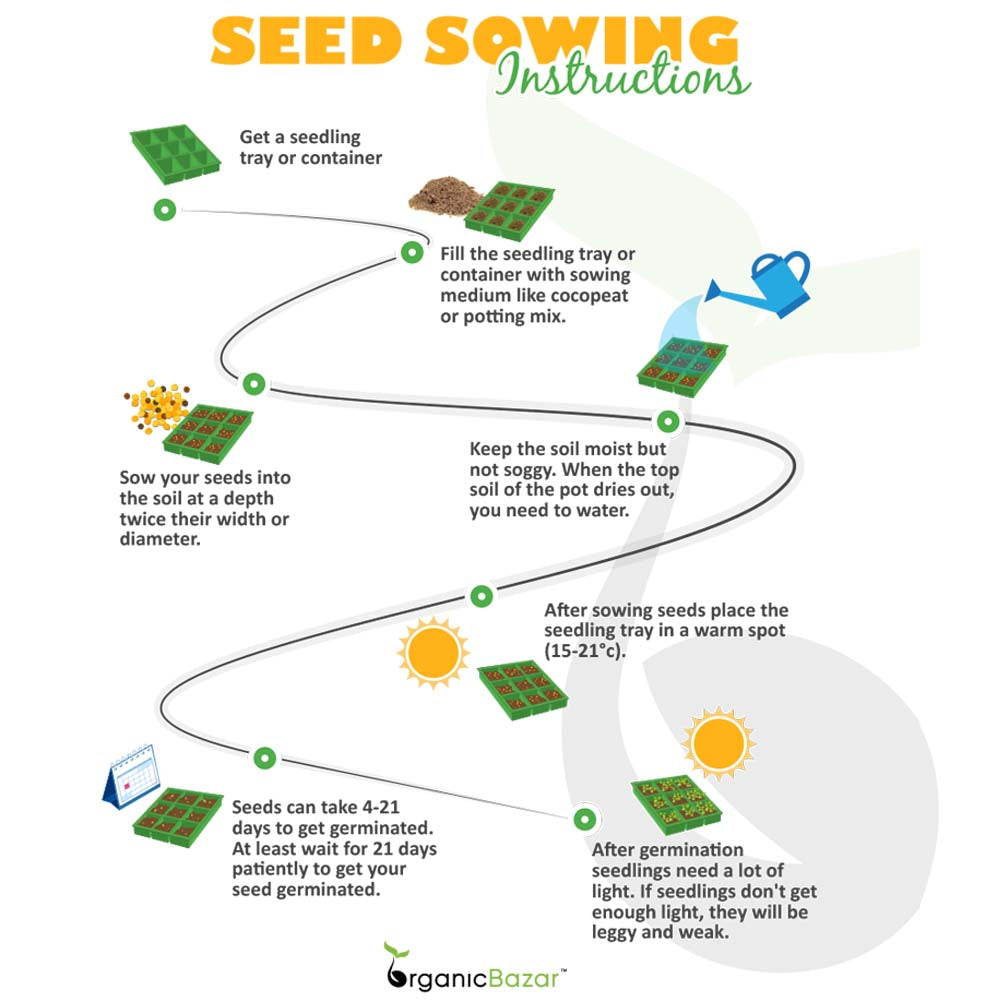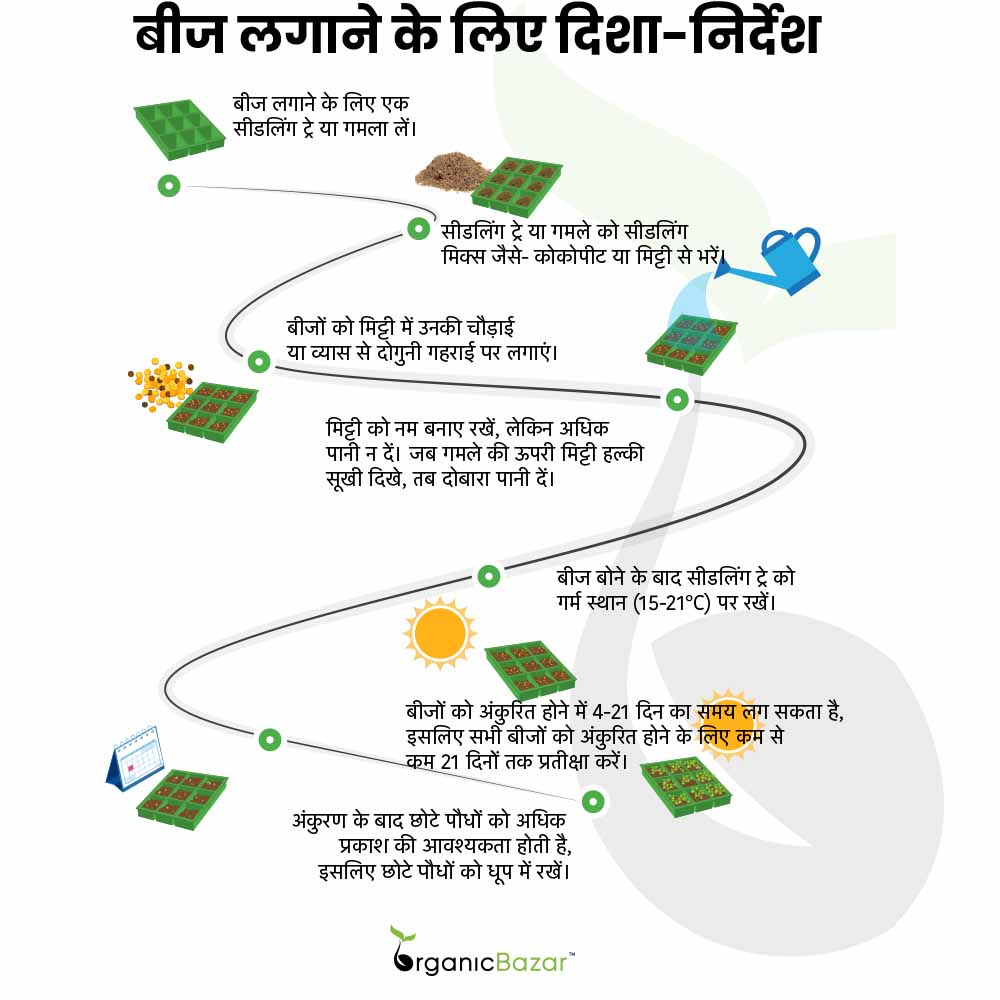 Celosia Plumosa Liliput Mixed Seeds
Sale price
₹ 39.00
Regular price
₹ 90.00
Tax included.
Celosia Plumosa Liliput Mixed Seeds
Sale price
₹ 39.00
Regular price
₹ 90.00
Product description
Shipping & Return
This low-maintain and easy-to-grow flower plant make it perfect for your balconies, terrace garden, or home garden. This beautiful celosia grows best in dry climates and blooms from summer to fall. If you want to plant celosia read it fully and
buy the best quality Celosia plumosa Liliput Mixed Flower Seeds Online at the best price from
www.organicbazar.net
with a high germination rate and add colors to your garden.
Product Detail
Seed Quantity: 100 Seeds
Best sowing season: Spring or Summer
Sowing method: Direct
Germination temperature:

23-26

°C
Germination time:

7-14 days

Sowing distance:

8-12 inches

Plant to Plant
Blooming time:

Summer to Autumn
What size grow bag is best for Celosia?
Celosia Plumosa Growing Season In India 
Celosia is a flowering plant that only prefers dry, sunny, and warm conditions. In India, you can sow celosia seeds during spring and summer (February - April) when the weathers are warm and dry. 
How To Grow Celosia (Plumosa) In Pots 
Celosia is a low-maintenance plant and is perfect if you are growing it in containers. You can plant celosia directly in pots as it does not like to be transplanted or you can sow the seeds in a coco peat coin so that the roots are not disturbed. The size of the pot or grow bag should be at least 12-18 inches deep and wide and the spacing between celosia plants should be 8-12 inches.
Celosia Plumosa Liliput Mixed Seeds Sowing Method 
Take a pot or grow bag and fill it with potting mix. Spread good-quality celosia seeds on the soil and cover the seeds with a very thin layer of soil or vermiculite. Celosia seeds do not require light to germinate, keep the soil moist but avoid over-watering. The optimum temperature for germinating celosia seeds is 23-26°C and it takes about 7-14 days to germinate.
Celosia Fertilizer Requirements
Add organic fertilizer or a nitrogen-rich liquid fertilizer to celosia plants every month to encourage foliage growth.
To encourage more blooms, apply a fertilizer containing phosphorus when the celosia is established.
Celosia Plant Care Tips
Soil -
Celosia grows very nicely in well-drained and sandy loamy soil. 
Water -
It does not require much watering, you can water it once a week or when the soil is dry. Always keep the soil moist, but do not allow the soil to dry out for too long.
Sunlight -
Celosia thrives in sunny, dry, and high-humidity conditions. It grows best in 6-8 hours of direct sunlight however, it can tolerate partial shade. 
Temperature -
The temperature between 15-30°C is ideal for growing celosia flowering plants.
 Common pests and diseases -
Certain pests such as aphids and mites inhibit celosia plant growth, and diseases such as powdery mildew and fungal infections infect the plant. These problems arise due to over-watering in the soil, if you keep the soil moist and do not allow too much water in the soil then this problem will be solved.
Pruning -
To encourage new bloom and healthy plant growth, deadheading of spent flowers and removing unwanted or infected stems or leaves are essential. Deadhead will also help to prevent reseeding. 
Celosia Plumosa Blooming Time 
Celosia blooms from summer to autumn (fall) or sometimes until frost. You can expect to bloom celosia within 2 months of planting. 

You can cut celosia flowers and use them to decorate your home. 
Celosia Special Features
Common name -

Plumed cockscomb, king coral

Scientific name -

Celosia 

Height -

Up to 3 feet

Companion planting -

Canna lilies, tender salvia, zinnia, marigold, and amaranth 

Blooming time -

Summer to Autumn
FAQ 
How long do celosia plants last?
Celosia is an annual growing flowering plant that only lives for 1 year.
How do you keep a celosia blooming?
If they get proper sunlight and warm conditions, celosias will enjoy blooming and continue to thrive.
How do you get seeds from celosia?
If you want to collect celosia seeds from plants, autumn is the best time to save them. You can cut off either the flower head or the entire stem and wait until they turn brown to get more seeds.
Is celosia poisonous to dogs?
Celosia is non-poisonous and safe for dogs. 
What is the main reason for dropping the celosia plant?
Overwatering or underwatering causes celosia plant drop. Don't over-water or under-water, don't keep the plant wet, and water only when you feel the soil has dried out.
Note: Images are for reference purposes only. The actual product may vary in shape or appearance based on climate, age, height, etc.
Shipping Costs
Free Delivery: Available for Orders Above INR 499.
Prepaid Orders Below INR 499: Shipping Charge of INR 54.
Cash on Delivery Orders Below INR 499: Shipping Charge of INR 84.

Return Policy
Satisfaction Guaranteed: Return or Exchange Within 7 Days of Delivery.
Technical Details
Package Dimension: 12cm*9cm
Item Weight : 10mg
Net Quantity: 100N
Colour : N/A
Assembly Required: No
SKU : Celosia-Plumosa

Additional Information
Brand : OrganicBazar
Country of Origin: India
Manufacturer: HEALTHUNBOX PRIVATE LIMITED
Consumer Care: Phone: 9513316259 | Email - support@organicbazar.net
Consumer Care Address: P NO 225, NEAR OF WATER TANK, VIPATPURA, Narsinghpur (M.P) 487001
Reviews
nice product with good germination rate.