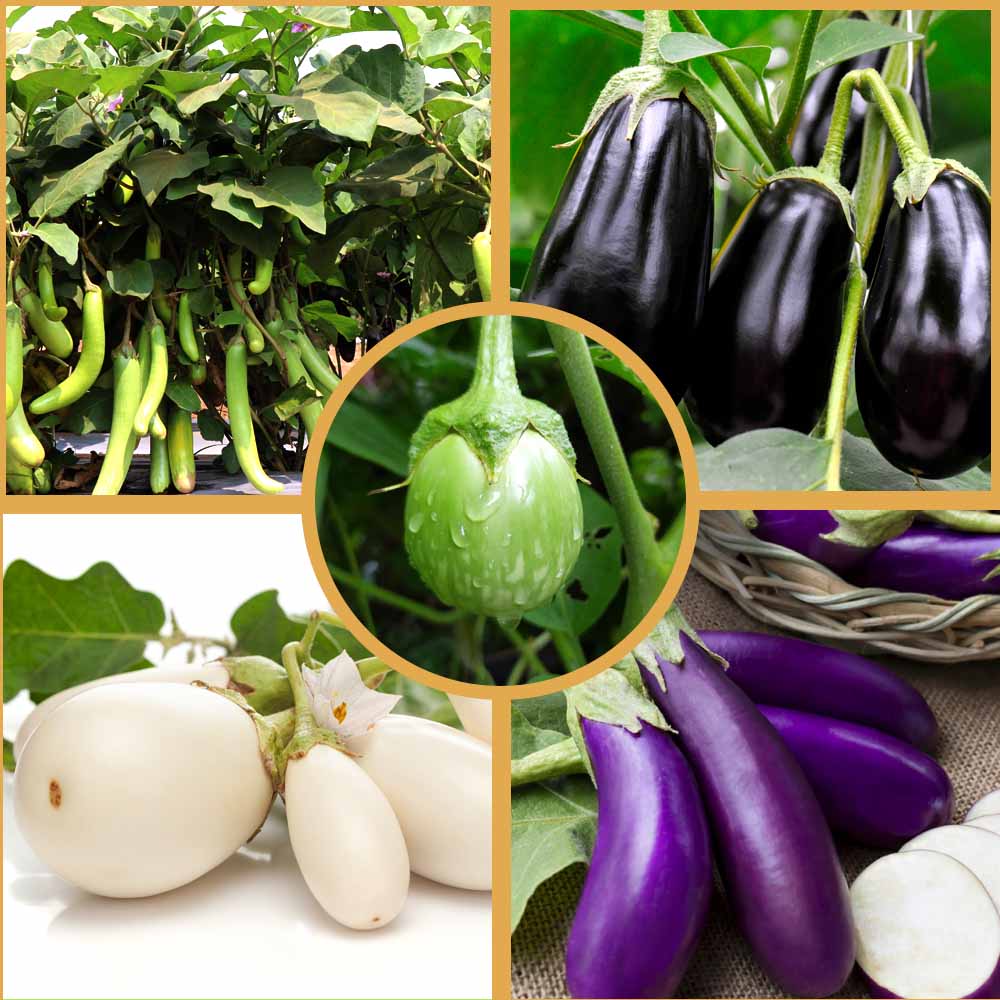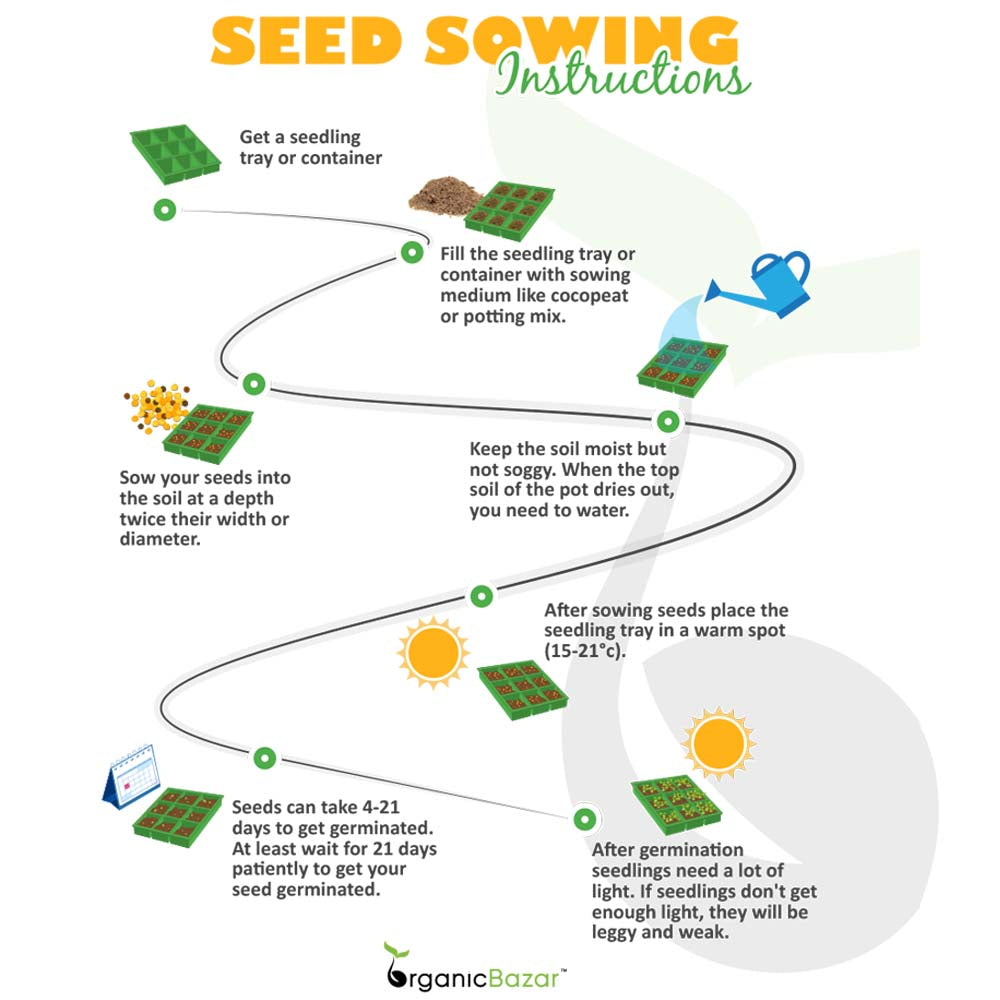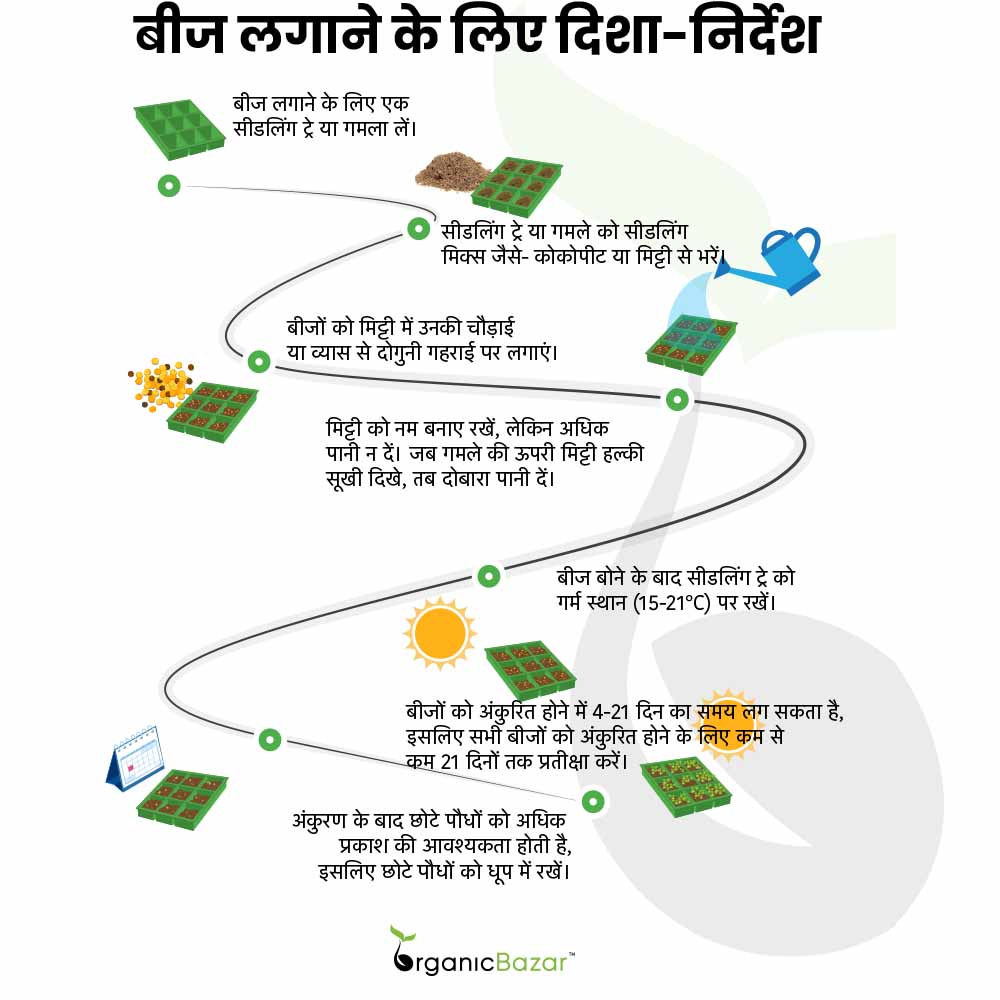 5 Best Varieties of Brinjal Seeds Combo Pack
Sale price
₹ 299.00
Regular price
₹ 999.00
Tax included.
5 Best Varieties of Brinjal Seeds Combo Pack
Sale price
₹ 299.00
Regular price
₹ 999.00
Product description
Shipping & Return
Brinjal is a very popular vegetable in India, it can be cooked in different ways. There are more than 20 varieties of Brinjal but Brinjal Green, Brinjal Black, Brinjal Purple Long, Green Brinjal Extra Long and Brinjal White are some most popular varieties of brinjal. Which you can easily buy from one place at the lowest price. Buy 5 Best Varieties of Brinjal Seeds Combo Pack online at the best price in India from
www.organicbazar.net
 with a Good Germination rate.
About this item
Brinjal Seeds Black Hybrid - 1 packet of 30 Seeds
Brinjal Seeds Green Hybrid - 1 packet of 50 Seeds
Brinjal Purple Long Seeds - 1 packet of 30 Seeds
Green Brinjal (Extra Long) Hybrid Seeds -1 packet of  20 Seeds
Brinjal F1 White Seeds -1 packet of 50 Seeds
What size grow bag is best for Brinjal?
How To Grow Brinjal Plant
Eggplant or brinjal is heat loving vegetable and are generally transplanted rather than directly sowing in any pots/grow bags. You can sow brinjal seeds directly in any small pot or 
seedling tray
. Keep the seedling
indoor till the seeds germination and water the seeds by using a spoon or 
spray pump
. After germinate the brinjal seeds, keep the tray in a place where plant receive partial sunlight. When seedlings are growing into small plant, you need to give more sunlight to your brinjal plants. Give proper water and sunlight for better growth of brinjal plants.
Brinjal Seeds Sowing Method
Take a seedling tray or small pots, fill it with coco peat medium and sow only 2 brinjal seeds per cell in a depth of about 0.4 inch in growing medium. Avoid sowing seeds very deep because brinjal seeds are very small in size. Brinjal seeds will be germinated within 6 to 10 days. After 4 weeks of seed sowing, When plant reaches 5- 6 inches in height, brinjal plant will ready to transplant in big pots/grow bags. Transplant the brinjal plant safely along with root balls of a medium. After transplanting give water to the plant.
Brinjal Plant Growing Season In India
You can grow brinjal plant in warm season with daily temperature of 18-30 degree Celsius for successful growth of plant. Eggplant or brinjal is warm weather plant and cannot grow well in cool weather.
Brinjal Plant Care Tips
Sunlight – Brinjal plant need 6-8 hours of full sun. Do not keep brinjal plant in shady portion and give sufficient sunlight.
Water – Give regular water to your brinjal plants and keep the soil moist but not soggy.
Soil – Use sandy soil with PH between 6.0 to 6.8 or slightly acidic to neutral.
Temperature – Best growing temperature for brinjal plant is ranging between 20 to 35 degree Celsius.
Fertilizer – Apply any organic fertilizer like Vermicompost, cow manure or neem cake. Brinjal is heavy feeder plant and need proper fertilizer doses, when you plant brinjal give them good fertilizer and add lime to the soil because it needs lot of calcium and give fertilizer per month when plant is actively growing.
Common pests – Aphids and whiteflies are some common pests and disease like fruit rot, leaf spot and root rot infected the brinjal plants. If you are facing this problem use organic pesticide Neem oil.
Weed – Any weed which might grow in brinjal plant must remove, time to time.
Brinjal Harvest Time
Within 60-80 days from sowing you can harvest brinjal. Cut the brinjal when the skin is looking glossy. Harvest should be safely because brinjal is a delicate plant. You can cut the brinjal fruits with
 pruning scissor
.
Brinjal Special Features
Common name – Aubergine, eggplant, baigan
Height – Above 3 feet
Grow level – Easy
FAQ
What causes root rot in brinjal plants?
Overwatering is the main cause of root rot in brinjal plants, root rot also include rapid wilting and dying of plants, so avoid to give overwater to your brinjal plants
.  
Why my brinjal plant flower blossoms then drop off and not producing vegetables?
Under water and lacks of pollination is the main reason behind brinjal plant not producing vegetables
. 
Why my brinjal plant leaves turning yellow?
Lacks of nitrogen in soil and not getting regular water to plants is the main reason of yellowing of brinjal plants leaves.
Shipping Costs
Free Delivery: Available for Orders Above INR 499.
Prepaid Orders Below INR 499: Shipping Charge of INR 54.
Cash on Delivery Orders Below INR 499: Shipping Charge of INR 84.

Return Policy
Satisfaction Guaranteed: Return or Exchange Within 7 Days of Delivery.
Technical Details
Package Dimension:
Item Weight :
Net Quantity:
Colour : N/A
Assembly Required:
SKU : Brinjal-bundle

Additional Information
Brand :
Country of Origin:
Manufacturer:
Consumer Care:
Consumer Care Address:
Reviews
5 Best Varieties of Brinjal Seeds Combo Pack