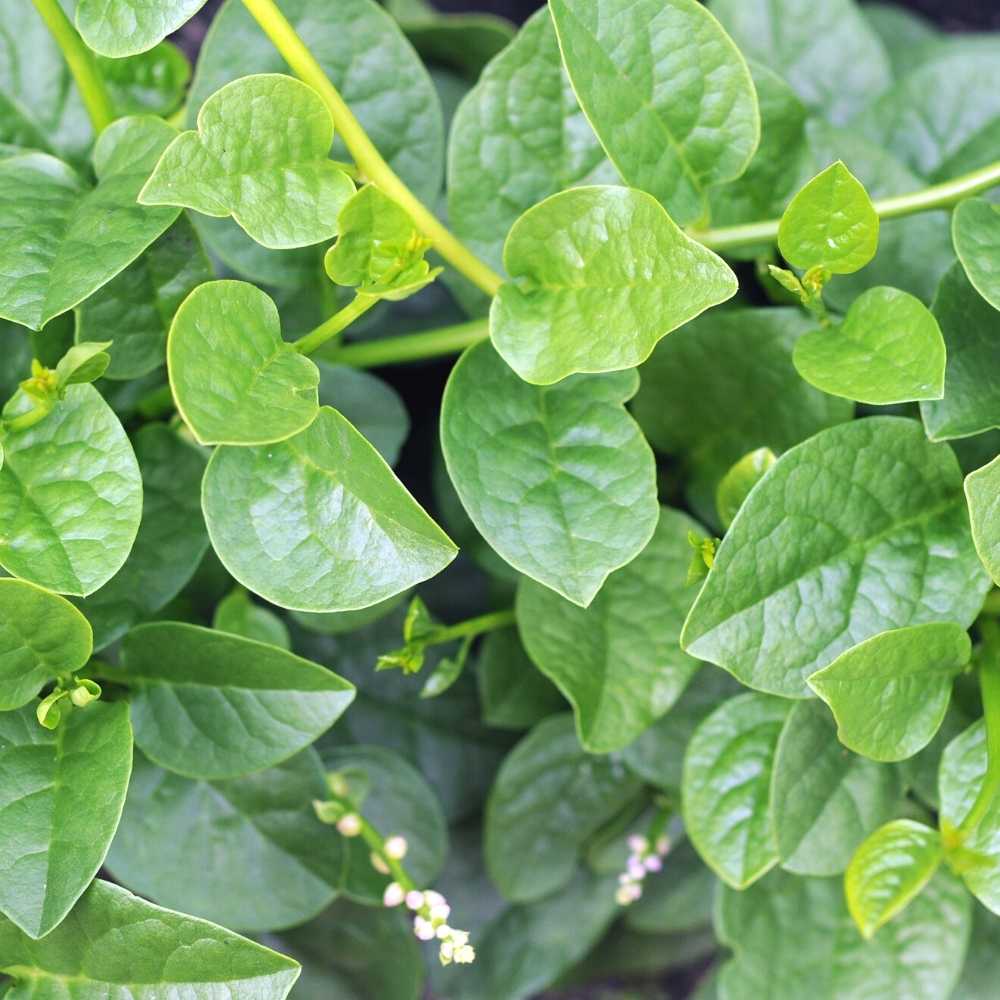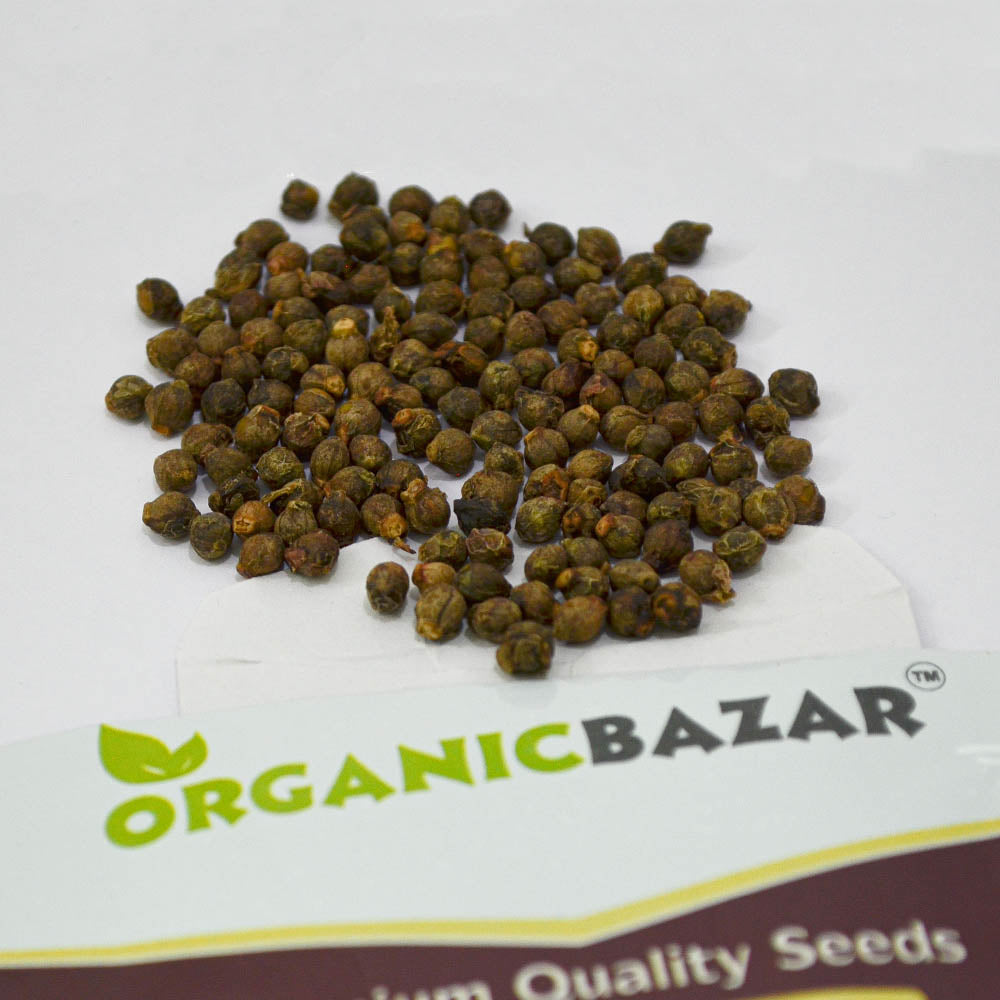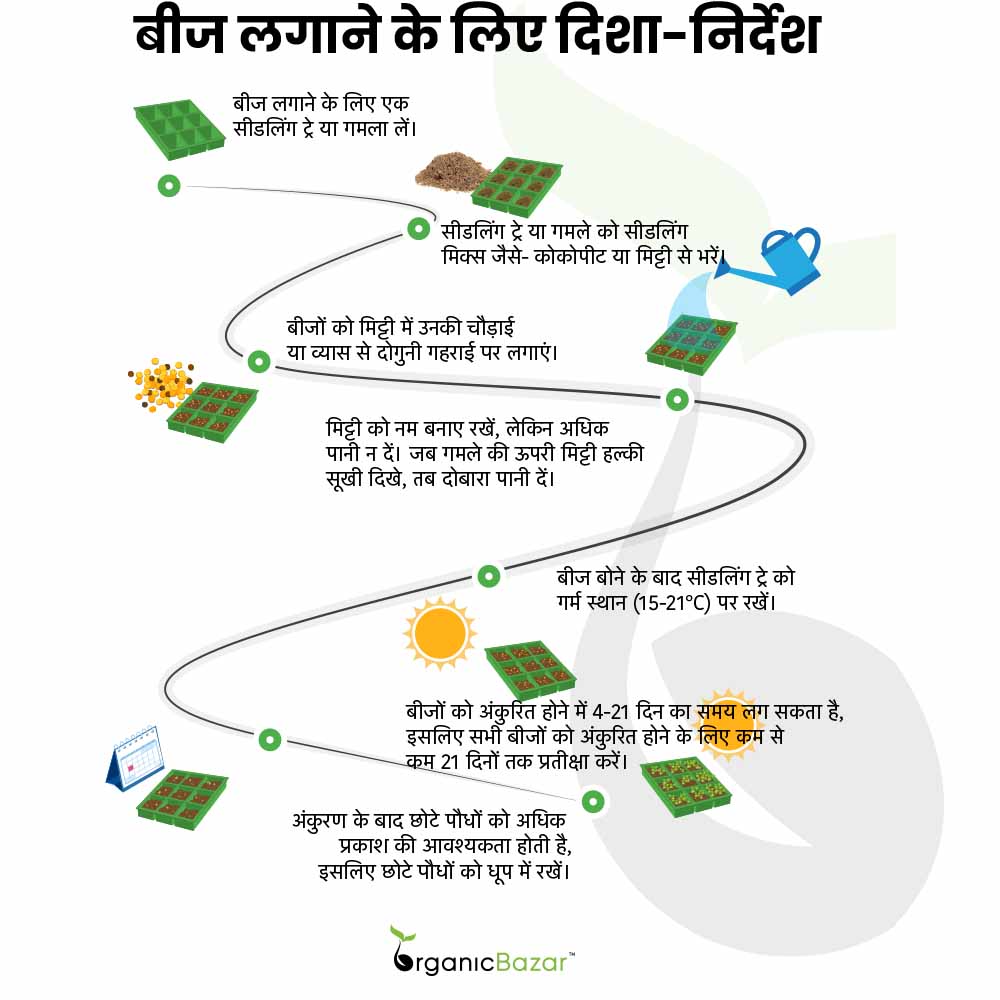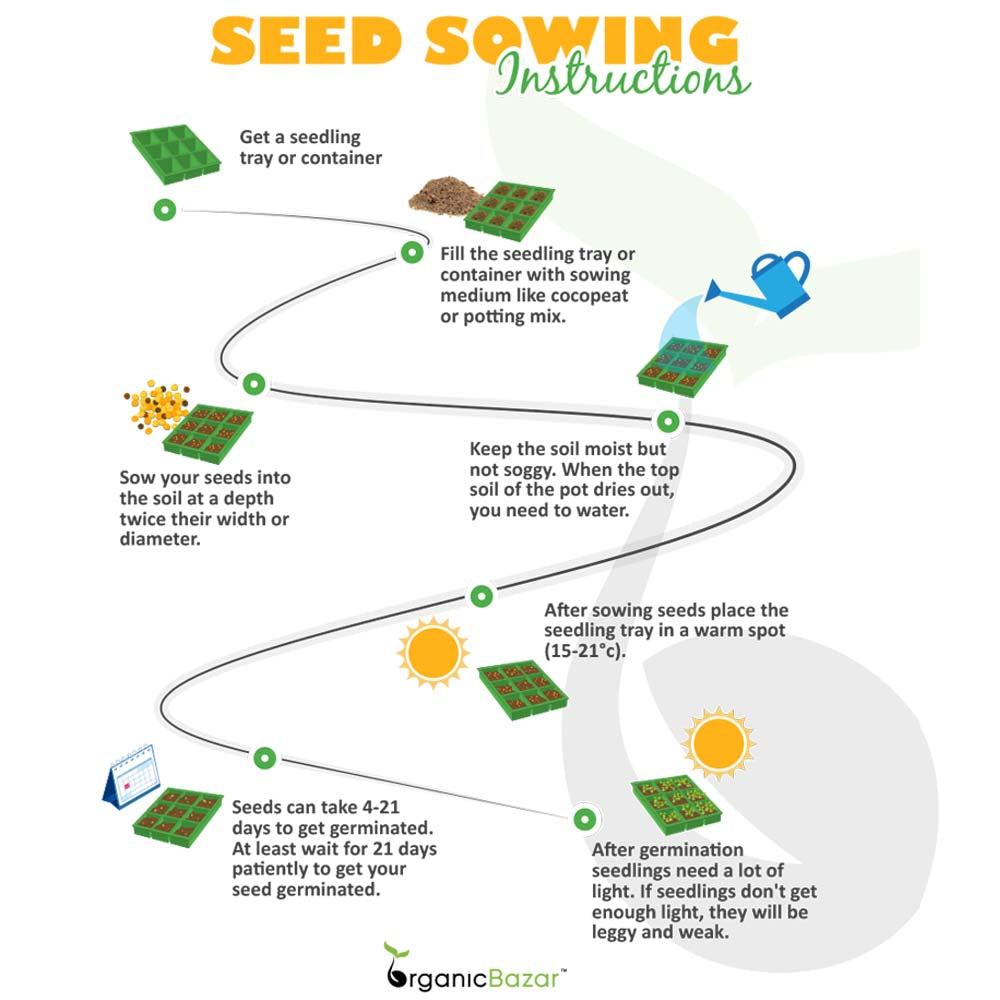 Spinach Malabar (Poi Saag) Seeds (पोई साग के बीज)
Sale price
₹ 69.00
Regular price
₹ 199.00
Tax included.
Out of stock
We will notify you once product becomes available.
Spinach Malabar (Poi Saag) Seeds (पोई साग के बीज)
Sale price
₹ 69.00
Regular price
₹ 199.00
Product description
Shipping & Return
Malabar spinach (Poi Saag) is a green fast-growing leafy vegetable similar to spinach with a mild, peppery, and citrus taste but after cooked the texture is different from spinach. It contains a good amount of protein, phosphorus, magnesium, and potassium. Malabar Spinach likes a warm and hot climate to grow it does not grow well in cool weather. Growing Malabar spinach in pots is easy as it is a vine plant that does not require a lot of space to grow. Buy the Best Quality Spinach Malabar (Poi Saag) Seeds Online at the best price in India from
www.organicbazar.net
with a good germination rate.
About this item
Number of Spinach Seeds (Poi Saag ke beej): 100 Seeds

Where to grow: Balcony or terrace garden

Sowing season: Summer season (the best month is April-June)

Mode of sowing: Sow the seeds 0.5 to 1 inch deep in a Container, or Pot.

Germination Time: 10-20 days from sowing

Germination temperature: 25-32°C.

Harvesting: 60-80 days from planting
What size grow bag is best for Spinach?
Spinach Malabar Growing Season In India
Malabar spinach is a warm-loving plant that grows fast and better in a hot climate and the best time to sow the Spinach Malabar seeds is summer days (April-June). Malabar spinach is a frost-sensitive plant and cannot do well in winter weather.
How To Grow Malabar Spinach From Seeds
Spinach Malabar is a fast-growing vegetable and can grow very easily with less care. Choose the best quality spinach Malabar seeds for better results. If you want to plant Malabar spinach in your home garden or kitchen garden then you can directly sow the seeds in any pots or grow bags. Select a pot or grow bag 18-24 and 6-12 inches wide and deep. The best seeds germination temperature for Malabar spinach is 25-32°C.
Malabar Spinach Seeds Sowing Method
Spinach Malabar (Poi Saag) seeds sowing directly into a pot is the best way to grow. Avoid transplanting or repotting germinated seeds as spinach have delicate root and do not grow well with transplanting. Select a
pot/grow bag
and fill them with a sowing medium. Sow the Malabar spinach seeds about 0.5-1 inch deep in the soil at a distance of 12-18 inches from each seed. Give deep water to your Malabar spinach pots every day by using a
watering can
. Keep the Malabar spinach seedling in a sunny location. Spinach seeds will be germinated within 10-20 days but sometimes seeds can take more or less time to germinate (depending on growing conditions).
Fertilizers For Malabar Spinach Plant
Add any organic fertilizer (neem cake, vermicompost, cow manure) to the soil before planting Malabar Spinach.
After seeds germinate and when the plant makes roots correctly, apply nitrogen-rich liquid fertilizer around the Spinach Malabar plants. If you use solid fertilizer by loosening the soil, then the roots of spinach can be damaged, so use liquid fertilizer after seed germination.
After 10-15 days of Malabar Spinach seeds germination, apply solid organic fertilizer like vermicompost or cow manure.
Spinach Malabar Plant Care Tips
Sunlight –
Malabar Spinach needs 6-8 hours of full sunlight but it can also grow well in 4-6 hours of partial sunlight.
Water –
Malabar Spinach needs constant soil moisture to plant when soil becomes dry but do not overwater and keep the soil moist.
 Soil –
For planting Malabar Spinach, use moist fertile soil with plenty of organic matter, and a soil pH of between 6.5 and 6.8.
Temperature –
Spinach Malabar is a warm-loving plant and the optimum growing temperature is 20-35°C.
Common pests and diseases –
Cutworm, snail, cabbage loopers, and slugs are all common pests of Malabar Spinach that can eat the leaves of the plant to avoid these pests using garlic juice or
neem oil
 spray. Leaf miners and downy mildew are the two main diseases that also affect the Spinach Malabar plants.
Pruning
– Malabar Spinach is a vine plant that can grow over 10 feet and regular harvesting is not enough to keep in size, so regular pruning of leaves and stems is essential.
Support
– To grow the Malabar spinach upright, it needs support like pipes, trellis, rope, or wires.
Malabar Spinach Harvest Time
Malabar spinach (Poi Saag) will take 60-80 days to mature after planting, but you can cut the leaves earlier.
Regular cutting of leaves encourages plant growth.
Cut the leaves of Malabar spinach according to your need using scissors.
Spinach Malabar Plant Special Features
Common name – Vine spinach, Malabar nightshade, Ceylon spinach, Poi saag (पोई साग)
Scientific name - Basella alba
Height – 6 to 10 feet
Level of growing – Easy
FAQ
Can I eat Malabar spinach raw?
Yes, you can eat Malabar spinach raw or add it to salads or sandwiches.
Why is my Spinach Malabar getting wilting?
Overwatering is the main reason behind wilting; so avoid overwatering and keep the soil moist.
Why are my Malabar Spinach seeds not germinating?
Malabar Spinach seeds will not germinate because of improper growing conditions like not getting enough sunlight, sowing seeds too deep in the soil, over-watering, or under-watering.
Does Malabar spinach need full sun?
Spinach Malabar vine plants prefer full sunlight but also can grow in partial shade.
Which fertilizer is best for Malabar spinach?
Nitrogen-rich fertilizer is best for Malabar spinach to encourage plant growth.
How long does Malabar spinach take to grow?
Malabar spinach will take 60-80 days to mature after planting.
How to grow Malabar Spinach plants faster?
Spinach plants give the best result when growing in moist and nitrogen-rich soil.
Why is my Malabar spinach turning yellow?
Malabar spinach turns yellow due to too much water, sunlight, or improper soil conditions.
Why is my Malabar spinach not growing well?
Spinach Malabar will not grow if the soil is too warm or too wet.
Does Malabar spinach need trellis?
Malabar spinach is a vine plant and it can grow above 10 feet so it needs a support pipe, trellis, rope, or wires.
Note: Images are for reference purposes only. The actual product may vary in shape or appearance based on climate, age, height, etc.
Shipping Costs
Free Delivery: Available for Orders Above INR 499.
Prepaid Orders Below INR 499: Shipping Charge of INR 54.
Cash on Delivery Orders Below INR 499: Shipping Charge of INR 84.

Return Policy
Satisfaction Guaranteed: Return or Exchange Within 7 Days of Delivery.
Technical Details
Package Dimension: 12cm*9cm
Item Weight : 3.50g
Net Quantity: 100N
Colour : N/A
Assembly Required: No
SKU :

Additional Information
Brand : OrganicBazar
Country of Origin: India
Manufacturer: HEALTHUNBOX PRIVATE LIMITED
Consumer Care: Phone: 9513316259 | Email - support@organicbazar.net
Consumer Care Address: P NO 225, NEAR OF WATER TANK, VIPATPURA, Narsinghpur (M.P) 487001
Reviews
Seeds got geminated in two weeks and the seedlings look healthy.
How to complete shoping payment.