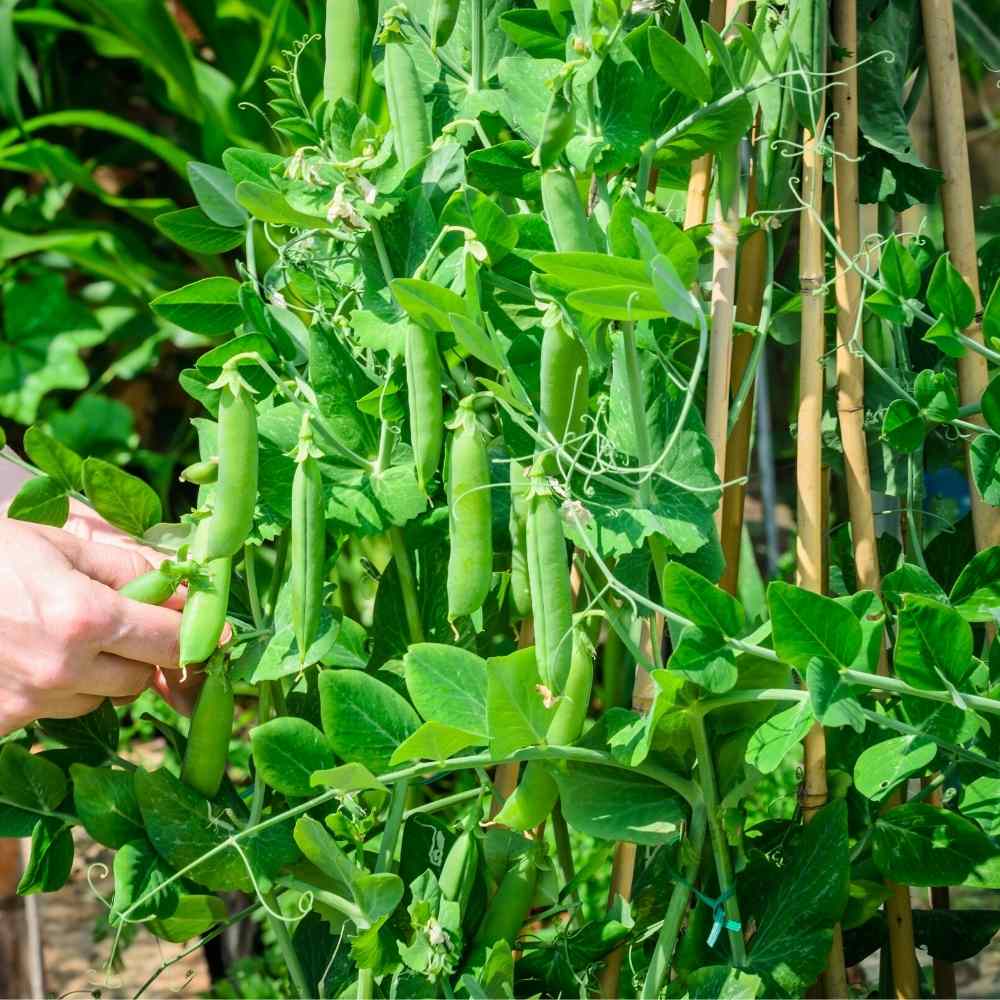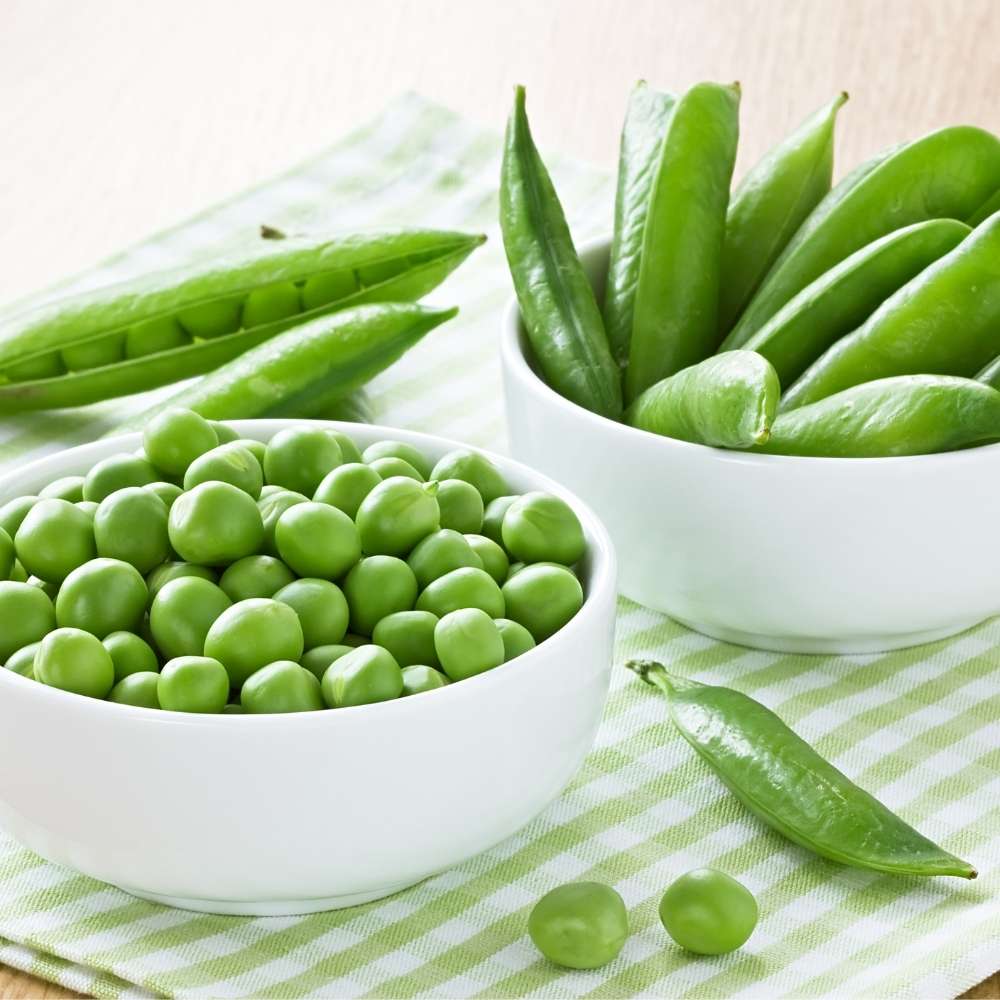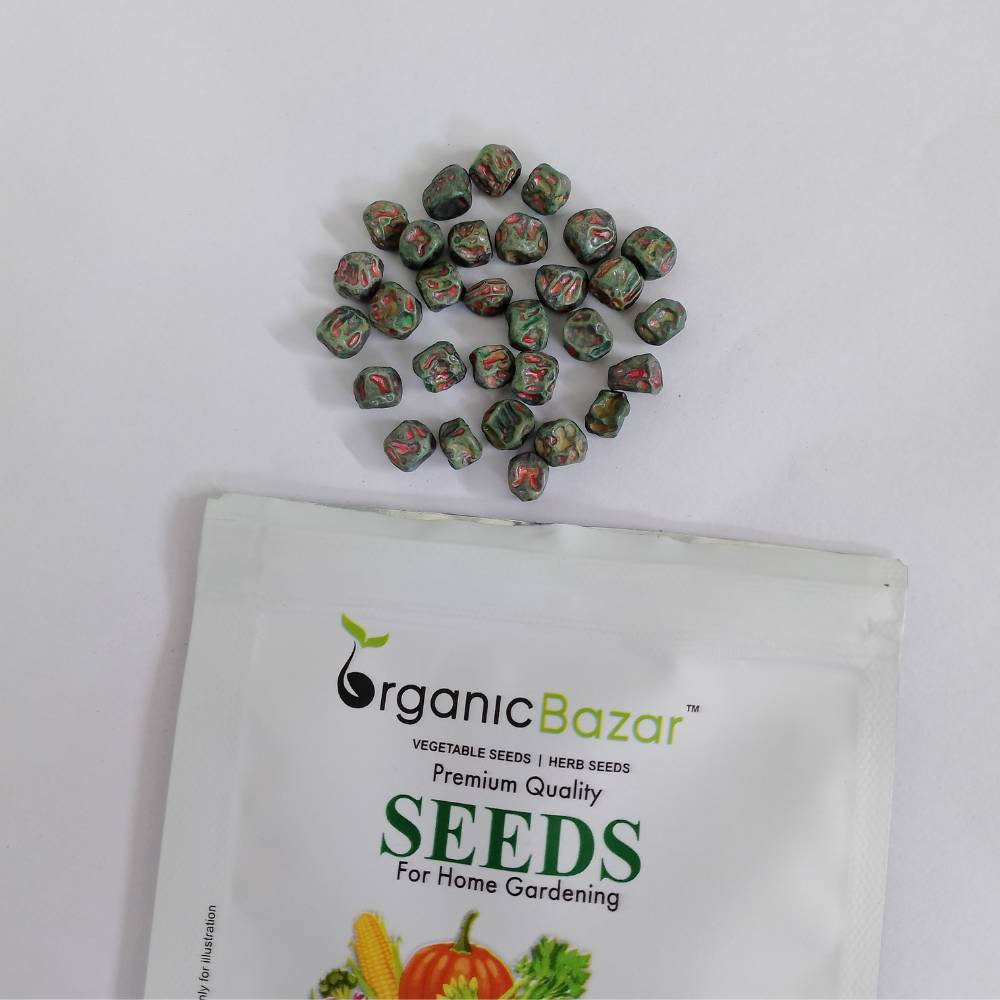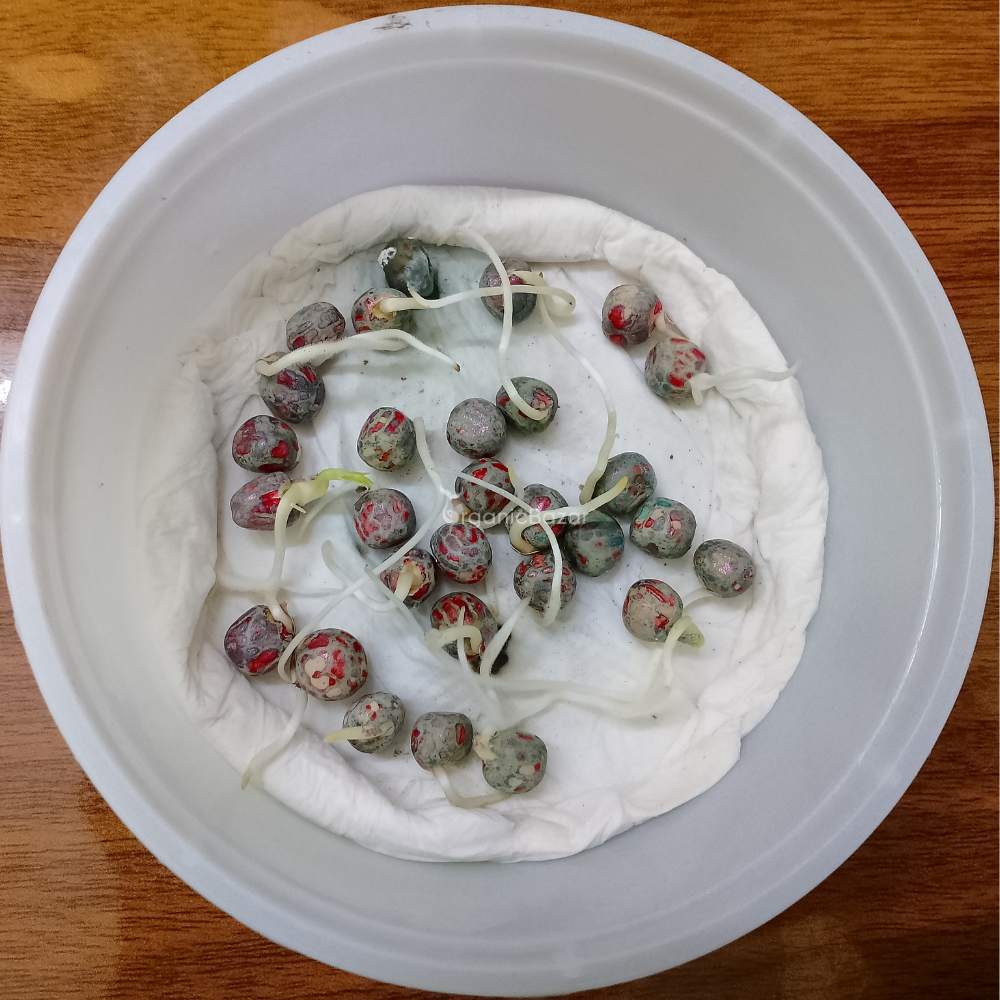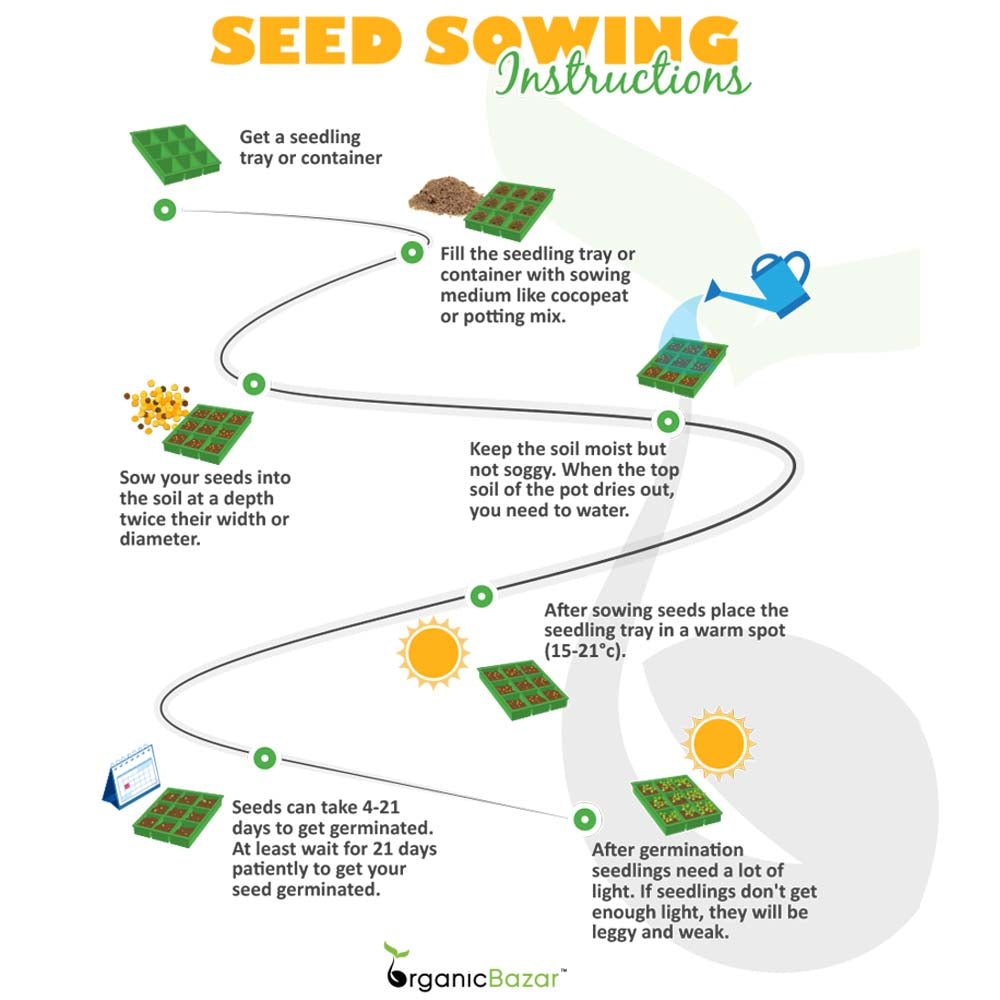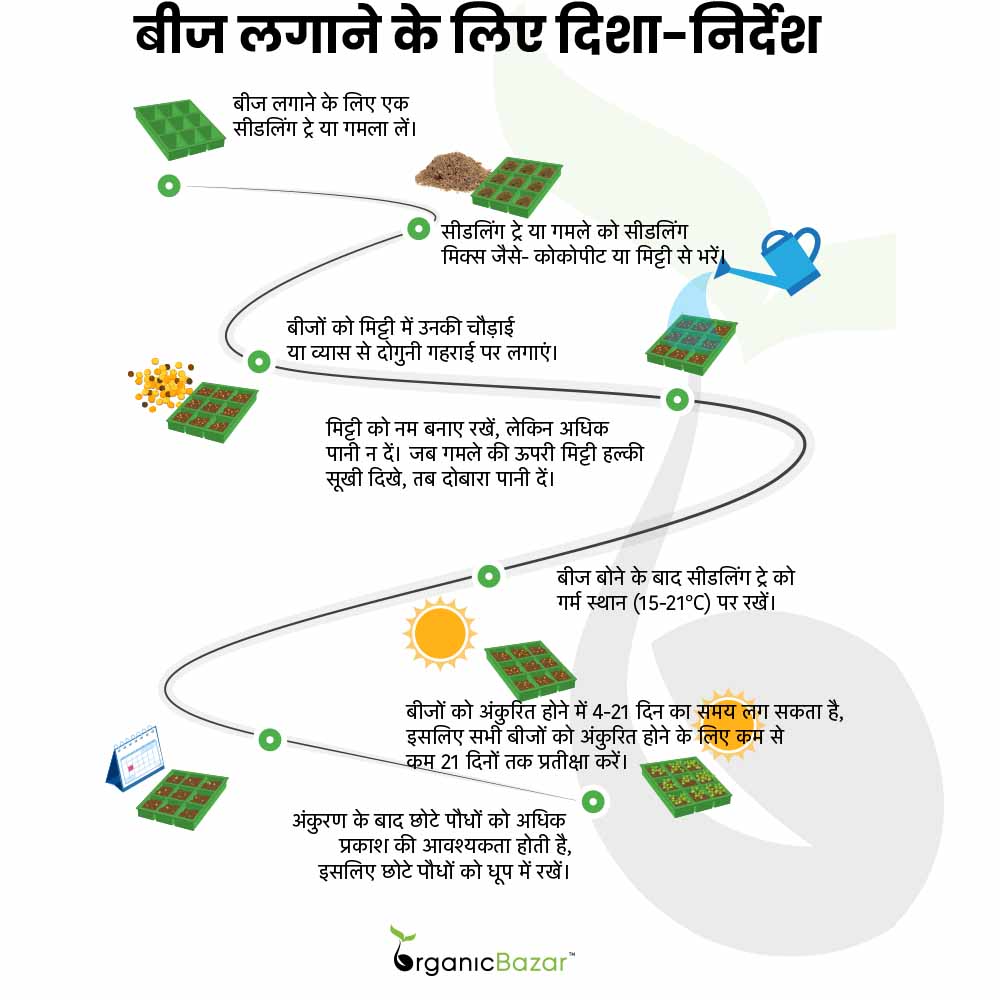 Peas (Matar) Seeds (मटर के बीज)
Sale price
₹ 49.00
Regular price
₹ 90.00
Tax included.
Peas (Matar) Seeds (मटर के बीज)
Sale price
₹ 49.00
Regular price
₹ 90.00
Product description
Shipping & Return
Green peas (Hari Matar) are most favorite vegetable which is a cool season crop. Peas are good sources of vitamin C, vitamin E, and protein. Sweet, crunchy, and healthy peas are an easy and rewarding vegetable that can grow in our home garden or kitchen garden. Peas like cool climates and growing peas in summer is a bad decision. In this information you will learn how to grow peas in pots, what is the best fertilizer for peas, how much water peas need to grow, and many more about growing peas in containers. Buy the Best quality Peas (matar) Seeds Online at the best price in India from
www.organicbazar.net
 with a Good Germination rate.
About this item
Number of Peas seeds (matar ke beej): 30 Seeds

Where to grow: Balcony or terrace garden 

Sowing season: Winter Season

Seeds sowing depth: 1 inch 

Germination temperature: 15-21°C

Germination Time: 7 to 14 days

Harvesting: 55 to 60 days 

Plant vigor: Strong plant with short internodes
What size grow bag is best for Peas?
Peas Seeds Growing Season In India
Peas are cool season vegetable and cannot survive in hot climate. Best time to grow peas in India either in winter (October to January)
How To Grow Peas At Home
Direct sowing method is best for planting peas. Pea seeds germination temperature should be 15-21°C. Peas need support for growing, provide a support structure like trellis, poles, pipe, bamboo, rope or wires.
Peas Seeds Sowing Method
Pea seeds should be sown directly rather than transplanting. Select a
pot/grow bag
and fill them with a sowing medium. Sown peas seed per pot in about 1 inch deep in soil at a distance of 2-4 inches from each seed. Give deep water to the soil by using a
watering can
. Keep the pot in sunny location for seeds germinated. Pea seeds will be germinated in 7-14 days.
Pea Fertilizer Requirements
Peas need phosphorus and potassium rich fertilizer like
organic potash fertilizer
but excess nitrogen will encourage foliage growth instead of flowers or pods. Apply any liquid organic fertilizer (like tea compost) every week when pea start flowering.
Peas Plant Care Tips
Water -
Pea plants don't require a lot of water, so keep the soil moist and water when the soil is dry, or at least 1 inch of water every week.
Soil -
Best soil recommendations for peas is loamy and well drained.
Sunlight -
Peas need at least 6 hours of full sunlight for better growth.
 Temperature -
10-30°C is the best-growing temperature for pea plants.
Common pests and diseases -
Pea aphids, pea pod borer and maggots are the common pests found in peas. Downy mildew, powdery mildew and root rot fungi makes foliage yellowed, stunted and wilted. Use organic pesticides as:
neem oil
to avoid these insects and pests.
Peas Harvest Time 
Within 60-80 days peas will be ready to harvest.
Pea Plant Special Features
Common name – Hari matar (हरी मटर)
Scientific Name - Pisum Sativum
Plant Height – About 3 feet
Grow level – Easy
FAQ
Why are my pea seeds not germinating?
Pea seeds will not germinate because of improper growing conditions like not getting enough sunlight, over watering or under watering.
Why is my pea plant not flowering?
There are three factors like water, sunlight and temperature changes that affect the blooms of your peas. Don't get too much water or less water to your green pea plants and keep the plant at a place where it can get proper sunlight.
Note: Images are for reference purposes only. Actual products may vary in shape or appearance based on climate, age, height, etc.
Shipping Costs
Free Delivery: Available for Orders Above INR 499.
Prepaid Orders Below INR 499: Shipping Charge of INR 54.
Cash on Delivery Orders Below INR 499: Shipping Charge of INR 84.

Return Policy
Satisfaction Guaranteed: Return or Exchange Within 7 Days of Delivery.
Technical Details
Package Dimension: 12cm*9cm
Item Weight : 9g
Net Quantity: 30N
Colour : N/A
Assembly Required: No
SKU : Peas

Additional Information
Brand : OrganicBazar
Country of Origin: India
Manufacturer: HEALTHUNBOX PRIVATE LIMITED
Consumer Care: Phone: 9513316259 | Email - support@organicbazar.net
Consumer Care Address: P NO 225, NEAR OF WATER TANK, VIPATPURA, Narsinghpur (M.P) 487001
Reviews
बहुत अच्छा है इसे बिज को सभी लोग खरीदी करो
हम विशेष रूप से आपके सुझाव से प्रभावित हुए हैं कि आप सभी लोगों को हमारे मटर के बीज खरीदने के लिए प्रोत्साहित कर रहे हैं। यह हमें बताता है कि आपने हमारे उत्पादों से वास्तव में सकारात्मक अनुभव किया है।
Good quality
Bought these peas seeds. Very happy as germination rate was 100%. Seeds are fresh. Very happy with my purchase
Thank you for the wonderful review.
Good product
I ordered peas seed and with that I received coriander seeds as free gift, and I am very glad to say all seeds are germinated.
Very good quality.
Thank you for your wonderful review! We're thrilled to hear that our Peas (Matar) Seeds exceeded your expectations .
Not good
I bought peas seed and with that I got free gift of coriander seeds. But both were very bad, not even a single seed germinated.
Very poor quality
We regret that our seeds did not meet your expectations. Our research highlights that successful germination relies on factors like weather, location, temperature, and watering.
All our seeds pass germination tests, and you can view test images on our website. To achieve better results, we recommend following proper procedures. Watch our helpful germination video here
https://youtu.be/Jj6HNnTynAo
Seedling care tips https://youtu.be/IuPe2QebdiE
We apologize for any inconvenience and are here to assist you. Your satisfaction is important to us.