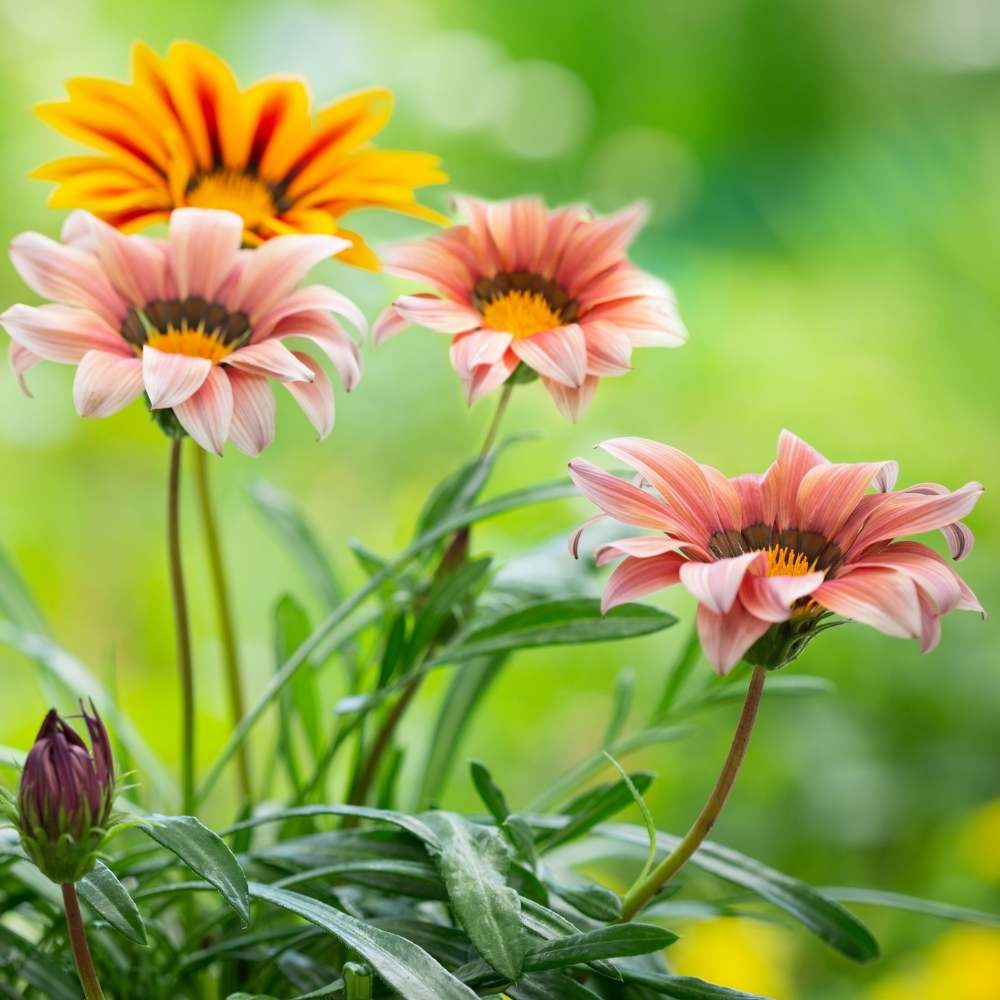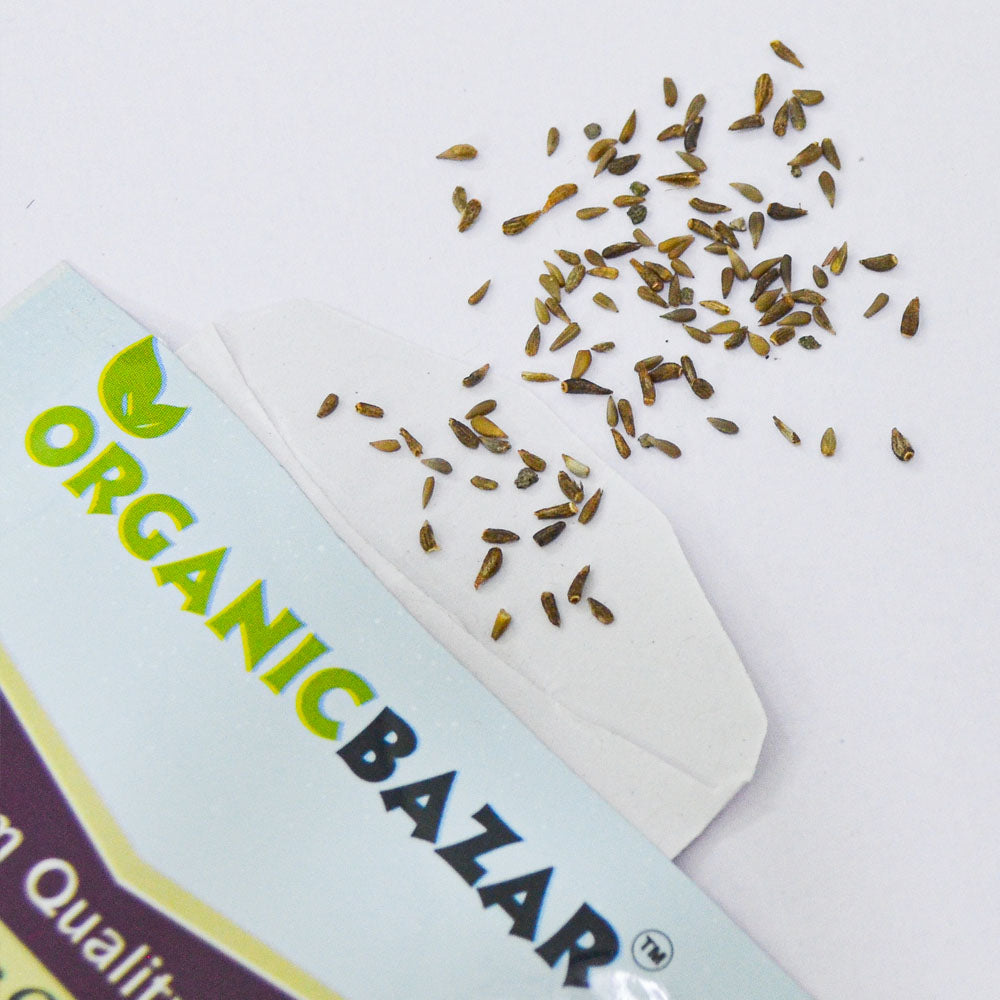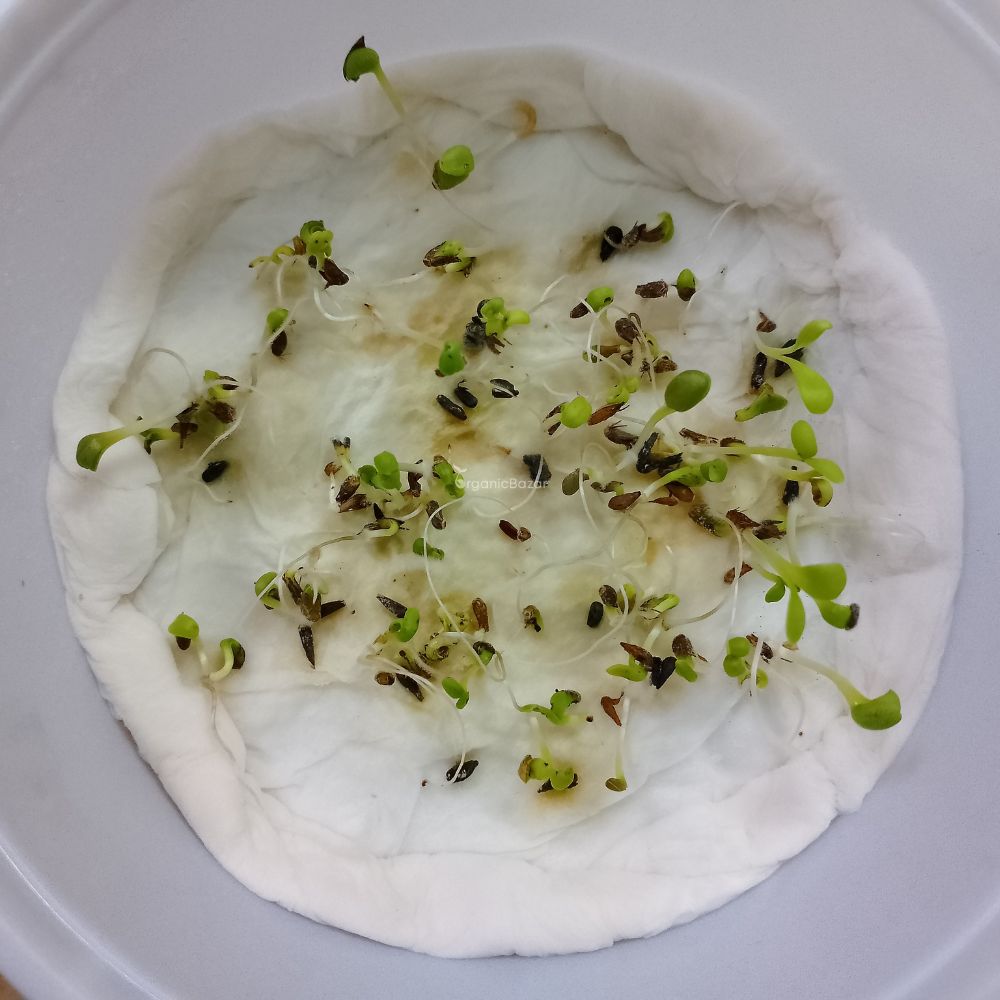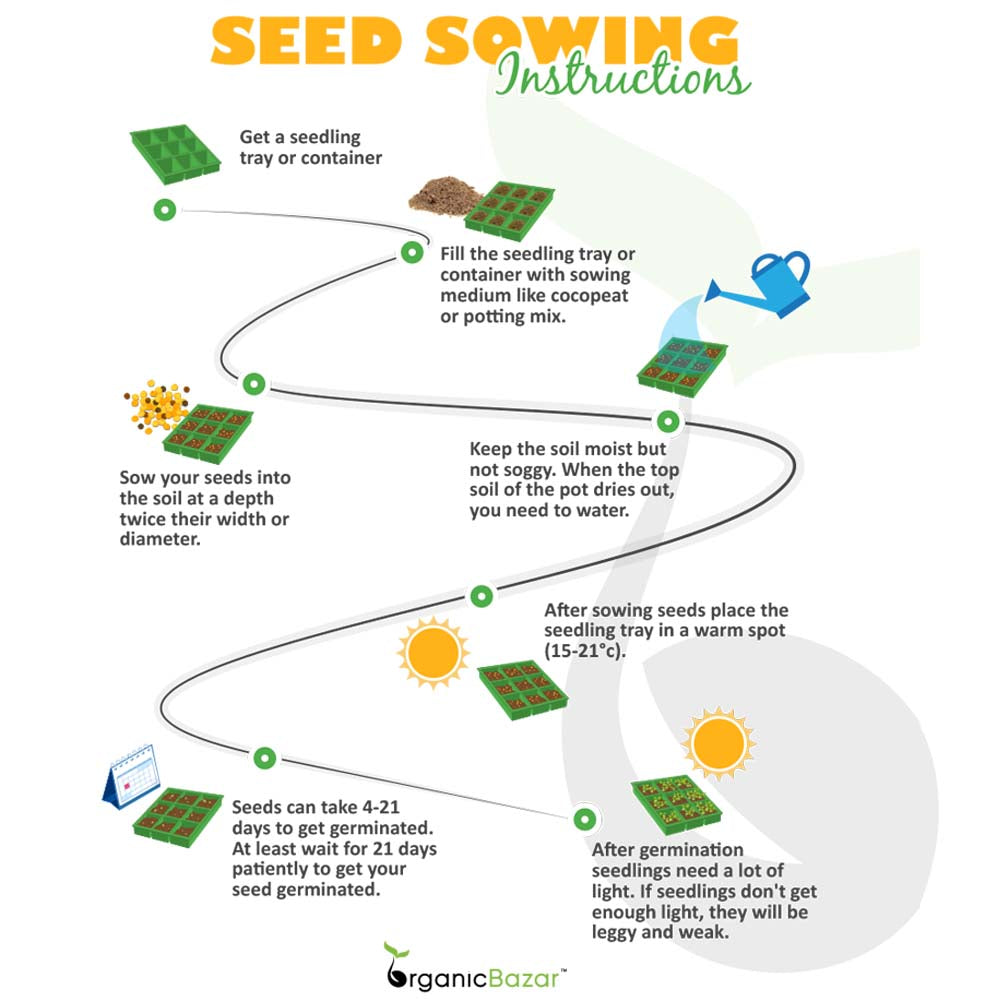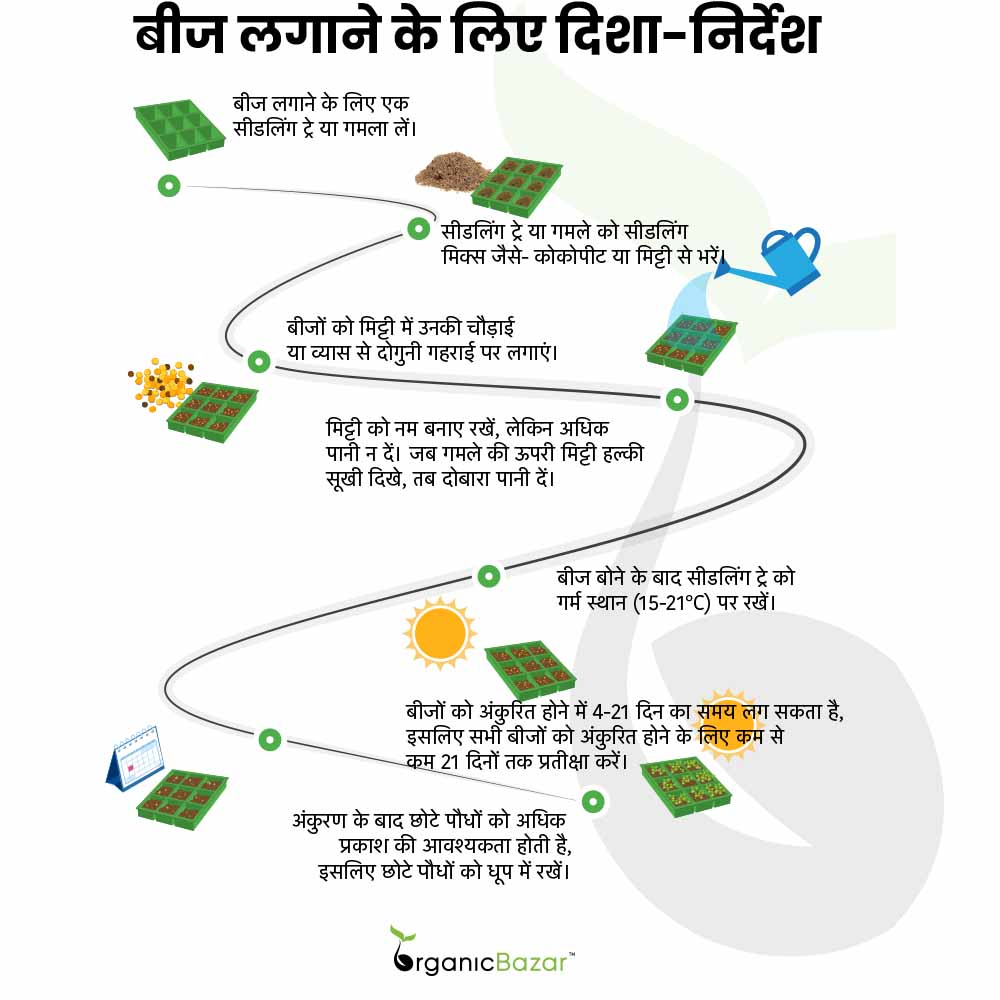 Gazania Star Light Dwarf Mix Seeds
Sale price
₹ 59.00
Regular price
₹ 99.00
Tax included.
Gazania Star Light Dwarf Mix Seeds
Sale price
₹ 59.00
Regular price
₹ 99.00
Product description
Shipping & Return
Gazania is an annual or perennial flower plant known as a treasure flower. The plant produces vibrant colors of yellow and orange or multi-colored flowers that resemble daisy flowers. This sun-loving flower is perfect for containers, gardens, balconies, or hanging pots. Gazania has low care requirements so you can easily grow it with the right instructions.
Buy the best Quality Gazania Star Light Dwarf Seeds Online at the best price from
www.organicbazar.net
and add colors to your garden.
Product Detail
Seed quantity: 100 Seeds
Where to grow: Balcony or terrace garden
Sowing season: 

Spring, Summer, or late winter

Sowing method: Direct or Seedling transplant
Germination temperature: 21-26°C

Germination Time: 7 to 14 days from sowing

Blooming Time: 

70-85

days (Late spring to fall)
What size grow bag is best for Gazania?
Gazania Growing Season In India
Gazania, or the treasure flower, is best grown in India during the warm and hot seasons, typically from April to September, encompassing late spring, summer, and early monsoon months.
How To Grow Gazania In Containers 
You can sow gazania seeds directly in containers or with the seedling transplant method.
Sow gazania seeds when the soil temperature is around 21-26°C. The best size of the pots or grow bags for planting gazania is 9 to 15 inches wide and deep.
Gazania Star Light Dwarf Seeds Sowing Method 
Take a pot, fill it with potting mix and sow the gazania seeds in the soil at a depth of about ¼ inch. Sow the gazania starlight seeds in pots about 5-8 inches apart. Water the potting soil gently through a watering can and keep the soil moist until germination. Gazania needs light to grow so place the pot in a sunny spot. Gazania seeds can germinate within about 7-14 days of sowing. 
Tips -
If you are transplanting gazania, place the pot in partial sunlight for a few days after transplanting to protect the seedling from transplant shock. After 3 days, keep the pot in full sunlight.
Gazania Fertilizer Requirements 
Since gazania is a low-maintenance flowering plant, it does not require any specific fertilizers. However, you can add potash-rich fertilizer
 to the soil at the growing stage for healthy growth.
Gazania (Star Light) Plant Care Tips 
Soil -
Use sandy and neutral soil with good drainage for planting gazania, however, it can grow well in a variety of soil types.
Water -
Gazania is a drought-tolerant flowering plant, so it has no additional water requirements. Allow the soil to dry out between waterings to prevent the risk of overwatering.
Sunlight -
Full sunlight (6 to 8 hours) is the key to gazania flower success. Also not place the plant in a shaded area as this may cause the plant to not fully bloom.
Temperature -
The optimum growing temperature for gazania is 18-32
°C. 
Common pests and diseases -
Mealybugs, spider mites, and aphids are some of the pests that attack gazania plants and diseases such as leaf spots and powdery mildew infect the plants, diseases caused by humid environments. Use a spray of neem oil on gazania plants to get rid of these pests.
Deadhead -
Deadhead encourages more blooms and gives room for new blooms
.
Removing or deadheading spent flowers is very important for a gazania's healthy growth. 
Gazania Blooming Time
Usually, gazania takes 70-85 days to bloom. 

Late spring to fall is the time when gazania blooms. 
Gazania Special Features 
Common name - Treasure flower, gazania, African daisy

Scientific name - Gazania rigens

Height - 6 to 20 inches

Level of growing - Easy
FAQ 
Why is my Gazania not blooming?
Sometimes you notice that your gazanias do not bloom, mainly because they are unable to transfer their energy into making new blooms. You should give proper water and fertilizer and regularly deadhead spent flowers so that the plant will build up energy and transfer it into making new blooms.
Will gazanias survive winter?
Gazania is a cold-sensitive plant and cannot survive in the winter cold. Temperatures below 7°C are not good for Gazania plants.
Note: Images are for reference purposes only. Actual products may vary in shape or appearance based on climate, age, height, etc.
Shipping Costs
Free Delivery: Available for Orders Above INR 499.
Prepaid Orders Below INR 499: Shipping Charge of INR 54.
Cash on Delivery Orders Below INR 499: Shipping Charge of INR 84.

Return Policy
Satisfaction Guaranteed: Return or Exchange Within 7 Days of Delivery.
Technical Details
Package Dimension: 12cm*9cm
Item Weight : 20mg
Net Quantity: 100N
Colour : N/A
Assembly Required: No
SKU : Gazania

Additional Information
Brand : OrganicBazar
Country of Origin: India
Manufacturer: HEALTHUNBOX PRIVATE LIMITED
Consumer Care: Phone: 9513316259 | Email - support@organicbazar.net
Consumer Care Address: P NO 225, NEAR OF WATER TANK, VIPATPURA, Narsinghpur (M.P) 487001
Reviews
I chalked for vegetable seeds earlier looking at a successful germination called for flower seeds
Thank you, Jaya Prasad, for your positive review of our Gazania Star Light Dwarf Mix Seeds! We're thrilled that you found them to be perfect for your gardening needs.
Good germination
Seeds are of good quality and rate of germination is good.
Thank you, C N Raghu, for your positive review of our Gazania Star Light Dwarf Mix Seeds! We're thrilled to hear that you had a good experience with our product, and that the germination rate was satisfactory.
Gazania Star Light Dwarf Seeds
Thank you for mentioning the product, Sanjay Sharma. If you have any specific feedback or questions about our Gazania Star Light Dwarf Mix Seeds, please feel free to share. We're here to assist you with any inquiries you may have. Happy gardening!
Gazania Star Light Dwarf Seeds
Till now 70% germination rate
Quality is good, anyone can go for it