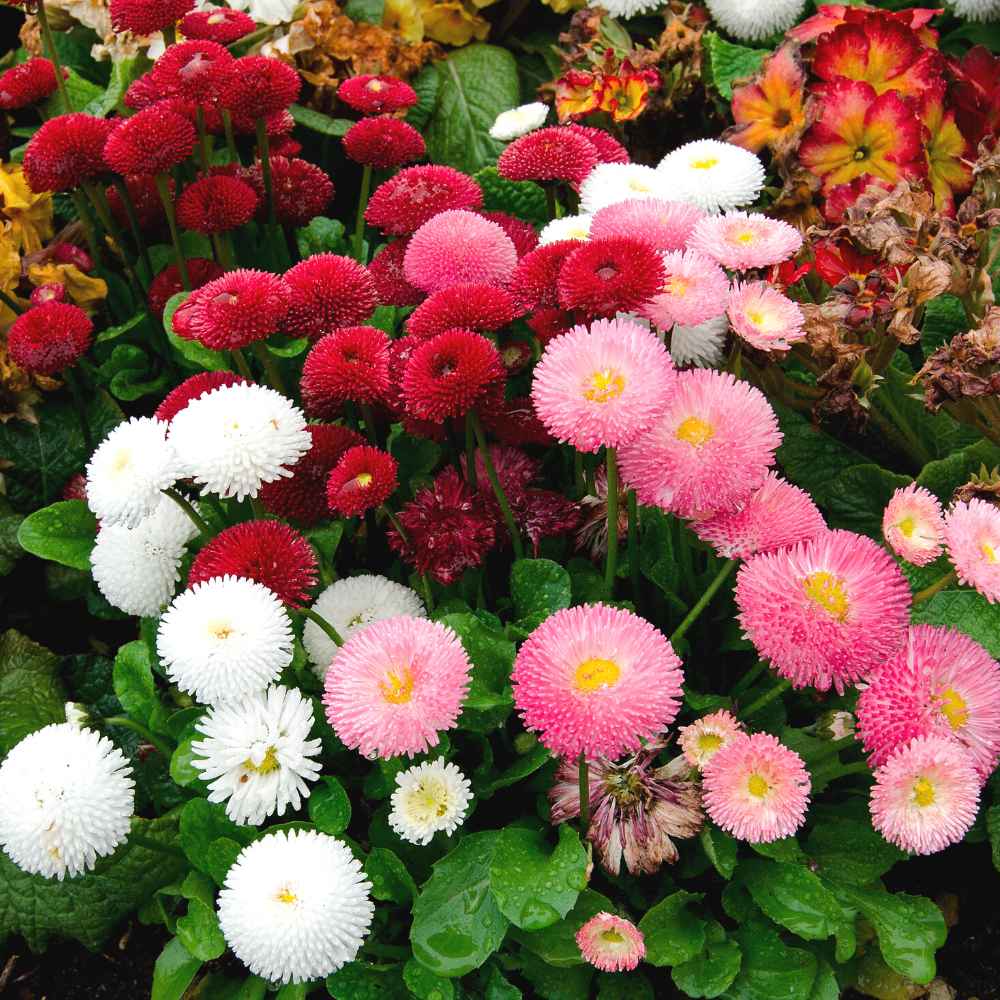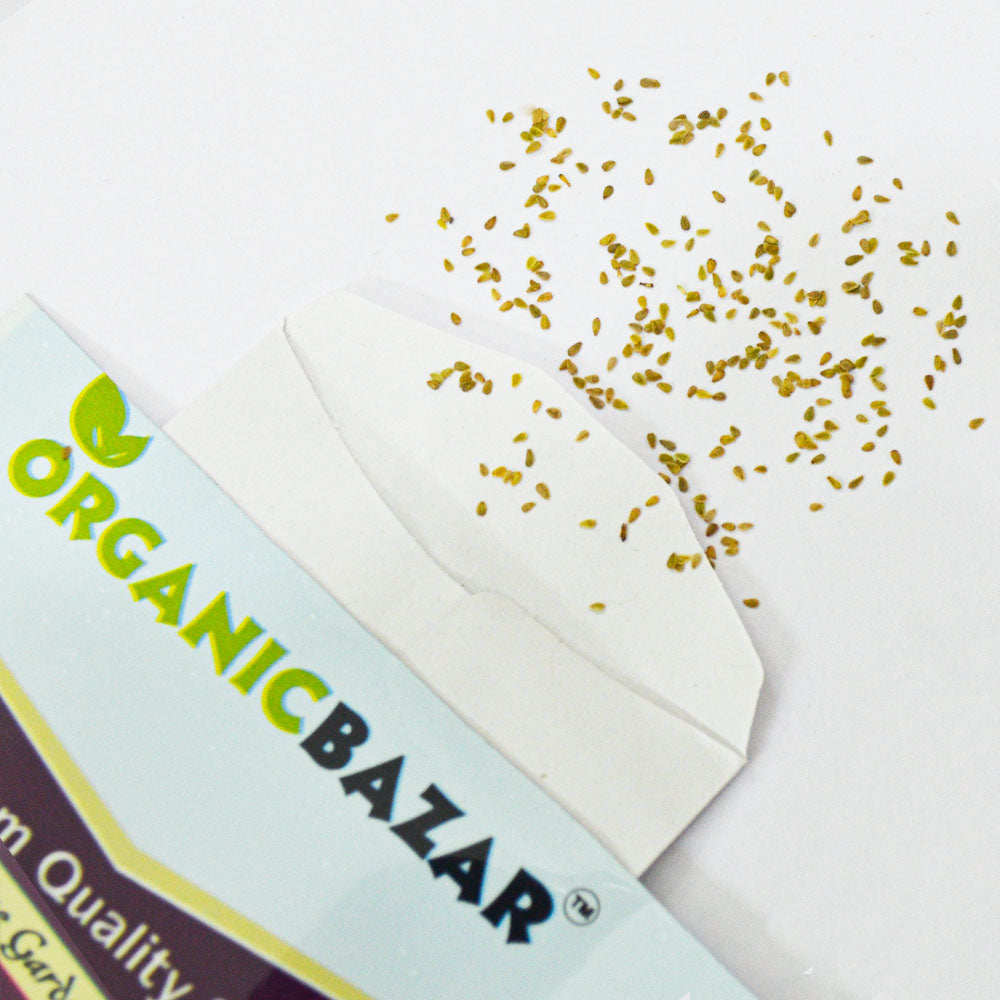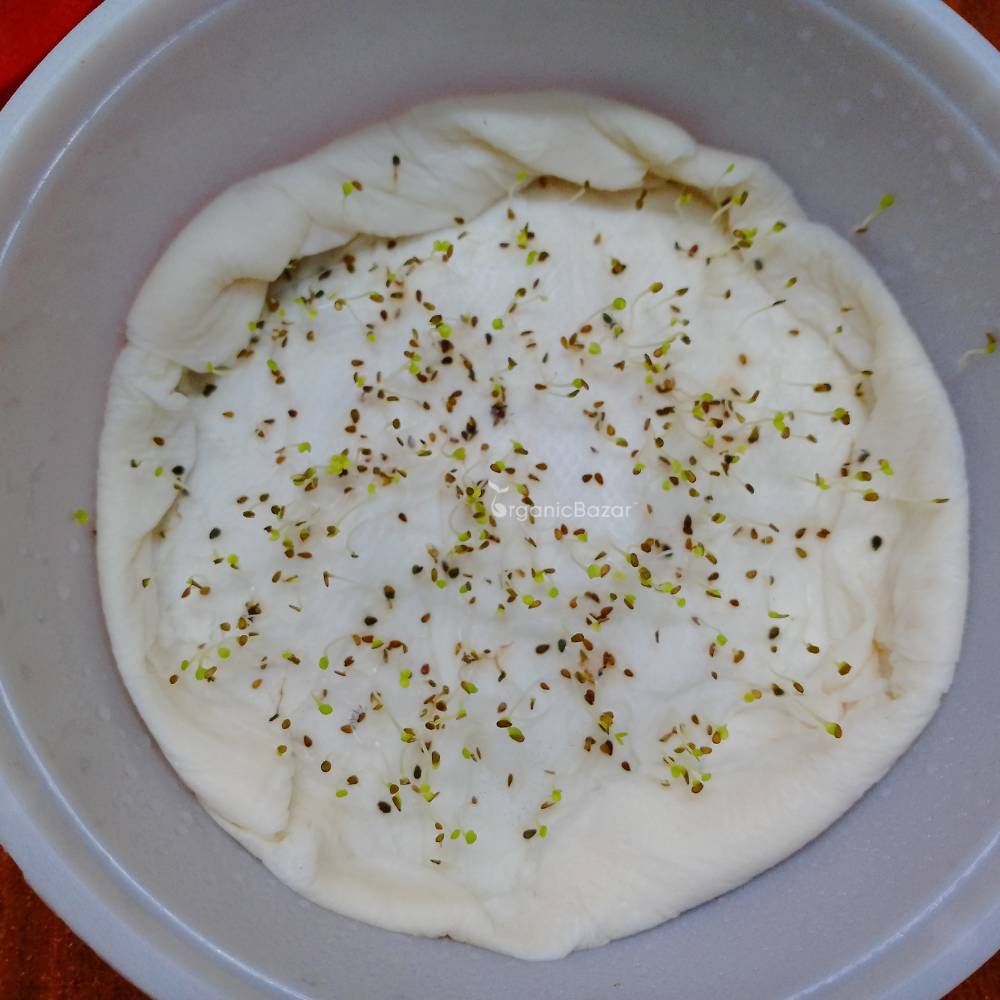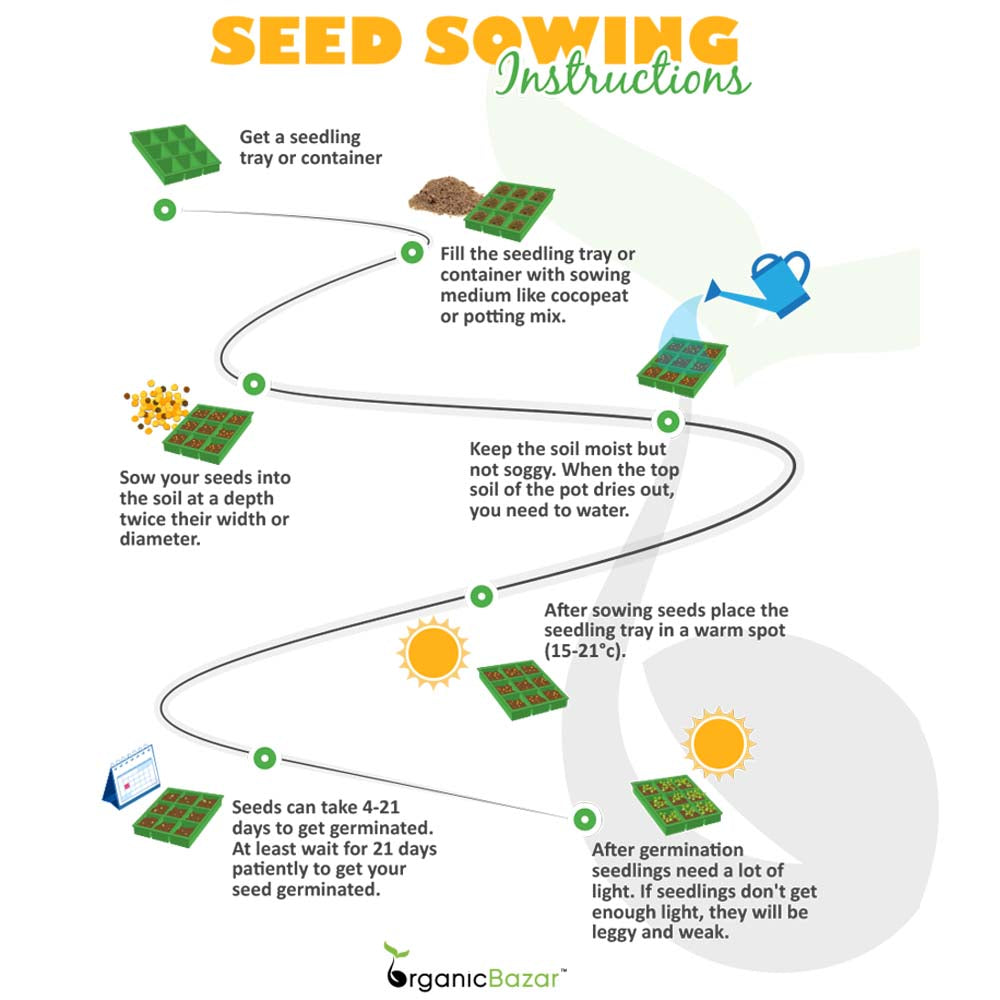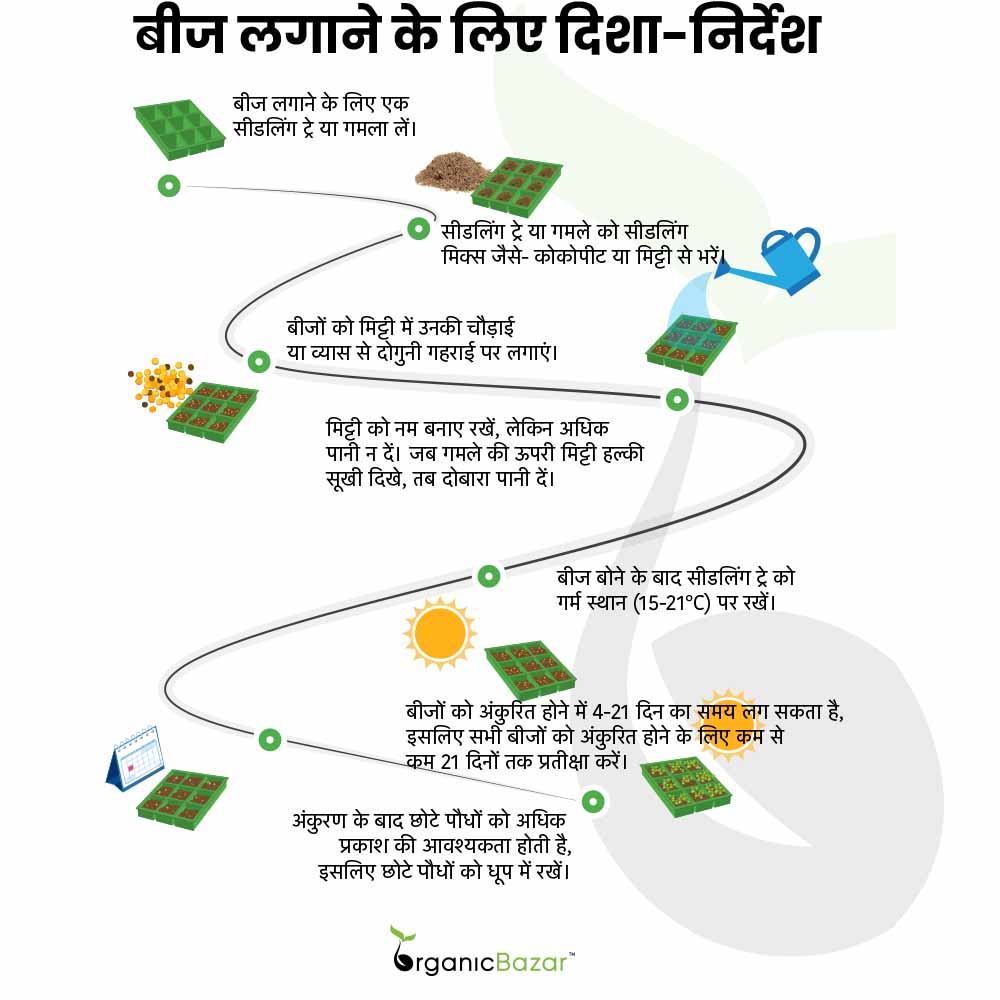 Daisy Pomponette Mix Seeds (Gulbahar/गुलबहार का बीज)
Sale price
₹ 40.00
Regular price
₹ 149.00
Tax included.
Daisy Pomponette Mix Seeds (Gulbahar/गुलबहार का बीज)
Sale price
₹ 40.00
Regular price
₹ 149.00
Product description
Shipping & Return
Pomponette daisy is a perennial or biennial flowering plant also known as English daisy and is very popular all over the world. It is very easy to grow and is a low-maintenance plant and perfect for planting in your terrace garden, home garden, balcony, or pots. The Daisy flower is a symbol of peace and happiness. Plants produce dark green leaves and soft and pompon-like cute flowers. Daisies are very easy to grow if you follow instructions. To plant daisies buy the Best Quality Daisy Pomponette Mix Seeds Online at the best price from
www.organicbazar.net
and add colors to your garden. 
Product Detail
Seed quantity: 200 Seeds
Where to grow: Balcony or terrace garden
Best Sowing Season: Winter Season
Sowing method: Direct or Seedling transplant
Germination temperature: 20-25°C
Germination time: 10 to 20 days
Sowing distance: 5 inches Plant to Plant
Blooming time: Spring to fall
What size grow bag is best for Daisy?
Daisy Pomponette Growing Season In India 
Daisies grow best in India during the cooler and mild winter season, typically from October to February.
How To Grow Pomponette Daisy In Pots
Daisy is a low-maintenance flowering plant, you can sow daisy seeds directly in pots or start them in
seedling trays
and then transplant them. The optimum soil temperature for daisy seed germination is 20-25°C. Choose a 
pot 
or 
grow bag
 at least 9 inches wide and deep for planting daisies. Each plant needs a spacing of at least 5 inches.
Daisy Pomponette Seeds Sowing Method
Take a pot or grow bag and fill the pot with
potting mix
, and if you are planting in the soil add organic fertilizers like
vermicompost
,
neem cake powder
, and seaweed for healthy growth. Sow the daisy seeds about ⅛  inch deep in the soil and cover the seeds with soil. Daisy seeds need light to germinate so keep the pot in a sunny spot. Water the soil gently through a watering can and keep them moist until germination; Daisies can germinate in about 10-20 days.
Daisy Flower Fertilizer Requirements
Add vermicompost to the soil every few weeks to keep the daisy healthy.
You can add Epsom salt to the soil for more blooms.
Pomponette Daisy Plant Care Tips
Soil -
Use fertile, organic, and sandy loamy soil to plant daisies.
Water -
Daisy is drought tolerant but it likes the consistency of moisture in the soil. Water once a week but do not over-water the soil as it may cause disease to the plant.
Sunlight -
Full sunlight (6-8 hours) and cool weather are the keys to successful daisy plant growth. However, daisies can grow in some partial shade on hot days.
Temperature -
The best temperature for growing daisy flowers is between 21-23°C.
Common pests -
Insects such as aphids, slugs, and earwigs attack daisy plants. To get rid of the pests, it would be right to spray
neem oil
on the daisy plants.
Deadhead -
To promote more flowers, deadheading or removing spent blooms is very important. Remove flower heads whenever the flower fades.
Daisy Pomponette Flower Blooming Time
Daisies bloom year-round in frost-free areas. Usually, it blooms from spring to fall.
You can expect to flower within 2-3 months from planting.
Daisy is a long-lasting flower that you can decorate in a vase. A cut daisy flower can stay fresh in water for up to 10 days.
Pomponette Daisy Flower Special Feature
Common name - English daisy, lawn daisy
Scientific name - Bellis perennis
Height - 6 to 24 inches
Level of growing - Easy
FAQ 
How do you keep daisies blooming?
Deadheading is very essential for daisy flowering plants, it will keep the plant healthy and encourage more blooms plus it will help extend the blooming season.
Why are my daisies dying?
The main reason why daisy plants die is excessive water in the soil, if you are facing this problem then do not overwater and use soil with good drainage.
Note: Images are for reference purposes only. Actual products may vary in shape or appearance based on climate, age, height, etc.
Shipping Costs
Free Delivery: Available for Orders Above INR 499.
Prepaid Orders Below INR 499: Shipping Charge of INR 54.
Cash on Delivery Orders Below INR 499: Shipping Charge of INR 84.

Return Policy
Satisfaction Guaranteed: Return or Exchange Within 7 Days of Delivery.
Technical Details
Package Dimension: 12cm*9cm
Item Weight : 5mg
Net Quantity: 200N
Colour : N/A
Assembly Required: No
SKU : Daisy-Pomponette

Additional Information
Brand : OrganicBazar
Country of Origin: India
Manufacturer: HEALTHUNBOX PRIVATE LIMITED
Consumer Care: Phone: 9513316259 | Email - support@organicbazar.net
Consumer Care Address: P NO 225, NEAR OF WATER TANK, VIPATPURA, Narsinghpur (M.P) 487001
Reviews
Good quality
10% Seeds germinated, seedlings also healthy, waiting for the blooms
Please share images, once your flower bloom. Happy gardening!!
Seeds
Good seeds with high germination
Thank you for the review.
Totally waste of money
Not germinated well , only few plants developed
Dear customer,
Thank you for your review of our Daisy Pomponette Mix Seeds. We're sorry to hear that your seeds did not germinate well.
We understand that it can be frustrating when seeds don't germinate, and we want to assure you that we're committed to providing our customers with the highest quality products possible.
Very good seeds
Nice germination rate 90%