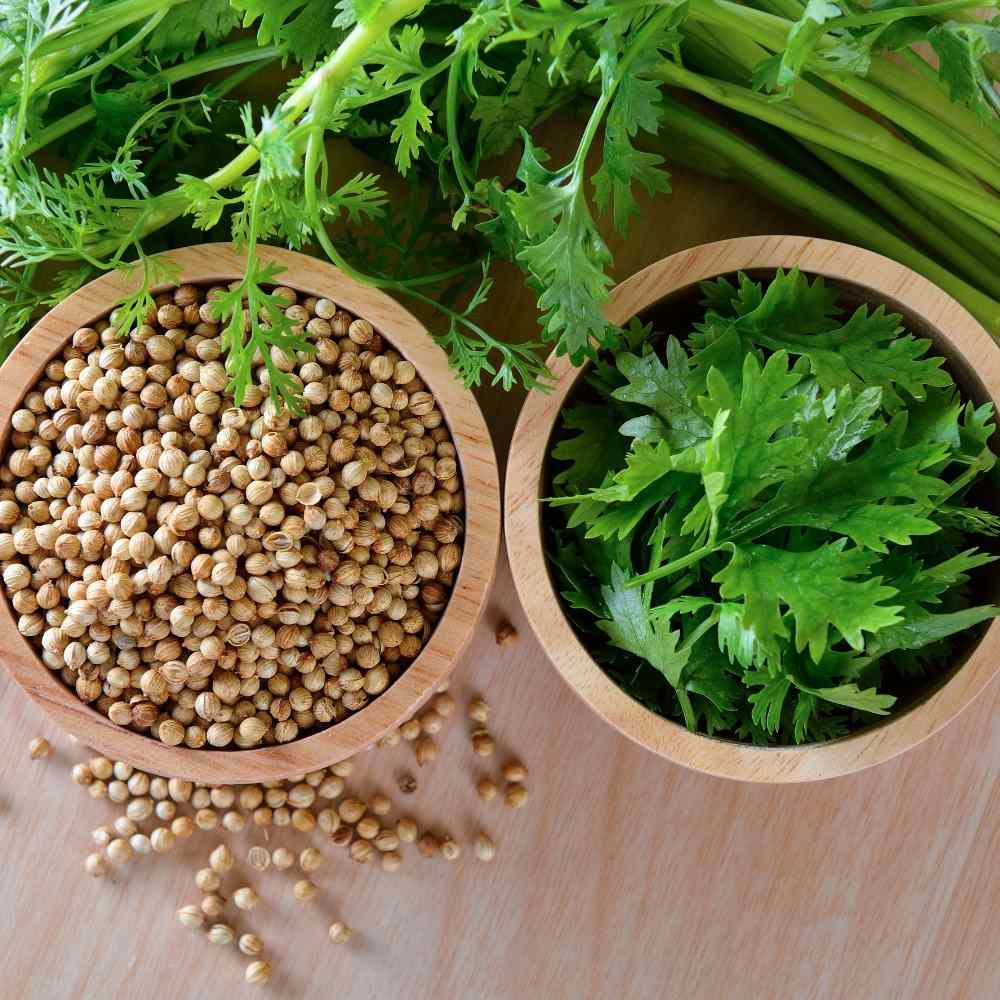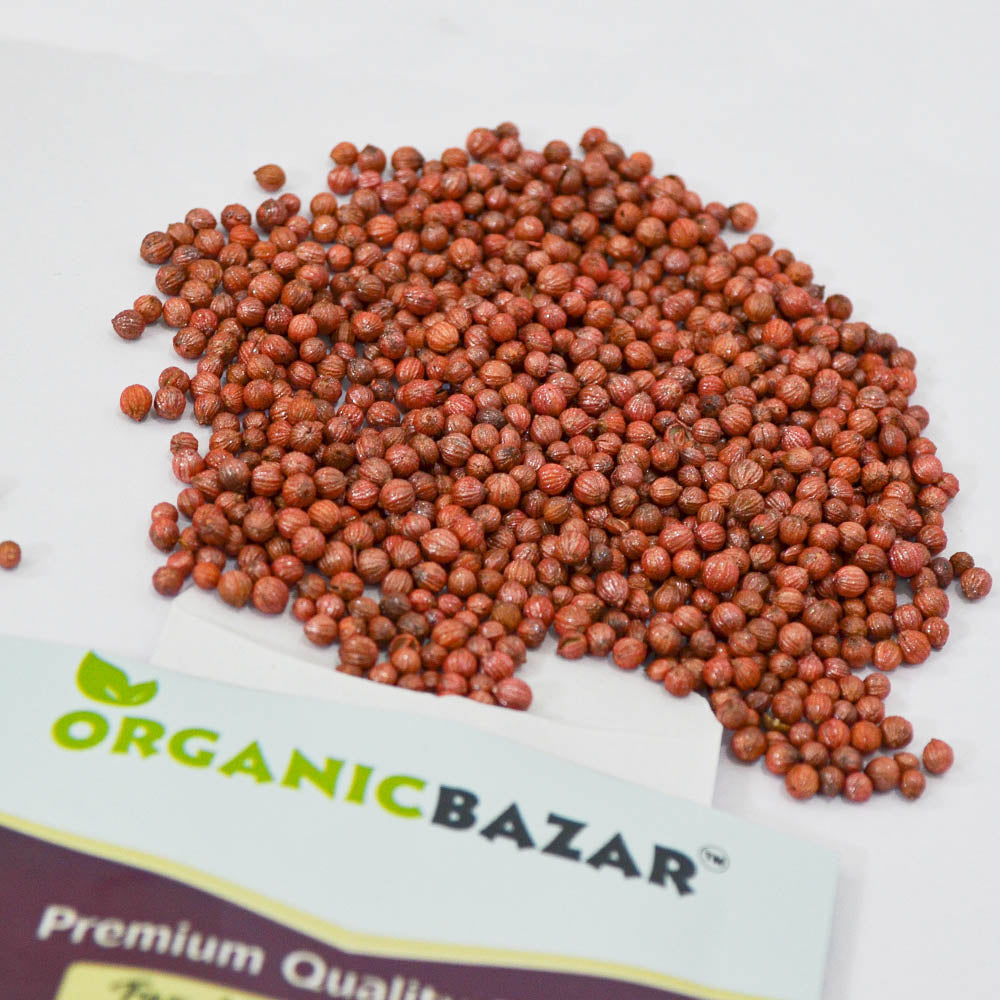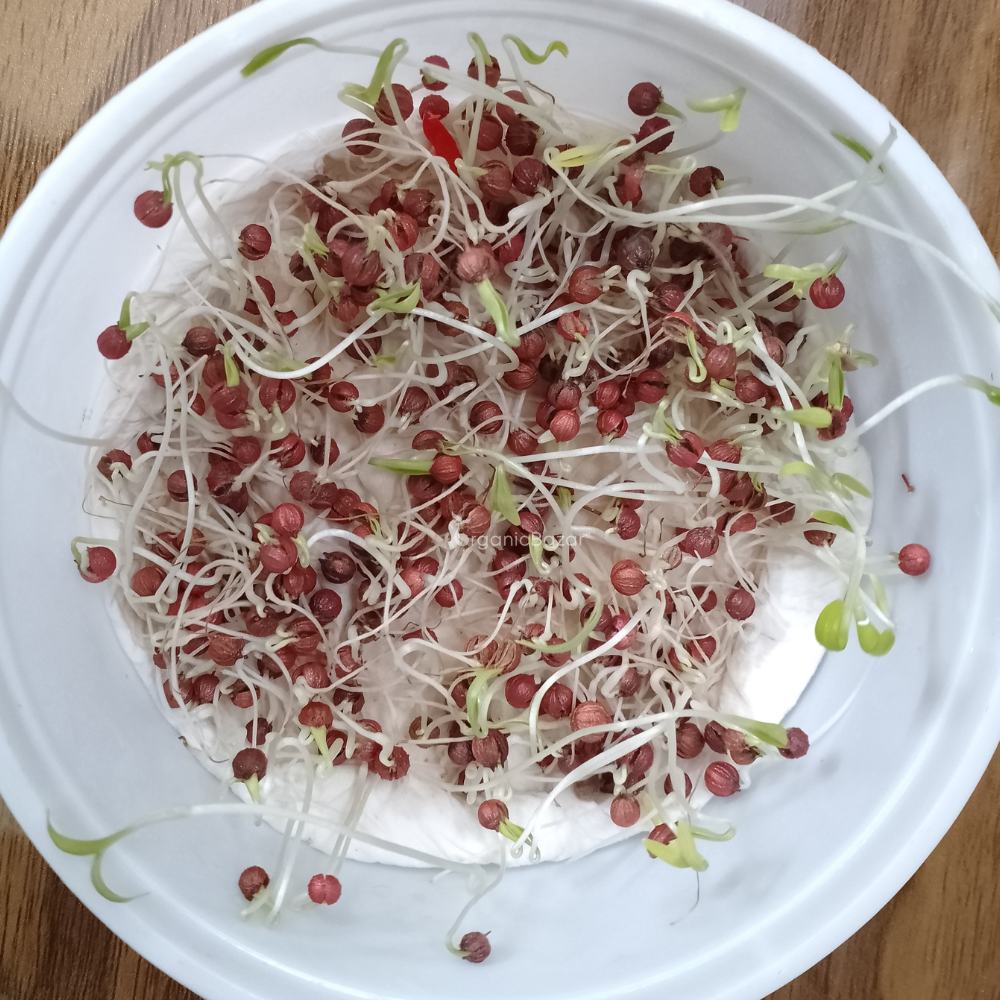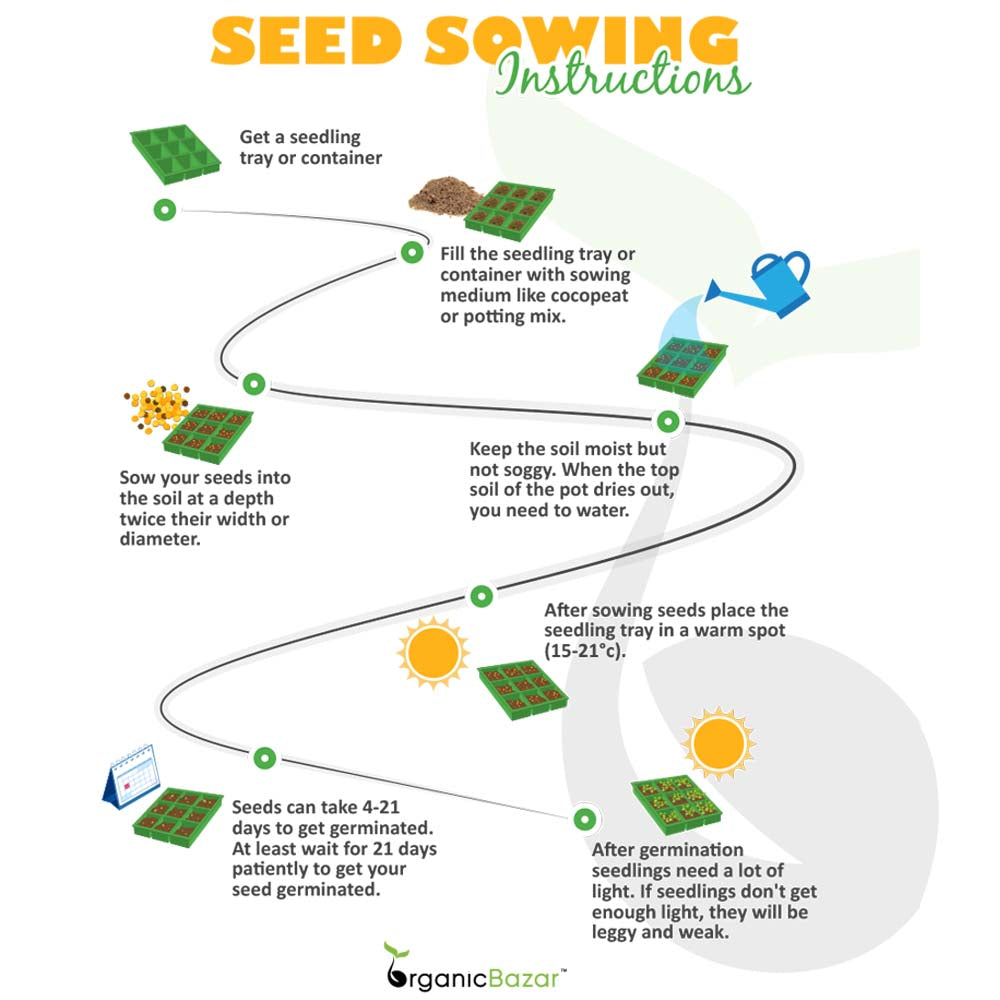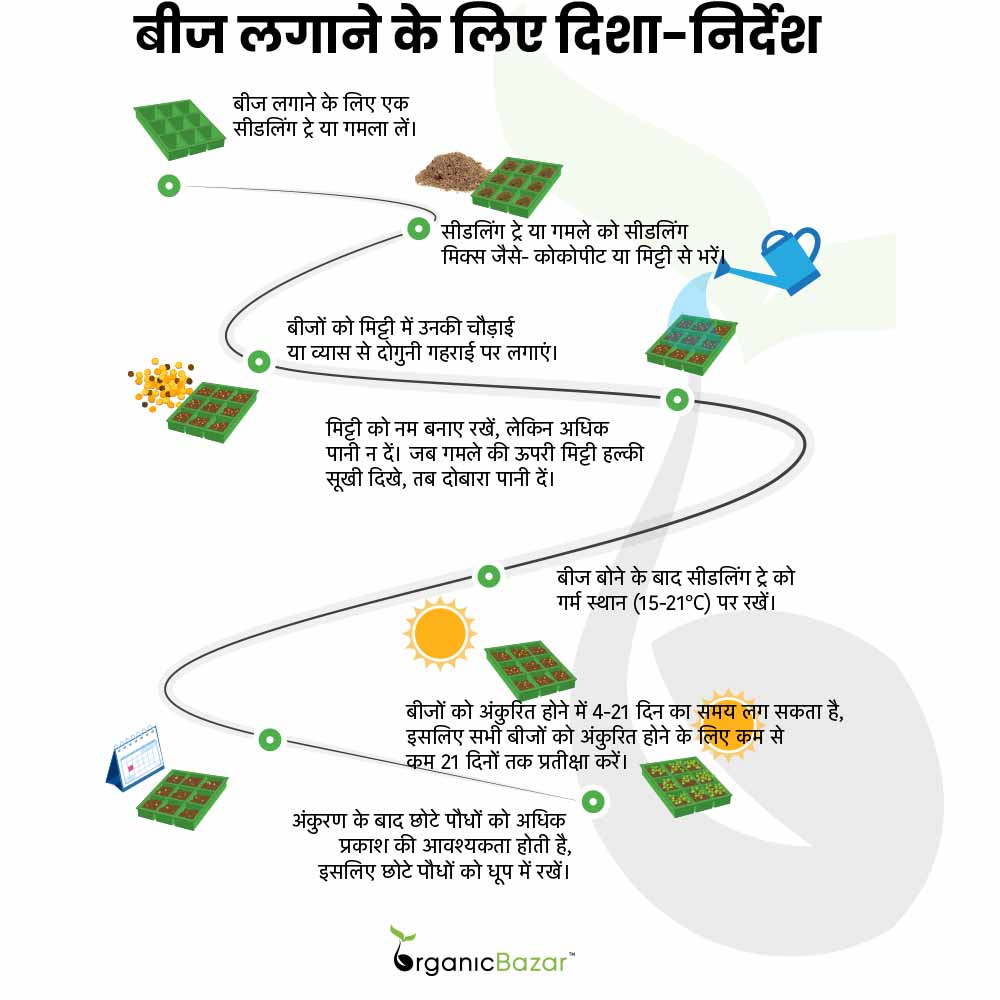 Coriander (Dhaniya) Seeds Hybrid (धनिया के बीज)
Sale price
₹ 59.00
Regular price
₹ 99.00
Tax included.
Coriander (Dhaniya) Seeds Hybrid (धनिया के बीज)
Sale price
₹ 59.00
Regular price
₹ 99.00
Product description
Shipping & Return
Coriander or dhaniya is one of the fastest and easiest herbs to grow in the home garden or terrace garden that you can use throughout the year. Buy the Best Quality Coriander (dhania) seeds Online at the best price in India from
www.organicbazar.net
with a high germination rate. 
About this item
Number of Coriander Seeds (Dhaniya ke beej): 1000 Seeds 

Where to grow: Balcony or terrace garden

Growing season: Throughout the year (Except May)

Growing method: Direct

Germination Time: 7 to 21 days from sowing

Germination temperature: 15-24°C

Harvesting: 40-45 days

Plant vigor: Bushy Plants, Numerous Side Branches
What size grow bag is best for Coriander?
Coriander Growing Season In India
Green coriander can be sown in any season but it needs to be protected from direct rain. Coriander plant grows best in winter to early summer (October to March).
Coriander Seeds Sowing Method
Sow Coriander seeds directly into a pot are the best way to grow them. Avoid transplanting or repotting germinated seeds. Start directly in any
pots or grow bags
, it will help you avoid bolting. Sprinkle the coriander seeds on the soil uniformly and cover them with a thin layer of soil. Keep the coriander seeds moist during their germination period, so give water with a light shower regularly. Seeds will be germinated within 1 to 2 weeks.
Green Coriander Plant Care Tips
Sunlight – Coriander requires 5- 6 hours of full exposure to the sun, choose a spot where it receives full sunlight during early morning and late afternoon but be shaded during the hottest part of the day.
Water – Give 1 inch of water per week to your coriander plant with the help of a water can for better growth; once the plant is established they don't need much water per week, so make sure the soil remains moist and avoid overwatering.
Soil – Green coriander prefers light, well-drained soil.
Temperature – Best growing temperature for coriander plants is between 20-30 degree Celsius, but better seed germination temperature is required 15-24°C.
Fertilizer – Apply any organic fertilizer to your coriander plants like Neem cake, and Vermicompost. Be sure not to over-fertilize your coriander leaves the plant.
Common pests – Some common insects which are generally found in green coriander plants are aphids, mildew, leaf hoppers, and fungal wilt. The coriander plant is infected by some diseases like powdery mildew, stem rot, and wilt. Look for early signs of fungal, insect, or other infections spray organic pesticide Neem oil to cure these symptoms.
Coriander Harvest Time
Green Coriander leaves will be harvested within 40-45 days from sowing seeds. You can pick mature coriander leaves whenever you need. You can also collect coriander seeds when the plant flower and set seeds, wait for the seeds to ripen then collect coriander seeds.
Coriander Special Features
Common name – Kothimbir, Dhania (धनिया)
Flower/foliage color – White
Level of growing – Easy
Height – 16 to 24 inches
Avoid planting with – Tomatoes and Peppers
Companion planting – Beans and Peas
FAQ
Why are my coriander seeds not germinating?
Coriander seeds will not germinate because of improper growing conditions like not getting enough sunlight, sowing seeds too deep in the soil, overwatering, or under-watering.
Why are the leaves of coriander plants turning yellow?
The leaves of coriander plants turn yellow because of insufficient sunlight, overwatering, and deficiency of nitrogen. Determines the real cause of yellow leaves first and then follows appropriate remedies.
Why does my coriander leave turning brown?
Over-watering and poorly drained soil may be the main reason behind the browning of coriander leaves. Don't give too much water to your coriander plant and give well-drained soil.
Should we keep the coriander plant indoors or outdoors?
Green coriander is an outdoor plant but we can grow it indoors also make sure coriander plants can get at least 5- 6 hours of sunlight daily.
Shipping Costs
Free Delivery: Available for Orders Above INR 499.
Prepaid Orders Below INR 499: Shipping Charge of INR 54.
Cash on Delivery Orders Below INR 499: Shipping Charge of INR 84.

Return Policy
Satisfaction Guaranteed: Return or Exchange Within 7 Days of Delivery.
Technical Details
Package Dimension: 12cm*9cm
Item Weight : 10g
Net Quantity: 1000N
Colour : N/A
Assembly Required: No
SKU : Coriander

Additional Information
Brand : OrganicBazar
Country of Origin: India
Manufacturer: HEALTHUNBOX PRIVATE LIMITED
Consumer Care: Phone: 9513316259 | Email - support@organicbazar.net
Consumer Care Address: P NO 225, NEAR OF WATER TANK, VIPATPURA, Narsinghpur (M.P) 487001
Reviews
I love this product .
I am very satisfied with this item...
All seeds germinate very well.
Thank You for the positive feedback.
Very good and quality products
Thank you for taking the time to share your positive feedback about our Coriander (Dhaniya) Seeds Hybrid (धनिया के बीज). We're delighted to hear that you found our products to be very good and of high quality.
Germination quality ok
Seeds germinated well, seedlings but not survived after 2 weeks, so disappointed
We're glad to hear that the seeds germinated well initially. However, we understand and share your disappointment about the seedlings not surviving after two weeks.There can be various factors influencing the survival of seedlings, including soil conditions, watering, and environmental factors.
Thank you, Apurva Ghute, for sharing your positive experience with our Coriander (Dhaniya) Seeds Hybrid. We're thrilled to hear that you are very happy with the results, especially achieving them in just three weeks. Your satisfaction and feedback are truly appreciated.
Coriander (Dhaniya) Seeds Hybrid (धनिया के बीज)