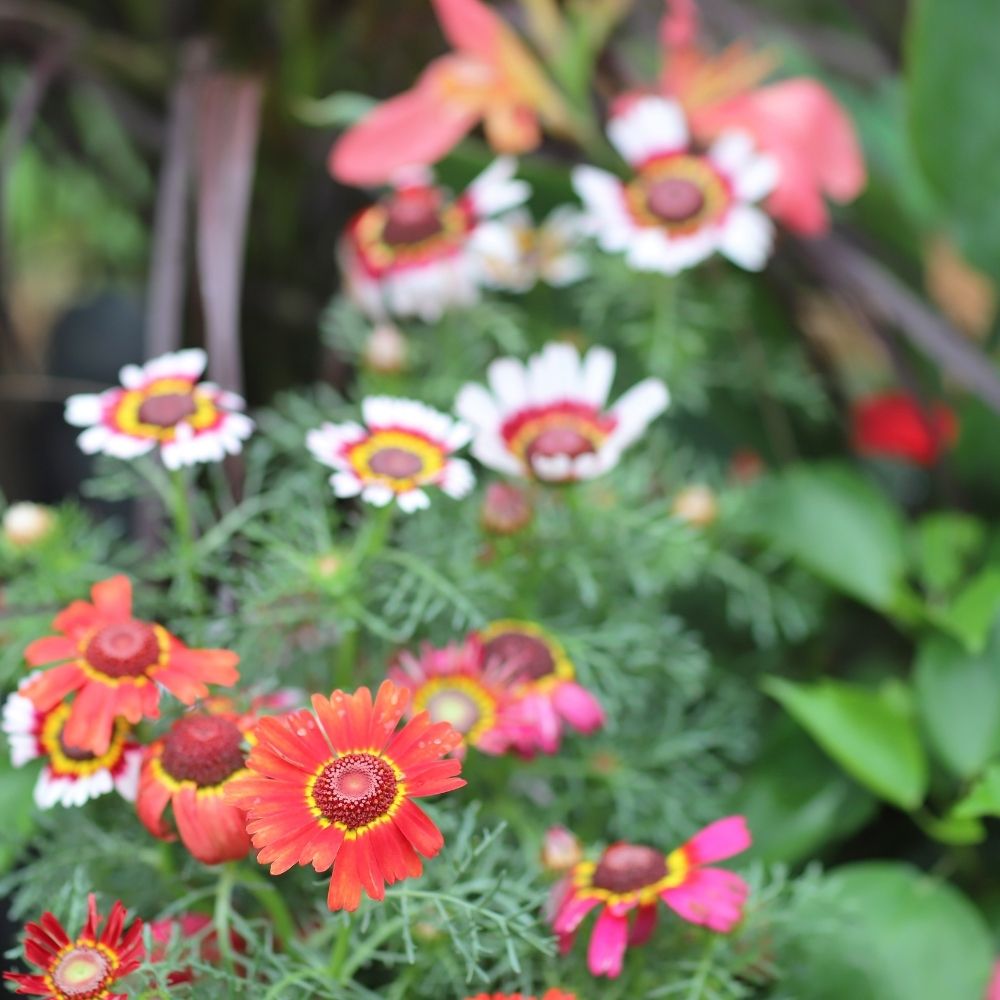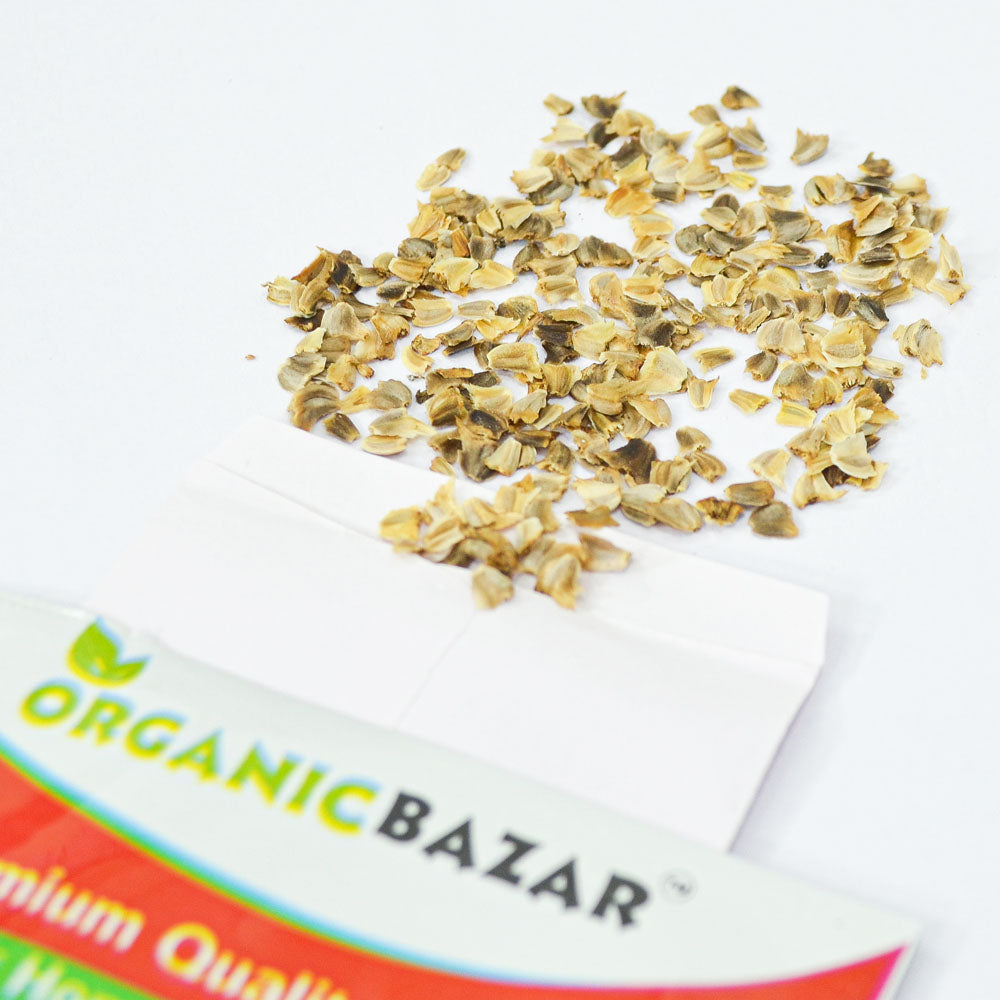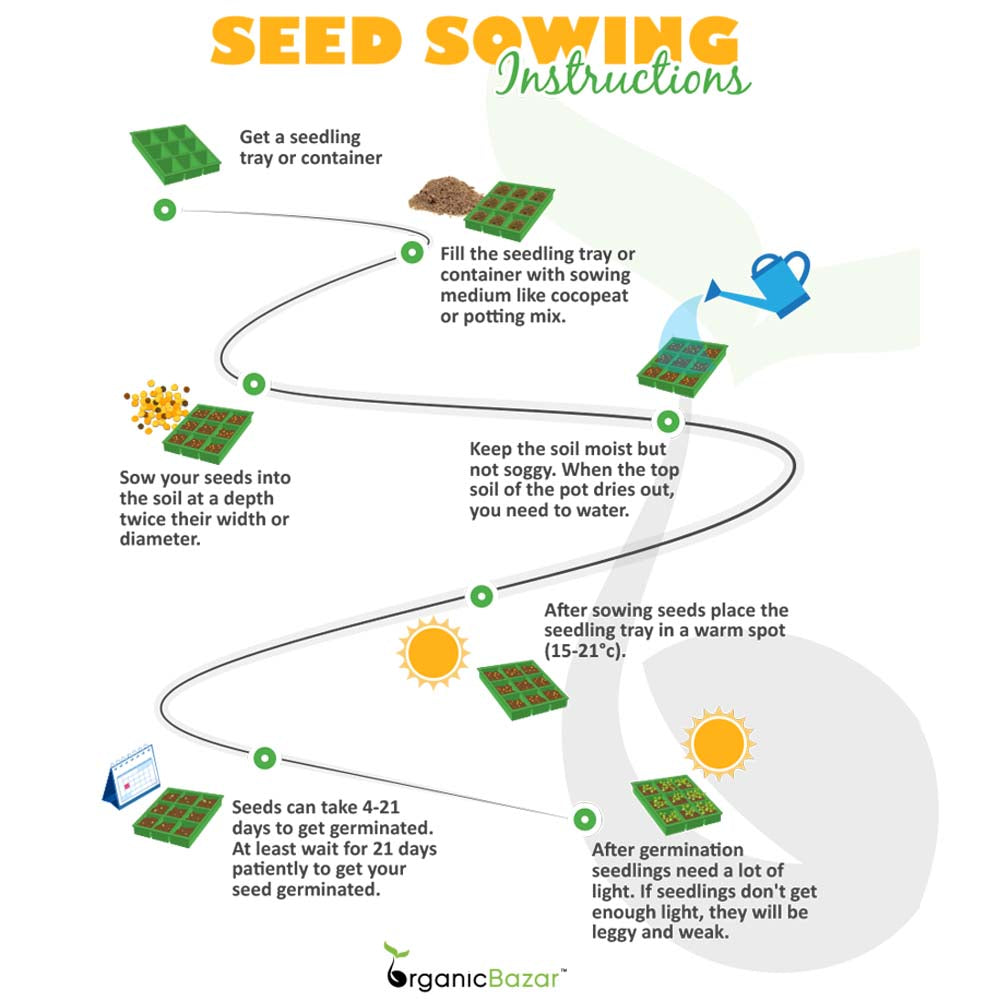 Chrysanthemum Carinatum Mix Seeds (Guldaudi/ Chandra Mallika/गुलदाउदी के बीज)
Sale price
₹ 30.00
Regular price
₹ 90.00
Tax included.
Out of stock
We will notify you once product becomes available.
Chrysanthemum Carinatum Mix Seeds (Guldaudi/ Chandra Mallika/गुलदाउदी के बीज)
Sale price
₹ 30.00
Regular price
₹ 90.00
Product description
Shipping & Return
Chrysanthemum carinatum is an annual bushy flowering plant known as the pole star. It has tricolor flowers with deep radish brown to black centers. Chrysanthemum carinatum is attracting pollinators bees, butterflies, and other pollinators. Chrysanthemum flowers are very easy to grow from seed and are ideal for containers, pots, terrace gardens, balconies, and home gardens.
Buy the best Quality Chrysanthemum Carinatum mix Seeds Online at the best price from
www.organicbazar.net
and add colors to your garden.
Product Detail
Seed quantity: 200 Seeds
Where to grow: Balcony or terrace garden
Best Sowing Season: All season (Best in

spring and early summer)

Sowing method: Seedling transplant
Germination temperature: Around 21°C
Germination time: 7 to 14 days
Blooming time: M

id-summer to fall or early winter (May to November)
What size grow bag is best for Chrysanthemum?
Chrysanthemum Carinatum Growing Season In India 
Chrysanthemum carinatum, or the Tricolor Daisy, is typically grown in India during the cool season from November to February in many regions. In milder climates, it can thrive into the spring. Avoid planting during the monsoon season to prevent issues with excess moisture.
How To Grow Carinatum Chrysanthemum In Container
For best results, sow chrysanthemum seeds by seedling transplant method. You can start plants indoors or outdoors in a sunny spot. The best temperature for chrysanthemum seeds to germinate is around 21°C. You can use a pot or grow bag at least 9 to 15 inches wide and deep for planting chrysanthemums.
Chrysanthemum Carinatum Mix Seeds Sowing Method 
Take a seedling tray and fill it with a potting mix, you can also make your own potting mix by mixing 20% cocopeat, 30% vermicompost, 30% garden soil, and 20% sand. Spread 2-3 chrysanthemum seeds in each cell of the seedling tray and sprinkle with a very thin layer of soil or potting mix. Press the soil gently with your hand and water deeply through a watering can. Keep soil moist until germination. Chrysanthemum seeds germinate in about 7-14 days. Keep the pot in a sunny and warm place for good germination.
You can plant chrysanthemum plants when the stems have grown to 3 inches tall. Or you can transplant about 6 weeks after planting the seeds.
Transplant carefully without damaging the root of the plants and plant only one chrysanthemum plant per pot for healthy growth. Keep the soil moist and place the pot in partial sunlight for a few days after transplanting to protect the seedling from transplant shock. After 3 days, keep the pot in full sunlight.
Best Fertilizer For Chrysanthemum Flower Plant 
Add vermicompost every week to the chrysanthemum plant for nutrients.
Additionally, add Epsom salt once a month for flowering.  
Carinatum Chrysanthemum Flowers Care Tips  
Soil -
Use good-drained, fertile, and organic-rich soil to plant chrysanthemum flowers. 
Water -
Chrysanthemums require moderate watering, 3-4 times a week is sufficient, but keep the soil moist not soggy. Soggy soil can cause root rot and other diseases. 
Sunlight -
Chrysanthemums can grow in full sunlight or partial shade, but for best results, place the pot in an area that receives full sunlight in the morning and some partial shade during the afternoon.
Temperature -
The optimum growing temperature for Chrysanthemums is 20-28°C.
Common pests and diseases -
Pests such as Aphids, leaf miners, and capsid bugs inhibit the growth of
Chrysanthemums
. You can use neem oil on the plant to get rid of these insects. In addition, some fungal diseases such as white rust, and powdery mildew can be harmful to plants, so it is best to cut off infected leaves to avoid the spread of these fungal diseases.
Chrysanthemum Carinatum Bloom Time 
Generally, chrysanthemums
carinatum
bloom from mid-summer to fall or early winter (May to November). Flowering takes up to 16 weeks.
Chrysanthemum Special Features 
Common name -

Mums, tricolor daisy, guldaudi,

painted daisy

Scientific name - Ismelia carinata

Height - 12 to 24 inches 

Level of growing - Easy
FAQ
Does the Carinatum Chrysanthemum come back every year?
Chrysanthemum is an annual plant so it will not come back next year.
Do chrysanthemums carinatum only bloom once?
Yes, the
chrysanthemum blooms once a year, you can deadhead the spent flower to encourage blooming. 
Note: Images are for reference purposes only. Actual products may vary in shape or appearance based on climate, age, height, etc.
Shipping Costs
Free Delivery: Available for Orders Above INR 499.
Prepaid Orders Below INR 499: Shipping Charge of INR 54.
Cash on Delivery Orders Below INR 499: Shipping Charge of INR 84.

Return Policy
Satisfaction Guaranteed: Return or Exchange Within 7 Days of Delivery.
Technical Details
Package Dimension: 12cm*9cm
Item Weight : 50mg
Net Quantity: 200N
Colour : N/A
Assembly Required: No
SKU :

Additional Information
Brand : OrganicBazar
Country of Origin: India
Manufacturer: HEALTHUNBOX PRIVATE LIMITED
Consumer Care: Phone: 9513316259 | Email - support@organicbazar.net
Consumer Care Address: P NO 225, NEAR OF WATER TANK, VIPATPURA, Narsinghpur (M.P) 487001
Reviews
Go for it. Seeds are of really good quality, u can count and sow that many plants will grow 👍