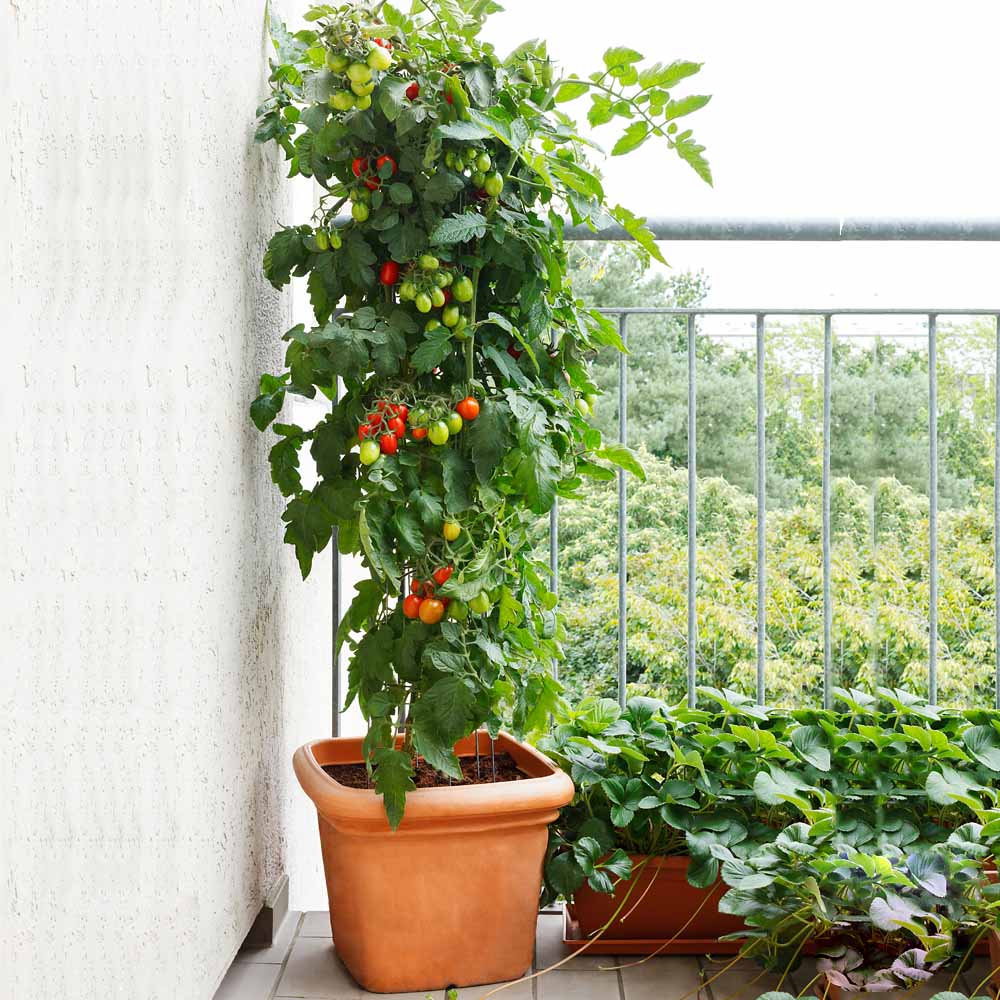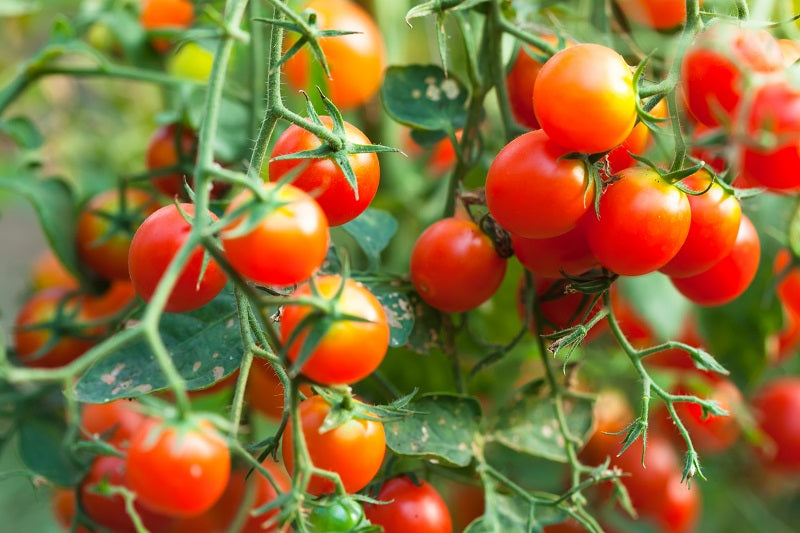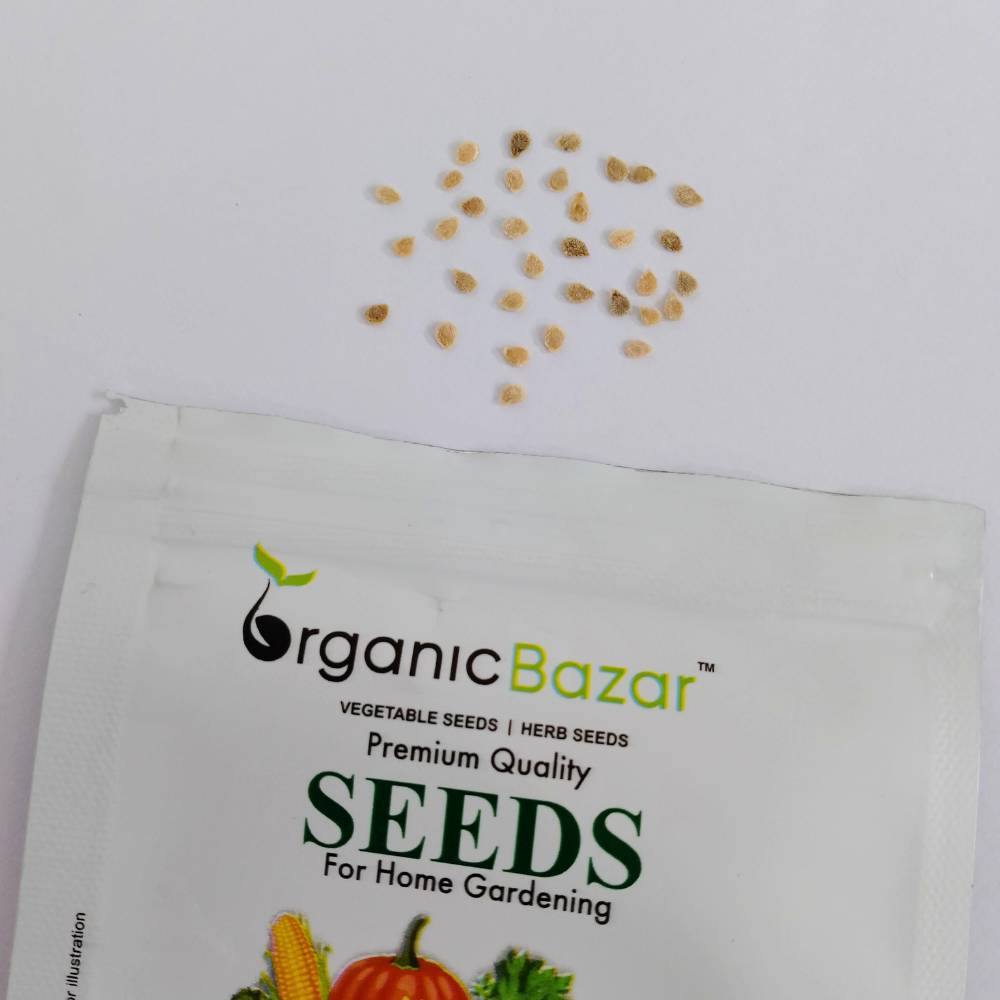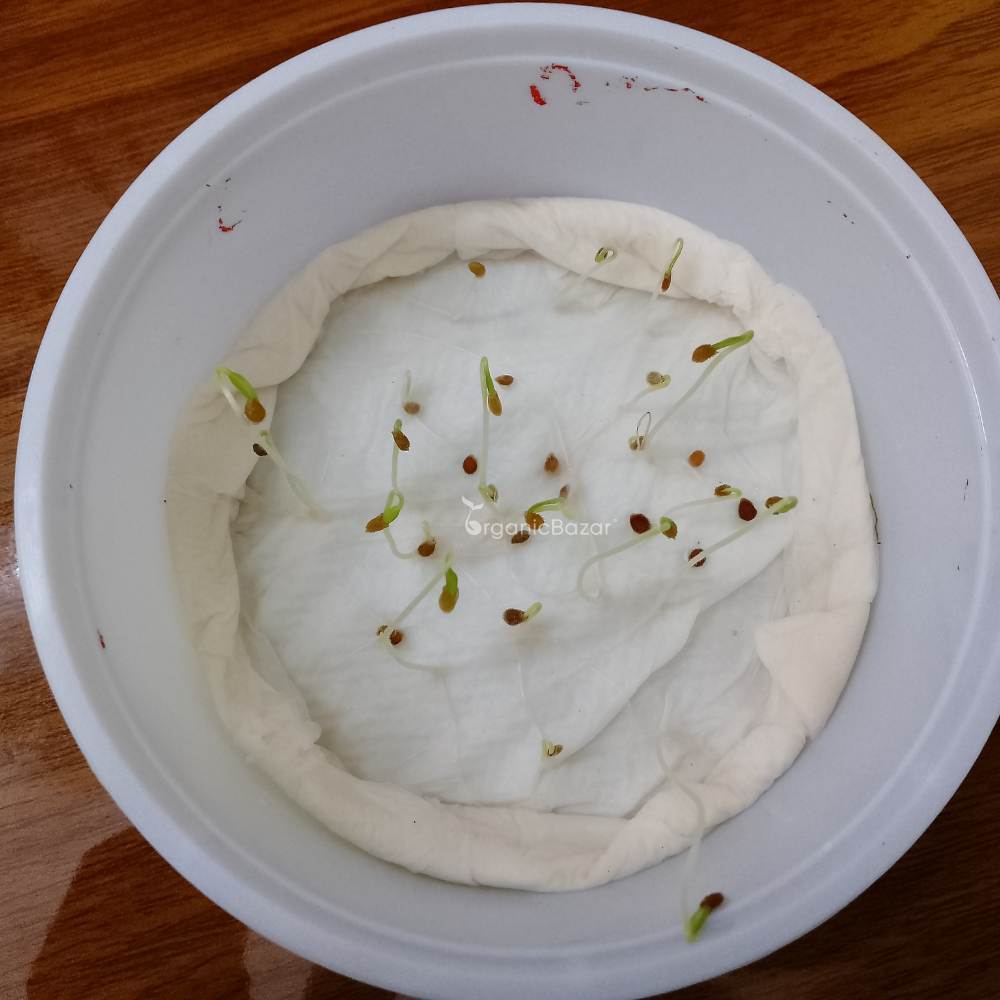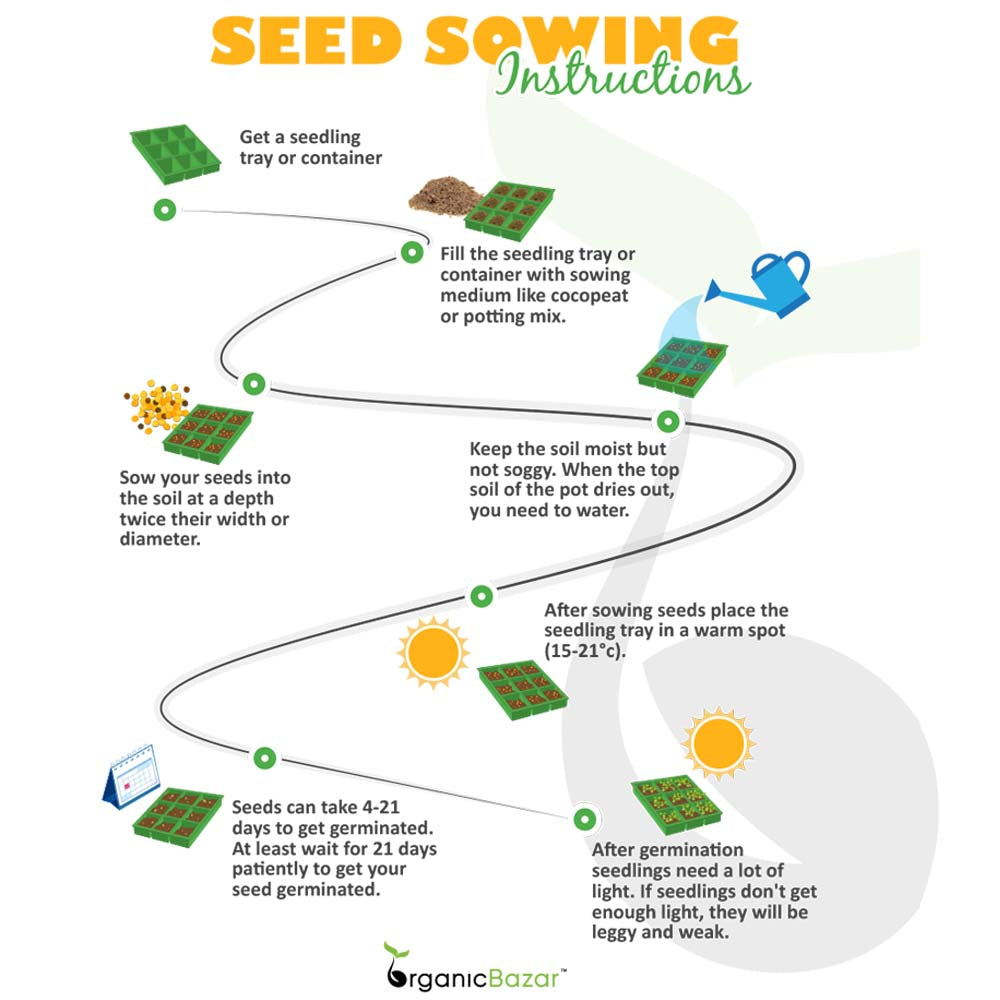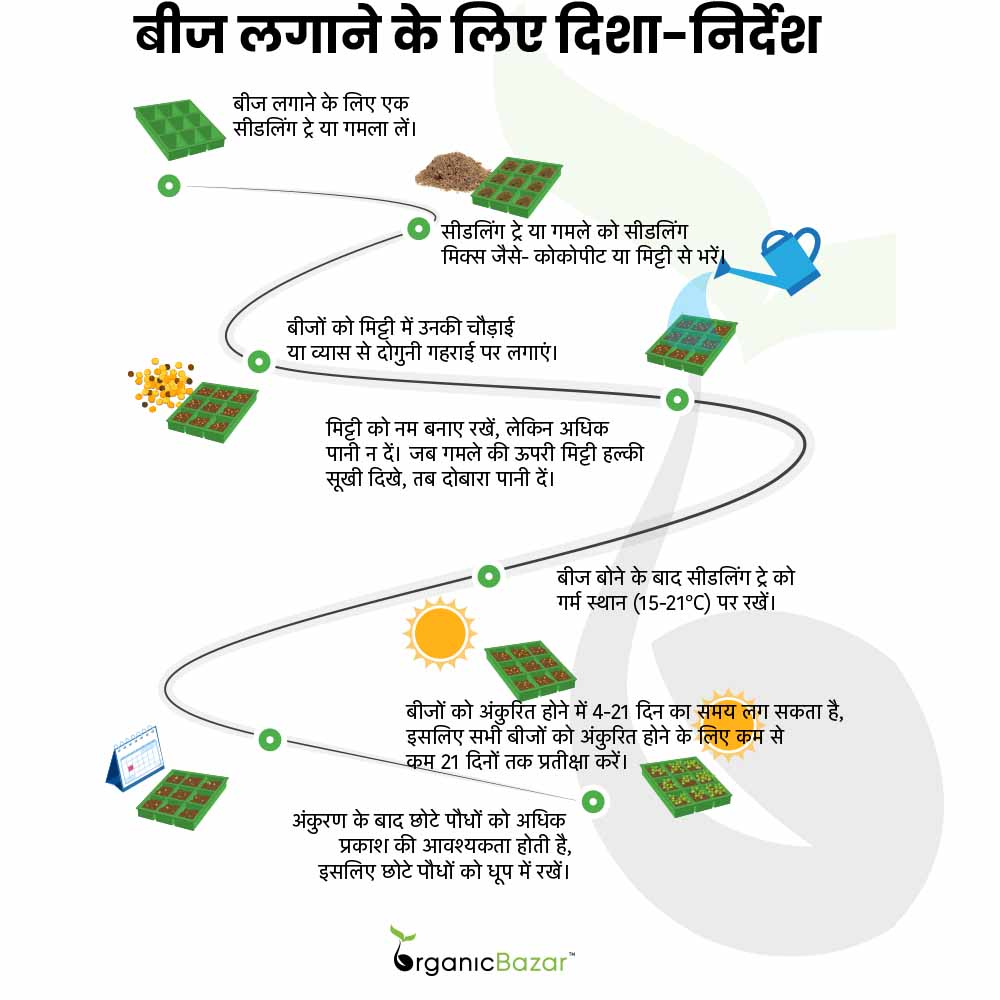 Cherry Tomato Seeds Hybrid (Cherry Tamatar/चेरी टमाटर के बीज)
Sale price
₹ 59.00
Regular price
₹ 99.00
Tax included.
Cherry Tomato Seeds Hybrid (Cherry Tamatar/चेरी टमाटर के बीज)
Sale price
₹ 59.00
Regular price
₹ 99.00
Product description
Shipping & Return
A cherry tomato is a type of red, small, soft tomato that gives a unique flavor to our dishes; you can eat cherry tomatoes raw or cooked with vegetables. If you want to grow your own cherry tomatoes at home from seed, we will explain how to grow cherry tomatoes and what season is best to plant cherry tomato seeds, and all about growing cherry tomatoes. Buy the Best quality Hybrid Cherry Tomato Seeds at the best price in India from
www.organicbazar.net
with a High Germination rate.
About this item
Number of Cherry Tomato Seeds: 30 Seeds

Where to grow: Balcony or terrace garden

Growing season: Throughout the year 

Sowing method: Seedling transplant 

Seeds sowing depth: 0.5 cm

Germination Time: 6 to 12 days 

Germination temperature: 18-30°C

Harvesting: 60 to 80 days from transplanting

Plant vigor: Strong plant with short internodes
What size grow bag is best for tomatoes?
Cherry Tomato Seeds Growing Season In India
Cherry tomatoes can grow in all seasons throughout the year but if you want to get the best and most successful results, sow the seeds in the spring season to the summer season
(February to April) or
autumn season (September

To November

).
How To Grow Cherry Tomato At Home In Pot
Usually, cherry tomato seeds are sown by the seedling transplant method. You can sow cherry tomato seeds either indoors or outdoors in warm climates and the optimum temperature for seed germination is between 18-30°C.
Cherry Tomato Seeds Sowing Method
Select a 
seedling tray
or small size pot, fill it with growing medium, and sow 2-3 cherry tomato seeds in about 0.5 cm deep per cup. Give light water through a 
water sprayer
. Place the seedling tray in a sunny spot and keep the soil moist. Cherry tomato seeds will germinate within 6-12 days. When seedlings are 6-8 inches tall at that time transplant the healthiest plant carefully into 
pots/grow bags
and set the seedlings 6-8 inches apart from each other.
How To Fertilize Cherry Tomato Plants
Cherry Tomato Plant Care Tips
Soil –
Use loamy, and well-drained soil for planting cherry tomatoes.
Sunlight –
A cherry tomato plant needs 6-8 hours of full sunlight every day.
Water –
Cherry tomato plant needs regular water or deep watering in summer days for better or fast growth of plants and gives water once in 3 days during winter.
Temperature –
Optimum temperature for growing cherry tomatoes is 15-32°C and should not be less than 10°C.
Support –
When cherry tomato plants begin to grow they need more space; provide support such as pipe, bamboo, rope, or wire to produce more fruit.
Pruning
-  Remove any suckers or new stems, small stems that grow from the main stem, and cut off any dried or infected leaves, pruning should be done from time to time when the plant is growing and especially when it starts flowering and fruiting.
How To Harvest Cherry Tomato
Within 40-45 days from transplanting, cherry tomato plants will start flowering.
The cherry tomato is usually ready to harvest within about 60-80 days of transplanting.
Cherry Tomato Special Features
Common name – Cherry Tomato
Scientific name – Solanum Lycopersicum
Plant height – 4 to 8 feet
Flower color – Yellow
Shipping Costs
Free Delivery: Available for Orders Above INR 499.
Prepaid Orders Below INR 499: Shipping Charge of INR 54.
Cash on Delivery Orders Below INR 499: Shipping Charge of INR 84.

Return Policy
Satisfaction Guaranteed: Return or Exchange Within 7 Days of Delivery.
Technical Details
Package Dimension: 12cm*9cm
Item Weight : 15mg
Net Quantity: 30N
Colour : N/A
Assembly Required: No
SKU : Cherry Tomato

Additional Information
Brand : OrganicBazar
Country of Origin: India
Manufacturer: HEALTHUNBOX PRIVATE LIMITED
Consumer Care: Phone: 9513316259 | Email - support@organicbazar.net
Consumer Care Address: P NO 225, NEAR OF WATER TANK, VIPATPURA, Narsinghpur (M.P) 487001
Reviews
Ranunculus bulbs purchased but not germinated
I have purchased lot of seeds from your site. I am happy to write that quality of seeds are very good and germination of all seeds are appx. 100%. All plants of Black carrot, Fransbeans,Tomato , cherry tomato are now healthy plants,
I have also recommended your site to my few friends.
But sorry to inform Ranunculus bulbs 5 nos were also purchased but not even one bulb is germinated.
Rest every is OK and totally satisfied.
Thank you for the feedback on all our products. we are glad you like the quqlity. For Ranuculus, we are sorry to hear they didnot germinate. Pls check if you followed following-When To Plant Ranunculus
Ranunculus is a cool-season flower plant and usually grows from bulbs or tubers. In plain areas, plant ranunculus in fall (September-October) for flowers in late winter or early spring (December or January). Whereas in hilly areas plant the bulbs in spring (February-March) for late summer blooms.
How To Grow Ranunculus Flower From Bulbs
Plant the ranunculus bulbs directly in pots/grow bags or gardens when the temperature is between 12-16°C. Soaking the bulbs for a few hours before planting is recommended by most gardeners to make the bulbs less brittle, but this process is not necessary. Plant 1-2 bulbs per pot for healthy growth and to avoid crowding. Pot or grow bag of at least 9-15 inches is good for it.
Bad product not germination
We regret that our seeds did not meet your expectations. Our research highlights that successful germination relies on factors like weather, location, temperature, and watering.
All our seeds pass germination tests, and you can view test images on our website. To achieve better results, we recommend following proper procedures. Watch our helpful germination video here
For me the Germination rate is 95-100%
if you are seeking best and only best result you must go with these seeds
Got almost 95-98% germination rate.