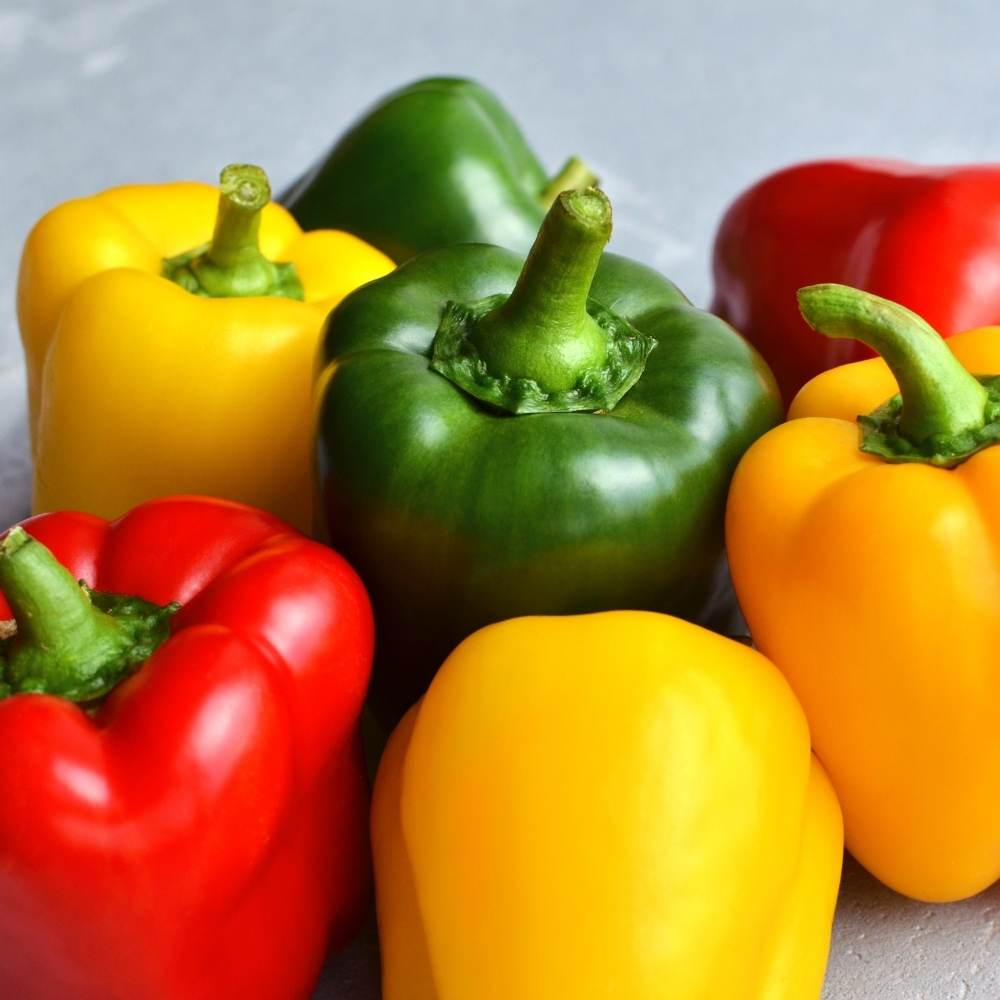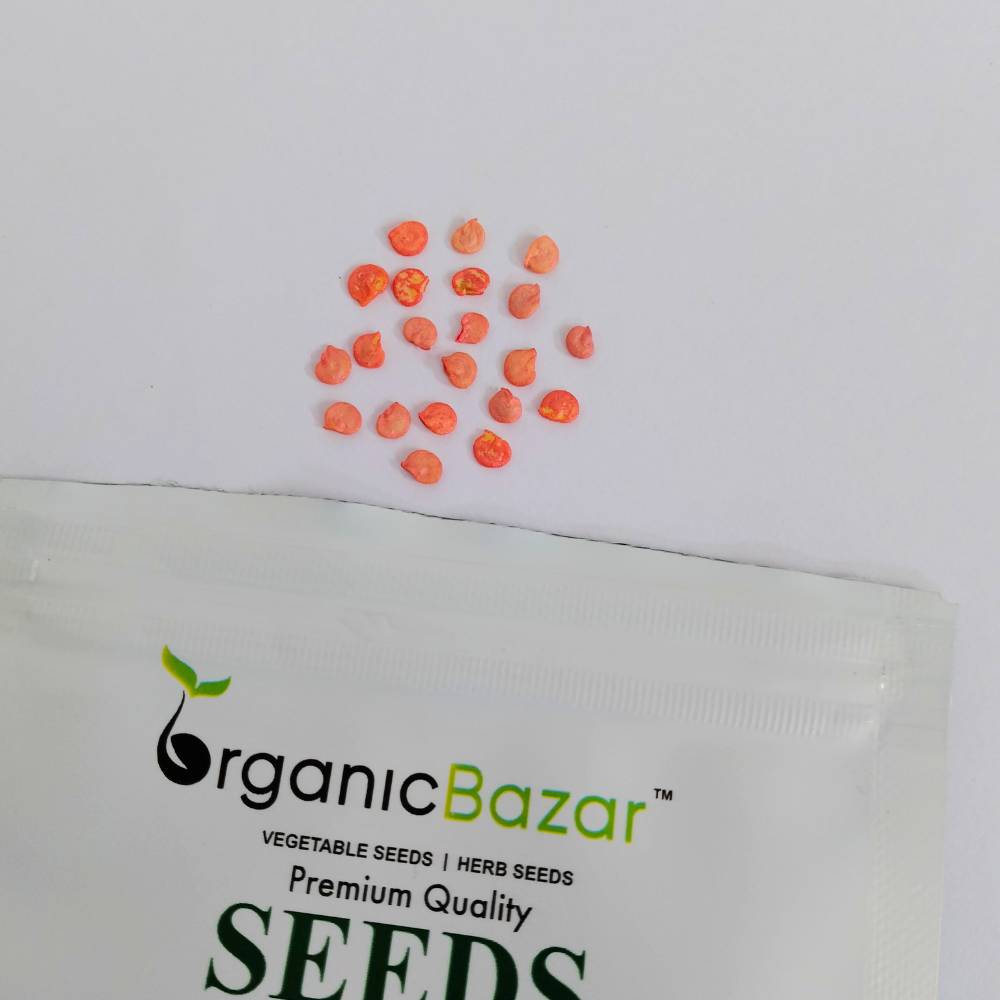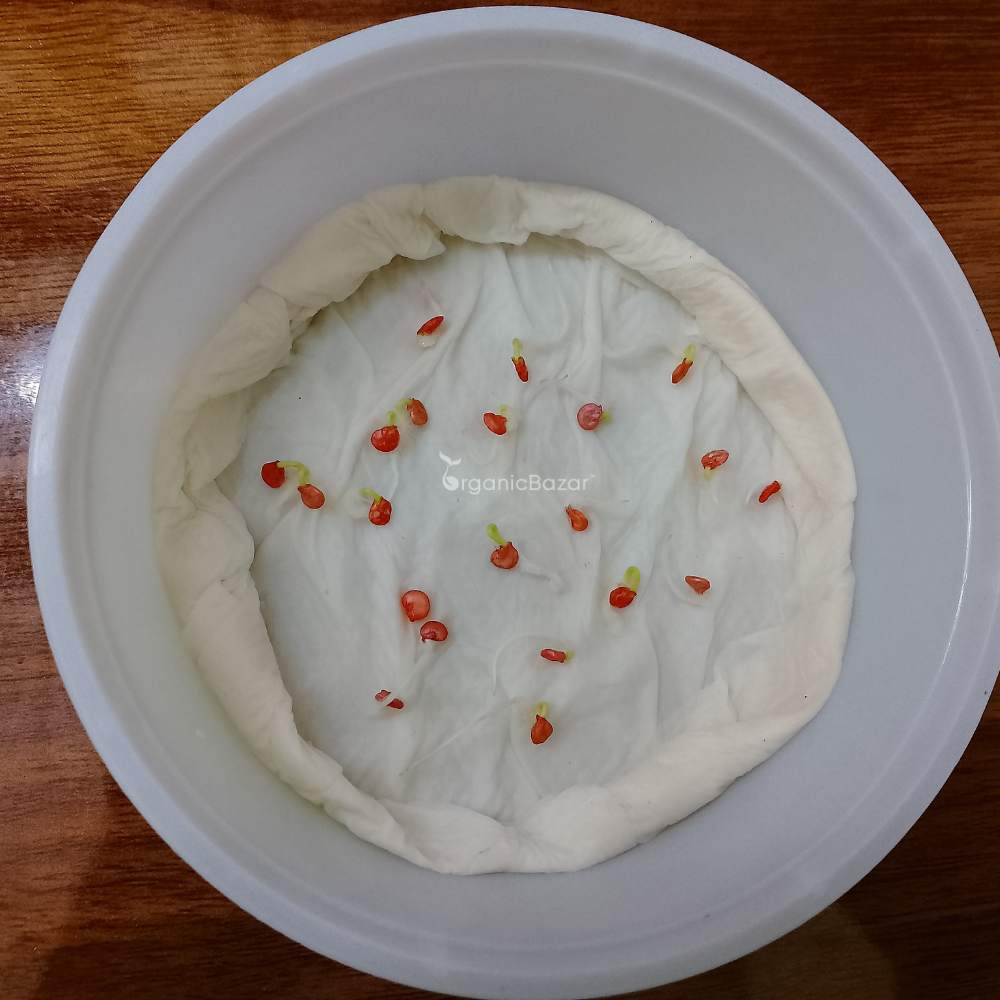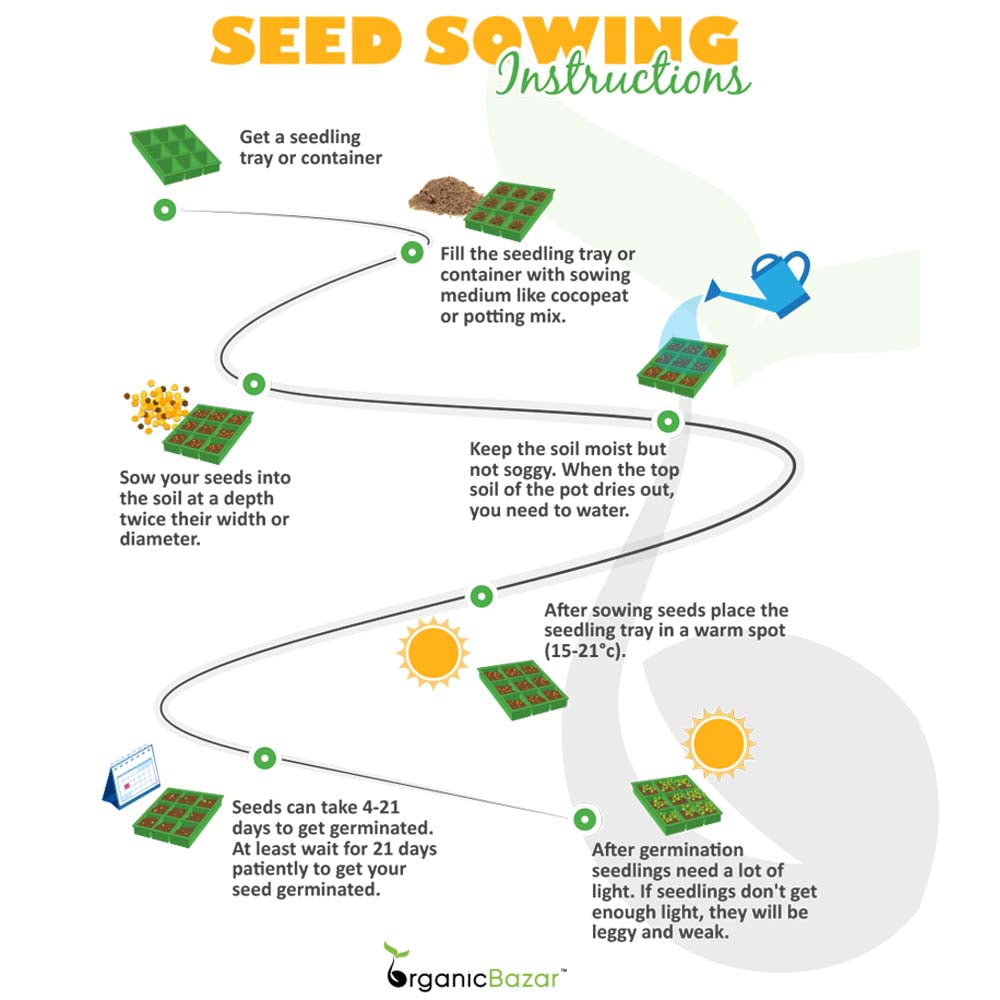 Capsicum-Bellpepper Mixed 6-Types Seeds (Shimla Mirch/ शिमला मिर्च के बीज)
Sale price
₹ 99.00
Regular price
₹ 179.00
Tax included.
Capsicum-Bellpepper Mixed 6-Types Seeds (Shimla Mirch/ शिमला मिर्च के बीज)
Sale price
₹ 99.00
Regular price
₹ 179.00
Product description
Shipping & Return
Buy Best Quality Capsicum-Bellpepper Mixed-6types Seeds online
at the best price from www.organicbazar.net with a Good Germination rate.
Capsicum or Bell peppers are one of the most popular vegetables grown in the home garden. This mixed capsicum Seeds contains 6 types of capsicum seeds of different colors, which include green, Red, yellow, purple, orange. Capsicum Botanical name is Capsicum annuum and Indian name Shimala mirch. The Capsicum-Bellpepper (Mixed-6types) plant is easy to grow in pots or grow bags. The nutritional benefits of Capsicum are owing to the quantities of vitamin A, vitamin C, vitamin E, vitamin B6, dietary fiber, folate, and many more.
About this item
Number of Capsicum (Mixed-6types) Seeds: 20 Seeds

Where to grow: Balcony or terrace garden

Mode of sowing: Sow the seeds 0.5 cm deep in a seedling tray or Container or Pots. Transplant in 25 to 30 days.

Germination temperature: 20-32°C

Germination Time: 6 to 8 days from sowing

Harvesting: 60 to 70 days from transplanting

Sowing season: Throughout the year (Summer, Rabi, Kharif)

Plant vigor: Strong plant with short internodes
What size grow bag is best for Capsicum?
Capsicum Growing Season In India 
The Capsicum plant can grow throughout the year in any season. it is generally prefers a temperature range of 18-30°C for optimal growth. The main growing seasons are summer (Februry – April), monsoon (June to July), and post-monsoon/autumn (September to october), with variations depending on local conditions.
How To Grow Capsicum From Seeds At Home
Capsicum seeds are sown in a seedling tray and then transplanted after seed germination is the ideal method for all capsicum. Sow the capsicum seeds when the soil temperature is 18-30°C.
Capsicum Seeds Sowing Method 
Select a seedling tray or small size pot, fill it with growing medium, and spread capsicum seeds on it, then cover a thin layer of soil above the seeds. Give light water through a watering sprayer. Keep the seedling tray in a warm location but do not give direct sunlight till the seeds germinate and keep the soil moist. Capsicum seeds will germinate within 7-10 days.
When seedlings are 3-4 inches in height at that time transplant capsicum seedlings into individual pots and plant only 2-3 saplings per pot. Keep the pot in a sunny location where the capsicum plant gets 5-6 hours of sunlight and gives water whenever you feel that the soil becomes dry.
Best Fertilizer For Capsicum
Mix any natural homemade fertilizer such as tea compost, fruit, and vegetable compost every month to increase the nutrient level in the soil.
You can also spray Epsom salt with water which will improve the yields of plants.
Capsicum Plant Care Tips 
Soil – You can use loose, fertile, and well-drained soil for planting capsicum.
Water – On summer days, the capsicum needs regular water and during the winter or rainy season, give water once in 2-3 days.
Sunlight – Capsicum needs 6-8 hours of direct sunlight for the better growth of plants.
Temperature – Ideal Capsicum growing temperature is 21-32°C temperature; the maximum temperature of capsicum is 35°C and the minimum is 10°C.
Common pests and diseases – Pests such as whitefly, aphids, and spider mites attack plants and eat their leaves. And diseases like bacterial wilt, powdery mildew, and root rot infect capsicum plants. To avoid these insects or get rid of the disease, use neem oil.
Harvesting Of Capsicum
Capsicum will be ready to harvest about 60-70 days after transplanting.
Harvest the capsicum when they grow the full size and look firm and shiny.
Capsicum Special Features 
Common name – Bell pepper and Sweet pepper, Shimla mirch (शिमला मिर्च)
Scientific name – Capsicum Annum
Height – 2 to 4 feet
Flower color – White
Level of growing – Easy
Note: Images are for reference purposes only. Actual products may vary in shape or appearance based on climate, age, height, etc.
Shipping Costs
Free Delivery: Available for Orders Above INR 499.
Prepaid Orders Below INR 499: Shipping Charge of INR 54.
Cash on Delivery Orders Below INR 499: Shipping Charge of INR 84.

Return Policy
Satisfaction Guaranteed: Return or Exchange Within 7 Days of Delivery.
Technical Details
Package Dimension: 12cm*9cm
Item Weight : 25mg
Net Quantity: 20N
Colour : N/A
Assembly Required: No
SKU : Capsicum-Mixed-6types

Additional Information
Brand : OrganicBazar
Country of Origin: India
Manufacturer: HEALTHUNBOX PRIVATE LIMITED
Consumer Care: Phone: 9513316259 | Email - support@organicbazar.net
Consumer Care Address: P NO 225, NEAR OF WATER TANK, VIPATPURA, Narsinghpur (M.P) 487001
Reviews
Very good
I received this parcel on time and the seeds also in good condition that they grow quick, i thought it will take time but on 3 day I can see they grow very fast and quick now they I just little seedlings.,
Thank you so much for your positive feedback! We're thrilled to hear that your parcel arrived on time and that the seeds are thriving. It's fantastic to know that they are growing quickly, and you already have little seedlings after just three days.
Good germination of capsicum seed
Thank you for the review.
Good Quality
Your products r vry costly
Thank you for your feedback, Goldy Singh. We appreciate your input. Our products may be priced a bit higher due to their quality and the care we take in sourcing and maintaining the seeds. We aim to provide you with high-quality seeds to support your gardening endeavors. If you have any questions or need assistance with our products, please feel free to ask. Happy gardening!
Poor qualty...
Received only 18 seeds out of 20....No one is germinated....
We regret that our seeds did not meet your expectations, and we sincerely apologize for the inconvenience you've faced. Our research highlights that successful germination relies on various factors such as weather, location, temperature, and watering.
It's important to note that all our seeds pass germination tests, and you can view test images on our website to ensure their quality. To achieve better results, we recommend following proper procedures. We have created helpful resources, including a germination video (https://youtu.be/Jj6HNnTynAo) and seedling care tips (https://youtu.be/IuPe2QebdiE), that may assist you in achieving successful germination and plant growth.
We understand your concerns, and we're here to assist you. Your satisfaction is of utmost importance to us