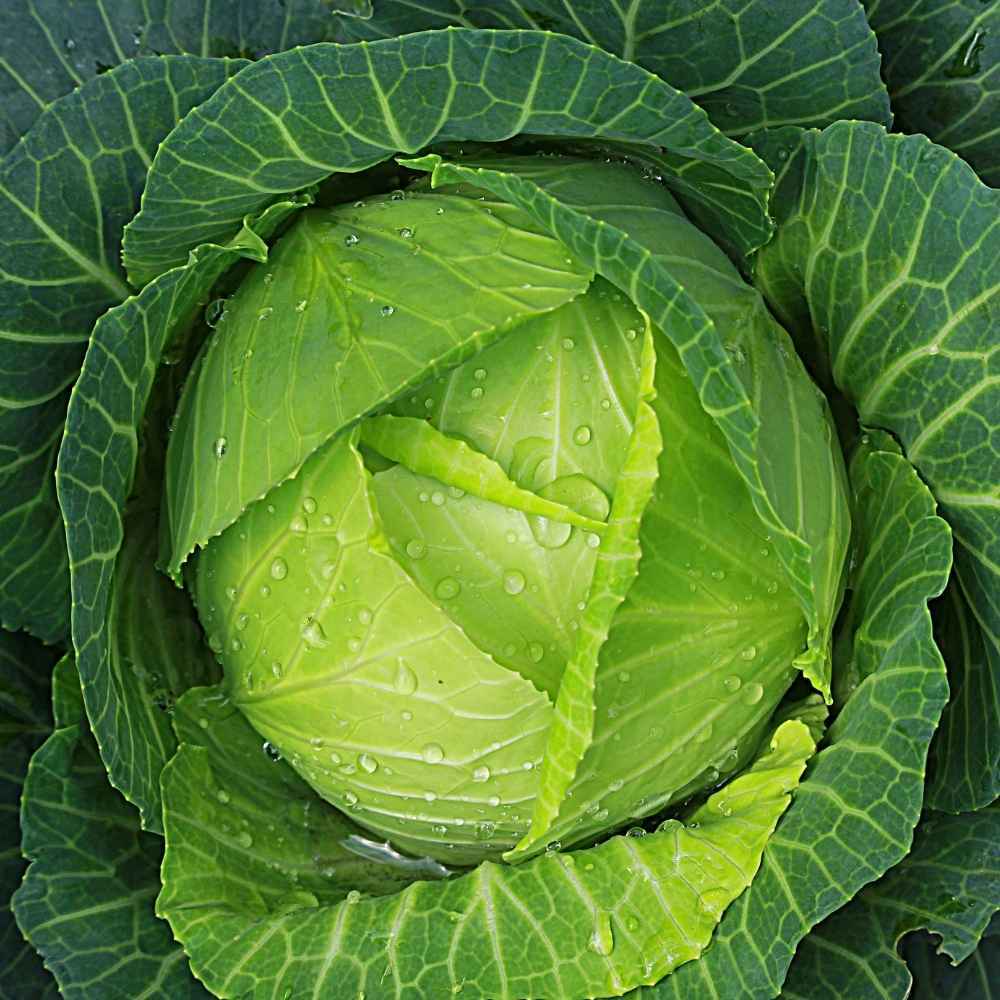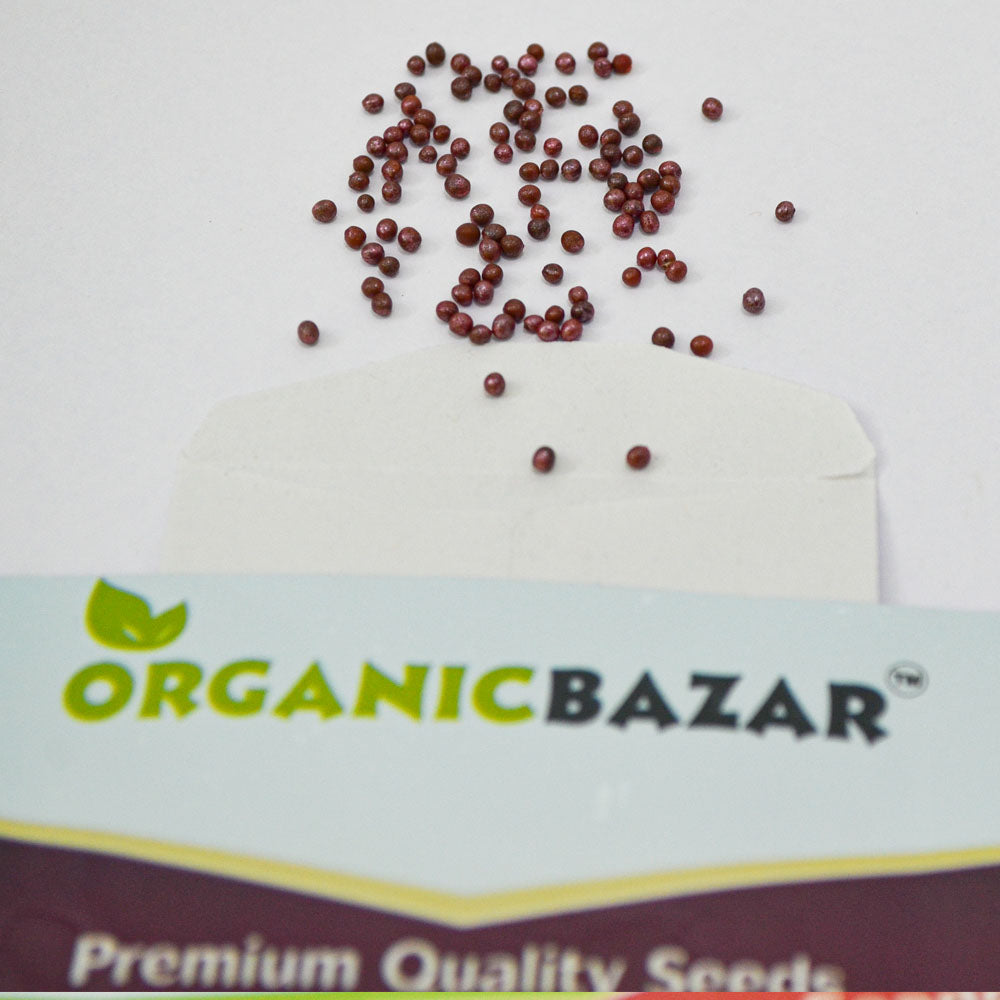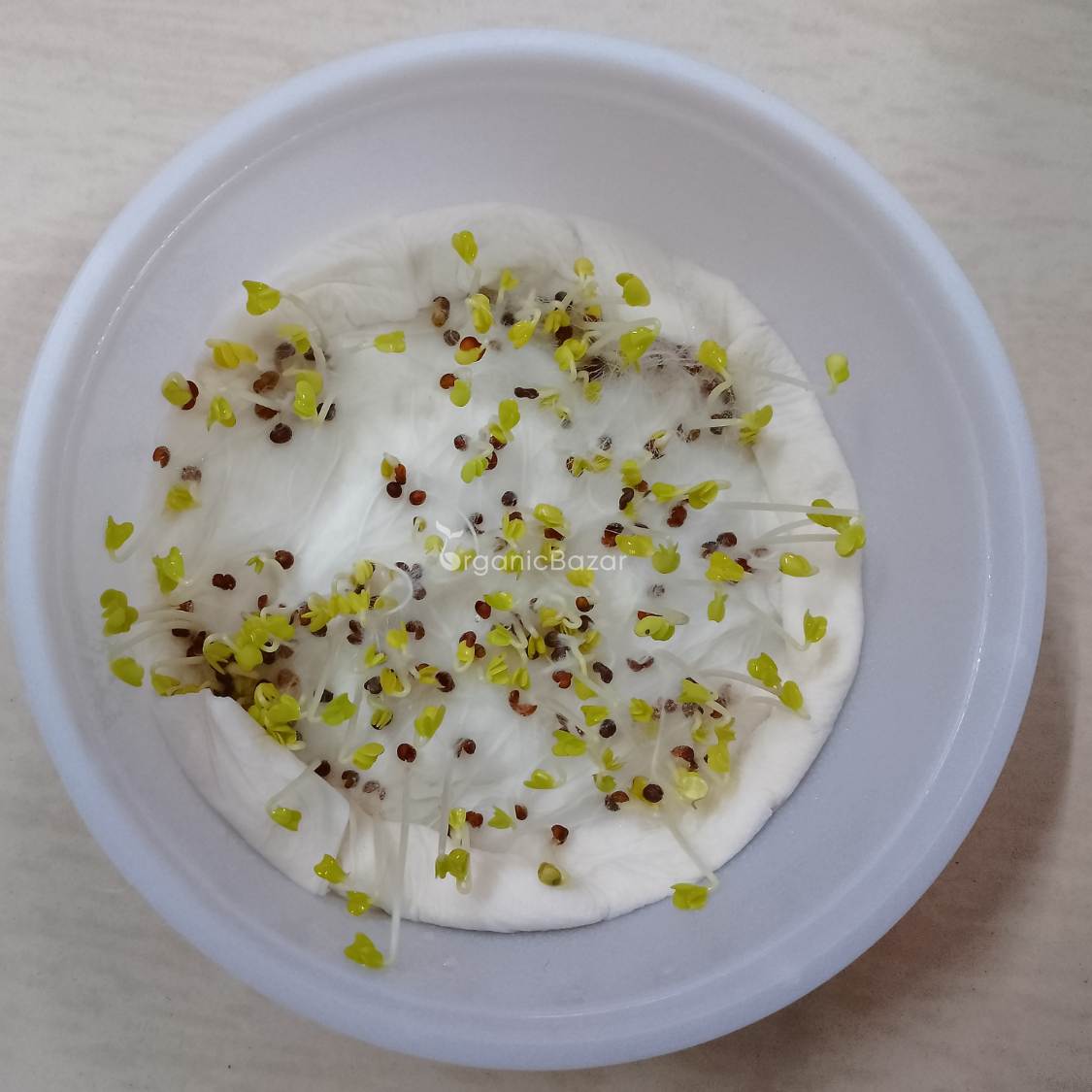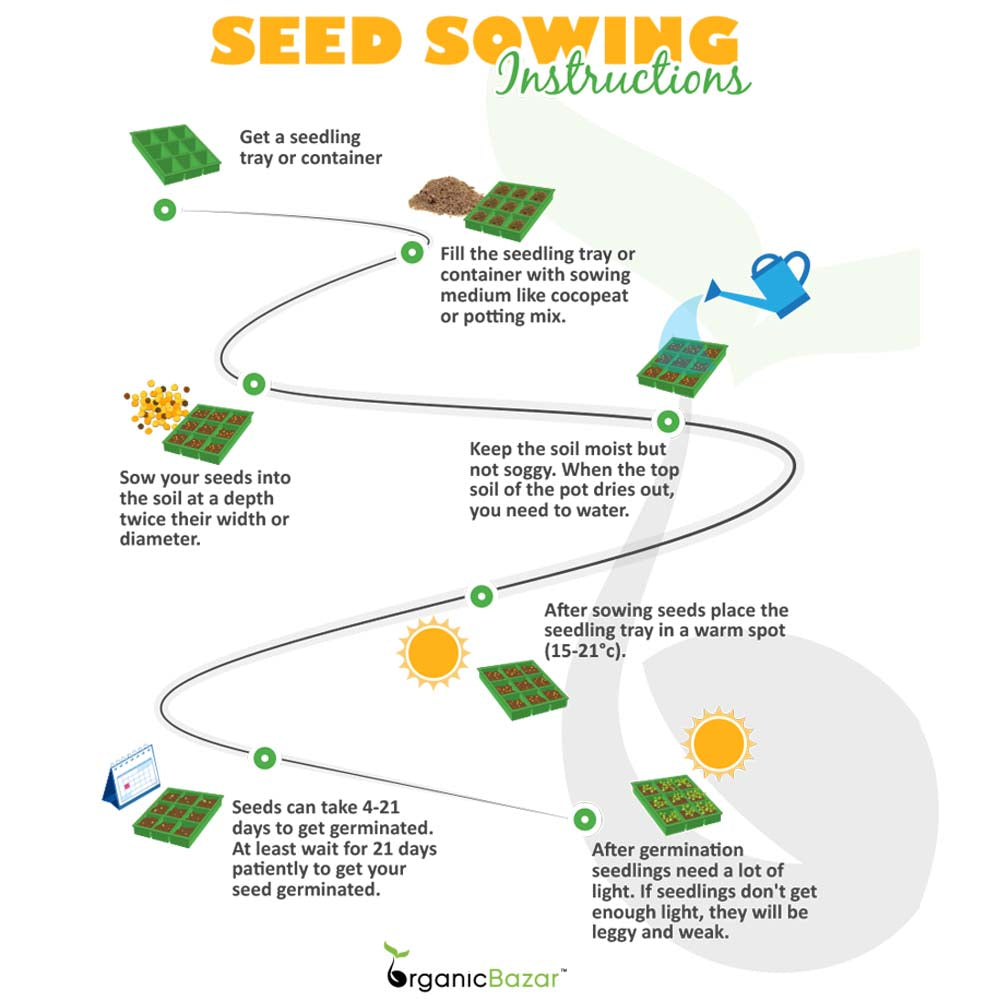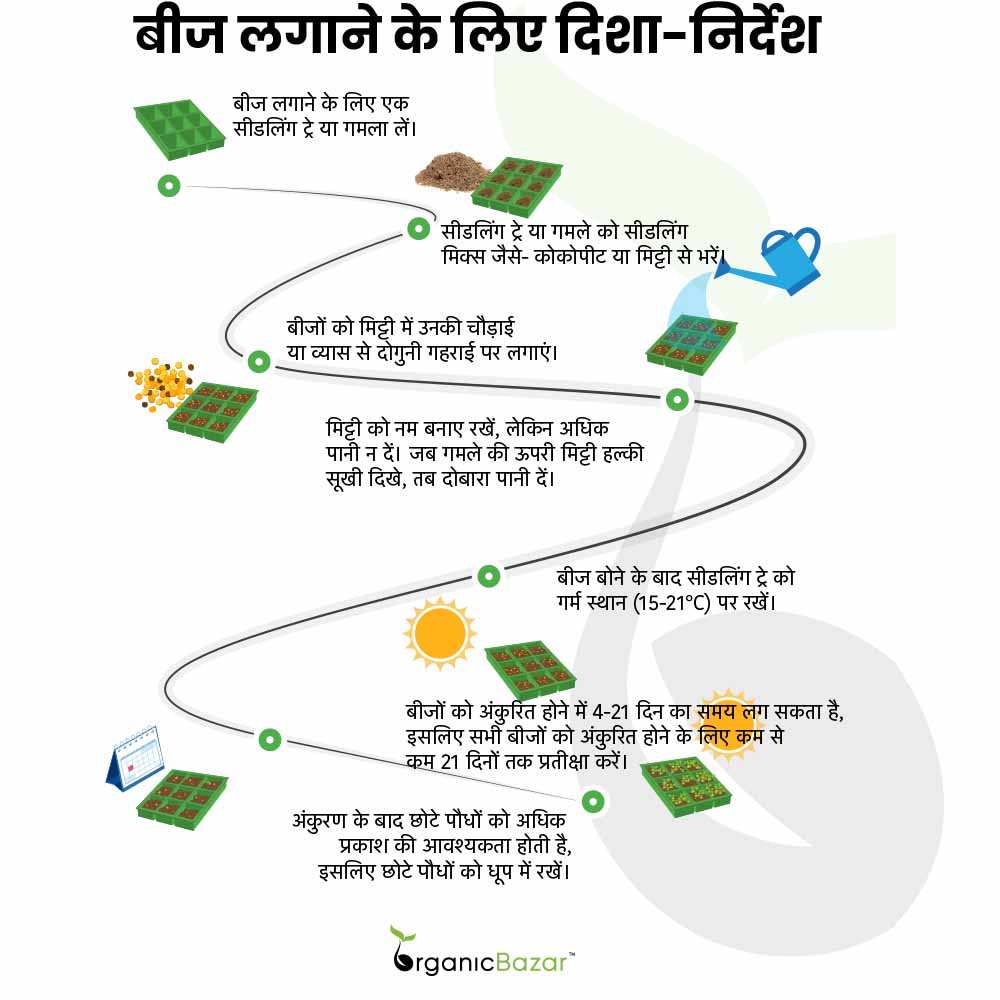 Cabbage (Patta Gobhi) Seeds Hybrid (Hari Patta Gobhi/हरी पत्ता गोभी के बीज)
Sale price
₹ 59.00
Regular price
₹ 99.00
Tax included.
Cabbage (Patta Gobhi) Seeds Hybrid (Hari Patta Gobhi/हरी पत्ता गोभी के बीज)
Sale price
₹ 59.00
Regular price
₹ 99.00
Product description
Shipping & Return
Cabbage is also known as Patta gobhi, a leafy vegetable that contains a good amount of nutrition. Cabbage is very easy to grow in containers or pots, Cabbage needs 6 to 8 hours of daily sunlight; however, it can tolerate partial shade. Buy the Best Quality cabbage (patta gobhi) seeds Online at the best price in India from www.organicbazar.net with a high germination rate.
About this item
Number of Cabbage seeds (Patta gobhi ke beej): 100 Seeds

Where to grow: Balcony or terrace garden

Mode of sowing: Sow the seeds 0.5 inches deep in a seedling tray Container, or Pots. Transplant in 25 to 30 days

Germination Time: 6 to 15 days from sowing

Germination temperature: 13-25°C

Harvesting: 12 to 13 week

Sowing season: Throughout the year (Rainy season June to September and winter seasons October to November)

Plant vigor: Strong plant
What size grow bag is best for Cabbage (Patta gobhi)?
Cabbage Seeds Sowing Method
Generally, cabbage seeds are sown in a
seedling tray
, and after seeds germination, the plant is transplanted into any pots or grow bags. Sow cabbage seeds in a seedling tray with
coco peat
or
potting mix
about 0.5 inch deep. Cabbage seeds are very small in size so avoid sowing them in too deep and sow only 2 cabbage seeds per cell/cup of seedling tray. Keep the seedling indoor till the seeds germination and give at least 2 tablespoon water regularly. After germination, seedling will start growing a plant so provide sunlight to your seedling to encourage leaf growth. After 25-35 days from cabbage seeds sowing, plant will be ready to transplant in any pots or grow bags. Before transplant the seedling, mix good organic manure in the soil with 2:1 ratio. Transplant the seedling safely along with root ball of a medium.
Cabbage Plant Growing Season In India
Cabbage typically thrives in temperatures between 15°C to 25°C. It can tolerate slightly cooler or warmer conditions, but this temperature range is ideal for its growth. you can sow the Cabbage seeds from late September to early November for the winter crop and from late January to early February for the spring crop.
Cabbage Plant Care Tips
Sunlight – Cabbage plants need 6-8 hours of full light in winter days.
Water – Give 2 inch water every week to your cabbage plant.
Soil – Use well drainage and nutrient rich soil with 6.5 to 6.8 ph.
Temperature – Ideal temperature for growing cabbage plants is between 10- 30 degree Celsius (50- 85 degree Fahrenheit).
Fertilizer – After 15 days of transplanting, apply balanced liquid fertilizer such as fish emulsion or hand full of vermicompost to each cabbage plant when they start to develop new leaves and forming head .
Mulch – Mulch thickly to your cabbage plant for retain moisture and regulate soil temperature .
Common pests and disease – Some common insects which are generally found in cabbage plants are caterpillars, cabbage loopers, white flies, flea beetles, root maggots, cutworm and aphids. Cabbage plant infected by some diseases like white spot or leaf spot, black rot, downy mildew, clubroot and blackleg etc. Look for early sign of fungal, insect or other infections spray organic pesticide Neem oil to cure these symptoms.
Cabbage Harvest Time
Cabbage will take about 90- 100 days for harvest after seed sowing. You can harvest cabbage when heads reach desired size and are strong. Cut each cabbage head and its base with sharp knife, after harvesting cabbage bring inside and put them in shade immediately.
Cabbage Special Features
Common name – Patta gobhi (पत्ता गोभी)
Level of grow – Medium
Height – Above 2 feet
Spread – Above 3 feet
Avoid planting with – Strawberries, tomatoes
Companion plants – Beans and cucumbers
FAQ
Why are my cabbage seeds not germinating?
Cabbage seeds will not germinate because of improper growing conditions like not getting enough sunlight, sowing seeds too deep in the soil, over watering or under watering.
Why did my cabbage not make a head?
The main reason why your cabbage heads is not forming are improper weather condition (either that it's too cold or it's too hot) overcrowding and excess nitrogen. Sowing your cabbage seeds at right time and follow right instructions.
Why are yellow and brown spots on my cabbage leaves?
Downy mildew is a disease of the foliage, caused by a fungus is the main reason behind yellow or brown spots on cabbage leaves. Use appropriate medicine to avoid the fungus.
What is the ideal growing medium to grow cabbage?
The ideal growing medium to grow cabbage is 2 part of garden soil and 1 part of any organic fertilizer or 1 part garden soil, 1 part
coco peat
and 1 part
vermicompost
.
Shipping Costs
Free Delivery: Available for Orders Above INR 499.
Prepaid Orders Below INR 499: Shipping Charge of INR 54.
Cash on Delivery Orders Below INR 499: Shipping Charge of INR 84.

Return Policy
Satisfaction Guaranteed: Return or Exchange Within 7 Days of Delivery.
Technical Details
Package Dimension: 12cm*9cm
Item Weight : 48mg
Net Quantity: 100N
Colour : N/A
Assembly Required: No
SKU : Cabbage

Additional Information
Brand : OrganicBazar
Country of Origin: India
Manufacturer: HEALTHUNBOX PRIVATE LIMITED
Consumer Care: Phone: 9513316259 | Email - support@organicbazar.net
Consumer Care Address: P NO 225, NEAR OF WATER TANK, VIPATPURA, Narsinghpur (M.P) 487001
Reviews
4Star
I am Satisfied for a good seeds germination value for a money
We are so glad to hear that you are happy with the seeds quality.
4 star
Nice seeds germination rate 90%.it's a good 👍 value for money
We are glad you got such good results. Please share images .
Happy gardening!!
Best buy ever
So satisfied with the buying.Packaging is perfect and seeds are amazing.not a single seeds have disappointed me.
Thank you, Reshmi Tamang, for your wonderful review!
Nice seeds. More than 85-90 % of seeds were germinated. Value for money.
Well, the packaging was done nicely and the seeds were properly packaged and labelled so there was no problem in identifying the seeds. The quantity of seeds was sufficient, I mean for a small container like I used, the seeds can be used two- three times and most importantly, the seeds are untreated and germination rate is very good