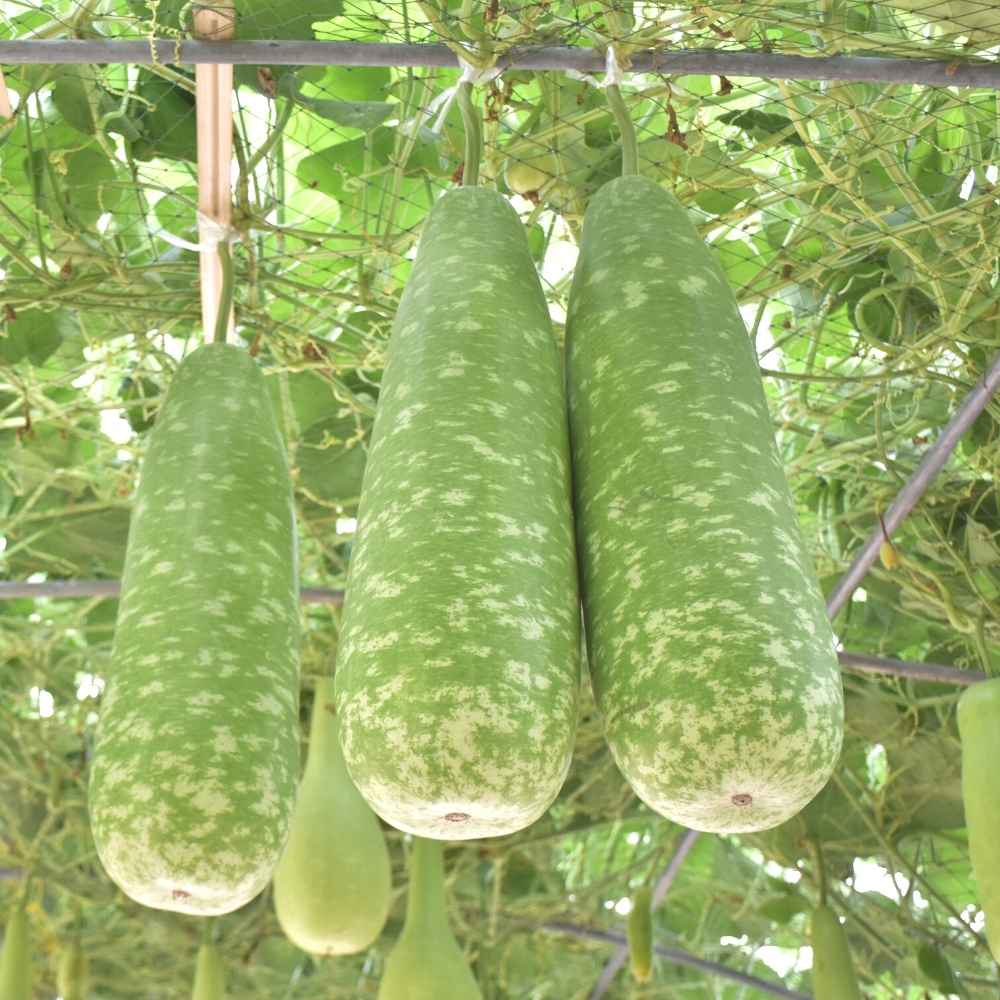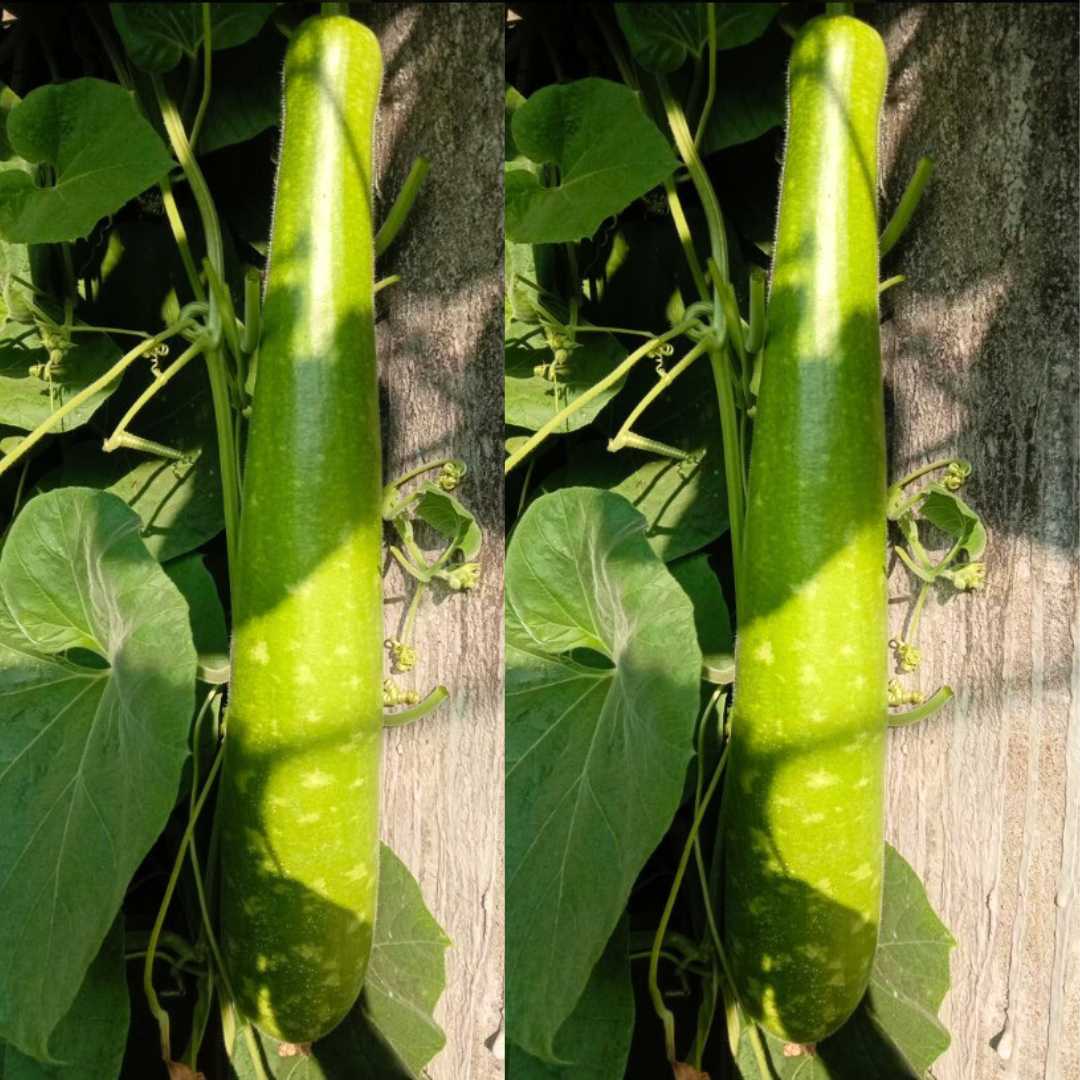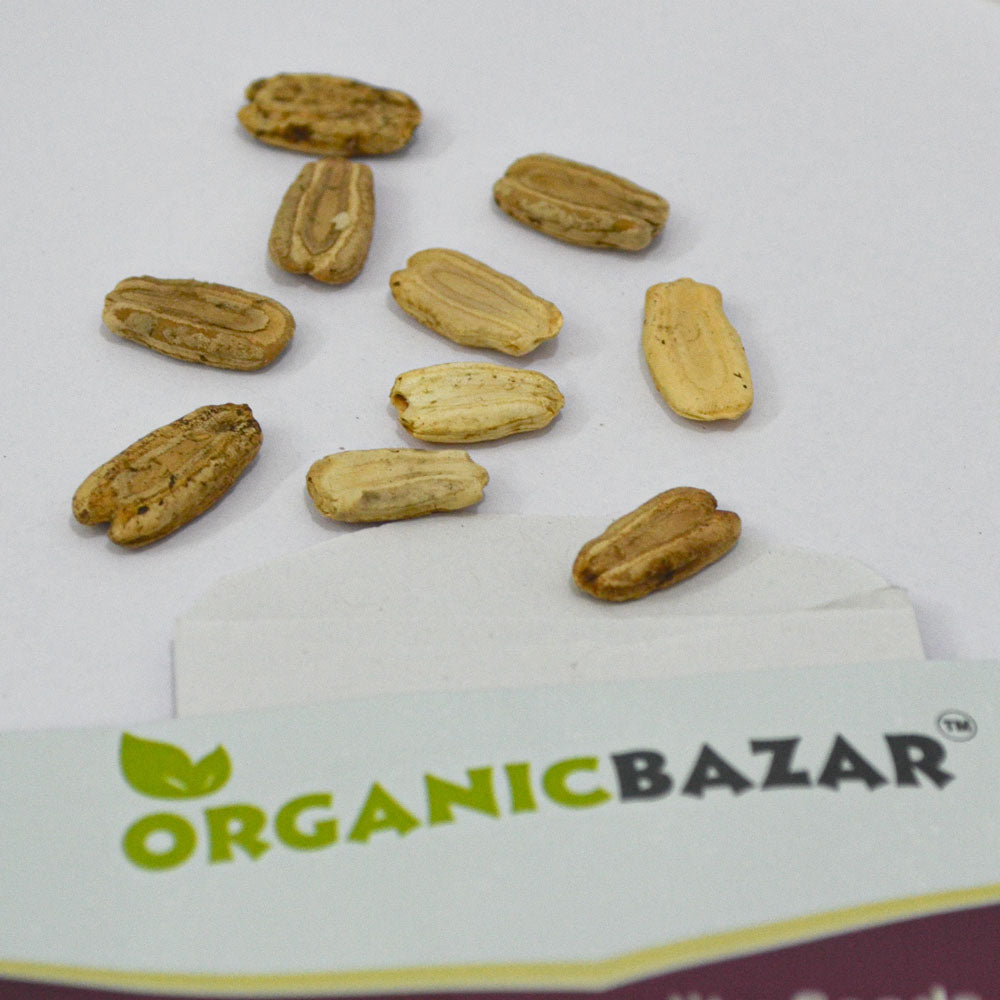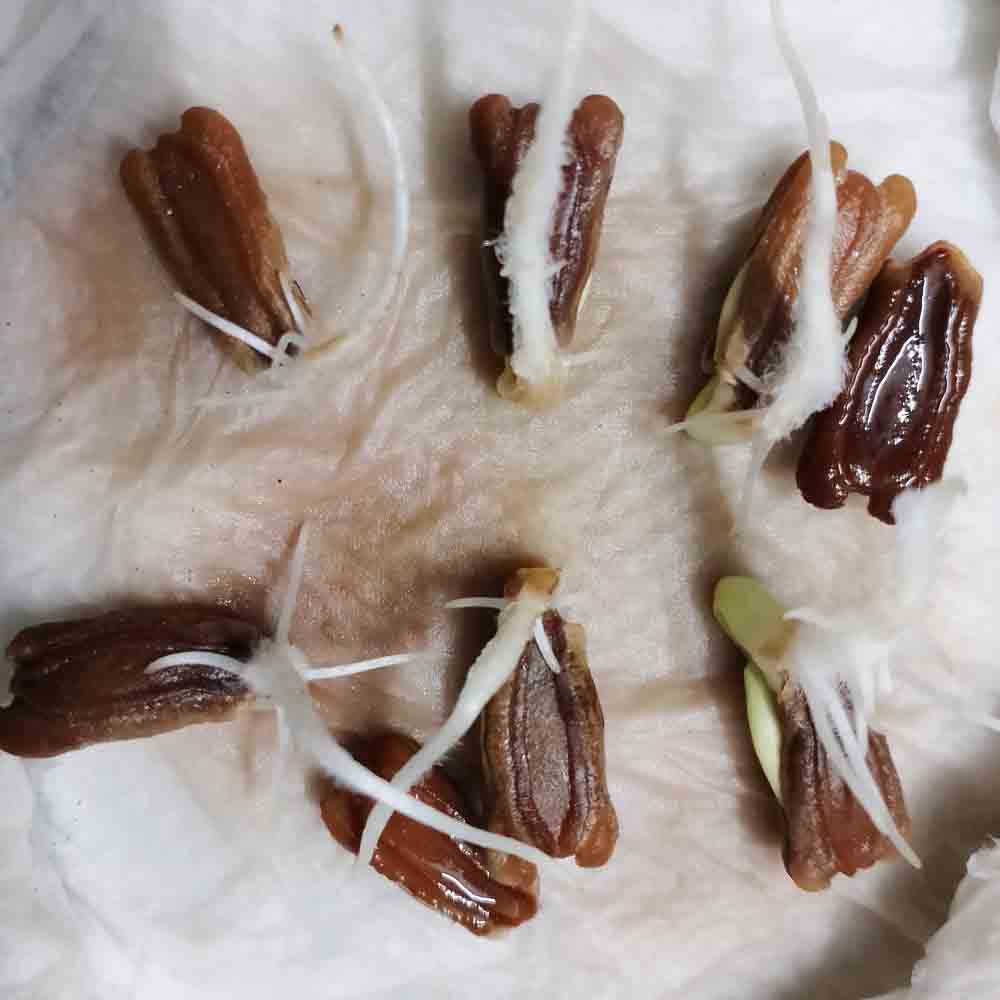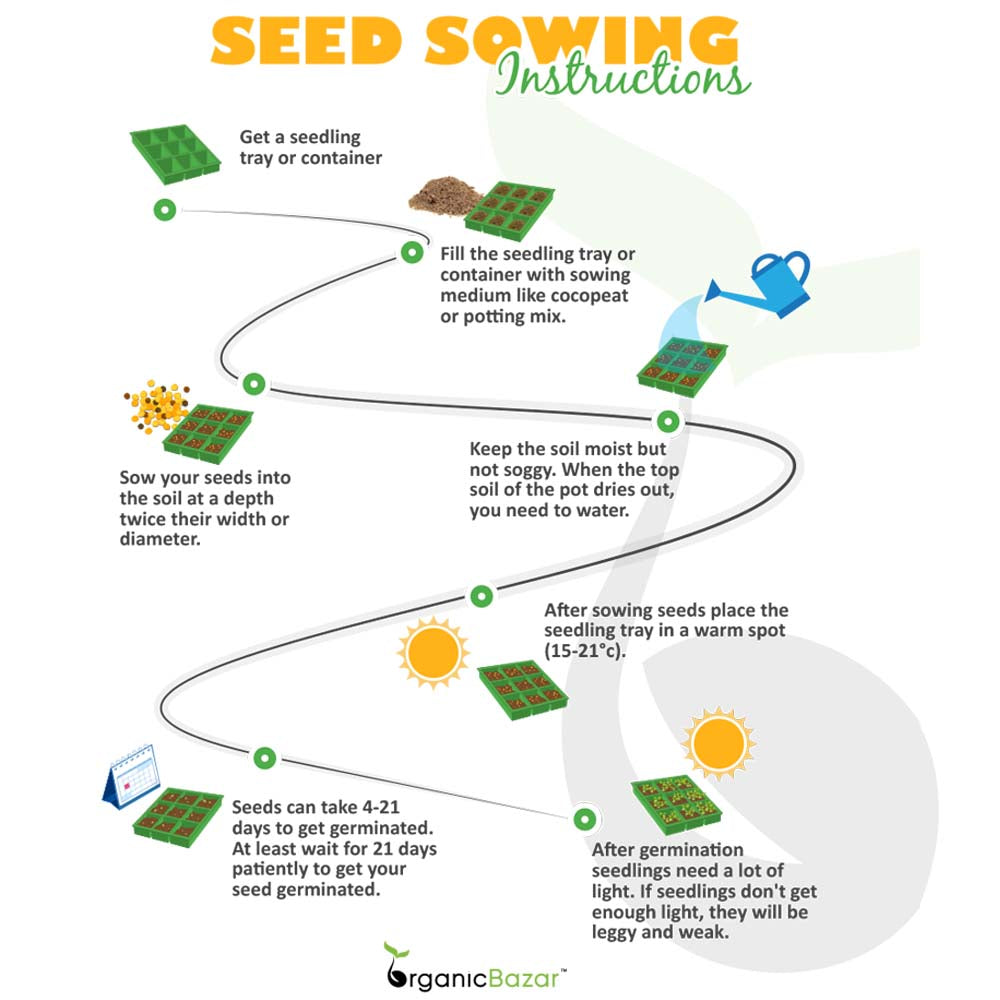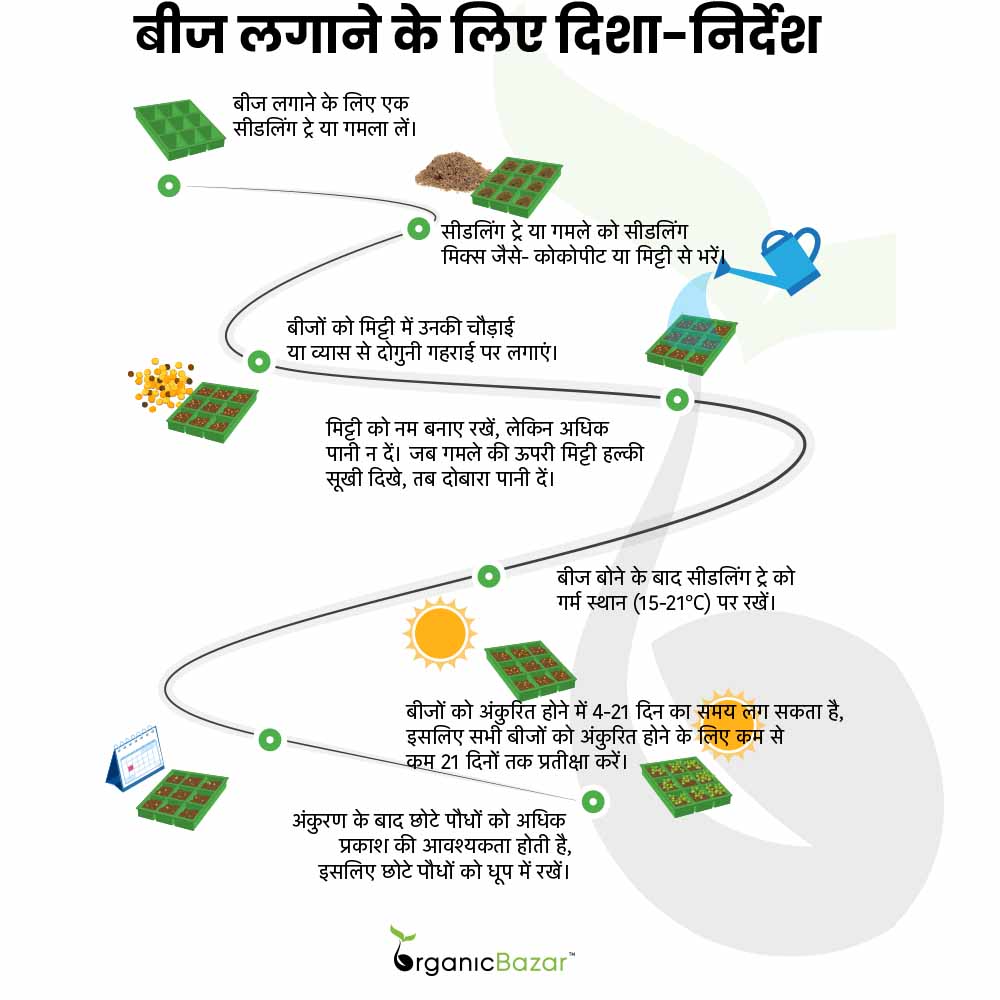 Bottle Gourd Long Dark Green With (Spots) F1 Hybrid Seeds (Lambi Lauki/ Ghiya/ लंबी लौकी के बीज)
Sale price
₹ 79.00
Regular price
₹ 149.00
Tax included.
Bottle Gourd Long Dark Green With (Spots) F1 Hybrid Seeds (Lambi Lauki/ Ghiya/ लंबी लौकी के बीज)
Sale price
₹ 79.00
Regular price
₹ 149.00
Product description
Shipping & Return
Bottle gourd vegetables are popular as lauki/ghiya in India. Bottle Gourd is one of the healthy vegetables you must add to your kitchen garden and terrace garden. Bottle Gourd Long Seeds are very easy to grow you can easily grow them in pots/grow bags; it
just requires little maintenance.
Buy the best Quality Bottle Gourd Long With dark Spot f1 Hybrid Seeds Online at the best price in India from
www.organicbazar.net
 with a Good Germination rate.
About this item
Number of Bottle Gourd Long With Dark Spot Seeds: 10 Seeds

Where to grow: Balcony or terrace garden

Sowing season: Throughout the year (All seasons)

Sowing method: Direct

Seeds sowing depth: 1 inch 

Germination Time: 8 to 14 days 

Germination temperature: 20-25ºC

Harvesting: 8 to 12 week

Plant vigor: Strong plant
What size grow bag is best for Bottle Gourd?
Bottle Gourd Long Growing Season In India
Bottle gourd can be grown year-round in India. The main growing seasons are summer (Februry – April), monsoon (June to July), and post-monsoon/autumn (September to october), with variations depending on local conditions.
How To Grow Long Bottle Gourd
The direct sowing method is best for planting bottle gourd in any container. The ideal Germination temperature for a long bottle of gourd seeds is 20-25ºC. Give proper water and sunlight to the Bottle gourd so that the plants can get good results.
Bottle Gourd Long Seeds Sowing Method
Sow long Bottle gourd seeds about 1 inch deep in the soil at a distance of 12-24 inches between two plants. Gently water the soil and keep the soil evenly moist till the seeds germinate. Bottle gourd seeds will take about 8 to 14 days to germinate.
Long Bottle Gourd Fertilize Requirements
Apply any slow-release fertilizer (such as vermicompost, cow manure, neem cake, or mustard cake) at the time of bottle gourd planting.
Feed the bottle gourd plants with liquid fertilizer once a month during the flowering time to increase flowers.
Long Bottle Gourd Plant Care Tips
Sunlight –
The bottle gourd needs at least 8 hours of full sunlight every day.
Water –
Give water regularly on summer days and keep moist the soil.
Soil –
Use well-drained, loamy and rich organic matter soil with PH 6.5-7.5.
Temperature –
The bottle gourd's optimum growing temperature is between 24 to 35ºC and the minimum temperature is 18ºC.
Common pests and diseases –
Aphids, cucumber beetles, cutworms, leaf miners, and squash bugs can attack bottle-gourd plants. Bacteria wilt and downy mildew are infected gourd plants. Look for early signs of fungal, insect, or other infections and spray
neem oil
to cure these symptoms.
Bottle Gourd Flowering Time And Pollination
Climber Bottle gourd will start to flower after 50-60 days from seed sowing, the male flower will appear first and the female will begin with small fruit. All types of bottle gourd are cross-pollinated; especially bees will pollinate the flowers. But sometimes it may be a problem in pollination because bees or insects are less active during the monsoon season. In such a case, hand pollination can work.
Bottle Gourd Long Harvest Time
Bottle gourd will take about 2 months to harvest after seed sowing.
Bottle gourd should be harvested when the fruit becomes a light green color.
Long Bottle Gourd Special Features
Common name – Lauki (Dhari Type) and ghiya (in Hindi)
Scientific name – Cucurbitaceae
Flower color – White and yellow
Level of growing – Easy
Height – 10 to 12 feet as a vine
Note: Images are for reference purposes only. Actual products may vary in shape or appearance based on climate, age, height, etc.
Shipping Costs
Free Delivery: Available for Orders Above INR 499.
Prepaid Orders Below INR 499: Shipping Charge of INR 54.
Cash on Delivery Orders Below INR 499: Shipping Charge of INR 84.

Return Policy
Satisfaction Guaranteed: Return or Exchange Within 7 Days of Delivery.
Technical Details
Package Dimension: 12cm*9cm
Item Weight : 1.80g
Net Quantity: 10N
Colour : N/A
Assembly Required: No
SKU : Bottle-Gourd-Avinash-Iv

Additional Information
Brand : OrganicBazar
Country of Origin: India
Manufacturer: HEALTHUNBOX PRIVATE LIMITED
Consumer Care: Phone: 9513316259 | Email - support@organicbazar.net
Consumer Care Address: P NO 225, NEAR OF WATER TANK, VIPATPURA, Narsinghpur (M.P) 487001
Reviews
one of the best lauki variety
Hello iam Atul mishra from raipur chhattisgarh i have growN this variety In my kitchen garden the Fruit is very tastY very soft fruit fruit is size very good Very high yielding variety
Thank you, Atul Mishra, for sharing your positive experience with this lauki variety in your kitchen garden. It's great to hear that the fruit is tasty, soft, of good size, and that it's a high-yielding variety. Your feedback is appreciated and may be helpful for other gardeners in your region.
Excellent product happy to purchase