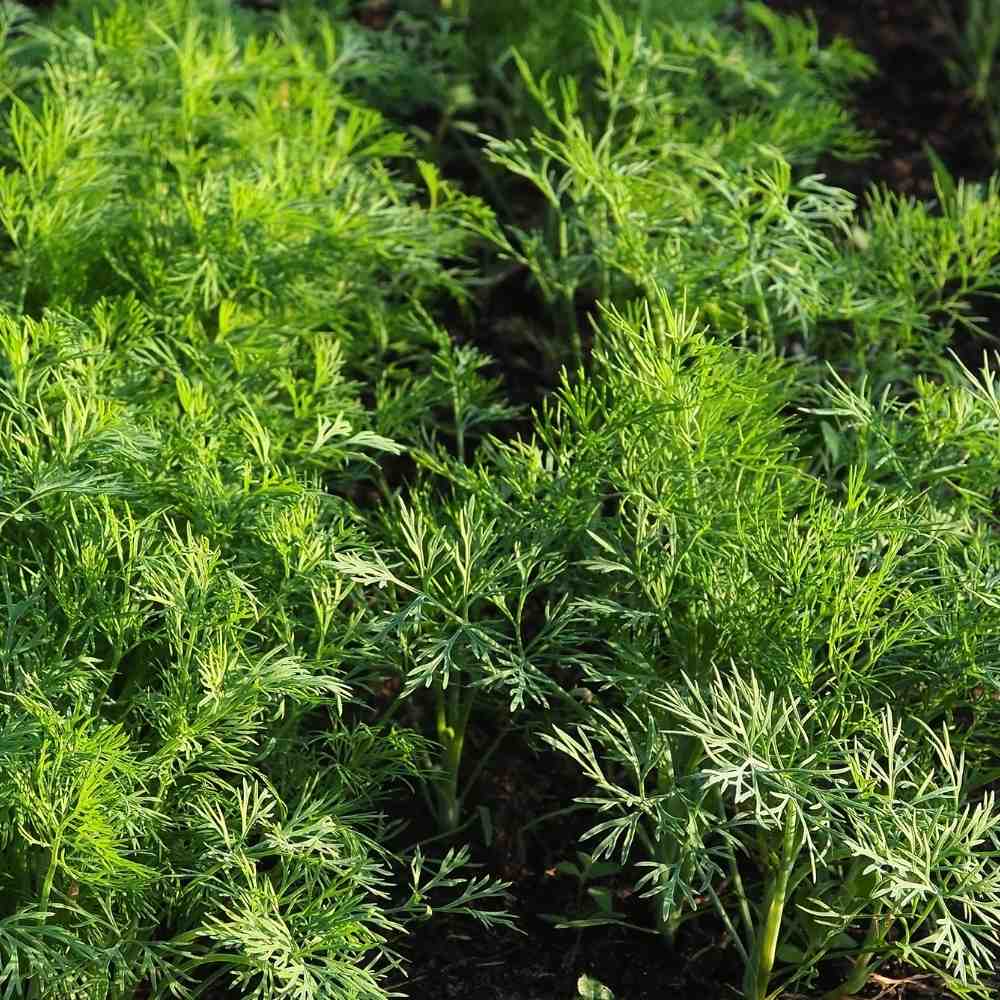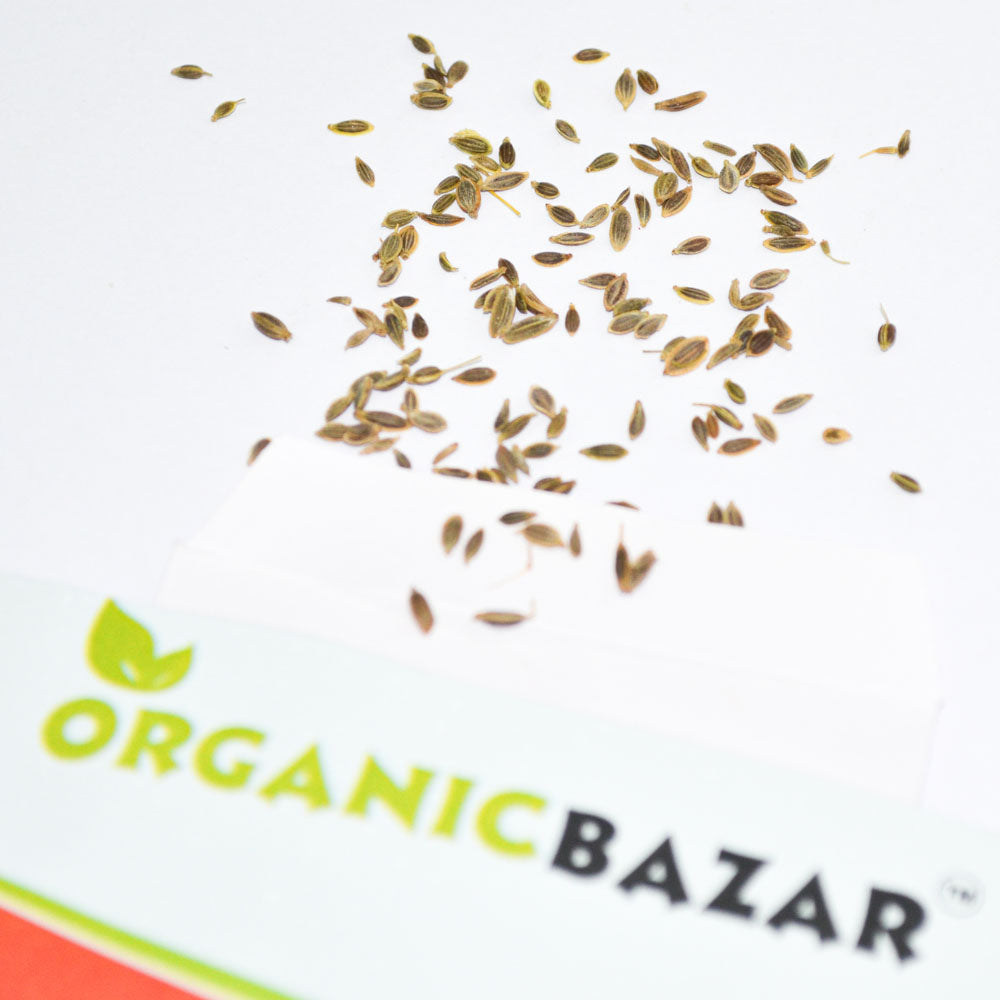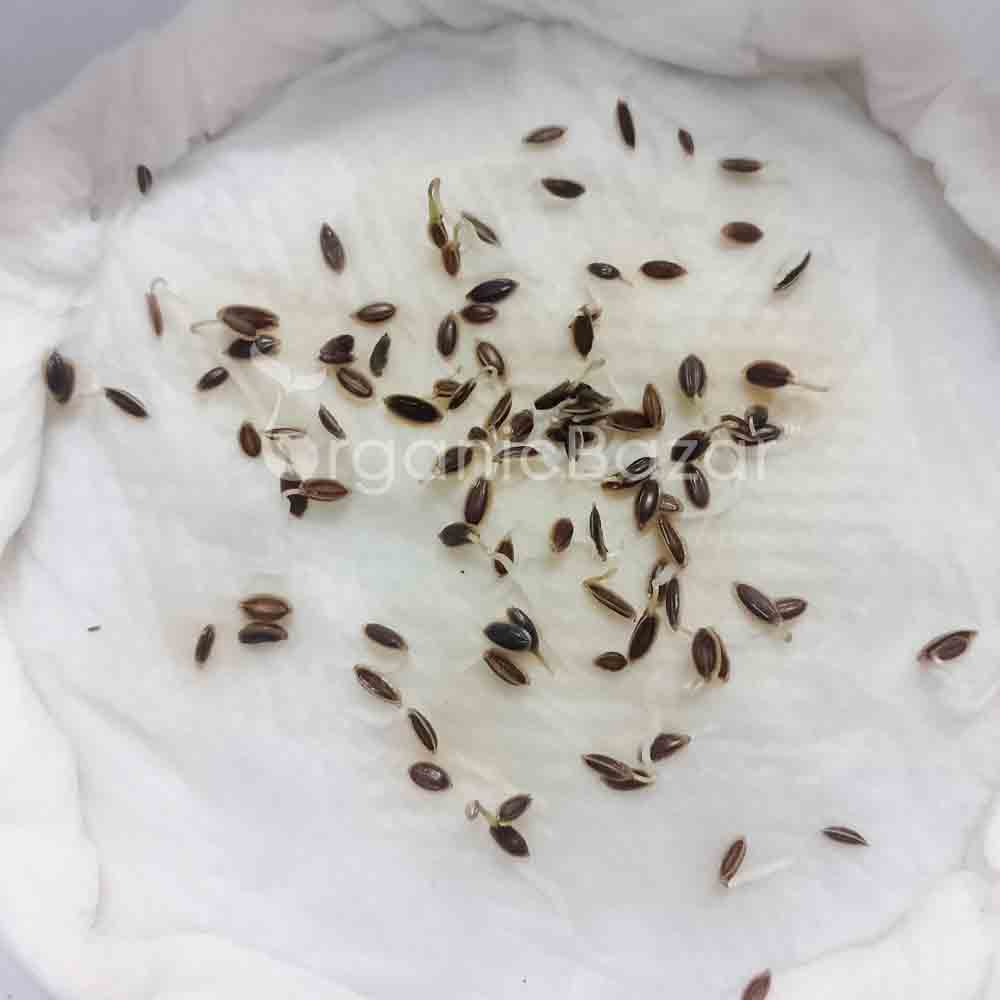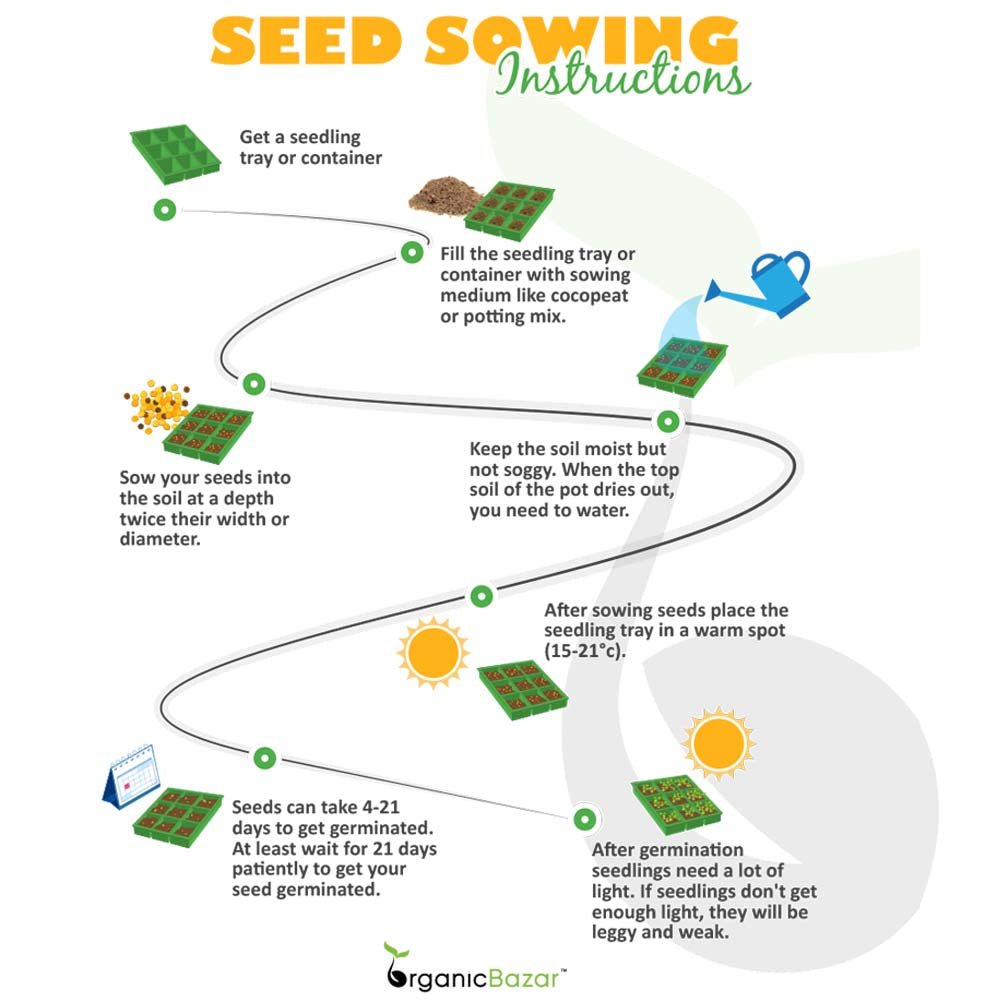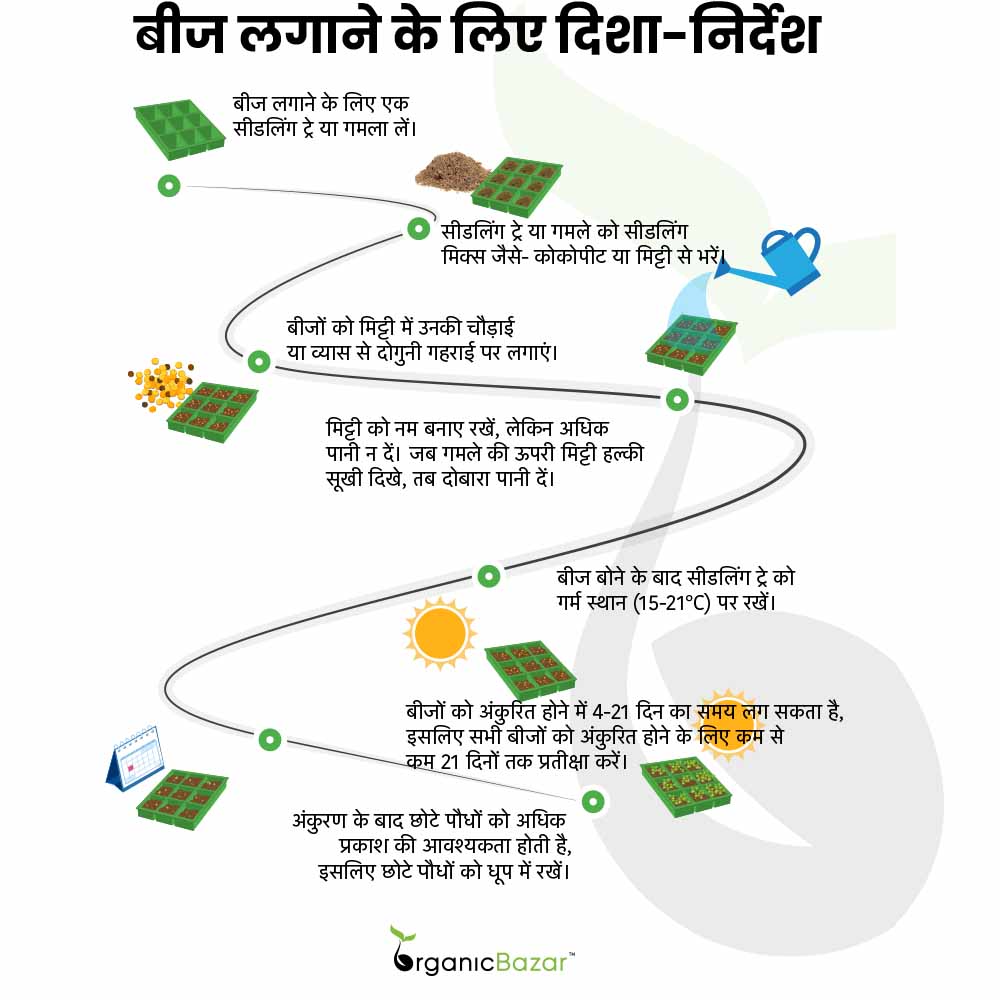 Sale price
₹ 40.00
Regular price
₹ 199.00
Tax included.
Anith Imported Seeds
Sale price
₹ 40.00
Regular price
₹ 199.00
Product description
Shipping & Return
Anith is a biennial plant but is commonly grown as an annual herb plant. Anith is popular for its fragrant green feathery leaves and yellow flowers that are good for attracting pollinators to your garden. The leaves are excellent for adding to salads and soups and used as a garnish, the leaves also have many health benefits, and the young flowers are also edible and good for salads and soups. Anith is a low-maintenance herb plant and is very easy to grow in mild climates
.
Buy the best quality Anith Imported seeds Online at the best price in India from
www.organicbazar.net
with a good germination rate. 
About this item
Number of Anith Imported Seeds: 100 Seeds

Where to grow: Balcony or terrace garden
Sowing season:

Spring and Autumn

Mode of sowing: Sow the seeds

¼

inches deep in a Container, or Pots.
Germination temperature:

15-26°C

Germination Time: 10 to 18 days from sowing

Harvest:  60-70 days from planting
Plant vigor: Strong plant
What size grow bag is best for Anith?
Anith Growing Season In India 
Anith grows in warm or mild weather and cannot tolerate light freeze and frost. For successful sowing results, sow the anith seeds in Spring and Autumn. The best month for planting anith is from February-March and September to November. 
How to Grow Anith Herb 
Anith seeds should be sown directly in pots because it does not grow well if you transplant them. Select pots or grow bags that are at least 12-15 inches wide and deep that have good drainage holes. The ideal soil temperature for the germination of anith seeds is between 15°C-26°C.
Anith Imported Seeds Sowing Method 
Take a
pot
or
grow bag
, fill them with soil and add organic fertilizer (like vermicompost, cow manure, etc) and then sow anith seeds about ¼ inches deep into the soil. Water the soil deeply through a watering can, keep the soil moist, and place the pot indoors or outdoor in a sunny area. Anith seeds germinate in about 10-18 days, they can germinate early or late depending on growing conditions.
Fertilizer For Anith Plants 
You can also add organic manure or compost to the soil for better growth of anith plant.
Anith Plants Care Tips
Soil -
Use well-drained, loamy, and sandy soil for planting anith.
Water -
Water the anith plant regularly during the growing season, especially on summer days, and do not allow the soil to dry out for too long as it will start to bolt.
Sunlight -
Anith plants require at least 6-8 hours of sunlight each day and if you are growing it indoors, make sure the plant gets maximum light.
 Temperature -
The optimum Anith growing temperatures are 15-28°C. 
Common pests and diseases -
Some pests such as aphids, cutworms, caterpillars, and root-knot nematodes attack anith plants, and diseases like downy mildew, powdery mildew, and root rot infect the plants. To get rid of the problem it would be right to spray neem oil on the anith plants. 
Harvesting Anith Leaves 
Anith foliage is ready to harvest within 60-70 days from planting. 

You can also cut the leaves when the anith plant has 4-5 leaves.  

For continuous harvesting sow the seeds every few weeks.
Harvesting Anith Seeds 
Anith seeds are ready to harvest in about 90-100 days.

The best time to harvest the seeds is when seeds turn green to brown. 

Cut off the stalk with a scissor and then collect the seeds.

And if you don't want anith to be re-sown in your pot, cut off the anith seed heads before they form.
Anith Plants Special Feature 
Common name - Anith

Scientific name - Anethum graveolens 

Level of growing - Easy 

Companion planting - Broccoli, kale, kohlrabi, and swiss chard 

Avoid planting with - Carrots, and fennel  

Height - About 3 feet 

Flower color - Yellow-green
FAQ
How do you grow anith successfully?
Anith grows best in well-drained, rich soil in warm weather and when the temperatures are
15-28°C.
Can anith survive winter?
Anith is a warm-season plant and it cannot survive in winter. 
Does anith like full sun or shade?
Anith plants prefer 6-8 hours of full sunlight.  
Does anith come back every year?
Usually, the anith plant does not grow from the same plant every year because it is an annual plant but it is possible to re-sown from seeds if they fall into the soil after drying.
Is anith still good after it flowers?
Anith is grown as an annual plant that completes its life cycle in one growing season, so the plant dies after flowering.
Why is my anith dying?
Sometimes, anith plants die due to over-watering and too much feeding.
Note: Images are for reference purposes only. The actual product may vary in shape or appearance based on climate, age, height, etc.
Shipping Costs
Free Delivery: Available for Orders Above INR 499.
Prepaid Orders Below INR 499: Shipping Charge of INR 54.
Cash on Delivery Orders Below INR 499: Shipping Charge of INR 84.

Return Policy
Satisfaction Guaranteed: Return or Exchange Within 7 Days of Delivery.
Technical Details
Package Dimension: 12cm*09cm
Item Weight : 23mg
Net Quantity: 100N
Colour : N/A
Assembly Required: No
SKU : Anith-Imported

Additional Information
Brand : OrganicBazar
Country of Origin: India
Manufacturer: HEALTHUNBOX PRIVATE LIMITED
Consumer Care: Phone: 9513316259 | Email - support@organicbazar.net
Consumer Care Address: P NO 225, NEAR OF WATER TANK, VIPATPURA, Narsinghpur (M.P) 487001