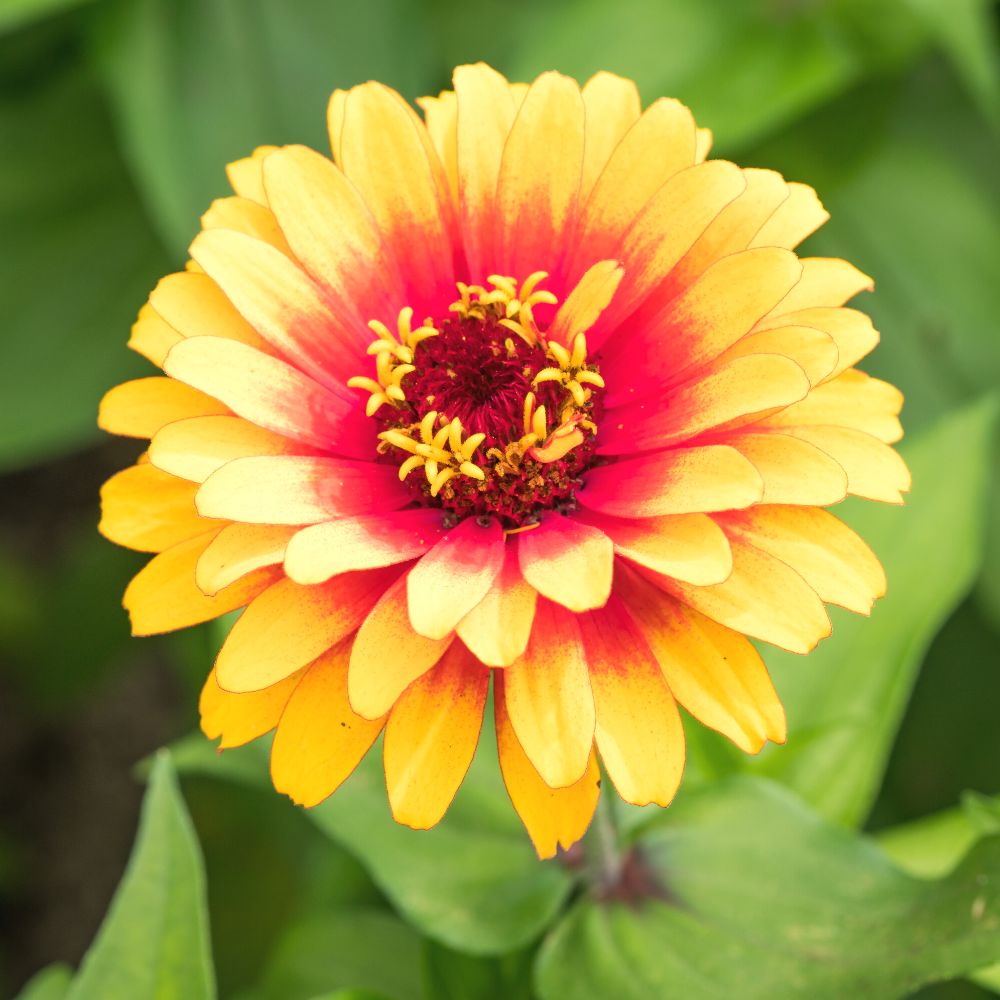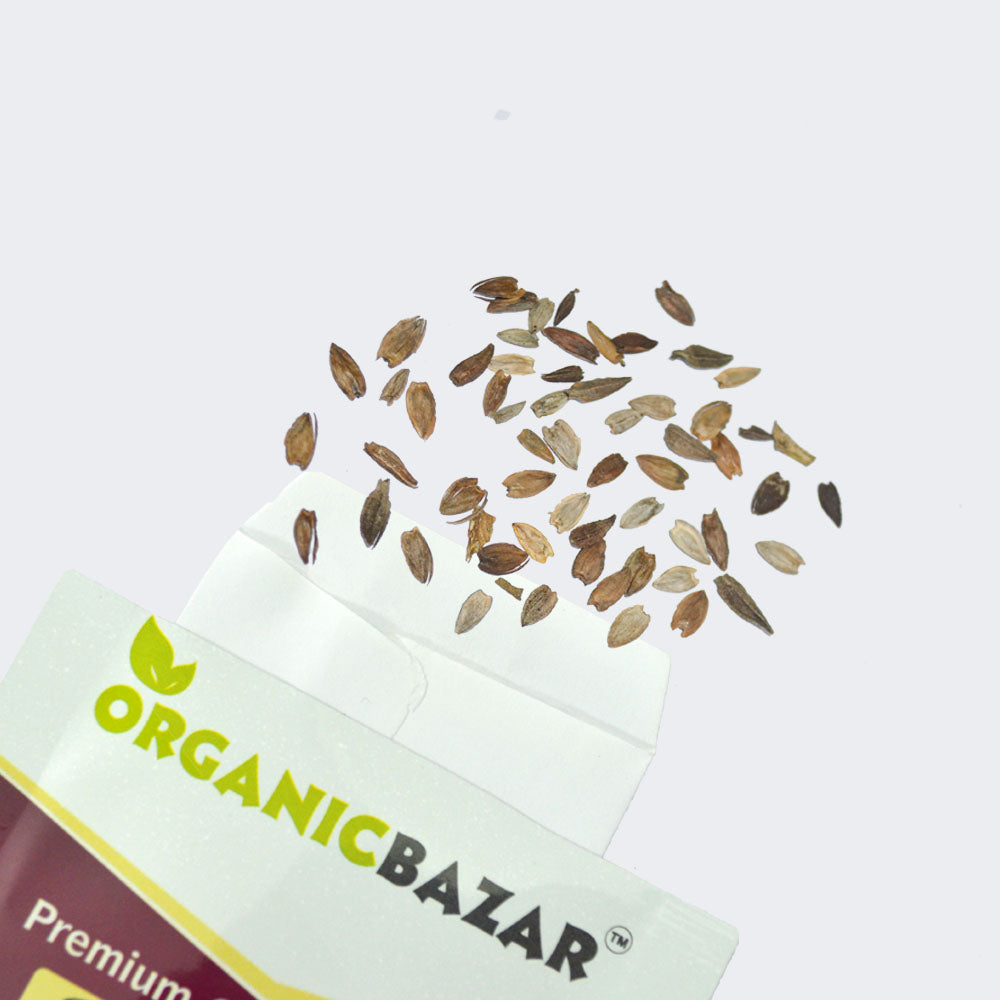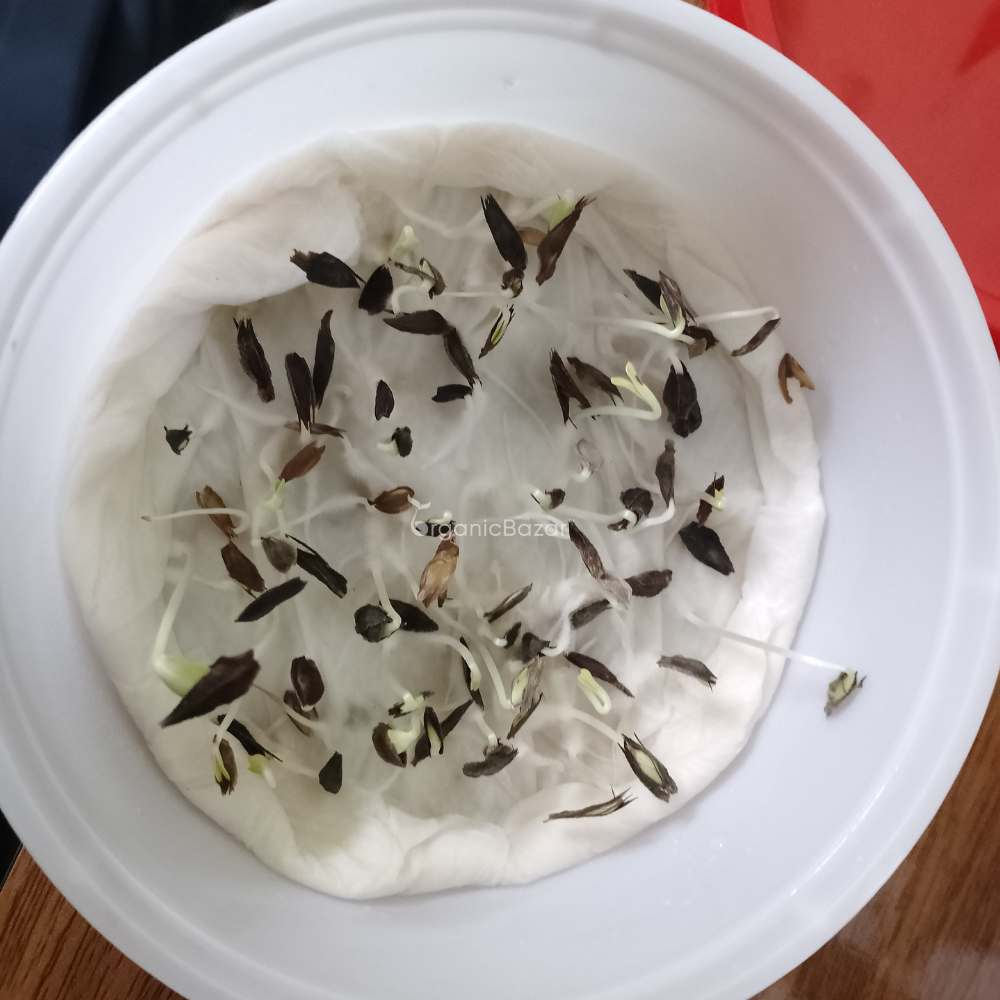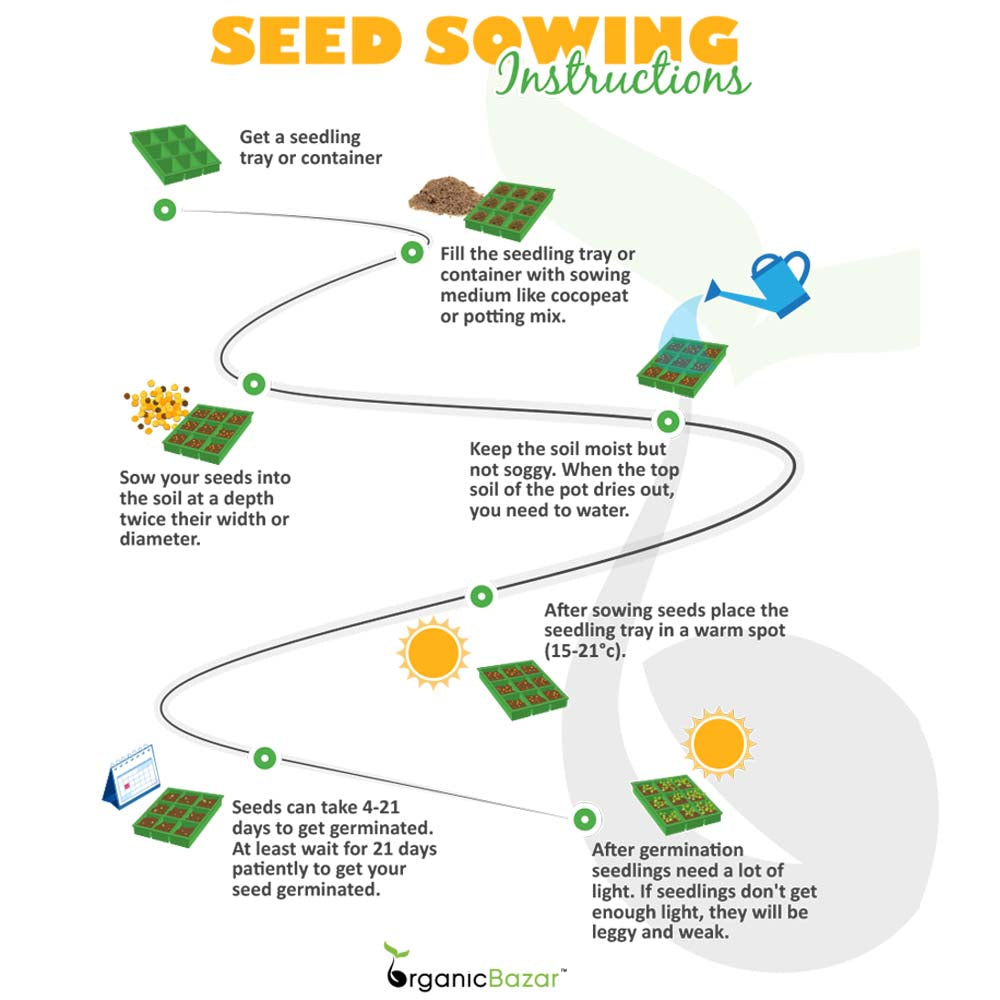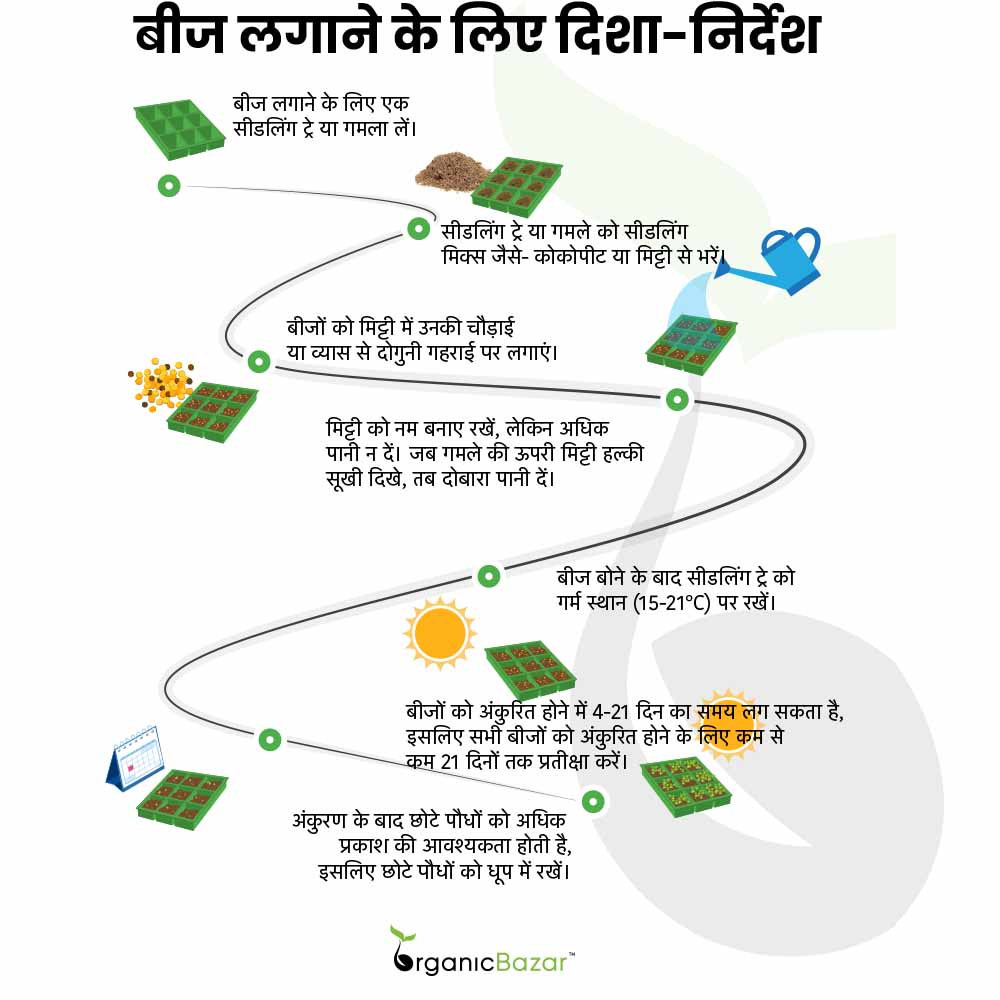 Zinnia Yellow Flower Seeds
Sale price
₹ 59.00
Regular price
₹ 249.00
Tax included.
Zinnia Yellow Flower Seeds
Sale price
₹ 59.00
Regular price
₹ 249.00
Product description
Shipping & Return
Zinnia is an annual flower that comes in a variety of colors and is popular among gardeners as well as pollinators. It can tolerate low temperatures but cannot grow in frost. The flower comes in different colors, shapes, and sizes some look like dahlias and some have daisy-like flowerheads. Zinnia is a very easy-to-grow and fast-blooming flower and is the primary choice for beginners to grow. You can easily grow zinnia in your home garden, terrace garden, or balcony. It creates an awesome look for your garden and is also a favorite of butterflies. 
Buy the best Quality
Zinnia Yellow Flower Seeds
Online at the best price from
www.organicbazar.net
with a Good Germination rate and add colors to your garden.
About this item 
Number of

Zinnia Yellow Flower Seeds

: 50 Seeds
Where to grow: Balcony or terrace garden
Sowing season: Throughout the year (

spring, summer, and winter)

Sowing method: Direct or Seedling transplant
Germination temperature: 21-26°C

Germination Time: 4 to 10 days from sowing

Blooming Time:  45-70 days

(Late spring to frost)

Flower Color: Yellow
What size grow bag is best for Zinnia?
Zinnia Growing Season In India 
Zinnias prefer warm climates and can grow in any season but spring, summer, and winter are the perfect times to sow zinnia seeds. You can plant zinnias when the weather is warm, from February to April or August to December.
How To Grow Zinnia From Seeds 
Beautiful zinnia is a very easy and fast-growing flowering plant, you can sow the seeds directly as it does not like to be transplanted. If you are sowing zinnias indoors for transplant in the garden, transplant carefully without damaging the root. Sow zinnia seeds when the soil temperature is around 21-26°C. The best size of the pots or grow bags for planting zinnias is 9 to 15 inches wide and deep.
Zinnia Tall Yellow Hybrid Seeds Sowing Method 
Take a pot, fill it with potting mix and sow the zinnia seeds in the soil at a depth of about ¼ inch. You can also make your own potting mix by mixing 20% cocopeat, 30% vermicompost, 30% garden soil, and 20% sand. Sow the seeds in pots about 5-8 inches apart. Water the potting soil gently through a watering can and keep the soil moist until germination. Zinnia seeds germinate quickly, in about 4-10 days (depending on climate and growing conditions).
Tips -
If you are transplanting zinnias, place the pot in partial sunlight for a few days after transplanting to protect the seedling from transplant shock. After 3 days, keep the pot in full sunlight.
Best Fertilizer For Zinnia
Add Phosphorus-rich fertilizer once a month during the blooming season (summer to frost) to encourage more flowers. Always dilute fertilizers with water then apply. 
You can also add cow manure or vermicompost during the zinnia growing season.  
Zinnia Plant Care Tips
Soil -
Use fertile, organic matter and well-draining soil to plant zinnias. A soil pH of around 5.5 to 7.5 is ideal for growing zinnias.
Water -
The water requirement of zinnia is low when mature but it needs proper watering before maturity. You can water 1 inch per week and keep the soil moist as consistent moisture is the key to successful zinnia growth.
Sunlight -
Zinnias thrive in full sunlight and may not grow well in shade. Daily 6-8 hours of sunlight is good for zinnia.
Temperature -
The minimum day temperature for growing Zinnia is 16°C and the optimum temperature for growing zinnia ranges from 23-28°C.
Common pests and diseases -
Pests such as spider mites and caterpillars attack the zinnia plant, and diseases such as powdery mildew and bacterial wilt affect the plant. These diseases develop when the leaves are wet and the plants do not get a proper space. You can use neem oil to protect your zinnia plants from insects.
Deadheading -
Removing or deadheading spent flowers is very important for a zinnia's healthy growth. Deadhead encourages more blooms and gives room for new blooms. In addition, it is important to regularly remove any infected or dry parts of the petunia plant for better growth.
Zinnia Blooming Time 
Zinnia is a fast-blooming flower plant. It blooms from late spring to frost. Usually, it takes 45-70 days for seeds to flower.

This is a very popular and beautiful flower that you can cut and decorate in a vase when all the petals are open, it lasts up to 10 days easily.
Zinnia Special Features
Common name - Zinnia 

Scientific name - Zinnia 

Height - 6 to 36 inches

Level of growing - Easy
FAQ
Why is my zinnia dying?
Zinnia dies due to lack of water, when the plants get less water they begin to wither and then die. So keep the soil of your zinnia plants moist and check that they are not dry.
How do you keep zinnias blooming?
To keep zinnias blooming they need proper sunlight, water, and regular fertilizer and trimming.
Note: Images are for reference purposes only. Actual products may vary in shape or appearance based on climate, age, height, etc.
Shipping Costs
Free Delivery: Available for Orders Above INR 499.
Prepaid Orders Below INR 499: Shipping Charge of INR 54.
Cash on Delivery Orders Below INR 499: Shipping Charge of INR 84.

Return Policy
Satisfaction Guaranteed: Return or Exchange Within 7 Days of Delivery.
Technical Details
Package Dimension: 12cm*9cm
Item Weight : 40mg
Net Quantity: 50N
Colour : N/A
Assembly Required: No
SKU : Zinnia-Tall-Yellow

Additional Information
Brand : OrganicBazar
Country of Origin: India
Manufacturer: HEALTHUNBOX PRIVATE LIMITED
Consumer Care: Phone: 9513316259 | Email - support@organicbazar.net
Consumer Care Address: P NO 225, NEAR OF WATER TANK, VIPATPURA, Narsinghpur (M.P) 487001