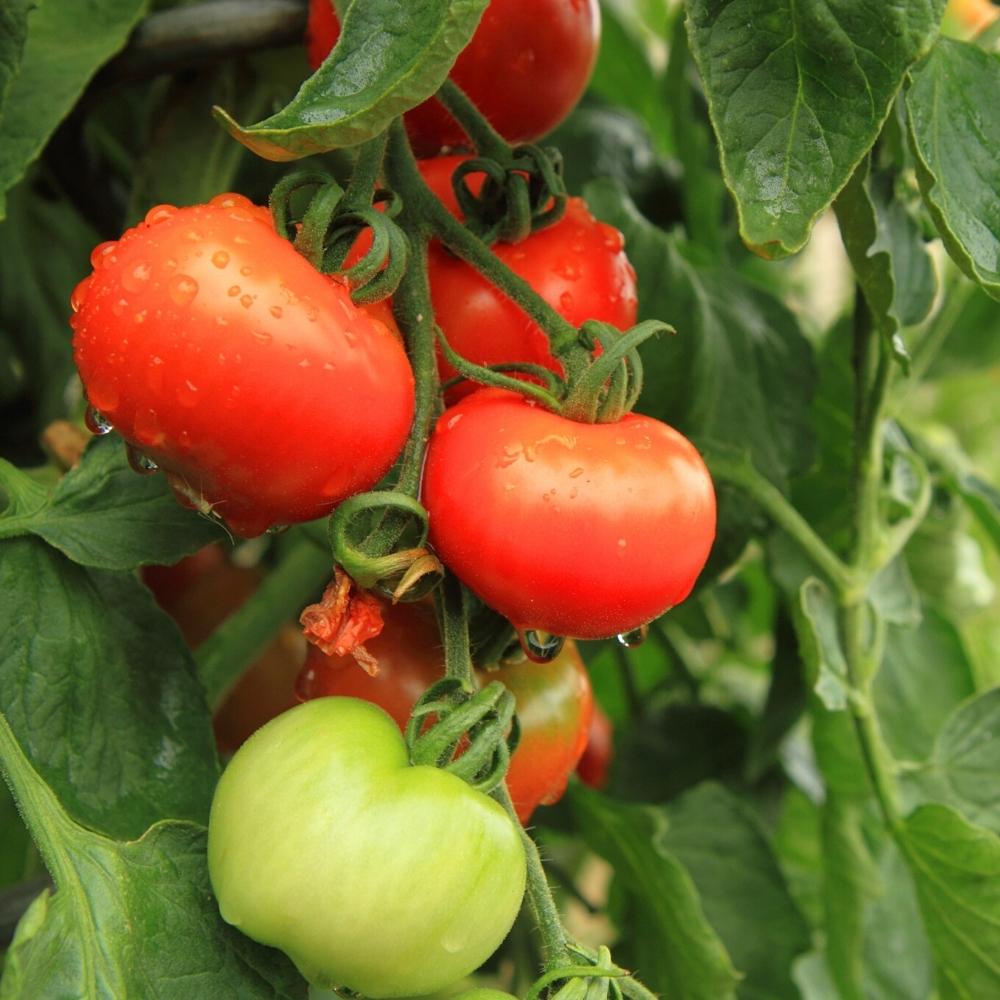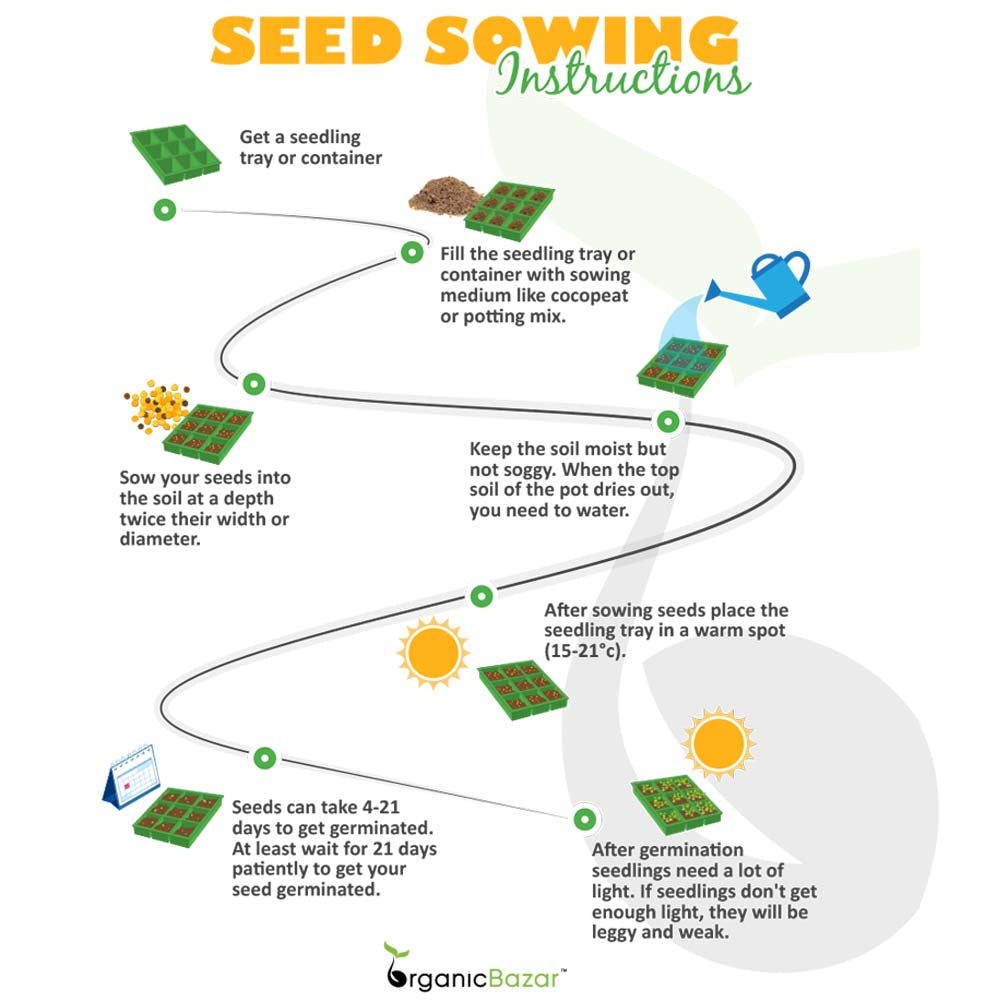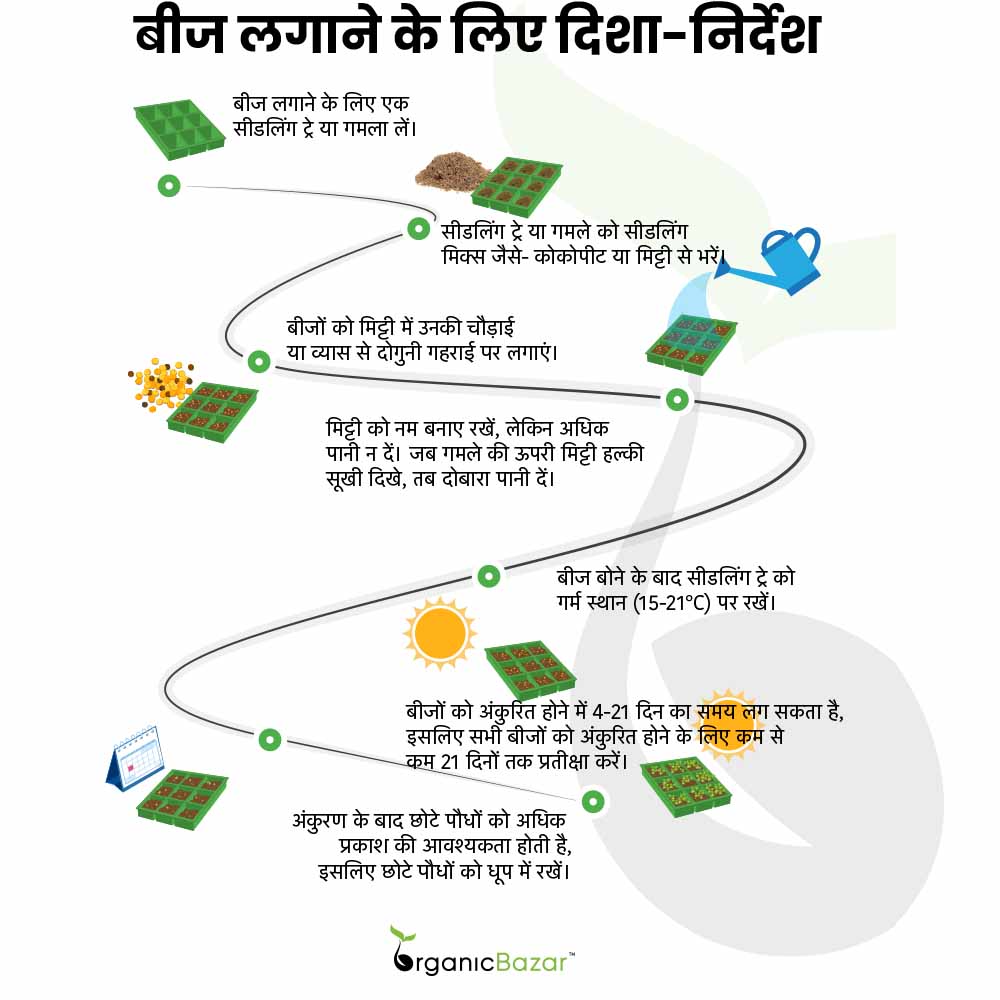 Desi Tomato (Tamatar) Seeds (देशी टमाटर के बीज)
Sale price
₹ 40.00
Regular price
₹ 90.00
Tax included.
Desi Tomato (Tamatar) Seeds (देशी टमाटर के बीज)
Sale price
₹ 40.00
Regular price
₹ 90.00
Product description
Shipping & Return
Desi Tomato is the most popular variety of Desi tomato seeds. it is flavorful and edible packed with vitamin C, vitamin A, calcium fiber, and many other important antioxidants. Make soups and sauces or eat them raw in a salad; tomato is tasty in all forms. Grow your own tomato in your home garden and add fresh flavor and a lot of nutrition to your food with a few tomatoes. Buy the Best quality Desi Tomato Seeds Online at the best price from
www.organicbazar.net
with a good germination rate. Tomato Desi is very easy to grow you can easily grow it in your terrace garden or home garden.
About this item
Number of Desi Tomato Seeds (tamatar ke beej): 30 Seeds

Where to grow: Balcony or terrace garden

Sowing season: Throughout the year

Sowing method: Seedling transplant

Germination Time: 8 to 14 days 

Germination temperature: 18 to 27°C
Plant Type: Determinate, 50–70 cm tall at maturity, Non-Stacking, Dwarf Plants
Harvest – 80 to 90 days after transplanting
Flattish round shape fruits with 4–5 light grooves and dark red color with green shoulder
Average fruit weight: 70 –80 gms
What size grow bag is best for Tomatoes?
Desi Tomato Growing Season In India
You can sow Tomato seeds throughout the year but the best month for sowing tomato seeds are summer (Februry – April), monsoon (June to July), and Winter (September to october), with variations depending on local conditions.
How To Grow Tomato At Home
Generally, tomato seeds are sown in a 
seedling tray
and then transplanted after the seeds germinate to grow freely. You can sow tomato seeds in warm weather either indoors or outdoors and the best temperature for seed germination is 18-27°C. Select a seedling tray or small size pot, fill it with growing medium, and spread Desi Tomato seeds on it, then cover a thin layer of soil above the seeds. Give light water through a
water sprayer
. Place the seedling tray in a sunny spot and keep the soil moist. Tomato Desi seeds will germinate within 8-14 days.
When seedlings are 6-12 inches tall at that time transplant the healthiest plant carefully into 
pots/grow bags
 and set the seedling 8-12 inches apart from each other.
How To Fertilize Tomato Plants
During flowering time, add a few handfuls of 
organic manure
 to the soil every 15-18 days, after adding manure mix well and gently water.
Desi Tomato Care Tips
Water
– Tomato plant needs regular water or deep watering in summer days for better or fast growth of plants and give water once in 3 days during winter.
Soil 
– Use well-drained, fertile, and high organic matter soil.
Sunlight
– Tomato needs at least 6 to 8 hours of direct sunlight for high-yield or fast-growth plants.
Temperature
 – Optimum temperature for tomatoes is 15-30 degree Celsius and should not be less than 10 degree Celsius.
Common pests and disease
 – Some pests like Aphids, cutworms, caterpillars, and root-knot nematodes can attack tomato plants. Powdery mildew and bacterial milt is the main disease that infected tomato plants. To get rid of this problem, it would be right to spray 
neem oil
 on the tomato plant from time to time.
Desi Tomato Harvest Time
After 60-70 days from transplant, the tomato will start ripening.
Tomato will be fully ripe when the fruit becomes softened and red color, if you feel too hard, then it is not ready to harvest yet.
 Tomato Desi Special Features
Common name – desi Tamatar (देशी टमाटर के बीज)
Scientific name – Solanum Lycopersicum
Height – Above 5 feet
Flower color – Yellow
Note: Images are for reference purposes only. Actual products may vary in shape or appearance based on climate, age, height, etc.
Shipping Costs
Free Delivery: Available for Orders Above INR 499.
Prepaid Orders Below INR 499: Shipping Charge of INR 54.
Cash on Delivery Orders Below INR 499: Shipping Charge of INR 84.

Return Policy
Satisfaction Guaranteed: Return or Exchange Within 7 Days of Delivery.
Technical Details
Package Dimension: 12cm*9cm
Item Weight : 18mg
Net Quantity: 50N
Colour : N/A
Assembly Required: No
SKU : Tomato-PKM-1

Additional Information
Brand : OrganicBazar
Country of Origin: India
Manufacturer: HEALTHUNBOX PRIVATE LIMITED
Consumer Care: Phone: 9513316259 | Email - support@organicbazar.net
Consumer Care Address: P NO 225, NEAR OF WATER TANK, VIPATPURA, Narsinghpur (M.P) 487001
Reviews
यह सुनकर हमें खुशी हुई कि आपके बीजों का अंकुरण अच्छा हुआ है।
Dear Customer,
We're sorry to hear about your below-average germination experience with our seeds.
Successful germination can depend on various factors, including weather, location, temperature, and watering. Please note that all our seeds pass germination tests, and you can find test images on our website.
To improve your results, we recommend following proper procedures. You can also watch our helpful germination video here:
https://organicbazar.net/how-to-germinate-seeds-successfully/
We apologize for any inconvenience and are here to assist you. Your satisfaction is essential to us.
Best regards,
Team Organic Bazar
Mine seeds not grown yet even after 15 days
We're sorry to hear that your Desi Tomato seeds haven't sprouted yet. Please ensure they have proper soil, light, and moisture.
Excellent product every single seeds growing 💕💕