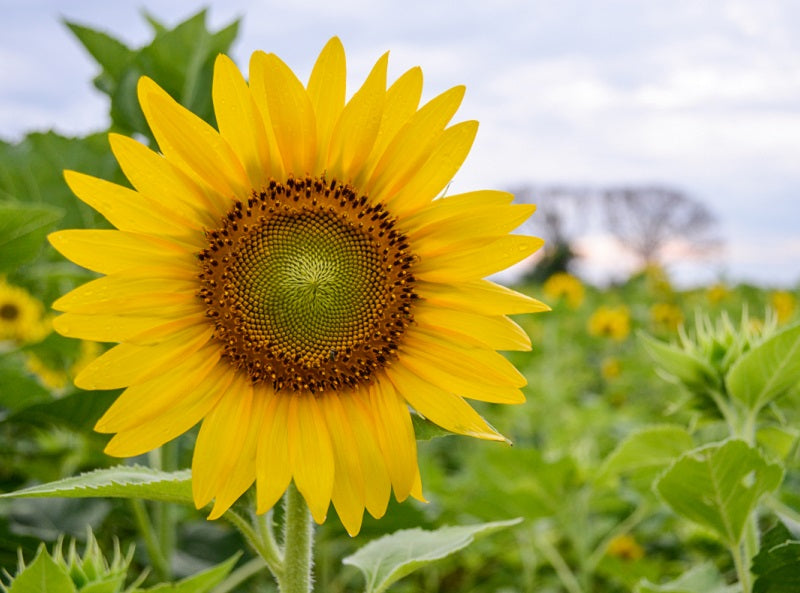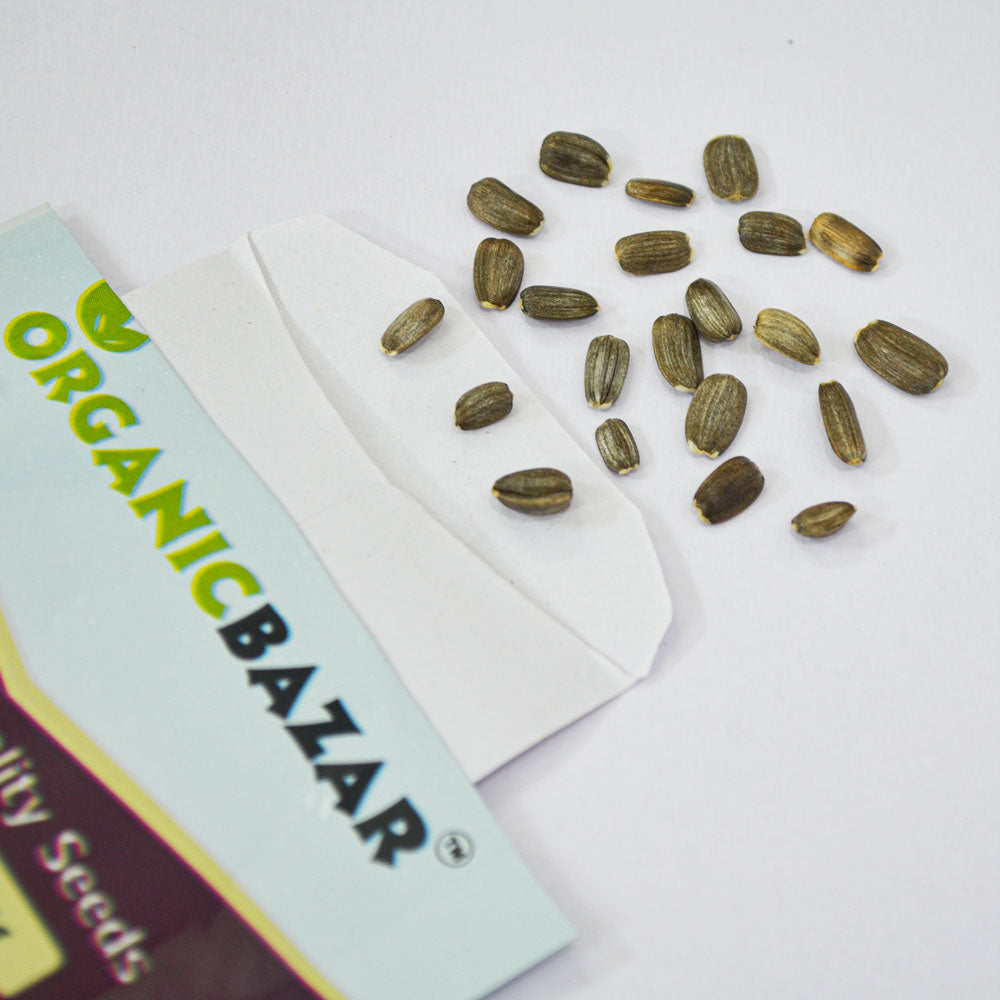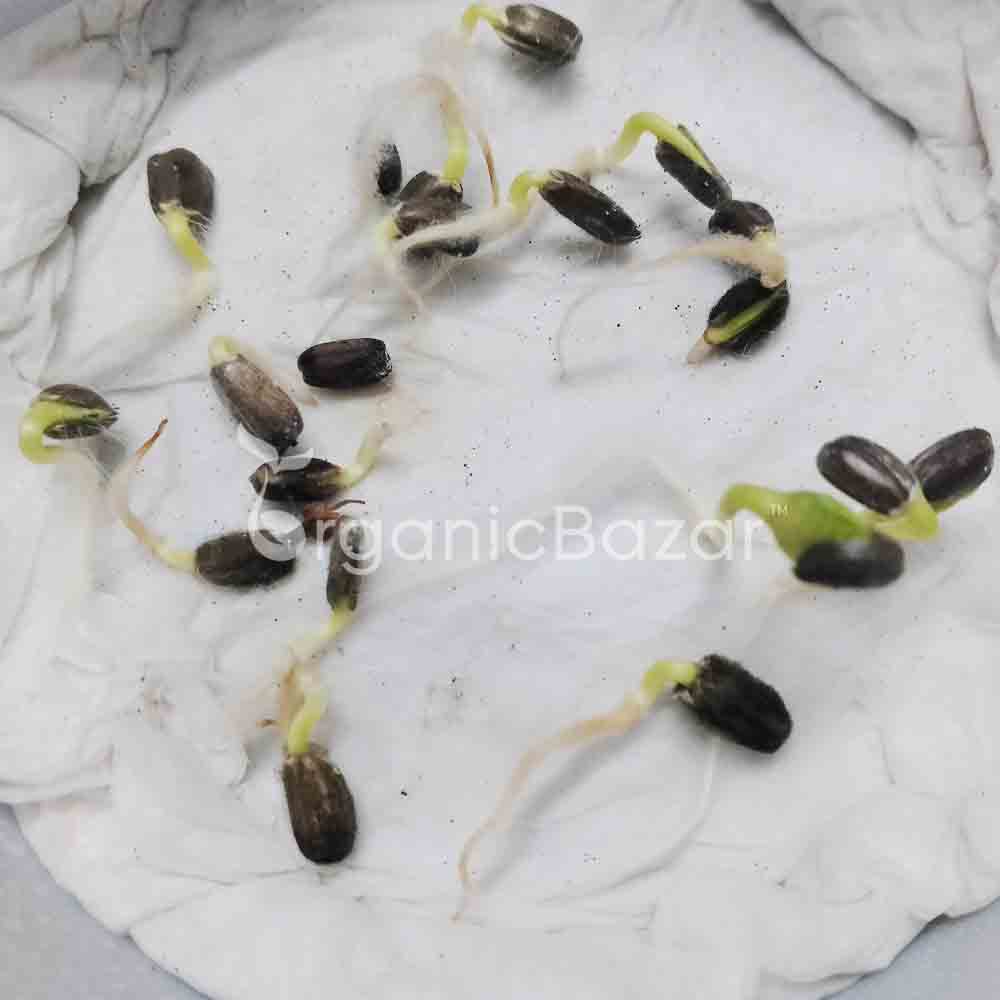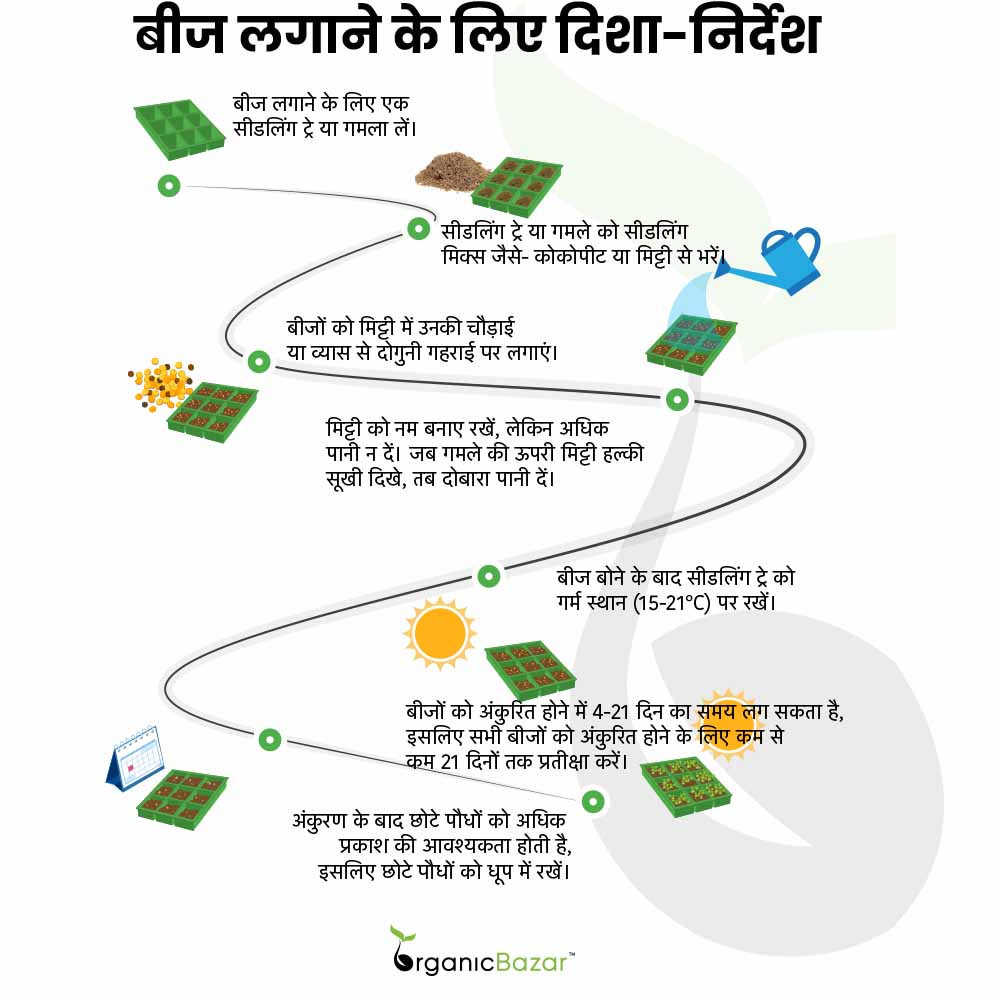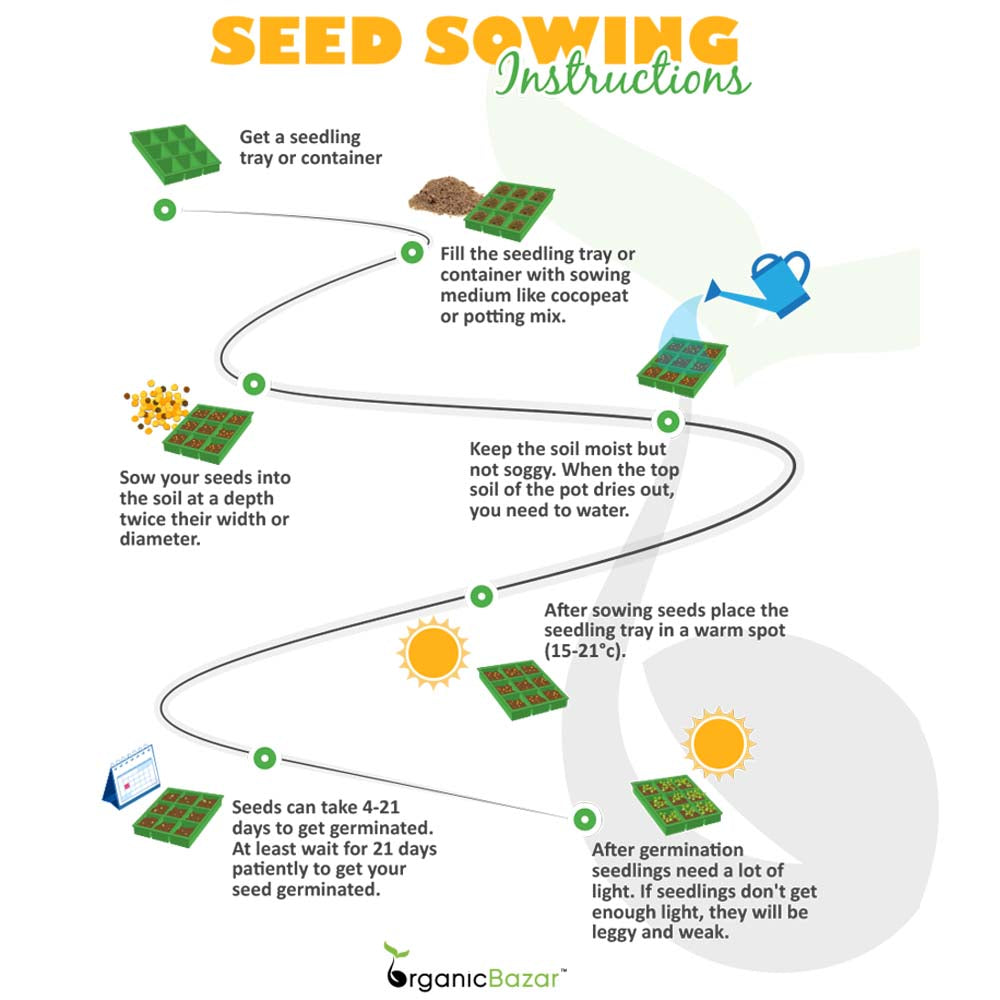 Sunflower Tall Yellow Seeds (Surajmukhi/सूरजमुखी के बीज)
Sale price
₹ 59.00
Regular price
₹ 99.00
Tax included.
Sunflower Tall Yellow Seeds (Surajmukhi/सूरजमुखी के बीज)
Sale price
₹ 59.00
Regular price
₹ 99.00
Product description
Shipping & Return
Sunflower is an annual flowering plant that is everyone's favorite. It is a blessing in the summer season, the bright yellow flowers delight the onlookers. Sunflower is drought resistant, heat-tolerant, and pest-free plants. Sunflowers come in yellow, red, orange, maroon, and brown with a brown center that ripens into heavy heads filled with seeds. Flowers are very helpful in attracting pollinators and birds. Growing in home gardens, terrace gardens, or balconies are best
. Buy the best Quality Sunflower Yellow Seeds Online at the best price from
www.organicbazar.net
with a Good Germination rate and add colors to your garden.
About this item
Number of Tall Yellow Sunflower Seeds: 20 Seeds

Where to grow: Balcony or terrace garden
Best Sowing Season: S

pring to summer (January to June)

Sowing method: Direct in pot/grow bag or garden
Germination temperature:

21-29°C

Sowing depth: 

1 to 1 ½ inches

Sowing distance - 6 inches
Germination time: 7 to 10 days
Blooming time: S

ummer and Autumn (April-June and September-November)
What size grow bag is best for
Sunflower

?
Sunflower Growing Season In India 
The best time to plant sunflower seeds is when the temperature is at least 10°C or warmer. They need a long, warm summer to flower well. You can sow the seeds from spring to summer (January to June) for flowering in the summer and rainy seasons.
How To Grow Sunflowers From Seeds 
Most gardeners recommended sowing sunflower seeds directly into the garden or into pots/grow bags. Because its roots are long and it does not like transplanting. Sow the sunflower seeds when the soil temperature is 21-29°C for faster germination. Sunflower plants are of different sizes. A pot or grow bag of at least 12 to 18 inches is good for planting sunflowers. 
Sunflower Seeds Sowing Method 
Fill a pot with potting mix and sow the sunflower seeds in the soil at a depth of about 1 to 1 ½ inches. Sow the seeds in pots about 6 inches apart. Water the potting soil gently through a watering can and keep the soil moist until germination. Sunflower needs light to grow so place the pot in a sunny spot. Sunflower seeds can germinate within about 7-10 days of sowing.
Sunflower Fertilizer Requirements 
Sunflowers require moderate fertilizers, do not over-fertilize the plant as this can cause stem breakage in the fall.

Phosphorus and potassium fertilizers are good for bigger blooms while nitrogen encourages foliage growth.
Sunflower Plant Care Tips 
Soil -
Use well-drained, nutrient-rich, slightly acidic to alkaline soil with a pH of 6.0 to 7.5. You can also add organic matter or composted manure to enrich the soil.
Water -
The sunflower is a drought-tolerant plant but regular watering encourages blooming. Once the plant is established, water deeply around the roots. Before watering constantly check the soil whether it is dry or not. If the soil is dry, water well.
Sunlight -
Since sunflowers are heliotropic (flower heads follow the sun) provide 6-8 hours of direct sunlight for best flowering and straight plant growth.
Temperature -
Sunflower grows well with a temperature of 21-25°C.
Common pests and diseases -
These are generally pest-free plants, but occasionally a small gray moth lays its egg in the flowers. And diseases such as powdery mildew, downy mildew, and rust infect the plant. You can use common garden fungicides to control these diseases.
Sunflower Bloom Time 
Within 70-90 days after planting sunflowers bloom. Generally, it blooms in summer and autumn (April-June and September-November).

You can cut the sunflower from the stem in the morning. Do not cut flowers in the middle of the day.

Sunflowers can last at least a week in water at room temperature.
Sunflower Special Features 
Common name - Sunflower, Common sunflower, Suraj Mukhi (In Hindi) 

Scientific name - Helianthus annuus

Height - 1 foot to 16 feet 

Level of growing - Easy 

Companion planting - Nasturtiums,

Impatiens, Peppers, Marigolds
FAQ 
Do sunflowers grow back every year?
Annual sunflowers live only one year, although they may come back the following year by
self-germinating or reseeding themselves. 
How many sunflowers can you get from one seed?
One plant only produces one sunflower from one seed. 
Note: Images are for reference purposes only. Actual products may vary in shape or appearance based on climate, age, height, etc.
Shipping Costs
Free Delivery: Available for Orders Above INR 499.
Prepaid Orders Below INR 499: Shipping Charge of INR 54.
Cash on Delivery Orders Below INR 499: Shipping Charge of INR 84.

Return Policy
Satisfaction Guaranteed: Return or Exchange Within 7 Days of Delivery.
Technical Details
Package Dimension: 12cm*9cm
Item Weight : 60mg
Net Quantity: 20N
Colour : N/A
Assembly Required: No
SKU : Sunflower Yellow

Additional Information
Brand : OrganicBazar
Country of Origin: India
Manufacturer: HEALTHUNBOX PRIVATE LIMITED
Consumer Care: Phone: 9513316259 | Email - support@organicbazar.net
Consumer Care Address: P NO 225, NEAR OF WATER TANK, VIPATPURA, Narsinghpur (M.P) 487001
Reviews
Very healthy seeds ...germination rate is fast
It's summer season seeds.l had bought in winter season. so,it was not germinate
very impressed with the seeds quality & fast germination rate