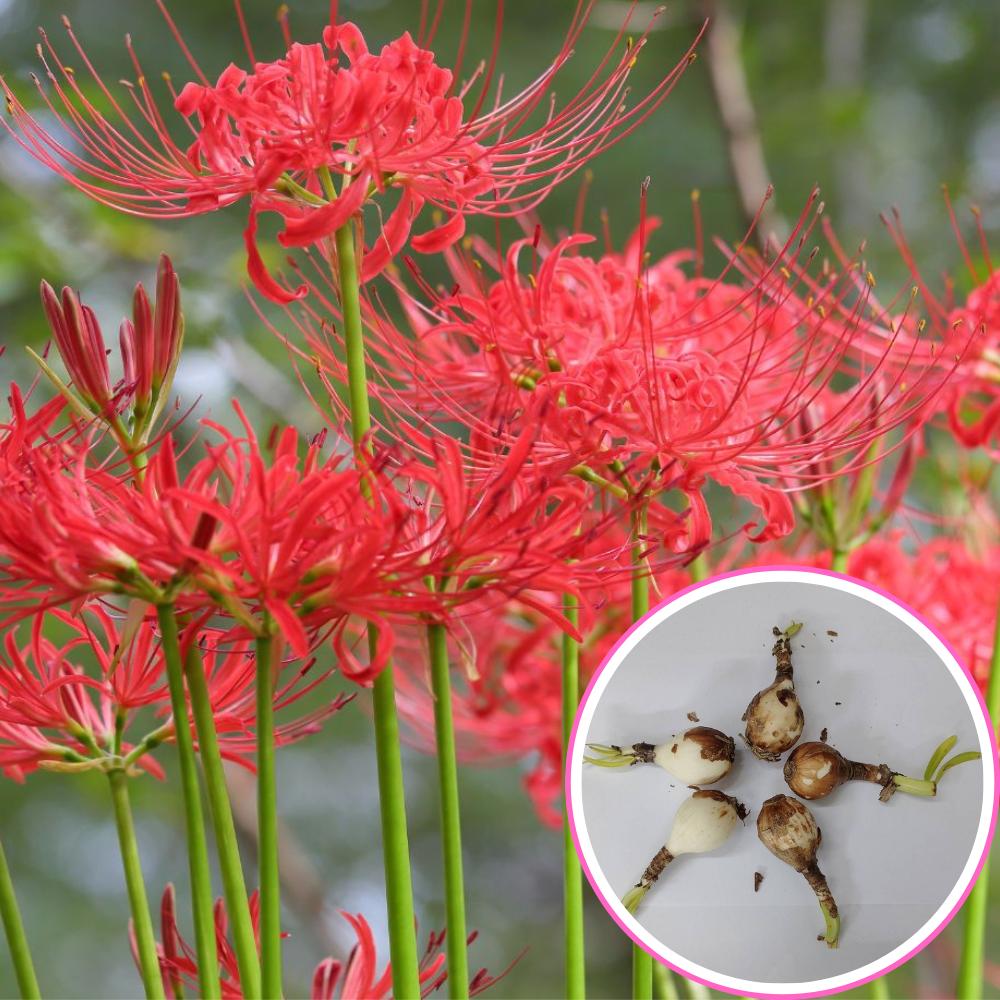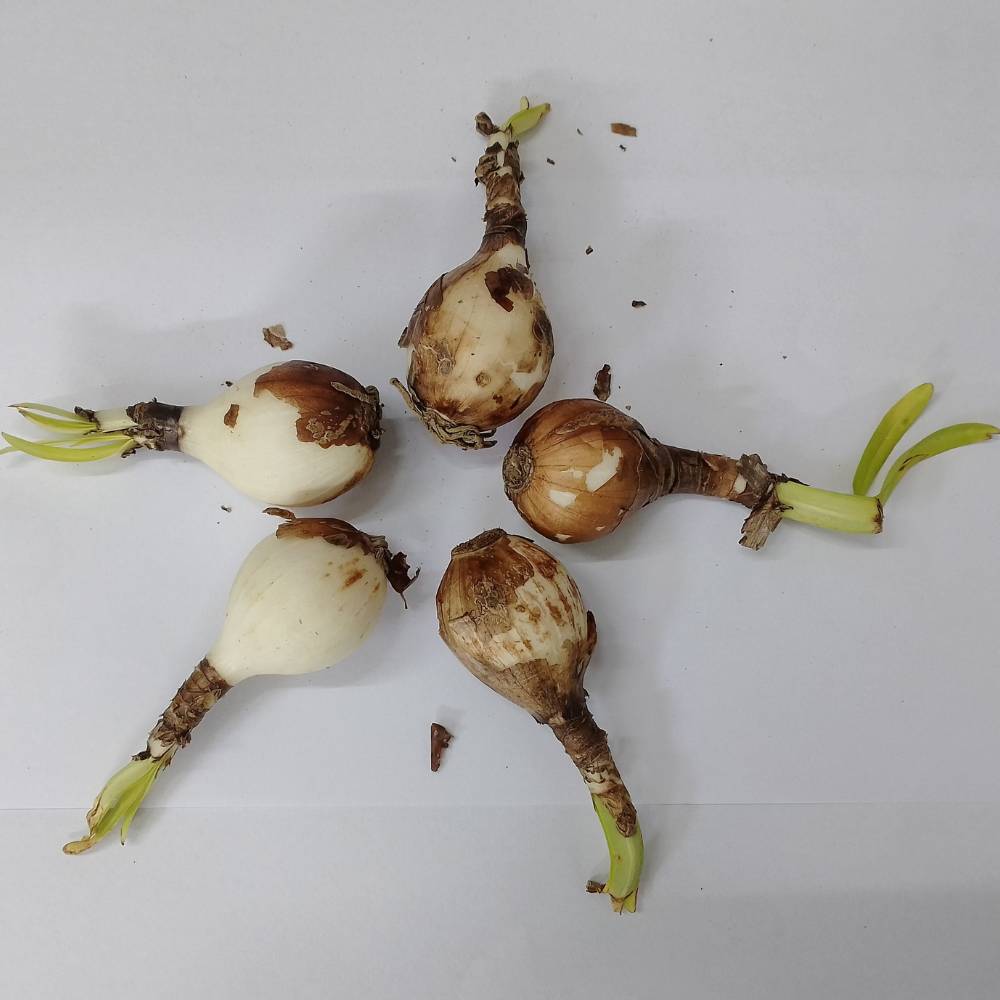 Spider lily Red Flower Bulbs
Sale price
₹ 199.00
Regular price
₹ 299.00
Tax included.
Spider lily Red Flower Bulbs
Sale price
₹ 199.00
Regular price
₹ 299.00
Product description
Shipping & Return
Spider lilies are lovely flowering bulbs that produce striking red or white flowers. Spider Lilies are renowned for their stunning, eye-catching red flowers. The vibrant hue adds a pop of color to your garden, making it an instant focal point. Buy the best Quality Spider lily Red Flower Bulbs Online at the best price from
www.organicbazar.net
and add colors to your garden. Enhance your garden with the captivating beauty of Spider Lily Red Flower Bulbs. These striking bulbs, scientifically known as Hymenocallis, will transform your outdoor space with their radiant red blossoms and unique spider-like petals.
About this item bulbs
Number of Red Spider lily Flower Bulb: 05N
Bulb planting season: (

February to April) & (September to October)

Planting Temperature: 15°C to 30°C
Method of grown from bulbs: Directly in a pot or garden
Bulb sowing depth: 4-6 inches
Bulb spacing: 8-12 inches
Germination Time: 14 to 21 days
Blooming Time: Spring and summer
Flower Color: Red
What size grow bag is best for Spider Lily Bulb Flower?
How To Grow Spider Lily
Select the Right Location:
Choose a location with well-draining soil. Spider lilies don't like to sit in waterlogged soil.
Ensure the spot receives plenty of indirect or dappled sunlight. They can tolerate some direct morning or evening sun, but avoid harsh midday sun.
Planting Time:
Northern India:

In northern India, which experiences a temperate climate, the best time to plant is typically in the spring (March to April) and the autumn (September to October).

Southern India:

Southern India has a more tropical climate. In this region, you can plant almost year-round, as long as you consider the specific climate of your location. 

Western and Central India:

In these regions, the best time for planting is typically from October to November and from February to March. 

Eastern India:

Similar to southern India, eastern India experiences a more tropical climate. Planting can be done throughout the year.

Himalayan Region:

In the Himalayan region, the best time for planting is in the spring and early summer (March to June) or in the late summer and early autumn (September to October), depending on the altitude.
Prepare the Soil:
Spider lilies prefer slightly acidic to neutral soil. You can amend the soil with organic matter to improve its fertility and drainage.
Planting:
Dig a hole that is about 4-6 inches deep. Space the bulbs about 8-12 inches apart.
Place the bulb in the hole with the pointed end facing upward.
Cover the bulb with soil, ensuring that it's at the same level it was in the pot or slightly below the ground surface.
Watering:
Water the bulbs thoroughly after planting to settle the soil and provide initial moisture.
Keep the soil consistently moist but not waterlogged throughout the growing season. Reduce watering in late fall when they go dormant.
Mulch:
Applying a layer of mulch around the bulbs can help conserve moisture and regulate soil temperature.
Fertilization:
Spider lilies typically don't require much fertilization. You can apply a balanced, slow-release fertilizer in the spring as new growth begins.
Pruning:
Remove dead or yellowing leaves to improve the plant's appearance and encourage healthy growth.
Pests and Diseases:
Spider lilies are relatively pest and disease-resistant. However, watch out for aphids or mealybugs, and address any issues promptly.
Propagation:
Spider lilies can be propagated by dividing the bulbs in the fall or spring.
Spider Lily Special Features 
Common name – Spider Lily, Beach Spiderlily
Scientific name – Hymenocallis littoralis
Height – 1 to 3 feet
Level of growing – Easy
FAQ
How do I care for Spider Lilies?

Proper care involves planting in well-draining soil, providing dappled sunlight, keeping the soil consistently moist (but not waterlogged), and protecting from harsh temperatures. Specific care may vary by species.

Can I grow Spider Lilies indoors in pots?

Yes, Spider Lilies can be grown in pots indoors or on a patio as long as they receive the right light conditions and well-draining soil. Container gardening may require more attention to moisture levels.
Note: Images are for reference purposes only. The actual product may vary in shape or appearance based on climate, age, height, etc.
Shipping Costs
Free Delivery: Available for Orders Above INR 499.
Prepaid Orders Below INR 499: Shipping Charge of INR 54.
Cash on Delivery Orders Below INR 499: Shipping Charge of INR 84.

Return Policy
Satisfaction Guaranteed: Return or Exchange Within 7 Days of Delivery.
Technical Details
Package Dimension:
Item Weight :
Net Quantity:
Colour : N/A
Assembly Required: No
SKU : Spider_lily_Red

Additional Information
Brand : OrganicBazar
Country of Origin: India
Manufacturer: HEALTHUNBOX PRIVATE LIMITED
Consumer Care: Phone: 9513316259 | Email - support@organicbazar.net
Consumer Care Address: P NO 225, NEAR OF WATER TANK, VIPATPURA, Narsinghpur (M.P) 487001