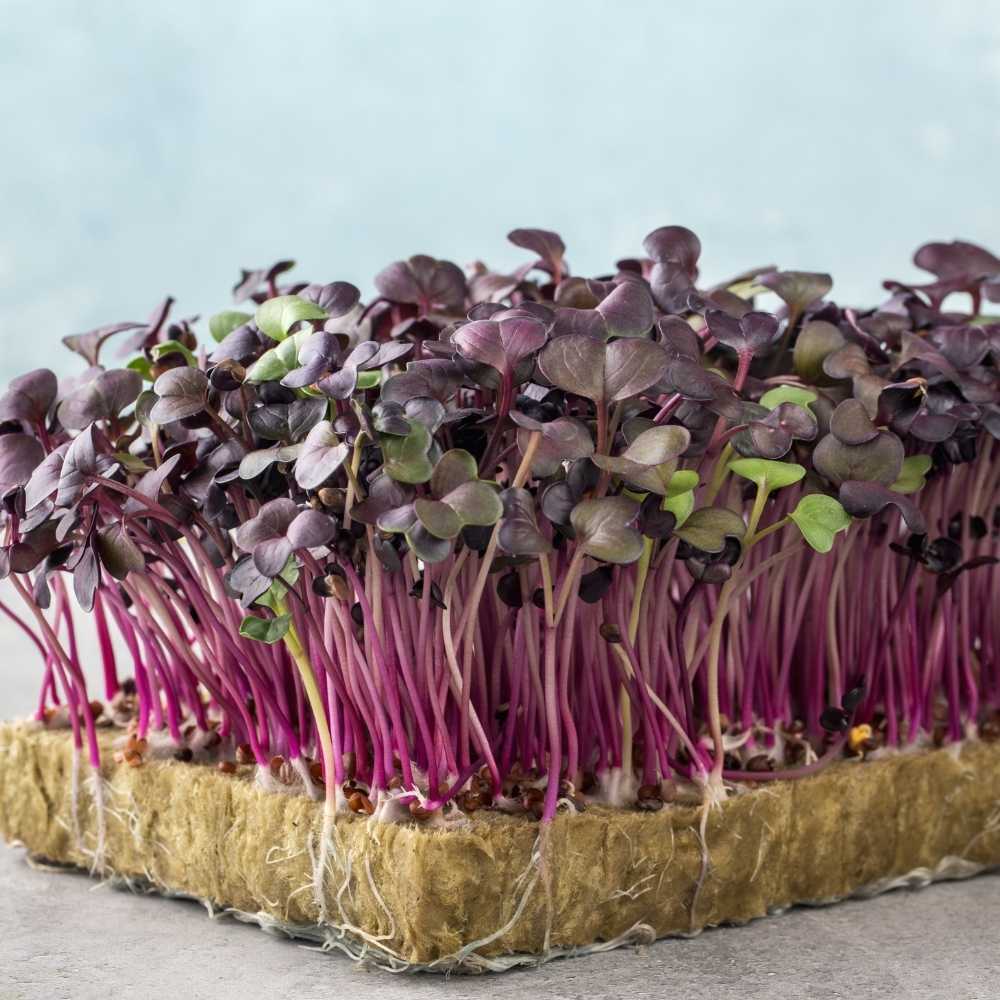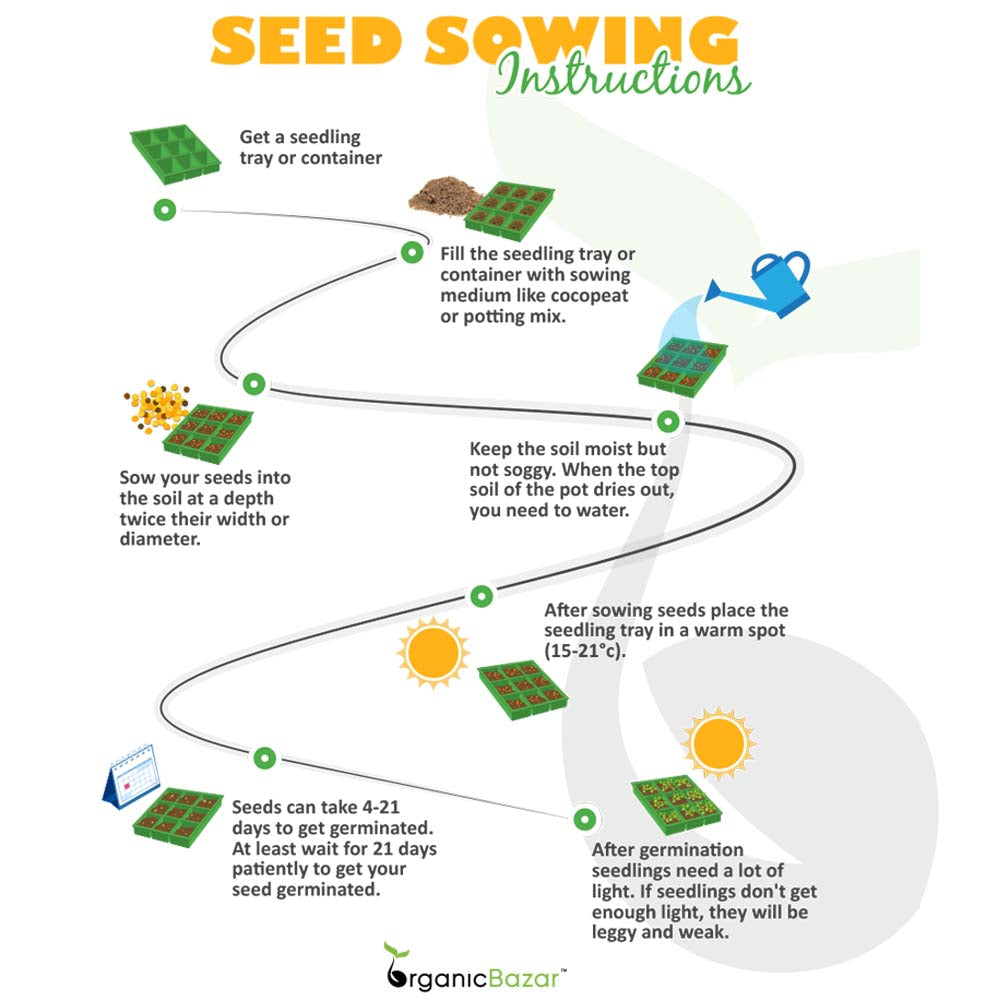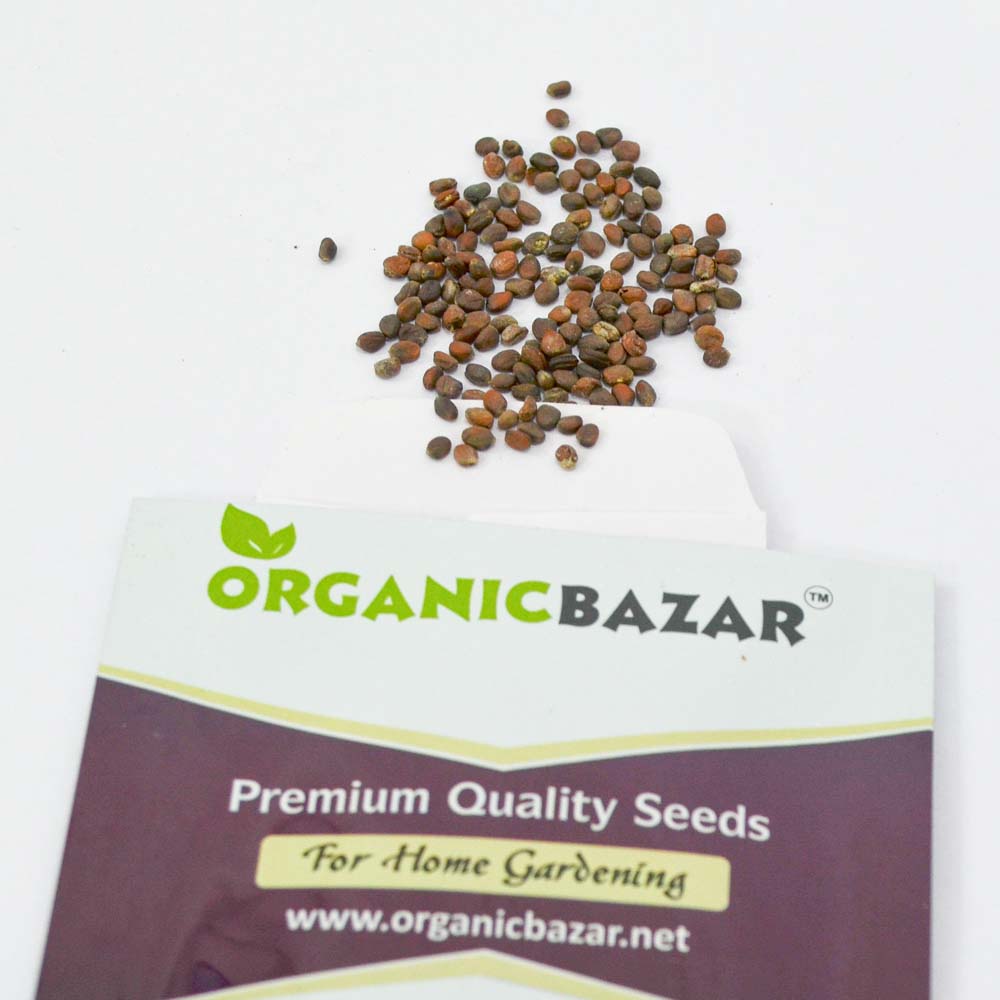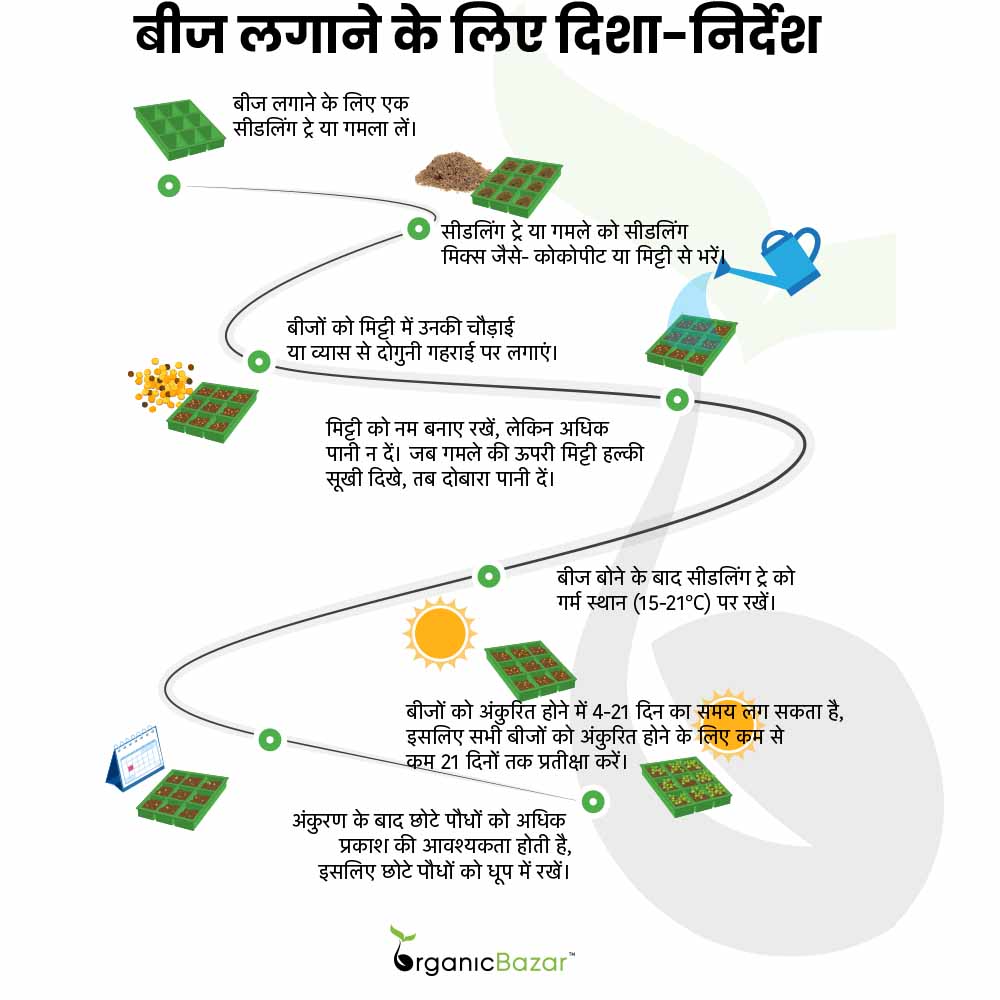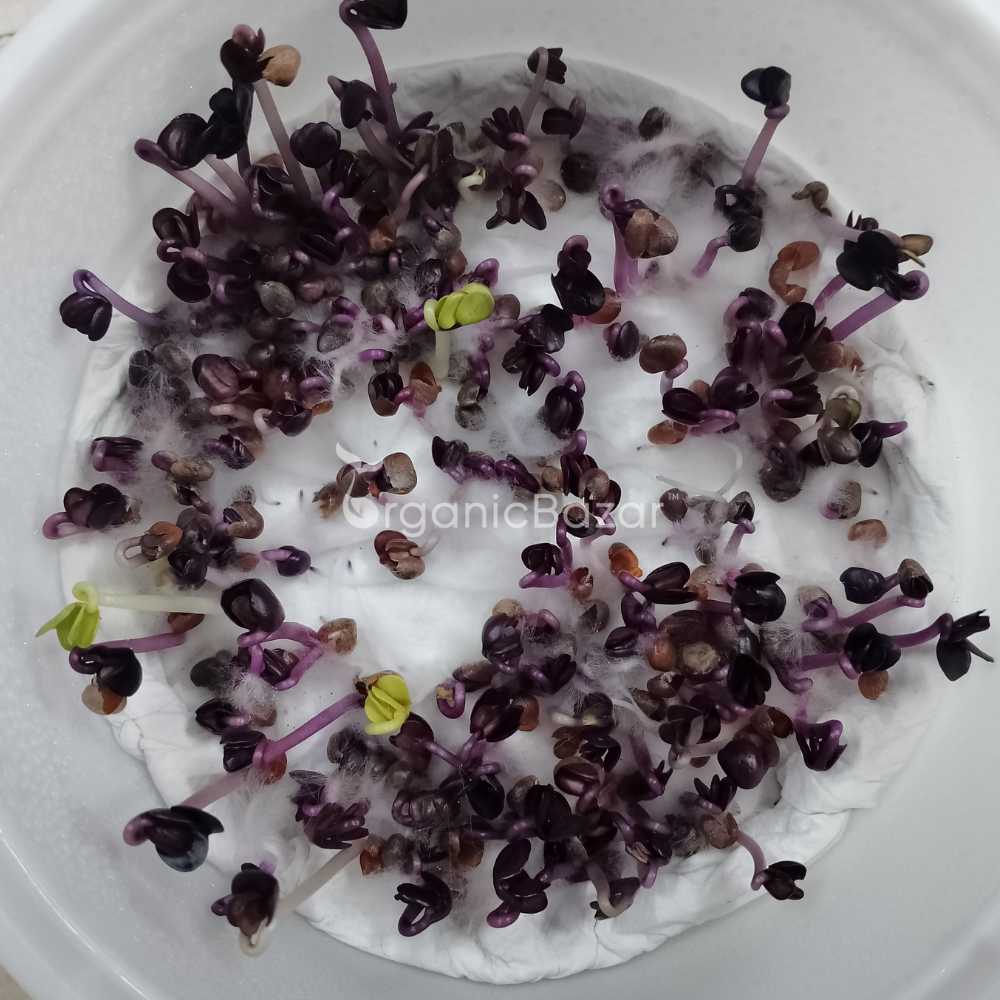 Radish Sango Sprouts Seeds (Mooli/मूली के बीज)
Sale price
₹ 59.00
Regular price
₹ 199.00
Tax included.
Radish Sango Sprouts Seeds (Mooli/मूली के बीज)
Sale price
₹ 59.00
Regular price
₹ 199.00
Product description
Shipping & Return
Radish purple sango microgreens are the most popular among gardeners. These microgreens are very easy to grow and less maintenance, it gives beautiful colors to our kitchen or home garden. It is fast-growing radish that has a bright purple-white stem and large leaves and can be grown as a sprout or Microgreen. Radish sango microgreens are perfect for salads or other dishes as it gives fresh, crunchy, nutty, and spicy flavor. Grow your own versatile kitchen microgreens radish and it can be used to make a salad, delicious soups, or added to smoothies and sandwiches. Buy the Best Quality Radish Sango Sprouts Seeds Online at the best price in India from www.organicbazar.net with a good germination rate. 
About this item



Number of Radish Seeds: 150 Seeds

Where to grow: Balcony or terrace garden

Sowing season: Throughout the year 

Mode of sowing: Sow the seeds ¼ inch deep in a tray.

Germination Time: 3 to 7 days from sowing

Germination temperature: 10 to 18°C

Harvesting: 10-14 days after seeds sowing

Plant vigor:

Bright purple white stem and large leaves
What size grow bag is best for Radish Sprouts?
Radish Sango Growing Season In India
Purple radish sango can be grown at any time throughout the year because all microgreens are grown indoors and they prefer cool climates.
How To Grow Radish Sango Microgreens
Radish sango purple microgreens are one of the easiest and quickest growing microgreens, especially for beginner gardeners. Take a flat growing tray that is at least 4 inches deep or you can use other small pots. Microgreens can easily grow in
coco peat
or soilless medium such as rock wool. The seeds of Radish Sango Sprouts can be germinated best at room temperature around 10-18°C.
Radish Sango Sprouts Seeds Sowing Method
To grow radish sango microgreens, take a growing tray with a growing medium such as coco peat (or can directly sow seeds in rock wool) then sow the radish sango sprouts seeds about ¼ inch deep in the soil. Keep the seedling moist but not soggy. Keep the seedlings indoors and keep them out of the sunlight until the seeds germinate, giving the micro greens 4-6 hours of sunlight after germination. Radish Purple Sango seeds will take 3-7 days to germinate (depending on growing conditions).
How To Fertilize Radish Sango microgreens
Purple radish microgreens require no feed after planting. Just add any
organic fertilizer
at the time of sowing the seeds.
Radish Sango microgreens Care Tips
Water
– Purple radish microgreens require proper watering to grow well; water regularly, keep the soil moist, and avoid overwatering. And make sure that the water should be given through the sprayer or
watering can
and do not let the water overflow.
Soil
– Radish microgreens should be planted in consistently wet soil with a soil pH of 6.5 to 7.5.
Sunlight
– Purple radish microgreens require at least 4- 6 hours of natural sunlight every day.
Temperature
– The Ideal growing temperature for radish microgreens is between 13-22°C.
Common pests and diseases
– Some pests like snails, whiteflies, and spider mites can eat the leaves of radish microgreens. To avoid these pests use neem oil spray on microgreens.
Radish Sango Microgreens Harvesting
Radish sango microgreens will take 10-14 days to harvest after seeds sowing and if you don't harvest within 10-14 days, microgreens become less crispy.
Cut the radish leaves when they are about 2-3 inches high; once cut, microgreens will not regrow.
Harvest the radish leaves with sharp scissors and you'll enjoy a consistent harvest if you keep sowing seeds every few weeks.
Radish Sango Special Features 
Common name – Purple radish microgreens
Scientific name - Raphanus sativus
Height – 2 to 6 inches
Level of growing – Very easy
FAQ
Do radish sango microgreens regrow?
No, in most cases radish microgreens will not regrow after cutting.
How long do radish sango microgreens take to grow?
Microgreen radish sango will take about 10-14 days.
Which parts of radish sango microgreens are edible?
The entire radish microgreens are edible.
Where radish microgreen does grow best?
Radish microgreen prefers light shade but grows best in a sunny position.
What is the best way to grow radish microgreens?
Radish sango microgreens can grow in different ways but sowing from seeds is the best way to grow.
Does microgreen need full sun?
Radish sango microgreen prefers sunny spot when indoors; and they grow best in at least 4- 6 hours of sunlight.
Why are radish sango microgreens turning yellow?
The yellowing of radish microgreens is due to keeping the plant in a warm place.
Why my radish sango seeds are not germinating?
Radish sango seeds will not germinate because of improper growing conditions like sowing seeds too deep in the soil, over-watering or under-watering.
Note: Images are for reference purposes only. The actual product may vary in shape or appearance based on climate, age, height, etc.
Shipping Costs
Free Delivery: Available for Orders Above INR 499.
Prepaid Orders Below INR 499: Shipping Charge of INR 54.
Cash on Delivery Orders Below INR 499: Shipping Charge of INR 84.

Return Policy
Satisfaction Guaranteed: Return or Exchange Within 7 Days of Delivery.
Technical Details
Package Dimension: 12cm*9cm
Item Weight : 1.40g
Net Quantity: 150N
Colour : N/A
Assembly Required: No
SKU : Radish-Sango-Sprouts

Additional Information
Brand : OrganicBazar
Country of Origin: India
Manufacturer: HEALTHUNBOX PRIVATE LIMITED
Consumer Care: Phone: 9513316259 | Email - support@organicbazar.net
Consumer Care Address: P NO 225, NEAR OF WATER TANK, VIPATPURA, Narsinghpur (M.P) 487001