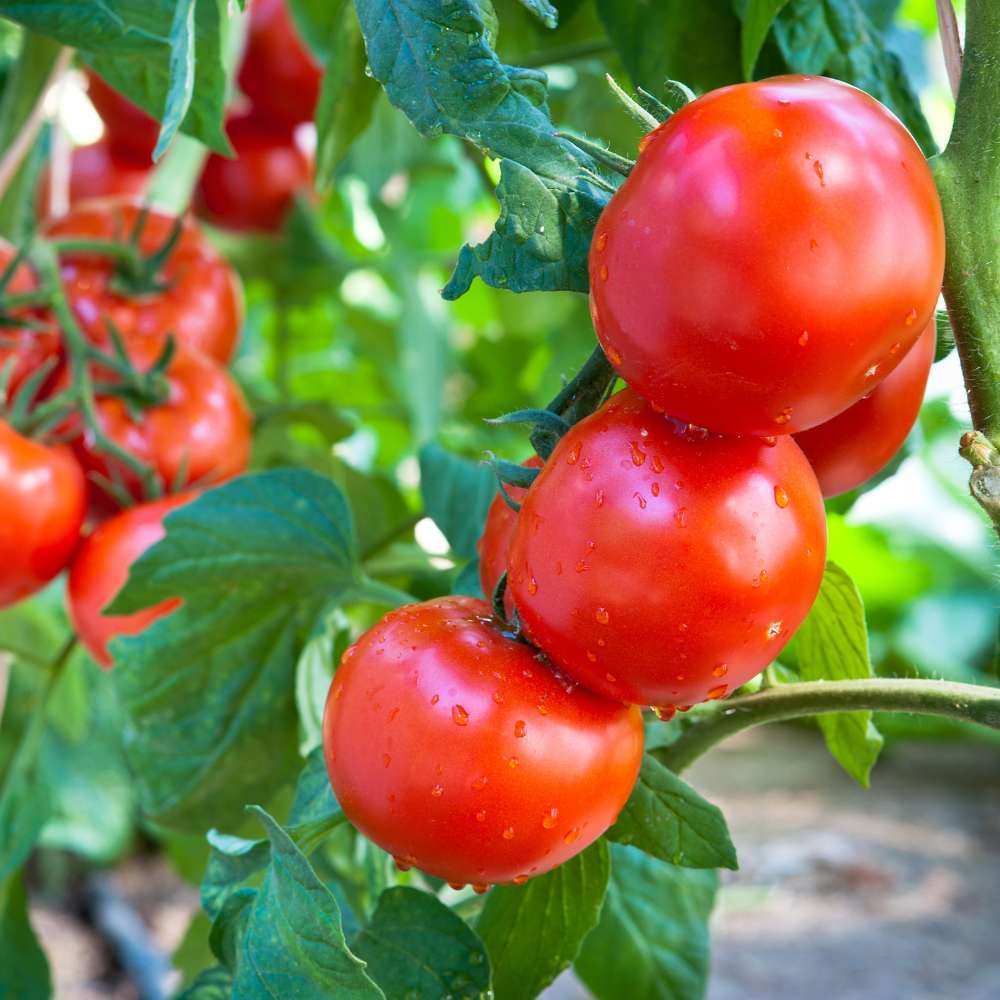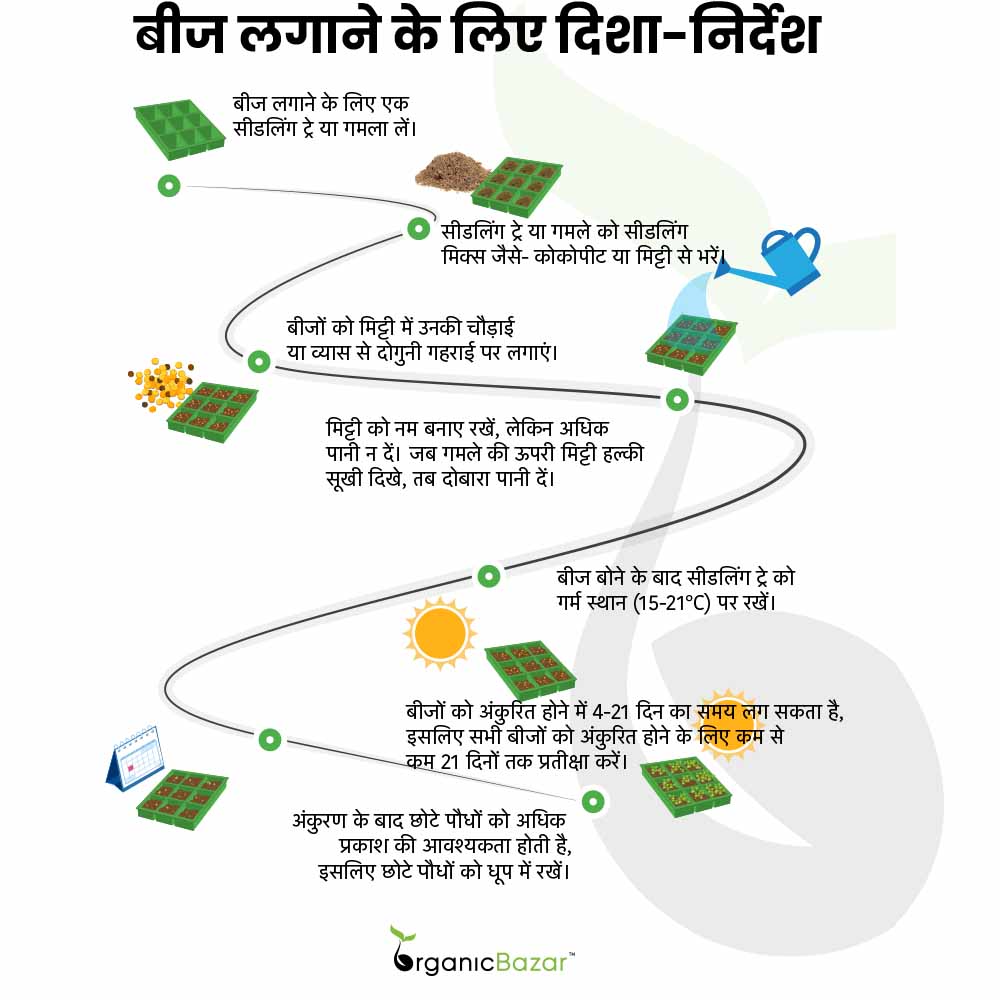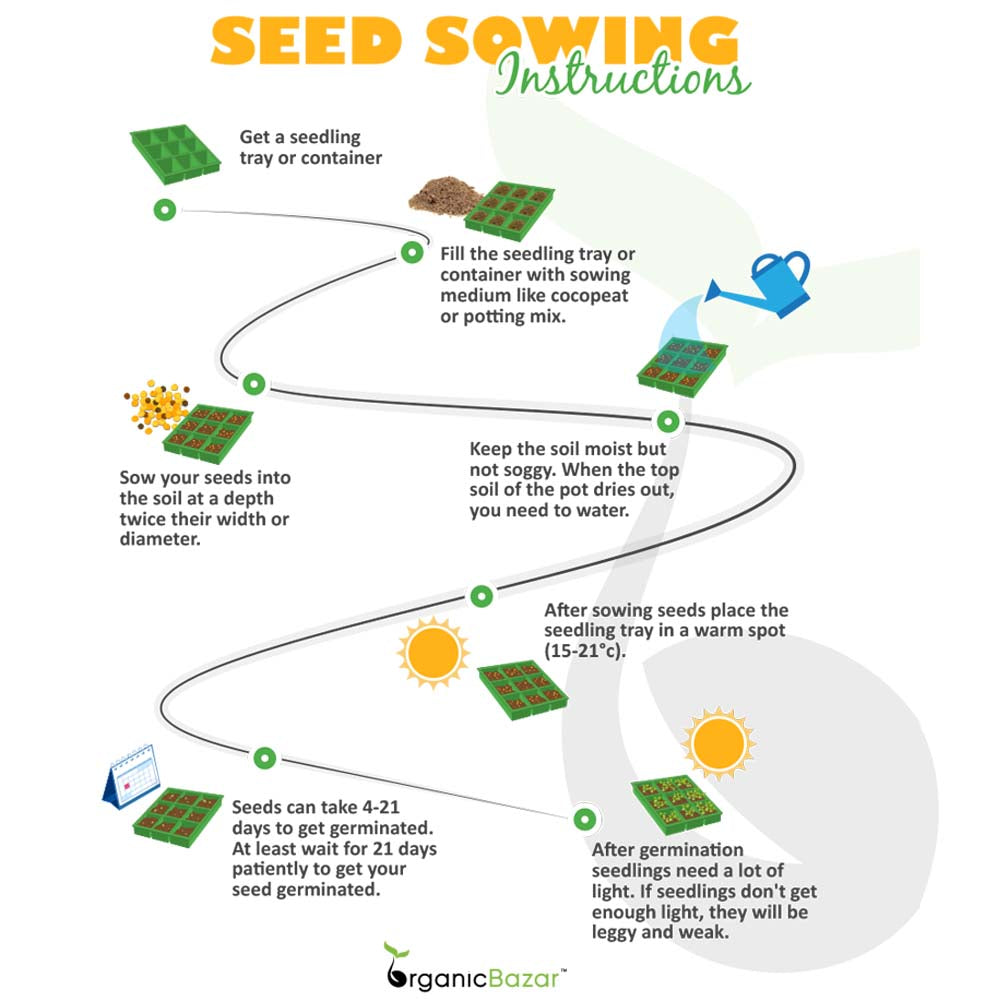 Untreated Tomato Seeds For Organic Gardening (Tamatar/टमाटर के बीज)
Sale price
₹ 49.00
Regular price
₹ 90.00
Tax included.
Untreated Tomato Seeds For Organic Gardening (Tamatar/टमाटर के बीज)
Sale price
₹ 49.00
Regular price
₹ 90.00
Product description
Shipping & Return
Buy the best quality organic tomato seeds online in India from
www.organicbazar.net
with a high germination rate. Tomatoes are the most popular vegetable in our kitchen, make soups and sauces or eat them raw in salads; It is delicious in all forms. Grow tomatoes from Untreated organic tomato seeds in your home garden and add fresh flavor and rich nutrition to your meals with just a few tomatoes. Tomatoes are one of the easiest-to-grow plants that anyone can grow; If you want to plant tomatoes, read the information below on how to sow organic tomato seeds (tomato seeds).
About this item
Number of Untreated Tomato Seeds: 25 Seeds

Untreated, Organic
Where to grow: Balcony or terrace garden
Sowing season:

Throughout the year

Sowing method: Seedling transplant

Germination Time: 6 to 14 days

Germination temperature: 18-27°C

Harvesting: 60 to 80 days from transplanting 

Plant vigor: Strong plant with short internodes
What size grow bag is best for tomatoes?
Tomato Growing Season In India
You can sow tomato seeds throughout the year but the best Season are Kharif (June-September), Rabi (October to November), and Summer (February – April). The timelines can vary by region. The optimal soil pH is 6.0-7.0, and the temperature should be 21-24°C for best results.
How To Grow Tomato At Home
Generally, tomato seeds are sown in a 
seedling tray
and then transplanted after the seeds germinate to grow freely. You can sow tomato seeds in warm weather, either indoors or outdoors, and the best temperature for seed germination is 18-27°C. Select a seedling tray or small pot, fill it with growing medium, and spread Hybrid F1 Tomato seeds on it, then cover a thin layer of soil above the seeds. Give light water through a
water sprayer
. Place the seedling tray in a sunny spot and keep the soil moist. Tomato F1 Hybrid seeds will germinate within 6-14 days.
When seedlings are 6-12 inches tall, transplant the healthiest plant carefully into
pots/grow bags
and set the seedlings 8-12 inches apart.
How To Fertilize Tomato Plants
Add a few handfuls of organic manure to the soil during flowering time every 15-18 days. After adding manure, mix well and gently water.
Tomato Care Tips
Water
– Tomato plant needs regular water or deep watering on summer days for better or fast growth of plants and gives water once in 3 days during winter.
Soil 
– Use well-drained, fertile, and high organic matter soil.
Sunlight
 – Tomato needs at least 6 to 8 hours of direct sunlight.
Temperature
 – The Optimum temperature for tomatoes is 15-30°C and should not be less than 10°C.
Common pests and disease
 – Some pests like Aphids, cutworms, caterpillars, and root-knot nematodes can attack tomato plants. Powdery mildew and bacterial milt is the main disease that infected tomato plants. To get rid of this problem, it would be right to spray 
neem oil
 on the tomato plant from time to time.
Tomato Harvest Time
Within 40-45 days from transplanting, tomato plants will start flowering; after 60-80 days from transplant, the tomato will start ripening.
Tomato Special Features
Common name – Tamatar (टमाटर)
Scientific name – Solanum Lycopersicum
Height – 3-5 feet
Flower color – Yellow
FAQ
Why are my Organic tomato seeds not germinating?
Organic Tomato seeds will not germinate because of improper growing conditions like insufficient sunlight, overwatering, or underwatering.
What causes the leaves on a tomato plant to turn yellow?
The most common reason for yellow leaves on tomato plants is either under-watering or lack of nutrients in the soil. Give proper water to the tomato plants, keep the soil moist, and apply nutrients to the soil.
Note: Images are for reference purposes only. The actual product may vary in shape or appearance based on climate, age, height, etc.
Shipping Costs
Free Delivery: Available for Orders Above INR 499.
Prepaid Orders Below INR 499: Shipping Charge of INR 54.
Cash on Delivery Orders Below INR 499: Shipping Charge of INR 84.

Return Policy
Satisfaction Guaranteed: Return or Exchange Within 7 Days of Delivery.
Technical Details
Package Dimension: 12*9cm
Item Weight : 8mg
Net Quantity: 25N
Colour : N/A
Assembly Required: No
SKU : Org_Tomato

Additional Information
Brand : OrganicBazar
Country of Origin: India
Manufacturer: HEALTHUNBOX PRIVATE LIMITED
Consumer Care: Phone: 9513316259 | Email - support@organicbazar.net
Consumer Care Address: P NO 225, NEAR OF WATER TANK, VIPATPURA, Narsinghpur (M.P) 487001
Reviews
Tomato seeds not germinated properly
We regret that our seeds did not meet your expectations. Our research highlights that successful germination relies on factors like weather, location, temperature, and watering.
All our seeds pass germination tests, and you can view test images on our website. To achieve better results, we recommend following proper procedures. Watch our helpful germination video here
Brilliant quality
I'm completely satisfied and happy with the purchase of these seeds. 100% germination rate. Go ahead without any doubts!
Thanks for the wonderful review.
Happy to buy
Good seed germination in 22 day and quality of seed is Good ? I'll good to buy next time with another seeds
Thank you for the review.
Good germination and yield
Good one
All seeds germinated in 5 days!