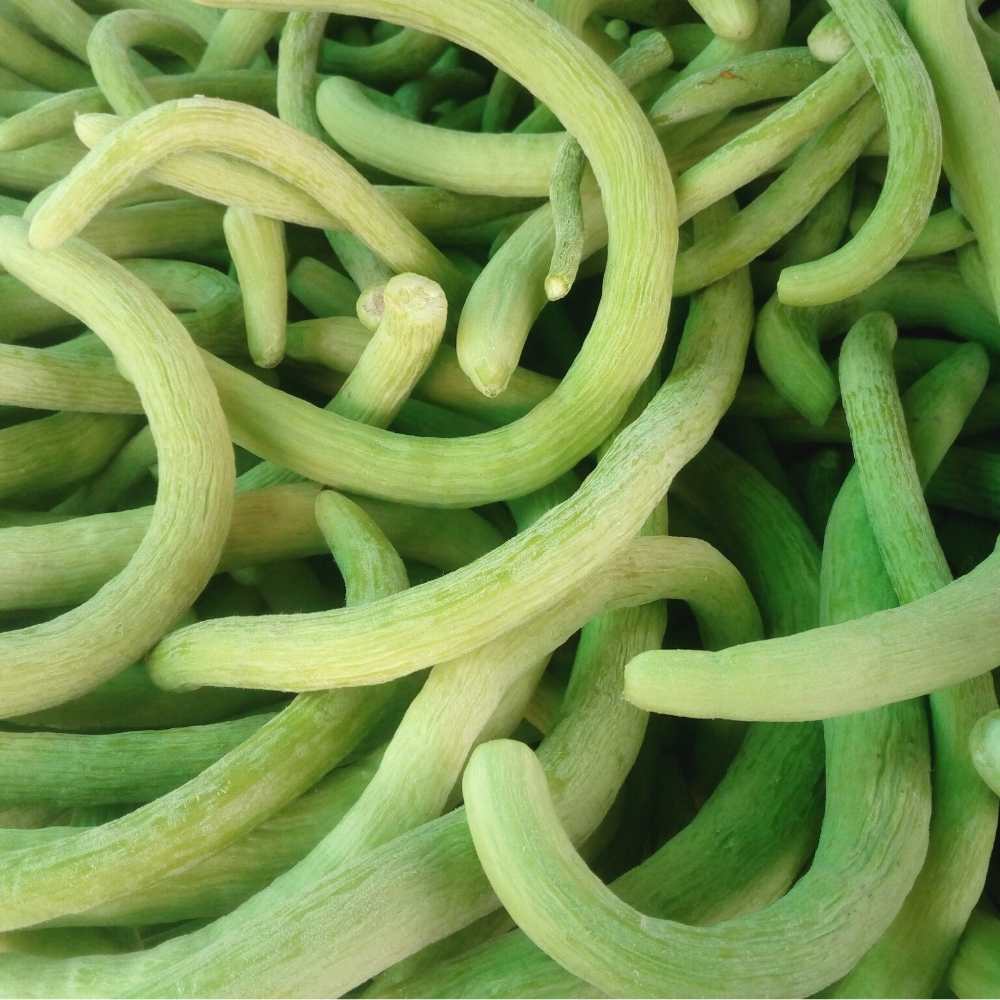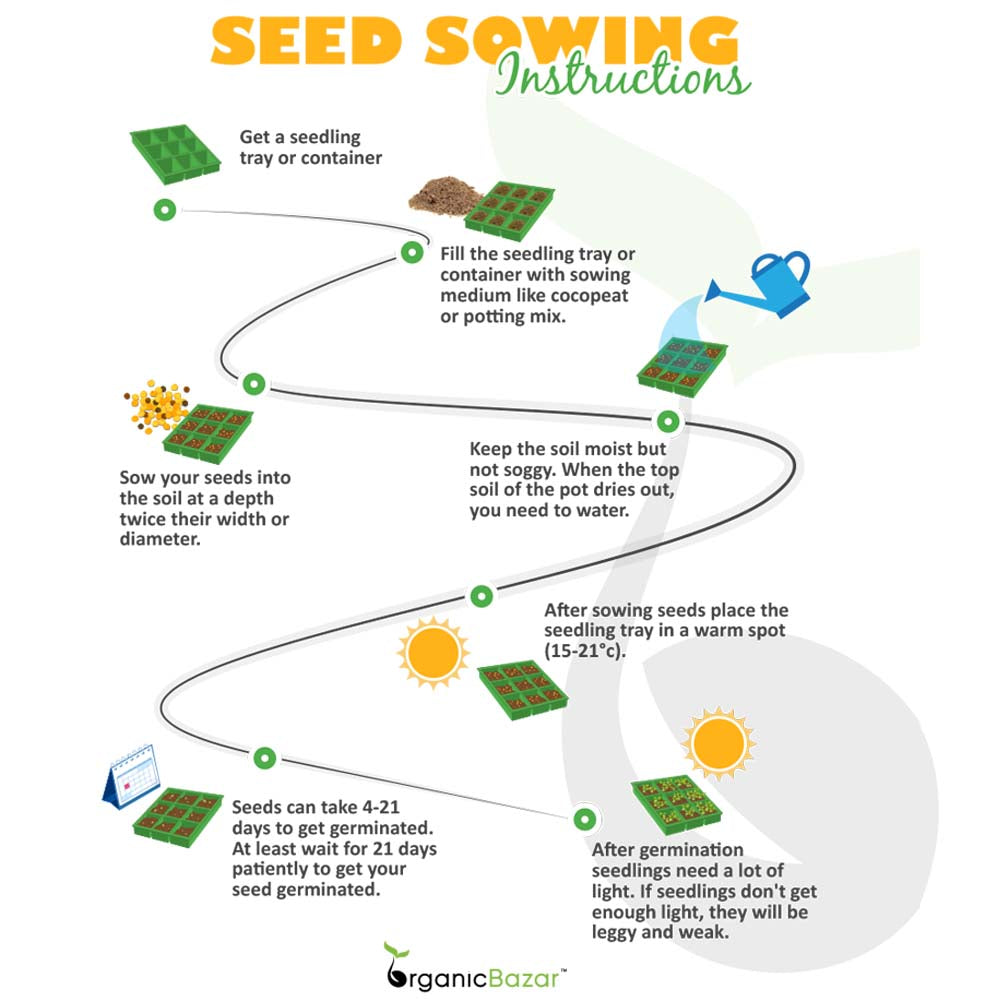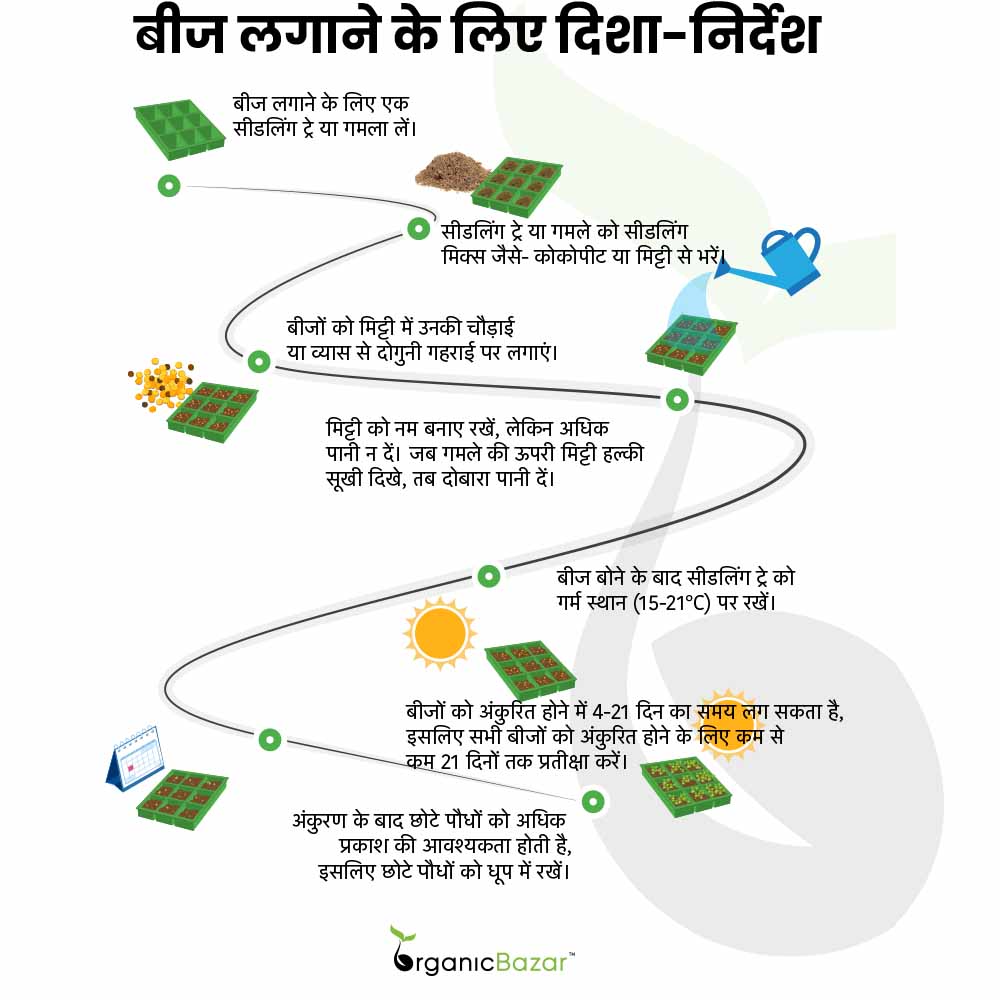 Kakri Long Melon Seeds (Kakdi/ककड़ी के बीज)
Sale price
₹ 49.00
Regular price
₹ 99.00
Tax included.
Kakri Long Melon Seeds (Kakdi/ककड़ी के बीज)
Sale price
₹ 49.00
Regular price
₹ 99.00
Product description
Shipping & Return
Buy good quality Kakri (Kakdi) long Melon Seeds
best price in India from www.organicbazar.net with a Good Germination rate.
Kakri Long Melon (Kakdi Seeds) very easy to grow in containers or pots, needs 6 to 8 hours of daily sunlight. This variety of Cucumber requires a nutritious and moist soil that is not too acid. It is mainly grown in tropical, sub-tropical and mild regions of India. Long melon, known as Kakri, is eaten raw with salt and pepper.
About this item
Number of Long Melon Kakri Seeds: 10 Seeds

Where to grow: Balcony or terrace garden
Mode of sowing: Sow the seeds 0.5 inch deep in a Container, Grow Bags or Pots.

Germination Time: 4 to 14 days from sowing

Germination temperature: 21-30°C

Harvesting: 7 to 8 weeks

Sowing season: Spring or Summer 

Plant vigor: Strong plant
What size grow bag is best for Kakri/ kakdi?
How to Grow Kakri Long Melon Seed
Planting Season 
Plant Kakri Long Melon seeds during the warm season, typically from late March to April in Northern and Central regions, and from March to June in Southern regions. In Eastern and Western India, planting can be done from March to April. Avoid planting before the last frost date.
Preparing the Soil
Kakri Long Melon thrives in well-draining soil rich in organic matter. Prepare the soil by adding compost and ensuring proper drainage.
Sowing Seeds
Plant the Kakri Long Melon seeds directly in the garden or in containers if you are growing them in a limited space. Sow the seeds about 1 inch deep and space them at least 12 to 18 inches apart.
Watering
Keep the soil consistently moist, especially during the germination period. Once the plants are established, provide regular, deep watering to keep the soil evenly moist.
Sunlight
Kakri Long Melon plants thrive in full sunlight. Ensure they receive at least 6 to 8 hours of direct sunlight daily.
Support Structures
As Kakri Long Melon vines grow, provide support structures like trellises or stakes to help the vines climb and spread.
Fertilizing
Apply a balanced fertilizer or organic compost during the growing season to provide essential nutrients to the plants.
Pest and Disease Management
Monitor for pests like aphids or cucumber beetles. Use organic pest control methods to keep the plants healthy.
Harvesting
Kakri Long Melon is ready for harvest when the fruits are of sufficient size and have a glossy appearance. Harvest using pruning shears or a sharp knife.
Kakri Long Melon

Special Features 
Common name - Kakdi/Snake Melon

Scientific name - Trichosanthes cucumerina.

Height - 6 to 10 feet

Level of growing - Easy
Note : Images are for reference purposes only. Actual product may vary in shape or appearance based on climate, age, height, etc.
Shipping Costs
Free Delivery: Available for Orders Above INR 499.
Prepaid Orders Below INR 499: Shipping Charge of INR 54.
Cash on Delivery Orders Below INR 499: Shipping Charge of INR 84.

Return Policy
Satisfaction Guaranteed: Return or Exchange Within 7 Days of Delivery.
Technical Details
Package Dimension: 12cm*9cm
Item Weight : 15mg
Net Quantity: 10N
Colour : N/A
Assembly Required: No
SKU : Kakri-Long-Melon

Additional Information
Brand : OrganicBazar
Country of Origin: India
Manufacturer: HEALTHUNBOX PRIVATE LIMITED
Consumer Care: Phone: 9513316259 | Email - support@organicbazar.net
Consumer Care Address: P NO 225, NEAR OF WATER TANK, VIPATPURA, Narsinghpur (M.P) 487001
Reviews
Very good quality seeds. Have grown well in my terrace garden