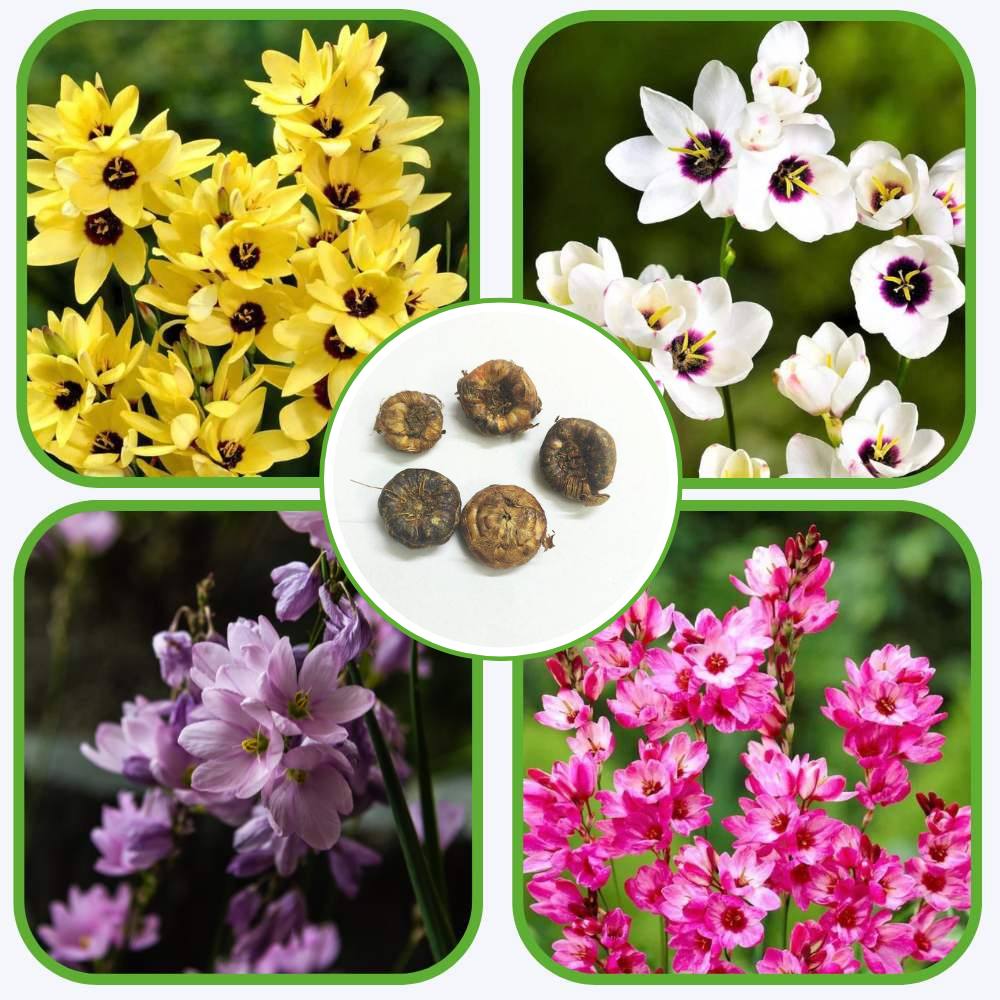 Ixia Mixed Color Flower Bulbs
Sale price
₹ 249.00
Regular price
₹ 399.00
Tax included.
Ixia Mixed Color Flower Bulbs
Sale price
₹ 249.00
Regular price
₹ 399.00
Product description
Shipping & Return
Buy the best Quality Ixia Mixed Color Flower Bulbs Online at the best price from
www.organicbazar.net
and add colors to your garden. Ixia Flower Bulbs are very Popular Flower Bulb that Is also known as African Corn Lily, or wand flowers. Ixia bulbs are beautiful and vibrant flowers that can be planted in the garden or used in floral arrangements. Ixia is characterized by 40-50cm tall spikes that bear a multitude of beautiful pink star-shaped flowers with contrasting centers. These bulbs come in a wide range of colors and are known for their long-lasting blooms. Ixia Flower Bulbs is very easy to grow it is a great choice for borders, beds, and containers and is also an excellent cut flower. Ixia bulbs are planted In Autumn before the ground freezes. They require somewhere hot and dry, full sun, and free-draining soils.
About this item 
Number of Mixed Color Ixia Flower Bulb: 05N
Where to grow: Balcony or terrace garden
Bulb planting season: Winter (September-November)) and Spring (January to March)
Planting Temperature: 20° to 30°C.
Method of grown from bulbs: Directly in a pot or garden
Bulb sowing depth: 3-4 inches
Bulb spacing: 3-4 inches
Germination Time: 7 to 21 days
Flower Color: Mixed Color (Pink, White, Yellow)
What size grow bag is best for Ixia Bulbs?
How To Grow Ixia Bulbs?
Growing Ixia bulbs is a relatively straightforward process. Here's a step-by-step guide to help you grow Ixia bulbs successfully:
Planting Time
Ixia bulbs are typically planted in the fall for spring blooms. In regions with mild winters, you can also plant them in late winter or early spring.
Selection Location
Select a well-draining location with full sun to partial shade. Ixia bulbs prefer a location with good air circulation.
Soil Preparation
Prepare the soil by adding organic matter, such as compost, to improve drainage. Ixia bulbs prefer slightly acidic to neutral soil.
Planting Depth
Plant the Ixia bulbs about 3 to 4 inches (7.5 to 10 cm) deep. Space the bulbs 3 to 4 inches apart.
Watering
Water the bulbs well after planting to settle the soil. During the growing season, keep the soil consistently moist but not waterlogged.
Fertilization
Fertilize Ixia bulbs with a balanced, water-soluble fertilizer when they start actively growing in the spring. Follow the package instructions for application rates. 
Support
Depending on the variety and height of Ixia, you may need to provide support, especially if the plants are in an exposed area.
Blooming and Maintenance:
Ixia bulbs will bloom in late spring to early summer. Deadhead spent flowers to encourage more blooms. Allow the foliage to die back naturally.
Ixia 

Flower Special Features 
Common name - African Corn Lily

Scientific name - Ixia spp

Height - 12 to 24 inches

Level of growing - easy to grow

Note: Images are for reference purposes only. Actual products may vary in shape or appearance based on climate, age, height, etc.
Shipping Costs
Free Delivery: Available for Orders Above INR 499.
Prepaid Orders Below INR 499: Shipping Charge of INR 54.
Cash on Delivery Orders Below INR 499: Shipping Charge of INR 84.

Return Policy
Satisfaction Guaranteed: Return or Exchange Within 7 Days of Delivery.
Technical Details
Package Dimension:
Item Weight :
Net Quantity:
Colour : N/A
Assembly Required: No
SKU : Ixia_Mixed

Additional Information
Brand : OrganicBazar
Country of Origin: India
Manufacturer: HEALTHUNBOX PRIVATE LIMITED
Consumer Care: Phone: 9513316259 | Email - support@organicbazar.net
Consumer Care Address: P NO 225, NEAR OF WATER TANK, VIPATPURA, Narsinghpur (M.P) 487001