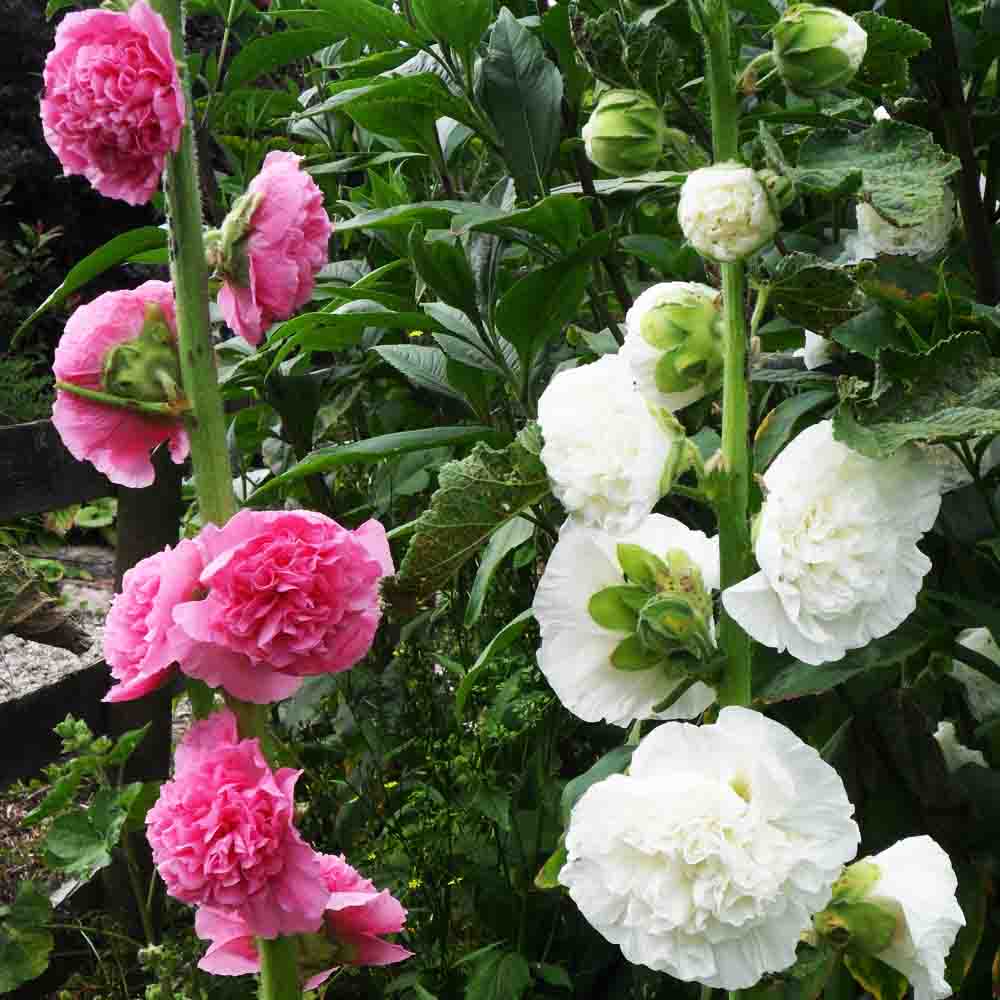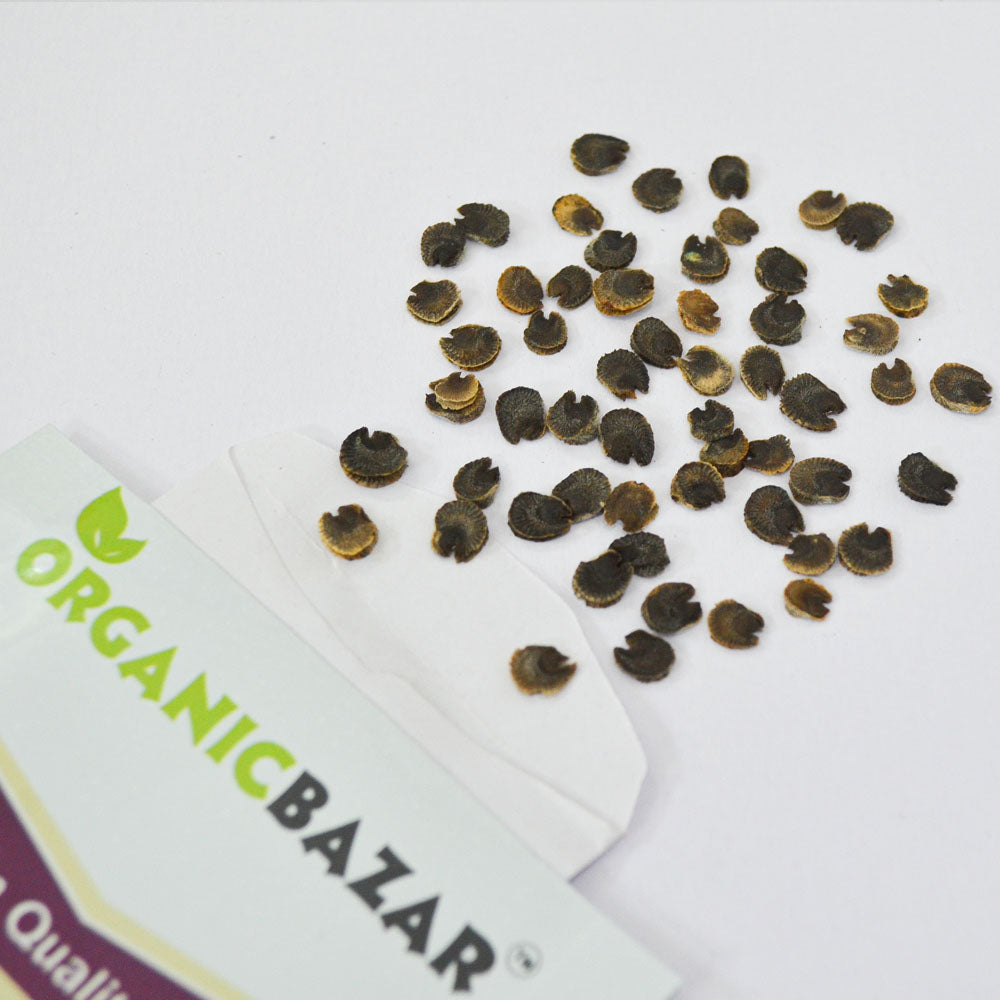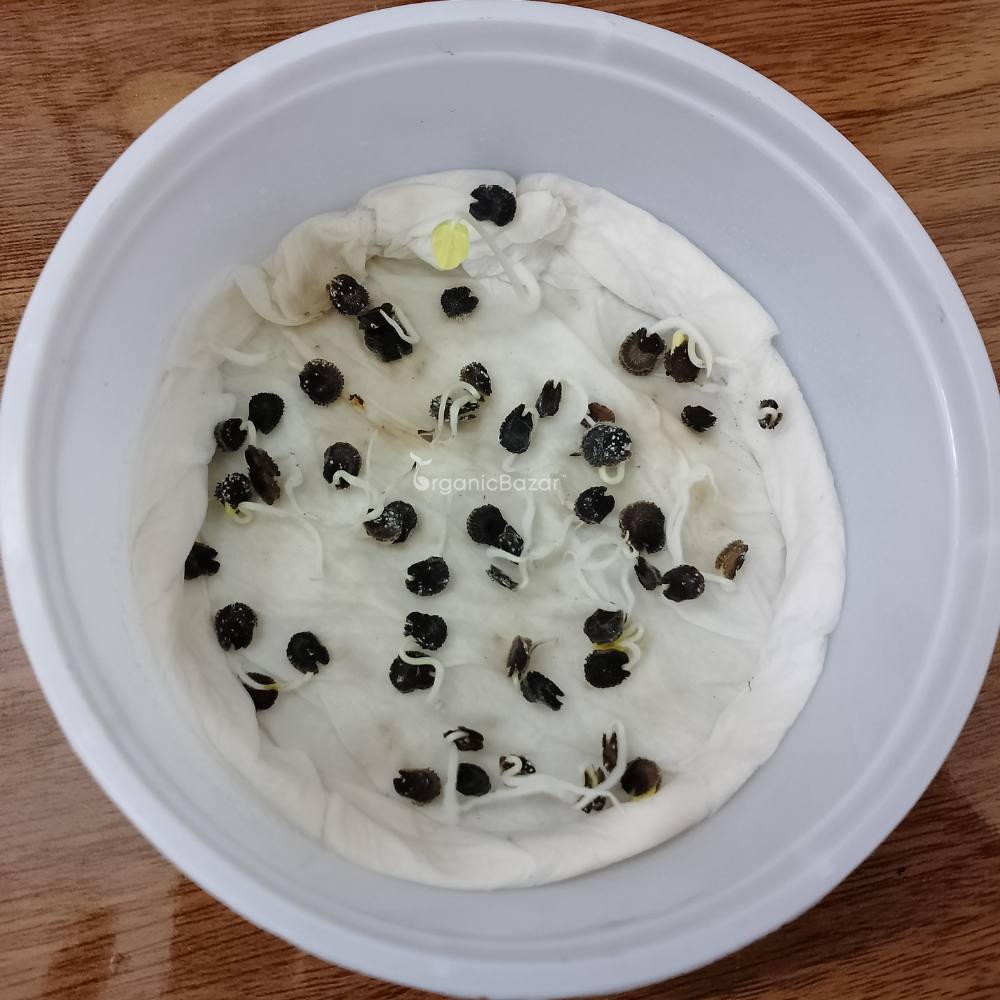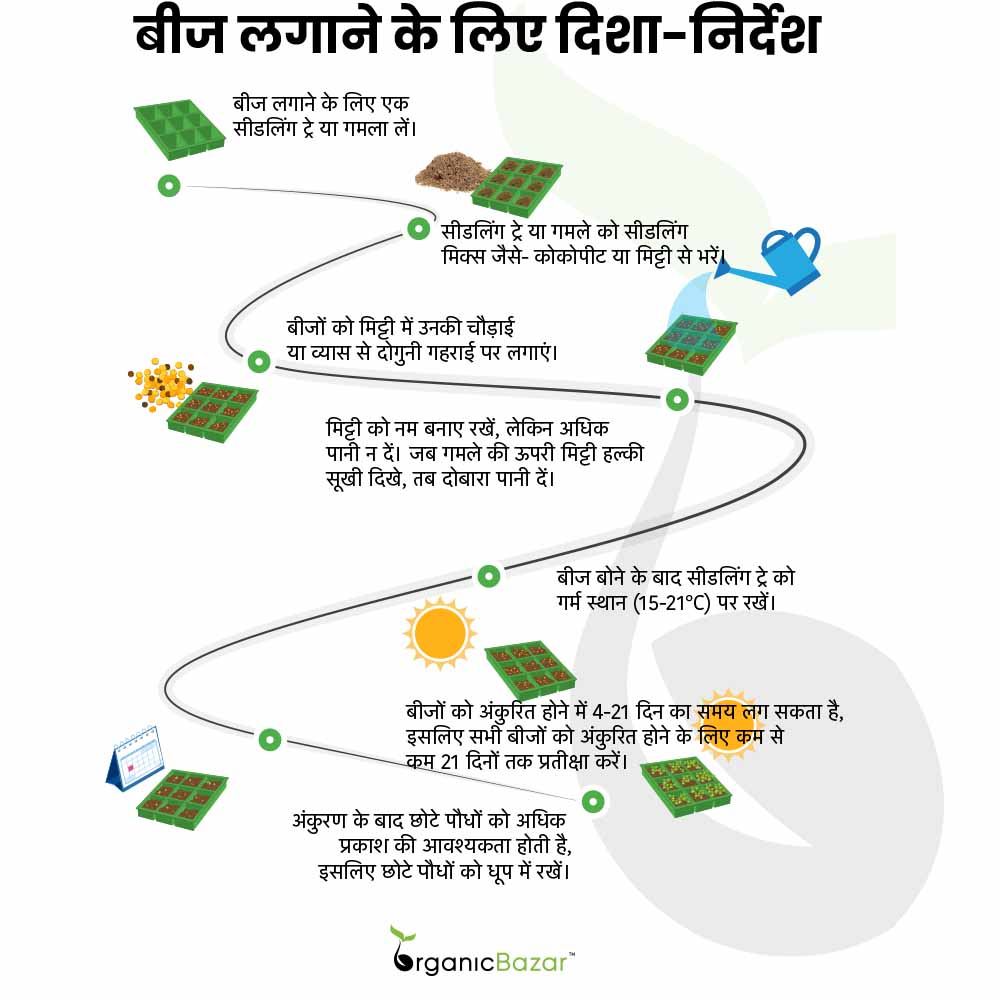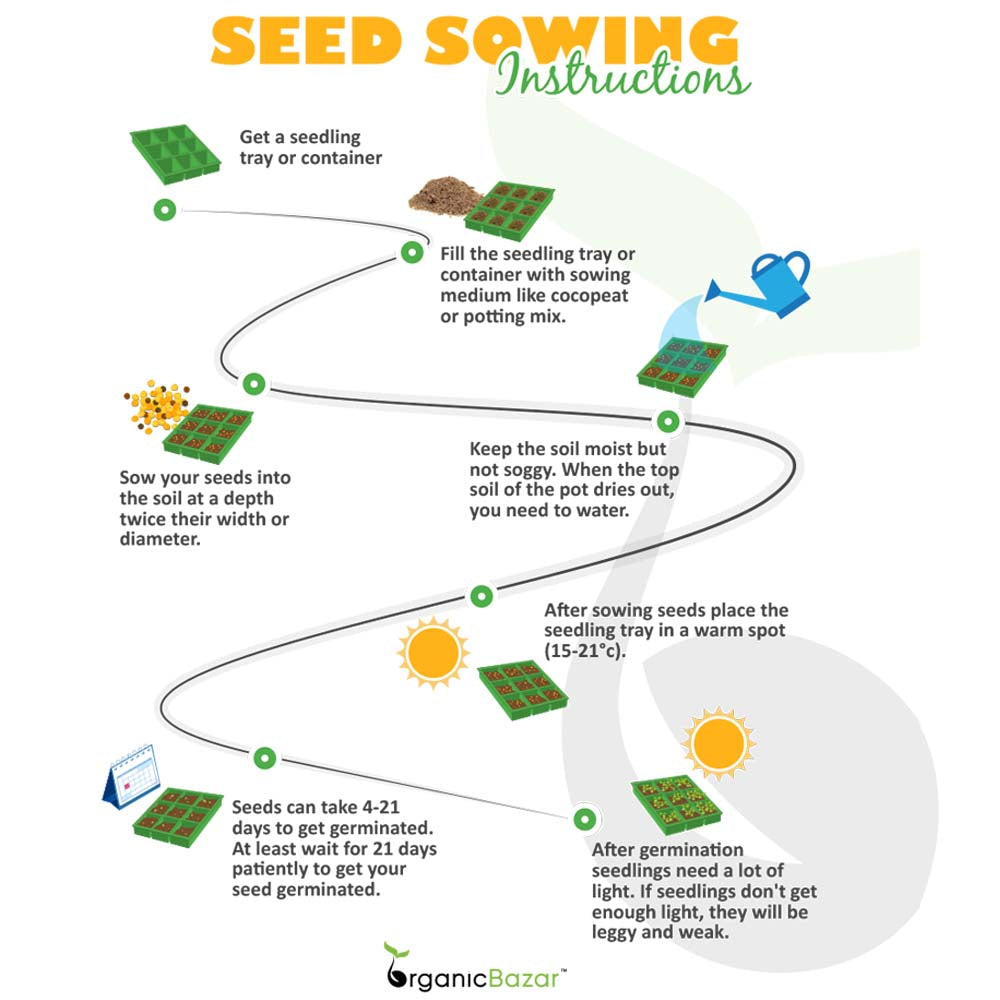 Hollyhock Summer Carnival Mix Seeds (Gulkhera/गुलखैरा के बीज)
Sale price
₹ 49.00
Regular price
₹ 99.00
Tax included.
Hollyhock Summer Carnival Mix Seeds (Gulkhera/गुलखैरा के बीज)
Sale price
₹ 49.00
Regular price
₹ 99.00
Product description
Shipping & Return
Hollyhock Summer Carnival produces unbranched spikes of 5-petal double-flowers in shades of pink, white, purple, and yellow.
Hollyhocks summer carnival is a low-maintenance flower plant and very easy to grow from seeds in a home garden, terrace garden, or balcony. Buy the best Quality Hollyhock Summer Carnival Mix Flower Seeds Online at the best price from
www.organicbazar.net
with a high germination rate and add colors to your garden.
Product Detail
Seed quantity: 50 Seeds
Where to grow: Balcony or terrace garden
Best Sowing Season: Spring, early summer, early winter
Sowing method: Direct in pots/grow bag
Germination temperature:

18-24°C

Germination time: 7-14 days
Blooming time:

Early summer to fall (April-November)
What size grow bag is best for Hollyhocks?
Hollyhocks Summer Carnival Growing Season 
You can sow hollyhock seeds in spring (February to March) or early summer (April). Additionally, you can also plant hollyhock seeds in October-November.
How To Grow Summer Carnival Hollyhocks
Sow hollyhock flower seeds directly in pots/grow bags, in the garden, or by seedling transplant method, but they do not grow well with transplants because they have long taproots. The optimum temperature for hollyhock seed germination is 18-24°C. This is a dwarf variety of hollyhock so you can plant them in a 9-15-inch wide and deep pot or grow bag. 
Hollyhocks Summer Carnival Mix Seeds Sowing Method
Take a pot and fill them with potting mix soil and sow hollyhock carnival flower seeds ¼ inch deep in the soil. Place the pot in a sunny spot as hollyhock seeds need light to germinate. Water the soil and keep the soil moist till germination; hollyhocks seeds will germinate in 7-14 days. 
Best Fertilizer For Hollyhocks 
Hollyhocks grow excellently in nutrient-rich soil and do not require fertilizer in fertile soil.

But if you grow them in poor soil, you should amend them with organic matter (vermicompost, or cow manure) during the spring season and every few weeks during the blooming period.
Hollyhocks Plants Care Tips 
Soil -
Hollyhocks prefer well-drained, rich, and moist soil. If you grow them in poor soil your plant will not bloom well and the leaves will turn yellow.
Sunlight -
It grows best in full sun and can tolerate partial shade. But the hollyhocks growing in the shade tends to be leggy and produce fewer flowers. Therefore, growing in the shade during the hot summer is best.
Water –
Hollyhocks prefer consistent soil moisture in the early stages and once established they are drought-tolerant so water only when the soil is dry.
Temperature -
The optimum day temperature for growing hollyhocks flower is 18-24°C while the night temperature is 13-18°C. 
Common pests and diseases -
Some pests such as slugs, snails, spider mites, and Japanese beetles disturb hollyhock growth. Apart from pests, the main problem for it is fungal diseases, which spread very fast. This can cause leaf drop, discoloration, and stunted growth. Remove infected plant parts to prevent the spread of the disease and water carefully.
Support -
As the hollyhock plants grow very high, you can provide support such as a fence, wall, bamboo, or trellis. 
Mulching -
A thin layer of organic mulch is good to protect plants from extreme cold during the winter.
When To Bloom Hollyhocks Summer Carnival 
Hollyhocks flower season is from early summer to fall (April-November). Always remember, some biennials may not bloom until their second year. 

These are trendy cut flowers and can stay fresh in water for about a week. 
Hollyhocks Special Features 
Common name - Hollyhocks 

Scientific name - Alcea spp.

Height - Up to 8 feet 

Level of growing - Easy

Companion planting - Dahlia, shasta daisy, phlox 
FAQ
Do hollyhocks need to be deadheaded?
Deadhead encourages more blooms and gives room for new blooms. Removing or deadheading spent flowers is very important for a hollyhock's healthy growth. 
How do you overwinter a hollyhocks plant?
You can place the hollyhock plant indoors during winter and reduce watering. 
Note: Images are for reference purposes only. Actual products may vary in shape or appearance based on climate, age, height, etc.
Shipping Costs
Free Delivery: Available for Orders Above INR 499.
Prepaid Orders Below INR 499: Shipping Charge of INR 54.
Cash on Delivery Orders Below INR 499: Shipping Charge of INR 84.

Return Policy
Satisfaction Guaranteed: Return or Exchange Within 7 Days of Delivery.
Technical Details
Package Dimension: 12cm*9cm
Item Weight : 60mg
Net Quantity: 50N
Colour : N/A
Assembly Required: No
SKU : Hollyhock

Additional Information
Brand : OrganicBazar
Country of Origin: India
Manufacturer: HEALTHUNBOX PRIVATE LIMITED
Consumer Care: Phone: 9513316259 | Email - support@organicbazar.net
Consumer Care Address: P NO 225, NEAR OF WATER TANK, VIPATPURA, Narsinghpur (M.P) 487001
Reviews
Good germination
Seeds germinated well, seedlings also healthy, waiting for the blooms
Thank you for the review.
Very nice quality. Almost all have germinated.
All plants are growing well and blooming simultaneously,, loved them.. keep the same quality as I am going to order again and also going to recommend my all freinds and relatives... am impressed abt this product