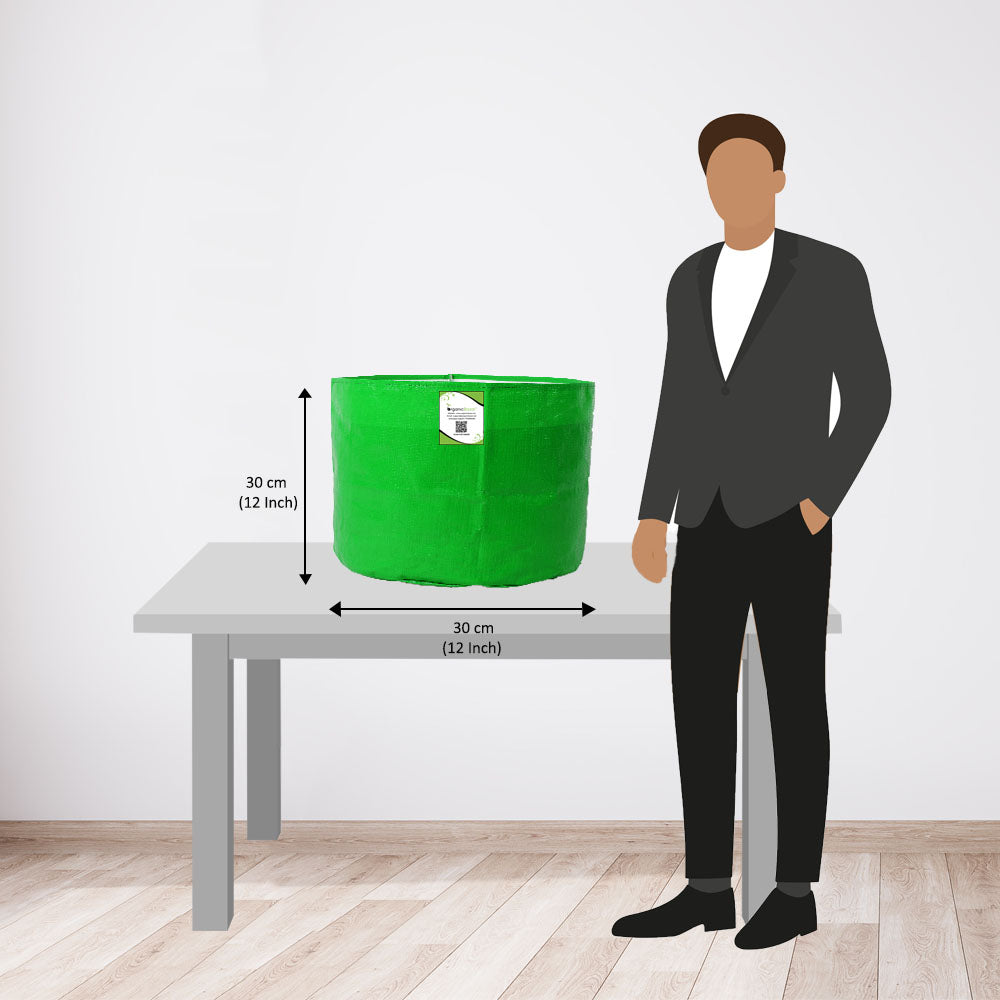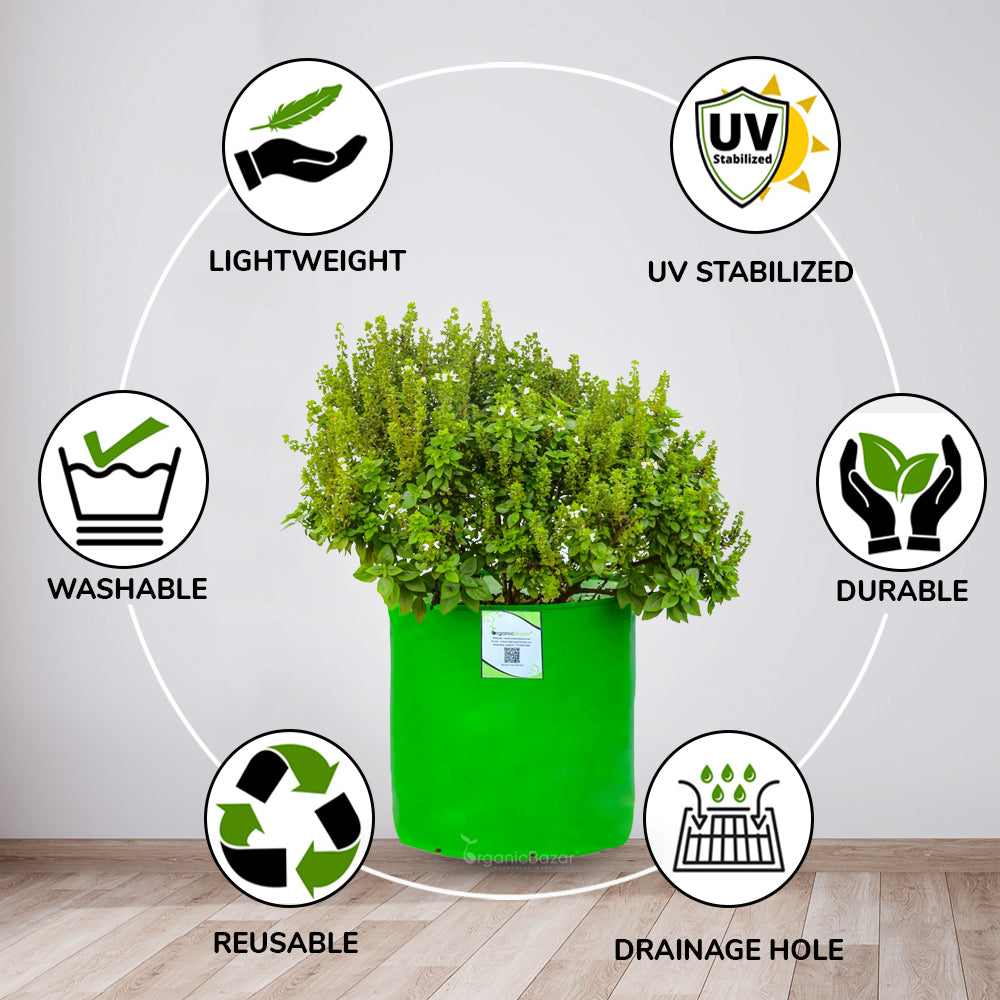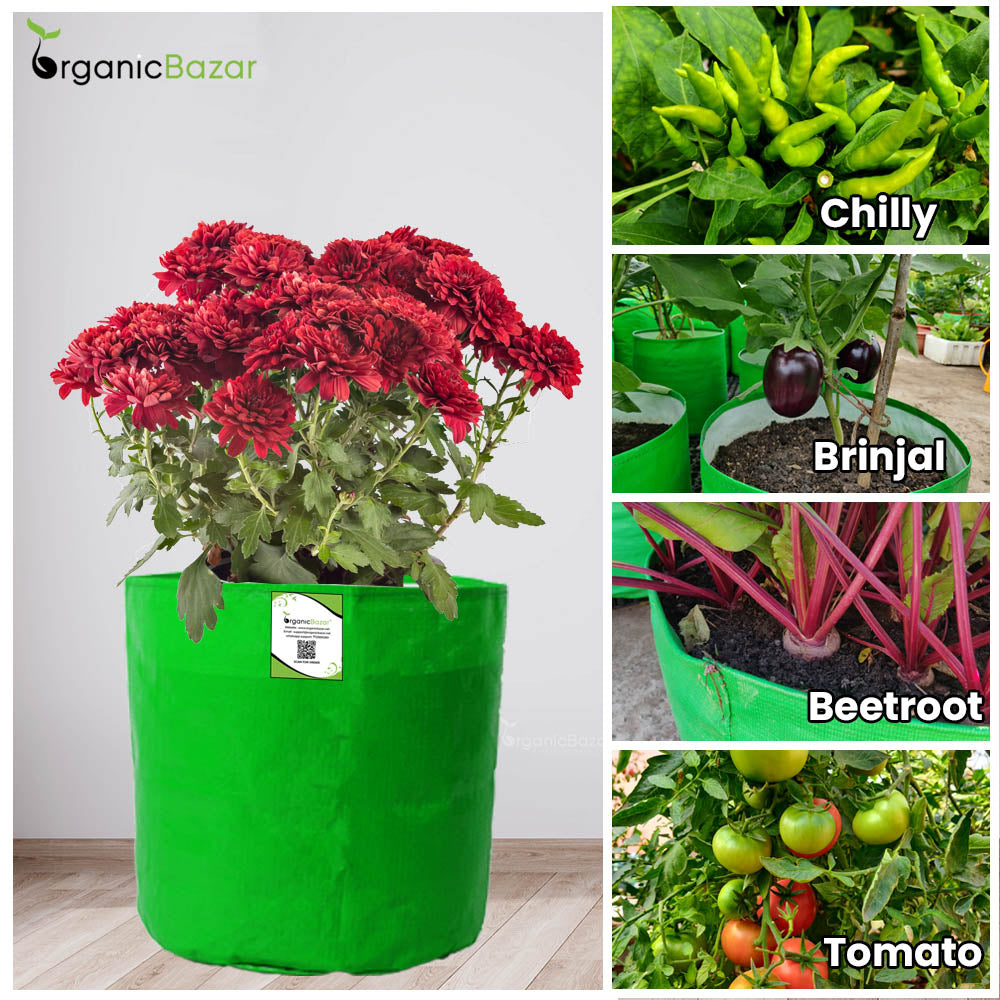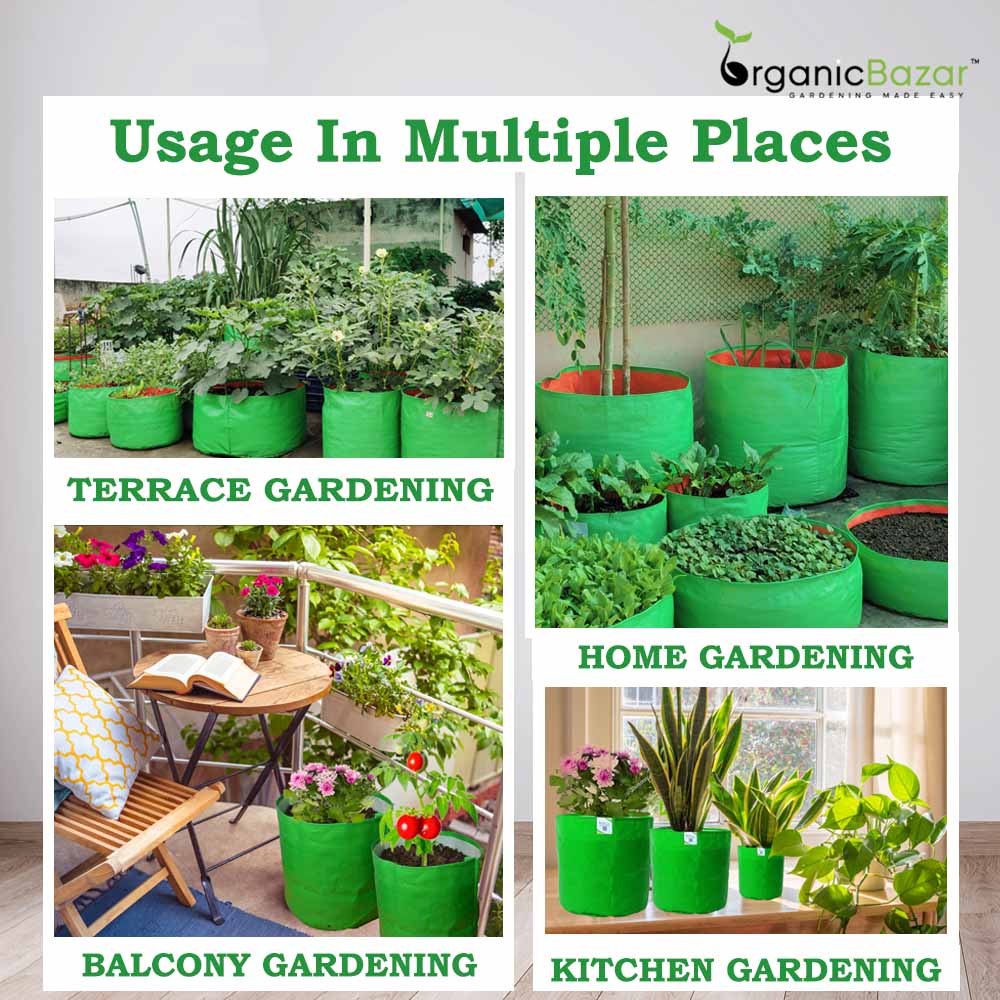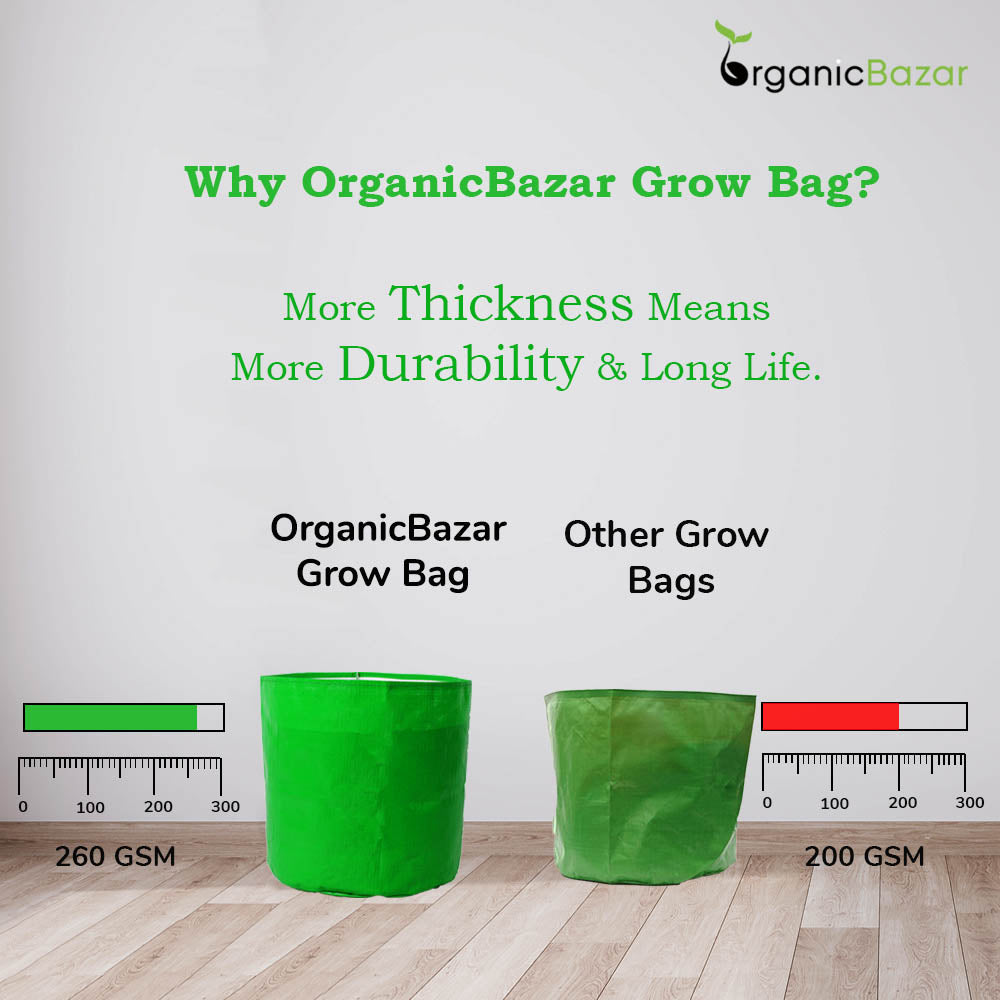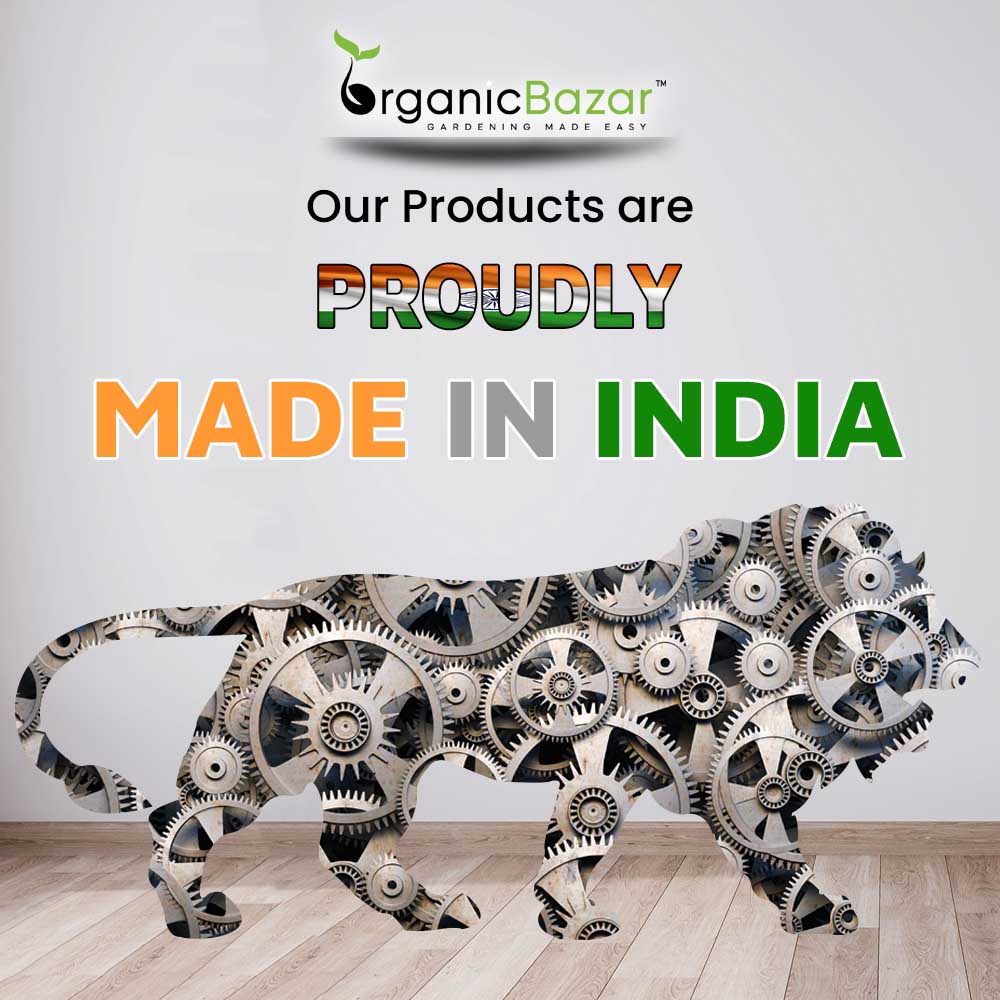 HDPE 12x12 Grow Bags for Home Gardening Extra Thick Premium Quality Grow Bags
Sale price
₹ 750.00
Regular price
₹ 1,990.00
Tax included.
Product description
Shipping & Return
The best Quality  HDPE 12×12 Cylindrical Grow Bag is ideal for growing vegetables, flowering plants, and indoor plants for home gardening. These Best Round Grow Bags 260 GSM are UV stabilized of premium quality, which can easily last for 6 to 7 years in sunlight and rain after planting. You can use these plant bags for all types of vegetables, herbs, and flowering plants that can be easily grown in a home garden, terrace garden, kitchen garden, and rooftop balcony garden.

Product's Highlights
Width

: 30cm

Height

: 30cm 

Color

: Green

Thickness:

260 GSM HDPE Material.

Water drainage holes:

Drain Holes are available at the bottom of the bags.

Ideal For:

Home garden, terrace gardening, kitchen gardening, terrace poly house gardening & rooftop balcony gardening.

Usage:

You can grow almost all kinds of vegetables, herbs, and flower plants.

Stability:

UV Stabilized Grow Bag for longer life in hot and cold weather.

Durability:

The durability of the bag is 5-7 years & it can use many times in your garden.

Weight:

It's very Light Weight and Portable. It can be easily moved anywhere around the Home Garden or Terrace Garden. 

Benefits:

Thick, Durable, Washable, Non-Tearable, Reusable, UV-treated, and Premium Quality. You can use it on the open terrace.
Plants That Can Be Grown
Tomato
Brinjal or Eggplant
Green Chilli
Onion
Pea
Ladies Finger (Okra)
Green Cucumber
Lobia (Green Long Bean)
Radish
Sponge Gourd
Cabbage
Broccoli
Beetroot
Capsicum
Turnip
Cauliflower
Zucchini
French Beans
Cluster Beans
Bell Pepper
Potato
Ginger
Mint
Aloe Vera
Tulsi
Lavender
Celeriac
Why You Can Use HDPE Grow Bags
HDPE grow bags are a type of container used for growing plants, typically vegetables or herbs. They are made from high-density polyethylene (HDPE), a durable plastic material that is resistant to UV radiation, moisture, and pests. HDPE grow bags have several advantages over traditional pots or containers for growing plants.
One advantage is that they are lightweight and easy to move around, which makes it convenient to change the location of your plants as needed. They also have good drainage and air circulation, which helps to promote healthy plant growth. HDPE grow bags are also reusable, which makes them an environmentally friendly option for growing plants.
There are several factors to consider when using HDPE grow bags for plant growth. One important factor is the size of the bag. HDPE grow bags come in a range of sizes, and it is important to choose a size that is appropriate for the plants you are growing. You should also consider the type of plants you are growing, as some plants may require a specific type of soil or growing medium.
Overall, HDPE grow bags can be a convenient and effective way to grow plants, particularly for those with limited space or who are looking for an alternative to traditional pots or containers.
Note: The plants are not included in the package's grow bag. Customers will only get grow bags in the package.
Shipping Costs
Free Delivery: Available for Orders Above INR 499.
Prepaid Orders Below INR 499: Shipping Charge of INR 54.
Cash on Delivery Orders Below INR 499: Shipping Charge of INR 84.

Return Policy
Satisfaction Guaranteed: Return or Exchange Within 7 Days of Delivery.
Technical Details
Package Dimension: 30cm*30cm (Width*Height)
Item Weight : 99g
Net Quantity: 1N
Colour : N/A
Assembly Required: No
SKU : Grow_Bag_12x12_Packof_10

Additional Information
Brand : OrganicBazar
Country of Origin: India
Manufacturer: HEALTHUNBOX PRIVATE LIMITED
Consumer Care: Phone: 9513316259 | Email - support@organicbazar.net
Consumer Care Address: P NO 225, NEAR OF WATER TANK, VIPATPURA, Narsinghpur (M.P) 487001
Reviews
Highly satisfied
These grow bags are so premium in quality, using it in my terrace with high sunlight, very thick and durable , my winter is sorted as I have sowed veggies in them and now my plants are thriving in it .
We're thrilled to hear you're highly satisfied with our premium grow bags! It's fantastic to know they're proving durable and providing an ideal environment for your veggies to thrive on your terrace. Should you have any more questions or need assistance in the future, feel free to reach out. Happy gardening!
HDPE 12x12 Grow Bags for Home Gardening Extra Thick Premium Quality Grow Bags
Thank you for the review.
Grow bag
High quality of thick grow bag ,easy to shift anywhere,good for growing all types of plants
Thank you, Akhilesh Chand, for your review! We're pleased to know that you find the HDPE 12x12 Grow Bags to be of very good quality. Your feedback is appreciated.
plz provide handles tóo
It was awesome ,but plz provide handle to in grow bag so that it is easy to sift from one place to another bz some plants need low sunlight and some need much.quality was awsome
Thank you for your review, Arvind Meena! We appreciate your suggestion regarding handles on the HDPE 12x12 Grow Bags. Your feedback is valuable to us, and we'll consider it for potential improvements in our product offerings.