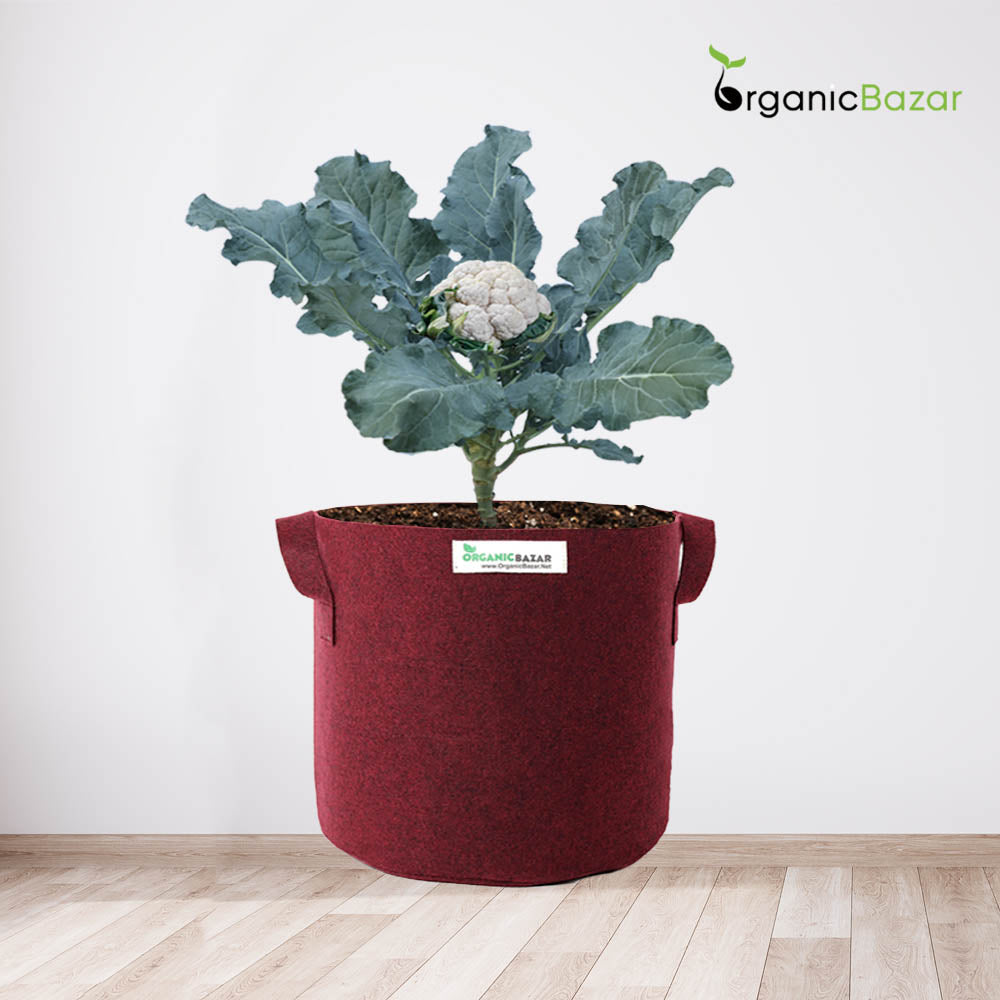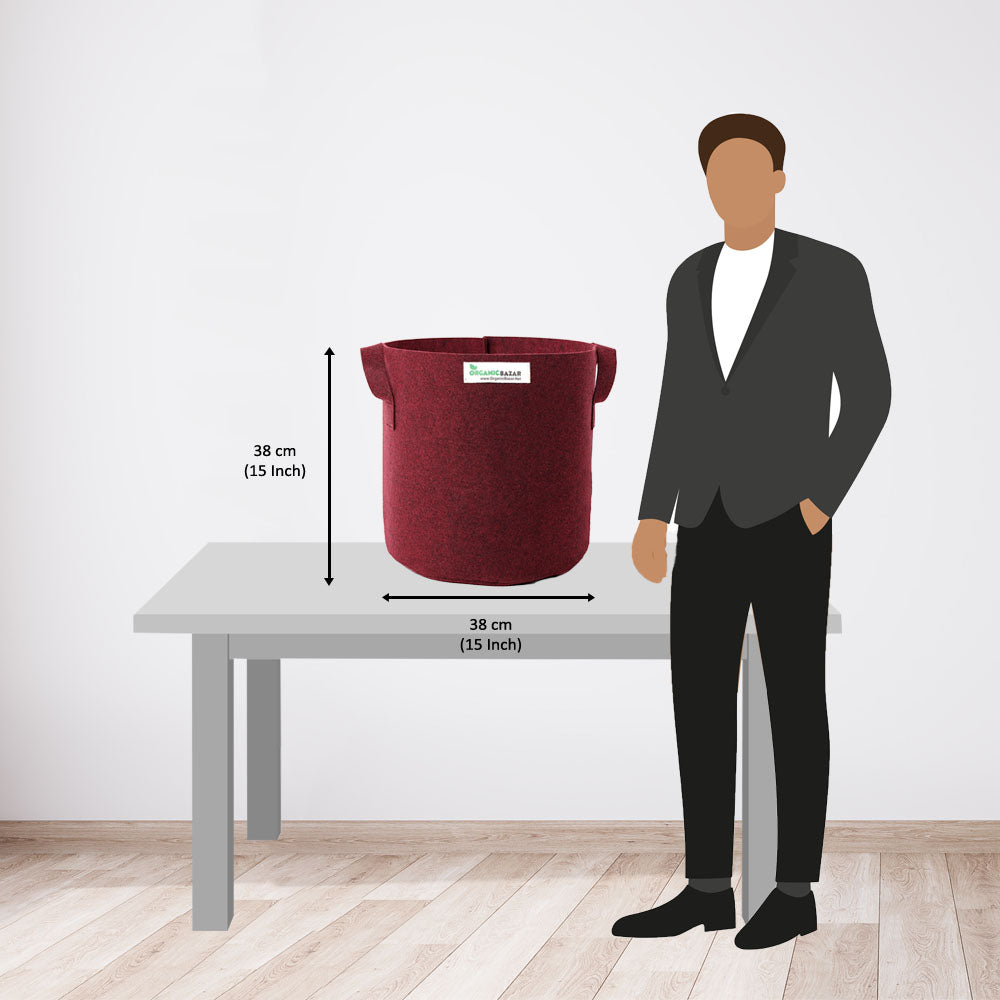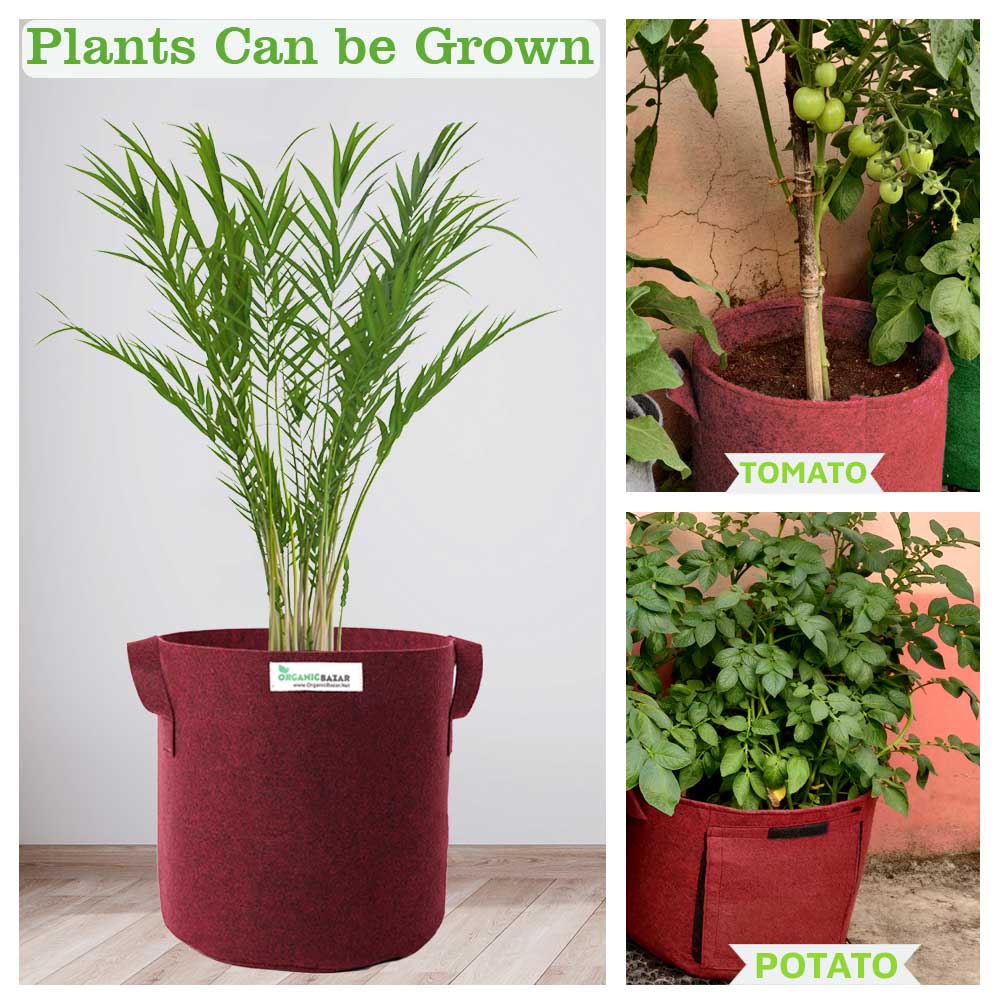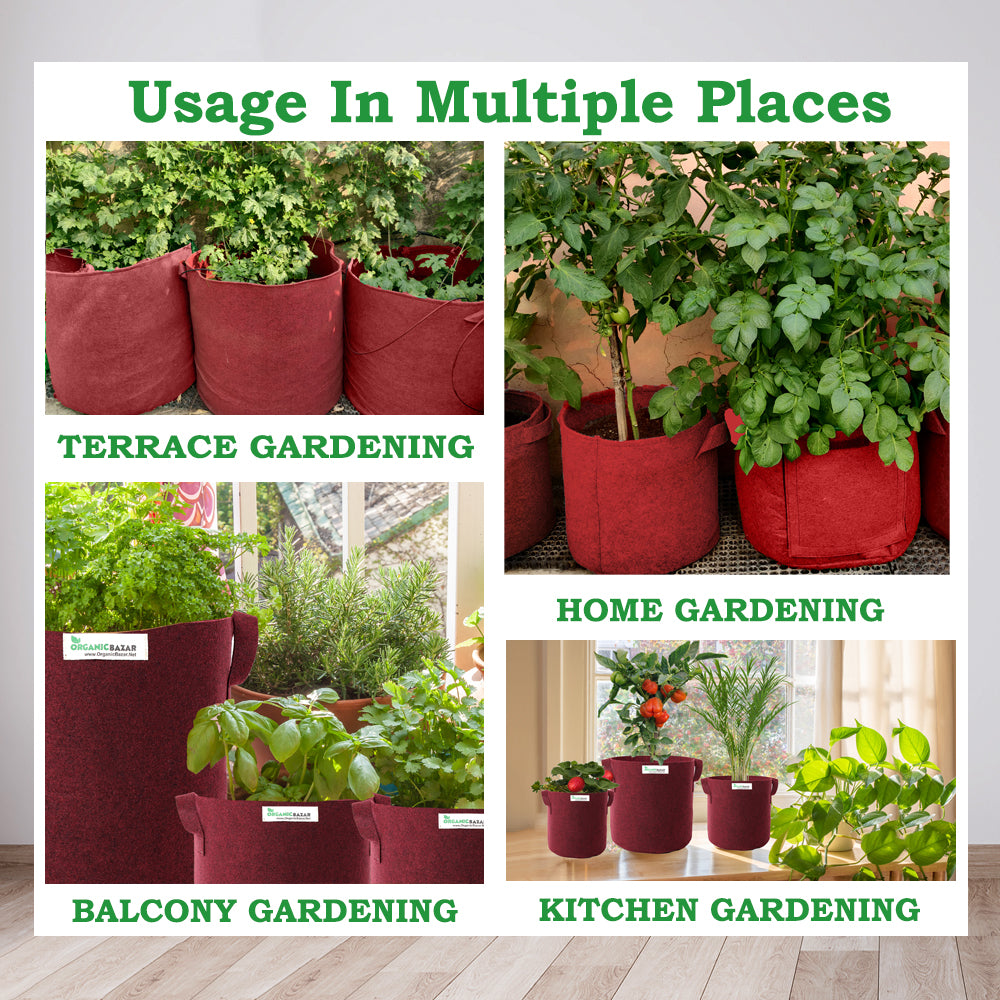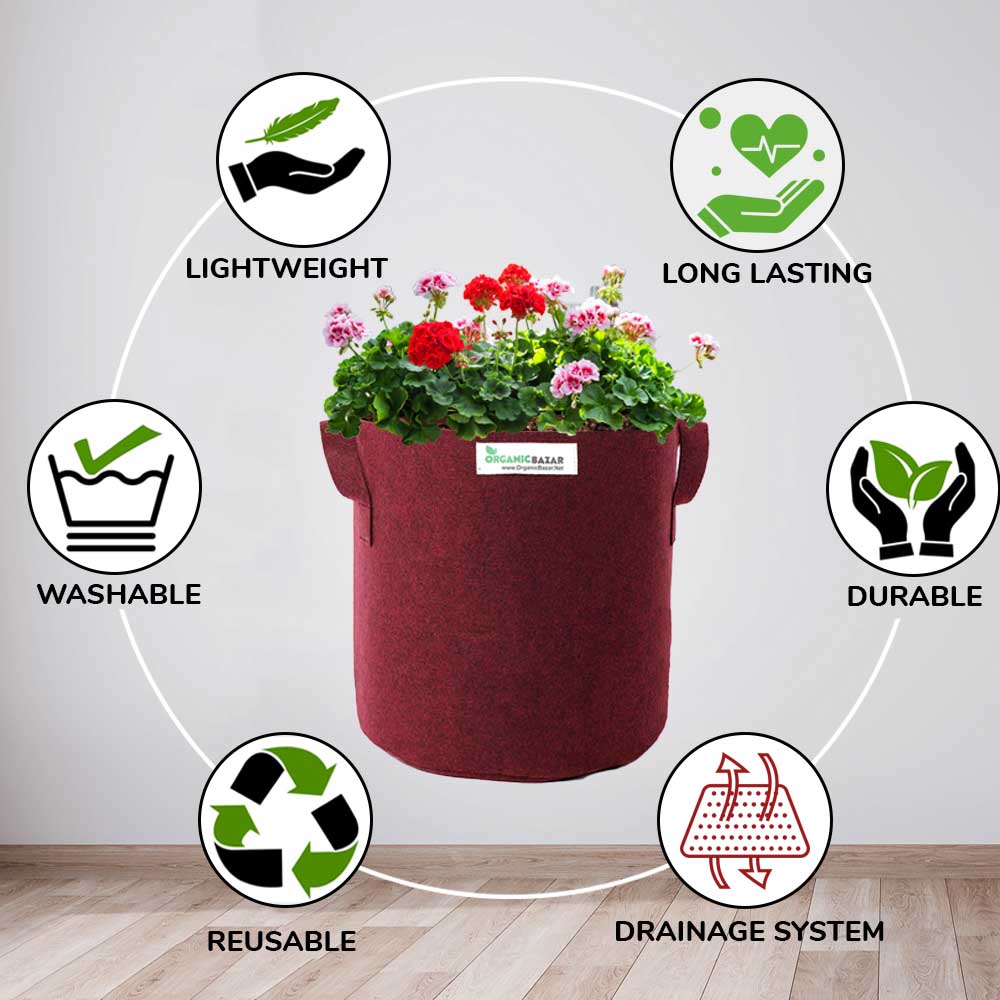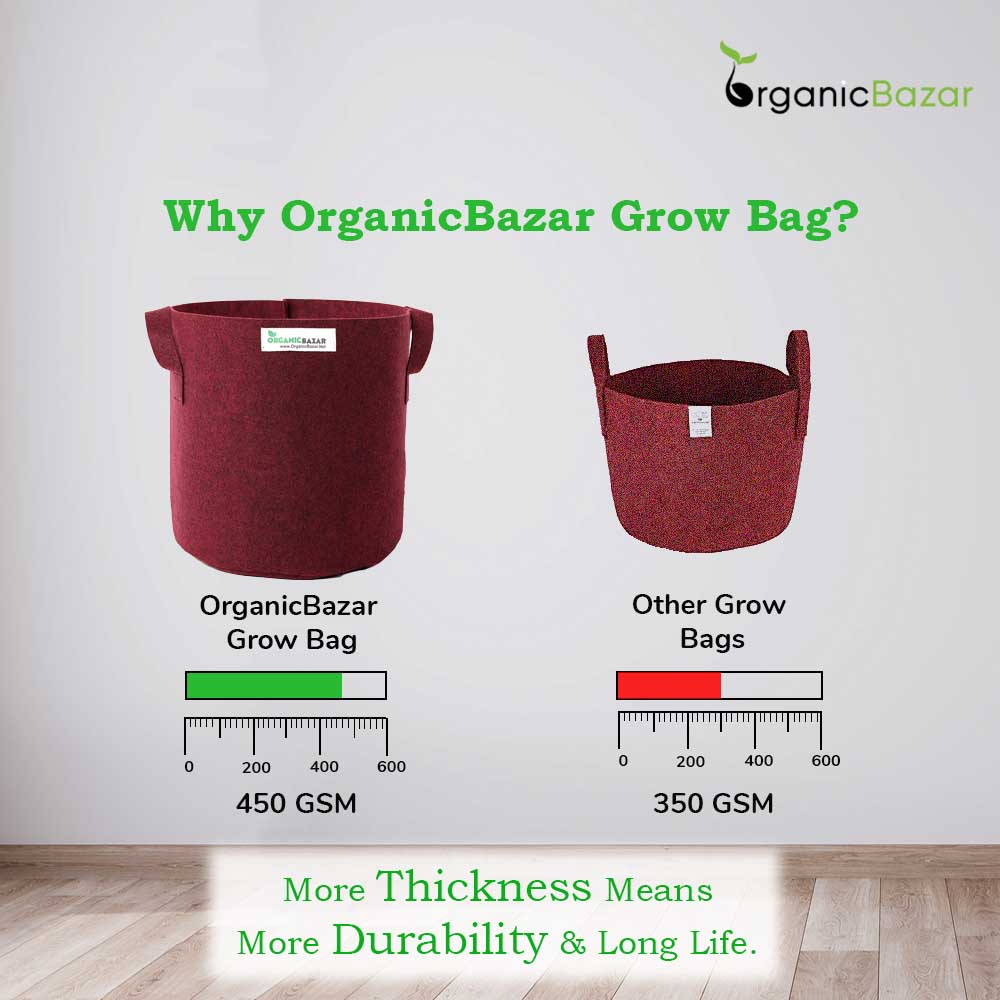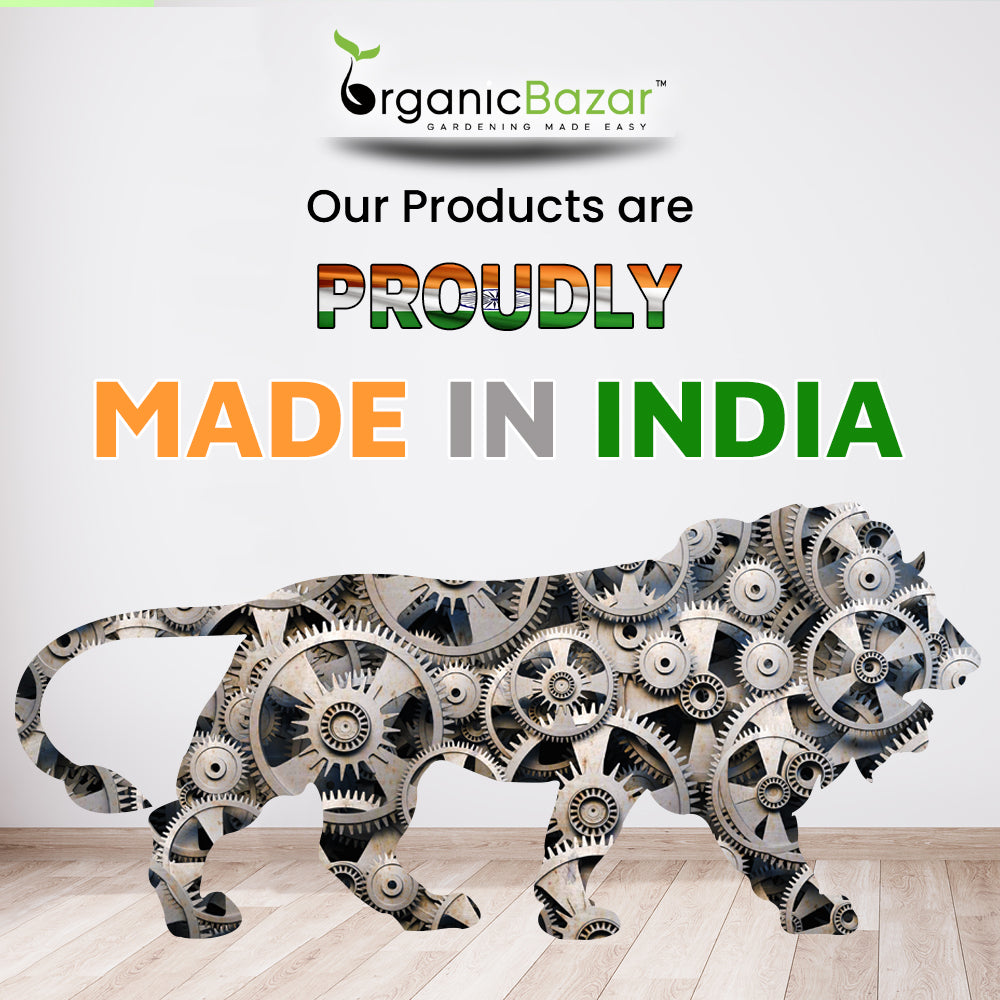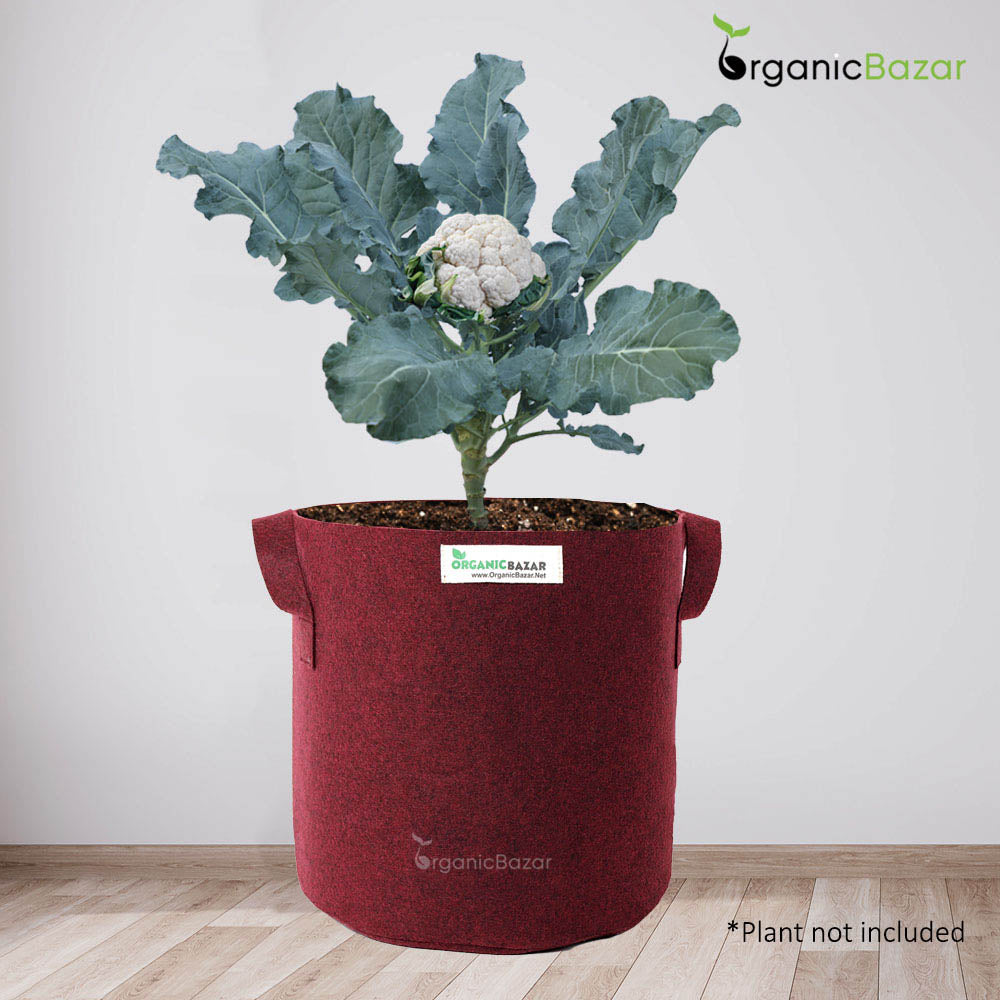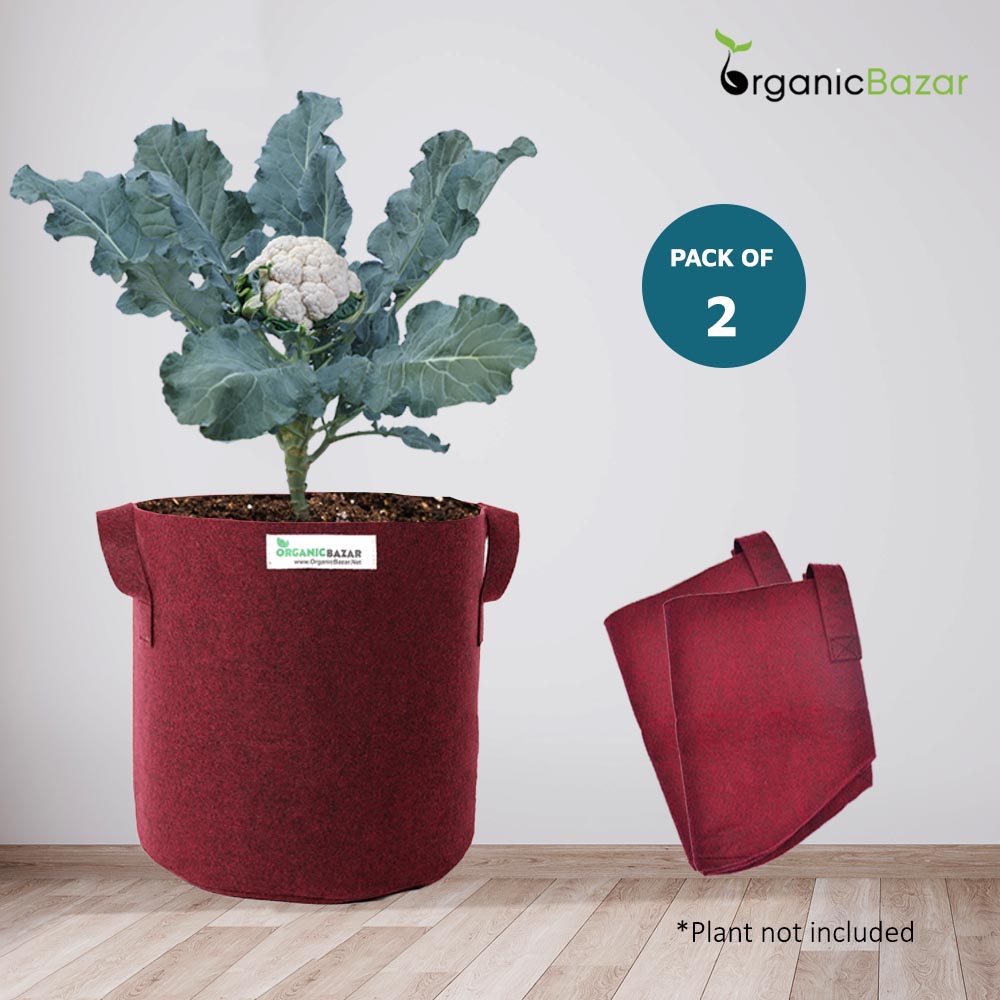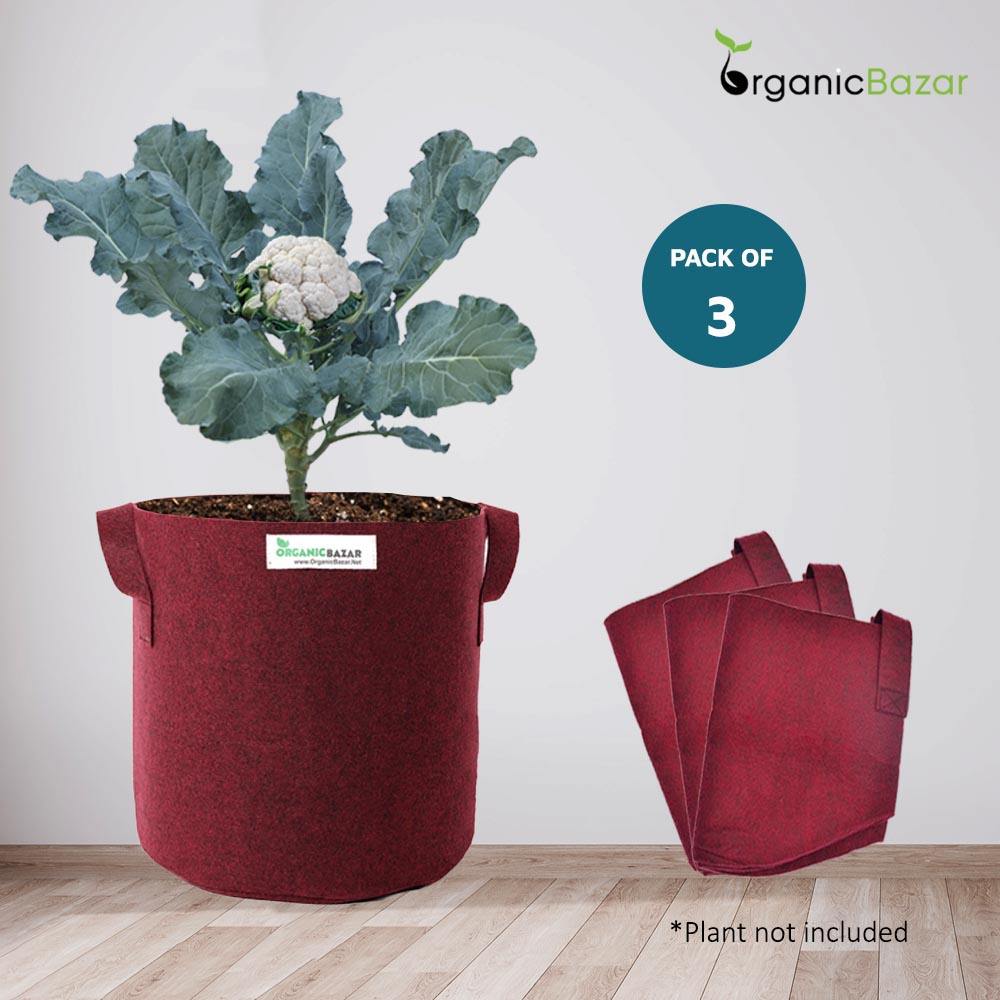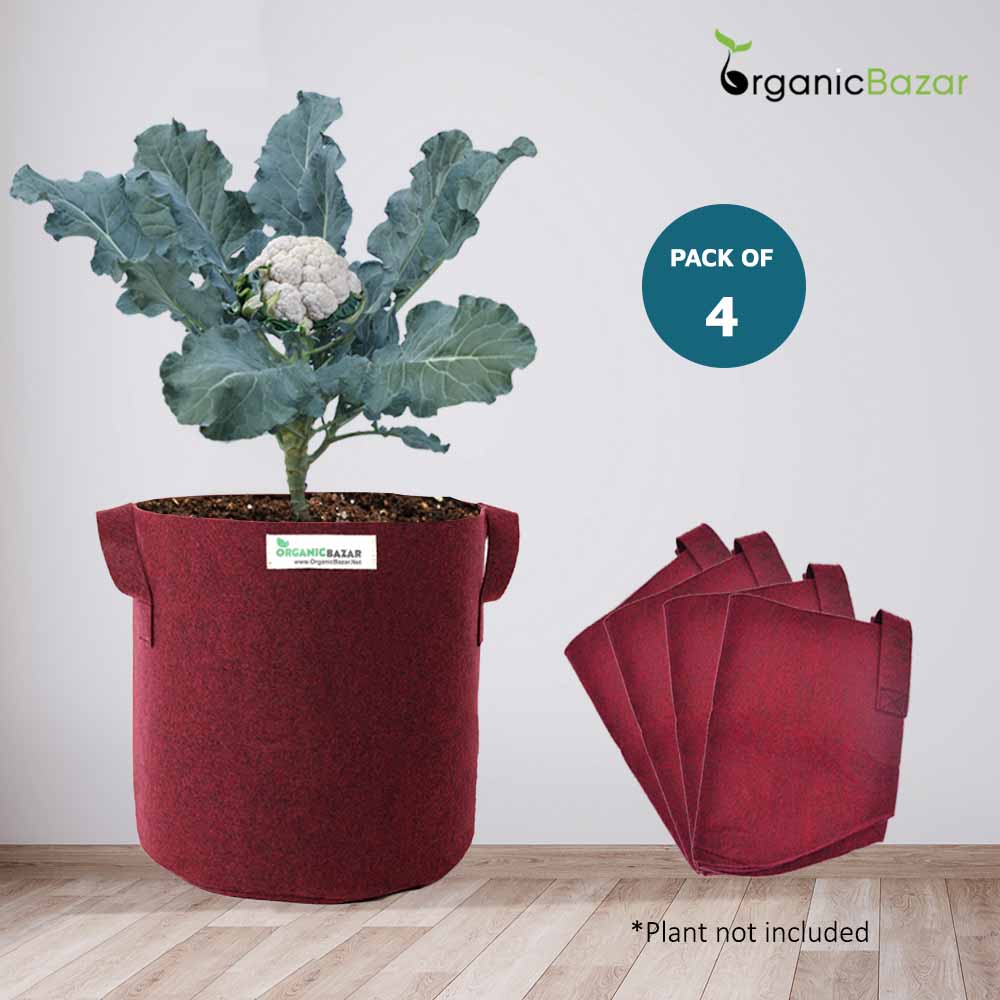 Geo Fabric 15x15 Grow Bag For Terrace Gardening Suitable For Vegetable and Flower Plants
Sale price
₹ 300.00
Regular price
₹ 499.00
Tax included.
Product description
Shipping & Return
The Best Quality Geo Fabric 15x15 Cylindrical Grow Bag is ideal for growing vegetables, fruits, flowering plants, and indoor plants for home gardening. These Best Round Geo Fabric Grow Bags 450 GSM are UV stabilized of premium quality, which after planting, can easily last for 6 to 7 years in sunlight and rain. You can use these fabric plant bags for all types of vegetables, herbs, and flowering plants that can be easily grown in a home garden, terrace garden, kitchen garden, and rooftop balcony garden.
Product's Highlights
Width

: 38cm

Height

: 38cm 

Color

: Maroon

Thickness:

450 GSM Geo Fabric Material.

Water Drainage Holes:

  The drainage system works well because of the porous geotextile fibre.

Ideal  For:

Home gardening, terrace gardening, kitchen gardening, terrace poly house gardening & rooftop balcony gardening.

Usage:

  You can grow almost all kinds of vegetables, herbs, and flower plants.

Stability:

UV Stabilized Geo Fabric Grow Bag for longer life in hot and cold weather.

Durability:

5 to 7 Years & can use many times in your garden.

Weight:

It's Lightweight and Portable. It can be easily moved anywhere around the garden or terrace.

Benefits:

Thick, Durable, Washable, Non-Tearable, Reusable, UV-treated, and Premium Quality. You can use it on the open terrace.





Plants That Can Be Grown

Tomato
Brinjal or Eggplant
Green Chilli
Onion
Pea
Ladies Finger (Okra)
Green Cucumber
Lobia (Green Long Bean)
Radish
Sponge Gourd
Cabbage
Broccoli
Beetroot
Capsicum
Turnip
Cauliflower
Zucchini
French Beans
Cluster Beans
Bell Pepper
Potato
Ginger
Mint
Aloe Vera
Tulsi
Lavender
Celeriac
About This Item
PRODUCT DETAILS:
Size- 38cm x 38cm | 38cm Width x 38cm Height | 450 GSM | High-Quality Geo Fabric Grow Bag.
USAGE:
These Geo Fabric

Grow Bags Are Suitable For Flowers, Herbs, Indoor-Outdoor Ornamental Plants, And Roots Vegetables Like tomato, marigold, sunflower, chilli, kale, Capsicum, Ladies Finger, Calendula, Zinnia, radish, spring onion, Mustard, Balsam, Petunia, Periwinkle, Aster, Carnation, thyme, dahlia, Beet Root, Swiss Chard, Geranium, Lettuce, Turnip, Leek, lavender, Carrot, Ginger, Garlic, Sweet Peas, Potato, Bell Pepper, Pea, Aloe vera, Curly Kale, Celeriac, Pansy, fenugreek, Broccoli
PREMIUM QUALITY:
The OrganicBazar Geo Fabric Plant Bags For Indoor And Outdoor Gardening Are The Best Choice Because These Terrace Gardening Geo fabric Grow Bags Are Made Of Premium Quality Multi-Layered UV Stabilized Geo-textile fibres. Which Makes Them Durable, Washable, Reusable, Non-Tearable, And Strong To Endure Sunlight. These fabric Planters Are Good Enough To Create A Stable Growing Environment For Vegetable Plants And Flower Plants.
UV-STABILIZED GEO FABRIC GROW BAG:
We Use Laminated UV-Stabilized HDPE Material To Make Our Gardening Grow Bags. Thus, Making It A UV-Treated Grow Bag Helps These Plant Bags To Endure Heavy Sunlight And Prevent Color Fading So You Can Use It On An Open Terrace, Sunroom, Or Another Outdoor Garden. Our Gardening Bags Keep The Soil Temperature Normal In Every Season & Can Bear Both Hot And Cold Climates.
DURABILITY:
The product quality is very good for all types of plants, and you can reuse the product many times without any hesitation. The grow bag won't show any breakage or leakage after long-term usage. These fabric Grow Bags Can Be Used For Up To 5-7 Years Without Any Problems.
DRAINAGE HOLE:
The water drainage system is working perfectly due to durable Geo-textile fibres. These fabric grow bags do not allow excess water to remain in the soil and help in maximum aeration.
Note - No need to make a separate drain hole.
Maximum Airflow:
The quality of Breathable Geo Fabric Grow Bags is the best for your garden plants because they get maximum aeration. This material allows the soil to consume sufficient amounts of air from the surrounding atmosphere
WASHABLE:
Our High-Quality Fabric Grow Bags For Plants Are Easily Washable. Many Poly Bags Can't Be Washed, But These Geo Fabric Grow bags Can Be Washed Multi-Time Without Any Fear Of Color Fading And Tearing.
REUSABLE:
These Breathable Plant Bags Can Be Reused Easily. So You Can Store Them During The Off-Season Or When Not In Use; The Geo Fabric Grow Bag Can Be Folded And Stored In A Minimal Space And Reused Multiple Times.
LIGHT-WEIGHT:
These Fabric Planters Are More Lightweight Than Gamla For Plants Or Other Pots Like Ceramic Pots, Clay Pots, Or Cement Pots. Traditional Pots Are Heavily Weighted, Which Makes Them Tough To Move, And There Is Always A Fear Of Breakage If They Fall. But Our Geo Fabric Grow Bags Are Lightweight And Can't Be Crushed Or Broken In Comparison To Their Gamla size So You Can Move Them Easily And Can Give Your Garden The Look Of Your Choice.
BUY MORE, SAVE MORE:
OrganicBazar Offers You To Buy More And Save More Opportunities. Our Geo fabric Grow Bags Are Available In Combo Packs Like Pack Of 5 & Pack Of 10. So You Can Buy Our Terrace Gardening Vegetable Geo Fabric Grow Bags And Save Money.
Note: The plants are not included with the grow bag in the package. Customers will only get grow bags in the package.
Shipping Costs
Free Delivery: Available for Orders Above INR 499.
Prepaid Orders Below INR 499: Shipping Charge of INR 54.
Cash on Delivery Orders Below INR 499: Shipping Charge of INR 84.

Return Policy
Satisfaction Guaranteed: Return or Exchange Within 7 Days of Delivery.
Technical Details
Package Dimension: 38cm*38cm (Width*Height)
Item Weight : 275g
Net Quantity: 1N
Colour : N/A
Assembly Required: No
SKU : Geo-15x15

Additional Information
Brand : OrganicBazar
Country of Origin: India
Manufacturer: HEALTHUNBOX PRIVATE LIMITED
Consumer Care: Phone: 9513316259 | Email - support@organicbazar.net
Consumer Care Address: P NO 225, NEAR OF WATER TANK, VIPATPURA, Narsinghpur (M.P) 487001
Reviews
Good quality bags and seeds
Thank you for your positive review! We're glad to hear that you found our Geo Fabric Grow Bags and seeds to be of good quality. Your satisfaction is important to us.
Thank you, Sarvesh Misra, for your brief review of our Geo Fabric 15x15 Grow Bag. We're pleased to hear that it's good enough for your terrace gardening needs.
Geo Fabric 15x15 Grow Bag For Terrace Gardening Suitable For Vegetable and Flower Plants
Quality seems nice. The finish is good and consistent.