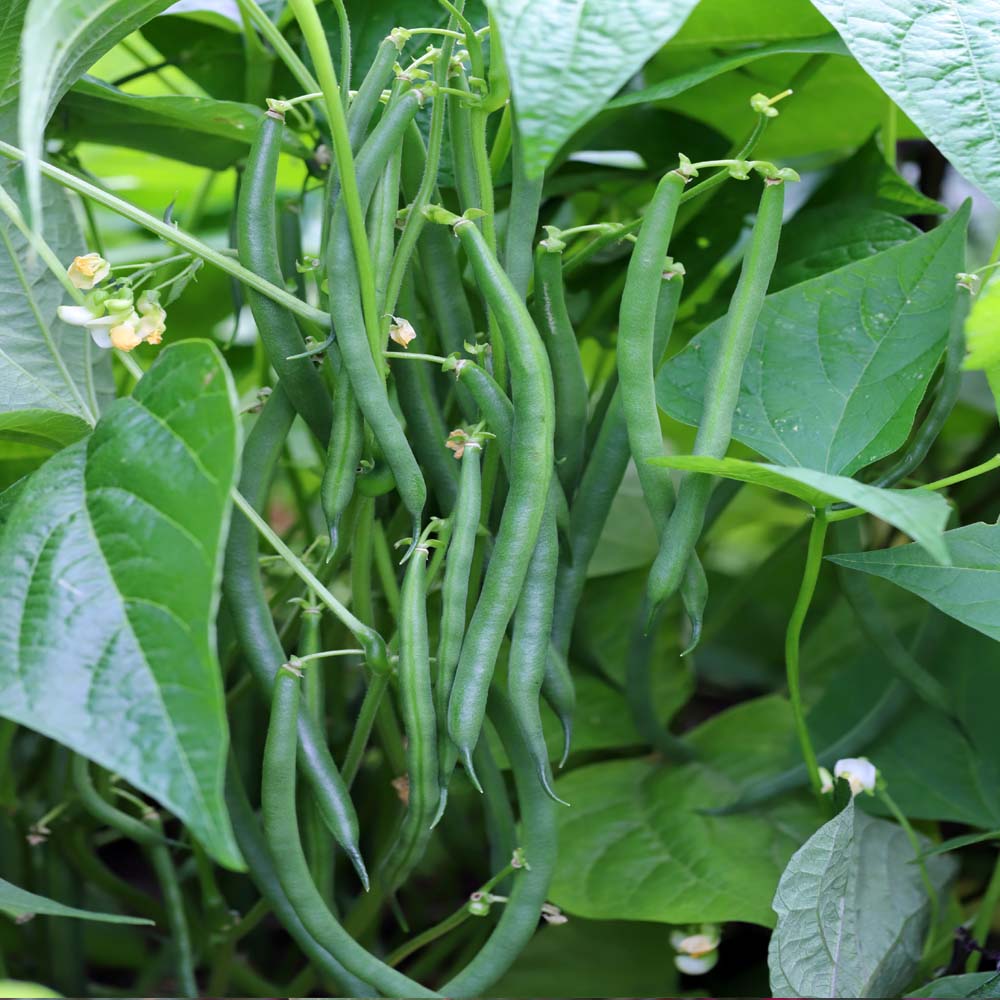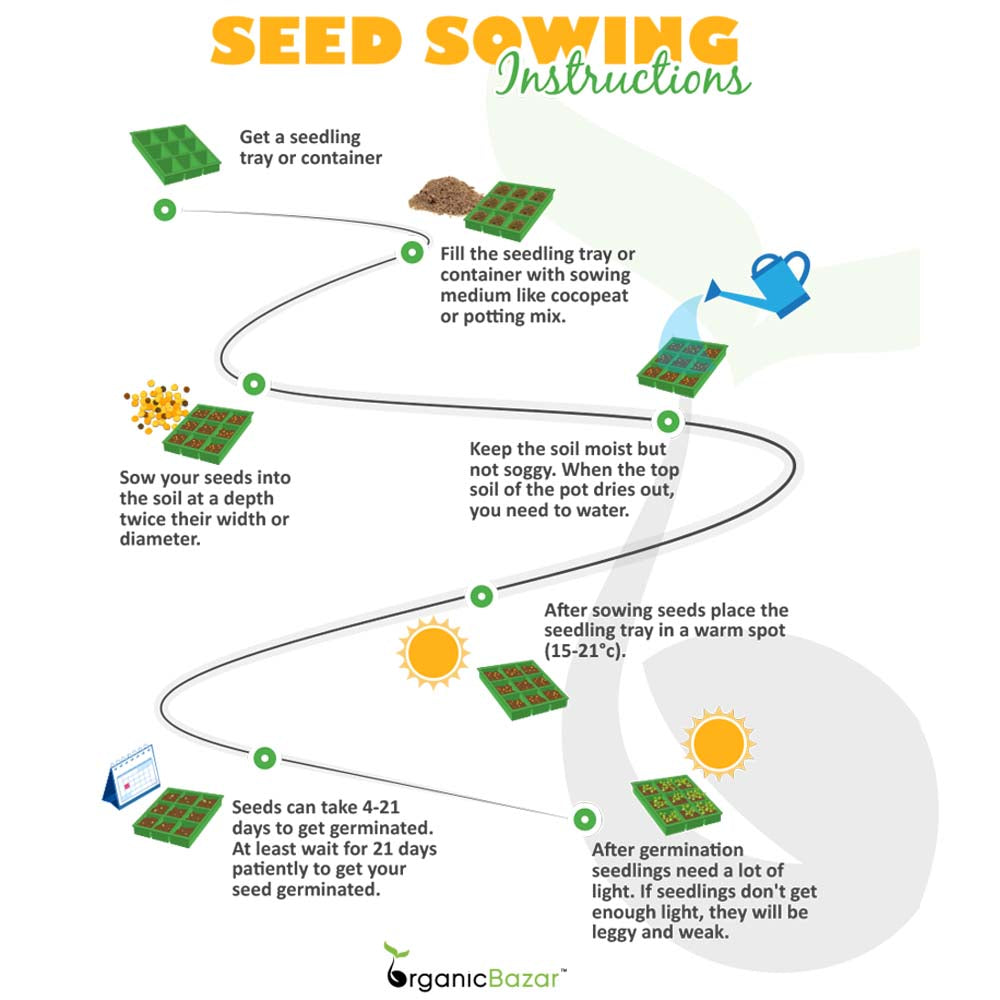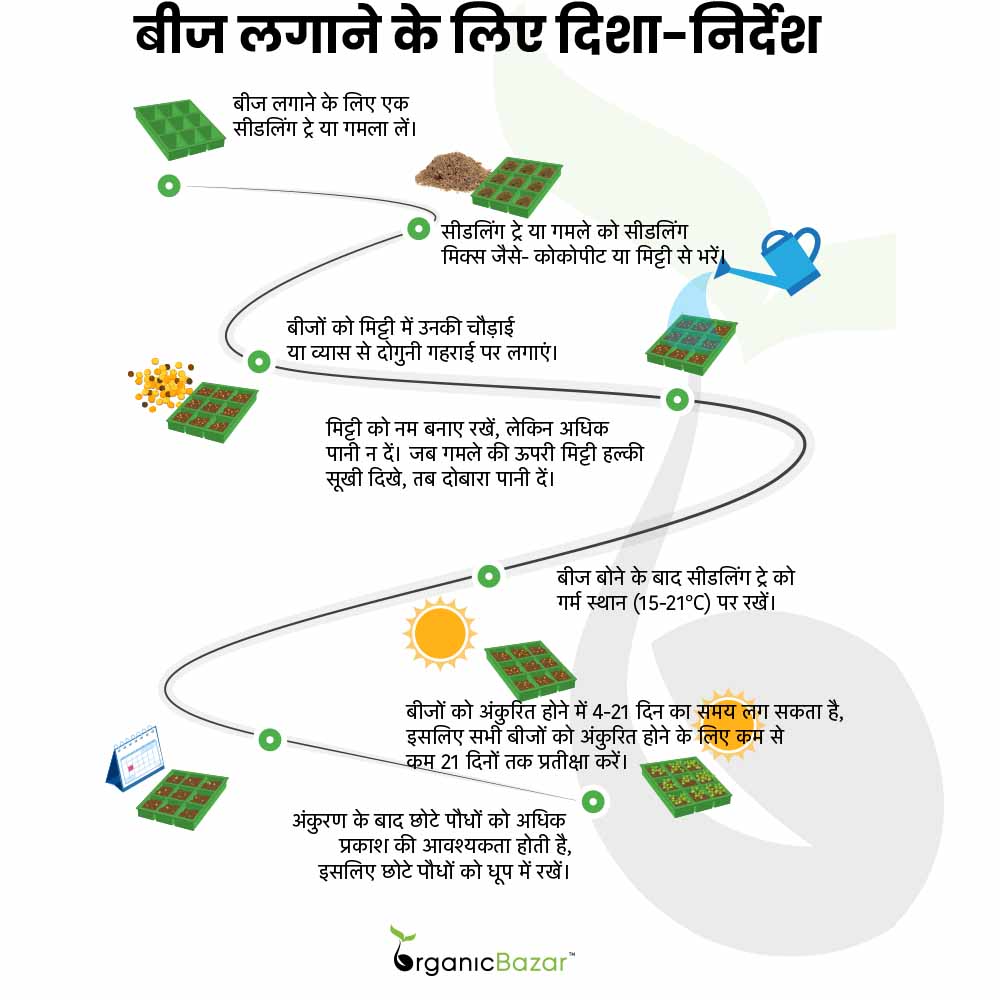 French Beans Seeds F1 Hybrid (फ्रेंच बीन्स के बीज)
Sale price
₹ 59.00
Regular price
₹ 99.00
Tax included.
French Beans Seeds F1 Hybrid (फ्रेंच बीन्स के बीज)
Sale price
₹ 59.00
Regular price
₹ 99.00
Product description
Shipping & Return
French beans are delicious in taste and very easy to grow in pots or grow bags. You can grow French beans both indoors and outdoors year-round. The French bean pods are long, thin, tender, crispy, and rich in protein and dietary fiber. In this information, you can learn how to grow French beans from seeds and when to grow French beans also know about French bean's germination time and the best soil and temperature for beans. Start growing French beans and buy the best quality seeds
at the best price in India
from
www.organicbazar.net
with a good germination rate.  
About this item
Number of French Beans Seeds: 20 Seeds

Where to grow: Balcony or terrace garden

Sowing season: Throughout the year

Mode of sowing: Sow the seeds 0.5-1 inch deep in a Container, or Pot.

Germination Time: 4 to 14 days from sowing

Germination temperature: 18°C ​​to 24°C

Harvesting: 45 to 50 Days

Plant vigor: Strong plant
What size grow bag is best for French Beans?
French Beans Plant Growing Season In India
French Beans grown throughout the year in three seasons Kharif – June/July, Rabi – October/November and Summer –February/March.
How To Grow French beans
The direct sowing method is best for planting French beans. They are perfect to grow in any
pot
or
grow bag
that should be about 15-24 inches (width and height). French beans grow fast in warm and bright conditions and need regular watering especially when plants start to flower and form pods. Make sure that the seedling should receive adequate indirect sunlight if you planted the seedling indoors. French bean seeds germinate fast in temperatures between 15-24°C.
French Beans Seed Sowing Method
French bean seeds should be sown directly rather than transplanted. Select a pot or grow bag and fill them with a sowing medium (
potting mix
). Sown 1-2 French beans seeds per pot about 1 inch deep in the soil at a distance of 2-3 inches from each seed. Give deep water to your French bean pots every day by using a
watering can
and make sure that French beans get water in the form of the shower, not by a single flow. Keep the pot in a sunny location for seeds to germinate. French bean seeds will be germinated in 7-14 days (depending on climate, temperature, or if other factors go well).
How To Fertilize Plant French beans
French beans do not require many feeds as they act as nitrogen fixation. Apply any organic fertilizer (
vermicompost
,
neem cake
,
mustard cake
, etc) after 25-30 days from planting, to get the healthy pods.
French Beans Plant Care Tips
Water –
French beans are thirsty plants and grow fast when they get water regularly. Keep the soil moist and give water when you feel the soil becomes dry.
  Soil –
French beans grow best in good drainage and fertile soil with organic manure.
 Sunlight –
French beans love a warm climate and it needs 6-8 hours of full sunlight.
Temperature -
The ideal temperature for growing French beans is from 10-27°C. If the temperature is more than 35°C then the flowers may drop.
  Common Pests and Disease –
French bean plant is infected by black bean aphids, slugs, and snails, for avoiding these pests use
neem oil
spray. And if you're facing a problem with birds that eat buds, leaves, fruits, or vegetables, protect the plants by covering them with
netting
.
Weeding –
Keep plants weed-free, weeding should be done regularly.
How to Harvest French Beans
You can harvest French beans within 45-65 days from sowing.
Start to pick the pots when they are 4 inches long with the help of a sharp knife or scissor.
The right time to cut the French beans is when they are medium-sized with firm pods.
Do not pull the beans strongly from the vines because it will damage the plant.
French beans can harvest for several weeks.
French Beans Plant Flowering Time
Beans will start flowering within 30-35 days from seed sowing. Beans pollinate themselves so, no need for any special treatment.
 French Beans Special Features
Common name - snap bean, string beans, Green beans
Scientific name - Phaseolus vulgaris
Flower color - White
Level of growing - Easy
FAQ
How much sun do French beans need?
French bean plants prefer 6-8 hours of full sunlight.
Why is my French bean not growing well?
French bean plants will not grow if the soil is too warm or too wet and lack of moisture at the roots is the other main reason behind beans not growing well.
Why are my French bean seeds not germinating?
French bean seeds will not germinate because of improper growing conditions like not getting enough sunlight, sowing seeds too deep in the soil, over-watering or under-watering.
Why is my French bean getting wilting?
Overwatering is the main reason behind wilting; so avoid overwatering and keep the soil moist.
Note: Images are for reference purposes only. Actual products may vary in shape or appearance based on climate, age, height, etc.
Shipping Costs
Free Delivery: Available for Orders Above INR 499.
Prepaid Orders Below INR 499: Shipping Charge of INR 54.
Cash on Delivery Orders Below INR 499: Shipping Charge of INR 84.

Return Policy
Satisfaction Guaranteed: Return or Exchange Within 7 Days of Delivery.
Technical Details
Package Dimension: 12cm*9cm
Item Weight : 4.50g
Net Quantity: 20N
Colour : N/A
Assembly Required: No
SKU : French Beans

Additional Information
Brand : OrganicBazar
Country of Origin: India
Manufacturer: HEALTHUNBOX PRIVATE LIMITED
Consumer Care: Phone: 9513316259 | Email - support@organicbazar.net
Consumer Care Address: P NO 225, NEAR OF WATER TANK, VIPATPURA, Narsinghpur (M.P) 487001
Reviews
As they say it received same
Same and good seeds received also germinate very well
Your satisfaction is our priority, and we appreciate your positive feedback.
Thank you, Ashim Hazarika, for your review of our French Beans Seeds F1 Hybrid. We're thrilled to hear that you're 100% satisfied with our product, and it's impressive that they started growing within just 3 days.
Seed germination
Seeds are germinated now lets see how much fruit it gives then i will share my experience
Certification
is it a certified seed pls