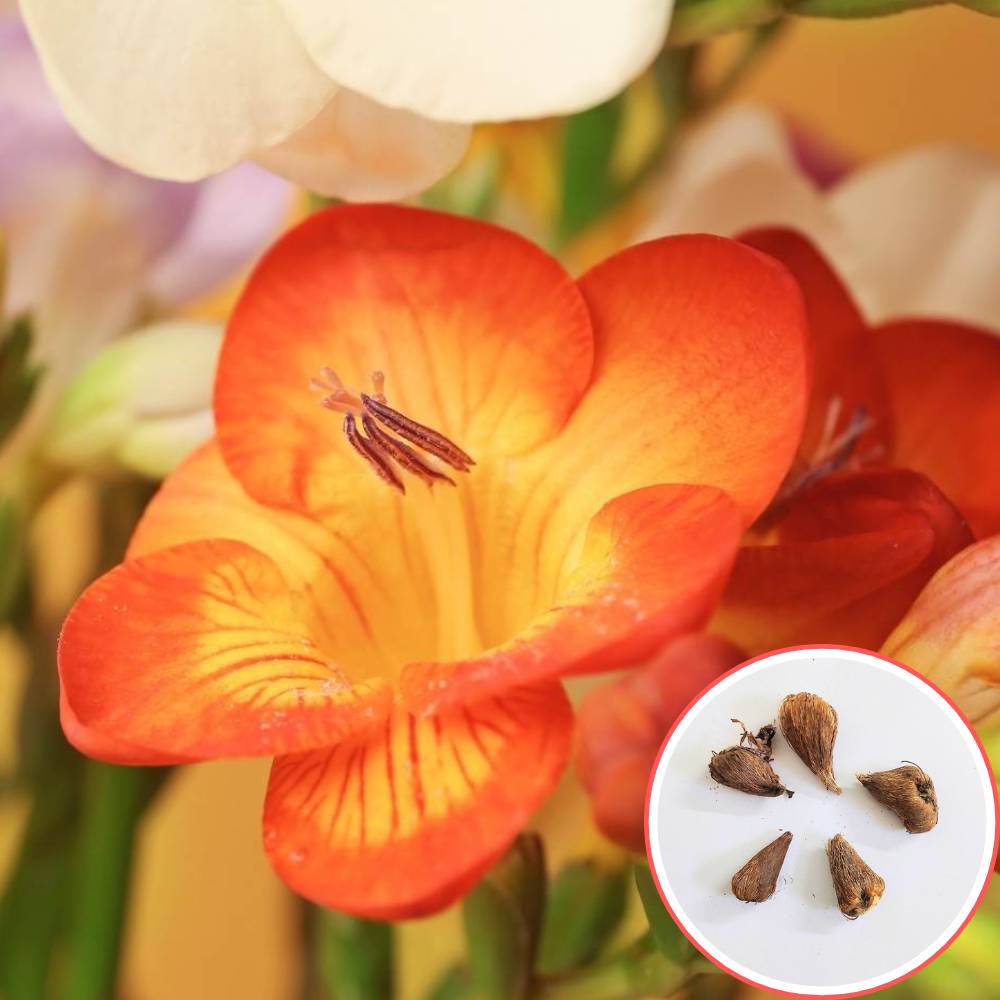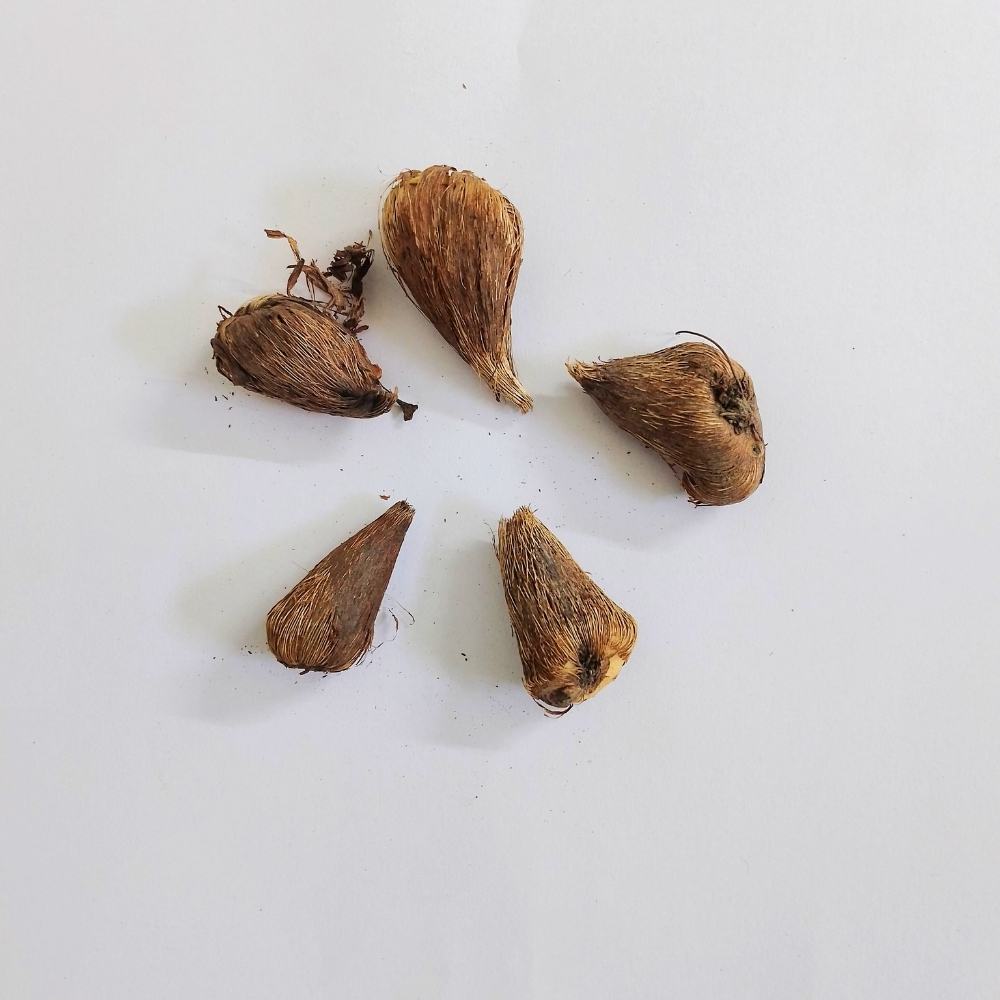 Freesia Orange Flower Bulbs
Sale price
₹ 99.00
Regular price
₹ 199.00
Tax included.
Freesia Orange Flower Bulbs
Sale price
₹ 99.00
Regular price
₹ 199.00
Product description
Shipping & Return
Freesia is one of the best bulb-flowering plants in India. It is a perennial flowering plant commonly known as "freesias." It has fragrant funnel-shaped flowers that add a unique color to the garden's beauty. They are loved for their pure colors, long vase life, and sweet perfume. Freesia bulb flowers are easy to grow; you can easily grow them in your terrace garden or balcony. Buy the best Quality Freesia Orange Flower Bulbs Online at the best price from
www.organicbazar.net
 and add colors to your garden.  
About this item 
Number of Orange Freesia Flower Bulb: 05N
Bulb planting season: Winter Season
Planting Temperature: 10-21°C
Method of grown from bulbs: Directly in a pot or garden
Bulb sowing depth: 1-2 inches
Bulb spacing: 3-4 inches
Germination Time: 14 to 21 days
Blooming Time: Spring and summer
Flower Color: Orange
What size grow bag is best for Freesia Bulb Flower?
When To Plant Freesia From Bulbs 
Freesia loves cool weather and stops growing in high temperatures. You can plant freesia indoors from the bulb in Winter Season (October - December) for flowering in late winter or spring for early summer flowering.
How To Grow Freesia In Pots 
It is easy to grow like other bulbs, and you will get great results in just a few months if planted in the right conditions. Plant it directly in the garden or pot when the temperature is around 10-21°C, no need to soak bulbs before planting. Spacing is very important for healthy growth, try to maintain a distance of 3-4 inches between bulbs. Plant 2-3 bulbs per pot to avoid crowding.
Pot 
or 
grow bag
 of at least 9-15 inches is good for it.
Planting Freesia Bulbs 
Take a pot or grow bag, fill it with 
potting mix
, and plant 2-3 freesia bulbs in the soil at a depth of 1-2 inches and 3-4 inches of spacing between the bulbs to allow the freesia plants to fully develop. You may notice that the freesia bulb looks small and long, the pointed part should be facing up when planting and the root side should be facing down. Cover the soil, water deeply through a 
watering can
, and keep the soil moist. Keep the pots in a cool, shady spot until they sprout. After 2-3 weeks, you should see the bulbs develop roots and begin to sprout, then move the pot to a warm, sunny spot.
Freesia Bulbs Fertilizer Requirements 
Use a potash liquid fertilizer every 2 weeks when freesias flower buds begin to form.
In addition, you can add a balanced fertilizer during its growing season to promote its growth.
Freesia Flower Bulbs Care Tips 
Soil – 
Well-draining soil is best for planting freesia bulbs; you can also add peat moss or 
compost
 to the soil to improve drainage.
Water –
 For successful freesia growth, keep the soil moist but not soggy. You should water once a week when the freesia is in bloom, and reduce watering when the leaves turn yellow and wilt.
Sunlight – 
Freesia thrives in full sunlight but can tolerate a few hours of shade. If you grow indoors, place the pot on a window sill where it gets the most hours of sunlight.
Temperature – 
Freesia is not a cold hardy flowering plant so it cannot grow in low temperatures. Day temperature is 10-21°C while night temperature is 4-13°C good for growing freesia. In addition, at temperatures above 21 ° C, freesia stops growing.
Common pests and diseases – 
Freesia plants are not infected with serious diseases but some pests such as aphids, slugs, and snails inhibit the growth of the plants. You can use 
neem oil
 to repel aphids, while slugs and snails can be removed by hand.
When Does Freesia Bloom?
Generally, freesia blooms in spring and summer, and flowering takes 3-4 months after planting.
If you plant freesia bulbs in autumn, flowers will occur in late winter, and if planted in spring, you may see freesia bloom in early summer.
Freesia Special Features 
Common name – Freesia
Scientific name – Freesia
Height – 12-24 inches
Level of growing – Easy
FAQ
Does a freesia plant come back every year?
Freesia is a perennial flowering plant but cannot survive frost and low temperatures. In frost-free areas, it may come back every year but in frost-free areas, it will die.
Should freesias be deadheaded?
Yes, deadhead spent flowers should be done when the plant has finished blooming.
Note: Images are for reference purposes only. The actual product may vary in shape or appearance based on climate, age, height, etc.
Shipping Costs
Free Delivery: Available for Orders Above INR 499.
Prepaid Orders Below INR 499: Shipping Charge of INR 54.
Cash on Delivery Orders Below INR 499: Shipping Charge of INR 84.

Return Policy
Satisfaction Guaranteed: Return or Exchange Within 7 Days of Delivery.
Technical Details
Package Dimension:
Item Weight :
Net Quantity:
Colour : N/A
Assembly Required: No
SKU : Freesia_Orange

Additional Information
Brand : OrganicBazar
Country of Origin: India
Manufacturer: HEALTHUNBOX PRIVATE LIMITED
Consumer Care: Phone: 9513316259 | Email - support@organicbazar.net
Consumer Care Address: P NO 225, NEAR OF WATER TANK, VIPATPURA, Narsinghpur (M.P) 487001
Reviews
Still waiting to germinate after long time
We understand your concern about the germination .Germination can vary depending on several factors, including soil conditions, temperature, and moisture. We recommend being patient and providing the seeds with the optimal conditions for germination.