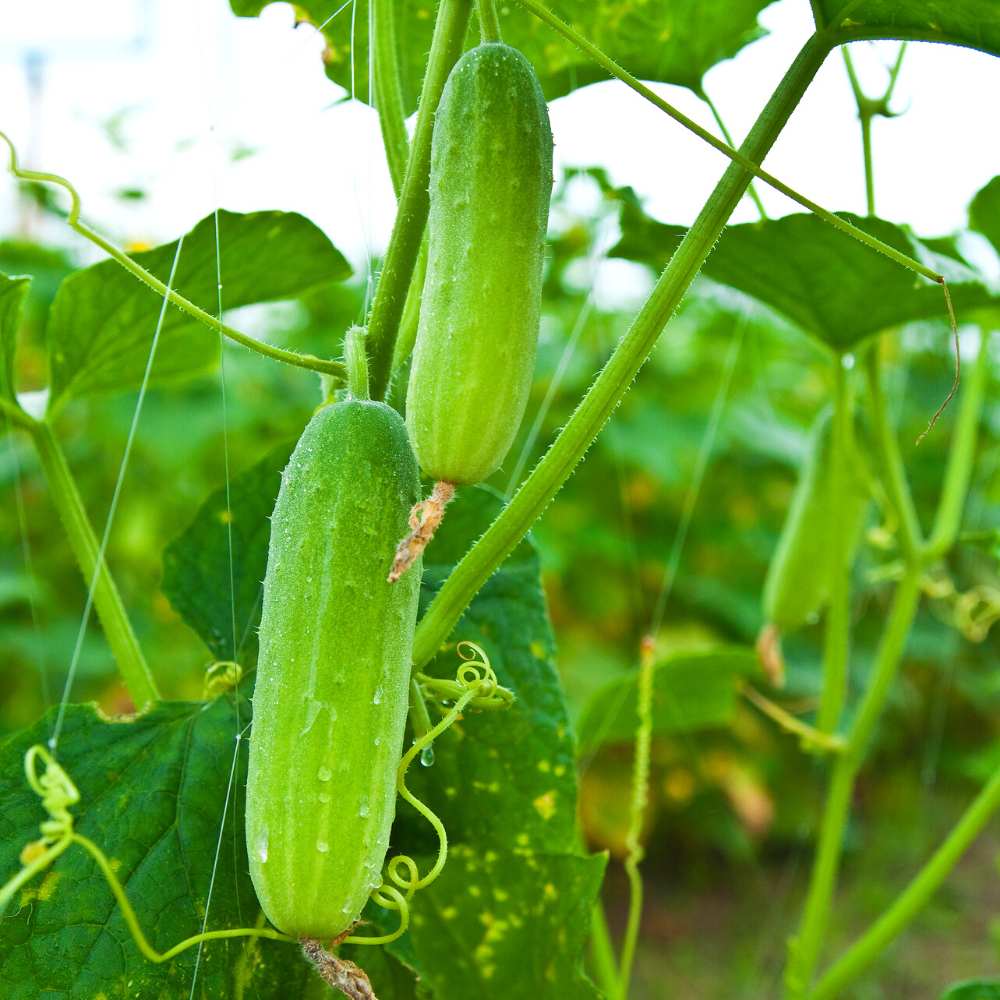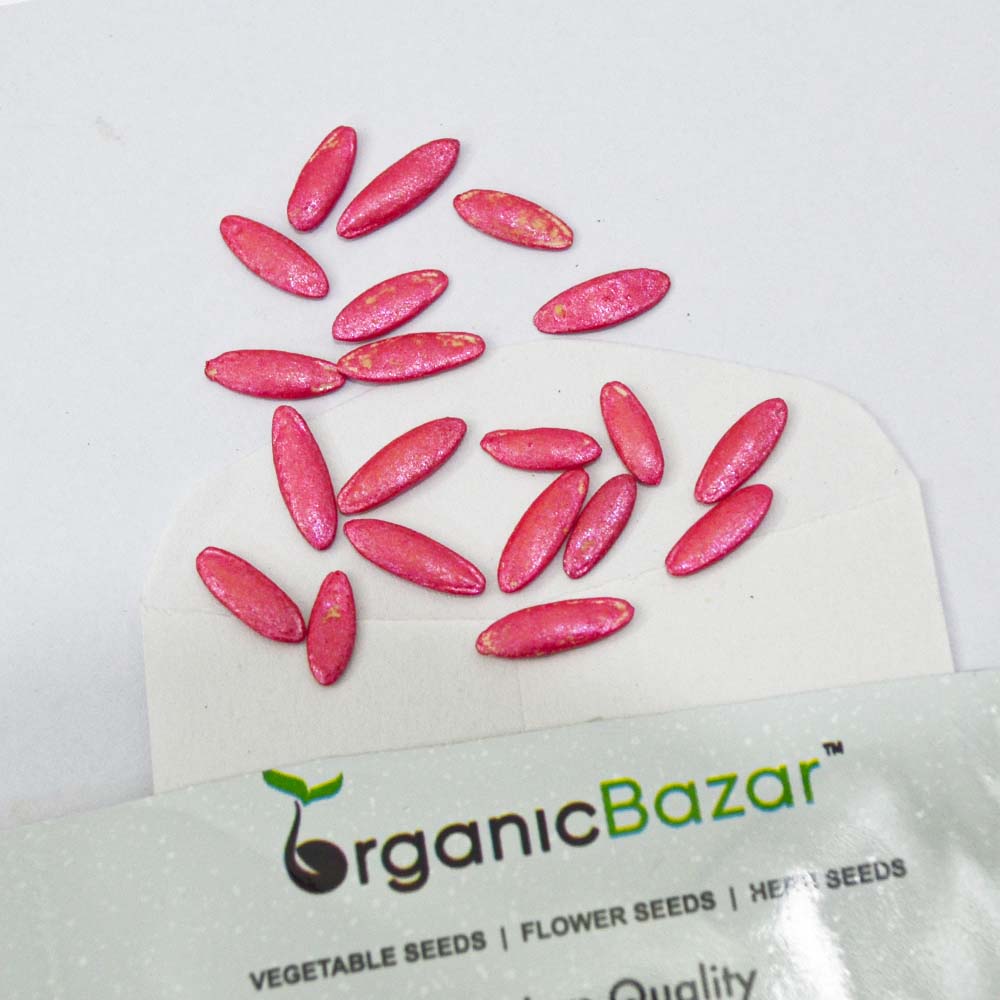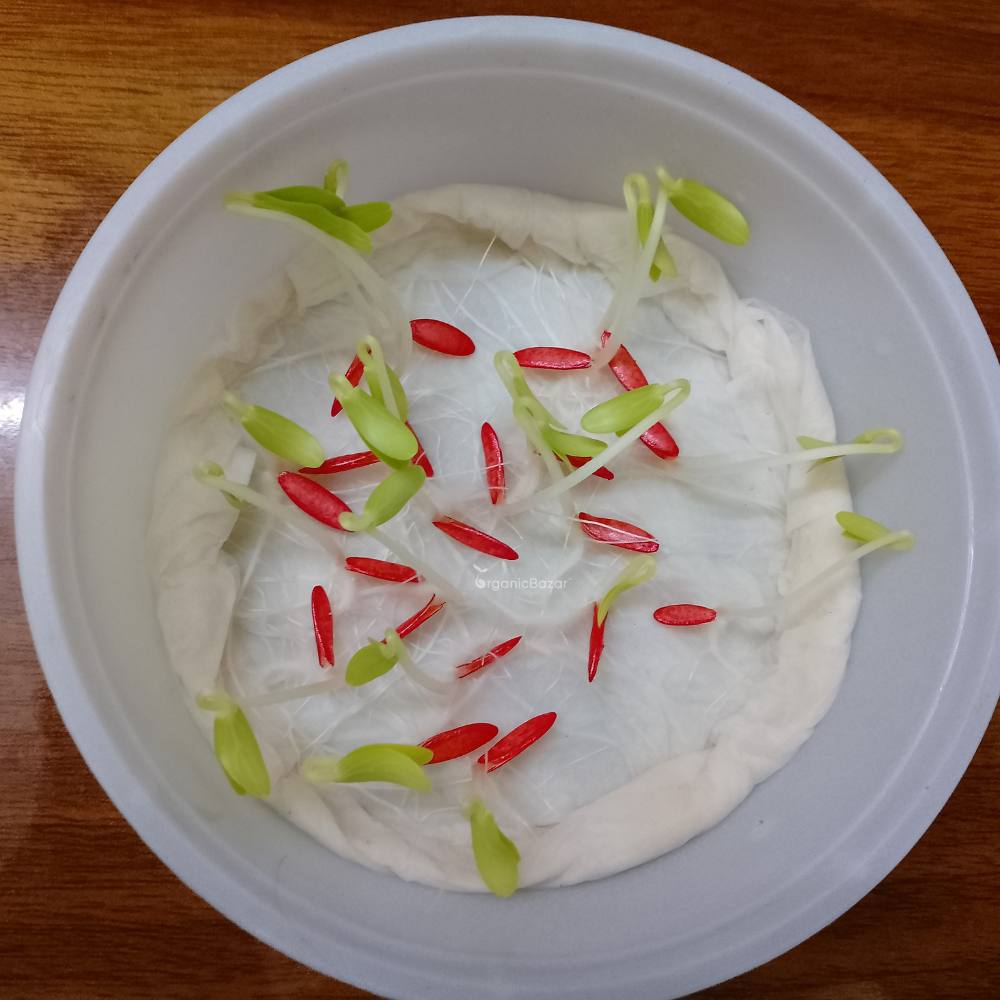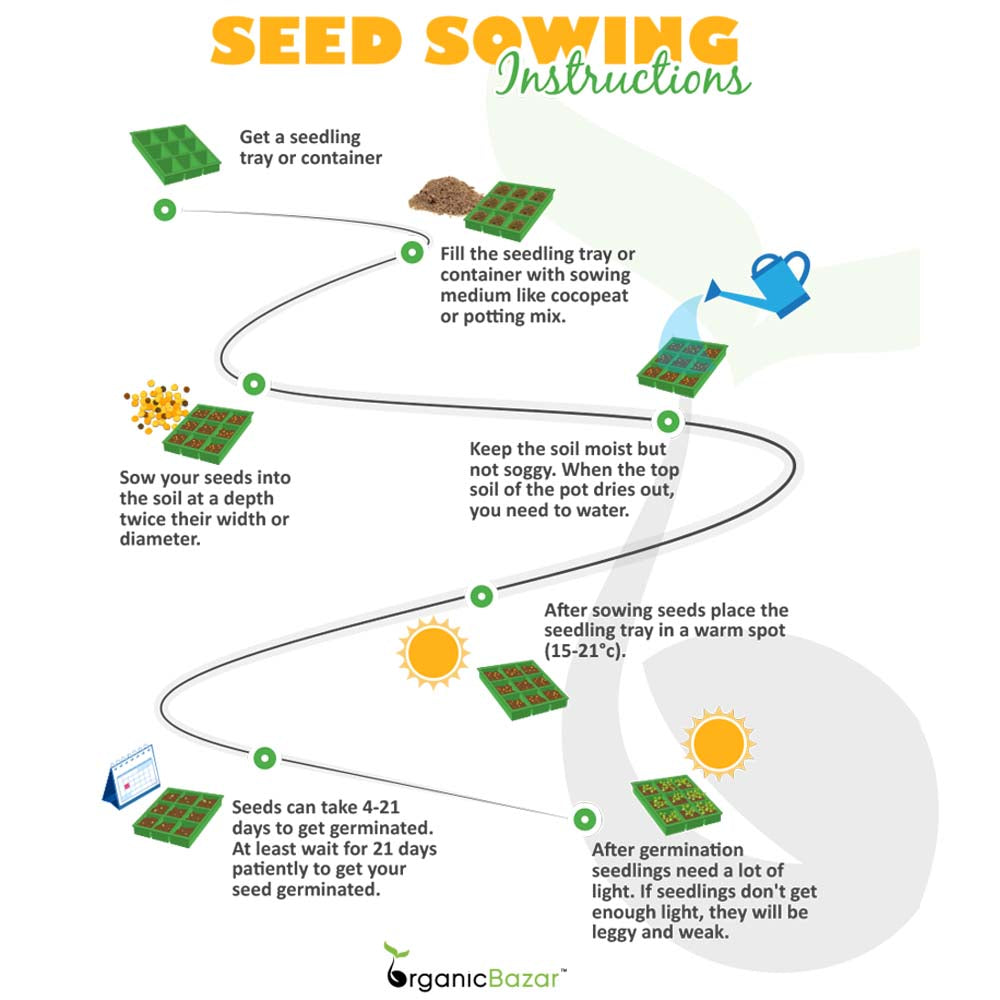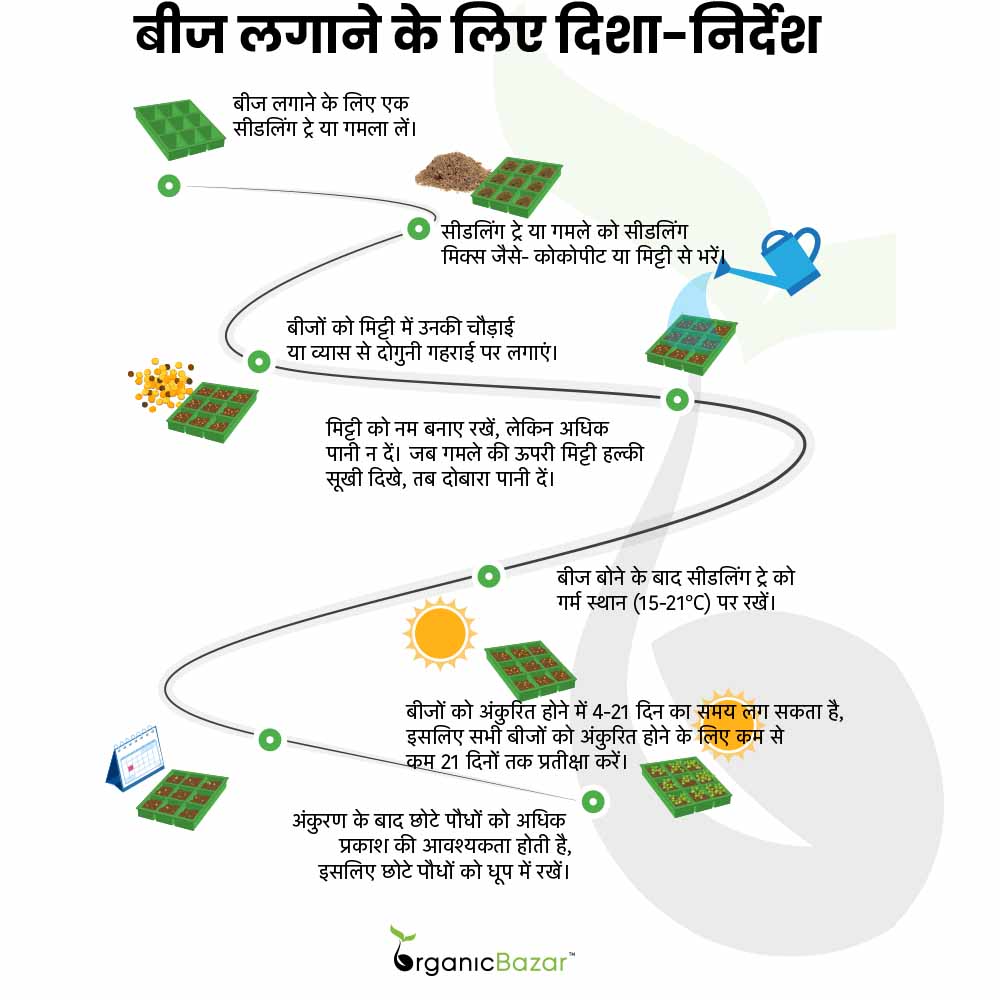 Cucumber Light Green F1 Hybrid Seeds (Kakdi/ककड़ी/खीरा के बीज)
Sale price
₹ 59.00
Regular price
₹ 99.00
Tax included.
Cucumber Light Green F1 Hybrid Seeds (Kakdi/ककड़ी/खीरा के बीज)
Sale price
₹ 59.00
Regular price
₹ 99.00
Product description
Shipping & Return
Cucumber light green variety contains Vitamins A, C, and K and is rich in magnesium, potassium, iron, calcium, copper, zinc, and many other nutrients and minerals. They are made up of around 95% water, during summer cucumbers make a great way to stay hydrated. Buy good quality Cucumber Light Green Hybrid Seeds best price in India from
www.organicbazar.net
with a High Germination rate.
About this item
Number of Light Green Cucumber (kheera) Seeds: 20 Seeds

Growing season: Spring, Summer, and Rainy 

Where to grow: Balcony or terrace garden

Mode of sowing: Sow the seeds 0.5 inches deep in a Container or Pot

Germination Time: 6 to 10 days from sowing

Germination temperature: 18-30°C

Harvesting: 50-60 days from sowing

Plant vigor: Strong plant
What size grow bag is best for Cucumber?
Cucumber Growing Season in India
You can grow cucumber in the spring, summer, and rainy seasons (February to June) because it is a hot weather plant. Cucumber plant grows quickly in hot climates and we can expect a good result this season.
Cucumber Seeds sowing method
You can sow Light Green cucumber seeds (kheera seeds) directly in any pots or grow bags about 0.5 inches deep in well-composted soil; water the cucumber seed with a
watering can
; seeds will germinate for about 6-10 days. Keep the container in a sunny spot because cucumber needs full sunlight for better growth.
Cucumber Plant Care Tips
Sunlight – 
Cucumbers prefer 6- 8 hours of full sunlight.
Water – 
Give 1 inch of water per week and keep the soil consistently moist. Inadequate or inconsistent moisture will be the reason for the poor taste of cucumber fruits and oddly shaped ones.
 Soil –
 Use fertile, well-drained soil for growing cucumber plants and soil should be neutral or slightly alkaline with PH 7.0.
Temperature – 
The cucumber plant grows best at temperatures between 15-32 degree Celsius.
Fertilizer – 
You can apply directly liquid fertilizer to the soil around the plant stem every 2 weeks or you can use slow-release fertilizer in the soil when you plant cucumber fruit.
Common pests 
– Pests that attack the cucumber fruit are whiteflies and cucumber beetles. Powdery mildew, root rot, and bacterial wilt are common diseases on cucumber plants. If you are facing this problem use the organic pesticide 
neem oil
.
Cucumber Harvest Time
Within 50-60 days from sowing, cucumber will be ready for harvest.
Regular harvest when cucumber is about 2-6 inches long (according to varieties).
Pick cucumbers before their seeds become hard and are eaten when the cucumber is immature and do not let them get yellow if you don't pick mature cucumbers then they will stop producing cucumber.
Cucumber special features
Common name – Kheera, kakdi, खीरा
Scientific name – Cucumis Sativus
Level of growing – Easy
Flower color – Yellow
Height – 3 to 12 feet (depending on variety)
Spread – 10 feet (vine) and 1-3 feet (bush)
FAQ
Why are my cucumber seeds not germinating?
Cucumber seeds will not germinate because of improper growing conditions like not getting enough sunlight, sowing seeds too deep in the soil, overwatering, or under-watering.
Why is my cucumber getting wilting?
Over-watering is the main reason behind wilting, so avoid over-watering and keep the soil moist.
Where is the best place to plant cucumber?                  
The balcony and terrace are the best options to plant cucumber fruit because it needs full light.
Shipping Costs
Free Delivery: Available for Orders Above INR 499.
Prepaid Orders Below INR 499: Shipping Charge of INR 54.
Cash on Delivery Orders Below INR 499: Shipping Charge of INR 84.

Return Policy
Satisfaction Guaranteed: Return or Exchange Within 7 Days of Delivery.
Technical Details
Package Dimension: 12*9cm
Item Weight : 30mg
Net Quantity: 20N
Colour : N/A
Assembly Required: No
SKU : Cucumber-Light-Green

Additional Information
Brand : OrganicBazar
Country of Origin: India
Manufacturer: HEALTHUNBOX PRIVATE LIMITED
Consumer Care: Phone: 9513316259 | Email - support@organicbazar.net
Consumer Care Address: P NO 225, NEAR OF WATER TANK, VIPATPURA, Narsinghpur (M.P) 487001
Reviews
Savarmal Sirvi Fast Reply me Sir
Sir, if I want to grow cucumber in one bigha, how many kilos of seeds will I need? Reply Fast
We provide seeds that are good for terrace and balcony garden but if you will use it in big fields you have to buy more packets.