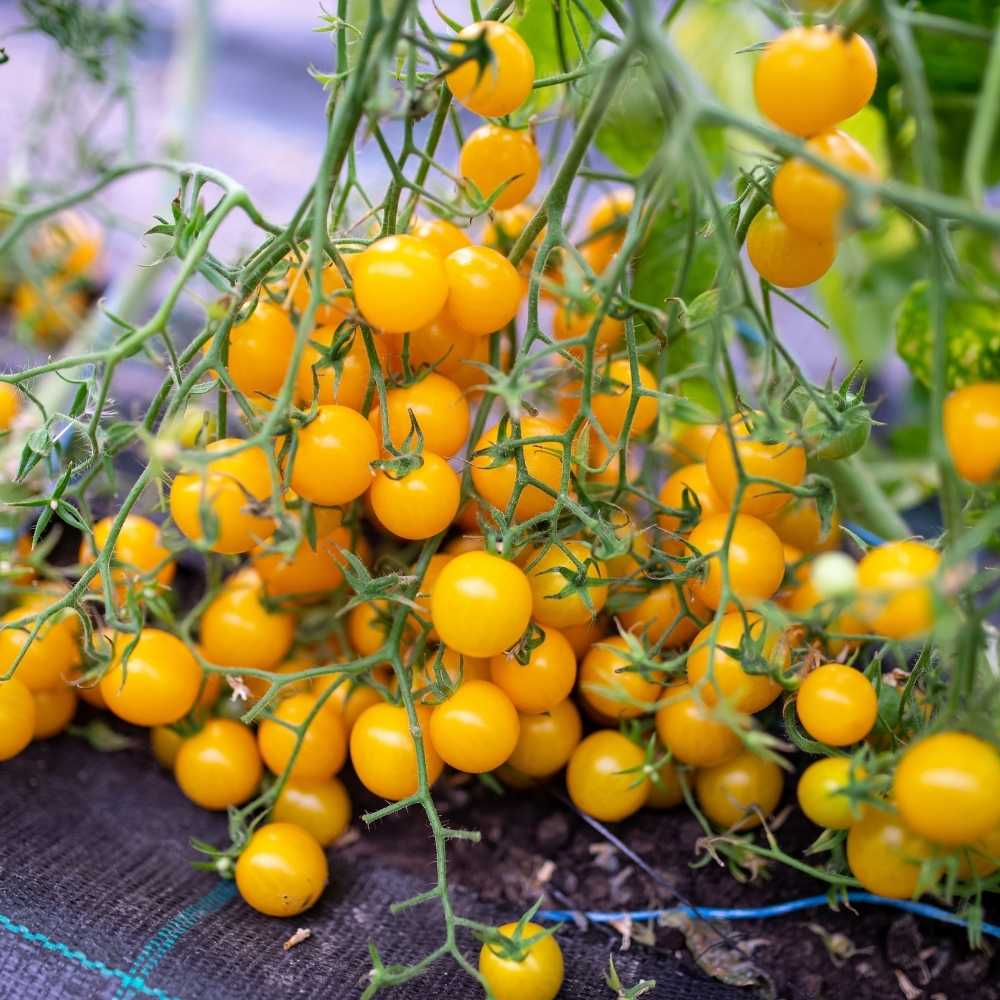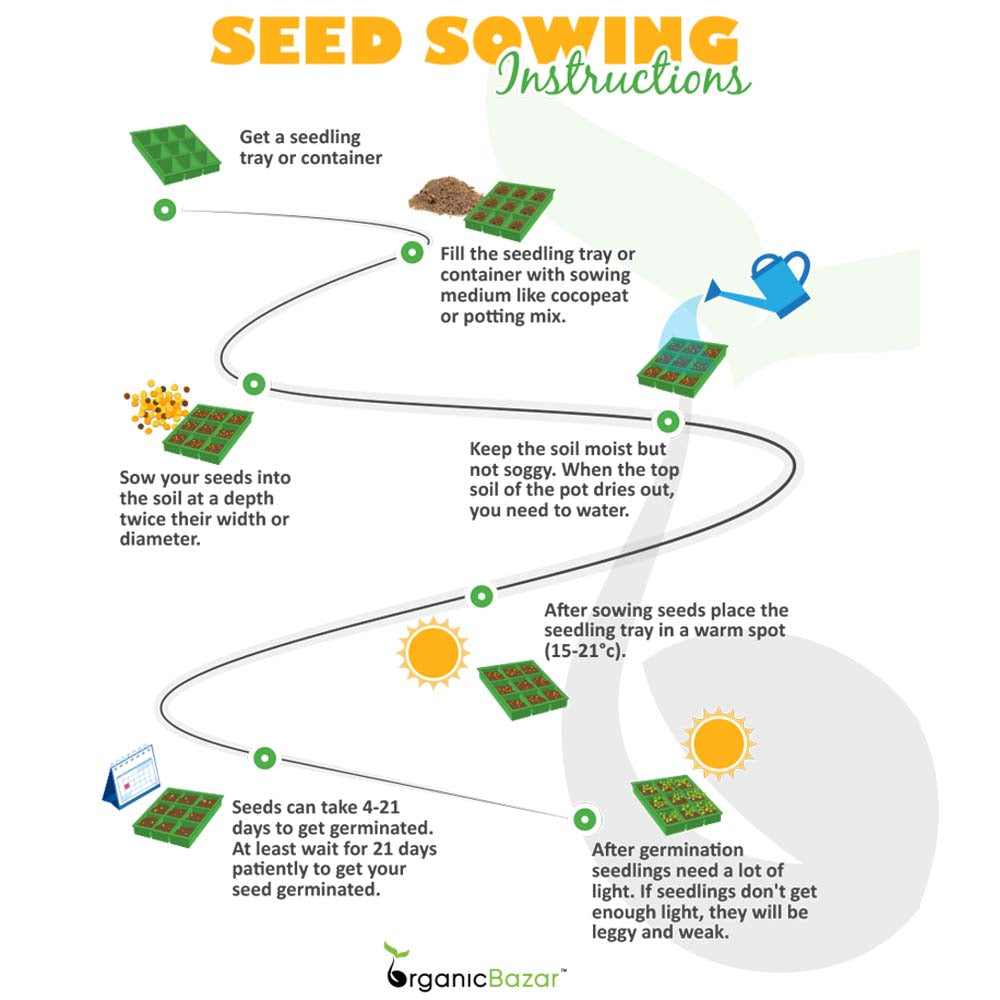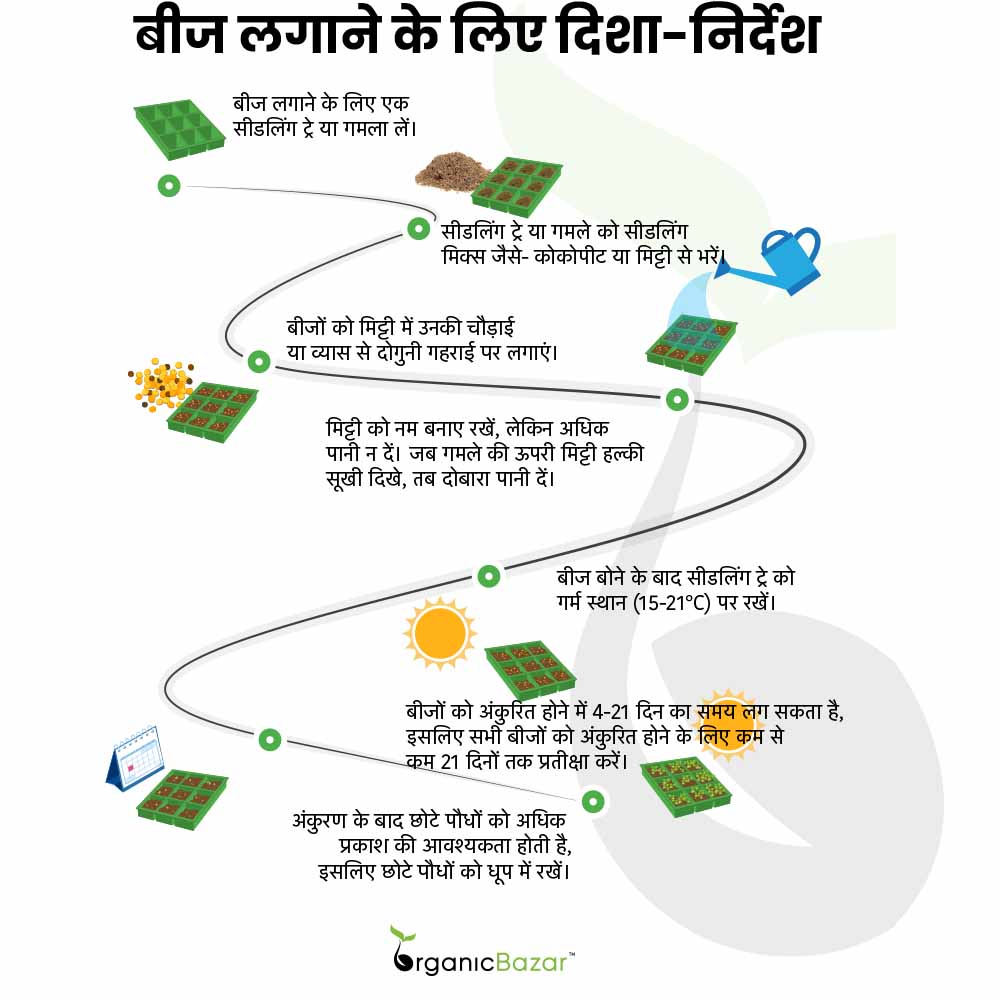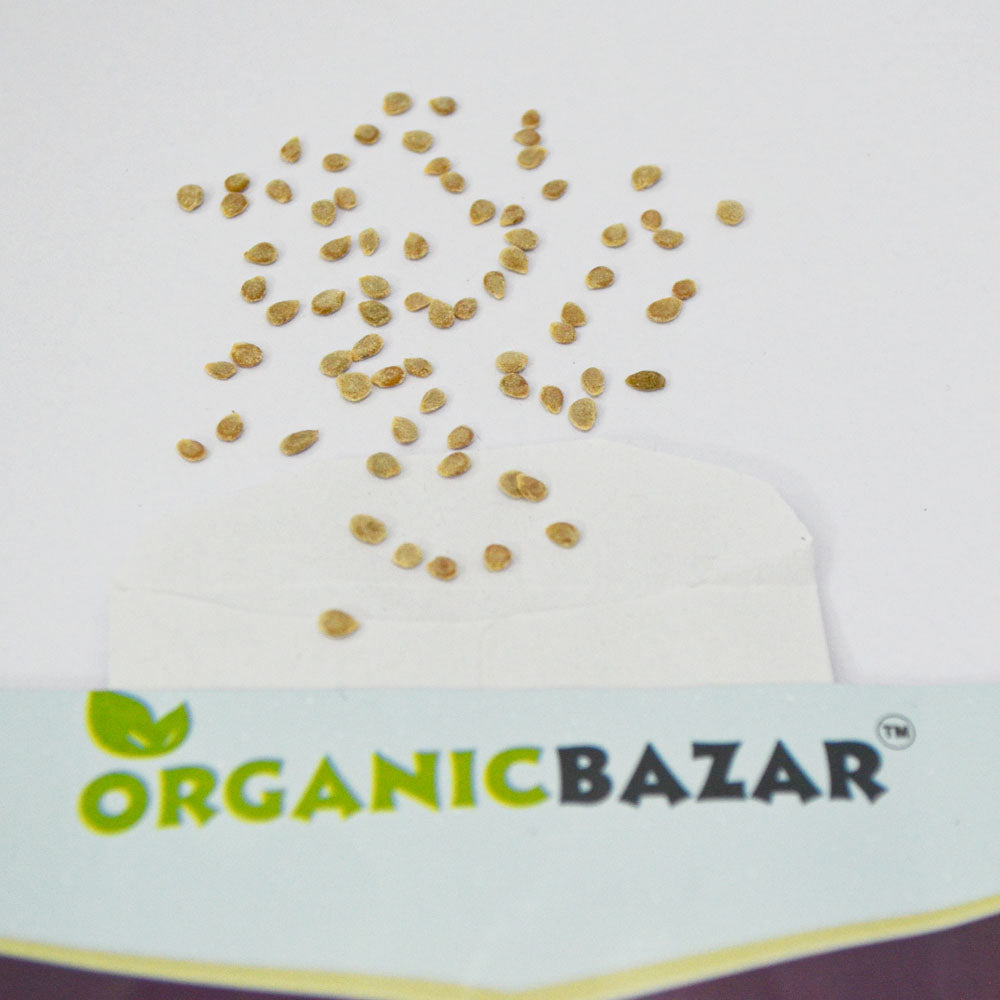 Cherry Tomato Yellow Currant Seeds (Cherry Tamatar/चेरी टमाटर के बीज)
Sale price
₹ 59.00
Regular price
₹ 199.00
Tax included.
Out of stock
We will notify you once product becomes available.
Cherry Tomato Yellow Currant Seeds (Cherry Tamatar/चेरी टमाटर के बीज)
Sale price
₹ 59.00
Regular price
₹ 199.00
Product description
Shipping & Return
Yellow Currant Cherry tomatoes are the smallest, soft tomato which gives a unique flavor to our dishes; you can eat cherry tomatoes raw or cooked with vegetables. Cherry yellow currant tomatoes are sweet-tart flavor and firm, juicy texture. This variety is known to be high yielding, producing a large number of yellow small fruits throughout the seasons. Like other tomatoes, cherry tomatoes are very easy and simple to grow; it gives a stunning look to your home garden or kitchen garden. Buy the Best quality Cherry Tomato Yellow Currant Seeds Online at the best price from
www.organicbazar.net
 with a good germination rate.
About this item
Number of

Cherry Tomato (Yellow Currant)

Seeds: 50 Seeds
Where to grow: Balcony or terrace garden
Sowing season: Throughout the year (

Best time spring or autumn season

)
Mode of sowing: Sow the seeds 0.5 cm deep in a seedling tray or Container, or Pot. Transplant in 25 to 30 days
Germination Time: 6 to 14 days from sowing
Germination temperature: 18°C to 27°C
Harvesting: 60 to 70 days from transplanting
Plant vigor: Strong plant
What size grow bag is best for

Cherry

tomatoes?
Cherry Tomato Yellow Currant Growing Season In India
Cherry tomatoes (Yellow Currant) can grow all season throughout the year but if you want to get the best and most successful results, sow the seeds in the spring season (February to April) or autumn season (September To November).
How To Grow Cherry Tomato At Home In Pot
Usually, yellow cherry tomato currant seeds are sown in
seedling trays
and then transplanted after the seeds have germinated, the transplant is necessary as it allows the tomato plant to grow freely. To plant yellow currant cherry tomatoes, you need a
pot or grow bag
of at least 12-18 inches (width and height) with well-draining holes. You can sow cherry tomato seeds either indoors or outdoors in warm climates and the optimum temperature for seed germination is between 18-27°C. Give your cherry tomatoes plant proper sunlight and the soil should be moist.
The best soil mix for planting cherry tomatoes is:
Cherry Tomato Yellow Currant Seeds Sowing Method
Select a seedling tray or small-sized pot (up to 5 inches deep), fill with a growing medium such as
coco peat
or
potting mix
, and sow 2-3 cherry tomato yellow currant seeds in about 0.5cm deep per cup. Water gently and keep the soil moist. Keep the cherry tomato seedling in a location, where it receives proper sunlight. Cherry tomato seeds will germinate within 6-12 days (depending on growing condition).
Transplant Cheery Tomato (Yellow Currant) Seedlings Into Big Pot
After cherry tomato seeds germination, when seedlings are 6-8 inches tall at that time transplant the healthiest plant carefully (without disturbing their root) into pots/grow bags and set the seedling 6-8 inches apart from each other. Keep the pot in a location where small cherry tomato plants get 6-8 hours of proper sunlight and give water whenever you feel that soil becomes dry.
How To Fertilize Yellow Cherry Tomato Plants
Cherry Tomato Yellow Currant Plant Care Tips
Soil –
Use loamy, well-drained soil with a pH of 6.0-6.8 for planting cherry tomatoes.
Sunlight –
A cherry tomato plant need 6-8 hours of full sunlight every day.
Water –
Cherry tomato plant needs regular water or deep watering in summer days for better or fast growth of plants and give water once in 3 days during winters.
Temperature –
Optimum temperature for growing cherry tomato is 15-30 degree Celsius and should not be less than 10 degree Celsius.
Common pests and diseases –
Some pests like Aphids, cutworms, caterpillars, and root-knot nematode can attack the cherry tomato plants. Powdery mildew and bacterial milt is the main disease that infected cherry tomato plants. To get rid of this problem, it would be right to spray
neem oil
on the tomato plant from time to time.
Support –
When cherry tomato plants begin to grow they need more space; provide support such as pipe, bamboo, rope, or wire to produce more fruit.
Pruning Cherry Tomato (Yellow Currant) In Pots
Plants Pruning is very important to remove tomato suckers (a new stem growing from the joint of the main stem) and extra stems Pruning removes unnecessary load from the tomato plant and allows more nutrients to support flowering and fruiting, resulting in higher yields and the production of delicious cherry tomatoes. Pruning should be done from time to time when the plant is growing and especially when it starts flowering and fruiting.
Use
pruning shears
and remove any suckers or new stems, small stems that grow from the main stem, and cut off any dried or infected leaves.
Yellow Currant Cherry Tomato Flowering Time And Pollination
Within 40-45 days from transplanting, cherry tomato plants will start flowering. Cherry tomato plants will self-pollinate (which means each blossom contain male and female part), and they are good at attracting bees and other pollinators to the garden.
How To Harvest Cherry Tomato Yellow Currant
Cherry tomato is usually ready to harvest within about 60-75 days of transplanting.
Pick the ripe tiny, round, bright yellow 1/2 inches cherry tomatoes fruits and they easily detach from their stem.
Harvest cherry tomatoes every 1-2 days to produce more tomatoes, and if you left cherry tomatoes on the plant for too long, they will crack or drop off the stem.
The plant will continue to produce cherry tomato fruits until the first frost.
Yellow Currant Cherry Tomato Special Features
Common name – Cherry Tomato, Sun gold cherry tomato and Golden cherry tomato
Scientific name – Solanum Pimpinellifolium
Plant height – 4 to 8 feet
Flower color – Yellow
FAQ
Does the yellow cherry tomato plant need sun or shade?
Cherry tomatoes are a most productive vegetable that needs maximum sunlight (at least 6-8 hours) for the fast growth of plants.
How do I know if my yellow cherry tomatoes are ripe?
Cherry tomatoes are ripe when the shiny green turns to a yellow color and the inside will be also yellow.
Why is my yellow cherry tomato leaves curling?
Heat and low moisture can cause the curling of cherry tomato leaves.
What are the signs of overwatering yellow cherry tomato plants?
The most common sign of overwatered cherry tomato plants is yellowing of leaves, wilting of plants, and cracking of fruits.
Should I water yellow cherry tomatoes every day?
Yes, you should water cherry tomatoes every day, but make sure the soil is moist, not soggy.
Why are my cherry tomatoes yellow seeds not germinating?
Yellow cherry tomato seeds will not germinate because of improper growing conditions like not getting enough sunlight, over watering, or underwatering.
Why are my yellow cherry tomato plants not growing well?
Yellow cherry tomato plants will not grow if the soil is too warm or too wet.
Why is my yellow cherry tomatoes plant not flowering?
Cherry tomatoes will not flower (or fruit), generally caused by the temperature that is either too hot or too cold. Make sure that your tomato plant receives at least 6 hours of full sunlight for the fruit set.
Why does my yellow cherry tomatoes flower dying but not fruits?
Yellow cherry tomato with no fruits may be the result of incorrect temperature and lacks pollination.
What causes leaves on the cherry tomato plant to turn yellow?
The most common reason for yellow leaves on tomato plants is either under watering or lack of nutrients in the soil. Give proper water to the cherry tomatoes plant, keep the soil moist and apply nutrients to the soil.
Why is my cherry yellow tomatoes plant suddenly dying?
Improper watering practices like under watering or over watering and fungal wilt disease are the main reason for cherry tomato plants to die. Tomatoes plants cannot survive without water but too much water also kills the plants.
Note : Images are for reference purposes only. Actual product may vary in shape or appearance based on climate, age, height, etc.
Shipping Costs
Free Delivery: Available for Orders Above INR 499.
Prepaid Orders Below INR 499: Shipping Charge of INR 54.
Cash on Delivery Orders Below INR 499: Shipping Charge of INR 84.

Return Policy
Satisfaction Guaranteed: Return or Exchange Within 7 Days of Delivery.
Technical Details
Package Dimension: 12cm*9cm
Item Weight : 15mg
Net Quantity: 50N
Colour : N/A
Assembly Required: No
SKU :

Additional Information
Brand : OrganicBazar
Country of Origin: India
Manufacturer: HEALTHUNBOX PRIVATE LIMITED
Consumer Care: Phone: 9513316259 | Email - support@organicbazar.net
Consumer Care Address: P NO 225, NEAR OF WATER TANK, VIPATPURA, Narsinghpur (M.P) 487001
Reviews
Satisfied with seeds and result.