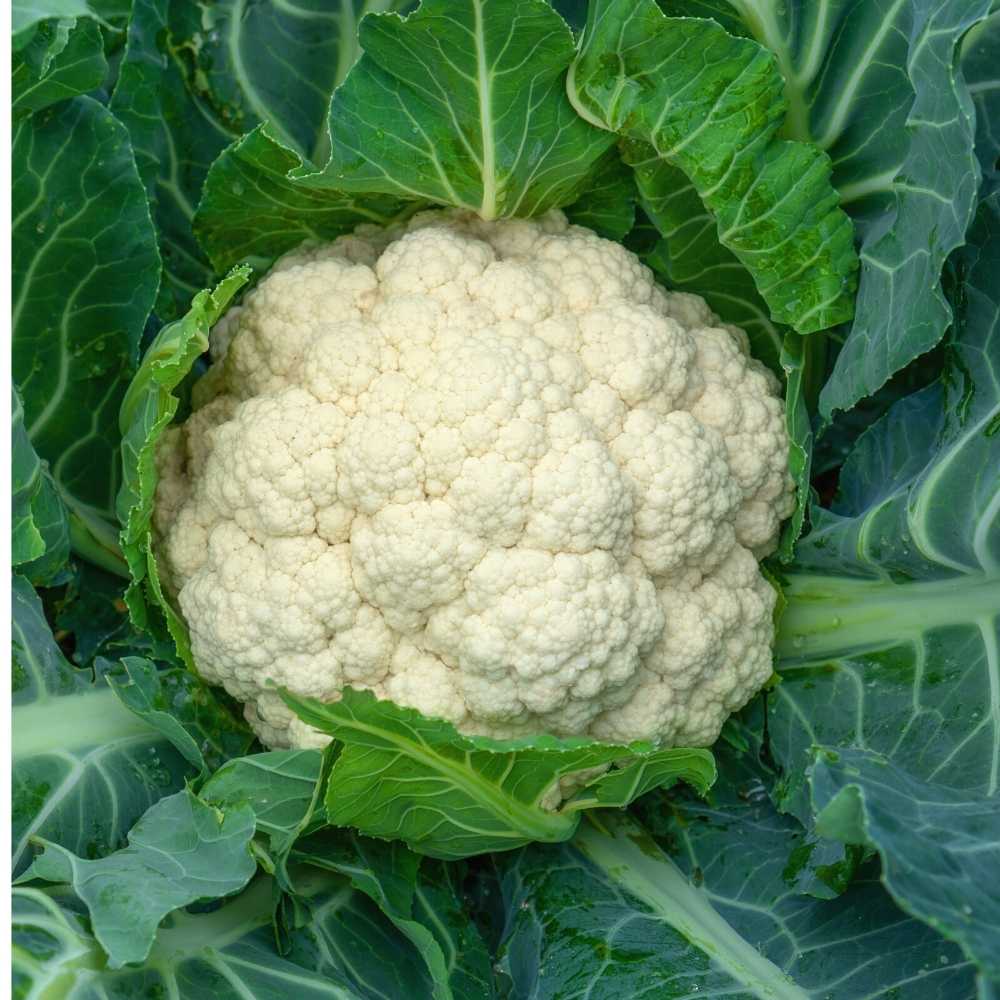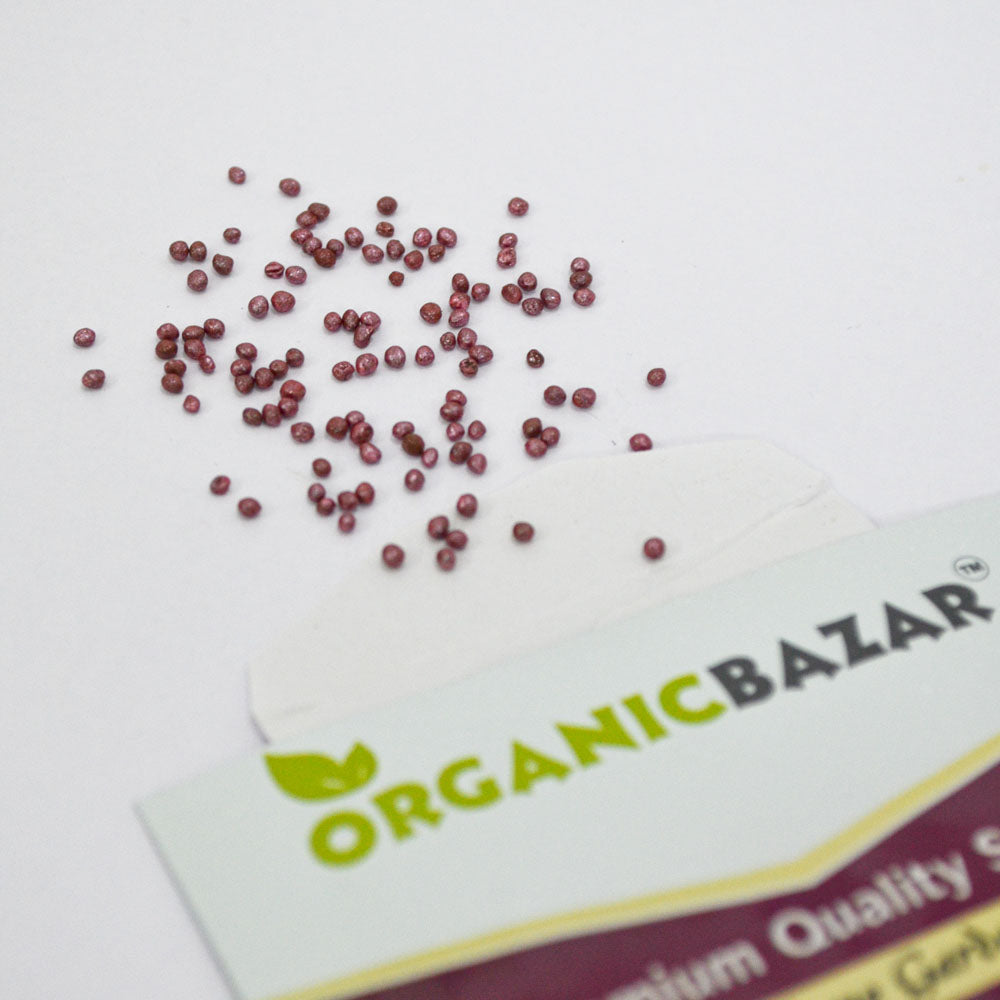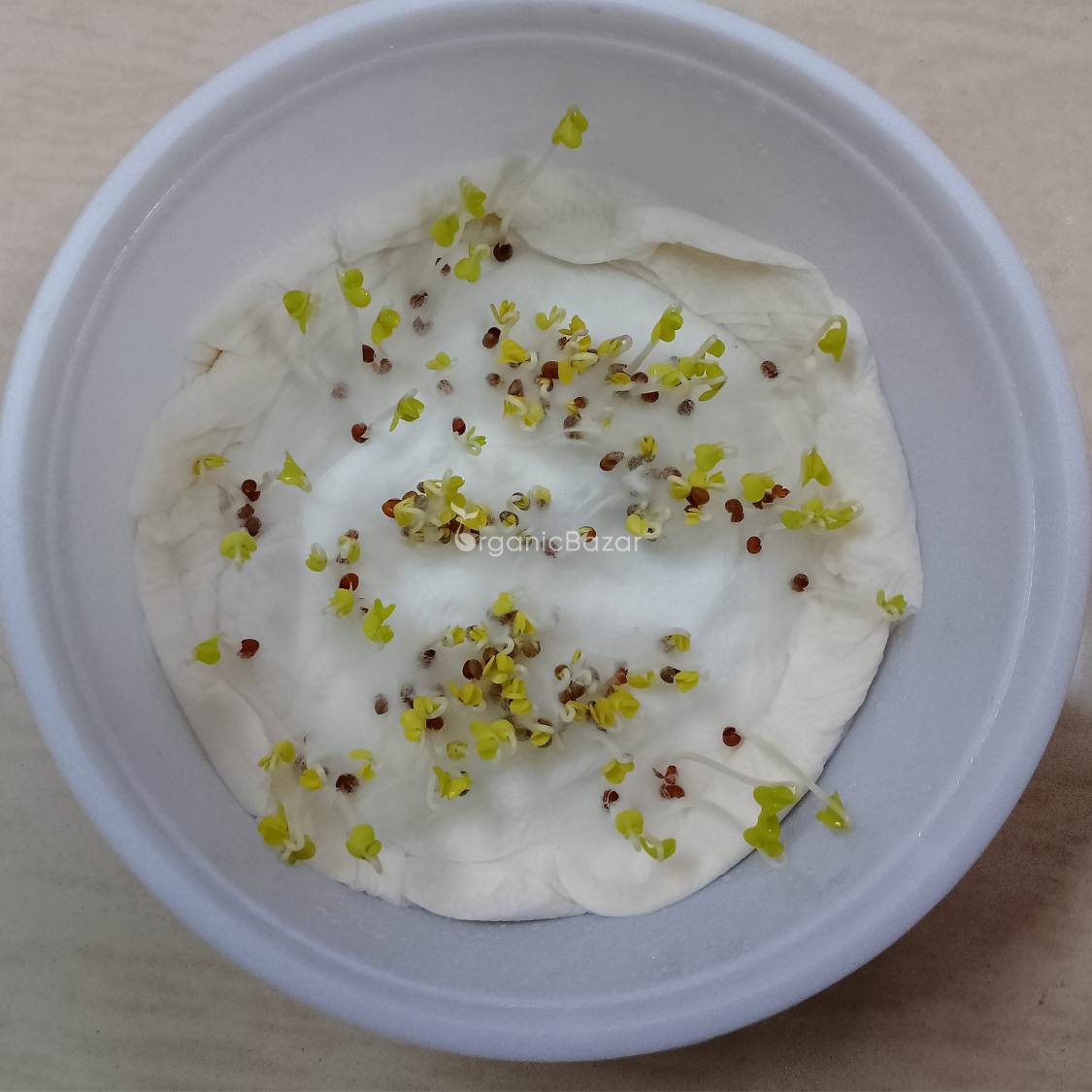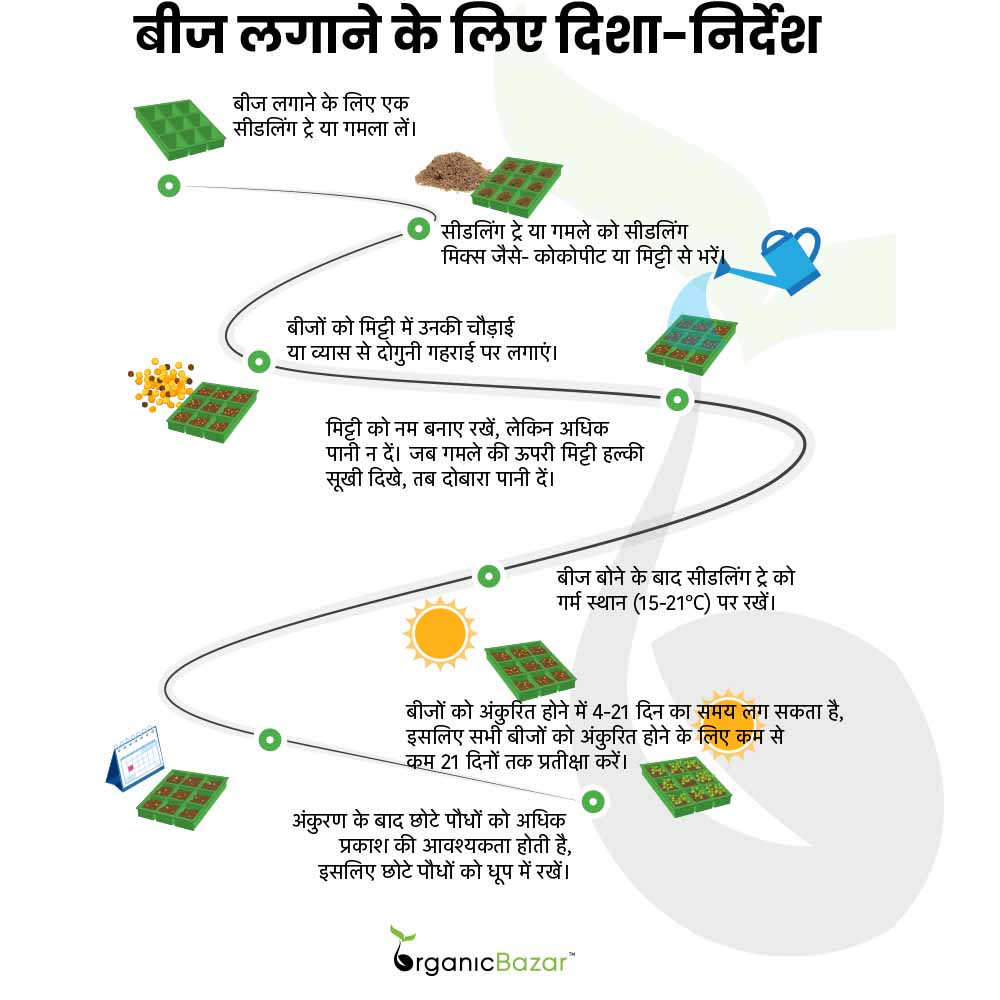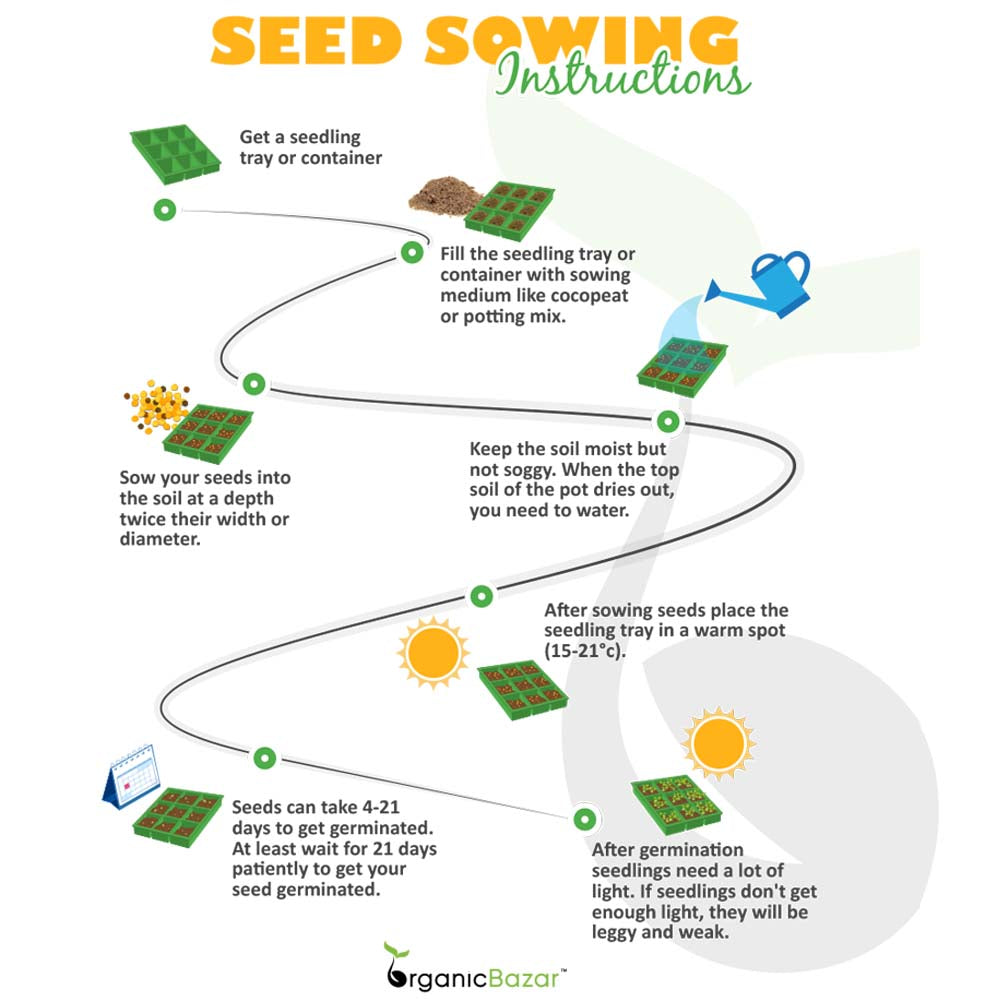 Cauliflower Seeds Hybrid (Phool Gobhi/फूलगोभी के बीज)
Sale price
₹ 59.00
Regular price
₹ 99.00
Tax included.
Cauliflower Seeds Hybrid (Phool Gobhi/फूलगोभी के बीज)
Sale price
₹ 59.00
Regular price
₹ 99.00
Product description
Shipping & Return
This is the most common variety of cauliflower (Phool Gobhi) that is white and has a soft head surrounded by green leaves. It tastes good. Cauliflower has a mild, sweet, and nutty flavor. Cauliflower, also known as Phool gobhi, contains a good amount of nutrition. Buy the best quality Cauliflower Seeds Hybrid Online at the best price in India from
www.organicbazar.net
with a high germination rate.
About this item
Number of Cauliflower seeds (Phool gobhi ke beej): 100 Seeds 

Where to grow: Balcony or terrace garden
Growing season:

Winter Season 

Sowing method: Direct or Seedling Transplant

Seeds sowing depth: 0.5 inches deep

Germination Time: 7 to 14 days

Germination temperature: 15-25°C

Harvesting: 90 to 120 days from sowing

Plant vigor: Strong plant
What size grow bag is best for Cauliflower (
Phool gobhi

)?
Cauliflower Growing Season In India
Cauliflower is a cold-loving vegetable; sow cauliflower seeds from winter to early spring so they can grow and produce their flower heads before hot summer temperatures arrive. The best month for growing cauliflower is September to February.
How To Grow Cauliflower In A Container 
Cauliflower is a cool-season vegetable that is planted directly in a
pot/grow bag
but can also be started in a
seedling tray
 and then transplanted. The optimum cauliflower germination temperature is 15-25 °C.
Sow Hybrid Cauliflower Seeds in a pot with a
potting mix
 about 0.5 inches deep in the soil and 6-8 inches apart from each seed. Place the seedling tray indoors in an area with indirect light; cauliflower seed germination time is 7-14 days; keep the soil moist. If you have sown seeds in a seedling method or in a small pot, transplant the seedling within 21 to 25 days (plant the sapling along with its root balls and do not damage the root system).
Best Fertilizer For Cauliflower
For better results for cauliflower plants, side dresses the plant with nitrogen fertilizer and feed for 2-4 weeks with any organic fertilizer like
Neem cake
,
cow manure
, or
vermicompost
.
Cauliflower Plant Care Tips
Soil –
The cauliflower plant requires consistent soil moisture. For better growth of plants, use well-drained, fertile soil high in organic matter with ph 6.0 to 7.5.
Sunlight –
Cauliflower needs at least 6 hours of full sunlight also it can tolerate partial shade but will slow maturity.
Temperature –
Ideal temperature for cauliflower plants is from 15-30°C.
Water –
Cauliflower does not require much water; it needs only 1-2 inches of water in a week.
Common pests –
Usually pests like cabbageworm, cabbage root maggot, and aphids are found in cauliflower plants. The cauliflower plant is infected by some diseases like a white spot or leaf spot, black rot, downy mildew, clubroot, and blackleg, etc; treat your plant immediately with organic pesticides such as
neem oil
.
How to Harvest Cauliflower
Sowing cauliflower from seed will take about 90 to 120 days to harvest.
Cut the cauliflower, when the head is compact, thick, and white. Identically when the heads will grow 6 to 8 inches in diameter; cut the head off the plant with a large knife.
Cauliflower Special Features
Common name – Gobhi, Phool gobhi, फूलगोभी
Scientific name - Brassica oleracea var. botrytis
Flower color - White
Difficulty level - Moderate
Edible part - Flower
Note: Images are for reference purposes only. The actual product may vary in shape or appearance based on climate, age, height, etc.
Shipping Costs
Free Delivery: Available for Orders Above INR 499.
Prepaid Orders Below INR 499: Shipping Charge of INR 54.
Cash on Delivery Orders Below INR 499: Shipping Charge of INR 84.

Return Policy
Satisfaction Guaranteed: Return or Exchange Within 7 Days of Delivery.
Technical Details
Package Dimension: 12cm*9cm
Item Weight : 45mg
Net Quantity: 100N
Colour : N/A
Assembly Required: No
SKU : Cauliflower

Additional Information
Brand : OrganicBazar
Country of Origin: India
Manufacturer: HEALTHUNBOX PRIVATE LIMITED
Consumer Care: Phone: 9513316259 | Email - support@organicbazar.net
Consumer Care Address: P NO 225, NEAR OF WATER TANK, VIPATPURA, Narsinghpur (M.P) 487001
Reviews
Good quality of seed. 100℅ germinate
All seeds germinate and all are healthy
Thank you so much for sharing your positive feedback about our Cauliflower Seeds Hybrid (Phool Gobhi/फूलगोभी के बीज). We're delighted to hear that you found the seeds to be of good quality, and it's wonderful that they all germinated and are healthy.
Seeds
Seeds are super healthy,100% germination rate.
Thank you for taking the time to share your positive feedback.
Good quality seeds
3 months ago I bought cauliflower seeds and grow bags from the organic bazar.After 1 month, the cauliflower plant started growing very fast. Suddenly the cauliflower was attacked by insects. About 50℅ of cauliflower leaves were damaged by insects. Somehow the pest was controlled. I thought that now cauliflower will not bear fruits. But today the cauliflower plants are quite healthy and fruiting has also taken place.
Thats really amazing!!! Thank you for your kind words and for choosing Organic Bazar. We hope you continue to enjoy our products and have many successful gardening seasons to come!
Good quality of seed. 100℅ germinate
This is my second time. I ordered broccoli, cauliflower seeds from organic bazaar. Quality of seeds is good. 100℅ germinate.
We are glad to hear that all your seeds germinated. We strive to provide our customers with the best possible products and services. Thank you for your continued support!
Thank you, Archana Dwivedi, for your positive review of our Cauliflower Seeds Hybrid! We're delighted to hear that you found them to be good quality seeds.