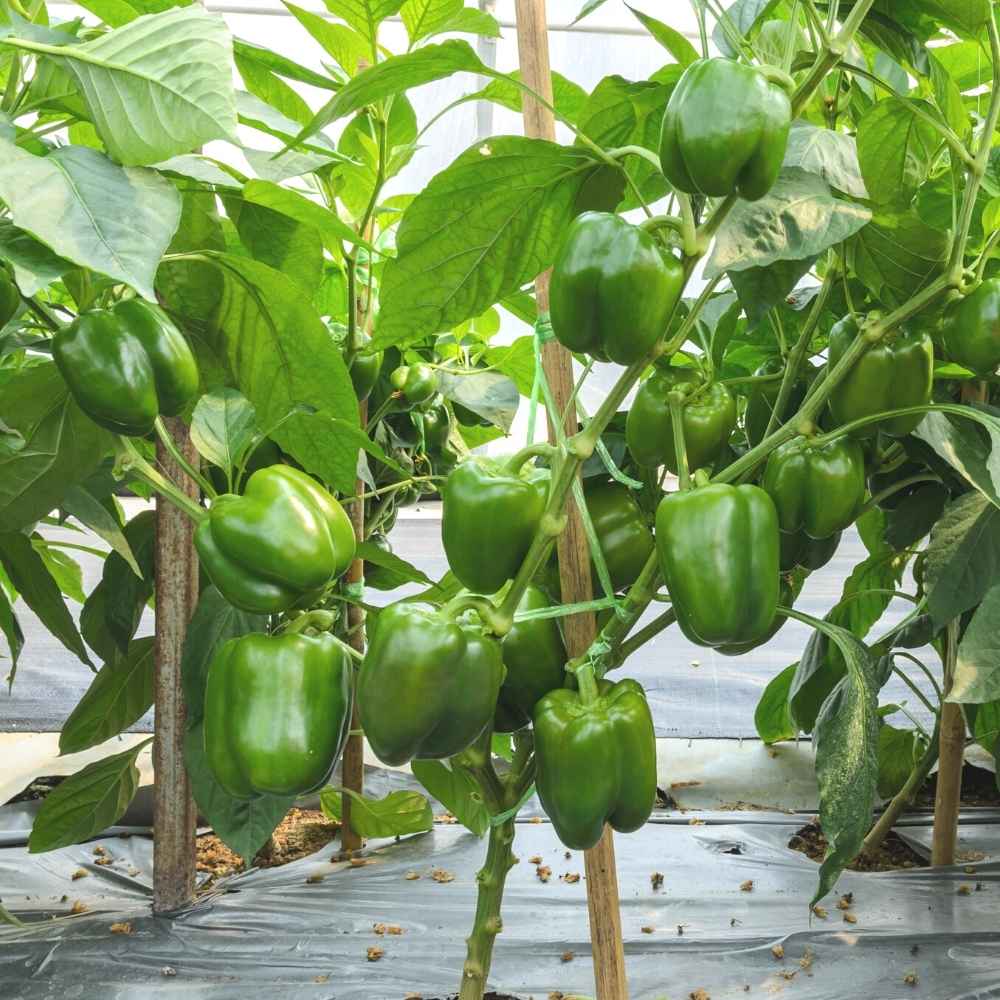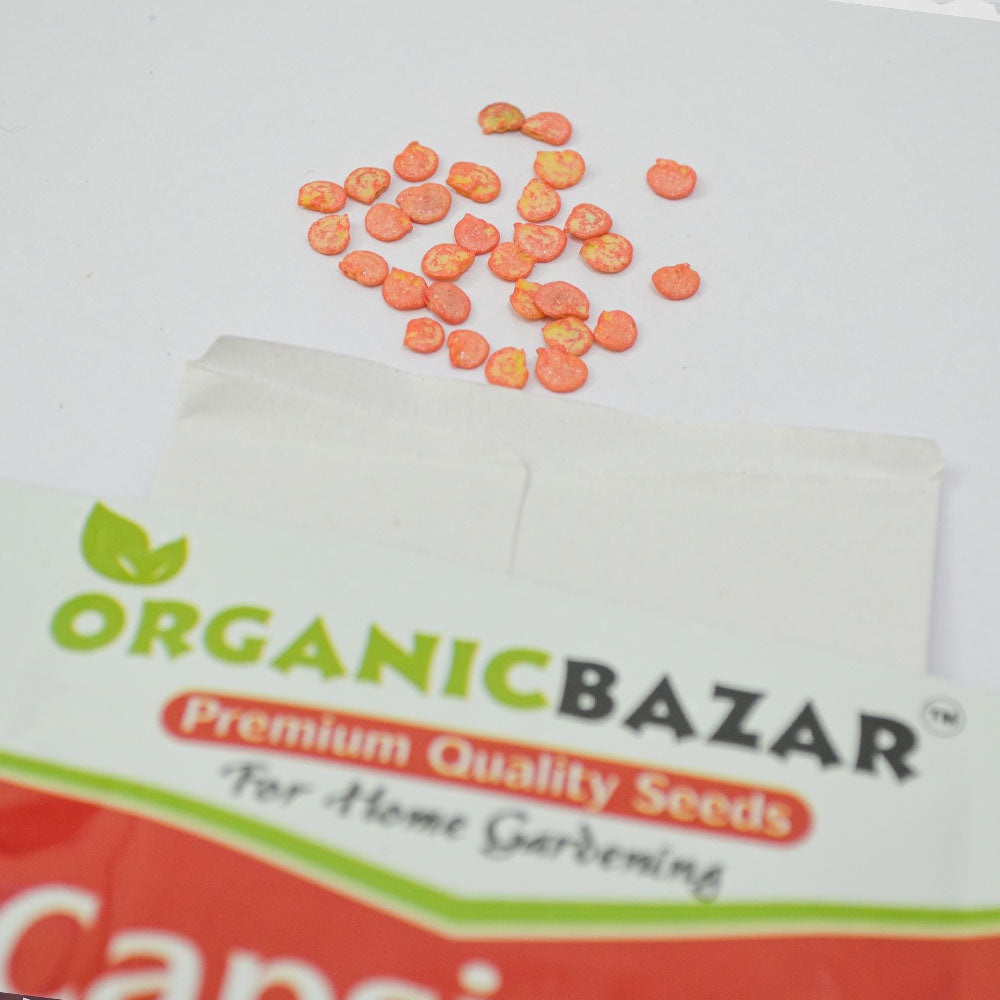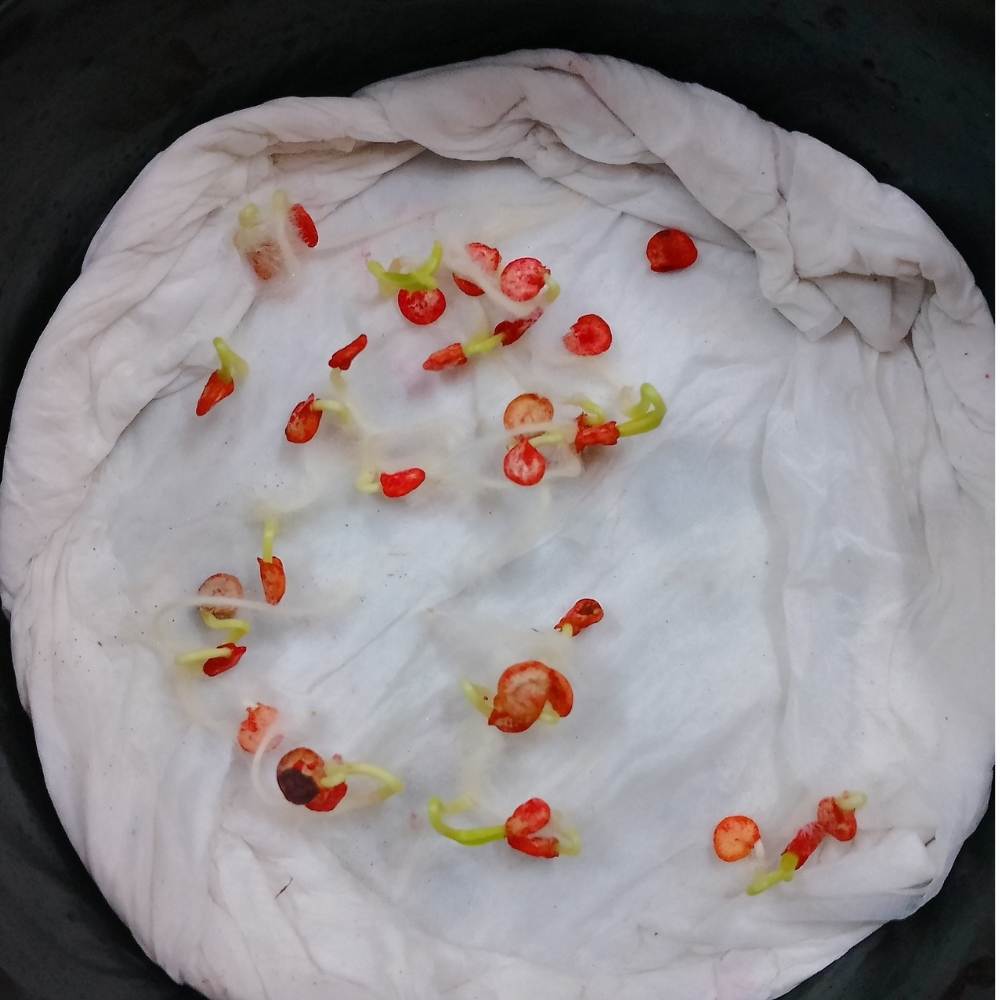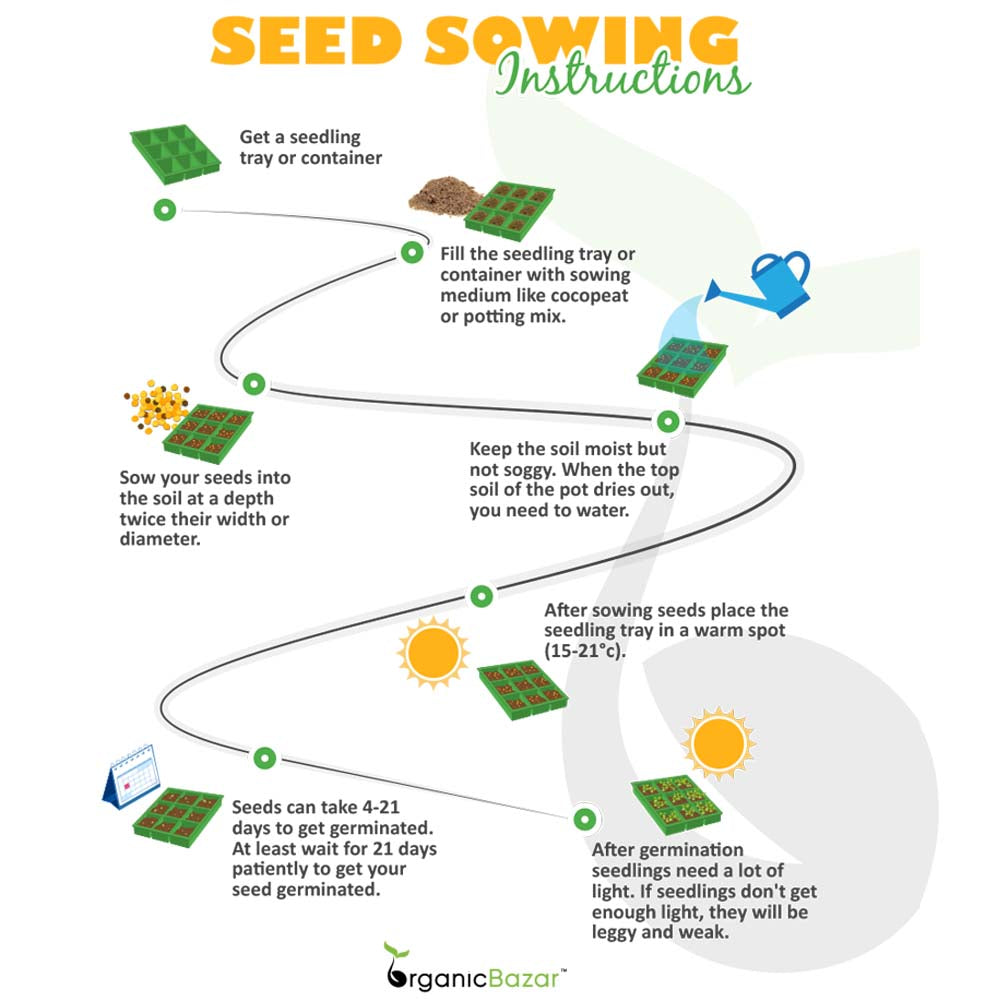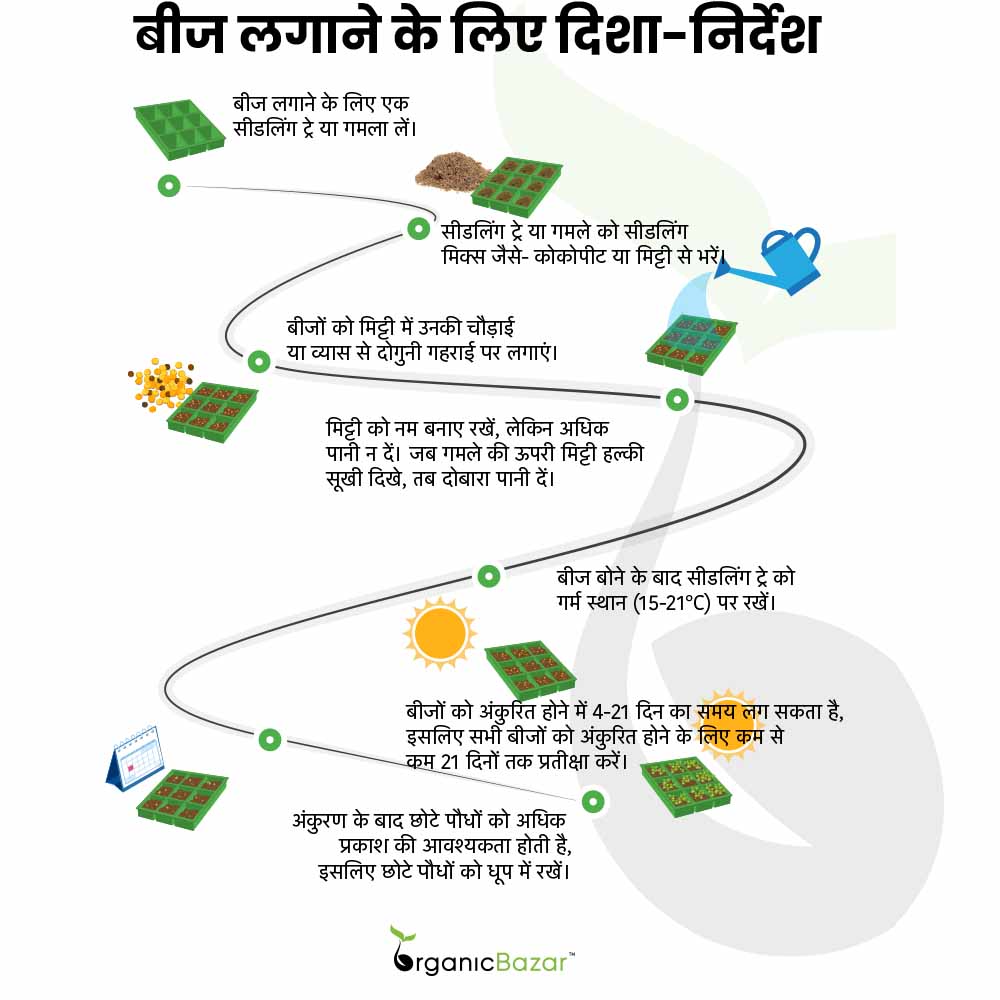 Capsicum (Hari Shimla Mirch) Seeds F1 Hybrid (हरी शिमला मिर्च के बीज)
Sale price
₹ 89.00
Regular price
₹ 149.00
Tax included.
Capsicum (Hari Shimla Mirch) Seeds F1 Hybrid (हरी शिमला मिर्च के बीज)
Sale price
₹ 89.00
Regular price
₹ 149.00
Product description
Shipping & Return
This variety of capsicum (Green
Shimla mirch
) has a bitter taste, green with a less sweet, crisp, glossy, and moist flesh that can be added to salads and dish toppings or cooked for a decorative touch. Growing capsicum in pots is very easy and interesting to see capsicum plant growth stages and capsicum flower to fruit, read this information and know everything about capsicum cultivation and when to sow capsicum seeds in India. Buy the Best Quality Green Capsicum F1 Hybrid Seeds online at the best price in India from
www.organicbazar.net
with a High Germination Rate.
About this item
Number of green Capsicum seeds (Green Shimla mirch ke beej): 30 Seeds

Where to grow: Balcony or terrace garden

Sowing season: Throughout the year 

Sowing Method: Seedling transplant
Germination temperature: 18-30°C

Germination Time: 6 to 10 days 

Harvesting: 60 to 70 days from transplanting

Plant vigor: Strong plant with short internodes
https://youtu.be/qHmSif5_weA
What size grow bag is best for Green Capsicum?
Capsicum Growing Season In India 
The Capsicum plant can grow throughout the year in any season. it is generally prefers a temperature range of 18-30°C for optimal growth. The main growing seasons are summer (Februry – April), monsoon (June to July), and post-monsoon/autumn (September to october), with variations depending on local conditions.
June.
How To Grow Capsicum From Seeds At Home
Green capsicum seeds are sown in a 
seedling tray
and then transplanted after seed germination is the ideal method for all capsicum. Sow the capsicum seeds when the soil temperature is 18-30°C.
Capsicum Seeds F1 Hybrid Sowing Method 
Select a 
seedling tray
or small-size pot, fill it with growing medium, and spread capsicum hybrid seeds on it, then cover a thin layer of soil above the seeds. Give light water through a
watering sprayer
. Keep the seedling tray in a warm location but do not give direct sunlight till the seeds germinate and keep the soil moist. Capsicum seeds will germinate within 7-10 days.
When seedlings are 3-4 inches in height at that time transplant capsicum seedlings into individual pots and plant only 2-3 saplings per pot. Keep the pot in a sunny location where the capsicum plant gets 5-6 hours of sunlight and gives water whenever you feel that the soil becomes dry.
When To Fertilize Capsicum Green  
Mix any natural homemade fertilizer such as tea compost, fruit, and vegetable compost every month to increase the nutrient level in the soil.
Capsicum Plant Care Tips 
Soil
 – You can use loose, fertile, and well-drained soil for planting capsicum.
Water 
– On summer days, the capsicum needs regular water and during the winter or rainy season, give water once in 2-3 days.
Sunlight 
– Capsicum needs 6-8 hours of direct sunlight for the better growth of plants.
Temperature
 – Ideal Capsicum growing temperature is 21-32°C temperature.
Common pests and diseases
 – Pests such as whitefly, aphids, and spider mites attack plants and eat their leaves. And diseases like bacterial wilt, powdery mildew, and root rot infect capsicum plants. To avoid these insects or get rid of the disease, use 
neem oil
.
Harvesting Of Capsicum
Within 40 days from transplanting, the green capsicum plant starts flowering and the fruit should be visible within 5-10 days after pollination.
Green capsicum will be ready to harvest about 60-70 days after transplanting.
Capsicum Special Features 
Common names - Bell pepper and Sweet pepper
Hindi name - shimla mirch, शिमला मिर्च
Scientific name - Capsicum Annum
Height - 3 to 6 feet
Flower color - White
Level of growing – Easy
FAQ
Why are my capsicum seeds not germinating?
Capsicum seeds will not germinate because of improper growing conditions like not getting enough sunlight, sowing seeds too deep in the soil, overwatering, or under watering.
Shipping Costs
Free Delivery: Available for Orders Above INR 499.
Prepaid Orders Below INR 499: Shipping Charge of INR 54.
Cash on Delivery Orders Below INR 499: Shipping Charge of INR 84.

Return Policy
Satisfaction Guaranteed: Return or Exchange Within 7 Days of Delivery.
Technical Details
Package Dimension: 12cm*9cm
Item Weight : 25mg
Net Quantity: 30N
Colour : N/A
Assembly Required: No
SKU : Capsicum Hy

Additional Information
Brand : OrganicBazar
Country of Origin: India
Manufacturer: HEALTHUNBOX PRIVATE LIMITED
Consumer Care: Phone: 9513316259 | Email - support@organicbazar.net
Consumer Care Address: P NO 225, NEAR OF WATER TANK, VIPATPURA, Narsinghpur (M.P) 487001
Reviews
Growing process
They are still tiny baby . But I must tell that Seeds are good quality
We are glad to hear that you are pleased with the quality of our Capsicum (Hari Shimla Mirch) Seeds F1 Hybrid (हरी शिमला मिर्च के बीज). We hope that your plants continue to grow strong and healthy.
Thank you for the review.
All seeds and tools quality are very good
Keep it up all seeds and tools are very fine
Thank you for taking the time to leave a positive review about our Capsicum (Hari Shimla Mirch) Seeds F1 Hybrid (हरी शिमला मिर्च के बीज). We're delighted to hear that you found both the seeds and tools of excellent quality.
Dear Rajesh Patidar,
Thank you so much for your positive review of our Capsicum (Hari Shimla Mirch) Seeds F1 Hybrid! We are so glad to hear that you are happy with our product.