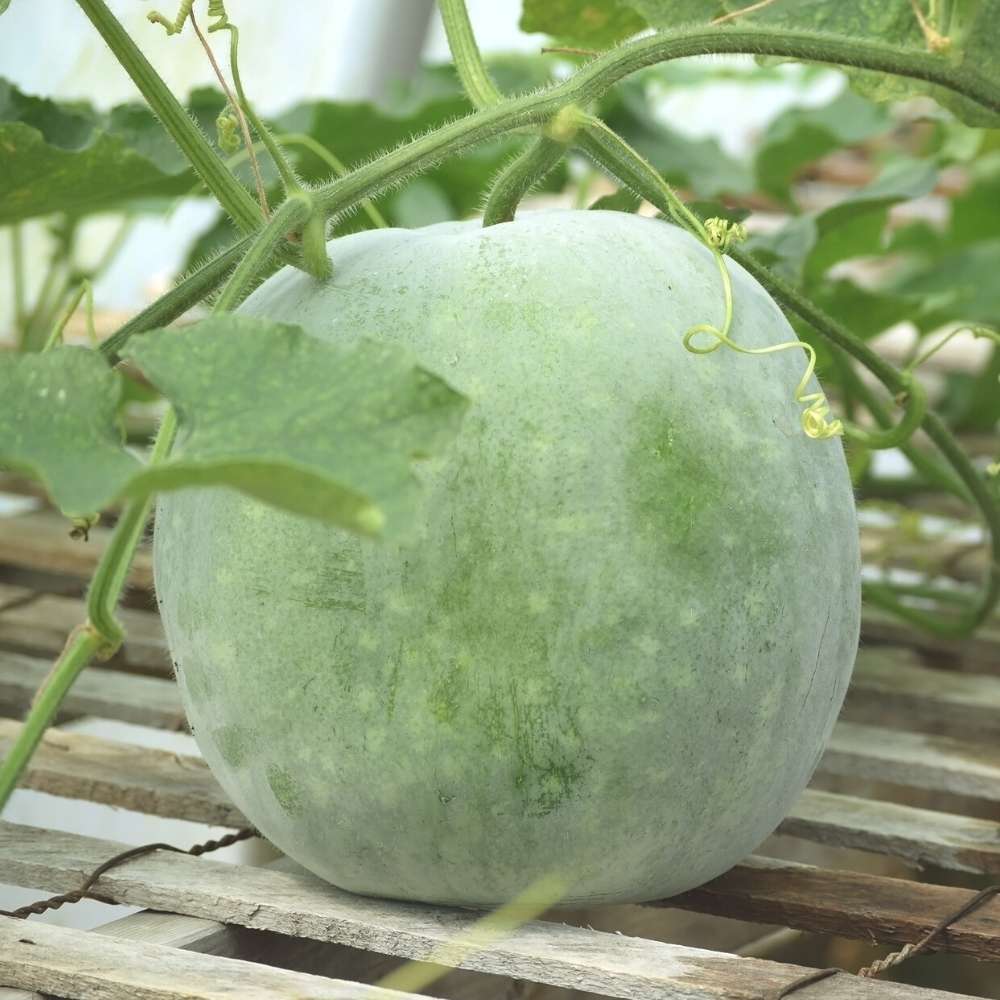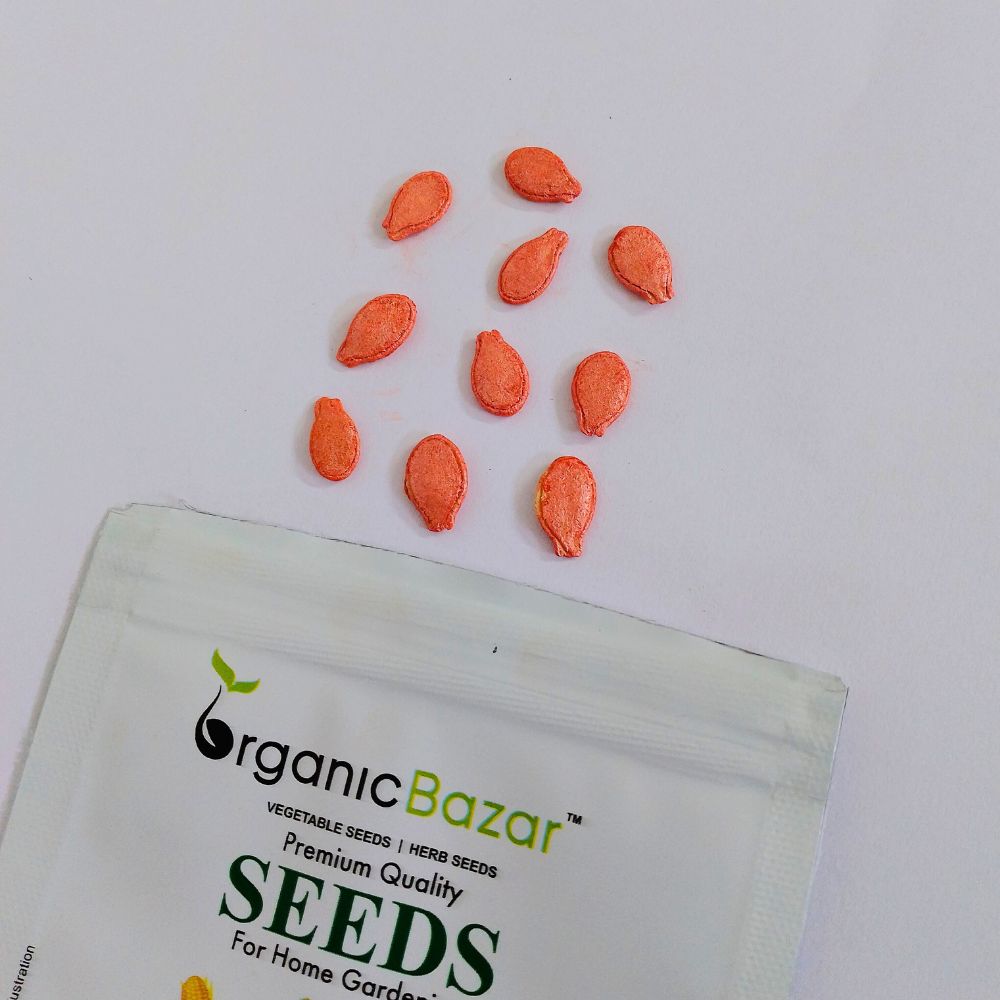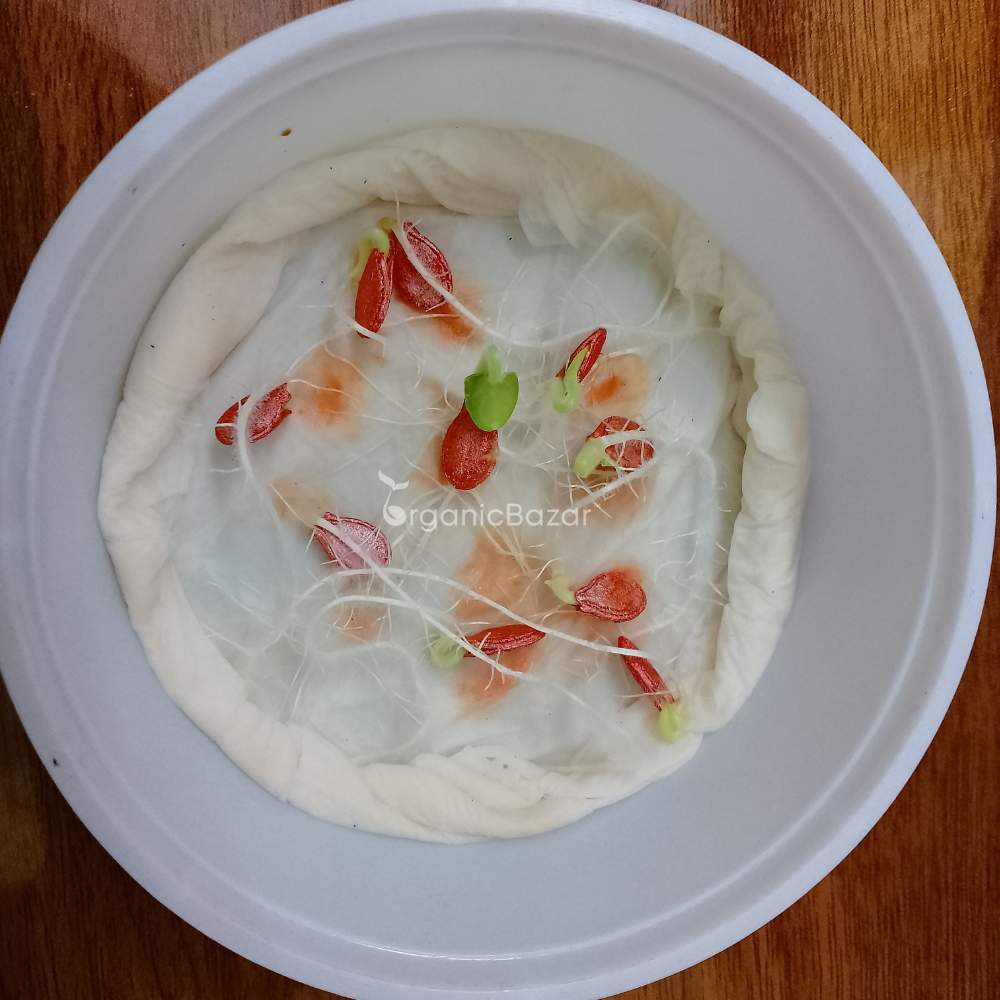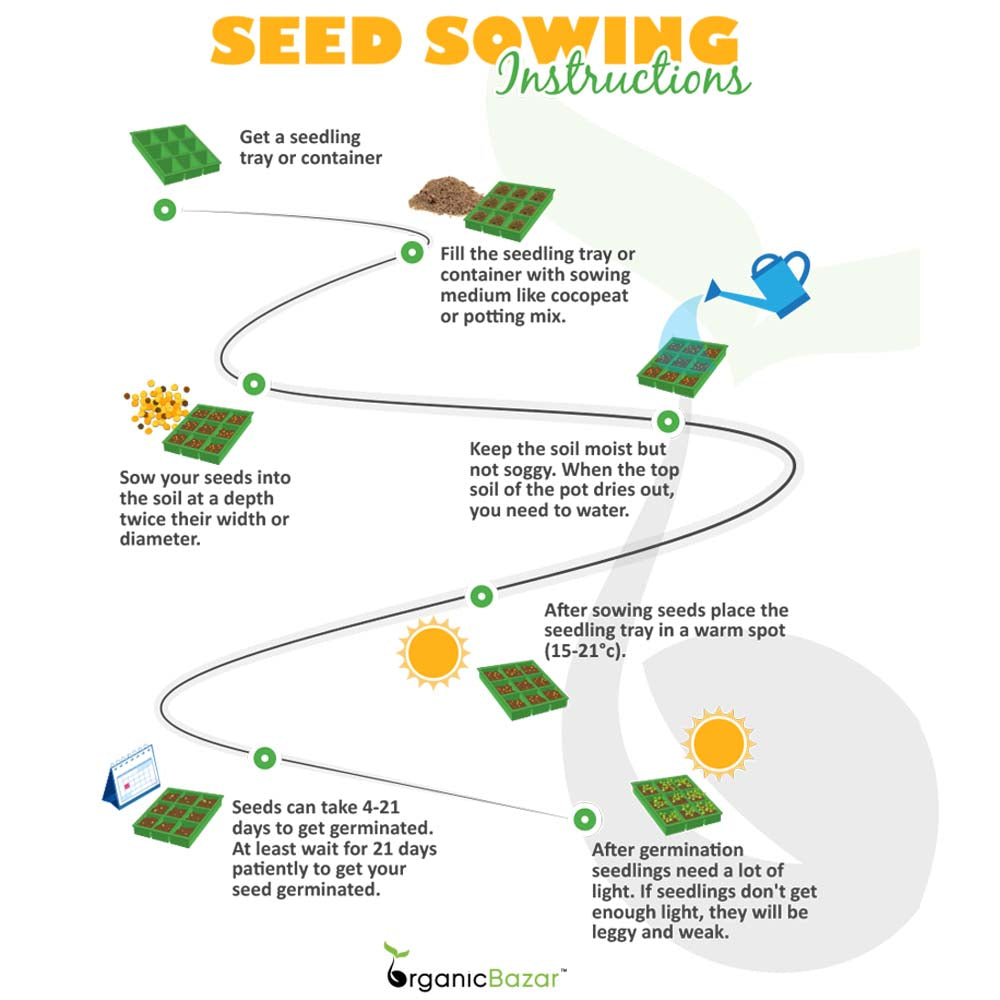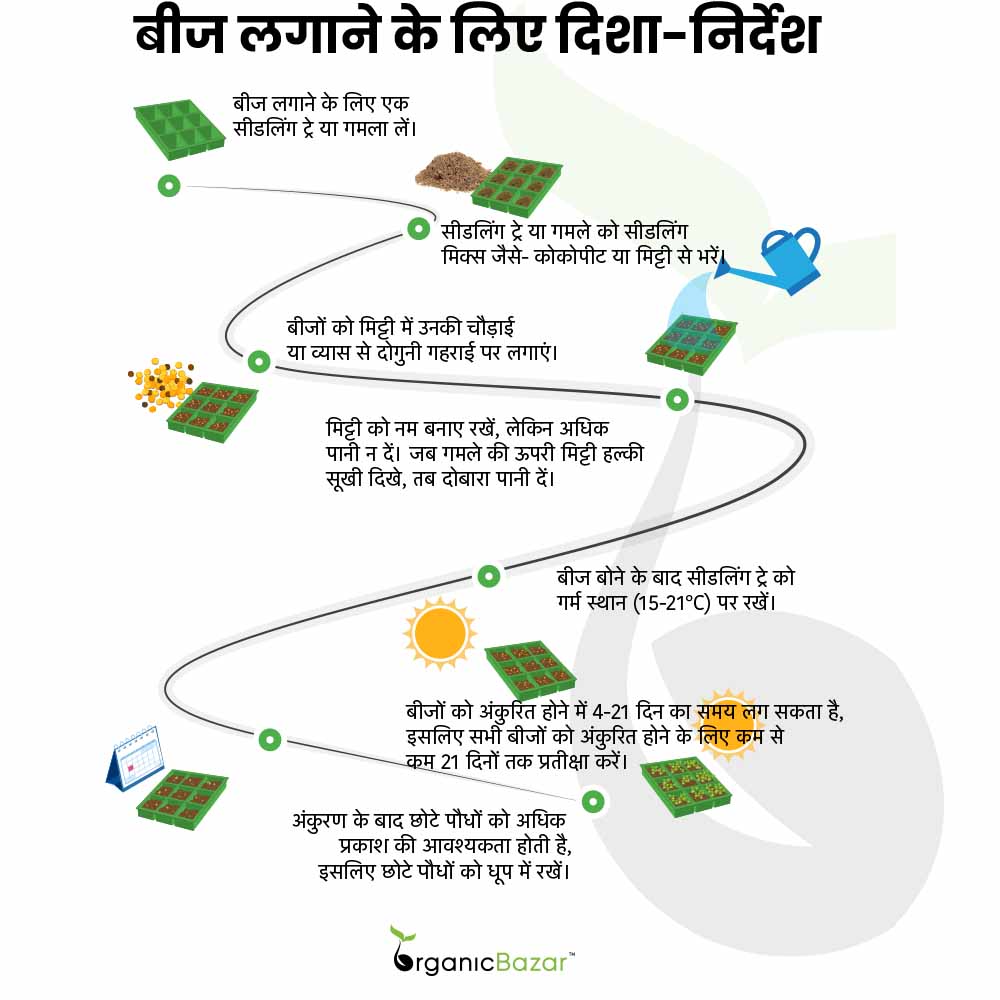 Ash Gourd F-1 Hybrid Seeds (Petha /पेठा के बीज)
Sale price
₹ 59.00
Regular price
₹ 99.00
Tax included.
Ash Gourd F-1 Hybrid Seeds (Petha /पेठा के बीज)
Sale price
₹ 59.00
Regular price
₹ 99.00
Product description
Shipping & Return
Ash gourd contains lots of minerals and vitamins and has high moisture content. As its name is winter melon but it likes warm weather to grow. It's very fun and interesting to grow ash gourd at home. If you have very little knowledge about ash gourd and want to know how to grow ash gourd in pots, winter melon growing season or when to harvest winter melon, and many more. So your all doubts will be clear after reading the ash gourd growing instructions. Buy the best Quality Ash Gourd F-1 Hybrid Seeds Online at the best price in India from
www.organicbazar.net
with a High Germination rate.
About this item
Number of Ash Gourd seeds (petha kaddu ke beej): 10 Seeds

Where to grow: Balcony or terrace garden

Growing season: Summer (February-June)

Sowing method: Seedling transplant

Seeds Sowing depth: 0.5- 1 inch
Germination temperature: 25°C to 30°C

Germination Time: 6 to 14 days from sowing 

Harvesting: 3 to 4 months

Plant vigor: strong plant
Fruit Average weight: 4 to 6 kg
What size grow bag is best for Ash Gourd?
Ash Gourd Growing Season In India
Ash gourd is a warm-season fruit; In India, summer (February-June) is the best time to sow the seeds. Additionally, you can also grow ash gourd from September to October.
How To Grow Ash Gourd
Ash gourd is heat-loving fruit and is generally transplanted rather than directly sown in any pots/grow bags. Choose a seedling tray or small pot (up to 3 inches deep) and a final pot or grow bag (18-24 inches deep and wide) with well-draining holes. Ash gourds can fast germinate at temperatures between 25-30°C.
Ash Gourd Seeds Sowing Method
Take a seedling tray or small pots, fill it with
coco peat
or
perlite
medium then sow ash gourd seeds in a depth of about 0.5- 1 inch in the growing medium. Keep the seedling
in a sunny location till the seeds germinate and water the seeds with a
spray pump
. Give adequate water; keep the soil moist and give proper sunlight for better growth of ash gourd plants. Ash gourd seeds will be germinated within 1-2 weeks (depending on growing conditions).
Transplant Ash Gourd Seedlings Into Big Pots
After 2-3 weeks of ash gourd seeds sowing, when the plant grows 5-6 leaves, the ash gourd plant will be ready to transplant. Take a big pot/grow bag, fill the soil in pots with any organic fertilizer then transplant the ash gourd plant safely along with root balls of a medium. After transplanting give water to the plant and keep moisture in the soil.
Best Fertilize For Ash Gourd Plant
Ash gourd does not need any feed and grows well without fertilizer. Still apply organic fertilizer
vermicompost
every 20 days after transplanting.
Support For Ash Gourd Plant
We all know ash gourd is a vining plant and it needs support for growing. Provide a support structure for ash gourd plants like a trellis, poles, pipe, bamboo, rope, or
creeper net
.
Ash Gourd Plant Care Tips
Water -
At the initial stage of the ash gourd, water every 3-4 days then give water every alternate day (when the ash gourd starts flowering or set fruits).
Soil –
For better results of ash gourd plant, use well drainage, loamy soil, and rich fertile.
Sunlight –
Ash Gourd is sensitive to frost and low-temperature conditions. It requires 6-8 hours of full sunlight but in hot summer protect the plant from the afternoon sun.
Temperature –
Best growing temperature for ash gourd plants is ranging from 18 to 35°C.
Common pests and diseases –
Red beetles, fruit flies, and aphids are harmful to ash gourd plants. Mosaic virus, powdery mildew, and downy mildew are some common diseases that infect ash gourd plants. Use
neem oil
, to control these pests, and avoid putting water on the leaves to save the plants.
Ash Gourd Harvest Time
Ash gourd will be ready to harvest within 3-4 months from planting; harvesting may continue up to 5 months from transplanting.
When the fruit's coating becomes waxy, it's the right time to harvest ash gourd.
You can start picking ripe ash gourd; as the stem attached to the fruit is thick so take the help of pruning scissors or clippers for ash gourd harvest. 
Ash Gourd Plant Special Features
Common name - Winter melon, wax gourd, white gourd, and petha kaddu (पेठा कद्दू)
Scientific name - Benincasa hispida
Plant Height - 10 to 30 feet
Flower color - Yellow
Grow level - Easy
FAQ
Why are my ash gourd seeds not germinating?
Ash gourd seeds will not germinate because of improper growing conditions like not getting enough sunlight, sowing seeds too deep in the soil, over watering or under watering.
Shipping Costs
Free Delivery: Available for Orders Above INR 499.
Prepaid Orders Below INR 499: Shipping Charge of INR 54.
Cash on Delivery Orders Below INR 499: Shipping Charge of INR 84.

Return Policy
Satisfaction Guaranteed: Return or Exchange Within 7 Days of Delivery.
Technical Details
Package Dimension: 12cm*09cm
Item Weight : 75mg
Net Quantity: 15N
Colour : N/A
Assembly Required: No
SKU : Ash Gourd

Additional Information
Brand : OrganicBazar
Country of Origin: India
Manufacturer: HEALTHUNBOX PRIVATE LIMITED
Consumer Care: Phone: 9513316259 | Email - support@organicbazar.net
Consumer Care Address: P NO 225, NEAR OF WATER TANK, VIPATPURA, Narsinghpur (M.P) 487001
Reviews
Timeing
Safed petha Kab boye jate hai
Growing season: Summer (February-June)
Qty of seeds is improper, it should be more at least 40 gm