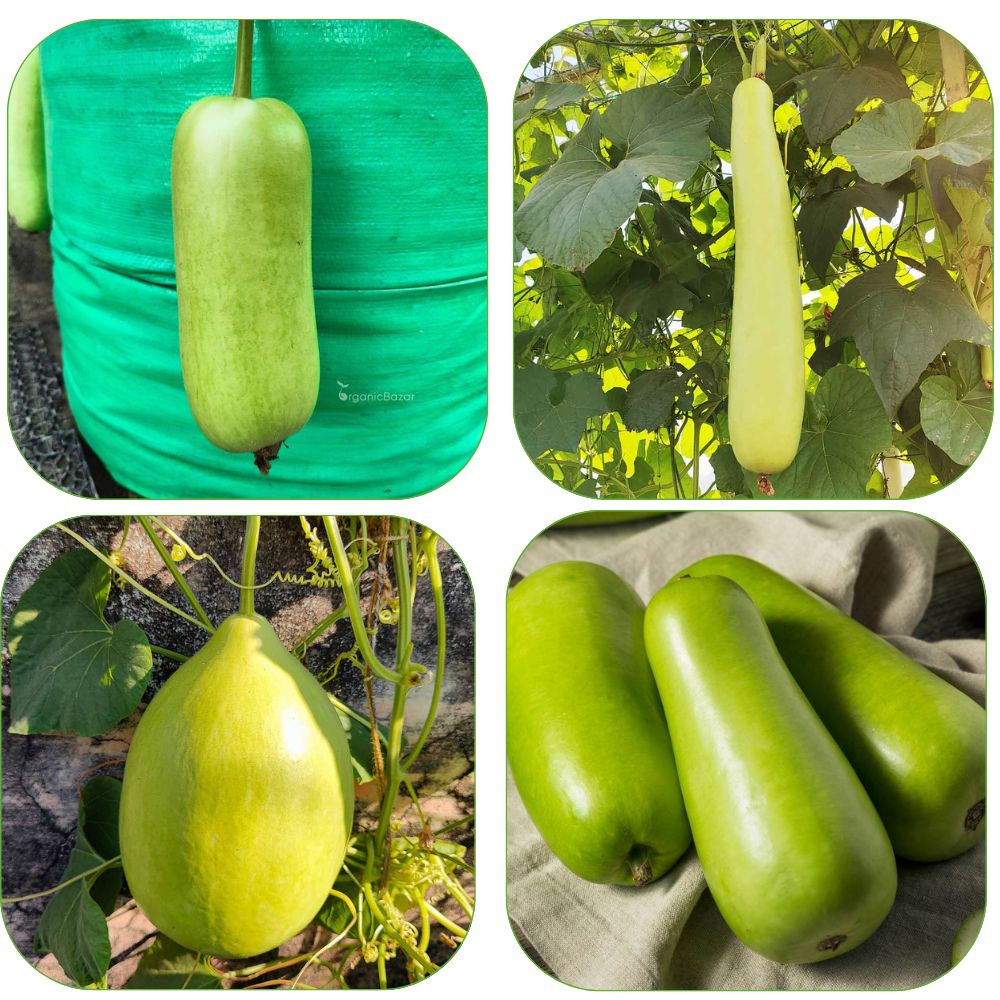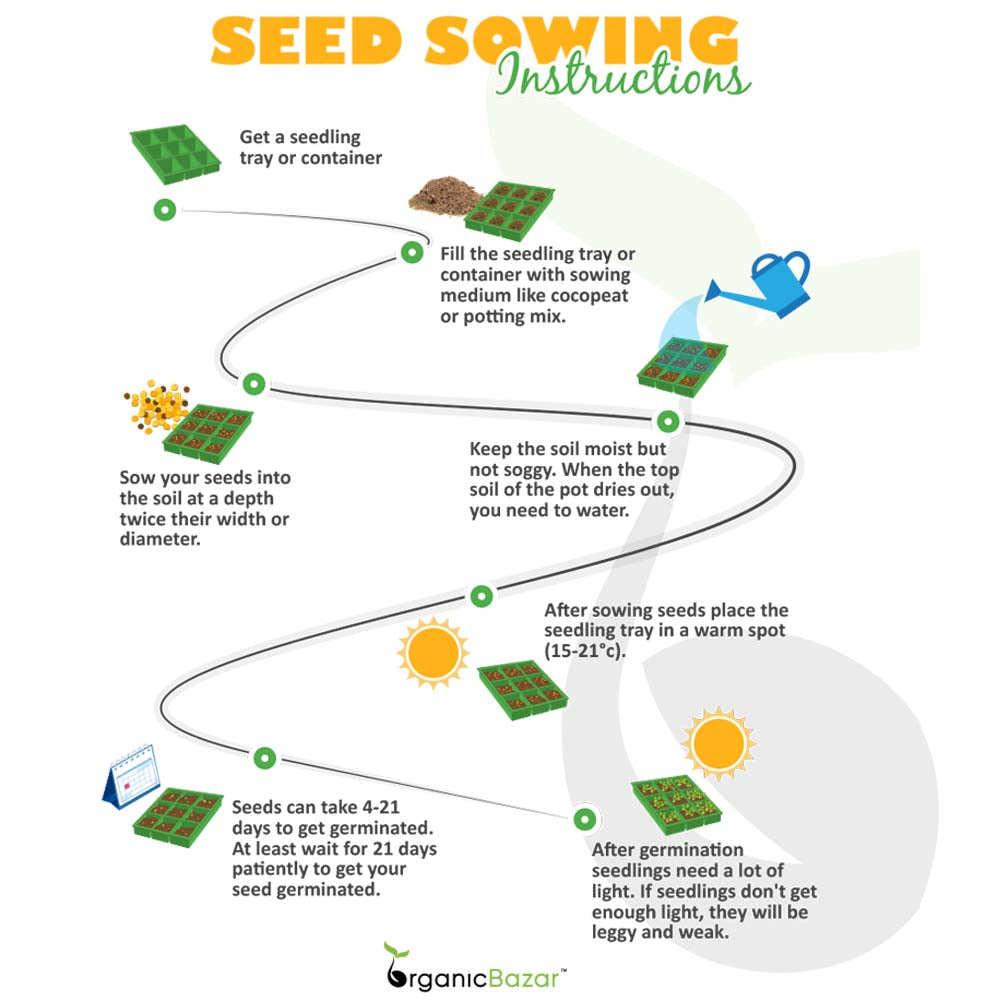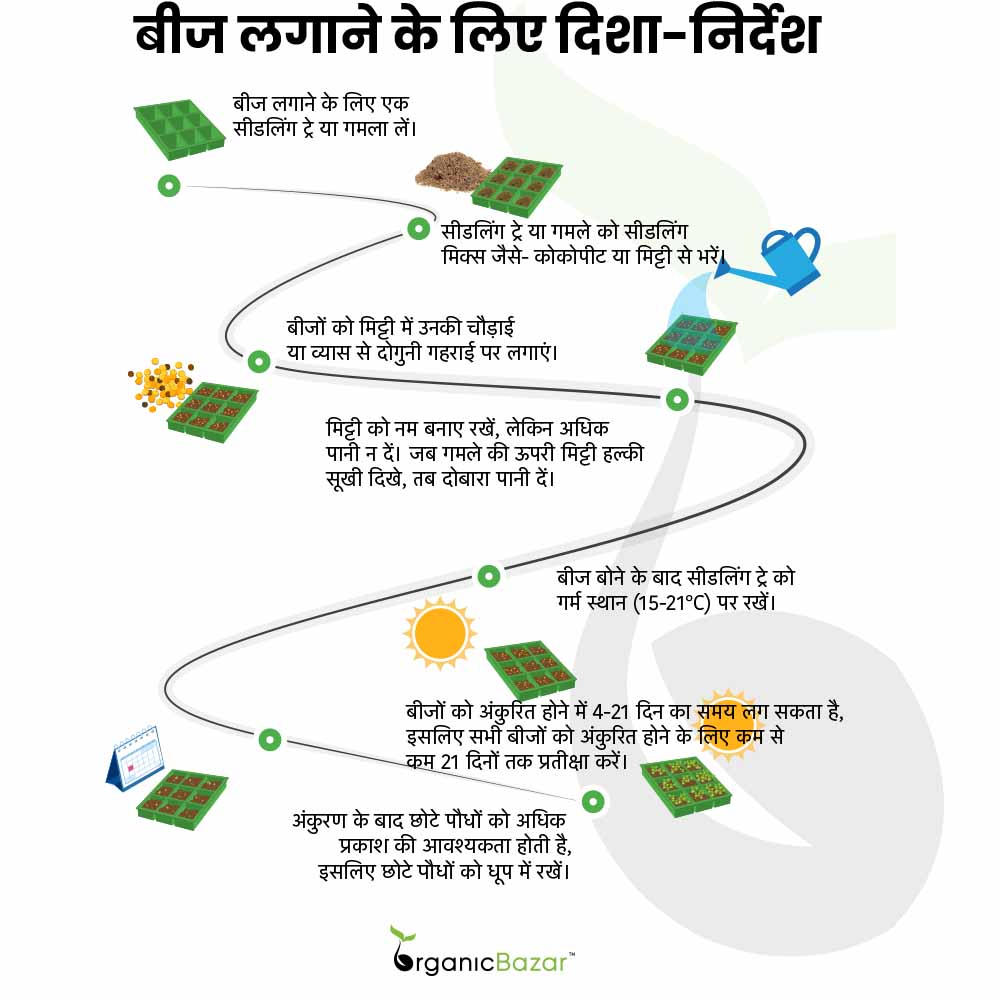 3 Different Varieties Bottle Gourd Seeds Combo Pack
Sale price
₹ 189.00
Regular price
₹ 399.00
Tax included.
3 Different Varieties Bottle Gourd Seeds Combo Pack
Sale price
₹ 189.00
Regular price
₹ 399.00
Product description
Shipping & Return
Bottle Gourd, commonly known as Lauki / Ghiya in India, is a wonderful vine rich in essential vitamins and nutrients which is grown for its fruit. bottle gourd is one of the healthy vegetables you must add to your kitchen garden. Bottle gourd long, Bottle gourd round and Bottle gourd lattu shape thise three very popular varieties of Bottle gourd. Which you can easily buy from one place at the lowest price. Buy best quality 3 Different varieties of Bottle gourd Hybrid seeds Bundle online at the best price in India from
www.organicbazar.net
with a Good Germination rate. 
About this item
Bottle Gourd Seeds Long – 1 Packet of 10 Seeds

Bottle Gourd Round Seeds – 1 Packet of 10 Seeds

Bottle Gourd (Short And Thick) F1 Hybrid Seeds – 1 Packet of 10 Seeds

What size grow bag is best for Bottle Gourd?
 Bottle Gourd
Seeds Sowing Method
You can sow bottle gourd seed directly in any pot. Before sowing the bottle seed in pots, mix good organic manure in the soil with 2:1 ratio. Sow bottle gourd seeds in pots/grow bags (or seedling tray) about 1 inch deep in soil. Sow only 2 seeds in a container and give water in the soil. Seeds of bottle gourd will be germinate within 6 to 10 days.
Bottle Gourd Growing Season In India
Summer is the best season for growing bottle plant and you can also sow gourd seeds during spring season. Bottle gourd grows fast in warm climate.
 Long Bottle Gourd Plant Care Tips
Sunlight – Bottle gourd needs at least 8 hours of full sunlight everyday.
Water – Give water regularly in summer days and keep moist the soil.
Soil – Use well drainage sandy loamy soil and rich in organic matter with PH 6.5- 7.5.
Temperature – Bottle gourd optimum growing temperature is between 24 to 35 Degree Celsius and minimum temperature is 18 degree Celsius.
Fertilizer – After 45 days of planting bottle gourd, give them handful of organic fertilizers as vermicompost, cow dung or Neem cake around each plants. Otherwise you can used 1 tablespoon of 15:15:15 (NPK) fertilizer per plant.
Common pests and disease – Some common insects which are generally found in bottle gourd plants are aphid, cucumber beetles, cutworms, leaf miners, pickleworms, spider mites, squash bugs, squash vine borers, thrips and whiteflies. Bottle gourd plant is infected by some diseases like alternaria leaf blight, anthracnose, bacteria wilt, blossom end rot, downy mildew, fusarium crown rot, gummy stem blight, powdery mildew, watermelon mosaic virus. Look for early sign of fungal, insect or other infections spray organic pesticide Neem oil to cure these symptoms.
Bottle Gourd Harvest Time
Climber Bottle gourd will start to flowering after 50- 60 days from seed sowing. Bottle gourd will take about 2 months for harvest after seed sowing. Bottle gourd should be harvested when it becomes green. Cut the stem by using a sharp knife or 
scissor
. Leave as much of the stem on the gourd plant as possible. Harvesting season can continue for next 3 months.
Bottle Gourd Special Features
Common name – Lauki and ghiya
Flower/foliage colour – White/green
Level of grow – Easy
Height – 10 to 12 feet as a vine
Spread – Above 12 feet
Avoid planting with – Potatoes
Companion planting – Beans, corn and peas
FAQ
Why my bottle gourd getting wilting?
Overwatering is the main reason behind bottle gourd wilting; so avoid overwatering and keep the soil moist.
Why are my bottle gourd seeds not germinating?
Bottle gourd seeds will not germinate because of improper growing conditions like not getting enough sunlight, sowing seeds too deep in the soil, over watering or under watering.
What is the best sowing medium for bottle gourd?
Best sowing medium for bottle gourd is 1 part garden soil, 1 part 
coco peat
 and 1 part 
vermicompost
 (or any organic fertilizer).
Does bottle gourd need support?
Bottle gourd is a climber vine plant, so they need some support like pipe, bamboo, rope or wires
Shipping Costs
Free Delivery: Available for Orders Above INR 499.
Prepaid Orders Below INR 499: Shipping Charge of INR 54.
Cash on Delivery Orders Below INR 499: Shipping Charge of INR 84.

Return Policy
Satisfaction Guaranteed: Return or Exchange Within 7 Days of Delivery.
Technical Details
Package Dimension:
Item Weight :
Net Quantity:
Colour : N/A
Assembly Required: No
SKU : Bottlegourd-bundle

Additional Information
Brand : OrganicBazar
Country of Origin: India
Manufacturer: HEALTHUNBOX PRIVATE LIMITED
Consumer Care: Phone: 9513316259 | Email - support@organicbazar.net
Consumer Care Address: P NO 225, NEAR OF WATER TANK, VIPATPURA, Narsinghpur (M.P) 487001