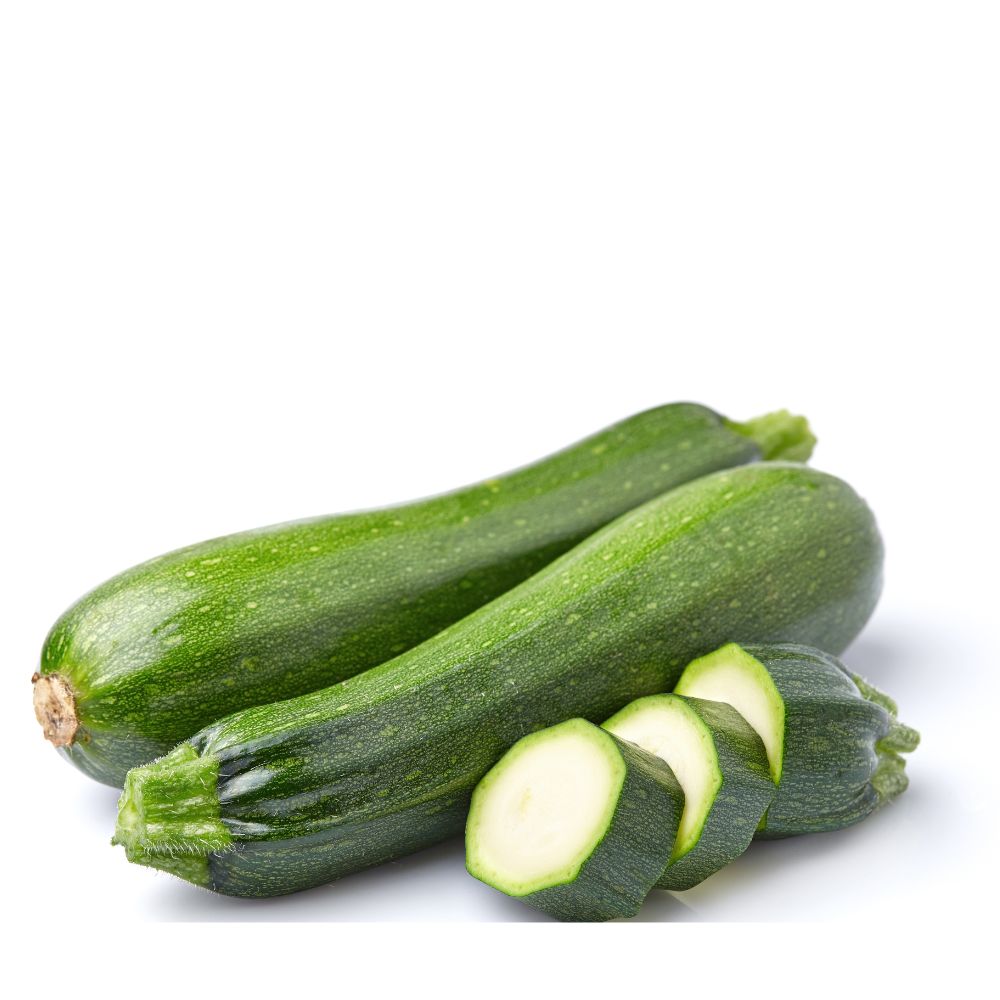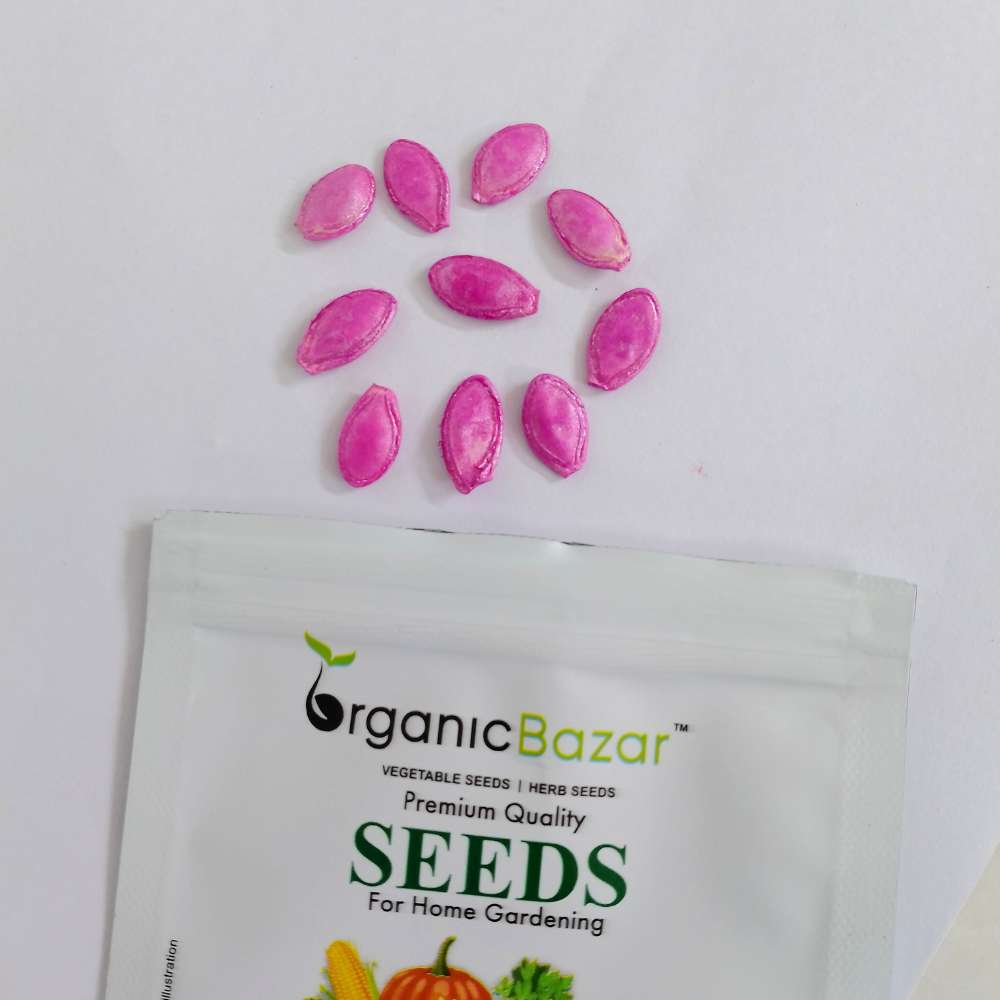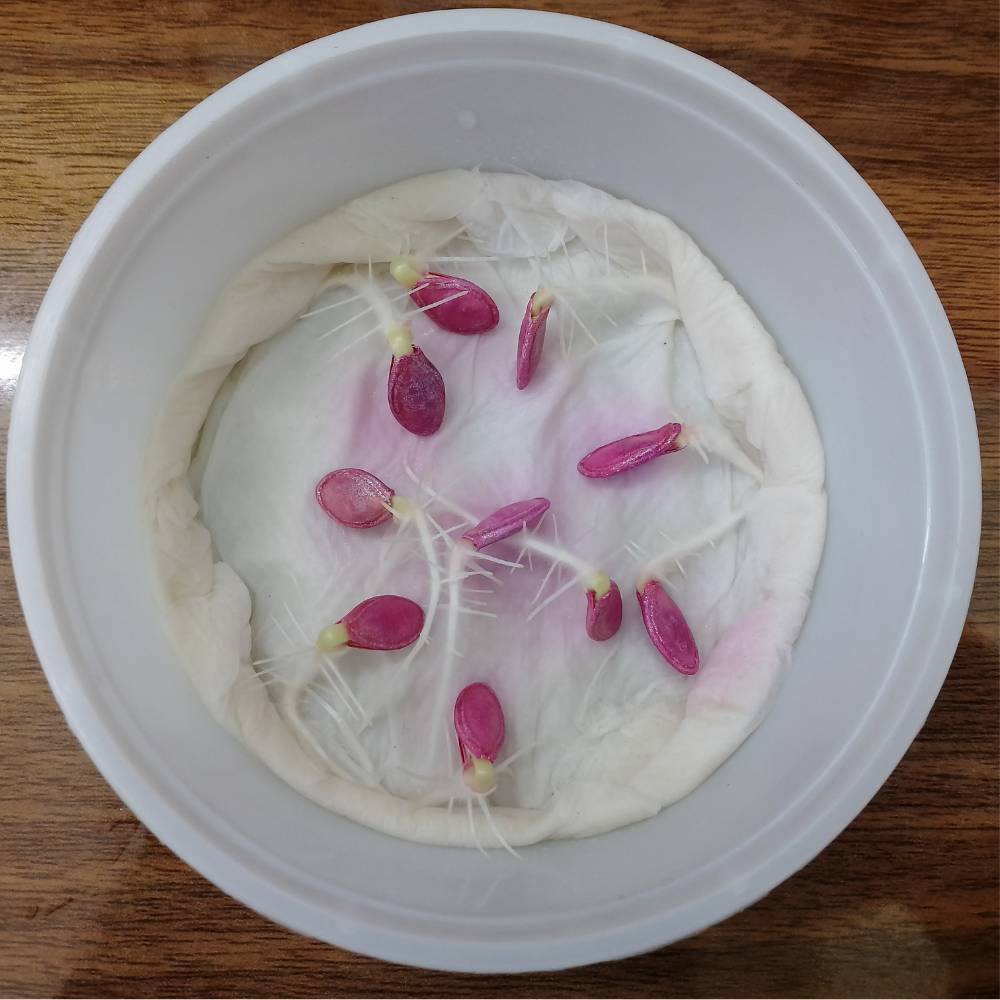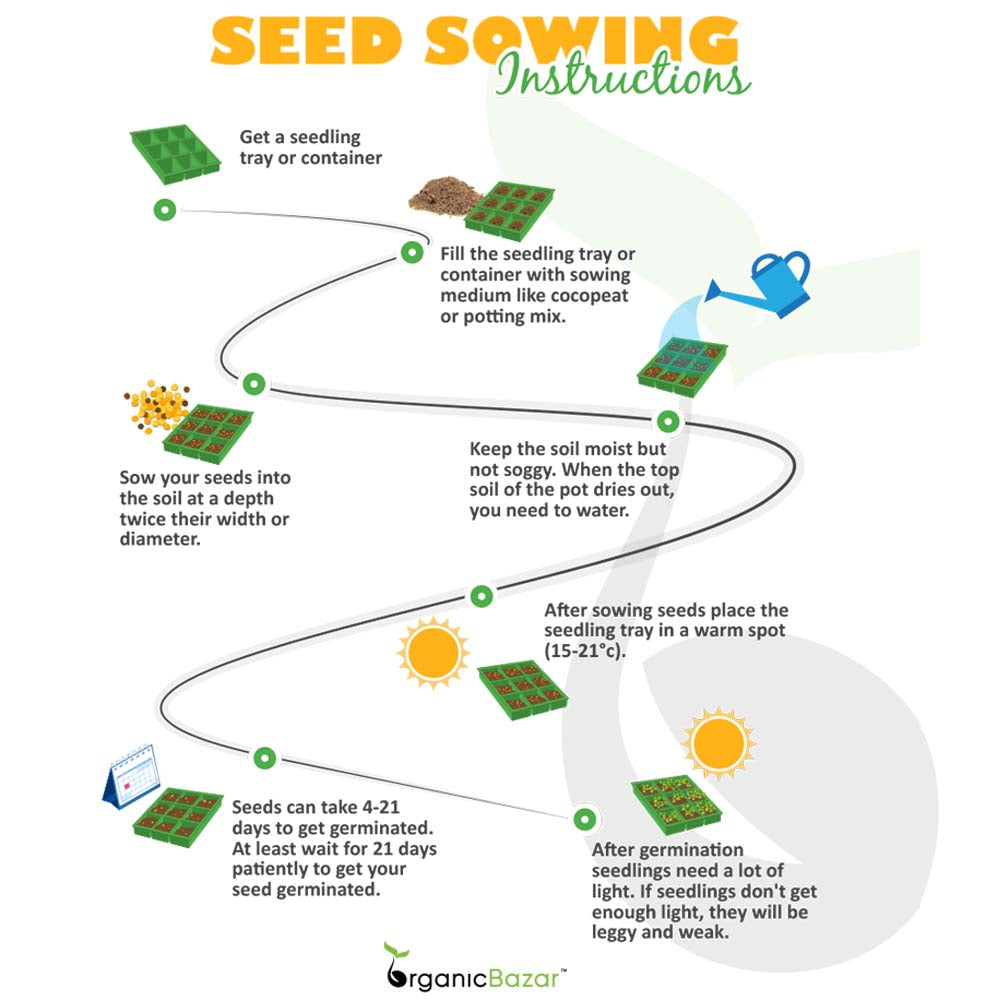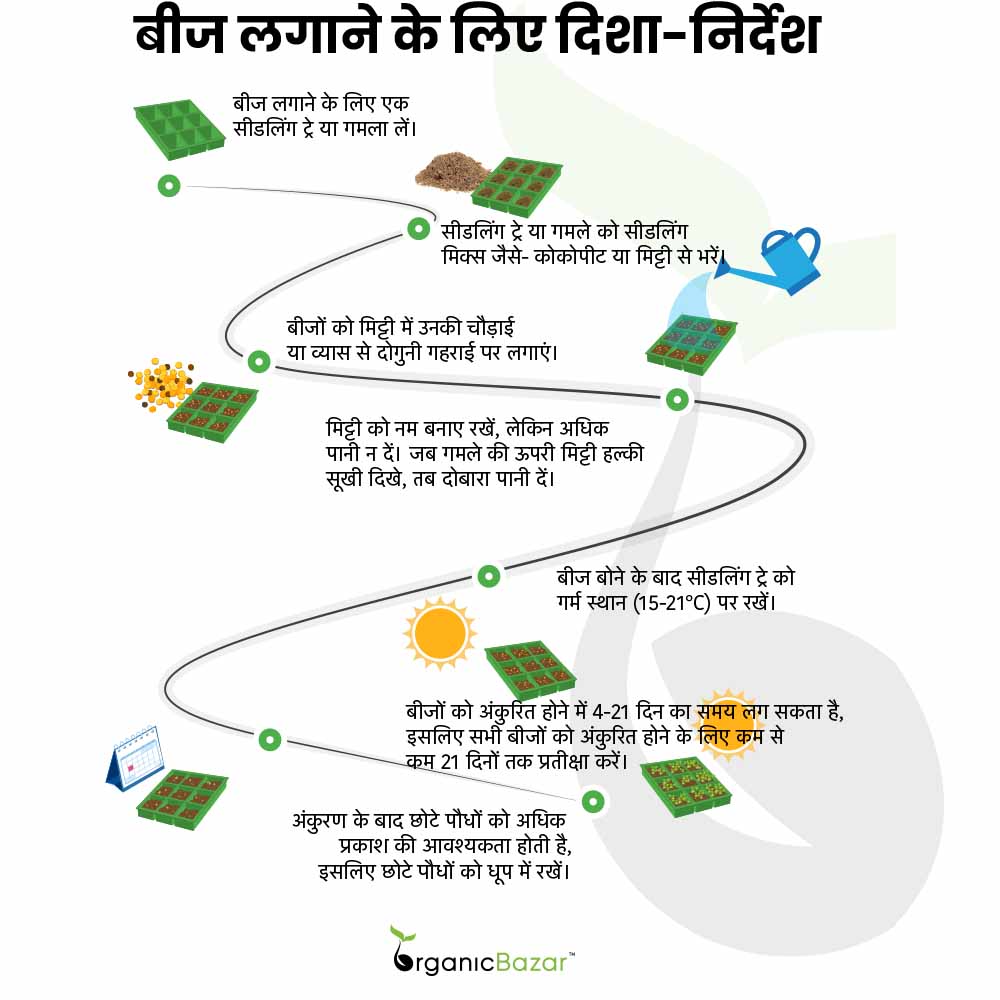 Zucchini Black Beauty (Green) Seeds (जुकिनी के बीज)
Sale price
₹ 79.00
Regular price
₹ 160.00
Tax included.
Zucchini Black Beauty (Green) Seeds (जुकिनी के बीज)
Sale price
₹ 79.00
Regular price
₹ 160.00
Product description
Shipping & Return
This variety of zucchini has shiny and dark green skin that looks black in color hence it is called black beauty. They are slender, long and about 8-12 inches long; zucchini is tasty, with a mild flavor and smooth texture when it is small in size but they will be delicious whenever you pick them. Buy the best quality Zucchini Black Beauty (Green) Seeds Online at the best price in India from
www.organicbazar.net
 with a good germination rate.
About this item
Number of Zucchini seeds: 10 Seeds   

Where to grow: Balcony or terrace garden
Sowing season:

Winter & Summer 

Seeds sowing depth: 0.5-1 inch 

Germination Time: 7 to 14 days

Germination temperature: 21-30°C

Harvesting: 55-60 days from sowing seeds

Plant vigor: Strong plant with long internodes
What size grow bag is best for Zucchini?
Zucchini Black Beauty Growing Season In India
Zucchini is a summer season vegetable but it can be grown in winter also. The best time to grow Zucchini is from (September to November) and from (February to April).
How To Grow Black Beauty Zucchini At Home
The direct sowing method is the best for planting zucchini in any container. The ideal temperature for sowing zucchini seeds is 21-30°C. Take a pot, fill it with potting mix, and then sow black beauty zucchini seeds about 0.5 to 1 inch deep in the soil. Gently water the soil and keep the soil evenly moist till the seeds germinate. Zucchini Black Beauty Seeds will take about 1-2 weeks to germinate in the best soil temperature above 20℃.
Best Fertilizer For Zucchini Black Beauty
Zucchini black beauty is a fast-growing plant that needs fertilizer from time to time. Apply slow-release fertilizers (
vermicompost
, 
cow manure
, 
neem cake
) once a month during the flowering and fruiting period.
Zucchini Plant Care Tips
Water – 
As zucchini (Green) is a vine plant that needs 1 inch of daily water and the soil should be moist but avoid over watering.
Soil – 
Use well-drained and fertile soil with 6.0 to 7.5 ph for planting zucchini.
Sun – 
Zucchini require 6-8 hours of full sun every day.
Temperature – 
Zucchini plant grows fast in temperatures between 15-32℃.
Common pests and diseases –
Cucumber beetles, and squash bugs are the common pests found in zucchini. Bacterial wilt and blossom end rot and powdery mildew make foliage white, stunted, and wilted. Use
neem oil
 to avoid these insects and pests.
Zucchini Plant Flowering Time And Pollination
After 25-30 days from seed sowing zucchini starts flowering, the male flower appears first, and the female will begin with small fruit. Like all squash, zucchini (dark green) is also cross-pollinated; especially bees will pollinate the flowers.
Zucchini Black Beauty (Green) Harvest Time
Zucchini will be ready for harvest in 55-60 days from sowing seeds.
The best time to harvest is when zucchini is small (8 inches) which is very tasty and delicious.
Zucchini Black Beauty Plant Special Features
Common name – Courgette and Jugni (In Hindi)
Scientific name – Cucurbita pepo
Flower color – Yellow
Height – Above 3 feet
FAQ
Why are my zucchini leaves turning yellow and dying?
Improper soil and deficiencies in manganese, sulfur, or iron can cause yellowing and dying zucchini leaves.
Why are my zucchini plants producing flowers but no fruit?
In case of a lack of pollination, zucchini plants do not produce fruit. To encourage natural pollination, you need to attract pollinators to the garden or hand pollination also works.
What are the signs of overwatering zucchini plants?
The main sign of over-watered zucchini plants is the appearance of fungus, slow growth of plants, yellow leaves, and fruit rot.
Why are my zucchini seeds not germinating?
Zucchini seeds will not germinate because of improper growing conditions like not getting enough sun, overwatering, or underwatering
Shipping Costs
Free Delivery: Available for Orders Above INR 499.
Prepaid Orders Below INR 499: Shipping Charge of INR 54.
Cash on Delivery Orders Below INR 499: Shipping Charge of INR 84.

Return Policy
Satisfaction Guaranteed: Return or Exchange Within 7 Days of Delivery.
Technical Details
Package Dimension: 12cm*9cm
Item Weight : 2g
Net Quantity: 20N
Colour : N/A
Assembly Required: No
SKU : Zucchini

Additional Information
Brand : OrganicBazar
Country of Origin: India
Manufacturer: HEALTHUNBOX PRIVATE LIMITED
Consumer Care: Phone: 9513316259 | Email - support@organicbazar.net
Consumer Care Address: P NO 225, NEAR OF WATER TANK, VIPATPURA, Narsinghpur (M.P) 487001
Reviews
Your feedback is greatly appreciated.
99% germination....very good and healthy plants....