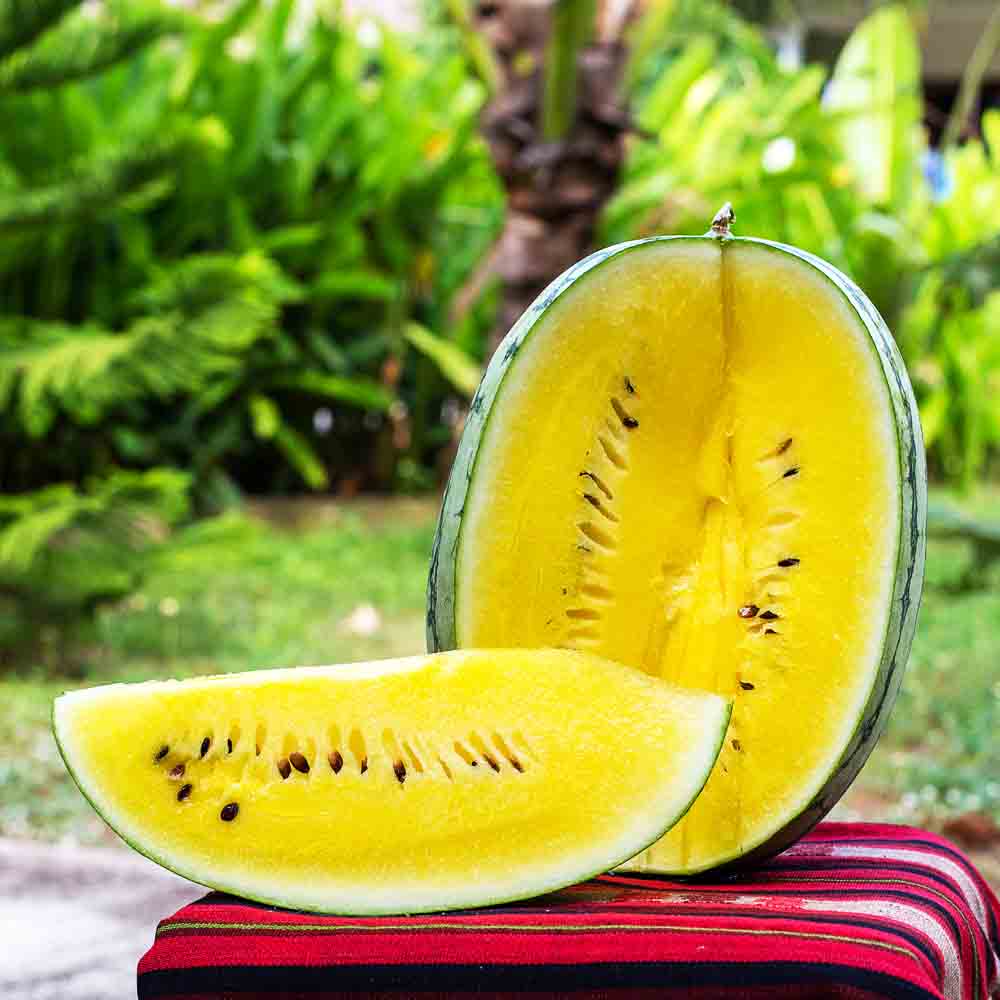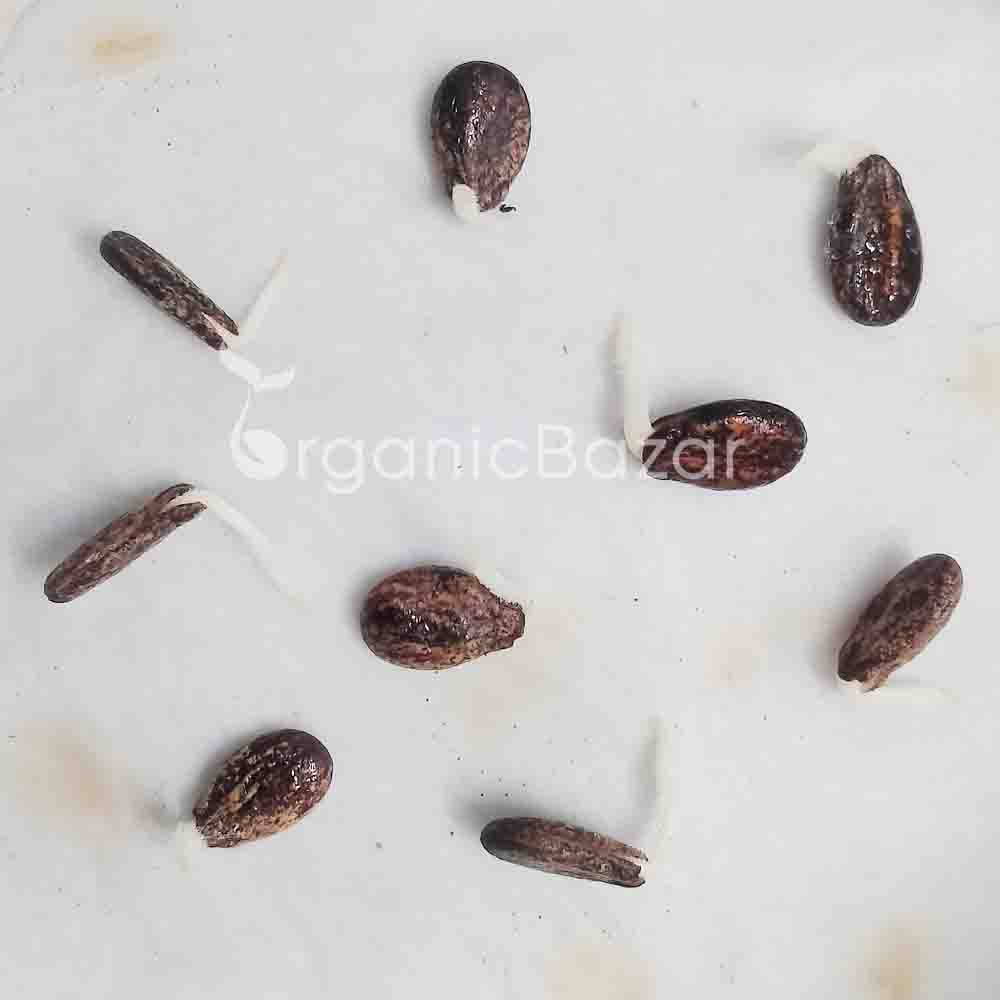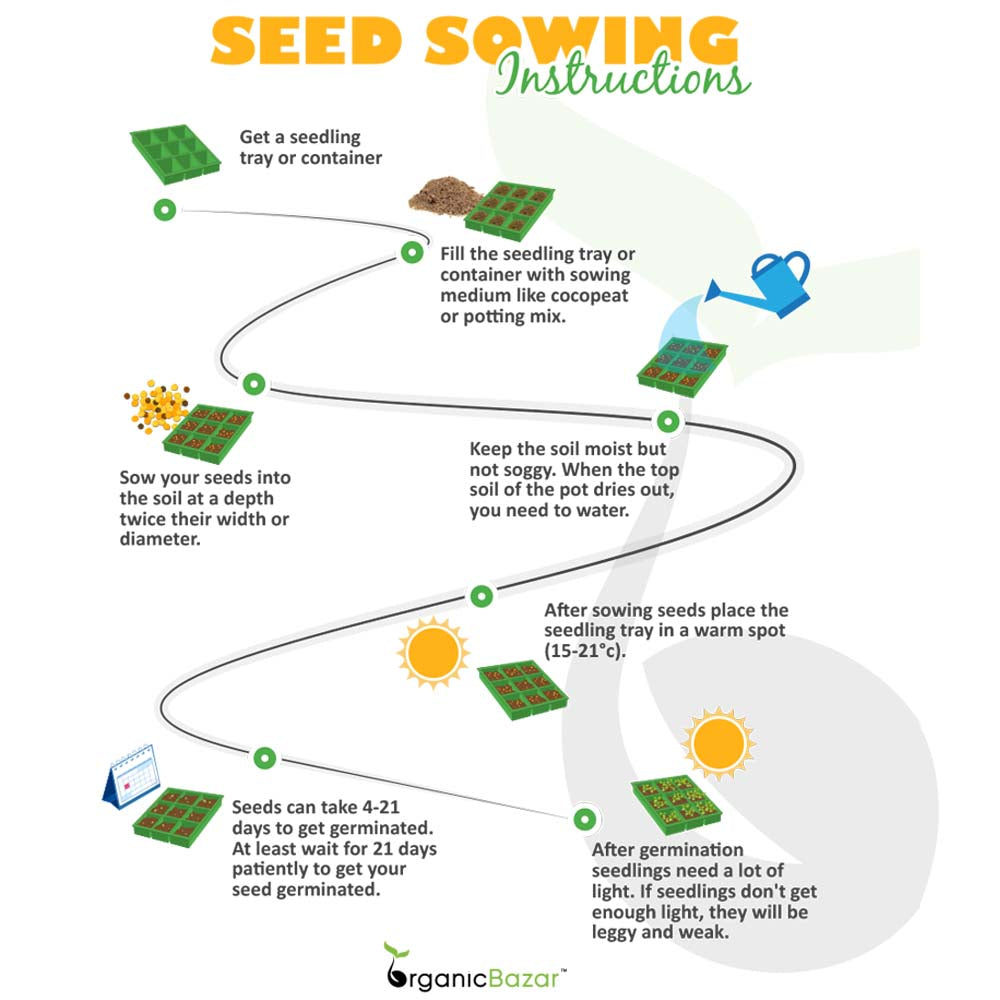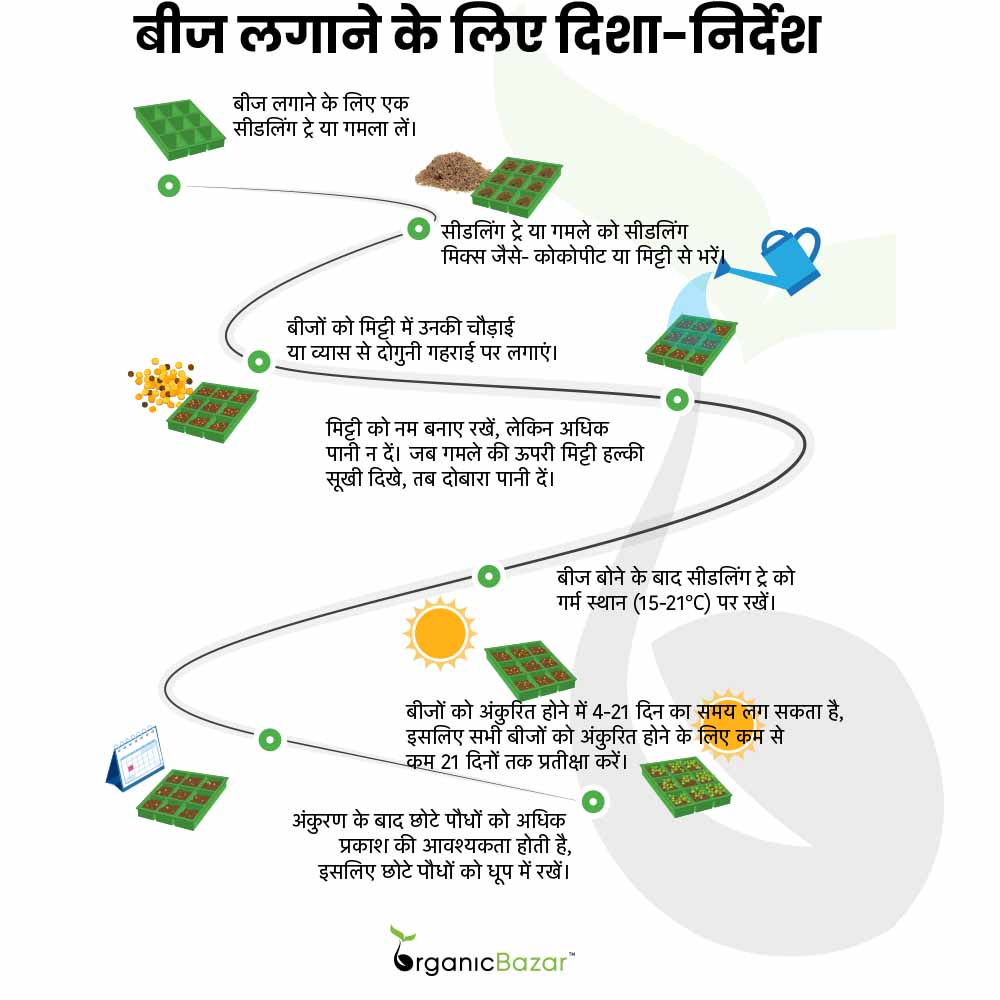 Watermelon F1 Yellow Hybrid Seeds (Pila Tarbooj/पीला तरबूज के बीज)
Sale price
₹ 79.00
Regular price
₹ 120.00
Tax included.
Watermelon F1 Yellow Hybrid Seeds (Pila Tarbooj/पीला तरबूज के बीज)
Sale price
₹ 79.00
Regular price
₹ 120.00
Product description
Shipping & Return
Yellow watermelon is a sweet and juicy fruit with a thick rind which makes it the perfect choice for the sweet and fresh snack lover. Yellow watermelon contains vitamins A and C and is rich in antioxidants which are very helpful in protecting against cancer and eye diseases. Watermelon is high in water content which is very healthy for our body and can keep us hydrated throughout the day. Grow Your Own Watermelon at Home because it's a great idea to savor your own planted fresh watermelon. Read this information completely to know about watermelon yellow F1 hybrid seed growing information and seed planting method. Buy the best quality Watermelon F1 Yellow Hybrid Seeds Online at the best price from 
www.organicbazar.net
 and grow your own watermelon.
About this item
Number of  Yellow Watermelon Hybrid Seeds: 10 Seeds

Where to grow: Balcony or terrace garden

Sowing season: Summer Season (March to April)

Mode of sowing: Sow the seeds 1 inch deep in a Container, Grow Bags or Pots.

Germination Time: 6 to 14 days from sowing

Germination temperature: 21 to 35°C.

Harvesting: 65 to 90 days from sowing 

Fruit color: light green with dark green stripes
Average weight: 4-6 kgs
What size grow bag is best for Watermelon?
Yellow Watermelon Growing Season In India
You can sow watermelon f1 yellow hybrid seeds from late spring to early summer (March to April) because this is the best time to plant watermelon seeds.
How To Grow Yellow Watermelon In Container
You can plant watermelon yellow hybrid seeds by both direct and transplant methods. But most gardeners are recommended transplant because it gives a good environment for the plant and grows successfully. Choose a seedling tray or small pot (up to 6 inches deep) and a final
pot
or
grow bag
(18-36 inches wide and deep) with well-drainage holes. Watermelon seeds germinate rapidly in warm climates with temperatures between 21°C to 35°C.
Watermelon F1 Yellow Hybrid Seeds Sowing Method
To sow watermelon yellow seeds, fill the
seedling tray
or
small pot
with growing medium (
potting soil
) then sow the seeds at a depth of 0.5-1 inch. Add water to the soil of the seeded pot and maintain the proper amount of moisture. Place the seedling tray in such a place where the plant can get the proper amount of sunlight. It can take about 6-14 days for yellow watermelon seeds to germinate, so wait for the seeds to germinate. Seeds can germinate rapidly (about 4 to 8 days) when the soil temperature is 30°C.
Transplant Yellow Watermelon Plants Into Big Pot
After yellow watermelon seeds germinate when the plant grows at least two sets of leaves at that time transplant the healthiest plant carefully (without disturbing their root) into pots with soil and organic compost and make sure to plant only one healthiest plant in each pot. Keep the pot in a location where the watermelon plant gets 6-8 hours of proper sunlight and give water whenever you feel that soil becomes dry.
How To Fertilize Watermelon Yellow Plant
If you added organic fertilizers to the soil when planting yellow watermelon f1 hybrid seeds, you may not need to add additional fertilizer to the soil in the seeded pot until they are transplanted.
After the transplant, as the plants grow, they these plants grow in the form of vines. To make the plants grow faster, you can use nitrogen-rich organic fertilizers like old manure, bone meal, and mustard cake.
After flowering on the watermelon vine, you should apply fertilizer containing phosphorus and potassium to it. You can fertilize the watermelon plant at an interval of 15 to 20 days.
Yellow Watermelon Plant Care Tips
Water –
As the watermelon vine grows, it needs more water; therefore gives an adequate amount of water to the growing plants. Maintain the proper amount of moisture in the soil, so that watermelon plants can grow well.
Soil –
Fertile loamy soil (sand + clay mixture) with high fertility is suitable for sowing watermelon seeds. Watermelon plants grow well in soil with a pH of 6.0-7.5.
Sunlight –
The watermelon vine should get about 6 to 8 hours of full sunlight daily.
Temperature –
The temperature between 21°C to 40°C is suitable for the good growth of the watermelon plant.
Common pests and diseases –
Aphids, beetles, and spider mites affect plant's growth and the watermelon plant is infected by some diseases such as powdery mildew, anthracnose, and fusarium wilt. Spray
neem oil
on watermelon vine or fruit to avoid pests or diseases on the plant.
Support –
Watermelon vines need support as they grow, so you can use a wooden stick to support the vine in the soil of the pot.
Pruning –
Pruning is essential to promote healthy vines and increase fruit size. Using
pruning shears
; Remove any dead, diseased, yellowed, and dry leaves or shoots from the joint where they were attached to the main stems. Also, remove any vines that are not blooming or look damaged.
Yellow Watermelon Plant Flowering Time
Within 45-60 days from seed sowing, yellow watermelon starts flowering; the male flowers appear first and the female will begin with small fruit. Watermelon yellow is cross-pollinated (watermelon cannot produce fruit without pollination) especially bees will pollinate the flowers but sometimes it may be a problem in pollination because bees or insects are less active during the monsoon season.
In such a case, hand pollination can work but it is less effective than bee pollination. For hand pollination; reveal the stamen at the center by removing the petal from the male blossom, you will see pollen clinging to it. Carry the pollen on your finger or small soft brush to female blossoms and touch them at their center. Be sure to refresh your brush with pollen every few touches. After doing this process, you will see the plant starts to give fruits.
Yellow Watermelon Harvesting Time
With proper vine care, you can get fresh watermelon fruit ripening on the watermelon vine within 65 to 90 days from seeds sowing.
It is very important to pick only ripe yellow watermelon because once picked, watermelon fruits stop ripening.
Cut ripe watermelon fruit by using a scissor.
Yellow Watermelon Plant Special Features
Common name – Tarbooj (In Hindi)
Scientific name – Citrullus Lanatus
Flower color – Yellow
Height – Above 10 feet (vine)
FAQ
How many watermelons do you get per plant?
A healthy watermelon plant can produce 4 to 5 fruits.
How much sun does a watermelon need?
Watermelon is a vine plant that's why it requires 6-8 hours of full sunlight daily for better plant growth.
Why are my watermelon flowers not turning into fruit?
Due to lack of pollination; watermelon will not bear fruit. In this case, hand pollination can work.
Why are my watermelons dying?
Due to less moisture in the soil or when the soil dries up; Watermelon leaves begin to wither and the plant also dies.
Do watermelons come back every year?
Since watermelon is an annual plant and it will not come back every year.
Can you grow watermelon in the rainy season?
Yes, watermelon can be easily grown in the rainy season.
How do you keep watermelon healthy?
For a healthy watermelon plant, you need to take care such as providing proper water and adequate sunlight, keeping the soil moist, applying good organic fertilizer, and trying to avoid wetting the leaves and overwatering.
Why is my watermelon flower dropping?
Over watering, extremely high temperature, and excess nitrogen in fertilizer causes watermelon flower to drop.
Do watermelon plants need support?
For vertical growth of the watermelon vine plant, it needs support like pipe, bamboo, rope, or wires for producing more fruit.
Why is my watermelon plant not flowering?
There are three factors water, sunlight, and temperature changes that affect the blooms of your watermelon. Don't get too much water or less water to your watermelon plants and keep the plant in a place where it can get proper sunlight.
Why are my watermelon leaves getting wilting?
Overwatering is the main reason behind wilting; so avoid overwatering and keep the soil moist.
Why are my watermelon seeds not germinating?
Watermelon seeds will not germinate because of improper growing conditions like not getting enough sunlight, over watering, or underwatering.
Note: Images are for reference purposes only. The actual product may vary in shape or appearance based on climate, age, height, etc.
Shipping Costs
Free Delivery: Available for Orders Above INR 499.
Prepaid Orders Below INR 499: Shipping Charge of INR 54.
Cash on Delivery Orders Below INR 499: Shipping Charge of INR 84.

Return Policy
Satisfaction Guaranteed: Return or Exchange Within 7 Days of Delivery.
Technical Details
Package Dimension: 12cm*9cm
Item Weight : 25mg
Net Quantity: 10N
Colour : N/A
Assembly Required: No
SKU : Watermelon-Yellow

Additional Information
Brand : OrganicBazar
Country of Origin: India
Manufacturer: HEALTHUNBOX PRIVATE LIMITED
Consumer Care: Phone: 9513316259 | Email - support@organicbazar.net
Consumer Care Address: P NO 225, NEAR OF WATER TANK, VIPATPURA, Narsinghpur (M.P) 487001