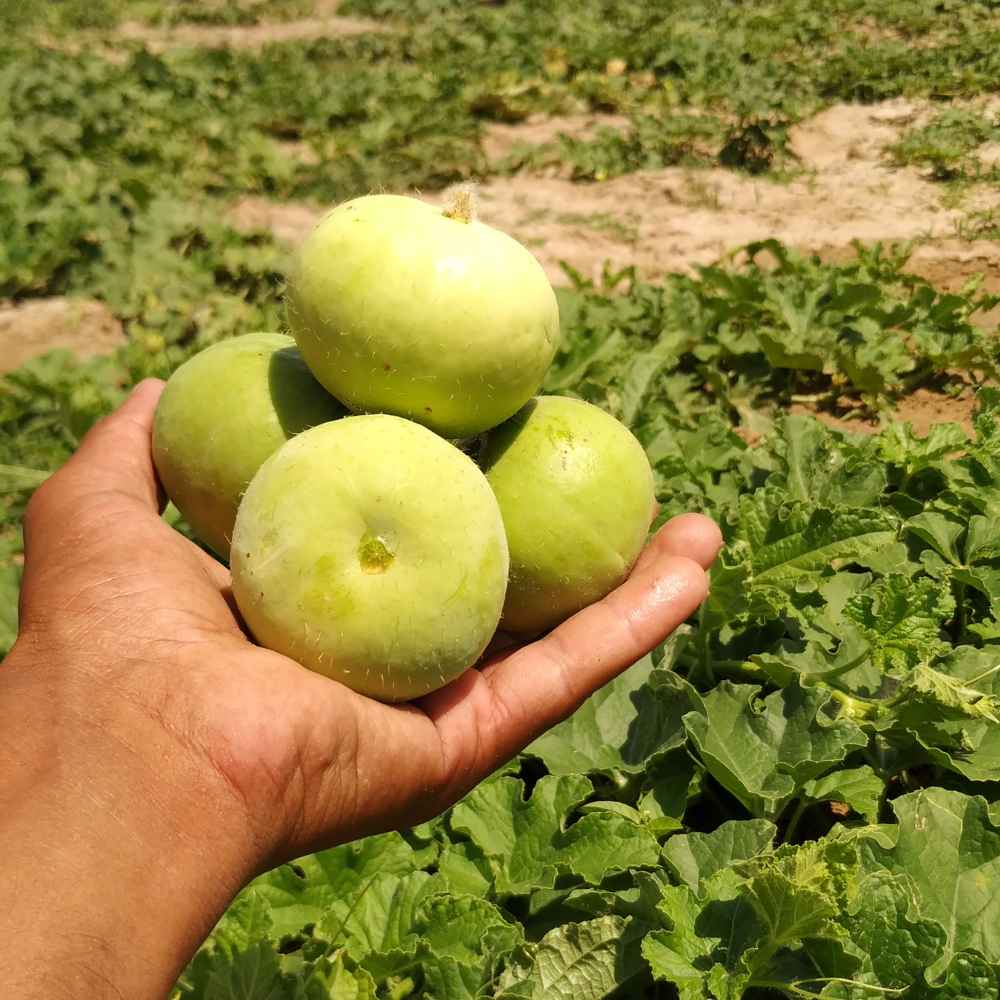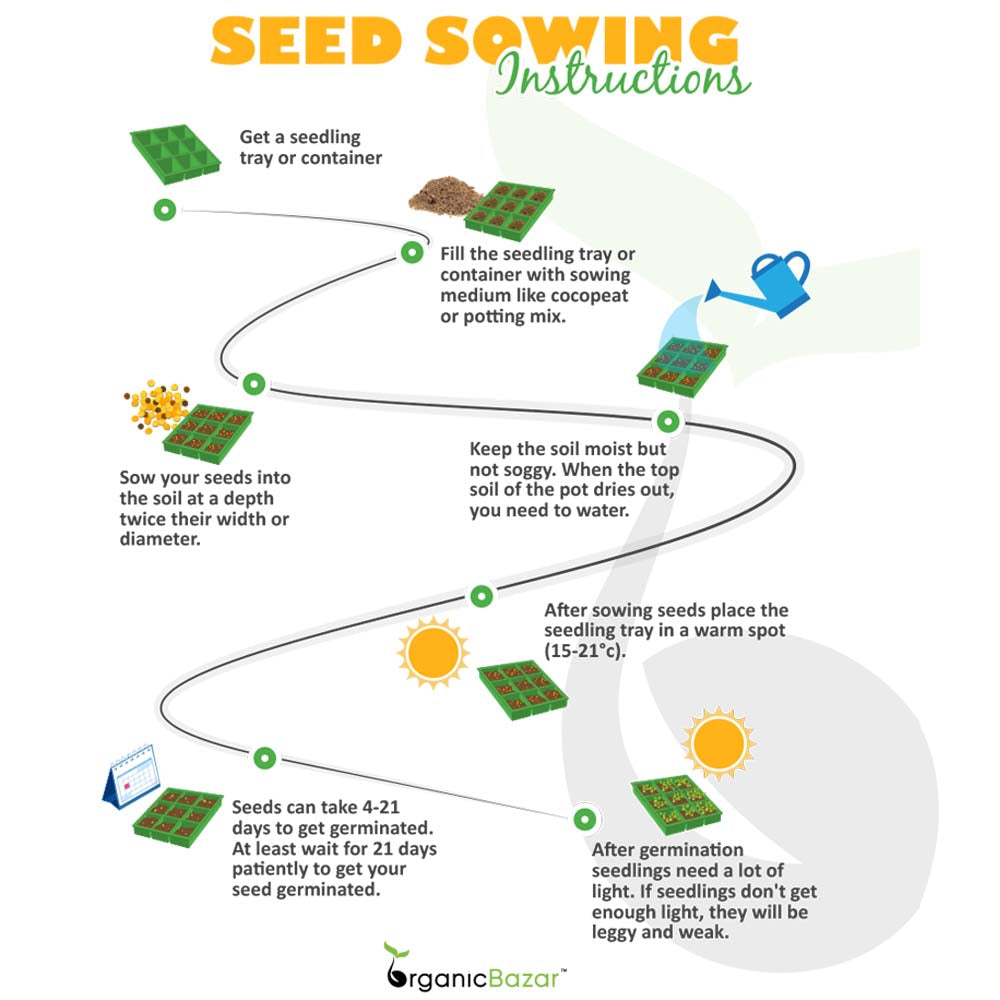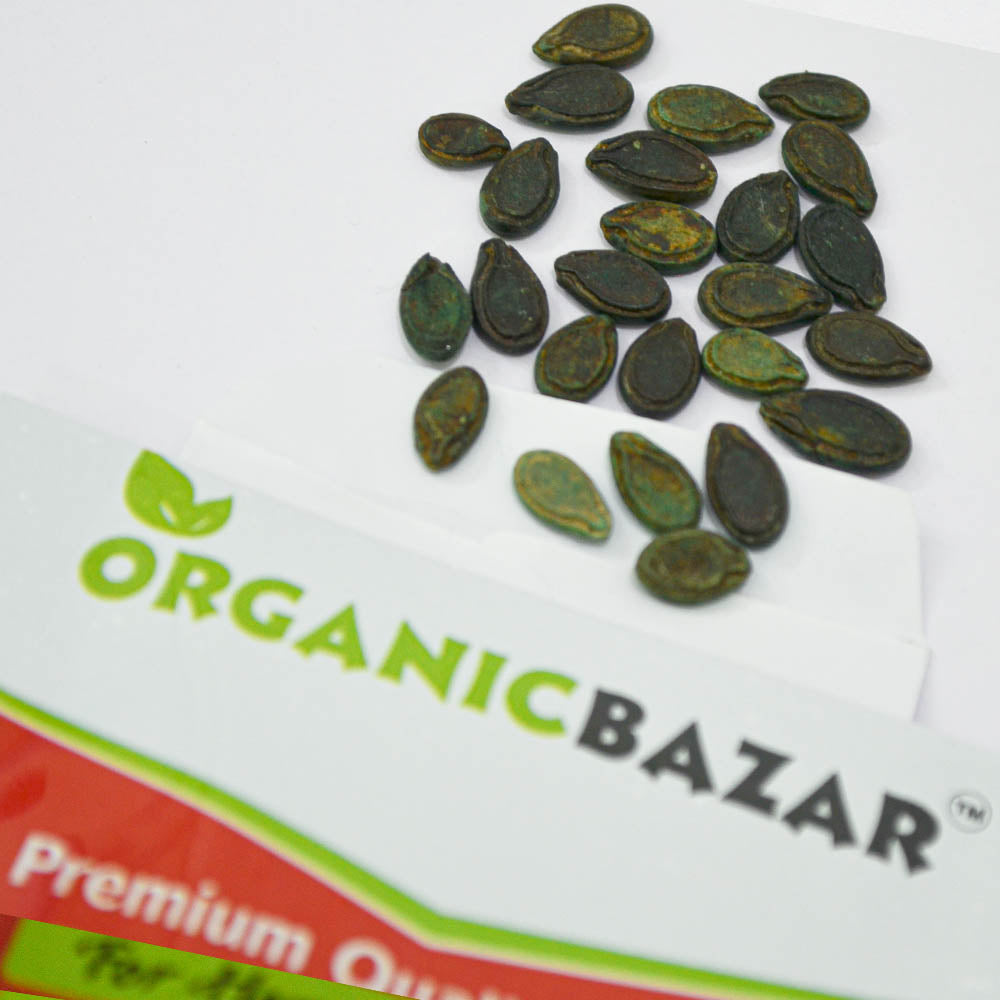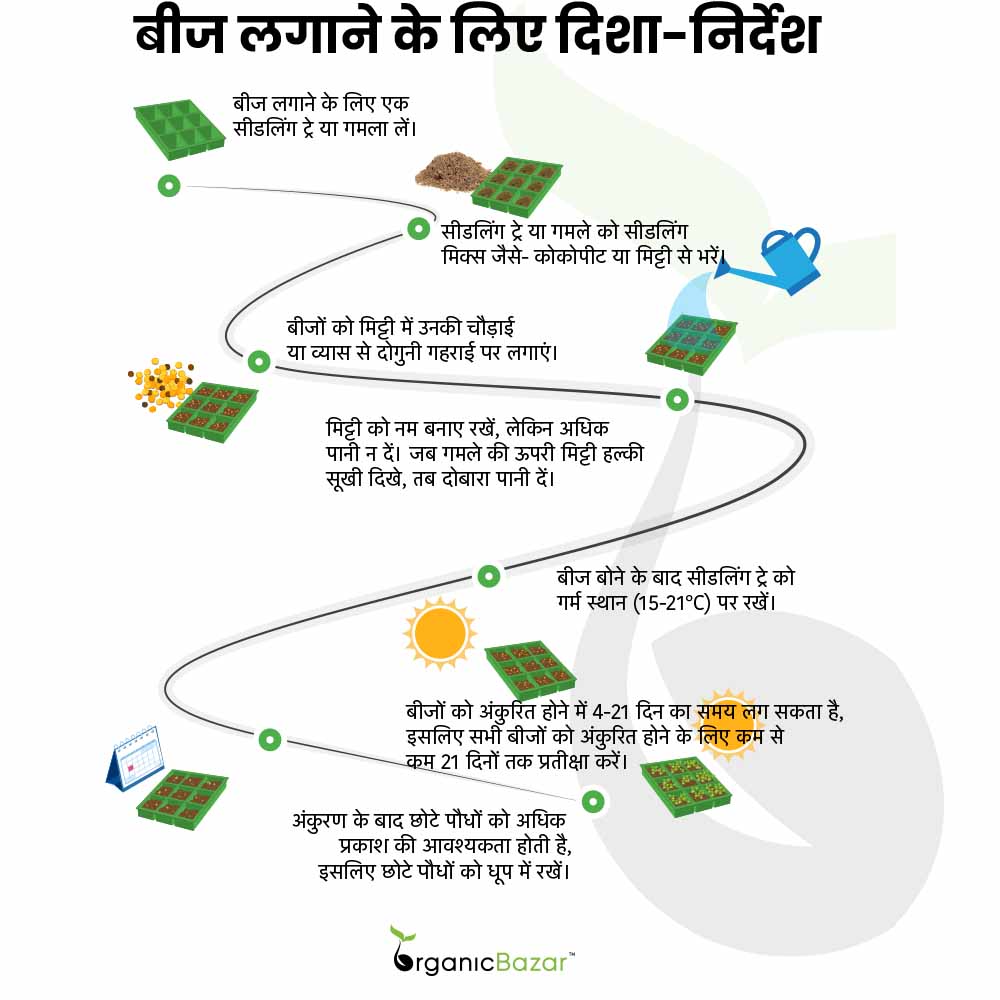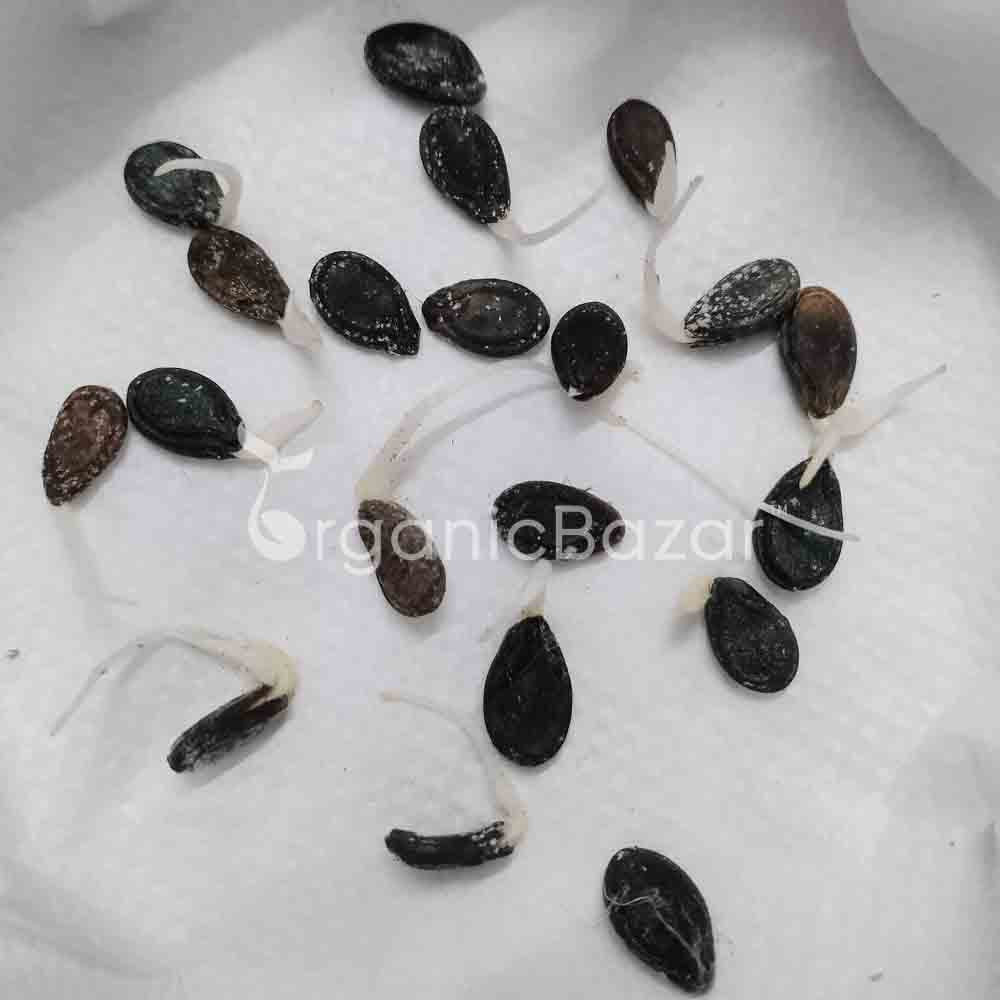 Tinda (Apple gourds) Seeds (टिंडा के बीज)
Sale price
₹ 49.00
Regular price
₹ 90.00
Tax included.
Tinda (Apple gourds) Seeds (टिंडा के बीज)
Sale price
₹ 49.00
Regular price
₹ 90.00
Product description
Shipping & Return
The tinda plant is as with all cucurbits, a prolific vine and is grown as an annual. Tinda is also called Indian squash, round melon, Indian round gourd or apple gourd, or Indian baby pumpkin. Tinda is considered one of the healthiest vegetables that are an excellent source of vitamin A, antioxidants, and high water content. With this information, you will know step by step how to grow tinda or apple gourd at home. Buy the best quality Apple Gourd (Tinda) seeds Online at the best price in India from
www.organicbazar.net
 with a good germination rate.
About this item
Number of Tinda Seeds: 25 Seeds

Where to grow: Balcony or terrace garden
Sowing season:

Summer and Rainy Season

Sowing method: Direct
Germination temperature: 25-30°C

Germination Time: 7 to 14 days

Fruit Size: 6-8 cm

Harvesting: 80-95 days from sowing
What size grow bag is best for Tinda?
Tinda Seeds Sowing Season
Tinda is a drought-resistant plant and grows rapidly in warm climates. You can sow tinda seeds in the  summer (February – march) and monsoon June-July.
How To Grow Tinda Plant
Tinda is a heat-loving fruit and is generally transplanted rather than directly sown in any pots/grow bags. Tinda can germinate at soil temperatures between 25-30°C.
Tinda Seed Sowing Method
Select a
seedling tray
or small size pots; fill with growing medium and sow the tinda seeds at a depth of 1 inch. Add water to the soil and maintain moisture. It can take about 1-2 weeks for tinda seeds to germinate, so wait for the seeds to germinate. Make sure that keep the seedlings in a warm place where they can receive proper sunlight.
Transplant the Tinda Plants into Big Pot
After tinda seeds germination, when the plant grows 4-5 inches tall with several leaves at that time transplant the healthiest plant carefully (without disturbing its root) into pots and plant only 2 saplings in a container. Keep the pot in a location where tinda gets 6-8 hours of proper sunlight and give water whenever you feel that soil becomes dry.
How To Fertilize Tinda Plant
Provide any organic manure (vermicompost or cow manure) every month when tinda plant starts to grow.
Tinda plants need a good amount of nutrients during fruiting times.
Tinda Plant Care Tips
Water –
Give regular water during summer days and keep the soil moist. Water only at the base of the plant and avoid watering the leaves.
Soil –
Tinda plants grow fast in well-drained, fertile, and sandy soil.
Sunlight –
Tinda needs 6-8 hours of direct sunlight every day. Keep your tinda plant under shade, if the temperature is more than 35°C.
       Temperature –
Ideal temperature for growing tinda is 18-32°C.
Common pests and diseases –
Some pests like beetles, whitefly, and aphids can attack tinda plants, and powdery mildew, downy mildew, and root rot are the main diseases that infected tinda plants. To get rid of this problem, it would be right to spray
neem oil
on the tinda plant from time to time.
Tinda Harvesting Time
Within 40-45 days from the seeds sowing tinda plant starts flowering.
Apple gourd or tinda will take 70-90 days to harvest from seeds sowing.
You can harvest Tinda, when it is mature, smooth, and tender, you can check with your fingernail, if it has penetrated you can cut it otherwise wait for it to mature.
Tinda Plant Special Features
Common name – Indian squash, round melon, Indian round gourd, and apple gourd
Scientific name - Praecitrullus fistulosus
Flower color – Yellow
Plant Height – About 6 feet
Note: Images are for reference purposes only. The actual product may vary in shape or appearance based on climate, age, height, etc.
Shipping Costs
Free Delivery: Available for Orders Above INR 499.
Prepaid Orders Below INR 499: Shipping Charge of INR 54.
Cash on Delivery Orders Below INR 499: Shipping Charge of INR 84.

Return Policy
Satisfaction Guaranteed: Return or Exchange Within 7 Days of Delivery.
Technical Details
Package Dimension: 12cm*9cm
Item Weight : 1.80
Net Quantity: 25N
Colour : N/A
Assembly Required: No
SKU : Tinda

Additional Information
Brand : OrganicBazar
Country of Origin: India
Manufacturer: HEALTHUNBOX PRIVATE LIMITED
Consumer Care: Phone: 9513316259 | Email - support@organicbazar.net
Consumer Care Address: P NO 225, NEAR OF WATER TANK, VIPATPURA, Narsinghpur (M.P) 487001