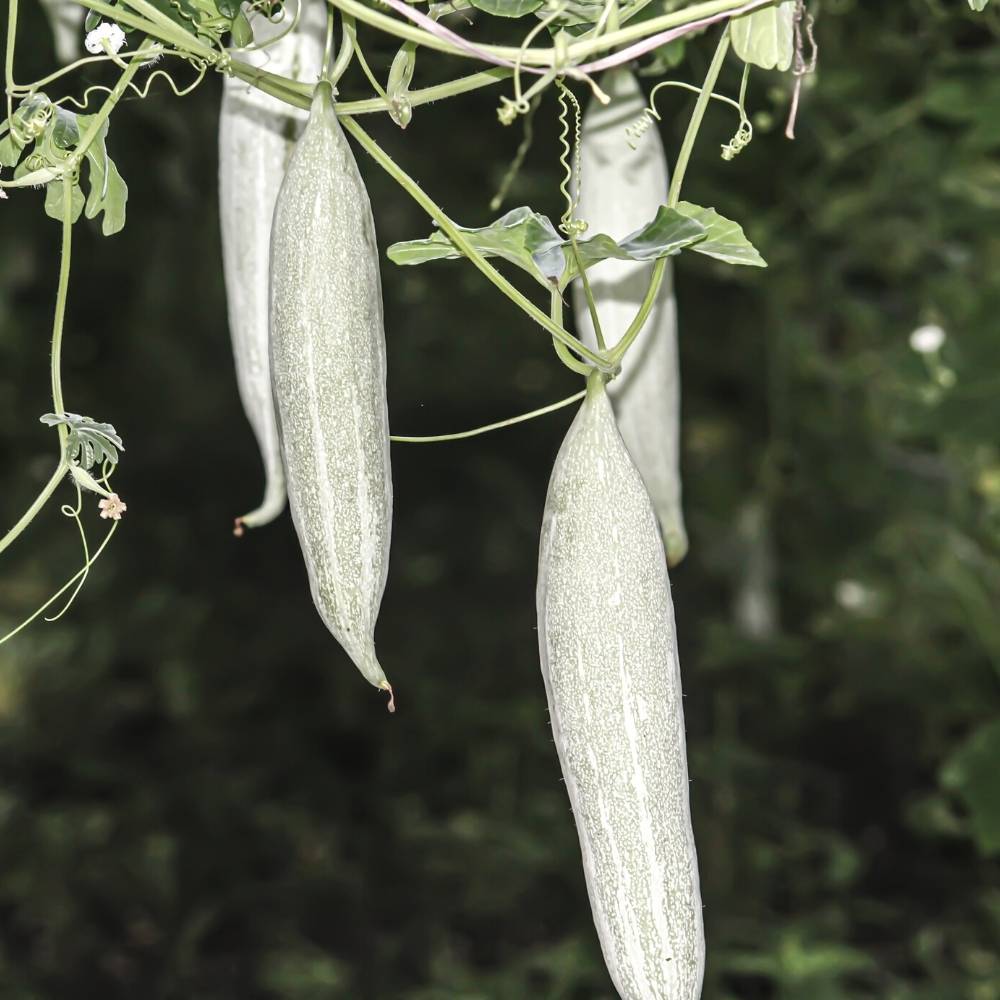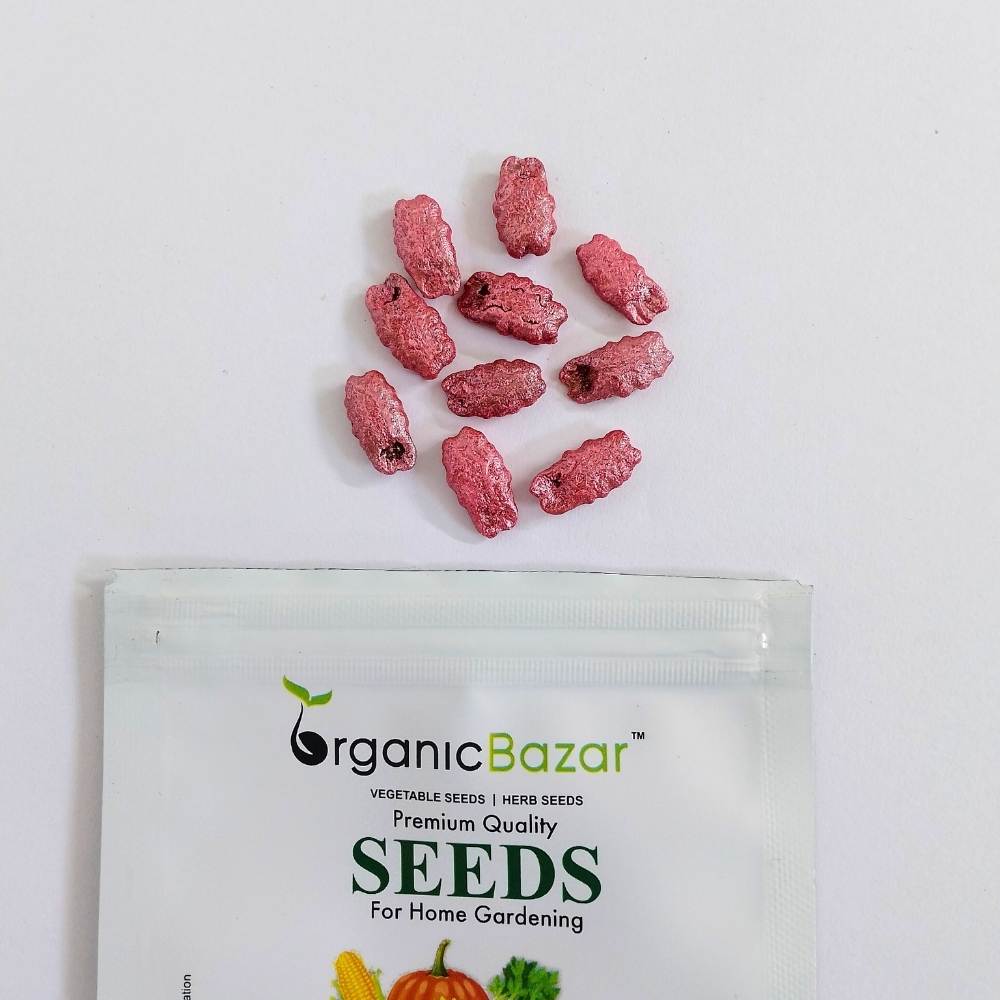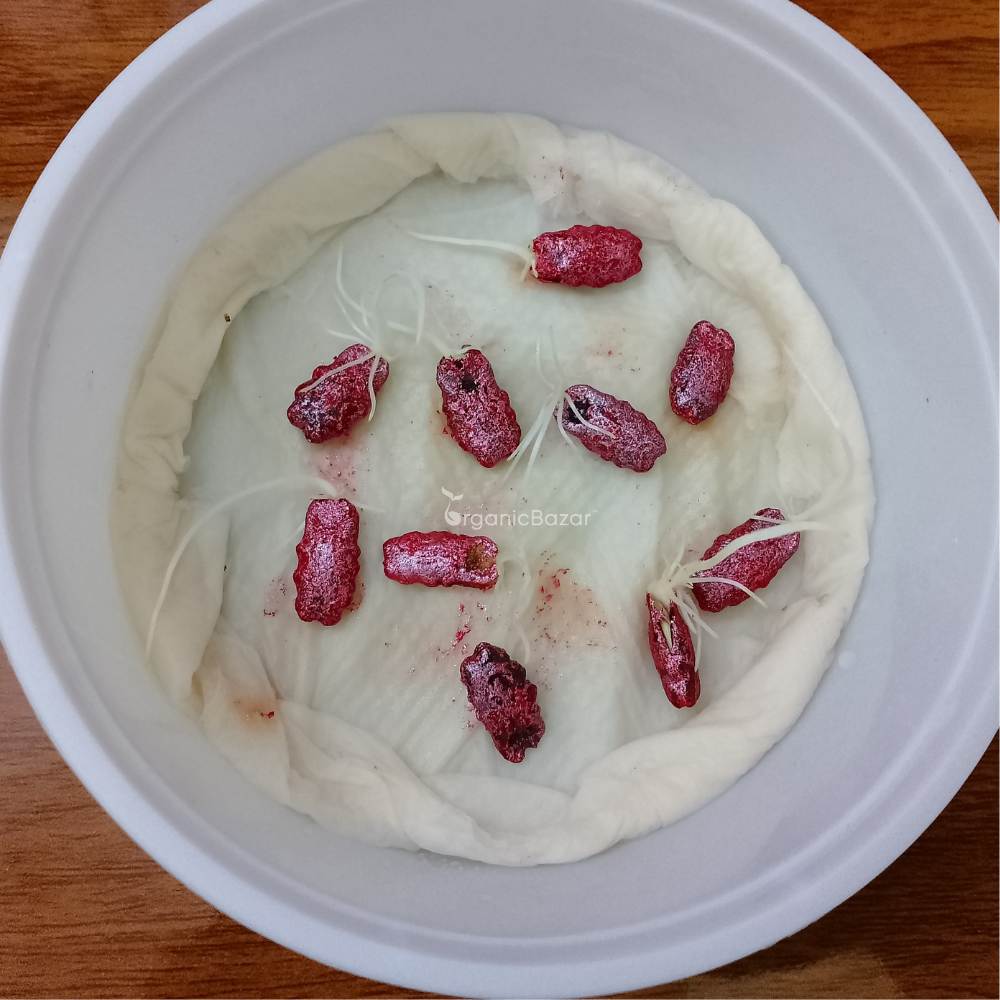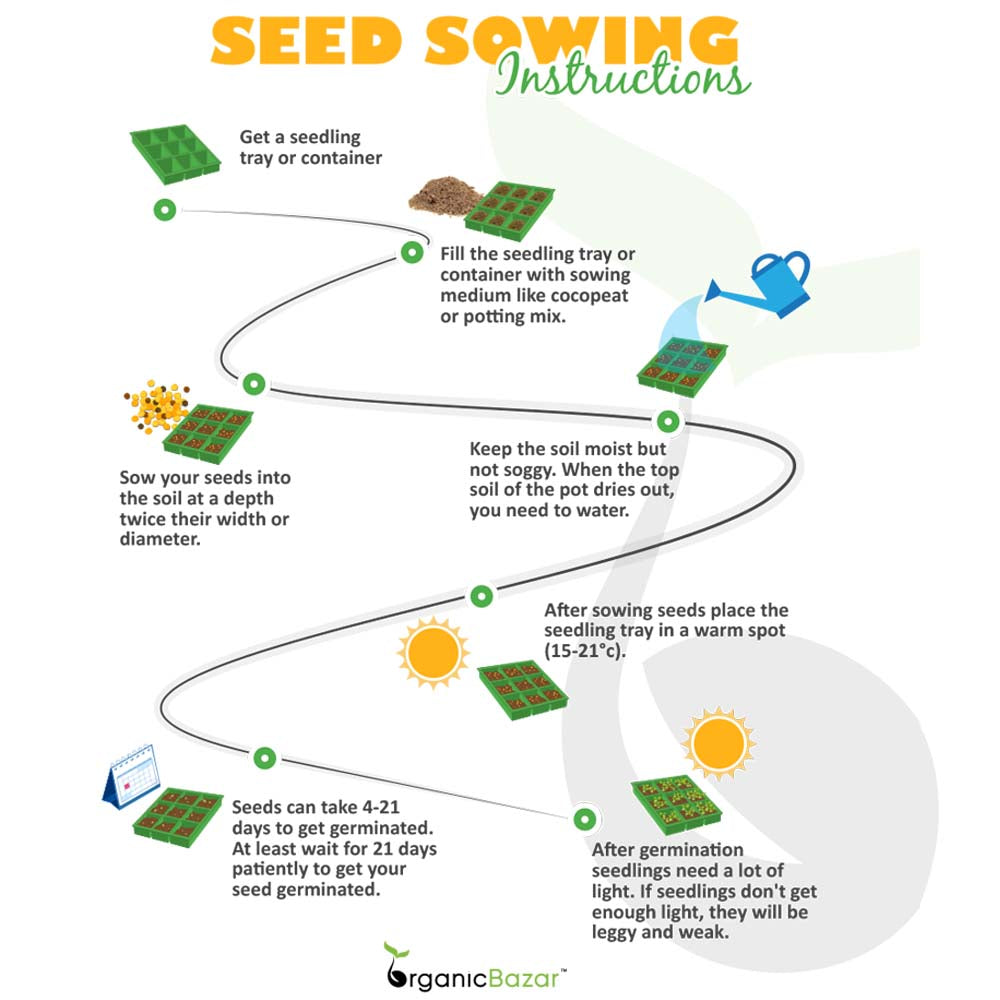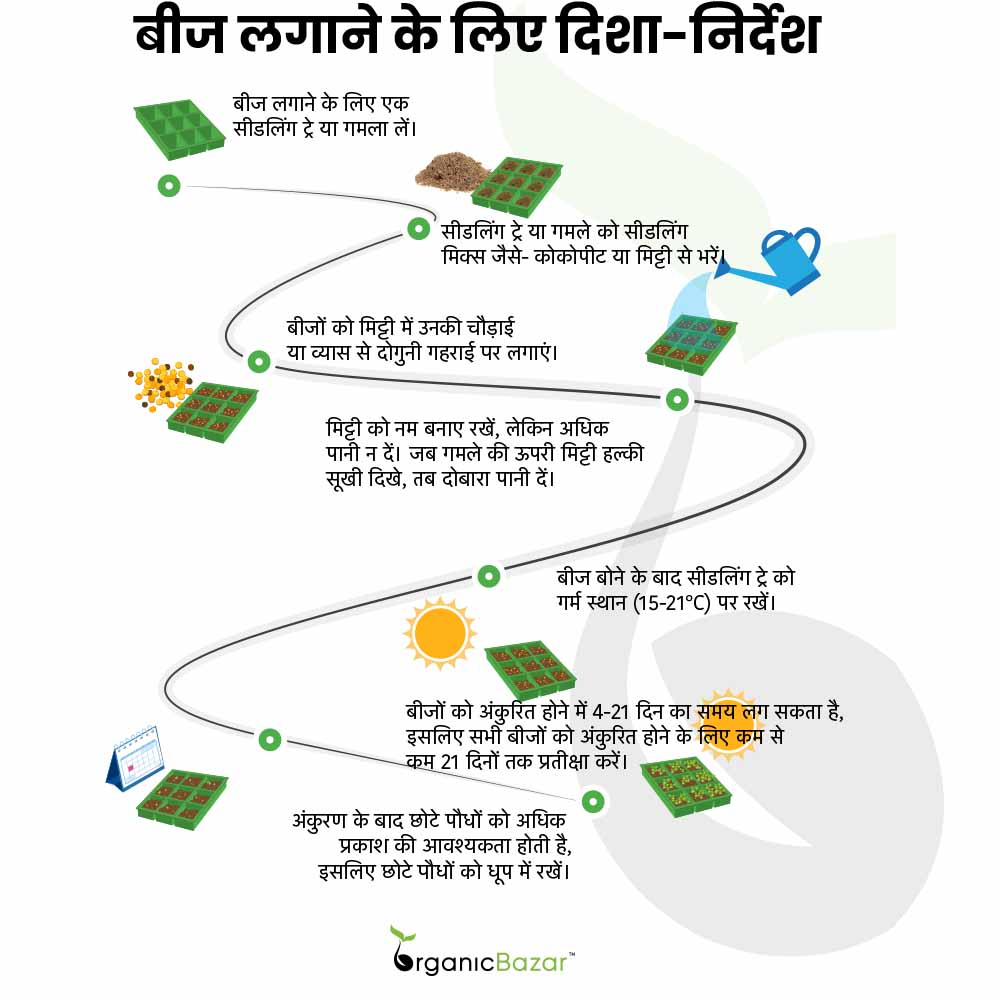 Snake Gourd (Chichinda) Dwarf White Short Seeds (चिचिंडा के बीज)
Sale price
₹ 79.00
Regular price
₹ 120.00
Tax included.
Snake Gourd (Chichinda) Dwarf White Short Seeds (चिचिंडा के बीज)
Sale price
₹ 79.00
Regular price
₹ 120.00
Product description
Shipping & Return
Snake gourd (chichinda) vegetable looks very different from other gourds. It is one of the shortest varieties of snake gourd that have white and waxy green skin and is striped with white color. White dwarf snake gourds grow straight and should be harvested when they are young because when they are small, the flavor of snake gourds is mild and similar to cucumber. These varieties of Snake gourds are short that are normally grown for eating and medicinal purposes. Most gardeners want to grow snake gourd vegetables at home because it's not easily available in the local market. Buy the Best Quality Snake Gourd Dwarf White Short Seeds Online at the best price in India from
www.organicbazar.net
 with a good germination rate.
About this item
Number of Snake Gourd (Dwarf White) seeds (chichinda ke bij): 10 Seeds

Where to grow: Balcony or terrace garden

Sowing season: Throughout the year (The best time is January to July)

Mode of sowing: Sow the seeds 0.5 inches deep in a Container, or Pots.

Germination temperature: 18-25°C

Germination Time: 7 to 14 days from sowing

Harvesting: Around 80-120 days from planting

Plant vigor: Strong plant
What size grow bag is best for Snake Gourd?
White Snake Gourd Dwarf Growing Season
White dwarf gourds grow well in warm or hot climates, with January to July being the best months to sow short white gourd seeds.
How To Grow White Snake Gourd
The snake gourd is a climber plant that needs more space to grow well but can easily grow in
pots/grow-bags
easily (15-24 inches) in width and height. Develop strong trellis support (5-6 feet) by using materials like pipes, bamboo, ropes, wires, etc. trellis help them to grow straight and long. Snake gourd seeds are usually hard to germinate so you can soak the seeds which will help you to germinate fast but can direct sowing seeds and keep the soil moist for quick germination. Chichinda or Snake gourd white short seeds will germinate in temperatures between 18-25°C.
Snake Gourd Dwarf White Short Seed Sowing Method
Sow snake gourd seeds directly in any pot/grow bag and fill them with a sowing medium. Sown 2 seeds at the center of a pot or grow bag about 0.5-1 inch deep in the soil. Give deep water to your snake gourd pots every day by using a
watering can
and keep maintaining moisture that helps the seeds to germinate within 1-2 weeks (depends on growing condition). Keep the pot in a place where the white snake gourd seedling receives at least 6 hours of sunlight.
How To Fertilize Snake Gourd White Dwarf Plant
After 20-25 days of snake gourd seeds sowing, add a side dressing like homemade compost or
vermicompost
which provide additional nutrients to the snake gourd plant.
White Snake Gourd Plant Care Tips
Water –
Snake gourd plants like adequate moisture, give regular water on summer days or when you feel the soil is dry.
Soil –
The snake gourd plant required well-drained and good moisture reserve soil and does not tolerate dry soil.
Sunlight –
The snake gourd is warm loving plant and needs 6-8 hours of full sunlight.
Temperature –
The ideal snake gourd growing temperature is 25-38°C (minimum temperature is 20°C).
Common pests and disease –
Leaf beetles and root-knot nematodes are common insects in snake gourd plants and powdery mildew and downy mildew infected the leaves and stems of plants. Use organic insecticide 
neem oil
to control pests and diseases in gourd plants.
Mulch –
To retain moisture in the soil, mulch the snake gourd plant 2-3 inches with wood chips.
Snake Gourd (White Dwarf) Flower and Pollination
Within 50-60 days from seed sowing white snake gourd plant starts flowering, the male flower appears first and the female will begin with small fruit. Gourd Plant depends on pollinators to set the fruit but sometimes it may be a problem in pollination because bees or insects are less active during the monsoon season. In such a case, hand pollination can work, reveal the stamen at the center by removing the petal from the male blossom, and you will see pollen clinging to it. Carry the pollen on your finger or small soft brush to female blossoms and touch them at their center. Be sure to refresh your brush with pollen every few touches. After doing this process, you will see the plant starts to give fruits.
Snake Gourd White Dwarf Harvest Time
You can harvest white snake gourds when they are young (about 5-8 inches long), around 80-120 days from planting.
Full ripen snake gourd fruit is inedible, orange, and fibrous. And as they mature, the rind becomes hard, turns red, and the flavor becomes bitter.
Cut regularly lateral branches to increase fruits and production.
White Dwarf Snake Gourd Plant Special Features
Common name – Snake squash, serpent gourd, padwal, chichinda (चिचिंडा)
Scientific name – Trichosanthes cucumerina
Flower color – White
Plant height – Above 6 feet
Level of growing - Easy
FAQ
Why do my snake gourd leaves turn yellow?
Downy mildew disease in plants results in yellow spots on the upper part of the leaf. Removing the affected leaf will control the infection.
Why is my snake gourd plant not flowering?
There are three factors water, sunlight, and temperature changes that affect the blooms of your snake gourd plants. Don't get too much water or less water to your snake gourd plants and keep the plant in a place where it can get proper sunlight.
What is the main reason for white spots on stems and leaves?
Powdery mildew disease infected the plant and caused white spots on the stem and leaves.
Why are my snake gourd seeds not germinating?
Snake gourd seeds will not germinate because of improper growing conditions like not getting enough sunlight, sowing seeds too deep in the soil, over watering, or under watering.
Why is my snake gourd getting wilting?
Overwatering is the main reason behind wilting; so avoid overwatering and keep the soil moist.
Where is the best place to plant snake gourd?
A Garden and terrace are the best options to plant snake gourd because it needs full light.
Does the snake gourd plant need support?
The snake gourd is a climber plant that needs some support like pipe, bamboo, rope, or wires because vine gourds produce more fruit and they require more space to grow.
Note: Images are for reference purposes only. The actual product may vary in shape or appearance based on climate, age, height, etc.
Shipping Costs
Free Delivery: Available for Orders Above INR 499.
Prepaid Orders Below INR 499: Shipping Charge of INR 54.
Cash on Delivery Orders Below INR 499: Shipping Charge of INR 84.

Return Policy
Satisfaction Guaranteed: Return or Exchange Within 7 Days of Delivery.
Technical Details
Package Dimension: 12cm*9cm
Item Weight : 4g
Net Quantity: 20N
Colour : N/A
Assembly Required: No
SKU : Snake-Gourd-Dwarf

Additional Information
Brand : OrganicBazar
Country of Origin: India
Manufacturer: HEALTHUNBOX PRIVATE LIMITED
Consumer Care: Phone: 9513316259 | Email - support@organicbazar.net
Consumer Care Address: P NO 225, NEAR OF WATER TANK, VIPATPURA, Narsinghpur (M.P) 487001