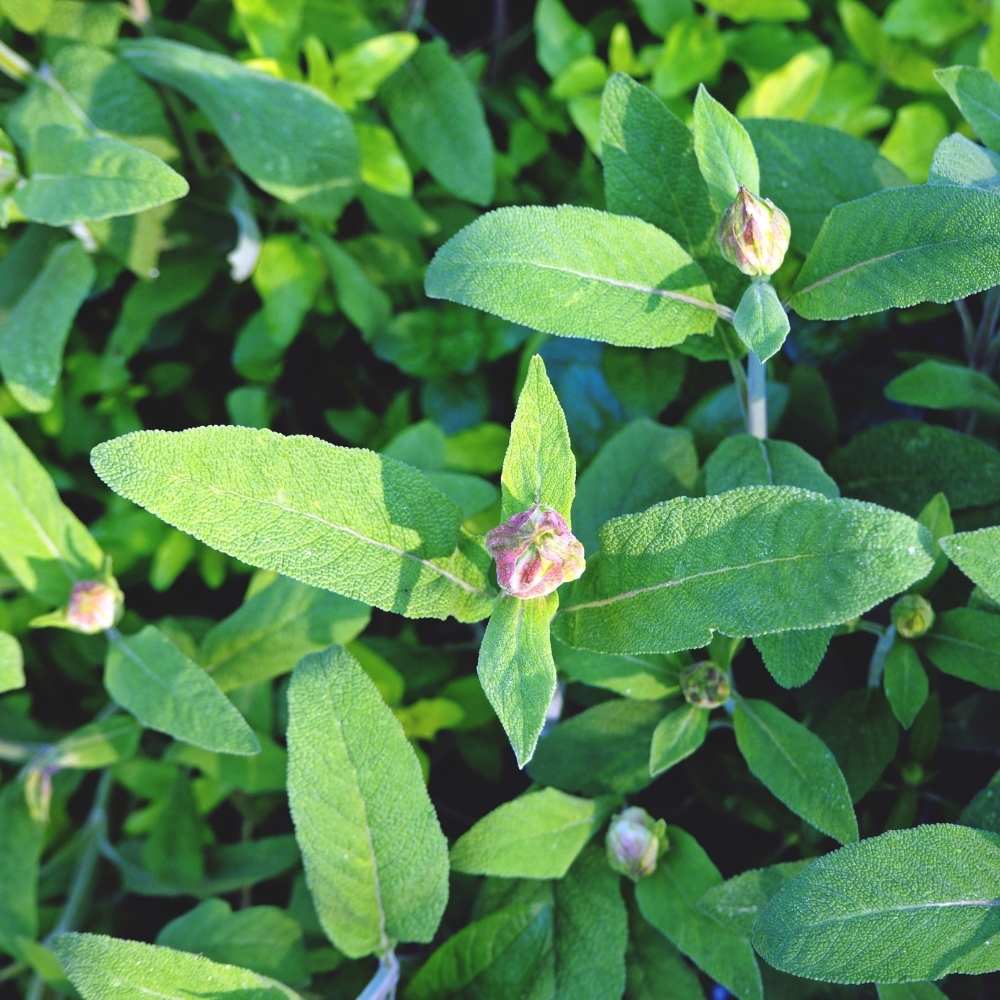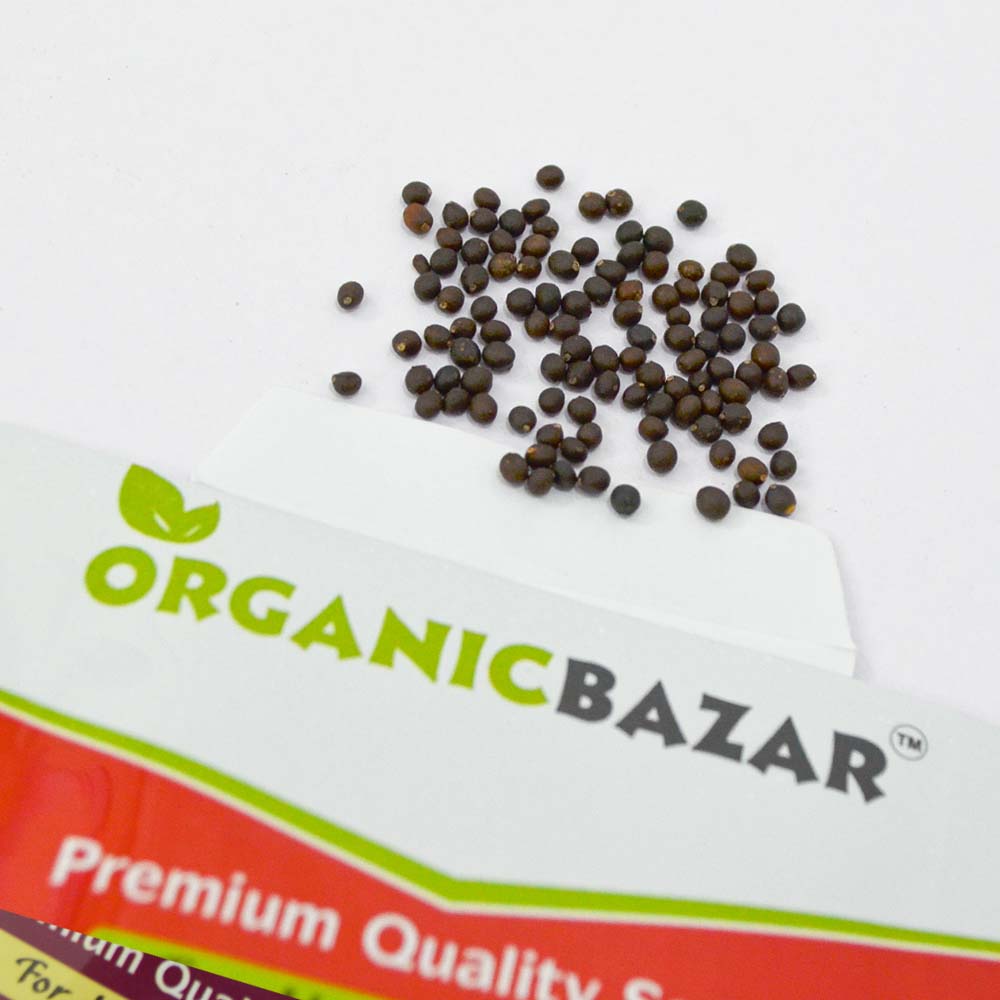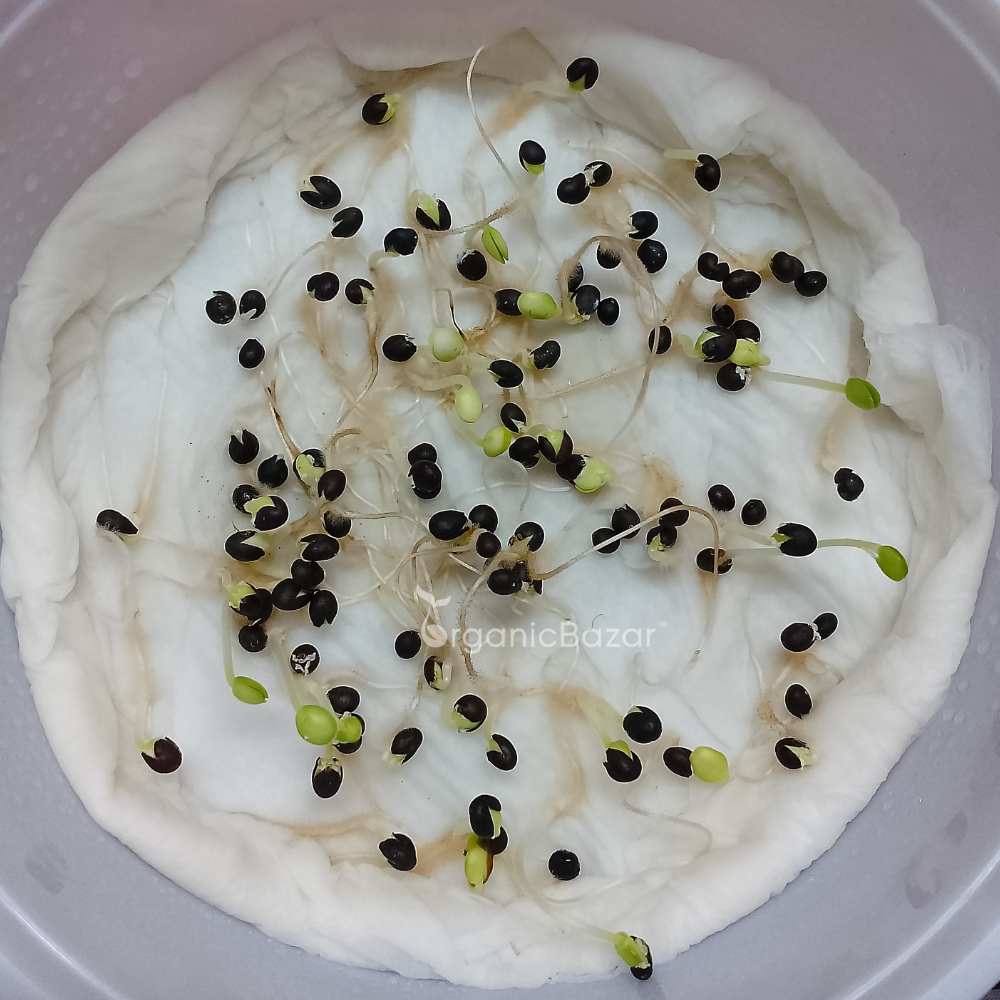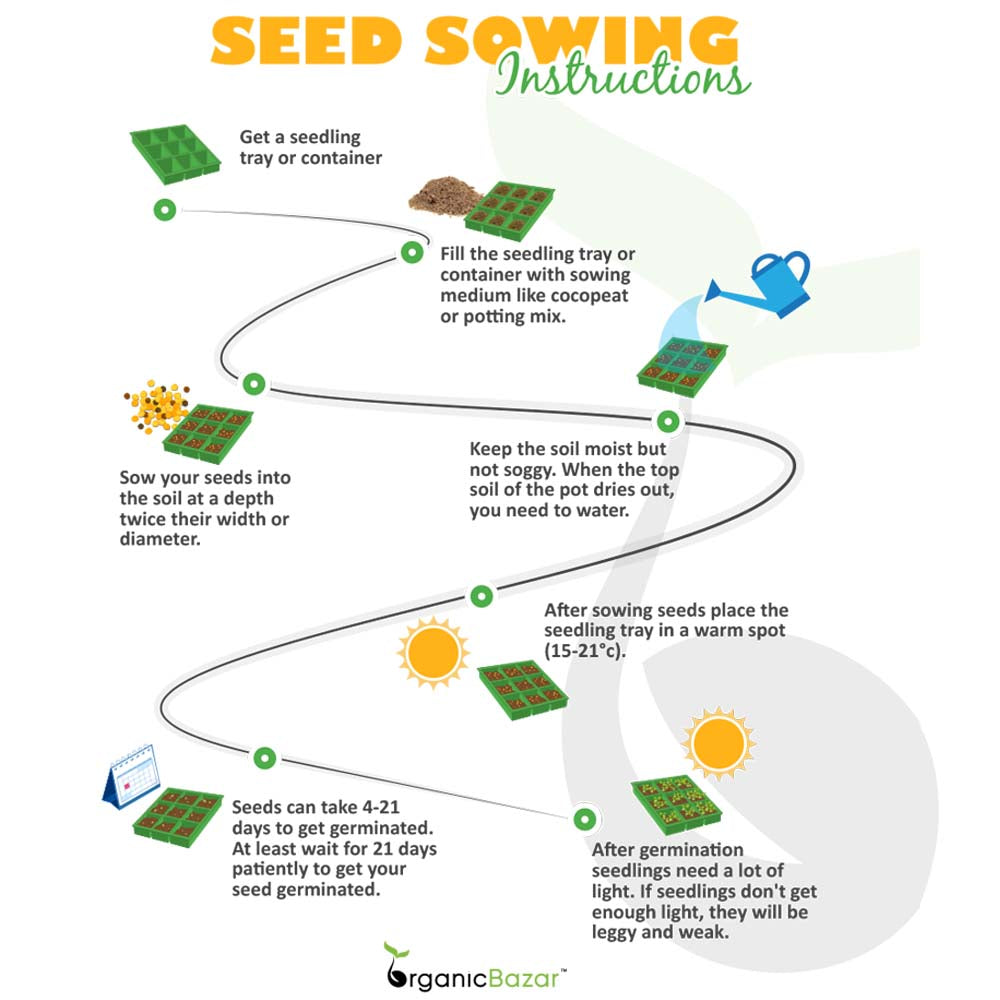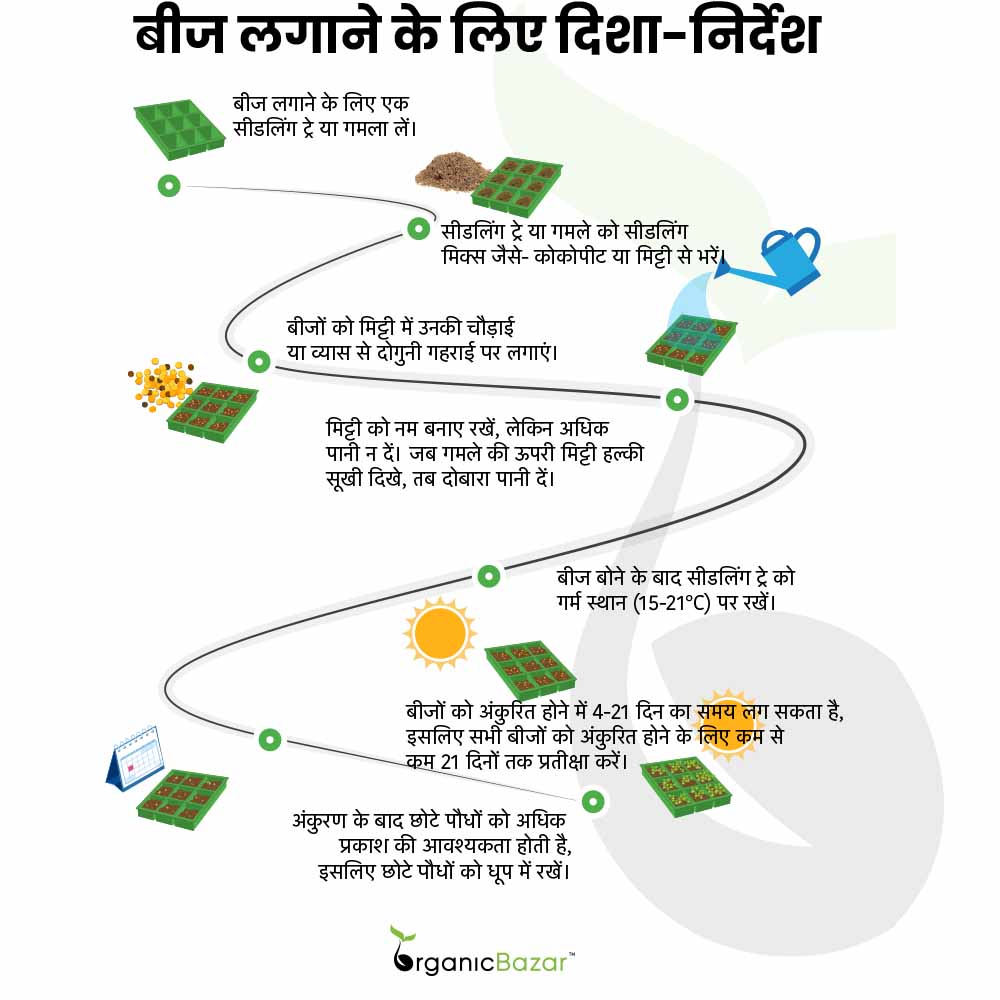 Sage Broad Leaf Seeds (Rishi Podha /ऋषि पौधा)
Sale price
₹ 59.00
Regular price
₹ 149.00
Tax included.
Sage Broad Leaf Seeds (Rishi Podha /ऋषि पौधा)
Sale price
₹ 59.00
Regular price
₹ 149.00
Product description
Shipping & Return
Sage is a hardy perennial herb that is grown for its fragrant broad leaves. The leaves are grayish-green and the bluish-purple flowers are edible, used fresh or dried to flavor other dishes. It is a woody or subshrub herb plant belonging to the mint family and is easy to grow and does not require any special conditions after planting. Buy Best quality Broad leaf sage Seeds Online at the best price in India from
www.organicbazar.net
with a good germination rate
About this item
Number of Sage Broad Leaf Seeds: 100 Seeds
Where to grow: Balcony or terrace garden
Sowing method: Direct planting or Seedling
Seeds sowing depth: 1/8 inches
Germination Temperature: 18-21°C
Sowing season:

 Winter Season 

Germination Time: 10 to 21 days
Sowing distance:

10-12 inches

Plant to Plant
Harvesting time: 70-75 days from planting
What size grow bag is best for Broad leaf sage?
Sage Growing Season In India 
Sage Sown October to November and harvest from November to February. In central and southern India, it can be grown from September to February.
How To Grow Sage Broad Leaf
Sow the sage seeds directly or by seedling method, it grows well in both ways. To plant sage from seeds, select a pot or grow bag 12-24 inches wide and 12-15 inches deep with good-draining holes. The optimum temperature for germination of sage seeds is 18-21°C.
Sage Broad Leaf Seeds Sowing Method  
Take a pot or grow bag, fill them with soil and add organic fertilizer then sprinkle 5-10 sage seeds over the soil, and cover the seeds with a thin layer of soil. Water the soil deeply through a watering can, and put the pot in a sunny spot. Sage seeds
germinate in
about 10-21 days,
they may germinate early or late depending on growing conditions. 
If you have grown sage in a seedling tray, you need to transplant them into larger pots after the seeds have germinated and when the seedlings are a few inches tall. Sage should be planted in a large pot about 10-12 inches apart. For better plant growth, add organic manure to the soil, give proper water to the sage plant and try to keep the soil moist.
Fertilizer For Sage Plants
Add an organic-rich fertilizer to the soil for the best results for the sage plant, but don't overfeed as the leaves may lose their flavor.
Sage Plants Care Tips
Soil -
Use well-drained, sandy, or loamy soil with a ph of 6.0-6.5 for planting sage.
Water -
Sage is a drought tolerant plant so it requires moderate watering. You should provide 1 inch of water per week, and keep the soil moist. Water should be given early in the day so that the wet leaves have enough time to dry and do not give overhead watering. 
Sunlight -
Sage plants require at least 6 hours of direct sunlight each day. However, they can grow in some shade on hot days.
Temperature -
Sage plants like moderate humidity levels to thrive, although they can tolerate some frost. The temperatures between 15-25°C are suitable for growing sage plants.
Common pests and diseases -
Some pests such as slugs, spittlebugs, and spider mites attack sage plants, and diseases powdery mildew and root rot infect the plants. To get rid of the problem it would be right to spray neem oil on the sage plants. 
Pruning -
To encourage the growth of new leaves and help enhance the flavor of the sage, prune the oldest woody stems and infected leaves. Harvesting regularly is also a type of pruning of plants. If any flowers begin to appear, pinch or cut them off to prevent them from producing seeds. Pruning should be done every spring.
Harvesting of Broad Leaf Sage 
Sage plant is ready to harvest within 70-75 days after planting. However, you can harvest the leaves when the sage plant is large enough to use.

You can cut the leaves with a scissor as needed. 

Regular harvesting will promote more leaves. 

To get the best flavor, cut the leaves before the plant flowers, although you can pinch the sage flower as it is edible.
Sage Plant Special Features 
Common name - Garden sage, culinary sage, common sage, or broadleaf sage

Scientific name - Salvia officinalis

Height - 2 to 3 feet

Flower color - Blue-purple

Level of growing - Easy

Companion planting - Cauliflower, rosemary, cabbage, and carrots

Avoid planting - Cucumber, and onions
FAQ 
Can sage be grown indoors?
You can grow sage indoors but keep it in a place where the plant gets proper light.
Why are sage leaves turning yellow?
The main causes of yellow leaves on sage plants are excess water in the soil and wetting of the leaves; This causes the leaves of the plant to turn yellow and then dry up. 
How long do sage plants last?
Sage is a perennial herb plant that can live for 3-5 years under proper growing conditions. Plant new sage when it becomes leggy or woody. 
What conditions does sage like? 
Sage plant prefers well-drained soil, full sunlight, and moderate water.
Can you eat sage flowers?
The sage plant produces beautiful blue-violet flowers that are also edible. Sage flowers are excellent for combining with other dishes.
Why are my sage seeds not germinating?
Sage seeds will not germinate because of improper growing conditions like not getting enough sunlight, sowing seeds too deep in the soil, over watering, or under watering.
Note: Images are for reference purposes only. The actual product may vary in shape or appearance based on climate, age, height, etc.
Shipping Costs
Free Delivery: Available for Orders Above INR 499.
Prepaid Orders Below INR 499: Shipping Charge of INR 54.
Cash on Delivery Orders Below INR 499: Shipping Charge of INR 84.

Return Policy
Satisfaction Guaranteed: Return or Exchange Within 7 Days of Delivery.
Technical Details
Package Dimension: 12cm*9cm
Item Weight : 60mg
Net Quantity: 100N
Colour : N/A
Assembly Required: No
SKU : Sage

Additional Information
Brand : OrganicBazar
Country of Origin: India
Manufacturer: HEALTHUNBOX PRIVATE LIMITED
Consumer Care: Phone: 9513316259 | Email - support@organicbazar.net
Consumer Care Address: P NO 225, NEAR OF WATER TANK, VIPATPURA, Narsinghpur (M.P) 487001
Reviews
Almost all the seeds grew.