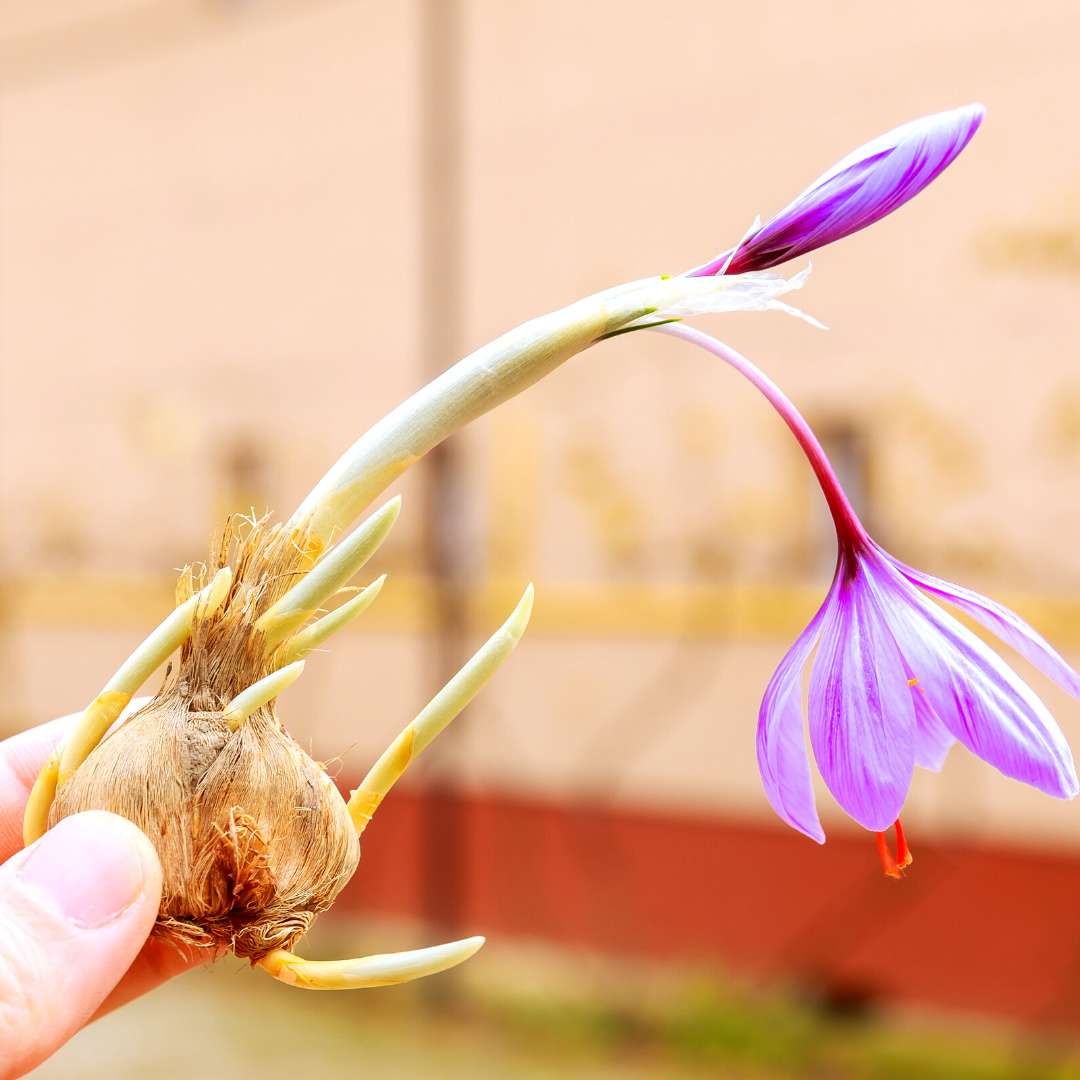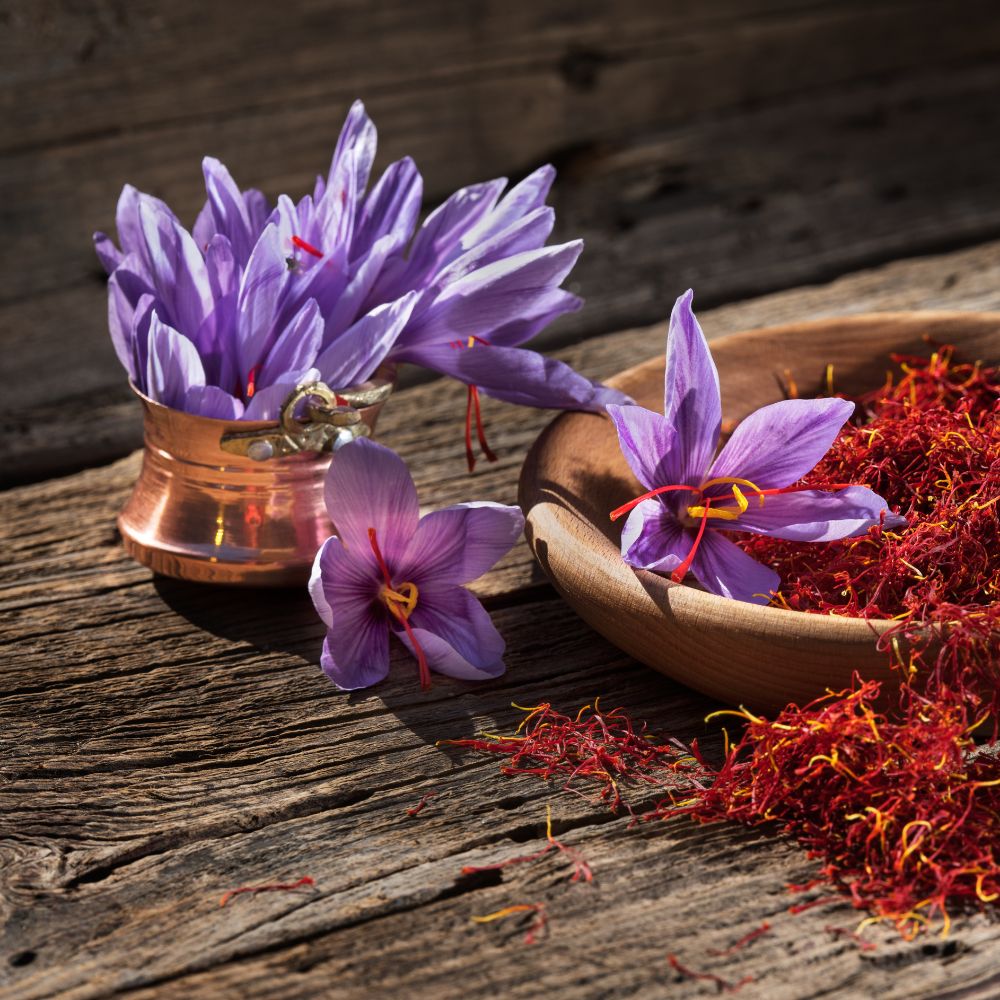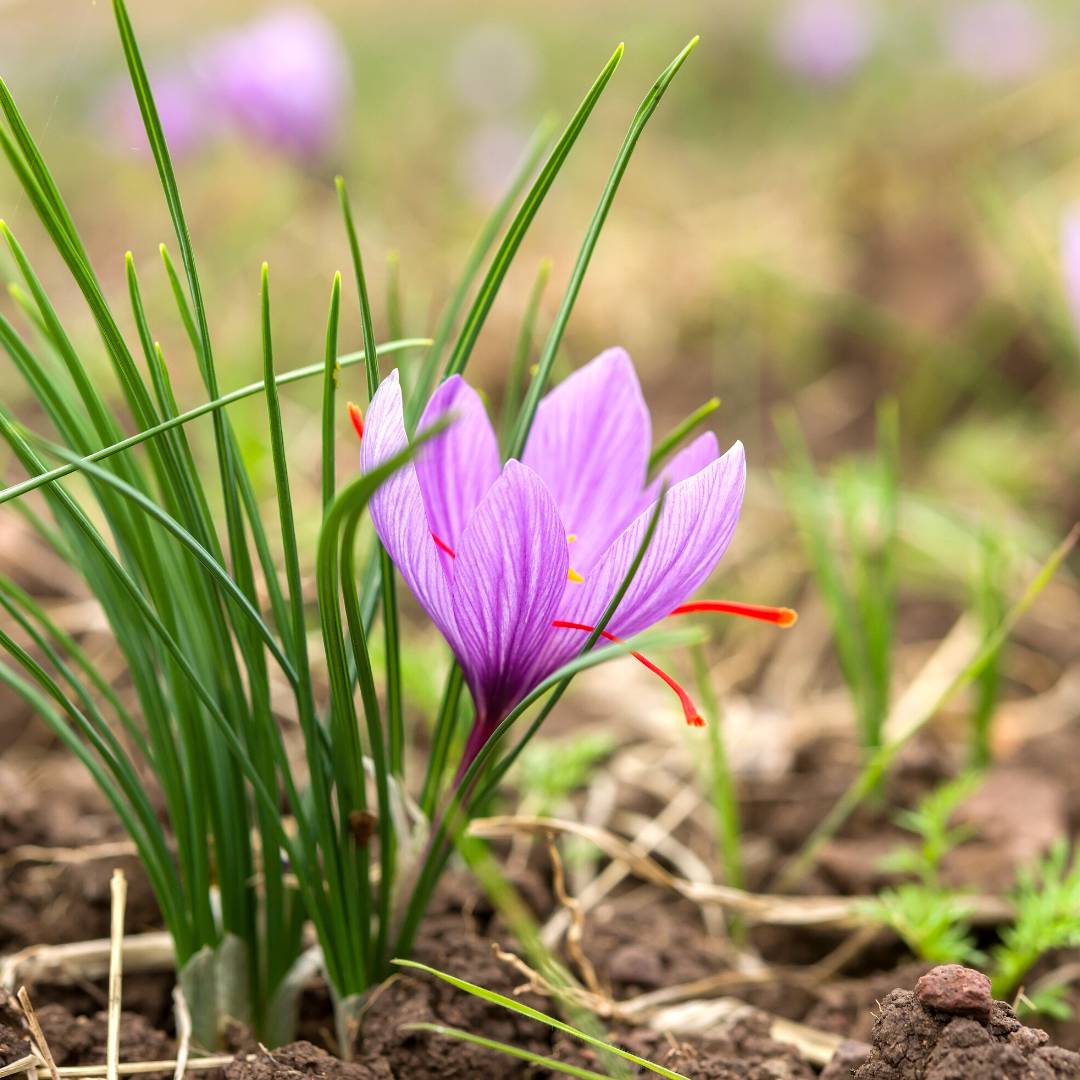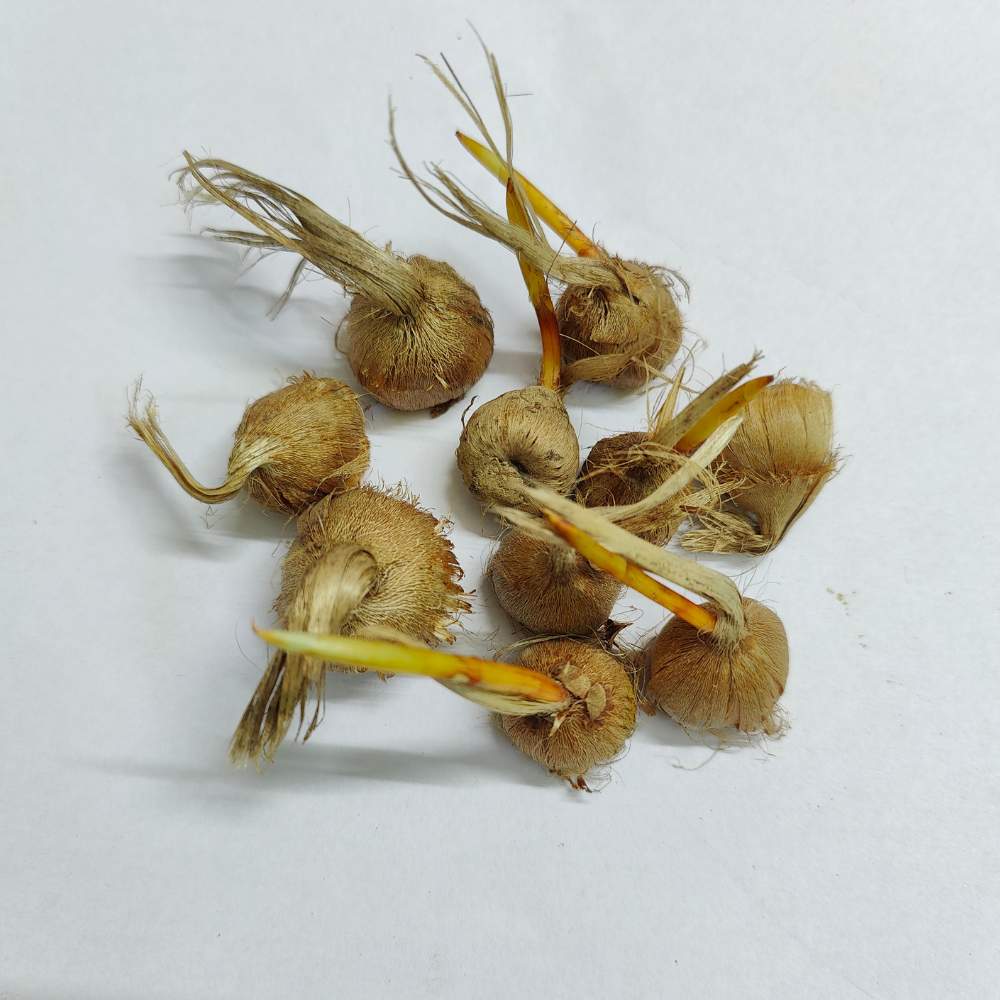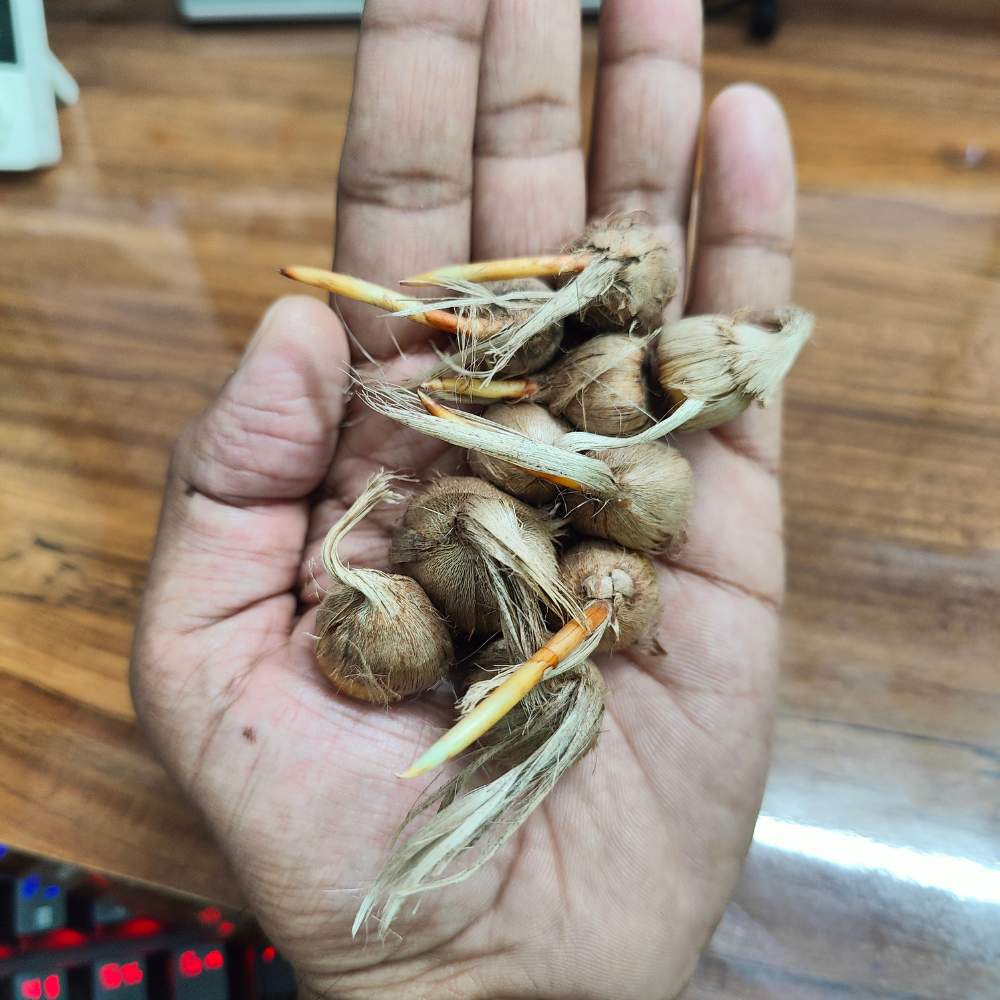 Kashmiri Saffron (Kesar) Bulbs 10N
Sale price
₹ 299.00
Regular price
₹ 499.00
Tax included.
Kashmiri Saffron (Kesar) Bulbs 10N
Sale price
₹ 299.00
Regular price
₹ 499.00
Product description
Shipping & Return
Saffron (Kesar) bulbs will germinate when the daytime temperature doesn't exceed 25°C and will only bloom when the temperature stays below 10°C during the day.
Please research your local climate before planting kesar bulbs, as saffron requires specific cold conditions to flower and won't be suitable for every region in India
. These bulbs are authentic Kashmiri saffron, sourced directly from farmers in Kashmir.
Kashmiri Saffron Bulbs. the "Red Gold," has been treasured for centuries for its unparalleled flavor, aroma, and vibrant color. saffron bulbs are sourced directly from the saffron fields of Kashmir, renowned for producing the highest-quality saffron in the world. Each bulb has the potential to produce several saffron threads or stigma, known for their intense flavor and coloring properties.
Buy the best Quality Kashmiri Saffron (Kesar) Bulbs Online at the best price from
www.organicbazar.net
Kashmir saffron is a little difficult to grow, it can be grown only in the environment suitable for it.
About this item  
Number of Kashmiri Kesar Bulb: 10N
Bulb planting season: Winter
Planting Temperature: 15 to 21 °C
Method of grown from bulbs: Directly in a pot or garden
Bulb sowing depth: 2-4 inches
Bulb spacing: 4-6 inches
Blooming Time: October and November
What size grow bag is best for Kashmiri Saffron (Kesar) Bulbs?
When To Plant Kashmiri Kesar Bulbs?
Saffron bulbs are typically planted in mid-September to mid-December. This timing is crucial to allow the bulbs to establish their roots before winter.
How To Grow Kashmiri Saffron Bulbs 
Choose the Right Bulbs
Make sure you obtain high-quality Kashmiri saffron bulbs from a reputable source.
Select the Containers 
Use pots or containers that are 5-7 inches deep in size. Ensure they have proper drainage holes at the bottom to prevent waterlogging.
Prepare the Soil
Saffron requires well-draining soil. You can amend your potting mix with organic matter (like compost) to improve soil quality. Fill the containers with this mix, leaving some space at the top.
Plant the Bulbs
Space the bulbs 4-6 inches apart and plant them about 2-4 inches deep. Ensure the pointed end faces upwards.
Watering
After planting, water the pots thoroughly to help the soil settle. Be careful not to overwater, as saffron bulbs don't like excessive moisture. Water only when the top inch of soil is dry.
Sunlight
Place the pots in a location that receives full sunlight, ideally at least 6-8 hours of direct sunlight per day.
Mulching
Apply a thin layer of mulch to the top of the soil to conserve moisture and regulate soil temperature. It also helps suppress weeds.
Fertilization 
Saffron doesn't require heavy fertilization. You can use a balanced, slow-release fertilizer sparingly during the growing season, but avoid over-fertilizing.
Winter Care
If you live in an area with cold winters, protect the pots by moving them to a sheltered location or insulating them to prevent freezing. Saffron bulbs require a period of dormancy during the winter.
Harvesting
Saffron typically blooms in the autumn, around October or November. Harvest the crimson saffron threads shortly after the flowers open, preferably in the morning when they are at their most vibrant and flavorful.
Maintenance
After the blooming season, allow the saffron plants to rest in winter. In the following spring, they will start growing again.
Saffron Special Features 
Common name – Kesar, Saffron
Scientific name – Crocus sativus.
Height – 6 to 12 inches
Level of growing – Medium
FAQ
1. What is the best time to plant saffron bulbs?
The best time to plant saffron bulbs is in early winter, This allows the bulbs to establish roots before the winter dormancy. However, it's crucial to note that saffron is best suited for regions with cold winters, like Kashmir, Himachal Pradesh, and parts of Uttarakhand.
2. When do saffron flowers bloom?
Saffron flower
s
typically bloom in around October and November. The vibrant crimson stigmas, and the saffron threads, are harvested when the flowers open.
3. How long do saffron bulbs take to grow?
Saffron Crocus (Crocus sativus) creates quick jewel-toned flowers in the fall garden in about 6-10 weeks (sometimes as little as 4-6 weeks) after being planted.

Note: Images are for reference purposes only. The actual product may vary in shape or appearance based on climate, age, height, etc.
Shipping Costs
Free Delivery: Available for Orders Above INR 499.
Prepaid Orders Below INR 499: Shipping Charge of INR 54.
Cash on Delivery Orders Below INR 499: Shipping Charge of INR 84.

Return Policy
Satisfaction Guaranteed: Return or Exchange Within 7 Days of Delivery.
Technical Details
Package Dimension:
Item Weight :
Net Quantity:
Colour : N/A
Assembly Required: No
SKU : Kashmiri_Saffron

Additional Information
Brand : OrganicBazar
Country of Origin: India
Manufacturer: HEALTHUNBOX PRIVATE LIMITED
Consumer Care: Phone: 9513316259 | Email - support@organicbazar.net
Consumer Care Address: P NO 225, NEAR OF WATER TANK, VIPATPURA, Narsinghpur (M.P) 487001