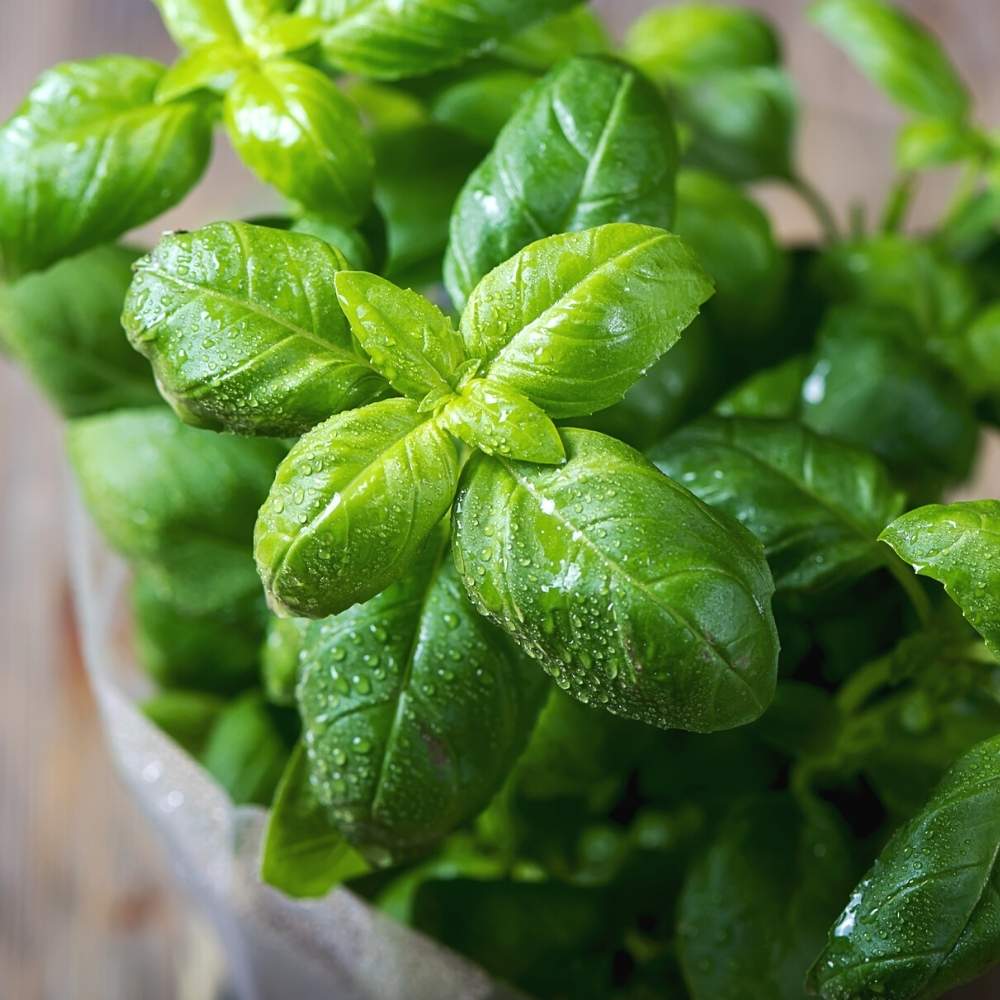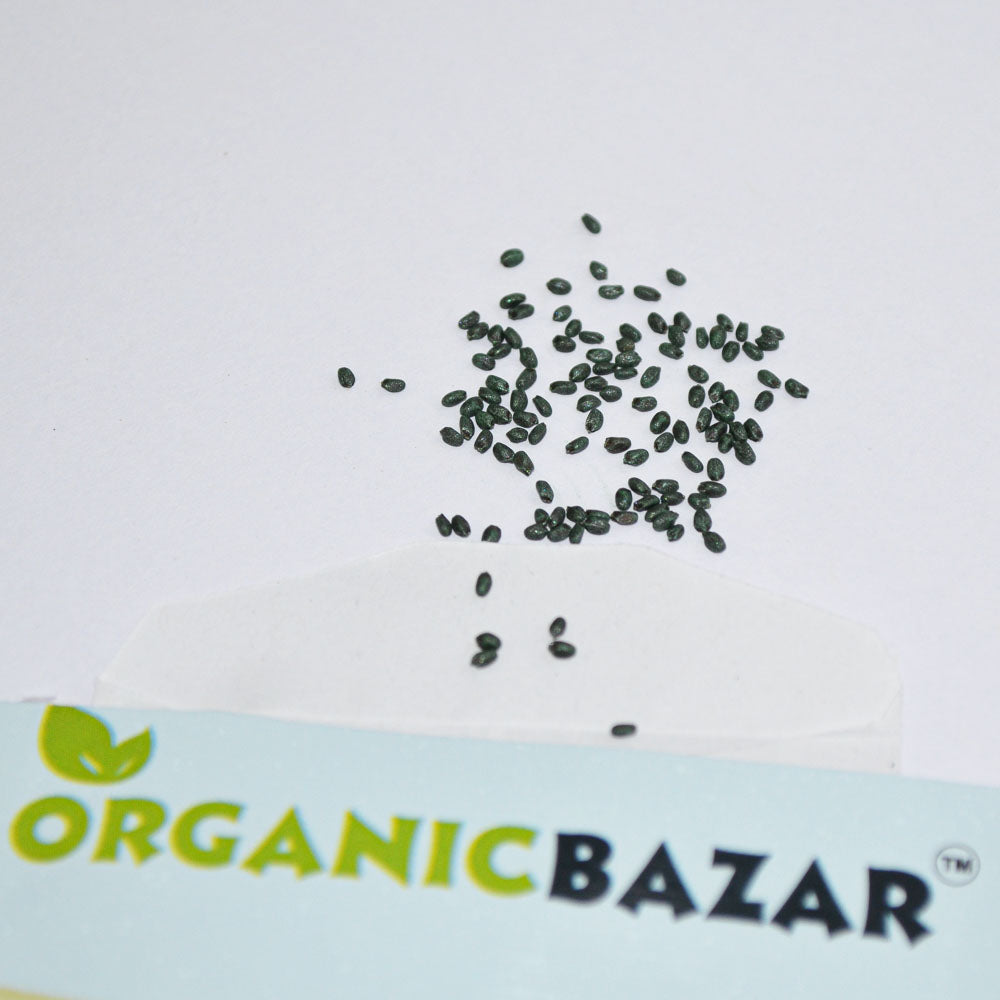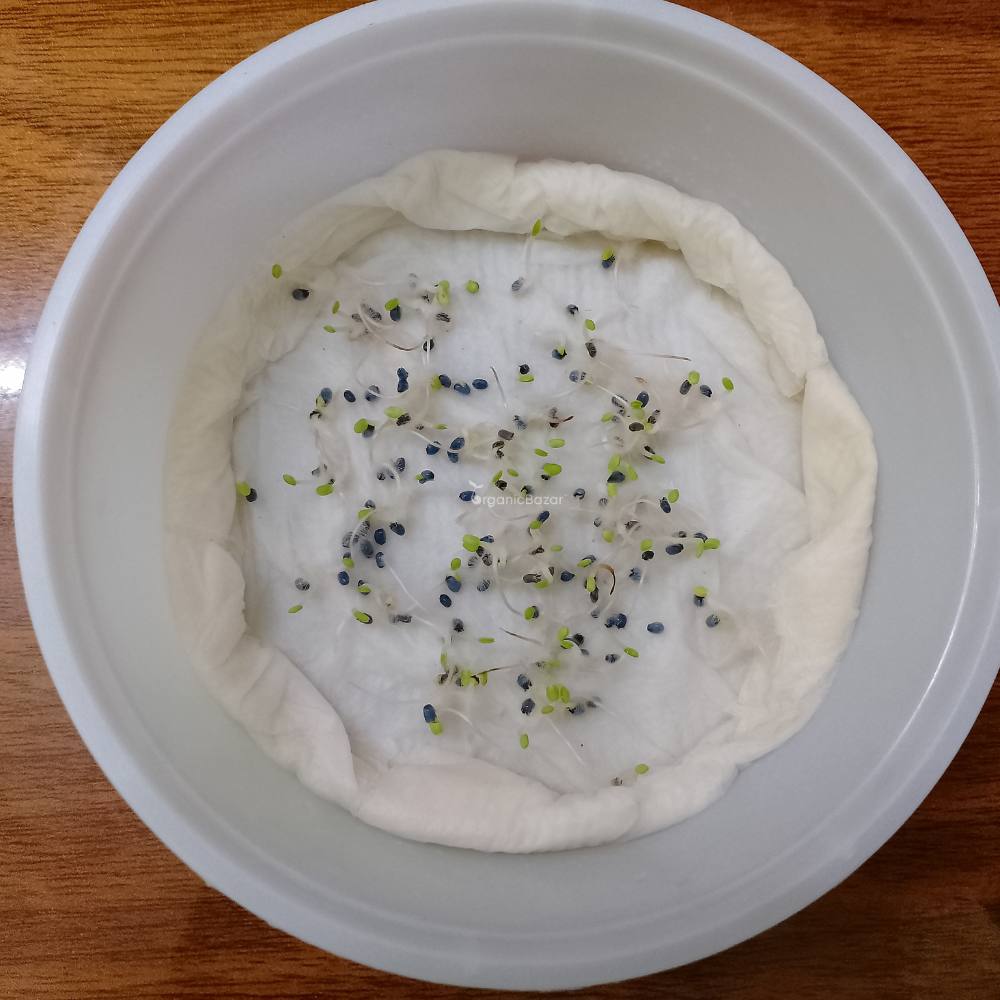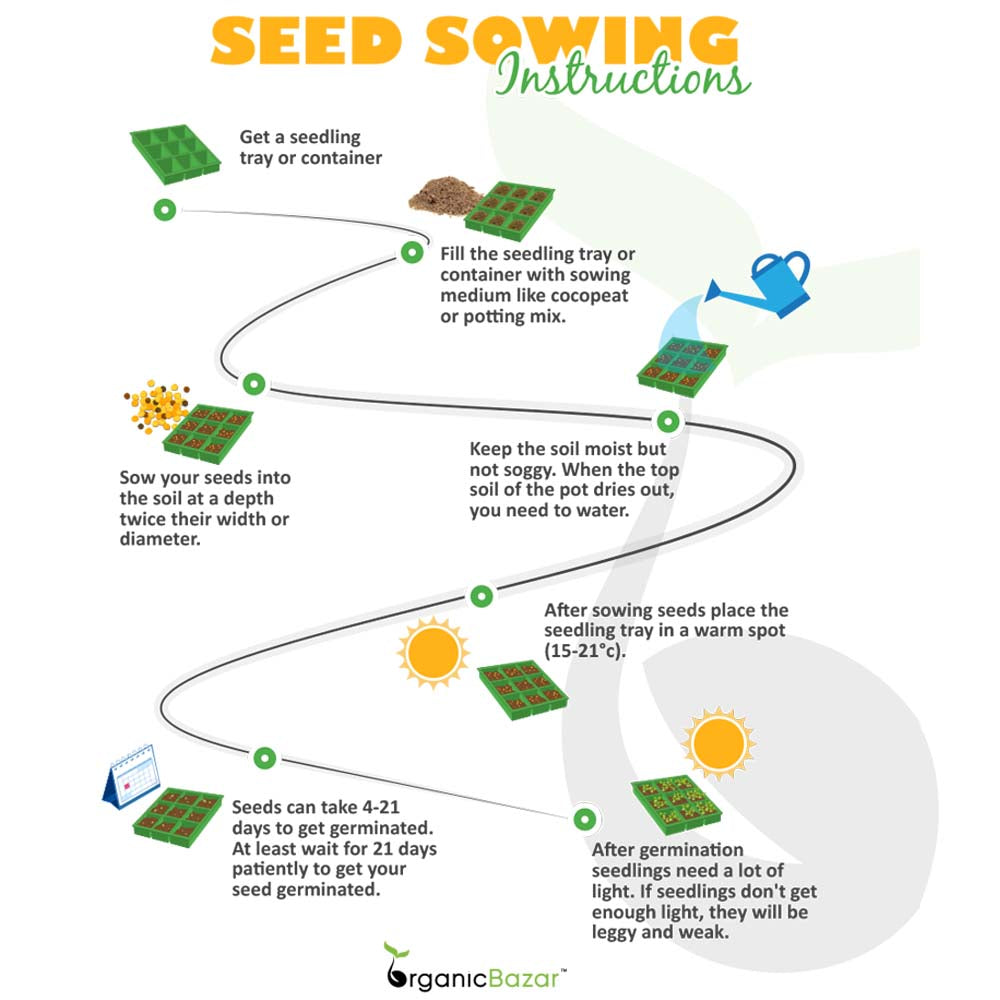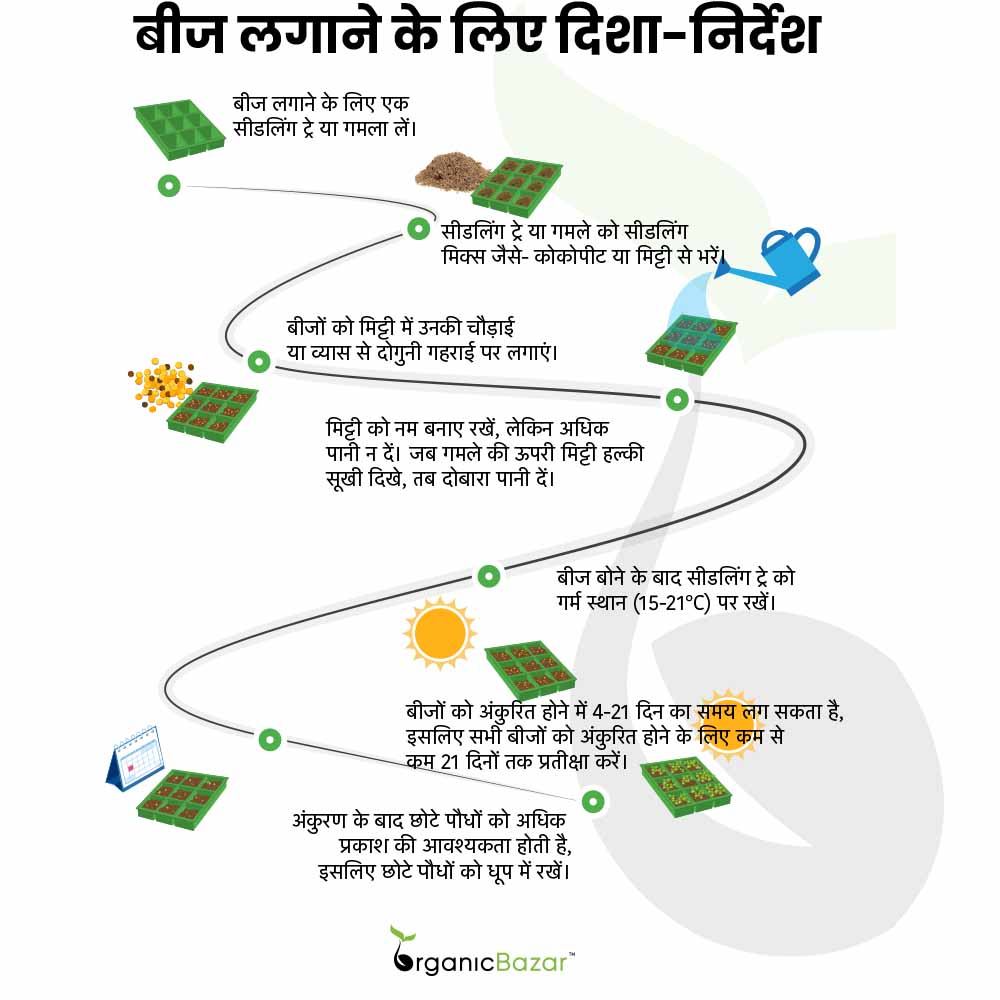 Emily Basil Seeds (Tulsi/तुलसी के बीज)
Sale price
₹ 39.00
Regular price
₹ 90.00
Tax included.
Emily Basil Seeds (Tulsi/तुलसी के बीज)
Sale price
₹ 39.00
Regular price
₹ 90.00
Product description
Shipping & Return
Emily basil is
a perennial, aromatic, and culinary herb plant that is one of the popular and versatile tulsi varieties. It is a compact Genovese-type basil that has medium to large green-colored leaves. These Emily leaves can be long-lasting after harvesting and are famous for their strong scented leaves, flowers, and stems which are all edible.
This is the best way to make your home green by growing Emily Basil plants.
Buy the best quality Emily Basil seeds Online at the best price from
www.organicbazar.net
. with a good germination rate.
About this item
Number of Emily Basil Seeds: 100 Seeds

Where to grow: Balcony or terrace garden

Sowing season: Throughout the year (spring and summer)

Mode of sowing: Sow the seeds 0.5 cm or 1/4 inches deep in a Container, or Pots.

Germination temperature: 21-25°C

Germination Time: 7 to 14 days from sowing

Harvest: 50-70 days
Plant vigor: Strong plant
What size grow bag is best for 
Basil

?
Emily Basil Plant Growing Season In India
You can grow Emily basil in any season throughout the year indoors. The best season for sowing Emily basil seeds are spring and summer when the soil is warm.
How To Grow Emily Basil At Home
Basil Emily seeds can be sown directly in pots or by transplanting, if you want the best results for the basil plants then you need to transplant them into bigger pots after seed germination. Choose a
seedling tray
or small pot (up to 3 inches deep) and a final
pot
or
grow bag
(12-15 inches deep and wide) with well-draining holes. Basil seeds will germinate faster at 21-25°C temperature. Basil is a perennial herb, so you need to repot it every year.
Emily Basil Seeds Sowing Method
Sow basil Emily seeds in the seedling tray with a
potting mix
about 0.5 cm or 1/4 inches deep. Give light water through a
water sprayer
. Keep the seedling tray in a location where it receives medium and bright sunlight and keep the soil moist. Basil large leaf seeds will germinate within 6-10 days (depending on growing conditions).
Transplant Emily Basil Seedlings Into Big Pots
After Basil Emily seeds germination when seedlings are 6-8 inches in height at that time transplant them into big pots/grow bags and plant only 1-2 saplings per pot. Take a big pot or grow bag, fill the soil in pots with any organic fertilizer (like
vermicompost
,
cow manure
, etc) then transplant the healthiest plant into big pots without disturbing their roots. Keep the pot in a sunny location where basil plants get proper sunlight and give water whenever you feel that soil becomes dry.
How To Fertilize Emily Basil Plant
Apply good organic fertilizer (such as
vermicompost
, and
cow manure
) or slow-release fertilizer (like compost tea) to the Emily basil plant once a month.
Emily Basil Plant Care Tips
Water –
Give deep water once a week to your basil plants and make sure to give water to the base of the plant, avoiding showering the leaves and stems.
Soil –
Use well-drained, moist soil (but not too moist) for better growth of basil plants.
Sunlight –
Emily Basil plants need 6-8 hours of full sunlight.
Temperature –
Ideal growing temperature for Emily basil plants is between 18-32°C (minimum temperature is 10°C).
Common Pests and Disease –
Aphids, slugs, and whiteflies generally attack the basil plants, and basil is infected by some diseases like fusarium wilt, bacterial leaf spot, and root rot. If you are facing these problems use organic pesticide
neem oil
.
Emily Basil Leaves Benefits
Protect against vision loss/help for good vision

Beneficial for wound healing

Supporting weight loss

Managing blood sugar levels

Good for digestion

Fight against cancer diseases

Helpful in anxiety and depression
How To Prune/Harvest Emily Basil 
While harvesting or pruning is the same for basil plants, continue harvesting every week or two throughout the season to encourage leaf growth.

Cut the leaves when the basil plant is about 8-10 inches tall.

Use herb pruning shears or small scissors to help to ensure a clean cut.

Prune when you notice mature basil plant starting to form flower buds if you do not cut basil flower buds, the plant will put all its energy into making seeds, and flowering changes the flavor of basil. If you are late to prune them and flowers have started to form, simply pinch off the flower heads, which are also edible.
Emily Basil Plant Special Features
Common name – Tulsi (तुलसी), and

Emily basil

Scientific name –

Ocimum basilicum citriodorum

Plant height – 8 to 20 inches

Flower color - White, or purple

Level of growing – Easy
FAQ
Does the Emily basil plant need full sunlight?
Yes, Emily basil needs full direct sunlight to thrive so keep your basil plant in a place where it receives at least 6 hours of full sunlight.
How cold can basil plants get at night?
Basil plants can survive at night temperatures up to 10°C but should not drop below 10°C.
How can we protect basil (tulsi) from fungus?
Use organic pesticide
neem oil
or soap spray in your whole basil plants.
Why are my tulsi leaves turning yellow?
Root rot disease is the most common reason for yellow leaves on basil (tulsi) plants which is caused by overwatering, so avoid overwatering basil plants.
Why are the leaves of my basil (tulsi) plant drooping?
Root rot is another main reason for dropping basil leaves which is generally caused by improper watering or poorly drained soil.
Why are my Emily basil seeds not germinating?
Emily Basil seeds will not germinate because of improper growing conditions like not getting enough sunlight, sowing seeds too deep in the soil, overwatering, or under watering.

Note: Images are for reference purposes only. The actual product may vary in shape or appearance based on climate, age, height, etc.
Shipping Costs
Free Delivery: Available for Orders Above INR 499.
Prepaid Orders Below INR 499: Shipping Charge of INR 54.
Cash on Delivery Orders Below INR 499: Shipping Charge of INR 84.

Return Policy
Satisfaction Guaranteed: Return or Exchange Within 7 Days of Delivery.
Technical Details
Package Dimension: 12cm*9cm
Item Weight : 20mg
Net Quantity: 100N
Colour : N/A
Assembly Required: No
SKU : Emily-Basil

Additional Information
Brand : OrganicBazar
Country of Origin: India
Manufacturer: HEALTHUNBOX PRIVATE LIMITED
Consumer Care: Phone: 9513316259 | Email - support@organicbazar.net
Consumer Care Address: P NO 225, NEAR OF WATER TANK, VIPATPURA, Narsinghpur (M.P) 487001