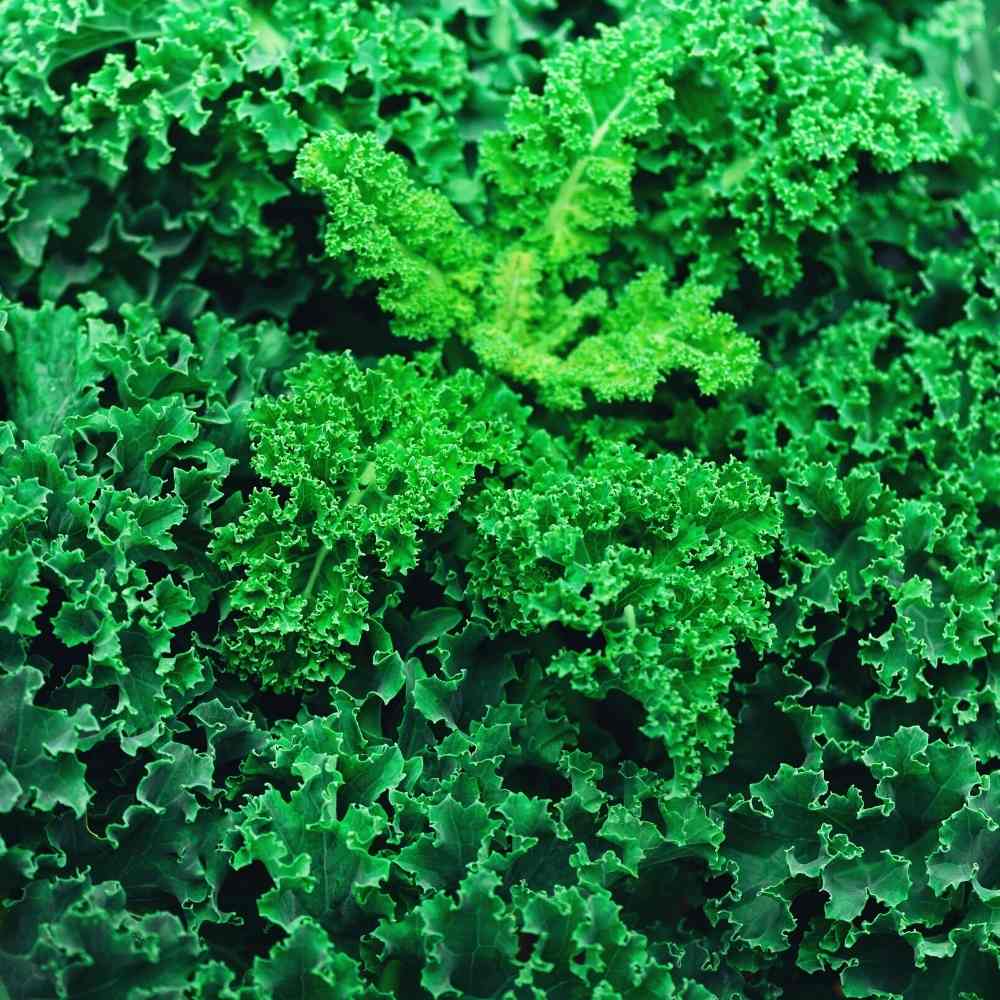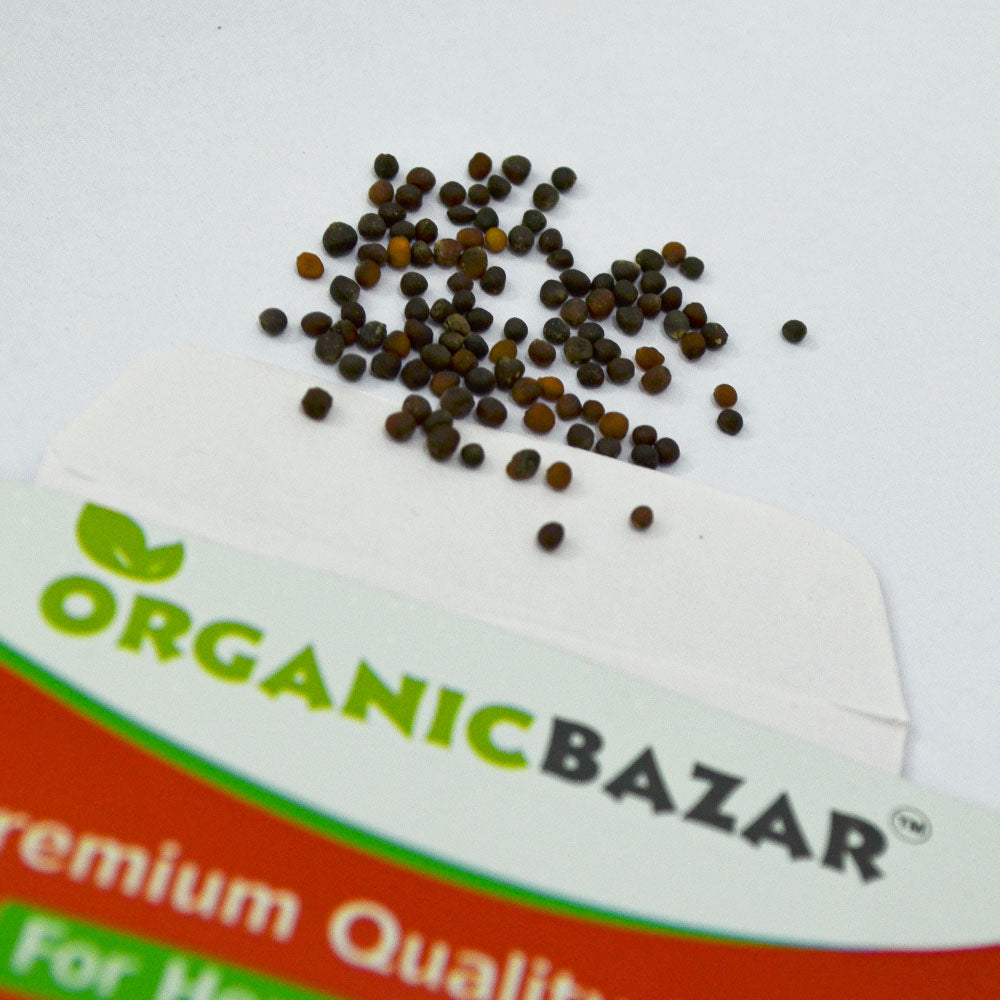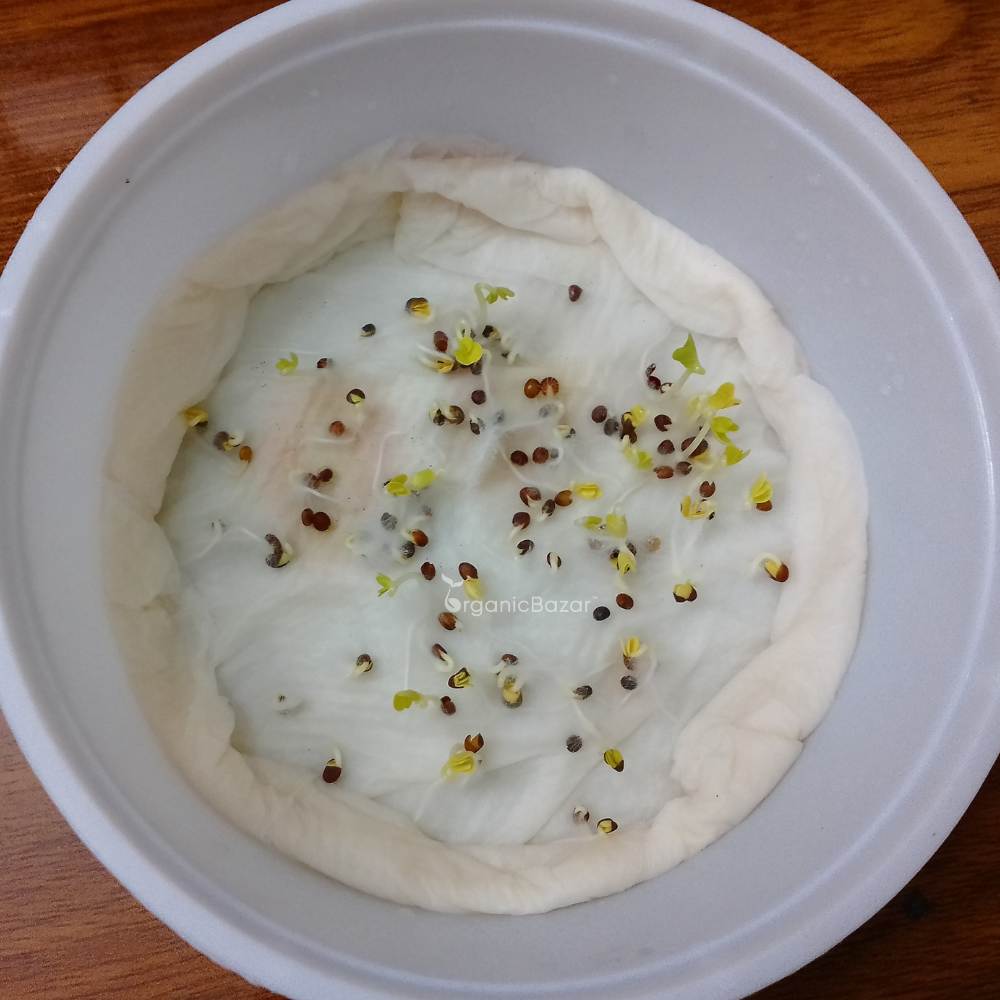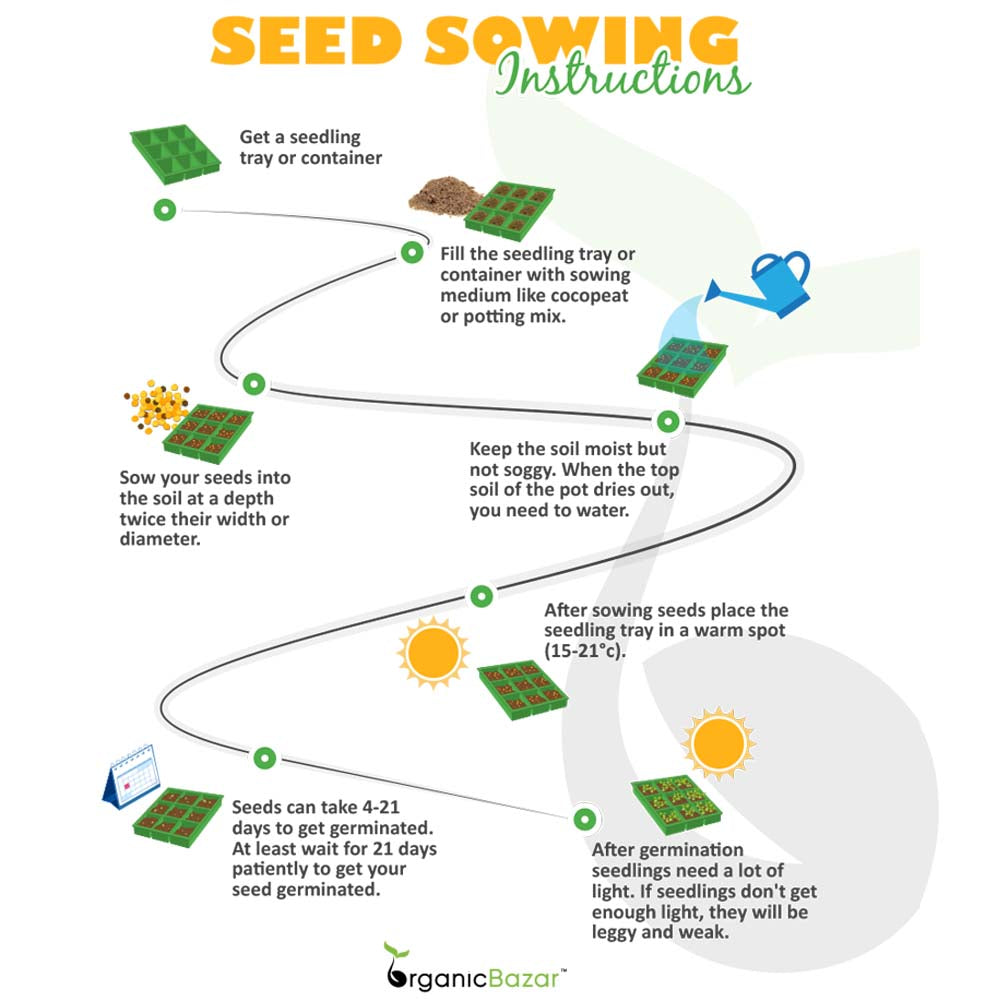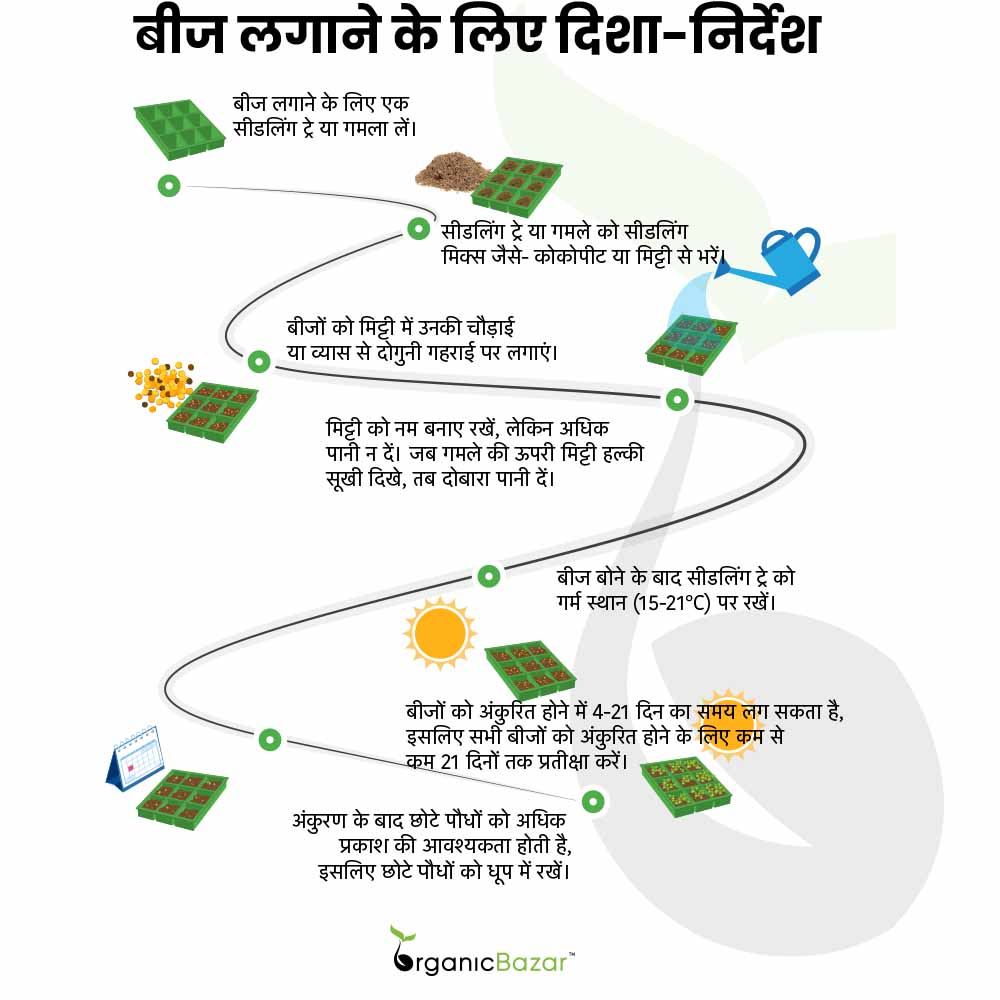 Curly Kale Seeds (केल के बीज)
Sale price
₹ 59.00
Regular price
₹ 99.00
Tax included.
Curly Kale Seeds (केल के बीज)
Sale price
₹ 59.00
Regular price
₹ 99.00
Product description
Shipping & Return
Curly kale is one of the popular varieties of kale that is most commonly used. It has bright green leaves and curved edges that form a frilled border. The taste of curly kale is peppery, slightly tangy, and bitter, which is very crispy and delicious; It is mostly used to make chips and design food but is also enjoyed boiled, steamed, or roasted, or can be eaten raw as a salad and added to sandwiches. Curly kale is not only delicious, but it also contains many nutrients like potassium, antioxidants, and vitamins K and B6 and it has more vitamin C than oranges. Buy Best quality Curly Kale Seeds Online at the best price from
www.organicbazar.net
with a good germination rate.
About this item
Number of Curly Kale seeds: 100 Seeds 
Where to grow: Balcony or terrace garden

Mode of sowing: Sow the seeds 0.5 cm deep in a Container, or Pots.

Sowing season: Winter season (The best month is September to December)
Germination Time: 7-24 days from sowing
Germination Temperature: 18 to 24°C
Harvesting Time: 60 to 90 days after sowing the seeds.
What size grow bag is best for Red kale?
Curly Kale Plant Growing Season
Kale is a leafy vegetable that grows quickly in cold climates from September to December. Although it can be grown in summer, it requires a lot of shade and care. In addition, the winter vegetable is sweeter in taste than the summer one.
How To Grow Curly Kale In Pots
Like other leafy plants, kale seeds are also sown directly in a
pot
or
grow bag
(12-24 wide and 12-15 inches deep). You can sow kale seeds in cool weather either indoor or outdoor and the best soil temperature should be 18 to 24°C for the seeds to germinate as quickly as possible. Since the size of the kale plant is 1 to 2 feet high. Therefore, there should be a distance of about 12 inches between two plants of kale vegetable.
Curly Kale Seeds Sowing Method
Select a pot or grow bag; fill with growing medium and sow the curly kale seeds at a depth of ¼ inch (0.5 cm). Add water to the soil of the seeded pot and maintain moisture. It can take about 7-24 days for kale seeds to germinate, so wait for the seeds to germinate. Water the kale plant regularly and keep seedlings in a sunny spot.
Best Natural Fertilizer For Kale Curly
Curly Kale Plant Care Tips
Soil – 
Kale does best in loam, well-drained soil with high organic matter.
Water –
Give water to the kale plant daily and maintain moisture on summer days. Give water 2-3 days per week to the soil of the plant during winters.
Sunlight – 
Kale plant needs 6 hours of direct sunlight but also grows well in partial shade.
Temperature – 
Ideal kale plant growing temperature is between 12-25°C.
Common pests and diseases –
Caterpillars, aphids, cabbage worms, and cutworms are some pests that attack kale plants and diseases such as clubroot infect the plants. The main reason for the infestation of insects is water logging in the soil and wetting of the leaves. To protect the kale plant from insects, spray
neem oil
 on your plants.
Mulching 
– If your kale leaves start rotting, add a thin layer of mulch to the plant when it is about 6 inches tall.
When To Harvest Curly Kale
You can harvest curly kale vegetables around 60 to 90 days after sowing the seeds.
Cut the leaves when they are large to the size of a hand with the help of gardening shears. As you continue to harvest the first large leaves, the kale yield will increase.
Remember, all leaves from the kale vegetable plant must be harvested before they turn brown.
Curly Kale Plant Special Features
Common name – Scots kale, Blue curled kale, Borecole, and Leaf Cabbage
Scientific name – Brassica oleracea
Plant height – 1 to 2 feet
Companion planting – Beetroot And Onion
FAQ
Will kale regrow after cutting?
Yes, kale leaves can regrow or regenerate after cutting for multiple harvests.
How long does it take to grow kale?
Kale will take about 60-90 days for harvest from seeds sowing.
Does kale need full sun?
Kale is a cool lover plant and grows fast in 4-6 hours of full sunlight.
How long does a kale plant last?
A kale plant can live for 2 years, the first year of growth will produce tasty leaves but the second year will produce seeds.
Why is my kale dying? 
A kale plant needs plentiful and consistent moisture and in case of consistently low soil moisture, the plant will die. So give proper water and keep the soil moist.
Can kale grow in hot weather?
Kale can grow in hot weather but on hot days their leaves become tough and bitter.
What do you do after kale bolts?
If your kale is bolting, pick the leaves immediately before they change their flavor.
Can I grow kale indoors?
You can grow kale indoors on a sunny windowsill but make sure the plant gets at least 4-6 hours of light.
What kind of soil does kale like?
Kale prefers loamy, well-drained soil with high organic matter.
Why are my kale seeds not germinating?
Kale seeds will not germinate because of improper growing conditions like not getting enough sunlight, sowing seeds too deep in the soil, over watering, or underwatering.
Note: Images are for reference purposes only. Actual products may vary in shape or appearance based on climate, age, height, etc.
Shipping Costs
Free Delivery: Available for Orders Above INR 499.
Prepaid Orders Below INR 499: Shipping Charge of INR 54.
Cash on Delivery Orders Below INR 499: Shipping Charge of INR 84.

Return Policy
Satisfaction Guaranteed: Return or Exchange Within 7 Days of Delivery.
Technical Details
Package Dimension: 12cm*9cm
Item Weight : 35mg
Net Quantity: 100N
Colour : N/A
Assembly Required: No
SKU : Curly-Kale

Additional Information
Brand : OrganicBazar
Country of Origin: India
Manufacturer: HEALTHUNBOX PRIVATE LIMITED
Consumer Care: Phone: 9513316259 | Email - support@organicbazar.net
Consumer Care Address: P NO 225, NEAR OF WATER TANK, VIPATPURA, Narsinghpur (M.P) 487001
Reviews
100% germination rate and fast delivery.