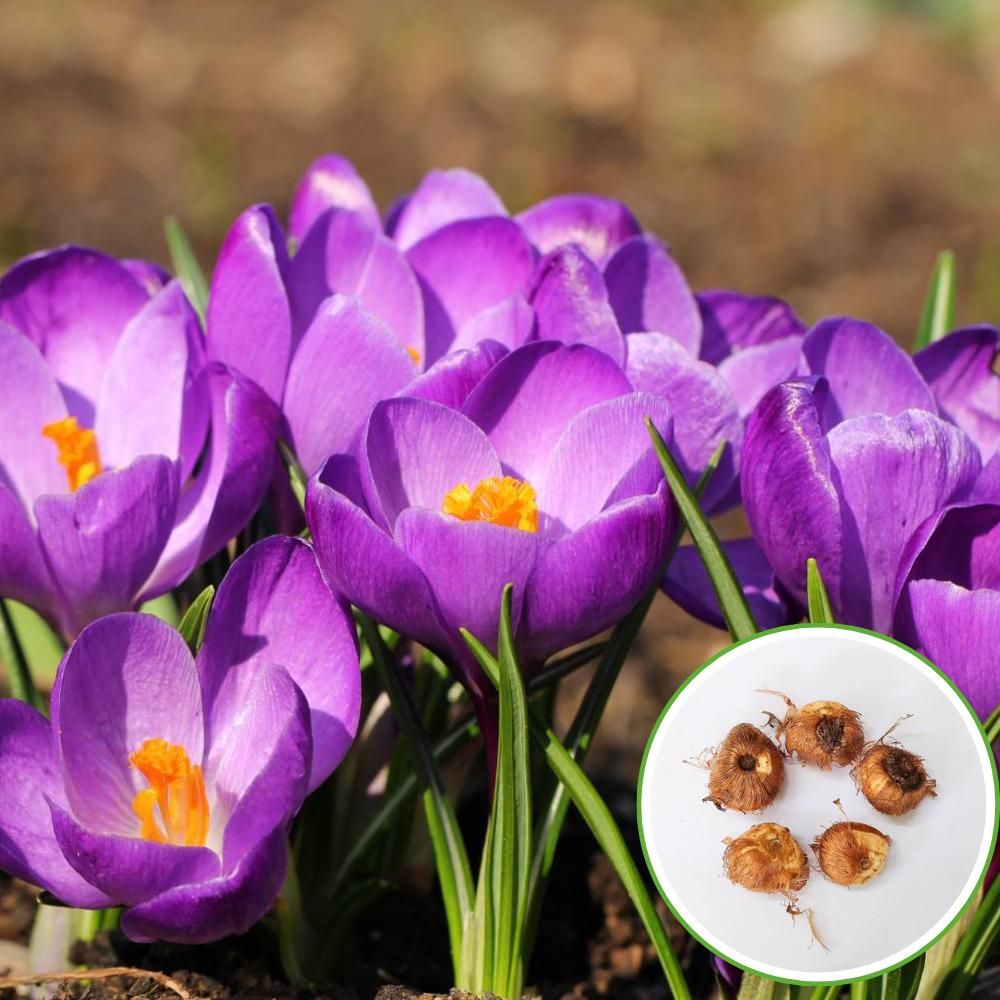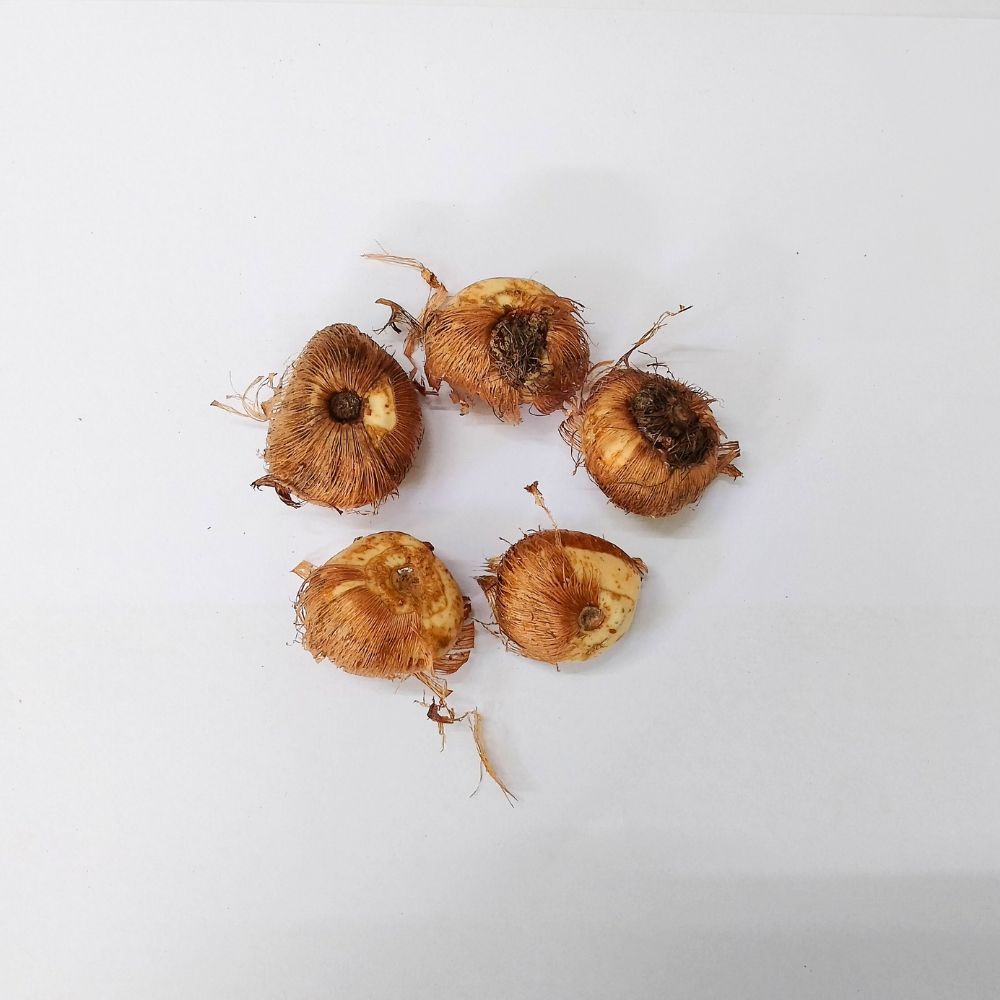 Crocus Flower Record (Purple) Bulbs
Sale price
₹ 299.00
Regular price
₹ 499.00
Tax included.
Crocus Flower Record (Purple) Bulbs
Sale price
₹ 299.00
Regular price
₹ 499.00
Product description
Shipping & Return
Crocus is a genus of small, perennial, and primarily spring-blooming flowers that belong to the iris family, Iridaceae. These charming plants are known for their delicate and colorful blooms, which appear in early spring, often among the first flowers to emerge as winter transitions to spring.
Buy the best Quality Crocus Flower Record (Purple) Bulbs Online at the best price from
www.organicbazar.net
and add colors to your garden
Crocus Flower Record'
is a popular and charming variety of crocus, known for its distinctive appearance and early spring blooms. The Crocus 'Record' is celebrated for its striking and distinctive purple and white petals. The petals have a deep purple base and a pristine white tip, creating a delightful contrast that is visually captivating.
Crocus is easy to grow, suitable for all levels of gardeners, and blooms in early spring. It requires well-drained soil, full to partial sun, and minimal maintenance.
About this item 
Number of Crocus Flower Record (Purple) Bulbs: 05N
Where to grow: Balcony or terrace garden
Bulb planting season: Winter (September-November)
Planting Temperature: 17° to 25°C.
Method of grown from bulbs: Directly in a pot or garden
Bulb sowing depth: 3-4 inches
Bulb spacing: 2-3 inches
Germination Time: 7 to 21 days
Flower Color: Purple
Blooming Time: Spring
What size grow bag is best for Crocus?
How To Grow Crocus Flower Bulbs
Planting Time
Crocus bulbs are typically planted in the fall, ideally about 4 to 6 weeks before the first hard frost in your region, typically in September or October.
Select a Location:
Choose a suitable location for planting your crocus bulbs. They thrive in areas with full to partial sunlight.
Soil Preparation:
Ensure the soil is well-draining. Good drainage is essential to prevent bulb rot. You can amend the soil with organic matter if necessary to improve drainage.
Planting Depth:
Plant the crocus bulbs at a depth of about 3 to 4 inches (7.5 to 10 centimeters). The pointed end should face upward.
Spacing:
Space the crocus bulbs about 2 to 3 inches (5 to 7.5 centimeters) apart.
 Watering:
Water the newly planted bulbs well to settle the soil and promote root development. They need consistent moisture but should not sit in waterlogged soil.
Cold Treatment 
If you live in a region without a naturally cold winter, you can refrigerate the crocus bulbs for 6 to 8 weeks before planting to simulate the required cold period.
Spring Care:
Once spring arrives, continue to keep the soil consistently moist. Crocus bulbs will start to emerge and bloom. Enjoy their colorful flowers!
After Blooming:
After the crocus flowers have finished blooming, leave the foliage in place until it has yellowed and died back. Do not remove the leaves prematurely, as they provide energy for the bulbs to bloom the following year. 
Crocus Special Features 
Common name – Crocus
Scientific name – Crocus
Height – 3 to 6 inches
Level of growing – Easy
FAQ
What is the best month to plant crocus bulbs?
Crocus bulbs are typically planted in the fall, ideally in September or October, to allow them to establish roots before winter.
Can Crocus bulbs tolerate cold weather?
Crocus bulbs are cold-hardy and require a period of cold dormancy during the winter to bloom successfully in the spring. They can tolerate freezing temperatures.

Note: Images are for reference purposes only. The actual product may vary in shape or appearance based on climate, age, height, etc.
Shipping Costs
Free Delivery: Available for Orders Above INR 499.
Prepaid Orders Below INR 499: Shipping Charge of INR 54.
Cash on Delivery Orders Below INR 499: Shipping Charge of INR 84.

Return Policy
Satisfaction Guaranteed: Return or Exchange Within 7 Days of Delivery.
Technical Details
Package Dimension:
Item Weight :
Net Quantity:
Colour : N/A
Assembly Required: No
SKU : Crocus_Flower_Record

Additional Information
Brand : OrganicBazar
Country of Origin: India
Manufacturer: HEALTHUNBOX PRIVATE LIMITED
Consumer Care: Phone: 9513316259 | Email - support@organicbazar.net
Consumer Care Address: P NO 225, NEAR OF WATER TANK, VIPATPURA, Narsinghpur (M.P) 487001