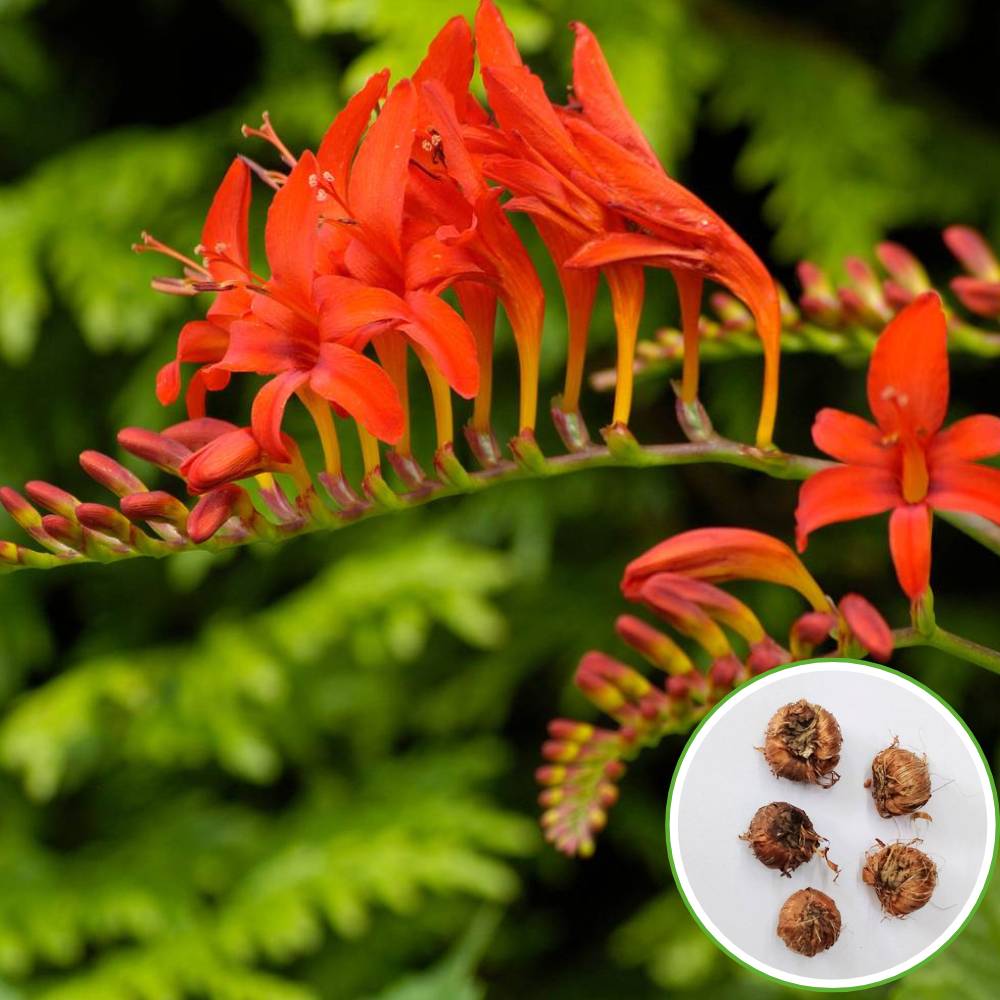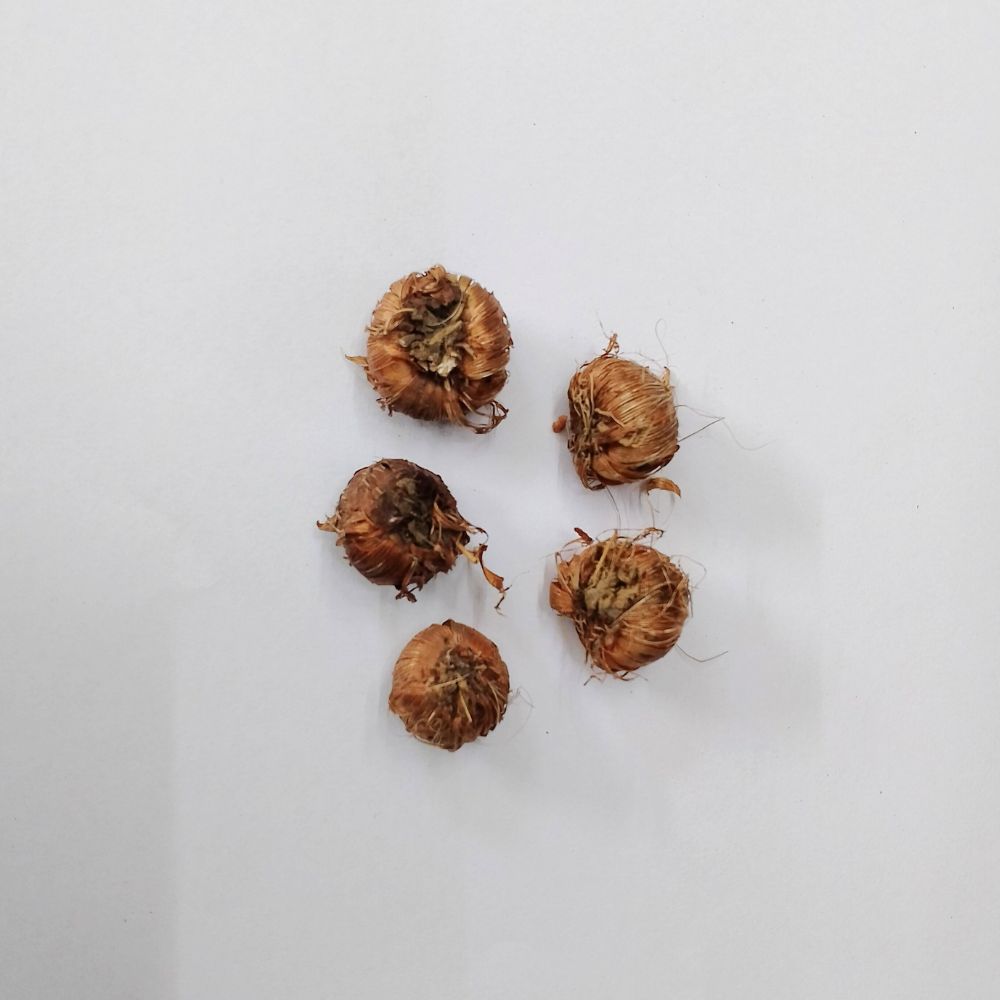 Crocosmia Montbretia Flower Bulbs
Sale price
₹ 199.00
Regular price
₹ 299.00
Tax included.
Crocosmia Montbretia Flower Bulbs
Sale price
₹ 199.00
Regular price
₹ 299.00
Product description
Shipping & Return
Crocosmia is a genus of flowering plants known for its vibrant, funnel-shaped flowers and sword-like foliage. Crocosmia, also known as montbretia, is a small genus of flowering plants in the iris family. Buy the best Quality Crocosmia Montbretia Flower Bulbs Online at the best price from
www.organicbazar.net
and add colors to your garden. Crocosmia adds a burst of color and elegance to gardens, attracting pollinators like hummingbirds and butterflies. Whether used as a border plant, in mixed beds or for cut flower arrangements, it's a popular choice among gardeners looking to create a vibrant and visually appealing landscape. Crocosmia is moderately easy to grow. It thrives in various light conditions, prefers well-draining soil, and requires regular watering. 
About this item bulbs
Number of Crocosmia Flower Bulbs: 05N
Bulb planting season: (February to May) & (September to October)
Planting Temperature: 15°C to 30°C
Method of grown from bulbs: Directly in a pot or garden
Bulb sowing depth: 3-4 inches
Bulb spacing: 6-8 inches
Germination Time: 14 to 21 days
Blooming Time: Spring and summer
Flower Color: Red
What size grow bag is best for Crocosmia Bulb Flower?
How To Grow Spider Lily
Choose the Right Location:
Select a location with well-draining soil that receives full sun to partial shade. Crocosmia plants perform best in these condition.
Planting Season
Spring Planting: Plant Crocosmia corms in the spring after the last frost, typically from March to May.
Fall Planting: In regions with harsh winters, plant in early fall, about 6-8 weeks before the first expected frost, which is typically from September to October.
Planting Crocosmia Corms
Plant Crocosmia corms (similar to bulbs) in the spring or early fall. The corms should be planted 3 to 4 inches deep and spaced about 6 to 8 inches apart.
Watering
Keep the soil consistently moist, especially during the growing season. Water deeply when the soil surface starts to dry. Be cautious not to let the soil become waterlogged.
Fertilization
Fertilize your Crocosmia plants in the spring with a balanced, all-purpose fertilizer to promote healthy growth and blooming. Follow the package instructions for application rates.
Maintenance
Deadhead (remove) spent flowers to encourage more blooms. In late autumn or early spring, cut back the foliage to the ground to promote new growth and tidy up the plant.
Propagation
Crocosmia can be propagated through division. Divide mature clumps every few years in the spring to ensure vigorous growth.
Pest and Disease Control
While Crocosmia is generally resistant to pests and diseases, keep an eye out for common garden pests like aphids and slugs, and address them promptly if they become a problem.
Winter Care (for cold climates)
In regions with cold winters, provide a layer of mulch or straw to protect the corms from frost. In colder zones, you might need to dig up the corms before winter and store them in a cool, dry place until the next growing season.
Crocosmia Special Features 
Common name – Coppertips, montbretia, falling stars
Scientific name – Crocosmia aurea
Height – 1 to 4 feet
Level of growing – Easy
FAQ
When do Crocosmia plants bloom?

Crocosmia typically bloom in the summer, with the exact flowering time depending on the variety and local climate. The peak bloom period is often in July and August.

How do I care for Crocosmia?

Proper care involves planting in well-draining soil, providing adequate sunlight, regular watering, and occasional fertilization. Maintenance includes deadheading spent flowers and cutting back the foliage.

Can I grow Crocosmia in containers or pots?

Yes, Crocosmia can be grown in containers or pots, provided the container has good drainage and the plants receive adequate care.
Note: Images are for reference purposes only. Actual products may vary in shape or appearance based on climate, age, height, etc.
Shipping Costs
Free Delivery: Available for Orders Above INR 499.
Prepaid Orders Below INR 499: Shipping Charge of INR 54.
Cash on Delivery Orders Below INR 499: Shipping Charge of INR 84.

Return Policy
Satisfaction Guaranteed: Return or Exchange Within 7 Days of Delivery.
Technical Details
Package Dimension:
Item Weight :
Net Quantity:
Colour : N/A
Assembly Required: No
SKU : Crocosmia

Additional Information
Brand : OrganicBazar
Country of Origin: India
Manufacturer: HEALTHUNBOX PRIVATE LIMITED
Consumer Care: Phone: 9513316259 | Email - support@organicbazar.net
Consumer Care Address: P NO 225, NEAR OF WATER TANK, VIPATPURA, Narsinghpur (M.P) 487001