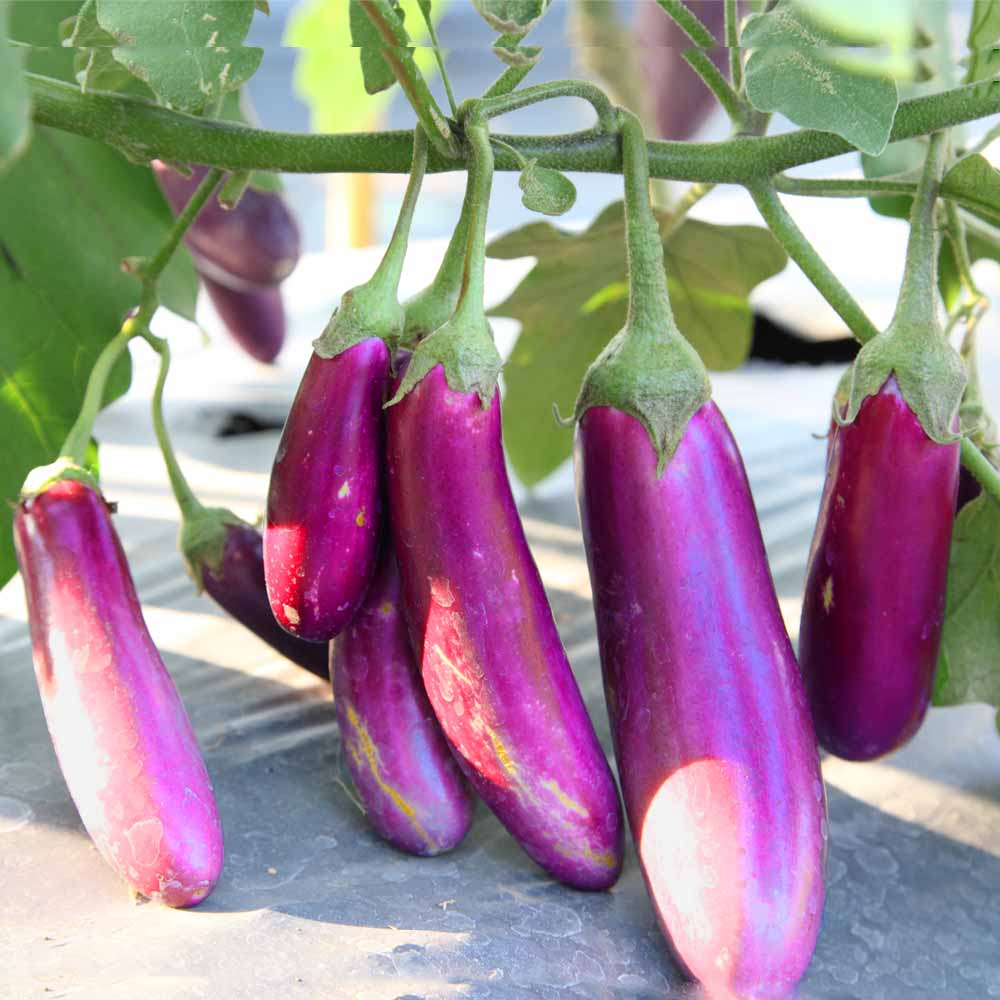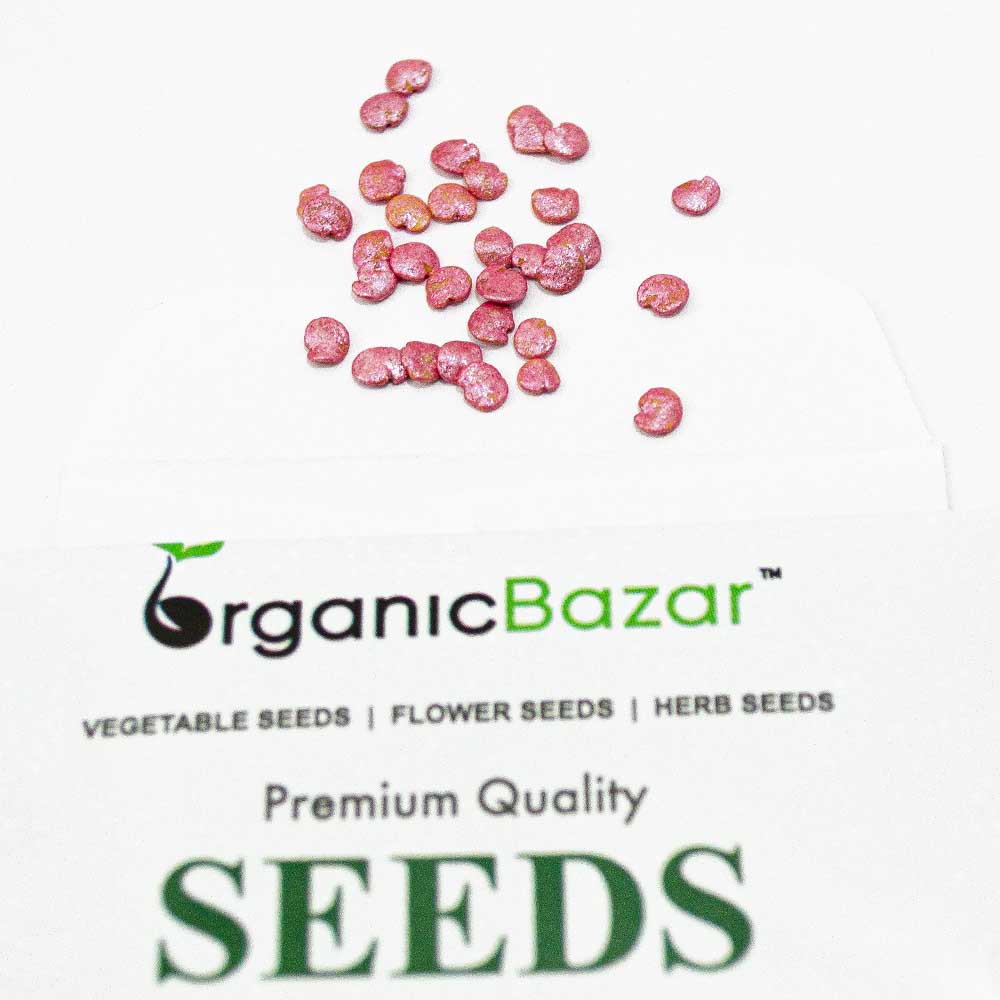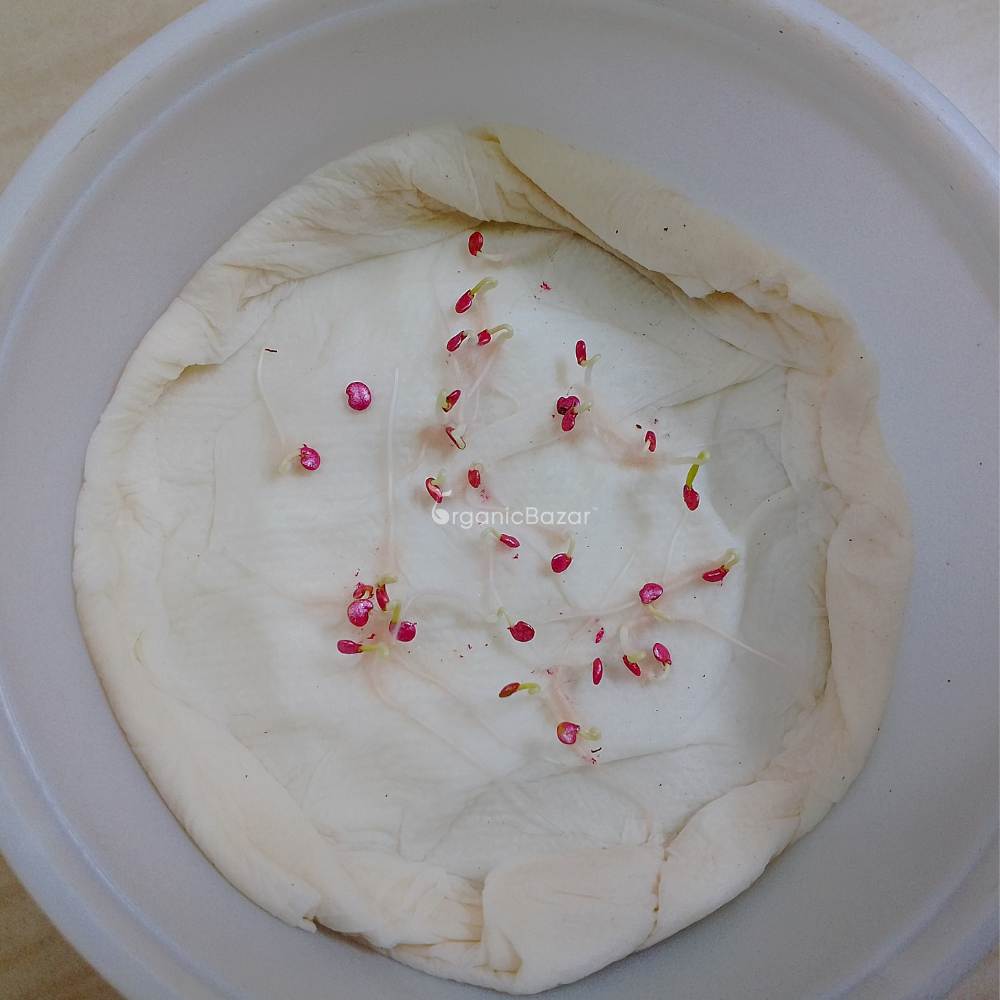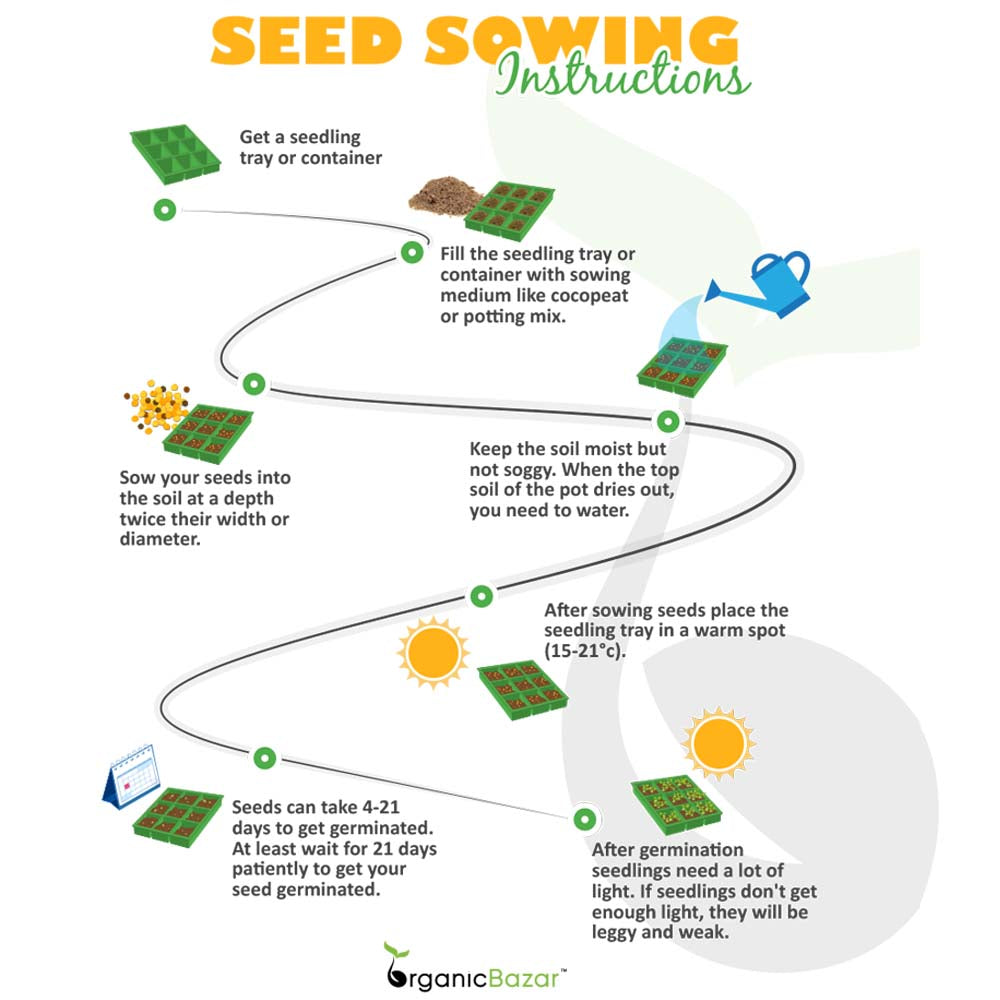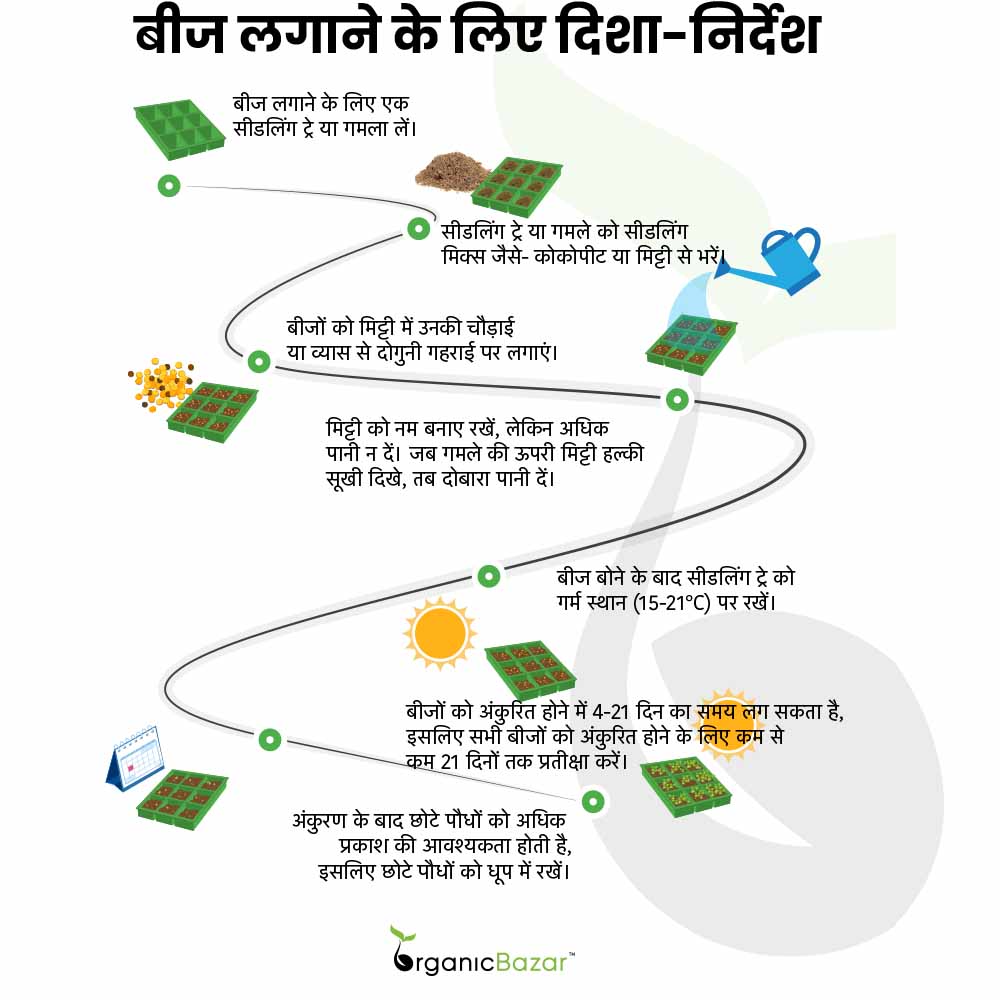 Brinjal Pink Medium Long F1 Hybrid Seeds (Pink Baingan/Eggplant/गुलाबी बैंगन के बीज)
Sale price
₹ 59.00
Regular price
₹ 99.00
Tax included.
Brinjal Pink Medium Long F1 Hybrid Seeds (Pink Baingan/Eggplant/गुलाबी बैंगन के बीज)
Sale price
₹ 59.00
Regular price
₹ 99.00
Product description
Shipping & Return
Brinjal is commonly known as Eggplant and Aubergine. Pink Long brinjal is the most used vegetable in India, which is cooked as different recipes. Grow your own glossy and Pink Long Brinjal at home with little maintenance. Brinjal is the most productive vegetable in different varieties with delicious taste. Brinjal not only good in taste but also has many health benefits and contain minerals and vitamins. Buy the best Quality Brinjal Pink Medium Long F1 Hybrid Seeds Online at the best price in India from
www.organicbazar.net
with High Germination rate.
About this item
Number of Pink Medium Long Brinjal Seeds: 30 Seeds

Where to grow: Balcony or terrace garden

Sowing season: Throughout the year

Mode of sowing: Sow the seeds 0.5 cm deep in a seedling tray or Container, or Pots. Transplant in 25 to 30 days

Germination Time: 7 to 14 days from sowing

Germination temperature: 15 to 30°C
Fruits Color: Pink
Fruits shape: Medium long
Fruit weight: 100-125 gm

Harvesting: 60 to 80 days from transplanting

Plant vigor: Strong plant with short internodes
What size grow bag is best for Brinjal?
Pink Brinjal Plant Growing Season In India
Brinjal can be grown year-round in India. Brinjal (eggplant) generally thrives in temperatures between 18°C to 30°C. This temperature range is ideal for its growth and fruit development. The main growing seasons are summer (February – April), monsoon (June to July), and post-monsoon/autumn (September to October), with variations depending on local conditions.
How To Grow Medium Long Pink Brinjal Plant
Pink-Brinjal is heat loving vegetable and is generally transplanted rather than directly sowing in any pots/grow bags. Choose a 
seedling tray
 or small pot (up to 3 inches deep) and a final 
pot or grow bag
 (12-18 inches deep and wide) with well-draining holes. eggplant seeds can germinate best in temperature 15-30 degree Celsius.
Pink Brinjal Seeds Sowing Method
Take a seedling tray or small pots, fill it with 
coco peat
 medium and sow only 2 brinjal seeds per cell in a depth of about 1/4 inch (0.5cm) in growing medium. Avoid sowing seeds very deep because pink brinjal seeds are small in size. Keep the brinjal seedling
in sunny location till the seeds germination and water the seeds by using a 
spray pump
. Give proper water and sunlight for better growth of Pink brinjal plants. brinjal seeds will be germinated within 6 to 10 days.
Transplant Pink Brinjal Seedlings Into Big Pots
After 4 weeks of seed sowing, when plant reaches 5-6 inches in height, brinjal plant will ready to transplant. Take a big pot/grow bag, fill the soil in pots with any 
organic fertilizer
 (like
 vermicompost
, 
cow manure
 or 
neem cake
 etc) then transplant pink eggplant safely along with root balls of a medium. After transplanting give water to the plant.
How To Fertilizer Pink Brinjal Plants
brinjal is heavy feeder plant and need proper fertilizer doses, when you plant brinjal give them good fertilizer and add lime to the soil because it needs lot of calcium. Apply organic fertilizer (like 
Vermicompost
, 
cow manure
 or 
neem cake
) per month when long eggplant is actively growing.
Pink Brinjal Plant Care Tips
Sunlight –
Pink Long brinjal plant need 6-8 hours of full sunlight. Do not keep brinjal plant in shady portion and give sufficient sunlight.
Water –
 Give regular water to your brinjal plants and keep the soil moist but not soggy.
Soil –
 Use sandy soil, well drained with ph 6.0 to 6.8 or slightly acidic to neutral.
Temperature – 
Best growing temperature for brinjal plant is ranging from 20 to 35 degree Celsius.
Common pests –
 Aphids and whiteflies are some common pests and disease like fruit rot, leaf spot and root rot infected the Pink brinjal plants. If you are facing this problem use organic pesticide 
Neem oil
 on plants.
Weed – 
Any weed which might grow in pink brinjal plant must remove, time to time.
 Pink Brinjal Flowering Time And Pollination
Within 2 month from transplanting, brinjal starts flowering and the fruit should be visible within 5-10 days after pollination. Eggplant or brinjal is generally self pollinating plant there is no need of insects or wind to pollinate. But sometimes, stamen of male flower develops and is not touching the pistil of female flower or not pollinated this will lead to a sterile flower. Giving your plant a gentle shake time to time will help to solve the problem.
Pink Brinjal Harvesting Time
Within 60-80 days from transplanting; you can harvest Pink brinjal.
Cut the brinjal when the skin is looking glossy and firm.
Harvest should be safely because pink brinjal is a delicate plant.
If you left the pink brinjal on plant for long time then fruit will be bitter taste and develop wrinkles.
You can cut the brinjal pink with pruning scissor.
Pink Brinjal Special Features
Common name – Aubergine, Eggplant, Baigan (in Hindi)
Scientific name – Solanum melongena
Plant Height – 2 to 4 feet
Grow level – Easy
Shipping Costs
Free Delivery: Available for Orders Above INR 499.
Prepaid Orders Below INR 499: Shipping Charge of INR 54.
Cash on Delivery Orders Below INR 499: Shipping Charge of INR 84.

Return Policy
Satisfaction Guaranteed: Return or Exchange Within 7 Days of Delivery.
Technical Details
Package Dimension: 12*9cm
Item Weight : 15mg
Net Quantity: 30N
Colour : N/A
Assembly Required: No
SKU : Brinjal-Pink-Long

Additional Information
Brand : OrganicBazar
Country of Origin: India
Manufacturer: HEALTHUNBOX PRIVATE LIMITED
Consumer Care: Phone: 9513316259 | Email - support@organicbazar.net
Consumer Care Address: P NO 225, NEAR OF WATER TANK, VIPATPURA, Narsinghpur (M.P) 487001
Reviews
I have not received it yet. I was out of station and asked him to deliver on 6th Monday.