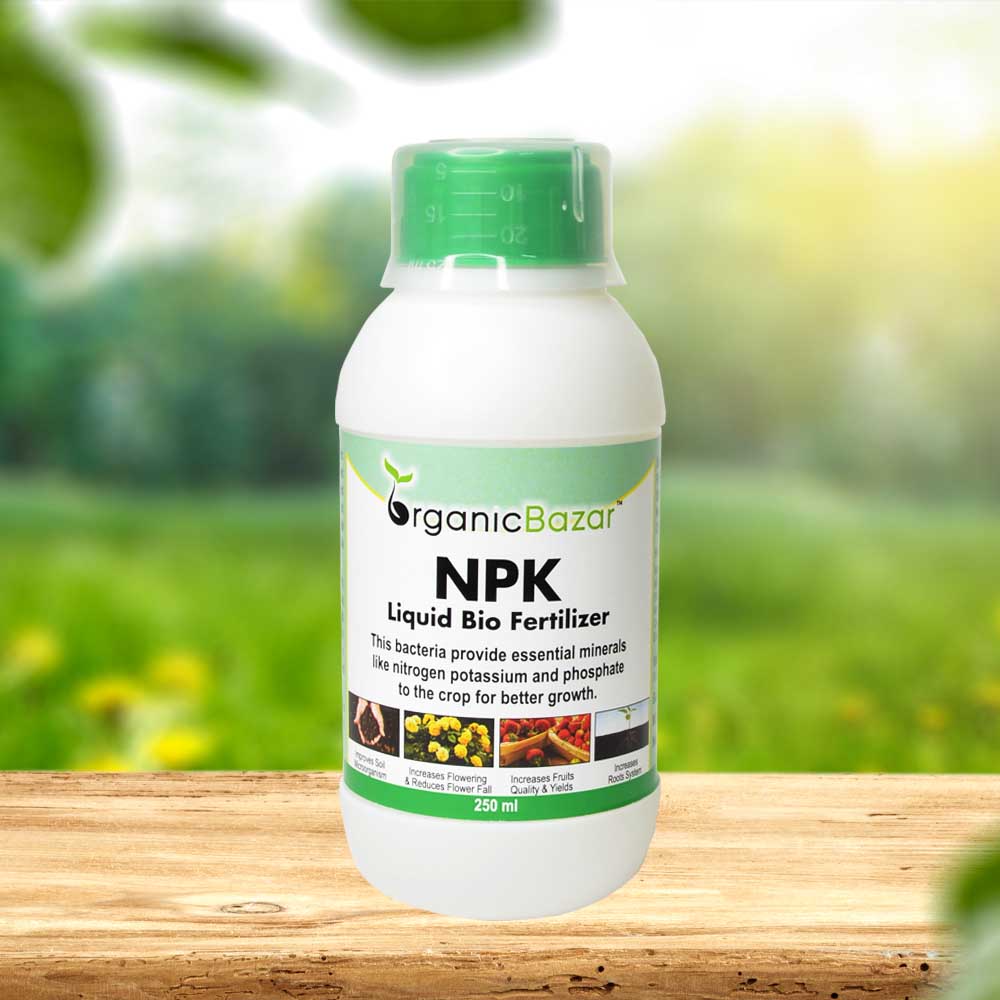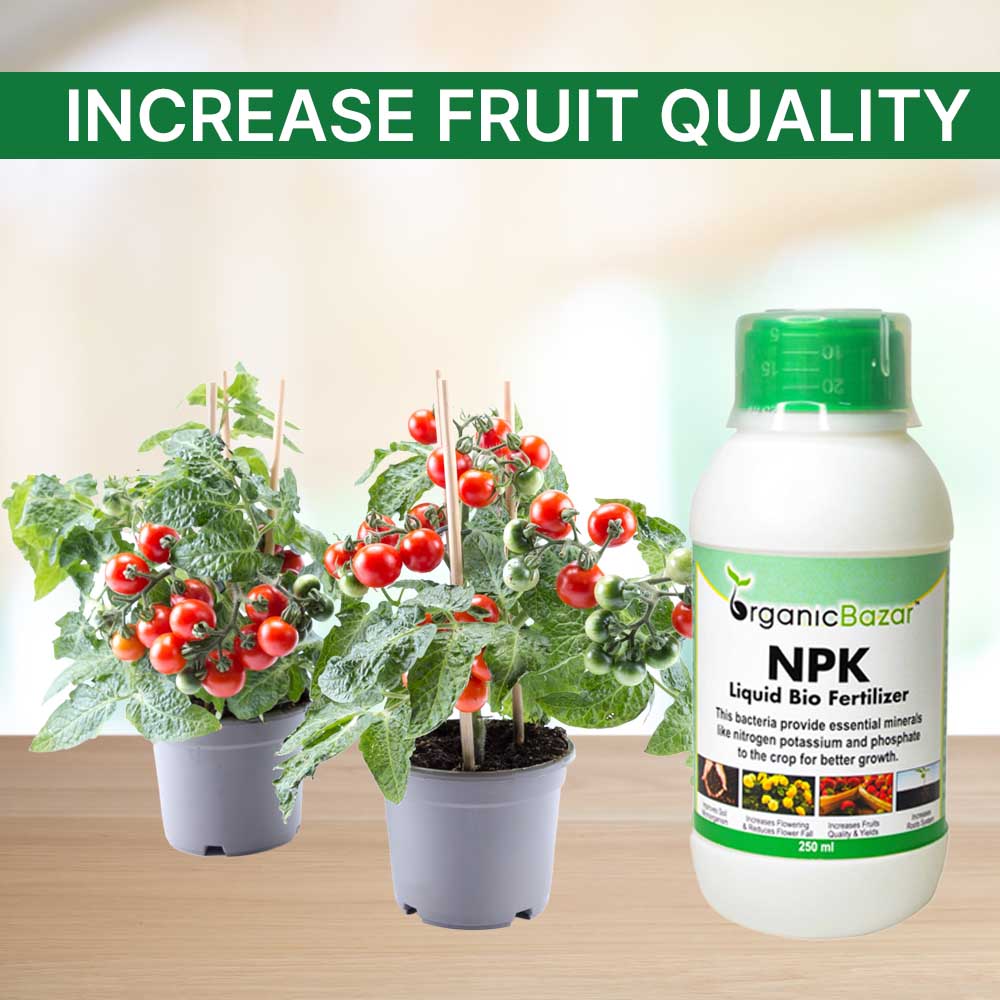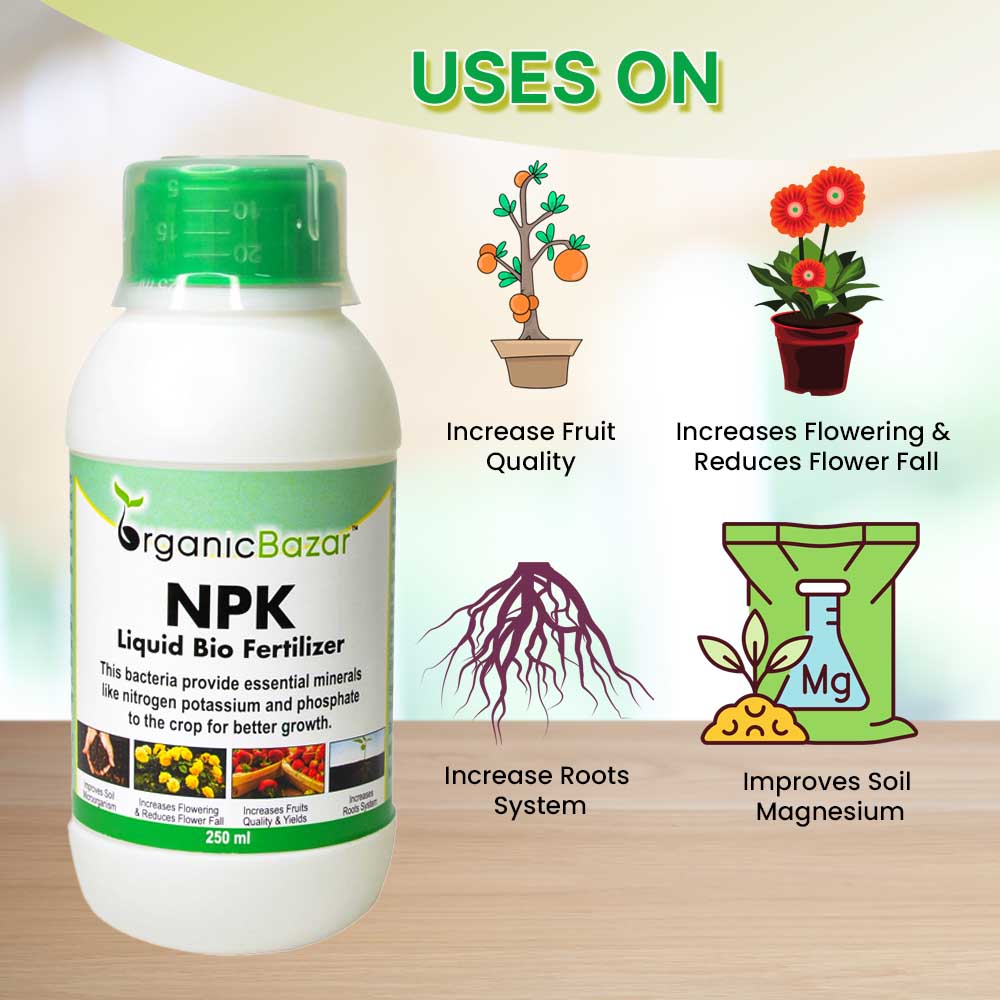 Bio NPK Fertilizer Liquid for Organic Gardening
Sale price
₹ 350.00
Regular price
₹ 399.00
Tax included.
Bio NPK Fertilizer Liquid for Organic Gardening
Sale price
₹ 350.00
Regular price
₹ 399.00
Product description
Shipping & Return
Liquid Bio Fertilizer is 100% organic fertilizer containing beneficial micro-organisms Azotobacter chroococcum, Bacillus Megaterium bacteria, and Frateuria Aurantia bacteria which fix atmospheric nitrogen to the plant, supply phosphorous and enhance potash in the plants. This fertilizer is in liquid form, easy to apply and handle, and more efficient.
Bio-NPK Fertilizer is a microbial formulation that can synthesize atmospheric nitrogen, solubilize phosphate and mobilize potash into an available form, thereby supplementing balanced nutrition to the plants.
Suitable for all crops, Vegetables, and Flowers plants.
Features
Liquid Bio Fertilizers provide NPK and helpful micronutrients to plants.
Increase the use of atmospheric nitrogen.
Solubility of the missing form of phosphate.
Add the fixed and remaining potash to the soil.
It increases the water-holding capacity and reduces the hardness of the soil. 
Safe, non-toxic to humans, plants, animals, and the environment.
Cost savings and low dosage of nitrogen, phosphorus, and potash fertilizers.
Improve the color, appearance, and shelf life of perishable fruits and vegetables
Dosage
Shake the bottle before use.
For foliar use, add 1-2 ml liquid organic fertilizer with 1 liter of water.
Mix 0.25 to 0.50 ml of liquid biofertilizer for drip application in 1 liter of water. (Dose will vary according to soil health and agro-climatic conditions).
You can spray it every three weeks in plants.
For home gardening, mix 0.5-1 ml in 1 liter of water and put it in the pot's soil.
Benefits
It helps to improve soil texture and structure and increases nutrient availability in the soil.
Improves the quality of flowers, vegetables, fruits, bulbs, and green leaves.
Helpful in controlling pests and diseases.
Recommended Plants -
All vegetables (Tomato, Eggplant, Peppers, Cucumber, Green peas, Corn, Cauliflower, Cabbage, Kale, Broccoli Lettuce, Radish, Beetroot, etc.)
All flowers (Rose, Tuberose)
Fruits (Apple, Guava, Mango, Lemon orange, and papaya)
Shipping Costs
Free Delivery: Available for Orders Above INR 499.
Prepaid Orders Below INR 499: Shipping Charge of INR 54.
Cash on Delivery Orders Below INR 499: Shipping Charge of INR 84.

Return Policy
Satisfaction Guaranteed: Return or Exchange Within 7 Days of Delivery.
Technical Details
Package Dimension: 6cm*15cm
Item Weight : 250 ml
Net Quantity: 1N
Colour : N/A
Assembly Required: No
SKU : Bio-NPK

Additional Information
Brand : OrganicBazar
Country of Origin: India
Manufacturer: HEALTHUNBOX PRIVATE LIMITED
Consumer Care: Phone: 9513316259 | Email - support@organicbazar.net
Consumer Care Address: P NO 225, NEAR OF WATER TANK, VIPATPURA, Narsinghpur (M.P) 487001
Reviews
We're sorry to hear that you found our Bio NPK Fertilizer Liquid for Organic Gardening unsatisfactory. Your feedback is valuable to us, and we aim to provide products that meet your expectations.
To better understand your concerns and improve our offerings, we would appreciate more specific feedback.
We appreciate your review of our Bio NPK Fertilizer Liquid for Organic Gardening. It's fantastic to hear that you found it to be very effective for all your plants when used as per the instructions.
Thank you for your positive review!
I am satisfied with the product.