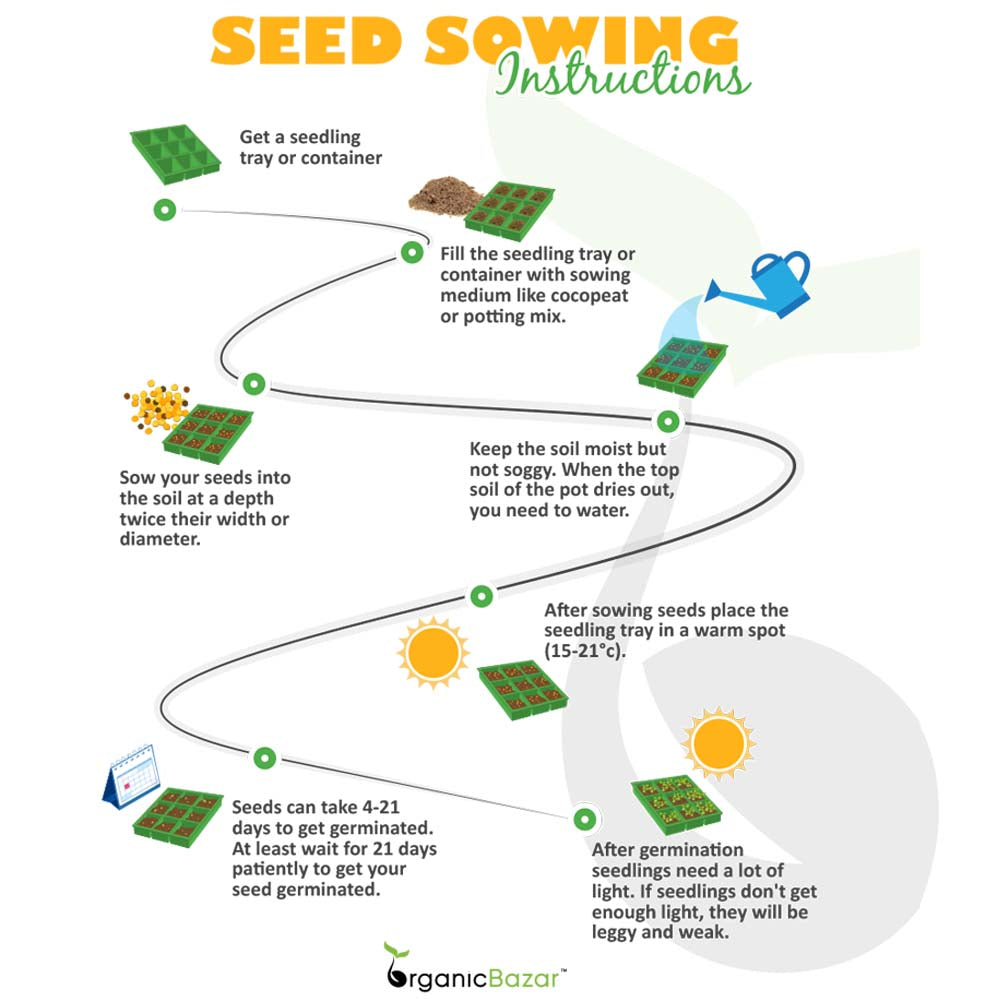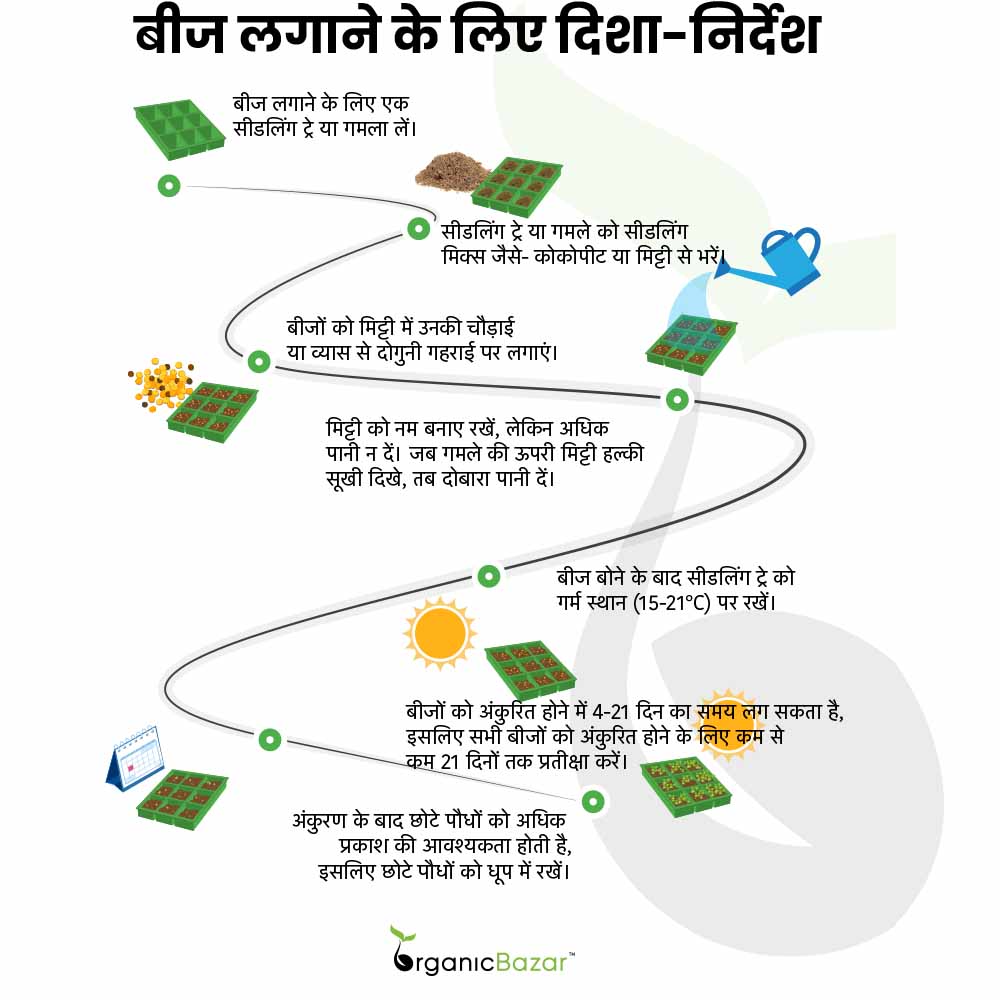 3 Different Varieties Sponge gourd Seeds Combo Pack
Sale price
₹ 159.00
Regular price
₹ 549.00
Tax included.
Out of stock
We will notify you once product becomes available.
3 Different Varieties Sponge gourd Seeds Combo Pack
Sale price
₹ 159.00
Regular price
₹ 549.00
Product description
Shipping & Return
The Sponge gourd, also called the Luffa or Loofah gourd, is a member of the Curcurbitaceae (cucumber) family.
Green sponge gourd, white long sponge gourd and Sponge gourd Chikni Tori are the main varieties of sponge gourd.
Sponge
Gourd is a very important vegetable in India, which every home gardener wants to grow.
Buy 3 best Different varieties of Sponge gourd Seeds Combo pack
 at the best price in India from www.organicbazar.net with a good germination rate.
About this item
Sponge Gourd Seeds - 1 packet of 10 Seeds
Sponge gourd F1 White Long Seeds - 1 packet of 10 Seeds
Sponge gourd F1 Hybrid-Chikni Tori Type Seeds - 1 packet of 10 Seeds
What size grow bag is best for Sponge Gourd?
Sponge gourd Seeds sowing method
You can sow sponge gourd seed directly in pots or grow bags in about 0.5 inch deep in well composted soil; seeds will be germinate about 6-10 days; water the sown seed sponge gourd with a
 water can
. After 45 days of planting, give them 1 tablespoon of 15:15:15 (NPK) fertilizer per plant or mix handful of 
vermicompost
 around each plants. Sponge gourd is vine plant, so they need some support like pipe, bamboo, rope or wires.
Sponge gourd growing season in India
In the home garden Sponge gourd can grow throughout the year (all season) but it grows very well in summer season.
Sponge gourd plant care and tips
Sunlight
–
 Sponge gourd prefers full sunlight for better growth.
Water –
 Water your sponge gourd daily in summer days and 2 days once in winter season; keep the soil moist but not soggy.
Soil
–
 Use well drained loamy soil 6.5 to 7.0 PH level for grow sponge gourd plants.
Temperature
–
 Ideal temperature to grow sponge gourd is between 25-30 degree Celsius.
Fertilizer –
 You can use any organic fertilizer like 
cow dung manure
, 
vermicompost
 or compost for your gourd plant.
Common pests
–
 Pests like crop bacterial, leaf spot, cucumber beetles and downy mildew are normally found in sponge gourd plants. Use organic pesticide `
Neem oil
' it protects the plant from harmful pests.
Sponge gourd harvest time
It will take about 80 to 90 days for harvesting; you can harvest the sponge gourd in summer, rainy or winter season. Cut the sponge gourd at young stage, before skin becomes thick; if you find any ripe sponge gourd just pluck it directly from hand or with the help of pruning scissor. You can collect the seeds when plant will completely dries out.
Sponge gourd special features
Flower colour – yellow
Blooming time – summer, rainy, winter
Level of grow – easy
Height – Up to 30 ft.
FAQ
Should we keep the sponge gourd plant indoor or outdoor?
For better growth, sponge gourd should be planted outdoor in full sun.
Where is the best place to plant sponge gourd?
Balcony and terrace are the best option to plant sponge gourd because it needs full light.
What is the best sowing medium for sponge gourd?
Best sowing medium for sponge gourd is 1 part garden soil, 1 part 
coco peat
 and 1 part 
vermicompost
 (or any organic fertilizer).
Why my sponge gourd getting wilting?
Overwatering is the main reason behind wilting; so avoid Overwatering and keep the soil moist.
Why are my sponge gourd seeds not germinating?
Improper soil, temperature, Overwatering or under watering can be the main reason to not germinating sponge gourd seeds
Shipping Costs
Free Delivery: Available for Orders Above INR 499.
Prepaid Orders Below INR 499: Shipping Charge of INR 54.
Cash on Delivery Orders Below INR 499: Shipping Charge of INR 84.

Return Policy
Satisfaction Guaranteed: Return or Exchange Within 7 Days of Delivery.
Technical Details
Package Dimension:
Item Weight :
Net Quantity:
Colour : N/A
Assembly Required: No
SKU :

Additional Information
Brand : OrganicBazar
Country of Origin: India
Manufacturer: HEALTHUNBOX PRIVATE LIMITED
Consumer Care: Phone: 9513316259 | Email - support@organicbazar.net
Consumer Care Address: P NO 225, NEAR OF WATER TANK, VIPATPURA, Narsinghpur (M.P) 487001