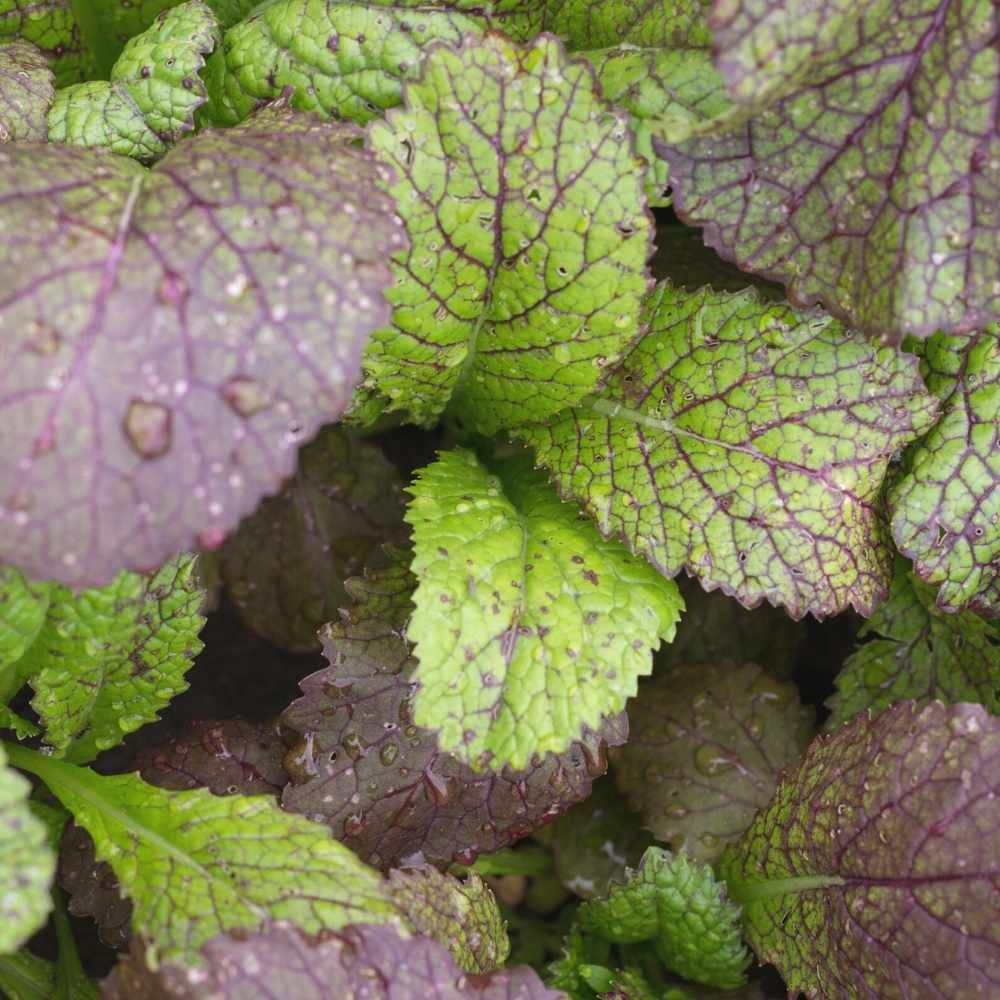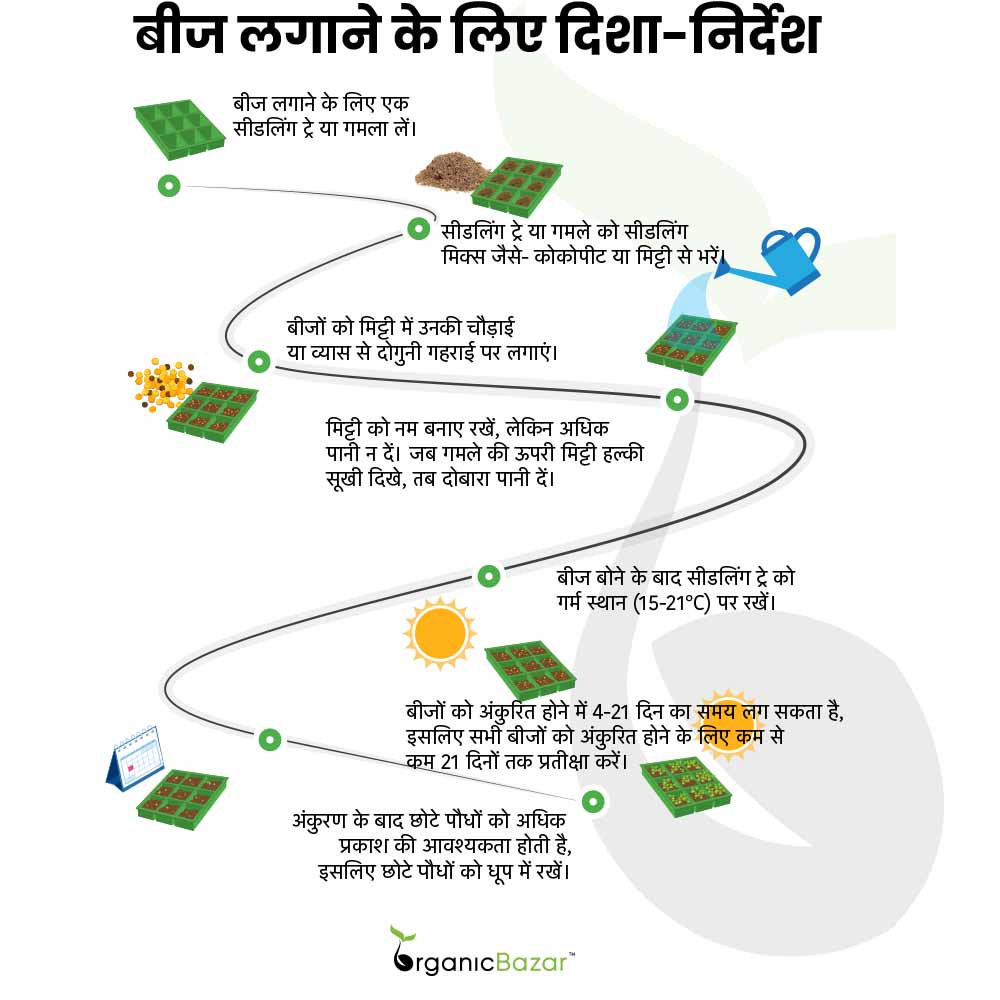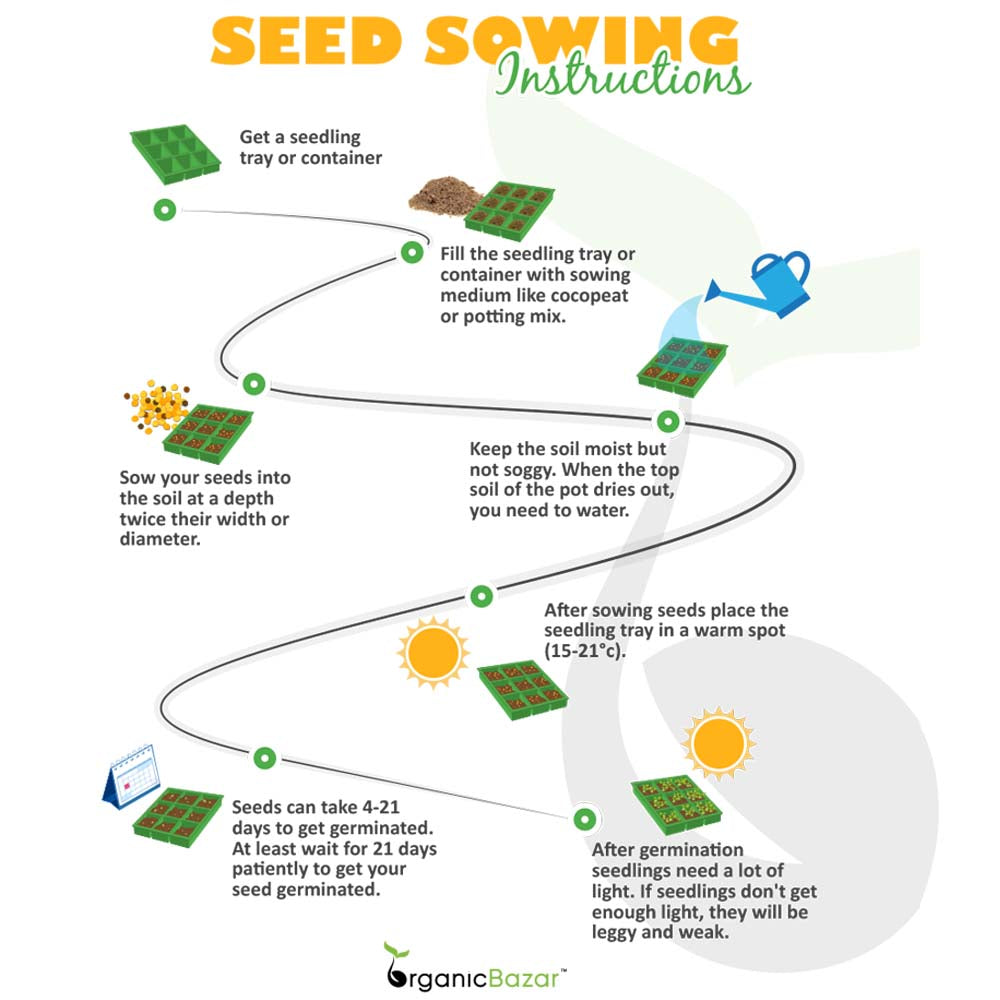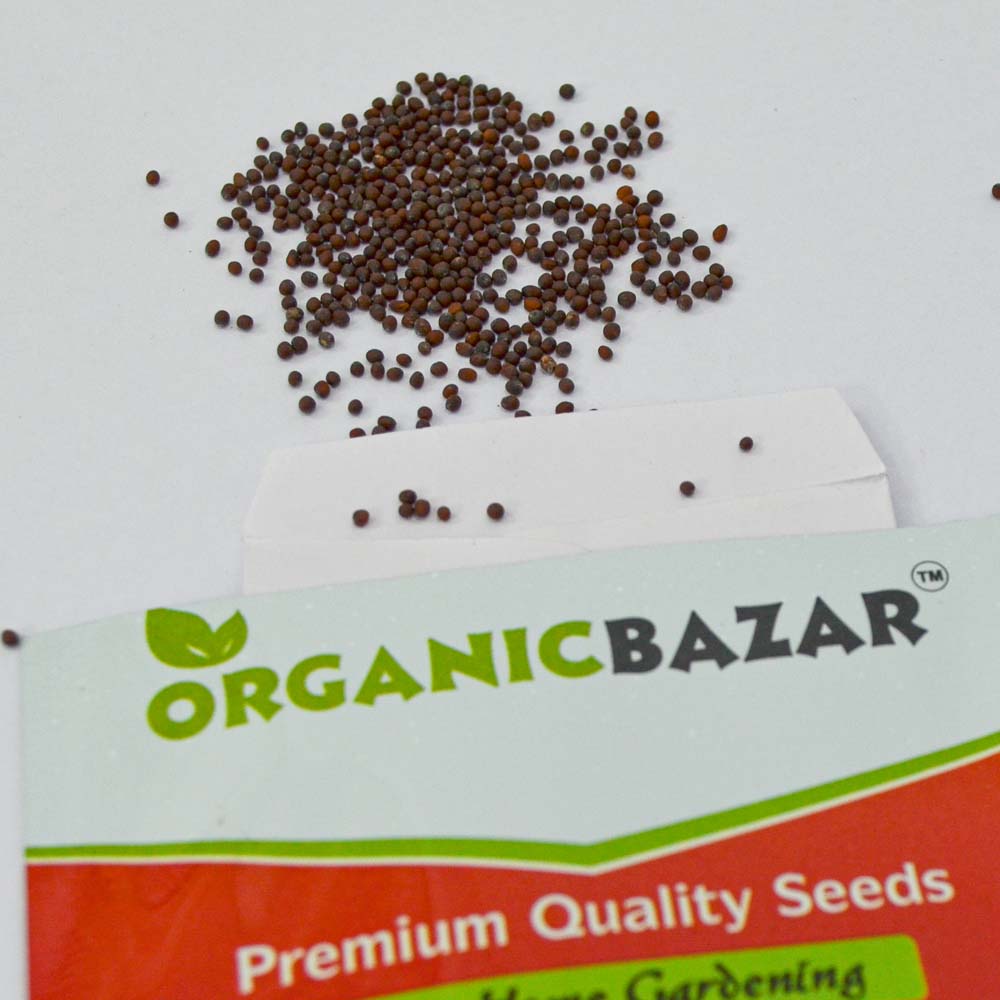 Mustard Red Asiasalat Giant Leaf Seeds (Sarson/सरसों के बीज)
Sale price
₹ 59.00
Regular price
₹ 199.00
Tax included.
Out of stock
We will notify you once product becomes available.
Mustard Red Asiasalat Giant Leaf Seeds (Sarson/सरसों के बीज)
Sale price
₹ 59.00
Regular price
₹ 199.00
Product description
Shipping & Return
This is the popular variety of mustard that produce a large, red-purple color and deeply texture leaves. The leaves are tender and mild and the stems are crunchy which makes them excellent for eating raw or cooked. Mustard red giant leaf is tasty in all forms, make soup, salad, stir-fried, steamed, or cooked as a vegetable. This variety of mustard is slow to bolt or not easily bolt. Growing mustard greens in pots is very easy and interesting; you can also enjoy looking at mustard seed growth stages. Buy the best quality Mustard Red Asiasalat Giant Leaf Seeds Online at the best price in India from
www.organicbazar.net
 with a good germination rate. 
About this item 
Number of Red Mustard Giant Leaf Seeds: 500 Seeds

Where to grow: Balcony or terrace garden
Sowing method: Direct sowing seeds 0.5 inches deep in a container or pots

Sowing season: Winter Season

GerminationTemperature: 10-18°C

Germination Time: 5 to 10 days from sowing

Harvesting: 30 to 55 days from sowing
What size grow bag is best for Mustard Green?
Mustard Red Giant Leaf Growing Season In India 
Mustard is primarily a winter crop in India. In North, Central, Western, and Eastern India, it's planted from October to December and harvested from February to April.
How To Grow Mustard Red Asiasalat Giant
Like other leafy greens, mustard red giant seeds are also sown directly in final pots or grow bags. Select a pot or grow bags 15-24 and 12-18 inches wide and deep with well drainage holes. Red giant mustard is a cool-weather vegetable so make sure to plant at a temperature between 10-18°C. If the temperature is 23°C or higher, then mustard will bolt and the taste becomes hot and bitter.
Mustard Red Asiasalat Giant Leaf Seeds Sowing Methods
Take a 
pot
or
grow bag
, and fill it with 
potting mix
 and 
organic manure
 then sprinkle the mustard giant leaf seeds above the soil; cover the seed with a thin layer of soil. Give light water to your mustard giant pots every day by using a
watering can
. Keep the seedling in a sunny area, mustard seeds will be germinated within 5-10 days but sometimes seeds can take more or less time to germinate (depending on growing conditions). Keep the seedling moist and avoid overwatering.
Best Fertilize For Red giant Mustard Plants
If you add organic fertilizer such as 
cow manure
, 
vermicompost
, or 
neem cake
 to the soil at the time of planting and use well-draining nutrient-rich soil, then the red leafy mustard plant does not need any feed.
Mustard Red Giant (Sarso) Plant Care Tips 
Soil –
 Mustard giant should plant in well-drained, moist, and nutrients rich soil to get better results.
Water
 – Give 1-2 inches of water per week and make sure that the soil stays moist at all times.
Sunlight –
 Mustard greens need 6-8 hours of full sunlight but they can also grow well in 4-6 hours of partial shade.
Temperature –
 The optimum mustard giant red leaf growing temperature is 10-22°C.
Common pests and diseases –
 Flea beetles, mustard aphids, slugs, and whiteflies damage the mustard giant leaves. Powdery mildew and bacterial leaf spot are the main diseases that infected the mustard greens plant. To get rid of this problem, it would be right to spray 
neem oil
 on the mustard greens plant from time to time.
Weeds 
– Remove or pull off any weeds growing along with the mustard plants with your hand and make sure the roots are completely removed.
Red giant Asiasalat Mustard Harvesting Time
Within 30 days, you can harvest baby mustard red giant leaves when they are still young, tender, and about 3-4 inches long. After 40-55 days harvest full mature red giant mustard leaves.
Complete the harvesting before summer days, hot weather will cause the leaves to become tough and strong flavor.
If your mustard red giant bolts, and start flowering, pull it immediately. Bolted leaves have a bitter flavor.
Mustard Leaf Red Giant Asiasalat Special Features 
Common name – Indian mustard, and Sarson ka saag (in Hindi)
Scientific name – Brassica juncea
Plant height – Above 3 feet
Level of growing – Easy
FAQ
How long does it take to grow the mustard red giant from seed?
The mustard leaf will take about 30-55 days for harvesting.
Is the mustard red giant easy to grow?
Mustard giant leaves are easy to grow and take less time to harvest.
Does Red giant mustard grow back?
Mustard red giant is a leafy vegetable that can regrow after cutting.
Why is my mustard red giant turning brown?
Bacterial leaf spots are the main reason mustard leaves turn brown; it is caused by brown water-soaked spots on the leaves which turn the leaves yellow.
Which fungi cause white spots on mustard leaves?
Albugo is a parasitic fungus that causes white spots on mustard leaves.
How much sun does a mustard leafy plant need?
Mustard plants need 6-8 hours of sunlight however they can tolerate 4-5 hours of partial shade.
Why are my mustard red giant seeds not germinating?
Mustard red giant leaf seeds will not germinate because of improper growing conditions like not getting enough sunlight, over watering, or underwatering.
Note: Images are for reference purposes only. The actual product may vary in shape or appearance based on climate, age, height, etc.
Shipping Costs
Free Delivery: Available for Orders Above INR 499.
Prepaid Orders Below INR 499: Shipping Charge of INR 54.
Cash on Delivery Orders Below INR 499: Shipping Charge of INR 84.

Return Policy
Satisfaction Guaranteed: Return or Exchange Within 7 Days of Delivery.
Technical Details
Package Dimension: 12cm*9cm
Item Weight : 85mg
Net Quantity: 500N
Colour : N/A
Assembly Required: No
SKU :

Additional Information
Brand : OrganicBazar
Country of Origin: India
Manufacturer: HEALTHUNBOX PRIVATE LIMITED
Consumer Care: Phone: 9513316259 | Email - support@organicbazar.net
Consumer Care Address: P NO 225, NEAR OF WATER TANK, VIPATPURA, Narsinghpur (M.P) 487001