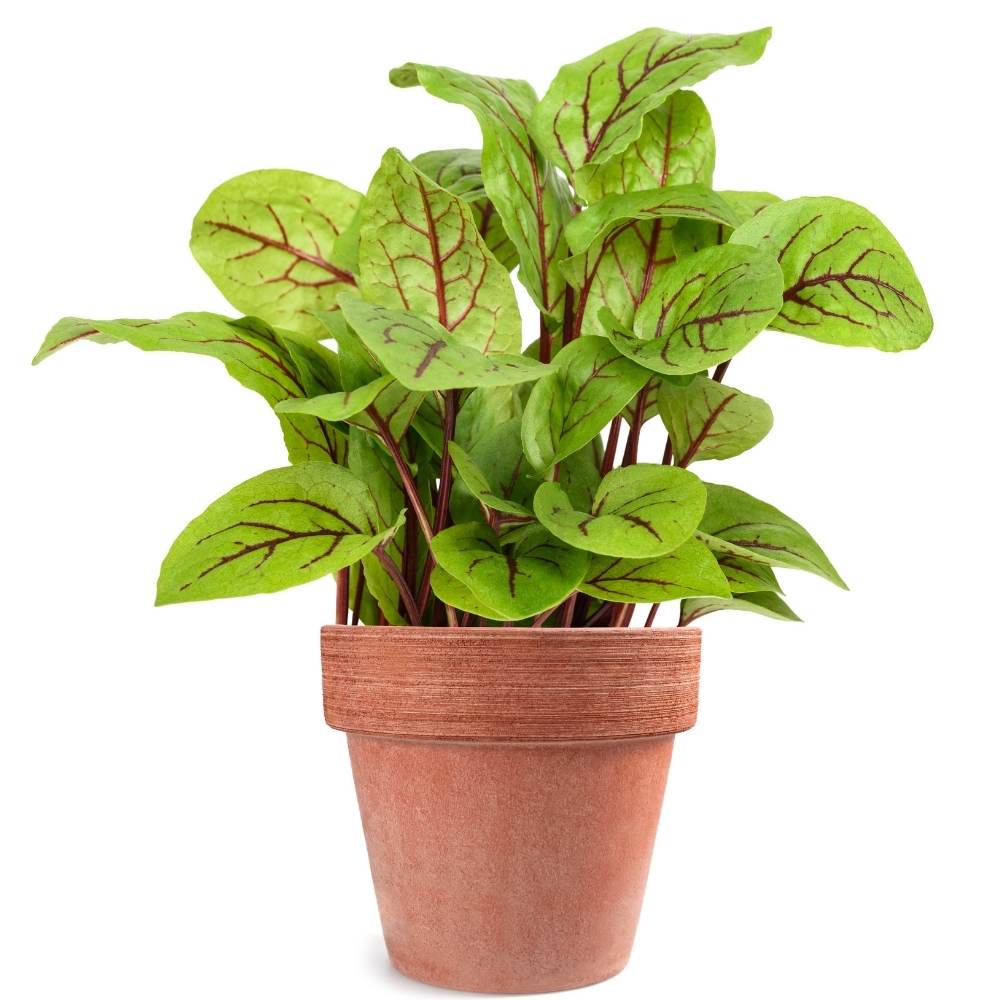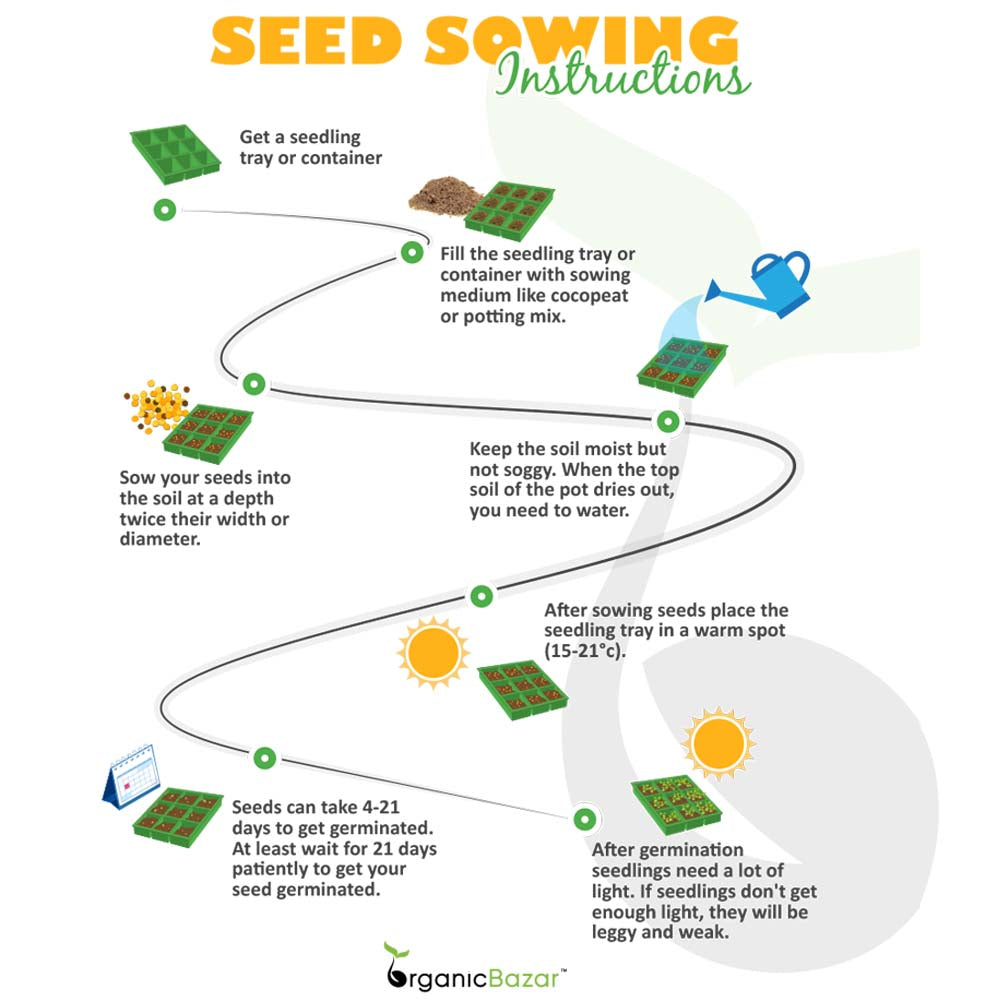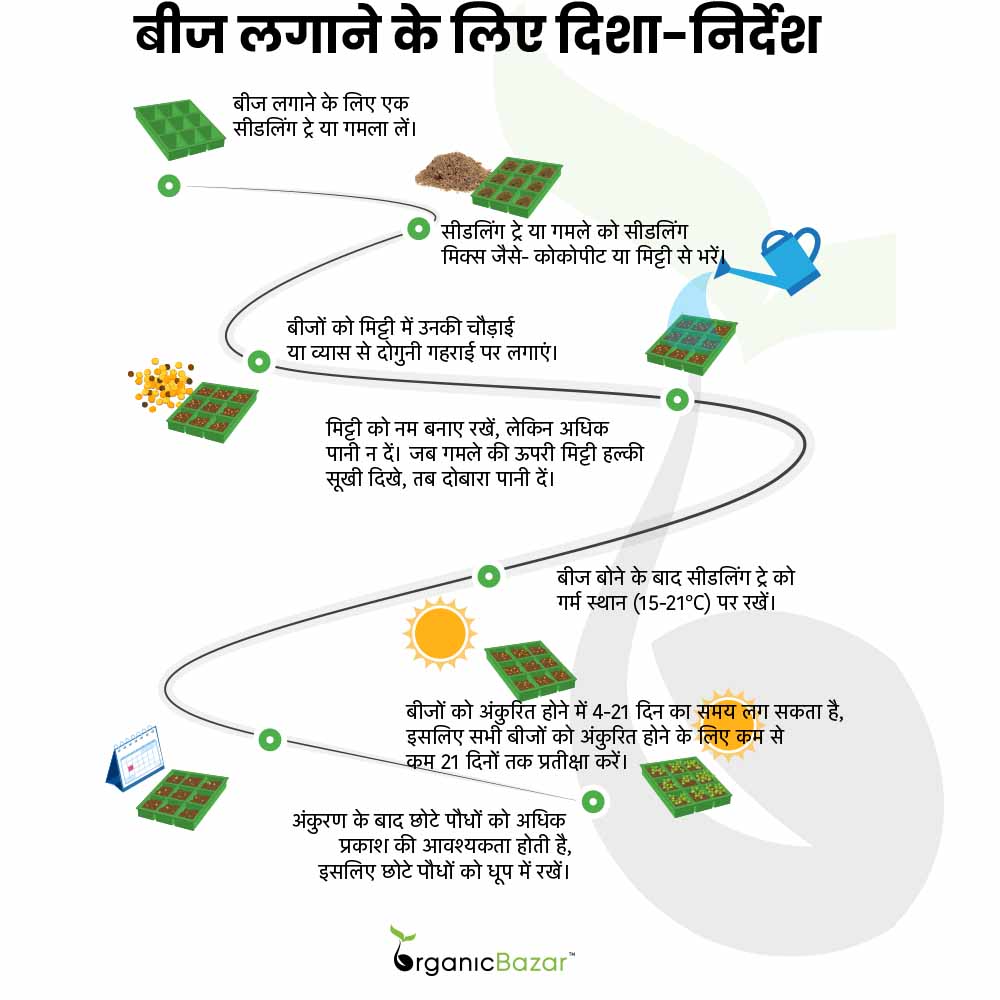 Sale price
₹ 89.00
Regular price
₹ 249.00
Tax included.
Out of stock
We will notify you once product becomes available.
Lettuce Sorrel Red Seeds
Sale price
₹ 89.00
Regular price
₹ 249.00
Product description
Shipping & Return
Red Vein Sorrel is a perennial herb that is used as a leafy vegetable such as spinach, lettuce, and other greens. Like most greens, sorrel leaves contain many nutrients and mineral which is good for our health. Red Sorrel leaves are used in salads with pungent and sour taste which are very tasty. Plant your own red sorrel at home for kitchen uses and enjoy salad and vegetables any time. Growing sorrel in pots is very simple and easy for first time-gardeners as it is one of the fastest growing vegetables and requires little space to grow. Buy the best quality Lettuce Sorrel Red seeds Online at the best price in India from
www.organicbazar.net
with a good germination rate.
About this item
Number of Lettuce sorrel red Seeds: 200 Seeds

Where to grow: Balcony or terrace garden

Sowing season: Throughout the year 

Mode of sowing: Sow the seeds 0.5 inches deep in a Container or Pot.

Germination Time: 7 to 14 days from sowing

Germination temperature: 12 to 20°C

Harvesting: 40 to 60 days from planting

Plant vigor: Strong plant, Leaf Colour Red
What size grow bag is best for Lettuce Sorrel Red?
Lettuce Red-Sorrel Plant Growing Season In India
Lettuce is typically grown in different seasons depending on the region in India. In North India, it's a winter crop (October-February), while in central and western India, it can be grown in both winter (September-March) and post-monsoon (February-March). In southern India, it can be grown year-round.
How To Grow Red Vein Sorrel
Sorrel red is usually a perennial plant, so people recommend sowing it in seedling trays and then transplanting or you can plant it directly in a pot or grow bag. Choose a seedling tray or small pot (up to 5 inches deep) and a final pot or grow bag (12-24 inches wide and 9-15 inches deep) with well-drainage holes. You can sow sorrel seeds in cool weather either indoor or outdoor and the best soil temperature should be 12 to 20°C for the seeds to germinate as quickly as possible. Give proper sunlight to your sorrel plant and the soil should be moist but not soggy.
Lettuce Sorrel Red Seeds Sowing Method
Start sowing red sorrel seeds in a
seedling tray
is the best idea because it provides the most favorable environment. Select a seedling tray or small size pots; fill with growing medium and sow the sorrel seeds at a depth of 1/2 inches. Add water to the soil of the seeded pot and maintain moisture. It can take about 1-2 weeks for sorrel seeds to germinate, so wait for the seeds to germinate. Water the sorrel plant regularly.
Transplant The Sorrel Plants Into Big Pot
After sorrel seeds germination, when plants grow at least two sets of leaves at a time transplant the healthiest plant carefully (without disturbing their root) into
pots or grow bags
and set the seedling 6-8 inches apart from each other. Keep the pot in a location where sorrel gets 6-8 hours of proper sunlight and give water whenever you feel that soil becomes dry.
How To Fertilize Red Sorrel Plant
Sorrel red plant does not need any fertilizer when started in rich soil but amends the soil each year with organic matter and a side dressing with
organic manure
should be applied in mid-season.
Lettuce Red Sorrel Plant Care Tips
Water –
Give water to the sorrel plant well and maintain moisture. Give one inch of water per week to the soil of the plant.
Soil –
Use dry, fertile, and well-drained soil for planting sorrel. Avoid using direct garden soil and clay for growing sorrel.
Sunlight –
Sorrel plants require full sunlight, but it is also growing well in partial sunlight. A sorrel plant needs at least 6 hours of proper sunlight. Keep the sorrel plant in light shade to prevent it from wilting during the summer months.
Temperature –
Sorrel is a winter lover vegetable plant and it can survive in extremely cold climates as low as -20°C but the best sorrel growing temperature is 7-25°C.
Common pests and disease –
Insects like a snail, and slug are often found in sorrel plants, the main reason for the infestation of insects is water logging in the soil and wetting of the leaves. To protect the sorrel plant from insects, spray
neem oil
on your plants.
Mulch –
You can do mulching to keep sorrel plants weed-free and to retain moisture in the soil during warm weather.
Pruning –
If you don't want to save sorrel seeds, cut off the flower stalk and remove any damaged leaves (if you will leave the seed heads in the plant, sorrel will start bolting). The plant will re-grow more new leaves.
Lettuce Red Sorrel Leaf Harvest Time
        You can cut or pluck red vein sorrel leaves for kitchen use in 40 to 60 days and baby leaf sorrel in 30 to 40 days.
        Harvest sorrel leaves when the leaves are tender and actively growing.
        Cut off sorrel leaves when they are 4 to 6 inches tall.
        Harvest the leaves in early summer, because once the plants have wilted in hot weather, the leaves become too hard to eat.
        Regularly pluck the top leaves of the sorrel, this will develop more leaves.
        If you want to produce bigger and more leaves, cut the flower stalks off the plants.
Sorrel Plant Special Features
        Common name – Sorrel and garden sorrel
        Scientific name – Rumex acetosella
        Plant type – Herbaceous perennial
        Plant size – 12 to 18 inches tall and 18-24 inches wide
FAQ
Is sorrel easy to grow? 
Yes, sorrel is very easy to grow as it is low maintenance plant and takes less time to grow.
How do you take care of sorrel?
For better and faster sorrel results, you need to take care of your plants such as proper watering and sunlight, keeping the soil moist and regular pruning.
Why is my sorrel getting wilting?
Overwatering is the main reason behind wilting; so avoid overwatering and keep the soil moist.
Why are my sorrel seeds not germinating?
Sorrel seeds will not germinate because of improper growing conditions like not getting enough sunlight, sowing seeds too deep in the soil, overwatering, or under watering.
Does sorrel need full sun or shade?
Sorrel plants prefer full sunlight but also can grow in partial shade.
Will sorrel re-grow after cutting?
Sorrel plants can re-grow quickly for two or three harvests but when the growing point is not damaged during first harvesting and when the weather is still cool.
Why is my sorrel not growing well?
Sorrel will not grow if the soil is too warm or too watery.
Shipping Costs
Free Delivery: Available for Orders Above INR 499.
Prepaid Orders Below INR 499: Shipping Charge of INR 54.
Cash on Delivery Orders Below INR 499: Shipping Charge of INR 84.

Return Policy
Satisfaction Guaranteed: Return or Exchange Within 7 Days of Delivery.
Technical Details
Package Dimension: 12cm*9cm
Item Weight : 15mg
Net Quantity: 200N
Colour : N/A
Assembly Required: No
SKU :

Additional Information
Brand : OrganicBazar
Country of Origin: India
Manufacturer: HEALTHUNBOX PRIVATE LIMITED
Consumer Care: Phone: 9513316259 | Email - support@organicbazar.net
Consumer Care Address: P NO 225, NEAR OF WATER TANK, VIPATPURA, Narsinghpur (M.P) 487001
Reviews
The seeds are of good quality and they exceeded my expectations 😀